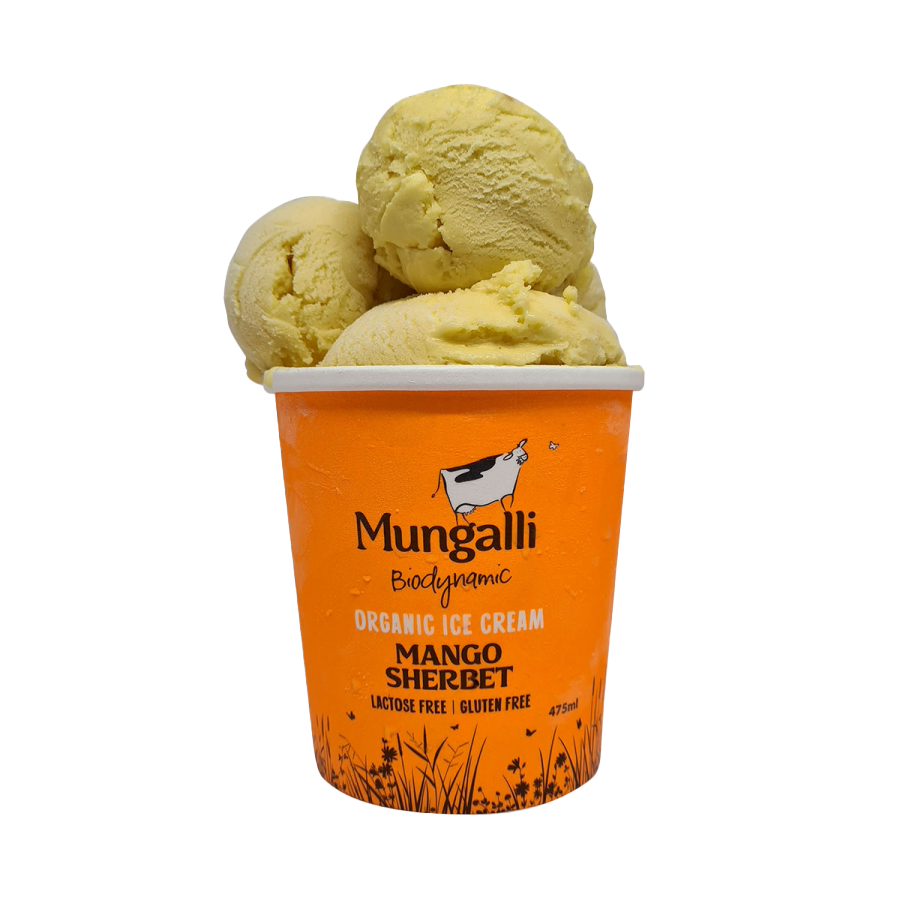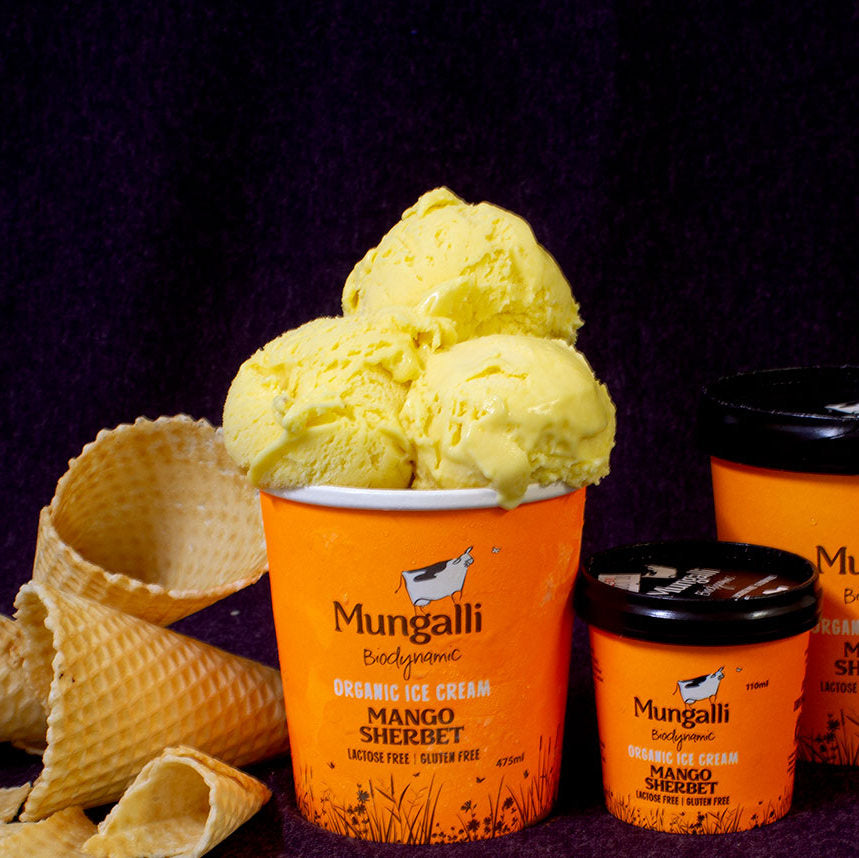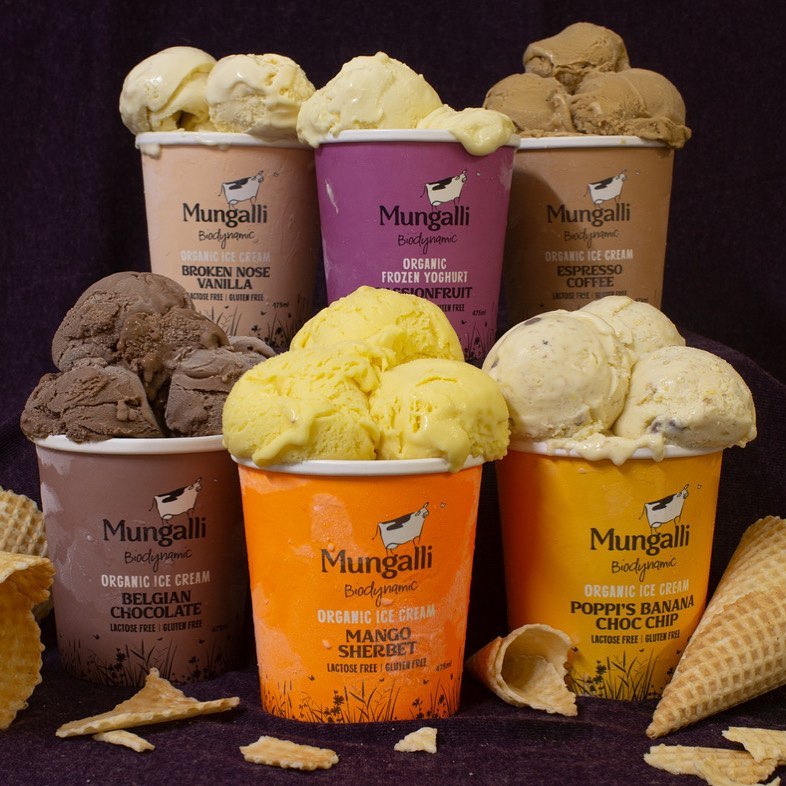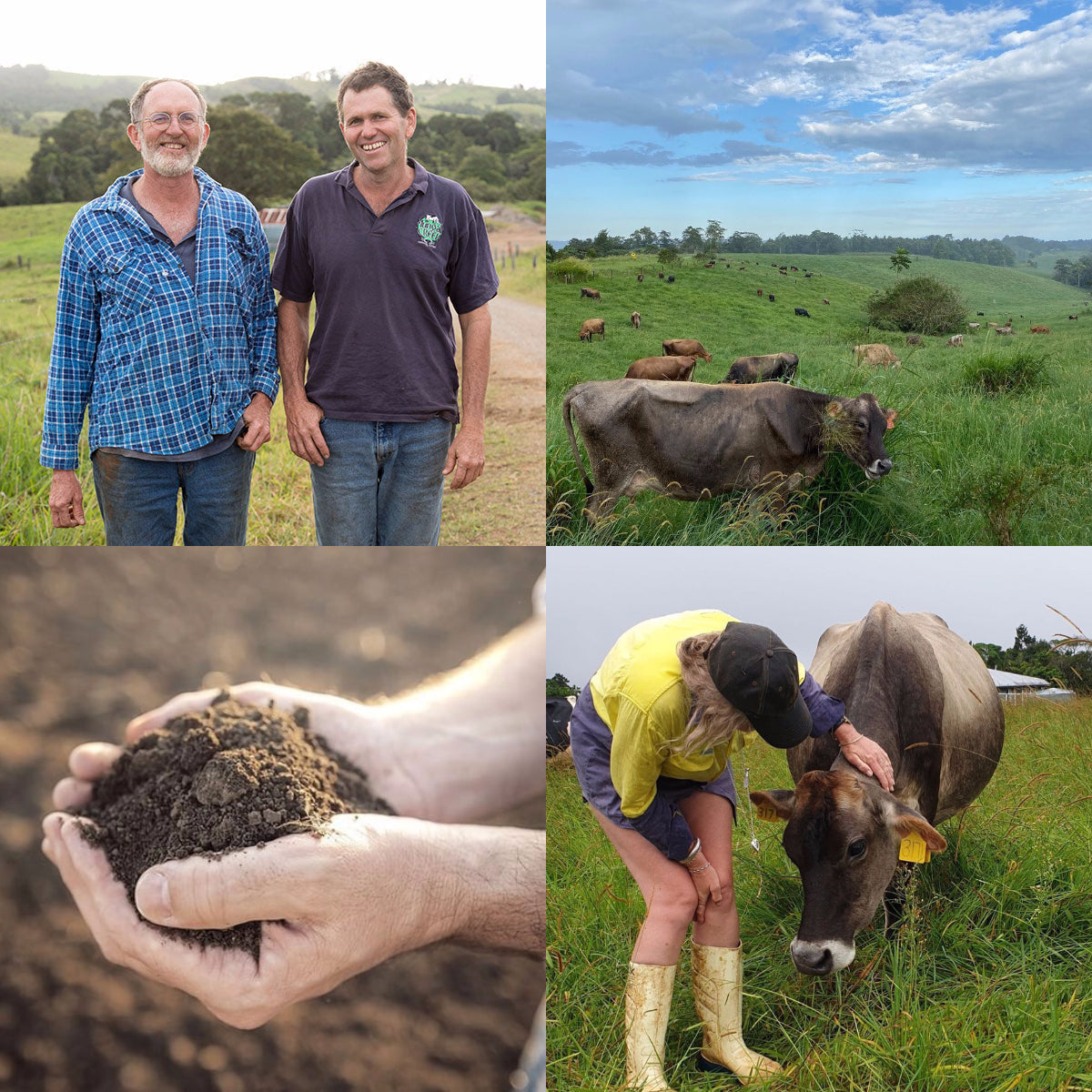 Certified Organic Mango Sherbet from Australia (475ml)
Buy More, Save More:
475ml x 1 (Regular Price)
We are happy to announce that the price of this product has been lowered. We were able to reduce the import costs, and are passing on the savings to our customers.
Please note this ice cream's tub contains a film underneath the lid. Although a temperature-controlled frozen delivery service is used, during the extreme heat of the summer months the ice cream may arrive slightly defrosted. Please place the ice cream into the freezer immediately after delivery to refreeze. Rest assured that there are no safety or quality issues. Thank you for your understanding.
475ml (16oz) of certified organic mango sherbet from Australia. Locally sourced Australian mangos are mixed into a traditional custard ice cream base, made from biodynamic cream and organic milk. The result is luxurious, high-quality, handcrafted mango sherbet, perfect for all frozen dessert lovers. 
The milk is mainly sourced and processed from their own Mungalli farm. Free-range, grass-fed cows. No use of growth hormones or antibiotics ever. No chemical fertilizers, no GMOs, no gluten, and yes, no lactose! - this certified organic biodynamic ice cream is not only delicious but the cleanest and most natural on the market. Handcrafted with love. Guilt-free deliciousness - have a try!
Choose between 6 delicious flavors: Vanilla, Belgian chocolate, Espresso Coffee, Mint Choc Chip, Banana Choc Chip and Mango Sherbet.
Can't decide? Try our 6 pack organic variety set.
✔ Produce from biodynamic farming, a holistic, ecological, and ethical approach to organic farming.
✔ 30% of farmland is used to regenerate back into the rainforest naturally.
✔ Milk from free-range, grass-fed Jersey dairy cows.
✔ No growth hormones or antibiotics are used on the cows - ever.
✔ No chemical fertilizers and no GMOs used on the farmland.
Contents
| | |
| --- | --- |
| Contents | One tub |
| Volume | 475ml (16oz.) |
| Tub Dimension | W9.5 x D7.5 x H11.0 cm (3.7" x 3.0" x 4.3") |
Shipping & Handling
| | |
| --- | --- |
| Shipping | Shipping and delivery is frozen only |
| Handling | Keep frozen below -18°C (0°F)  |
| Best By | Usually more than 1 month. Note that by Japanese regulations, ice cream does not have a best before date as they are good indefinitely. |
Details
Ingredients
Organic full cream cows milk, organic cream, organic mangos, organic sugar, antioxidant (citric acid), stabilizer* (polysaccharide thickener), enzyme



*Stabilizers are made 

with safety in mind from plant-

based

 ingredients (

carob 

bean gum, guar gum, and carrageenan).



Packaging

Ice cream tub with lid

Non-fat Milk Solids
5.0%
Milkfat
6.0%
Country of Origin
Australia
Brand
Mungalli Creek Dairy
Nutritional Facts
100g serving size (475g per tub)

Calories: 145kcal
Protein: 2.1g
Total Fat: 5.6g
- Saturated: 3.9g
Total Carbohydrate: 19.8g
- Sugars: 19.7g
Sodium: 24mg
Importer
Horizon Farms, Inc.
tasty!
the Sherbert is very sweet so i like to put it inside a smoothie with milk! delicious! thank you Horizon Farms! your awesome