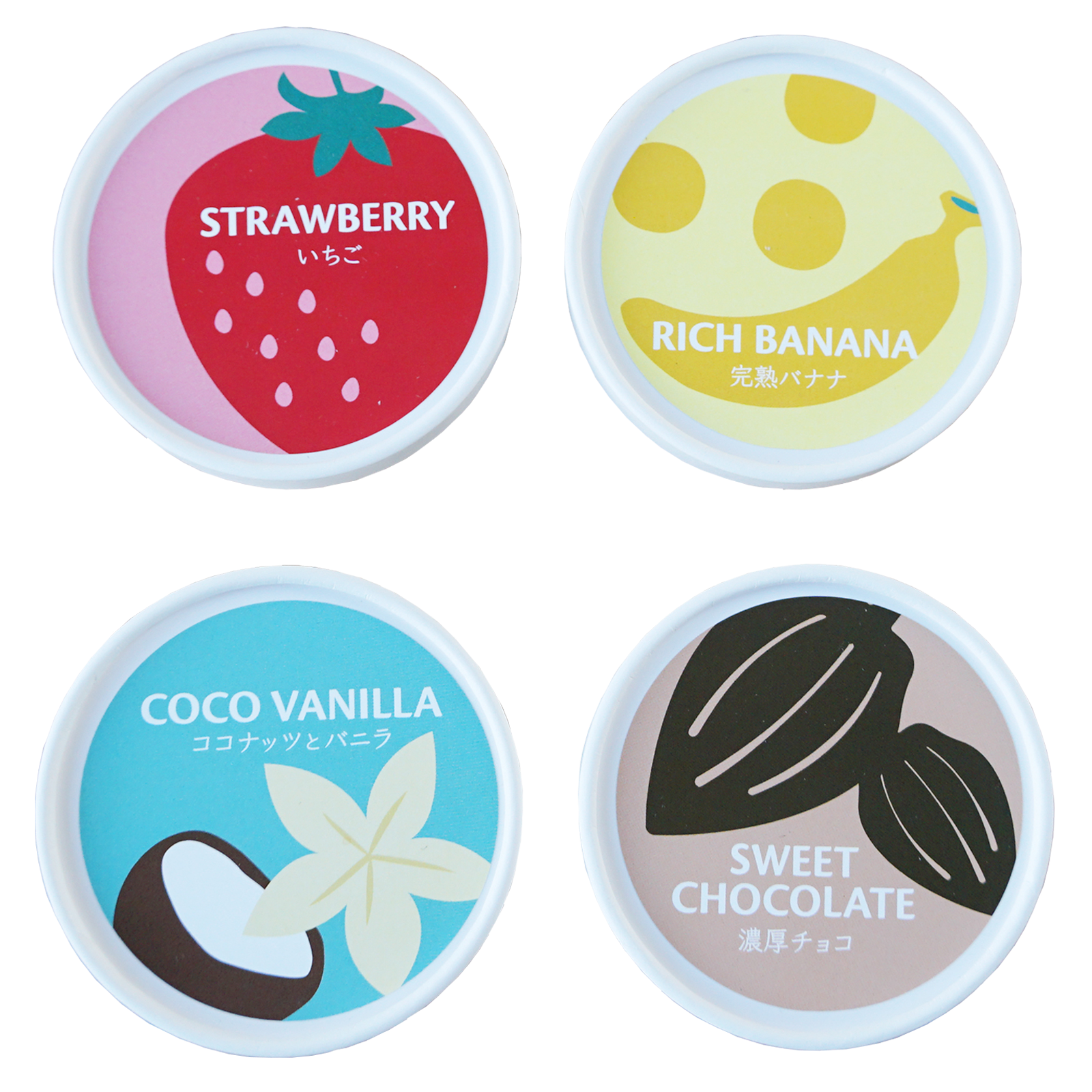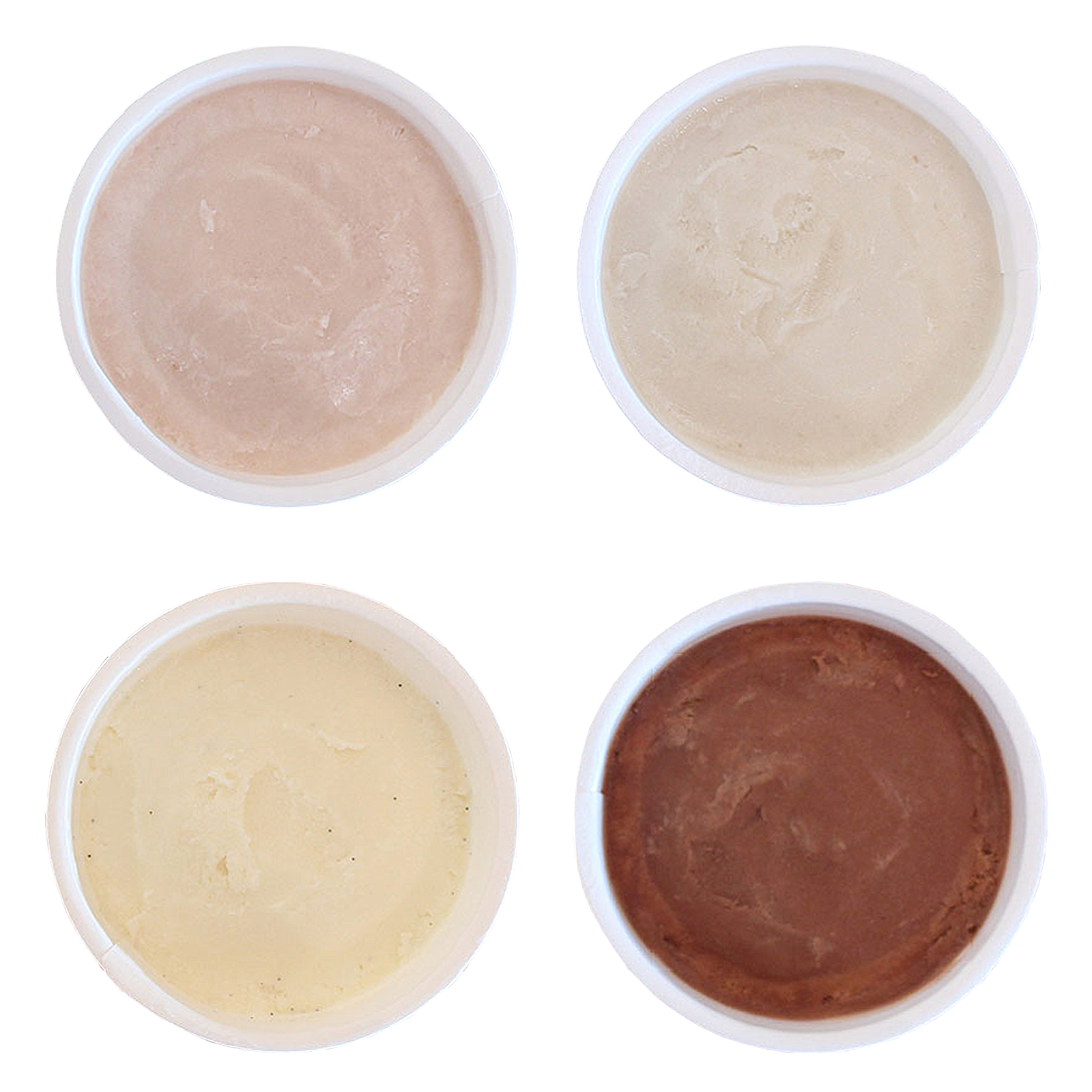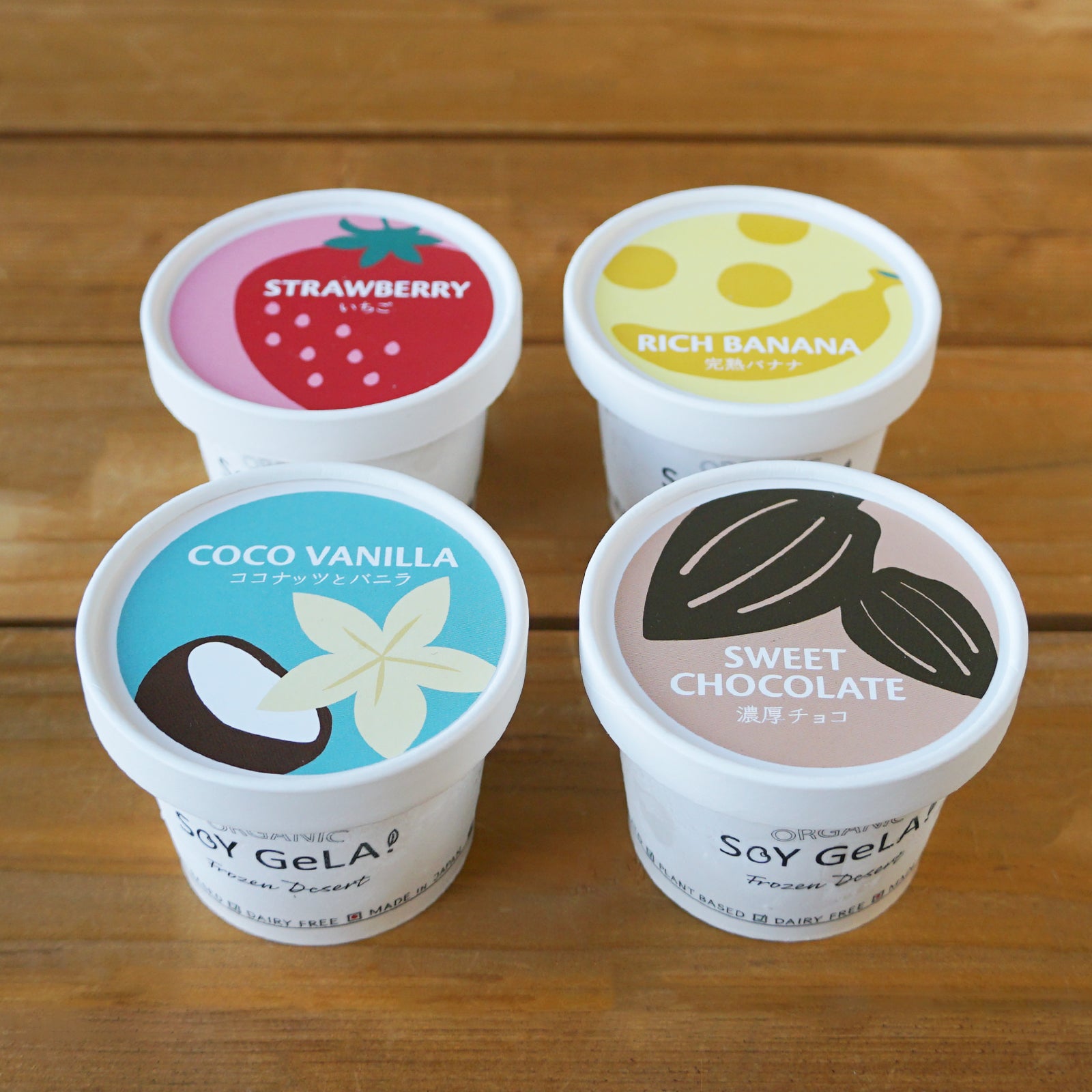 Certified Organic Dairy-Free Ice Cream Gelato Mix Set (100ml x 4 - 6)
Buy More, Save More:
Mix 4 Tub Set (100ml x 4)
Please note that although a temperature-controlled frozen delivery service is used, during the extreme heat of the summer months the ice cream may arrive slightly defrosted. Please place the ice cream into the freezer immediately after delivery to refreeze. Rest assured that there are no safety or quality issues. Thank you for your understanding.
Dairy-free and certified organic gelato ice made from top quality all-natural 100% certified organic ingredients only. This gelato does not contain any dairy products, eggs, preservatives, emulsifiers, or other additives! 100% plant-based, yet just as delicious as regular gelato. Guilt-free ice cream that can be enjoyed even by the whole family.
This is a set of four soymilk-based flavors: coco vanilla, sweet chocolate, strawberry and rich banana. Also suitable as gift. The texture is closer to Italian gelato than ice cream.

One cup of each flavor is included in this set (100ml per cup). Find out more below:

■ Coco Vanilla: Simple vanilla gelato made with organic coconut milk. Made of premium African organic vanilla beans give this gelato their rich flavor without the use of synthetic fragrances like vanilla essence.

■ Sweet Chocolate: Chocolate gelato made by mixing Dutch organic cocoa with organic sugar into a rich chocolate paste. This chocolate gelato is so rich and sweet, it will steal the hearts of your kids, too.

■ Strawberry: Made with a generous amount of organic strawberries. Real strawberries are used when making this gelato, giving it its full-fledged strawberry flavor and scent without the need for added fragrances.

■ Rich Banana: Sweet banana gelato made of organic bananas. The rich flavor and sweet aroma of the bananas used shine right through this addictive gelato.
Contents
| | |
| --- | --- |
| Contents | 4 small cups (1 cup of each of the following flavors: coco vanilla, sweet chocolate, strawberry, rich banana) |
| Volume | 100ml (3.4oz) x 4 cups = 400ml (13.5oz) |
| Dimensions | 7.1cm x 5.7cm (2.8" x 2.2") (Per one cup) |
Shipping & Handling
| | |
| --- | --- |
| Shipping | Shipping and delivery is frozen only |
| Handling | Keep frozen below -18°C (0°F)  |
| Best By | Note that by Japanese regulations, ice cream does not have a best before date as they are good indefinitely. |
Details
Ingredients
Coco Vanilla: Organic soy milk (Japan), organic sugar (Brazil), organic coconut milk (Sri Lanka), vanilla, rapeseed oil
Sweet Chocolate: Organic soy milk (Japan), organic sugar (Brazil), organic coconut milk (Sri Lanka), organic cocoa (Netherlands), rapeseed oil
Strawberry: Organic soy milk (Japan), organic sugar (Brazil), organic coconut milk (Sri Lanka), organic strawberries (Turkey), rapeseed oil
Rich Banana: Organic soy milk (Japan), organic sugar (Brazil), organic banana (Mexico), rapeseed oil
Packaging

Ice cream tubs. Contains film underneath the lid. (The design may differ)

Category
Ice Cream

Country of Manufacturing
Japan

Organic Certifications

Japanese Agricultural Standard Organic (JAS)




Certification No. OFPA カ-15-01

Other

Ice may form on the surface due to the absence of cholesterol and stabilizers. 

Please note that if storing in a home freezer, depending on the freezing temperature (around -4℃ (24 F)), the ice cream may start to seperate.

Nutritional Facts

Based on one 100ml serving (one cup)



Coco Vanilla: Calories: 109.6kcal, Total Fat: 2.5g, Total Carbohydrate: 19.4g, Protein: 2.3g, Salt content:

20mg


Sweet Chocolate: Calories: 117.6kcal, 

Total Fat: 3.1g, 

Total Carbohydrate: 20.8g, 

Protein: 2.9g, 

Salt content: 20mg


Strawberry: Calories: 111.4kcal, 

Total Fat: 2.5g, 

Total Carbohydrate: 20.1g, 

Protein: 2.4g, 

Salt content: 20mg


Rich Banana: Calories: 113.9kcal, 

Total Fat: 2.4g, 

Total Carbohydrate: 20.7g, 

Protein: 2.4g, 

Salt content: 20mg