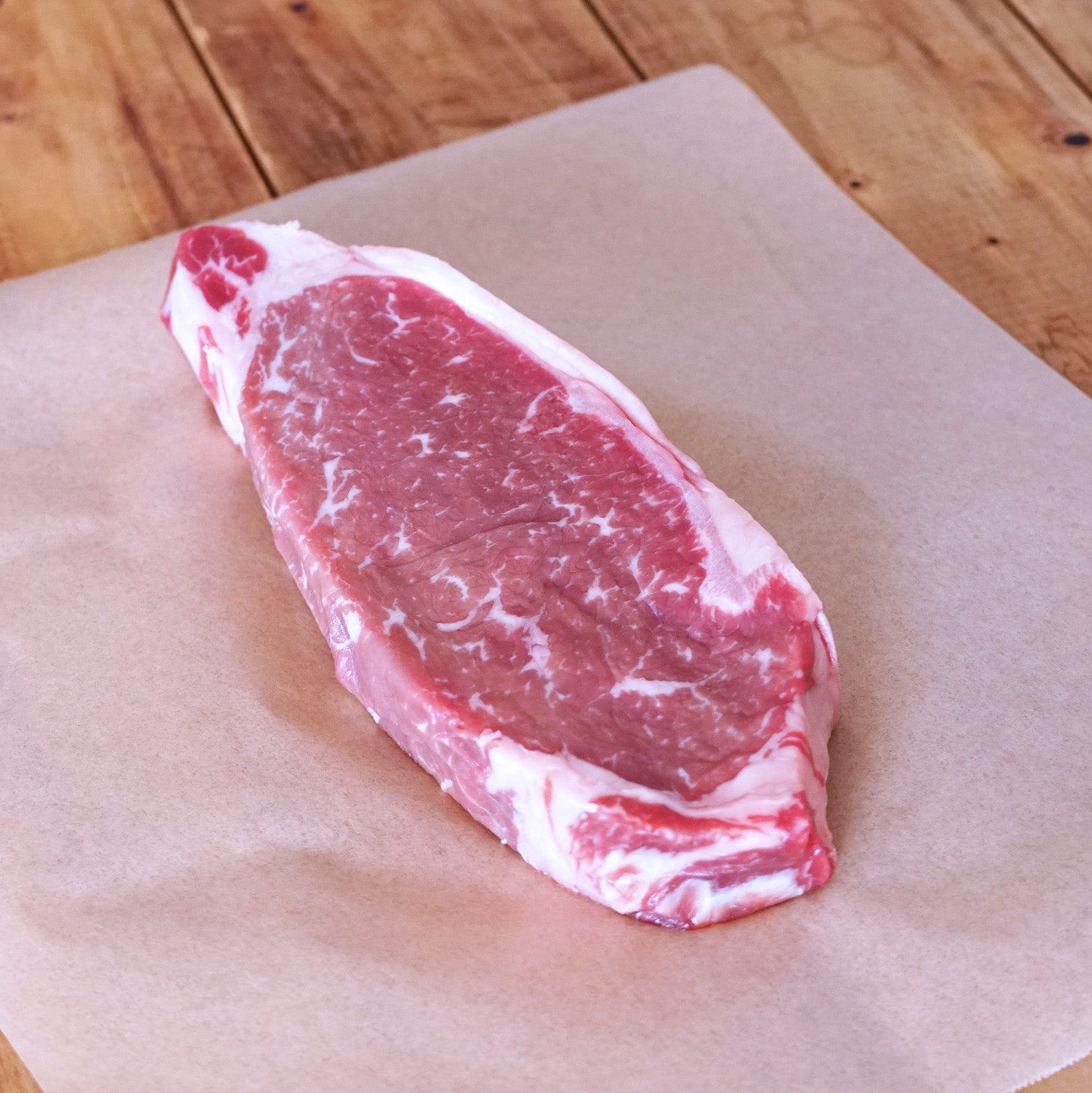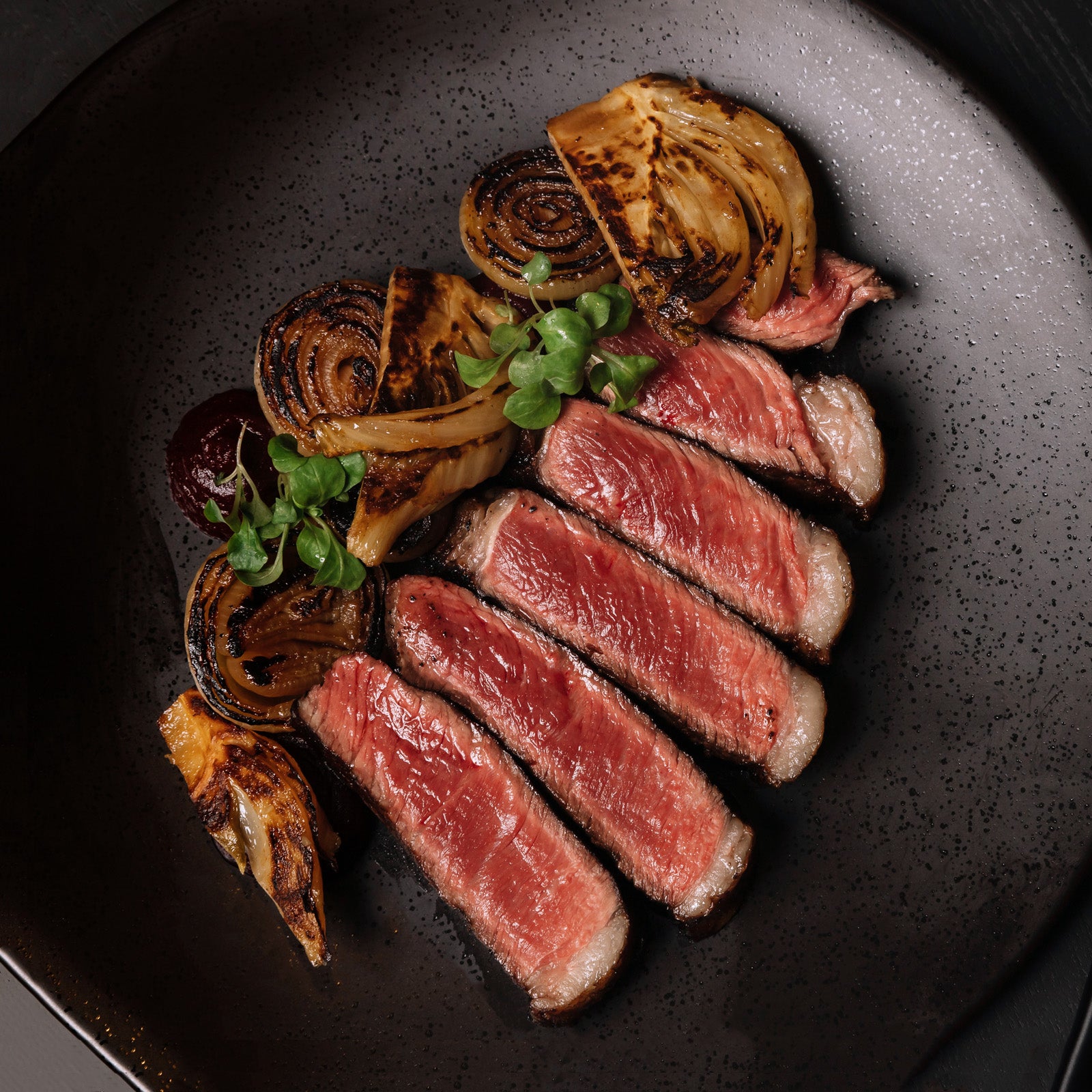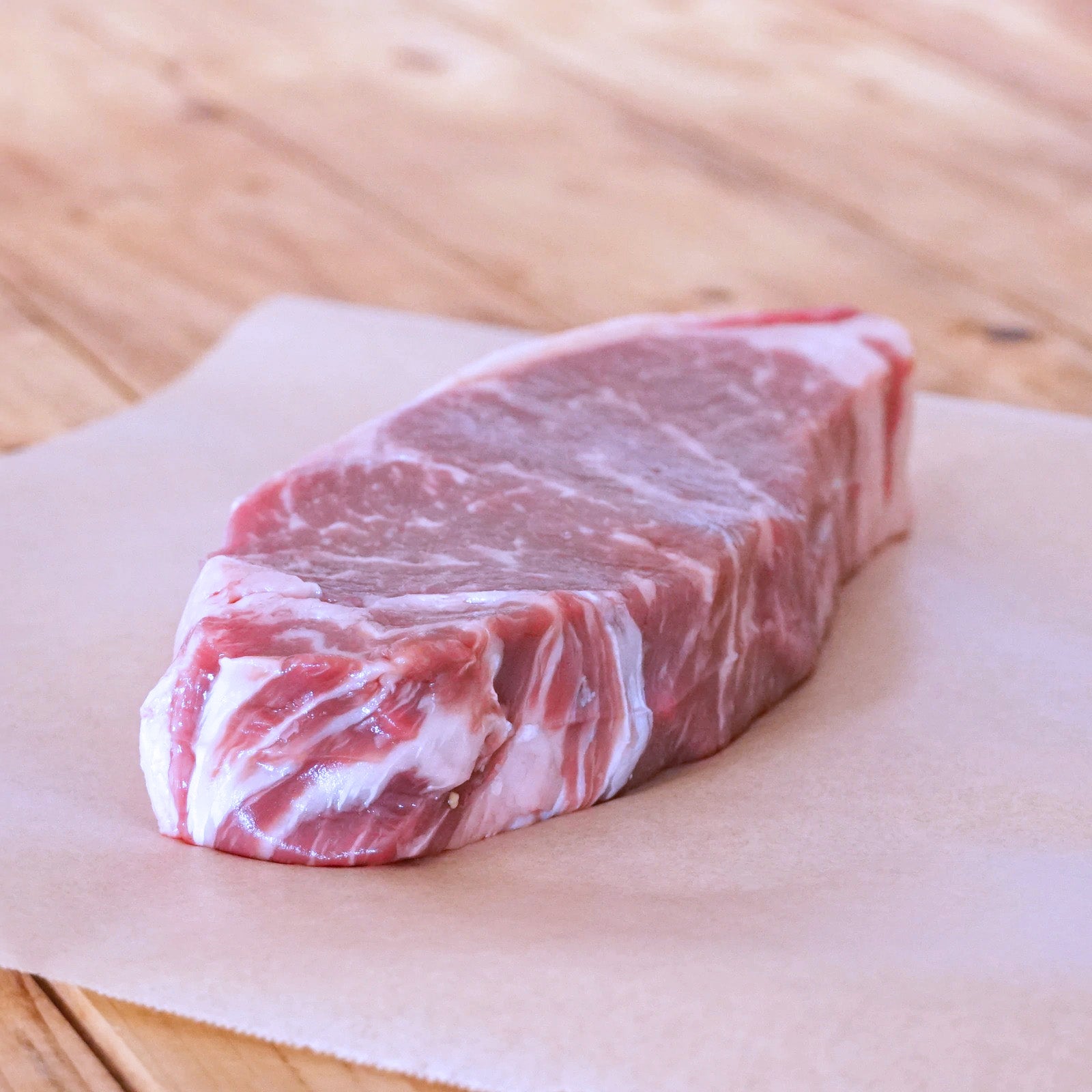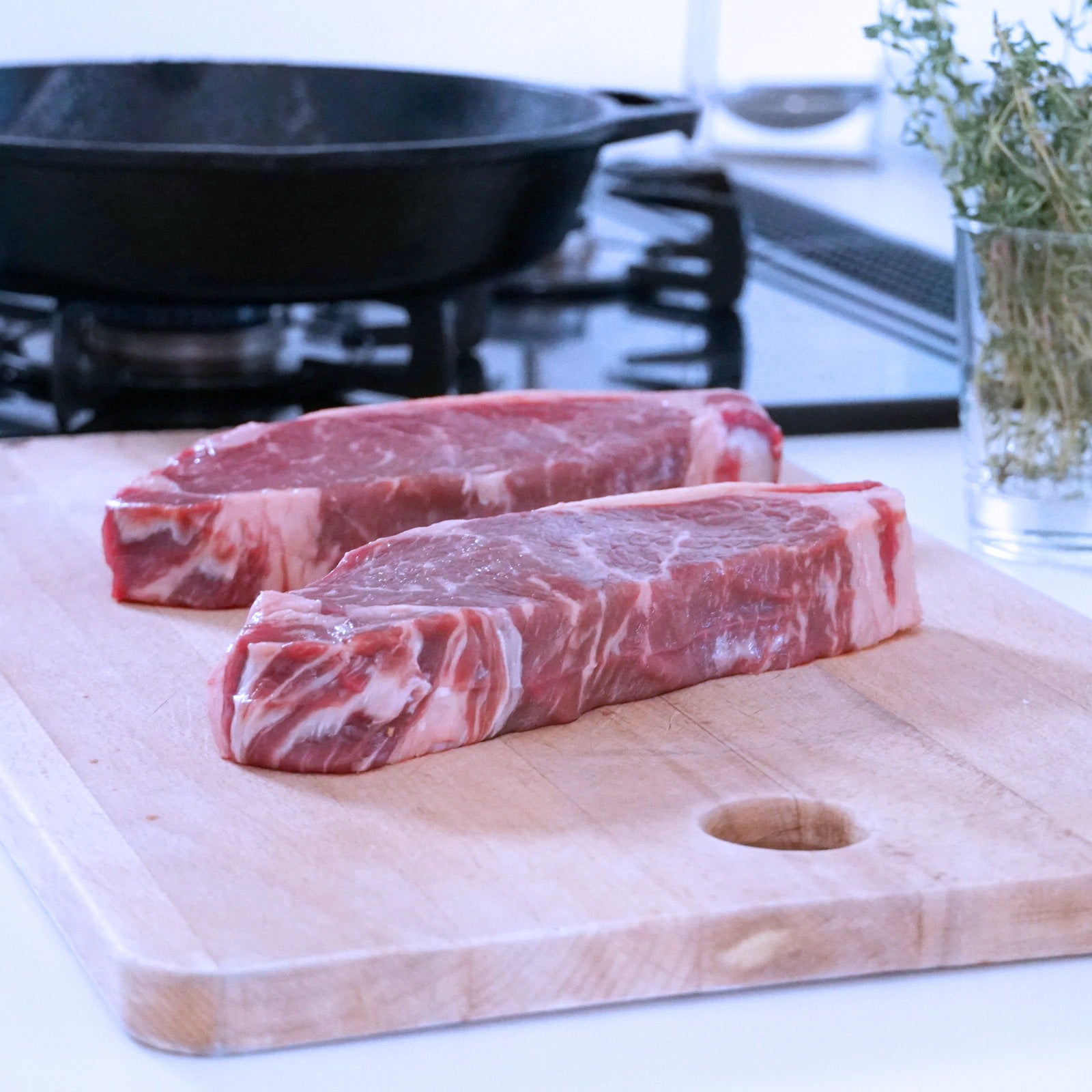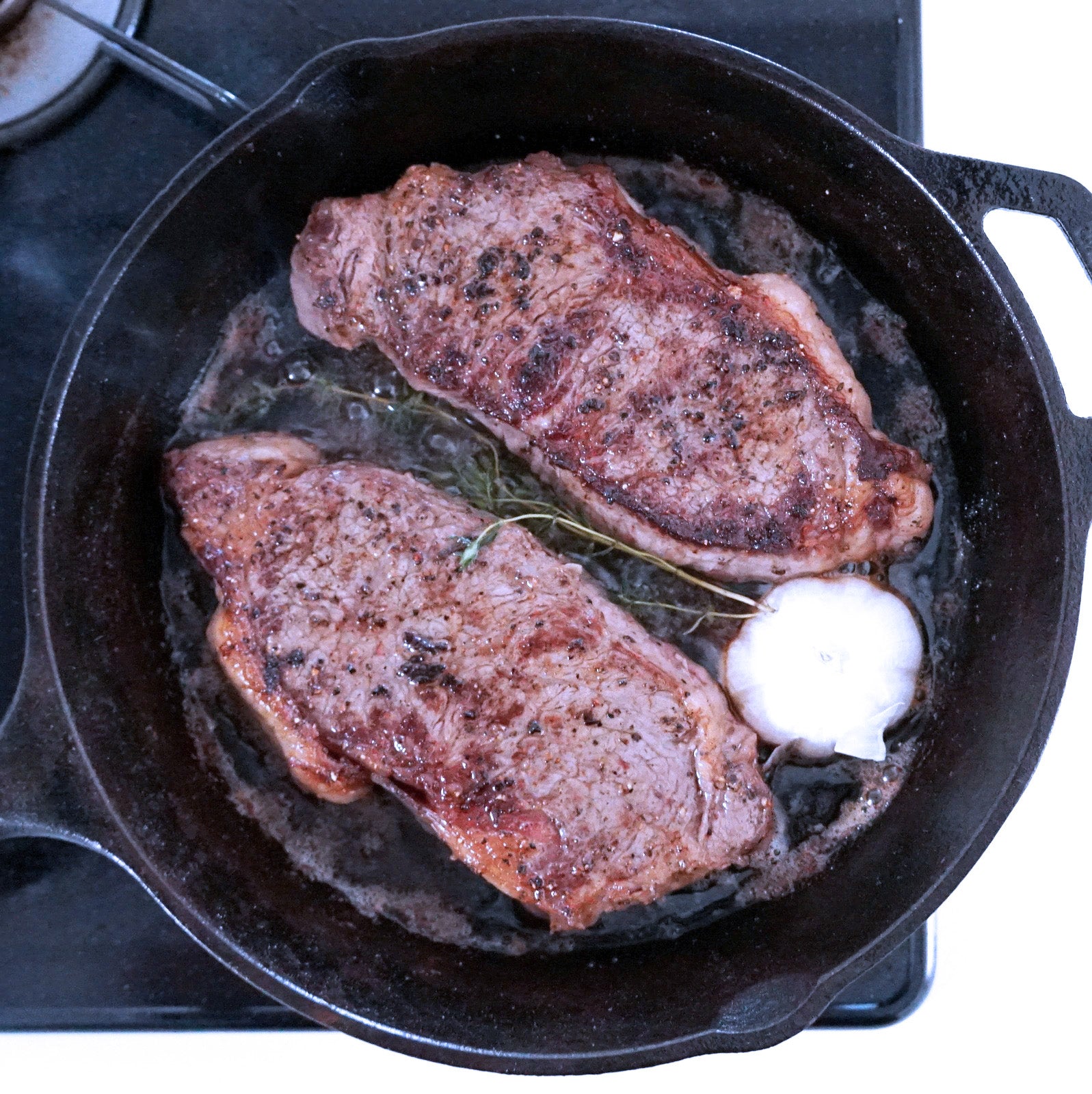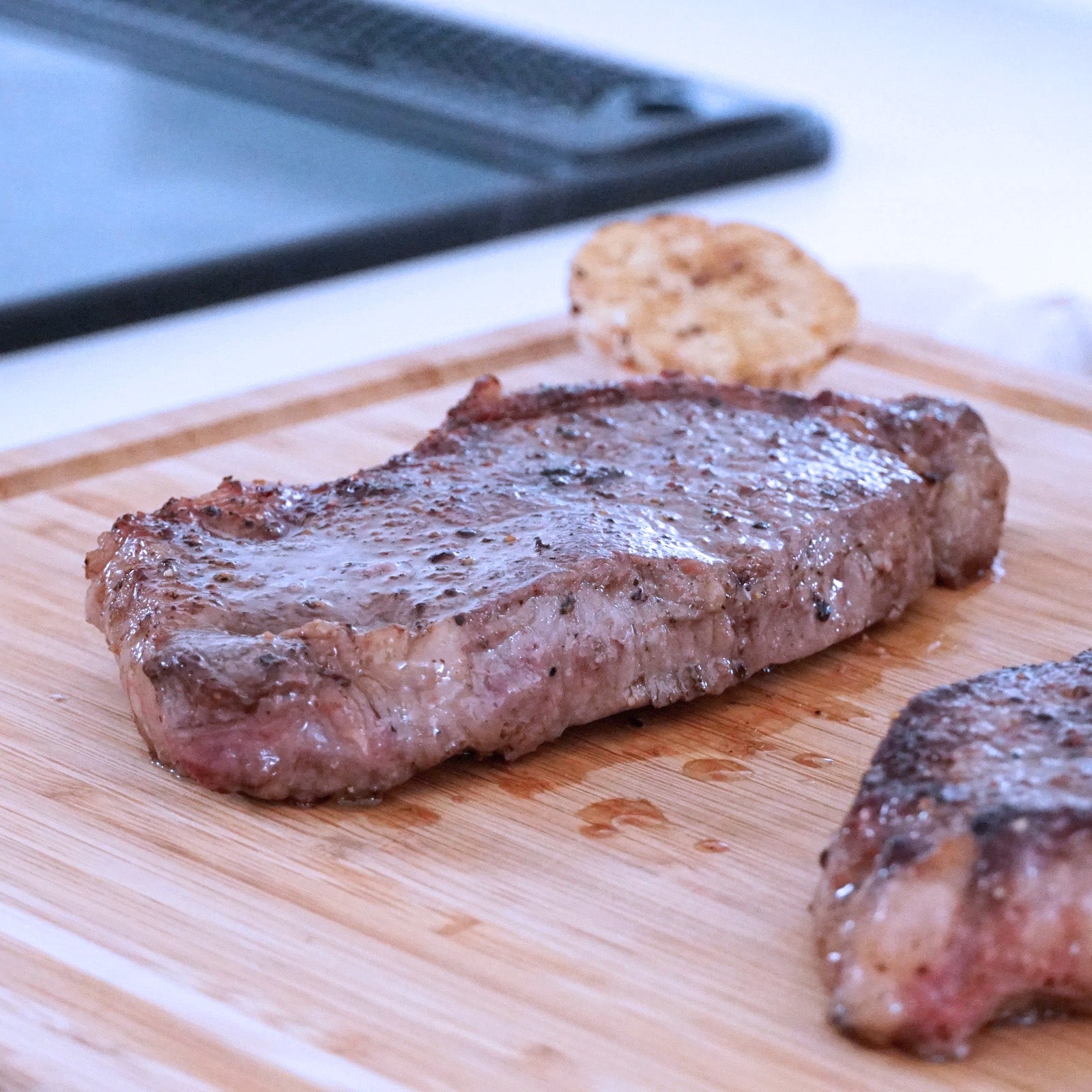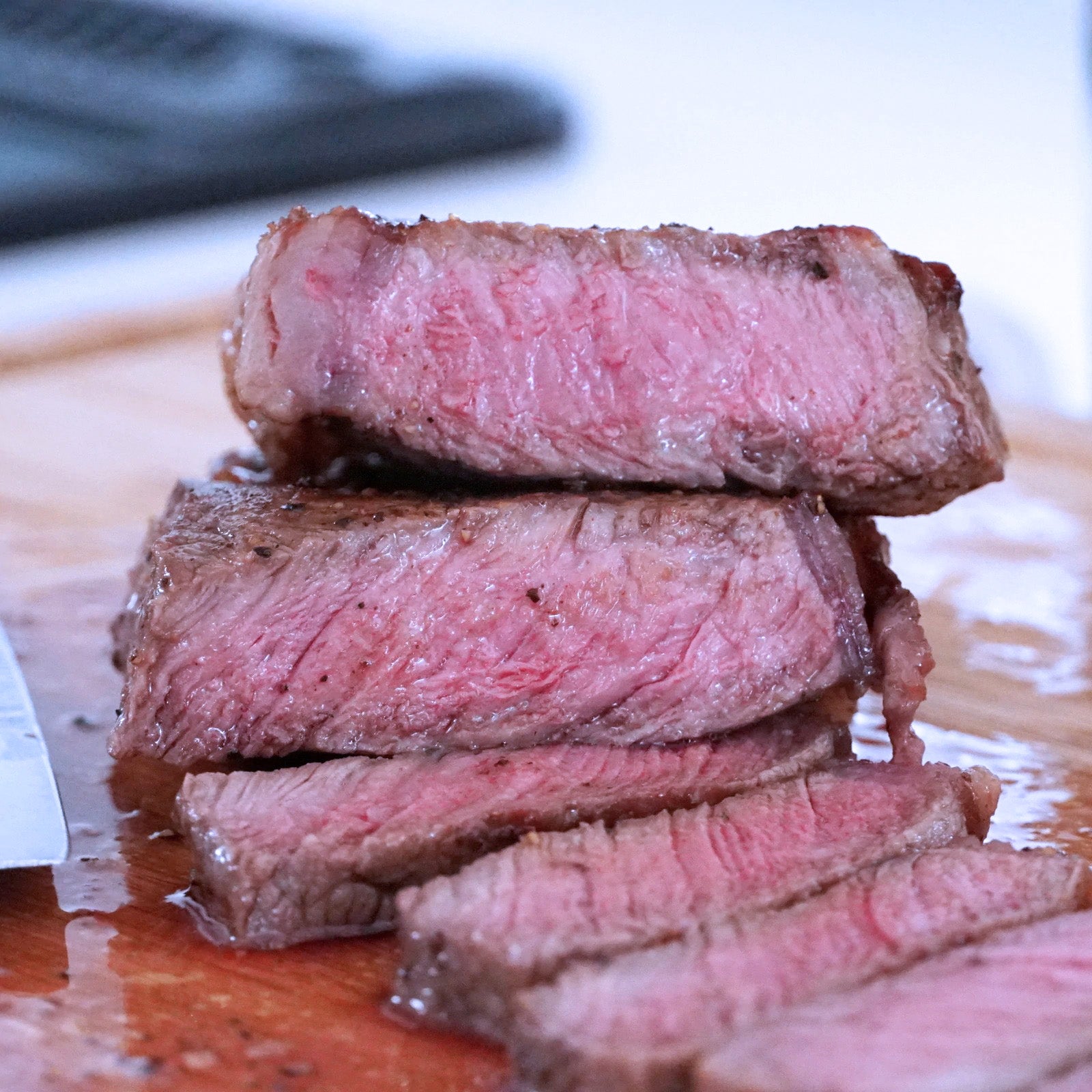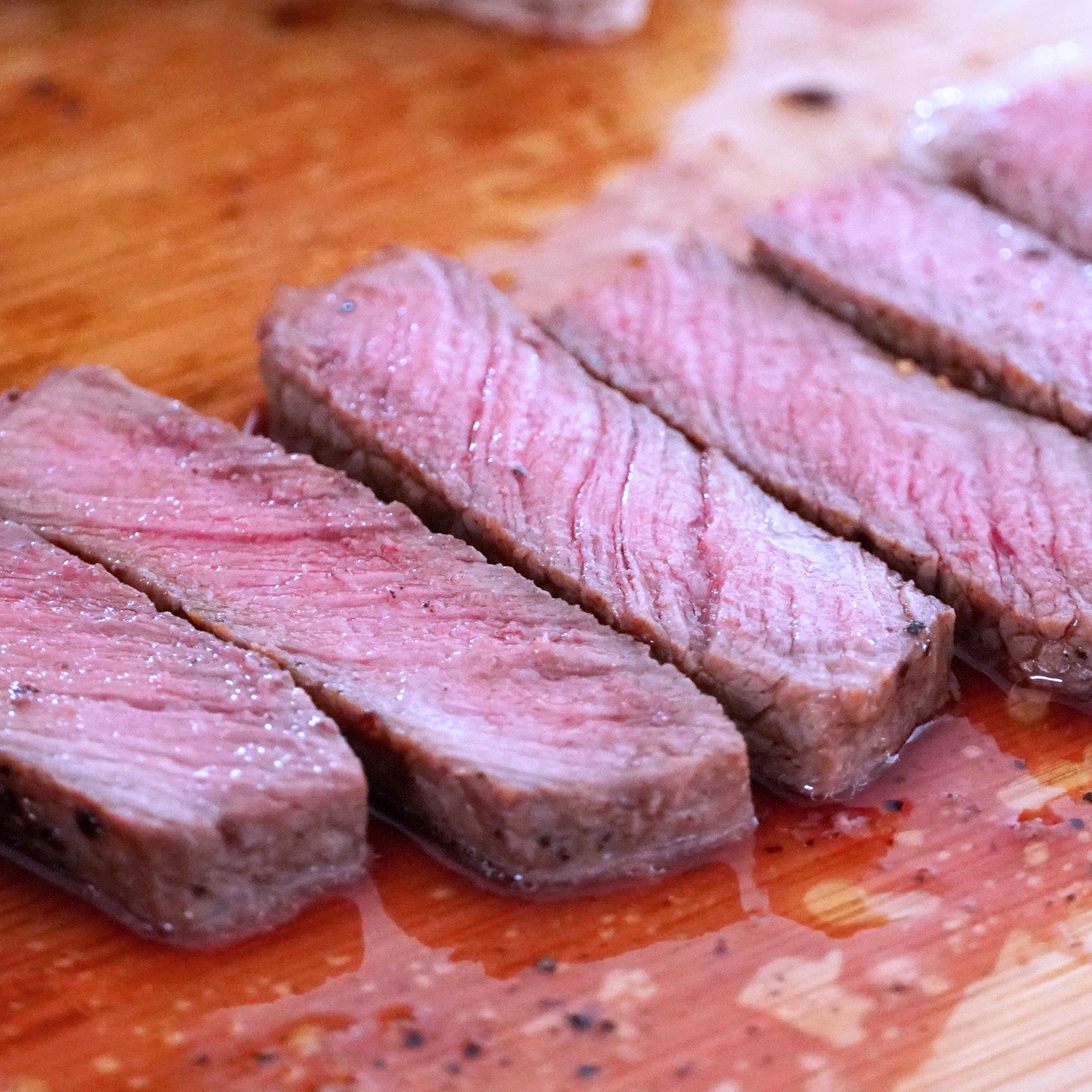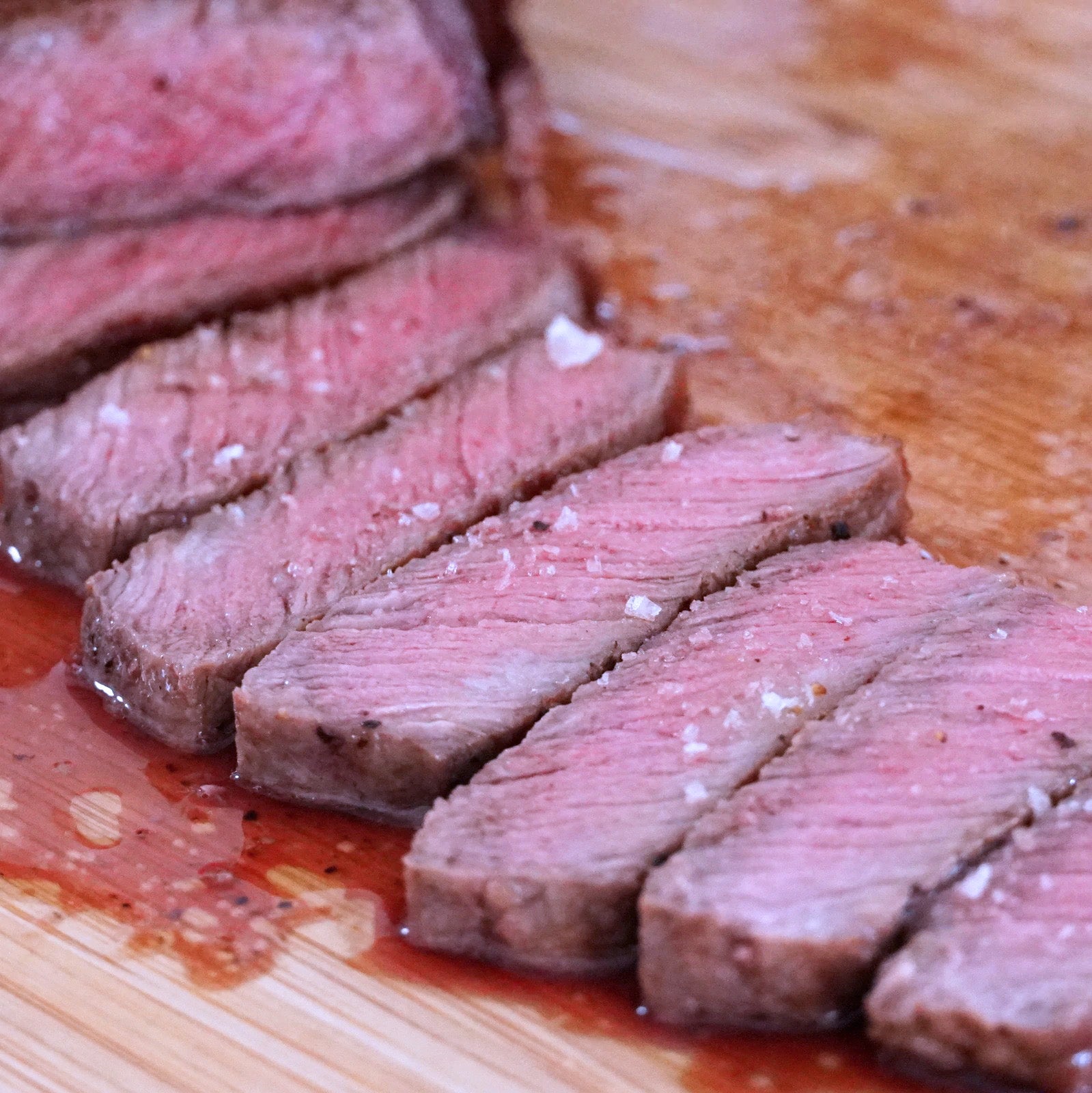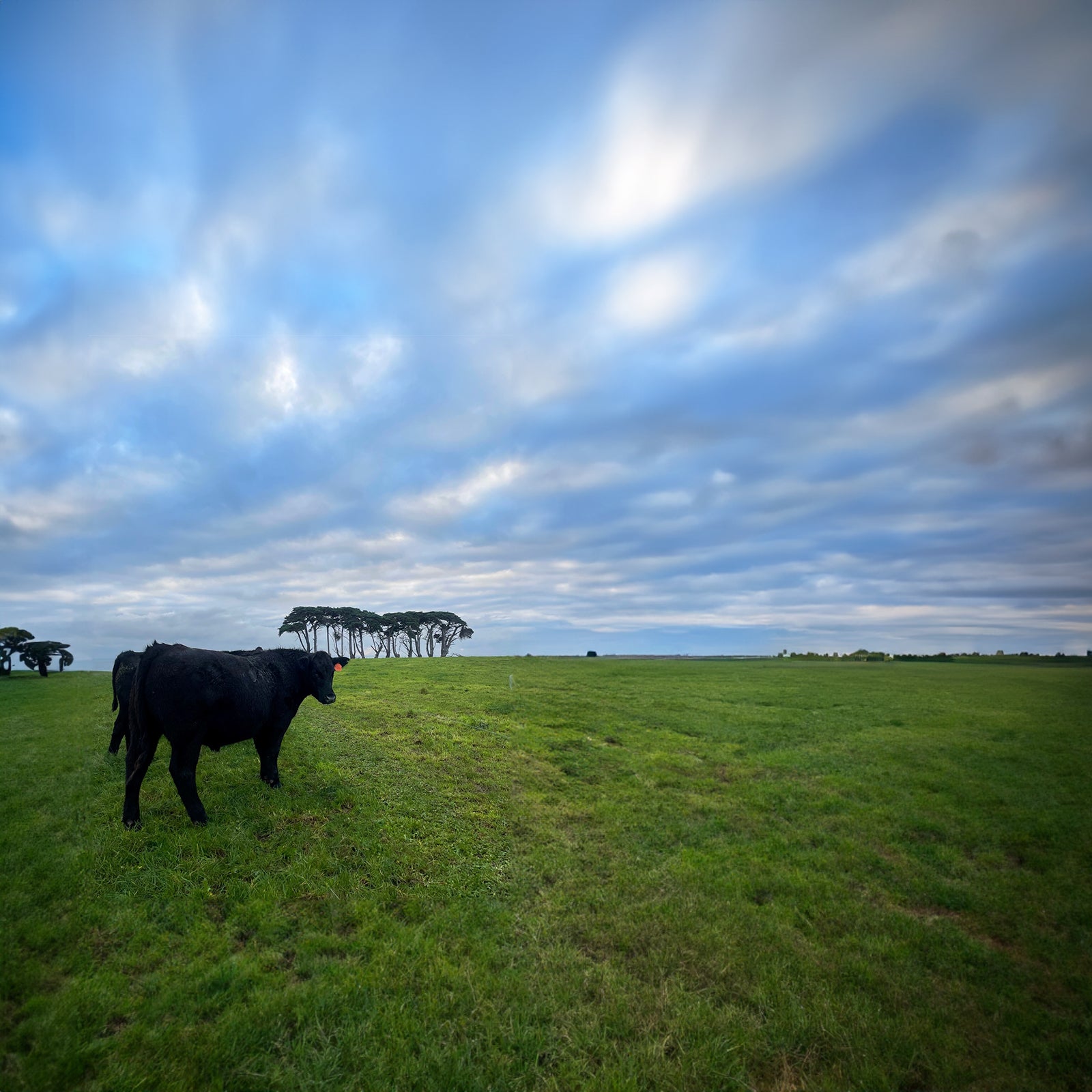 Premium Grain-Fed Beef MB5+ Striploin Steak from Australia (300g)
Buy More, Save More:
300g x 1 (Regular Price)
You get one 300g (10.5oz) trimmed striploin steak cut right from the striploin primal. Closely trimmed into New York-style steaks. Superbly marbled barley-fed free-range Black Angus beef from Australia. If you're looking for a meaty and flavorful taste experience, your best bet is the striploin steak. We recommend seasoning these steaks with simple sea salt and freshly ground pepper only. Cook on low/medium heat and keep turning. Cook to medium-rare for the best taste experience. Check out our cooking instructions below.
✔ Grass-Fed and Grain-Finished on a custom GMO-free barley feed for at least 150 days for superior marbling and flavor. 

✔ Free-range and open pasture-raised all year round.

✔ Humanely raised and treated with respect.

✔ No antibiotics or growth hormones - ever!

✔ "Tenderstreched" method of processing increases the tenderness of the meat. 
Contents
| | |
| --- | --- |
| Contents | 1 steak |
| Weight | 300g (10.5oz) |
| Serves | Serves 1-2 |
Shipping & Handling
Shipping
Shipping and delivery is frozen
Handling
Keep frozen below -18°C (0°F)
Defrosting Time
In the fridge: approx. 24h
In ice-water: 2 hours
Cooking Method
Grill, Cast-Iron Skillet, Fry-Pan, Oven
Best By


Frozen: 

see packaging label (usually more than 1 month)




Chilled: Please consume unopened pack within 5 days.
Details
| | |
| --- | --- |
| Also known as | Kansas City Steak, New York Steak, Porterhouse, Striploin, Club Steak |
| Country of Origin | Australia |
| Ingredients | Beef |
| Cut from | Short loin (Striploin) |
| Category | Steaks |
| Packaging | Individually vacuum packed |
PURE Black beef from Australia. Black Angus free-range Aussie cows are long fed for at least 150 days on a proprietary GMO-free barley feed for superior marbling and a buttery-rich flavor. They are then "tenderstretched" - a method of processing known to considerably increase the tenderness of the meat. Only cuts that have a Marbling Score of 5+ (MB5+, the highest score) are selected - guaranteeing a gourmet marbling you would find in five-star restaurants. Absolutely no use of subtherapeutic antibiotics or growth hormones. Ethical and luxurious at the same time. Taste the difference.
At A Glance
Cattle Breed
Black Angus
Farm/Ranch

PURE Black (Australia)

Breeding

100% free-range on open pastures.

Feeding

Grass-fed from birth then 

long fed for 

at least 

150 days on a proprietary GMO-free barley grain feed.

Traceability
100% fully traceable from farm to fork.
Growth-Hormones
Never
GMO-feed or use
Never
Antibiotics
Never
Importer

Horizon Farms, Inc.

Processing

Locally processed in Japan.
Completely defrost in the fridge or in cold water. Open pack and pat dry any moisture with a paper towel. Let the steaks sit at room temperature for at least 10 minutes. You will see vivid color changes as the steaks are exposed to oxygen.
Quality steaks do not require heavy seasonings or marinate. Simply use sea salt and freshly ground pepper and rub with extra virgin olive oil.
Use a fry-pan or cast-iron skillet. Preheat to low/medium. You need to hear the steak sizzle. If you are using a grill, place the steaks into the indirect heat zone not directly over the flames.
Cook low and slow on all sides. Make use of your kitchen tongs to make the steaks stand up on their sides. Keep turning the steaks. There is no need to sear these steaks!
Keep turning them. Use a thermometer to determine the core temperature. We recommend medium-rare for steaks. Remove from the heat once the core temperature has reached 50 degrees Celsius (125 degrees Fahrenheit) and place on a cutting board.
The steaks will continue to cook internally on residual heat. Let the steak rest for at least 5 minutes.
Use a large sharp knife and cut the striploin steaks into slices. 
Perfectly cooked to medium-rare. Serve and eat while warm for the best taste experience. 
Sprinkle with sea salt if necessary. Enjoy!
Great product!
All my family loved the steak!
Juicy meaty goodness
So I marinated these in Honey, Soy sauce, Garlic and a dash of sake.
Cooked on a medium heat for about 4 mins each side then rest for 5 mins in foil and server, was actually a lot better than i thought it would be usually this cut has a reputation for being a bit chewy however i found them to be very juicy and not tough at all, rally happy with them.
Translated from Japanese: Both my husband and children were eating it deliciously. We adults ate the fat because the fat part is harder.
I used the leftover to prepare the lunch boxes for my family and it was soft.
Translated from Japanese: I've been ordering it many times. If you thaw it in the refrigerator a day earlier, it's comparable to that meat of a butcher shop.
It's not an industrial product, so it's unavoidable that there are individual differences and it's a pity that this time there were more and more streaks that couldn't be bitten right in the middle. (I set some aside to use for stews later)
I'm grateful once more for the natural flavor that I can enjoy despite the things mentioned above.
Translated from Japanese: I cooked it at low temperature on a frying pan. It was very juicy and delicious!