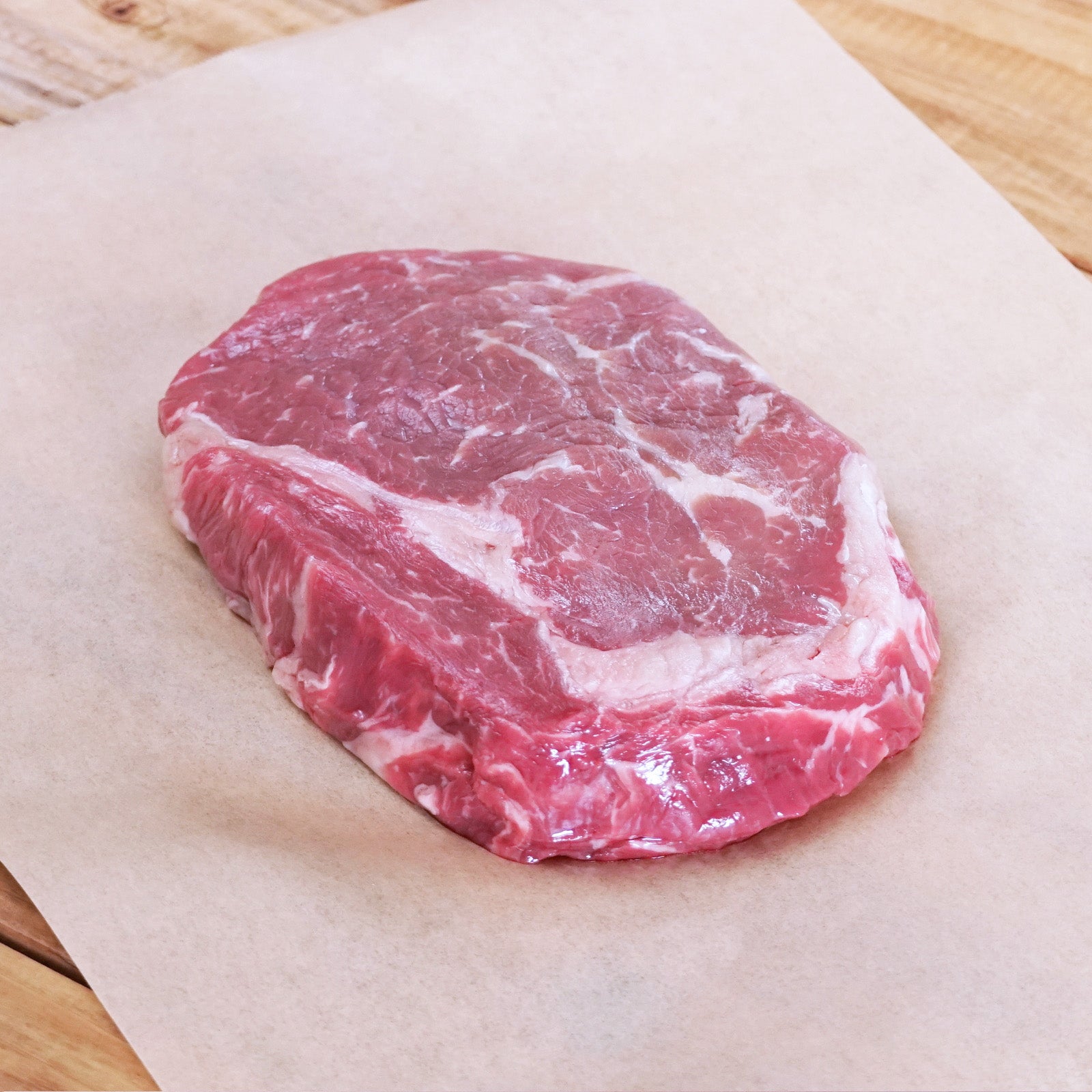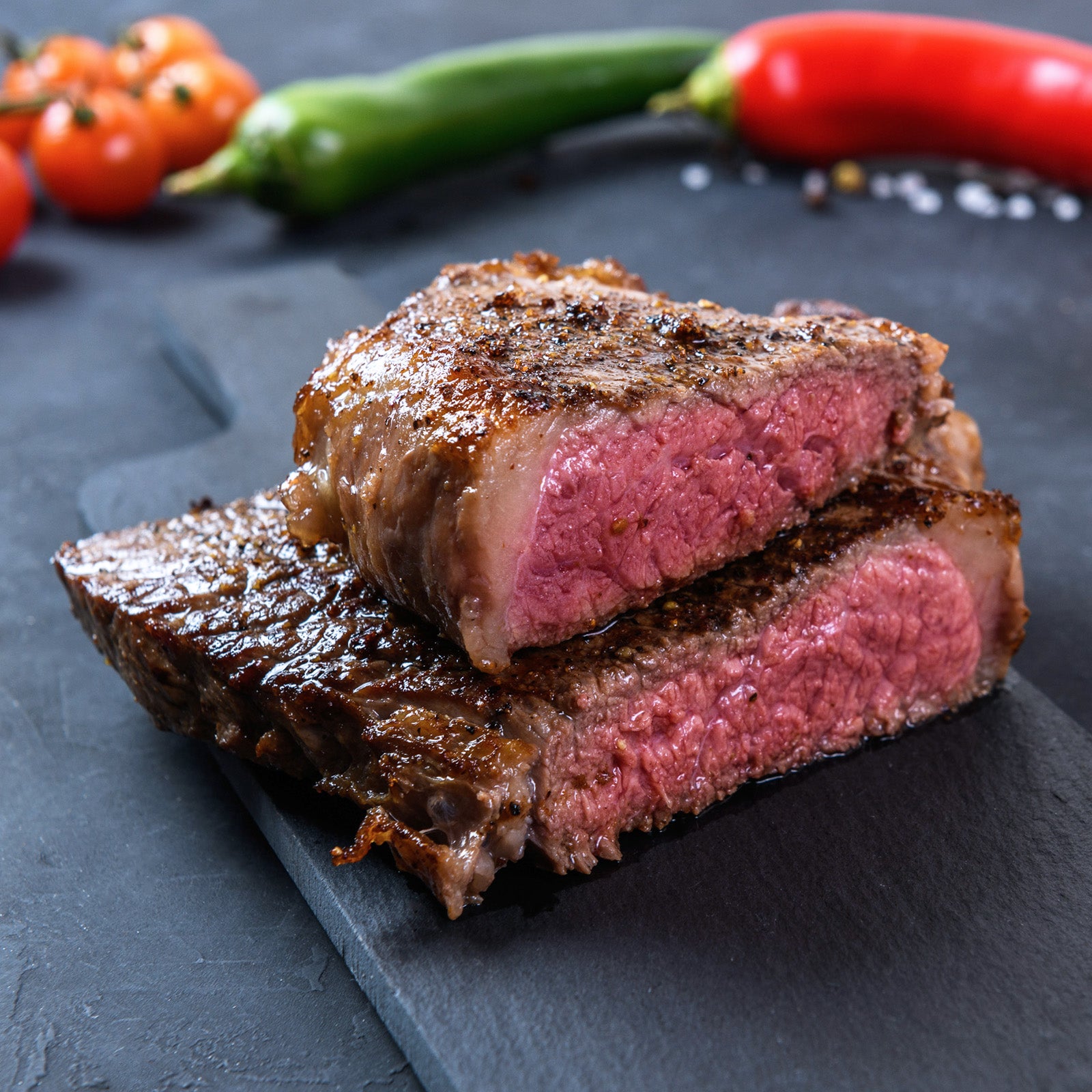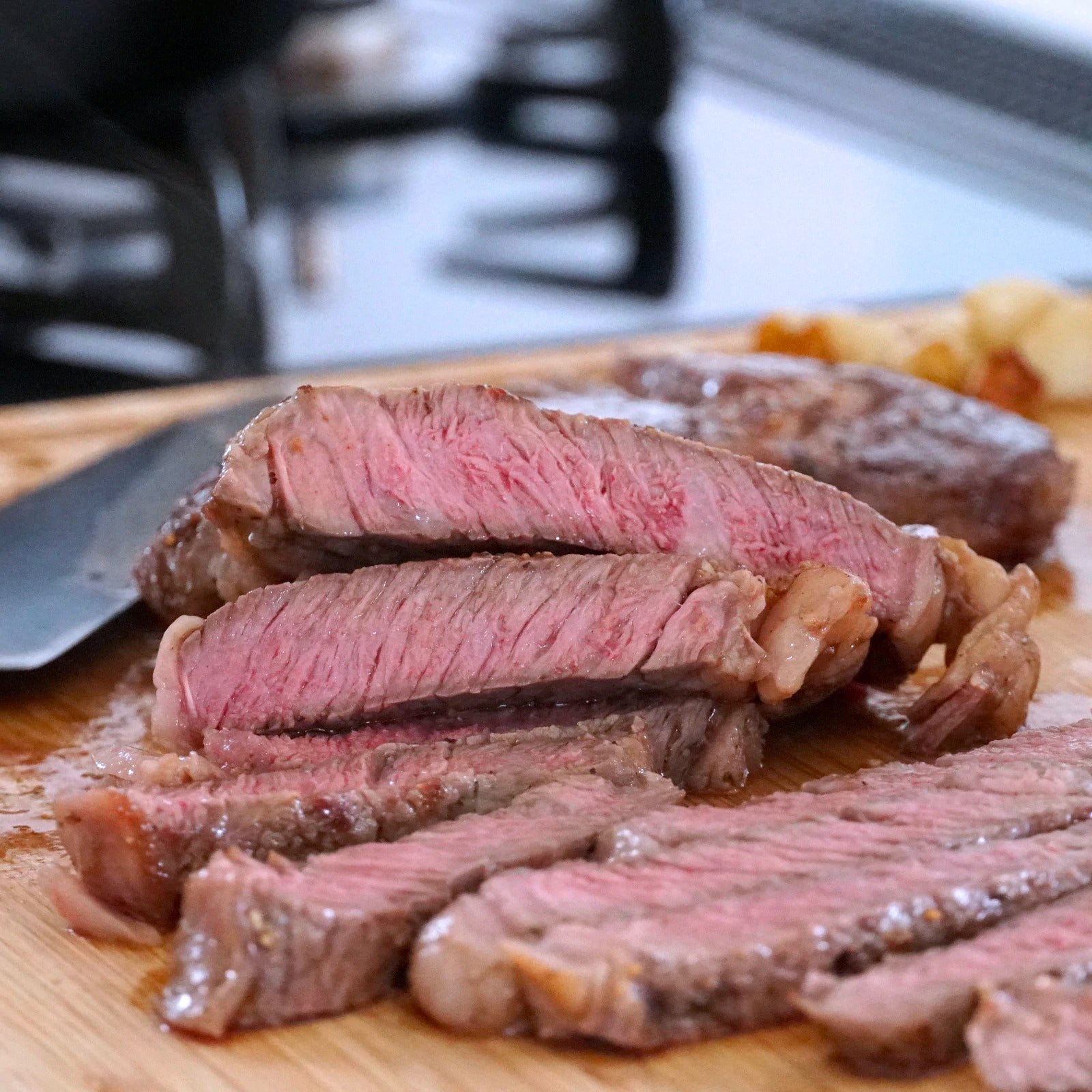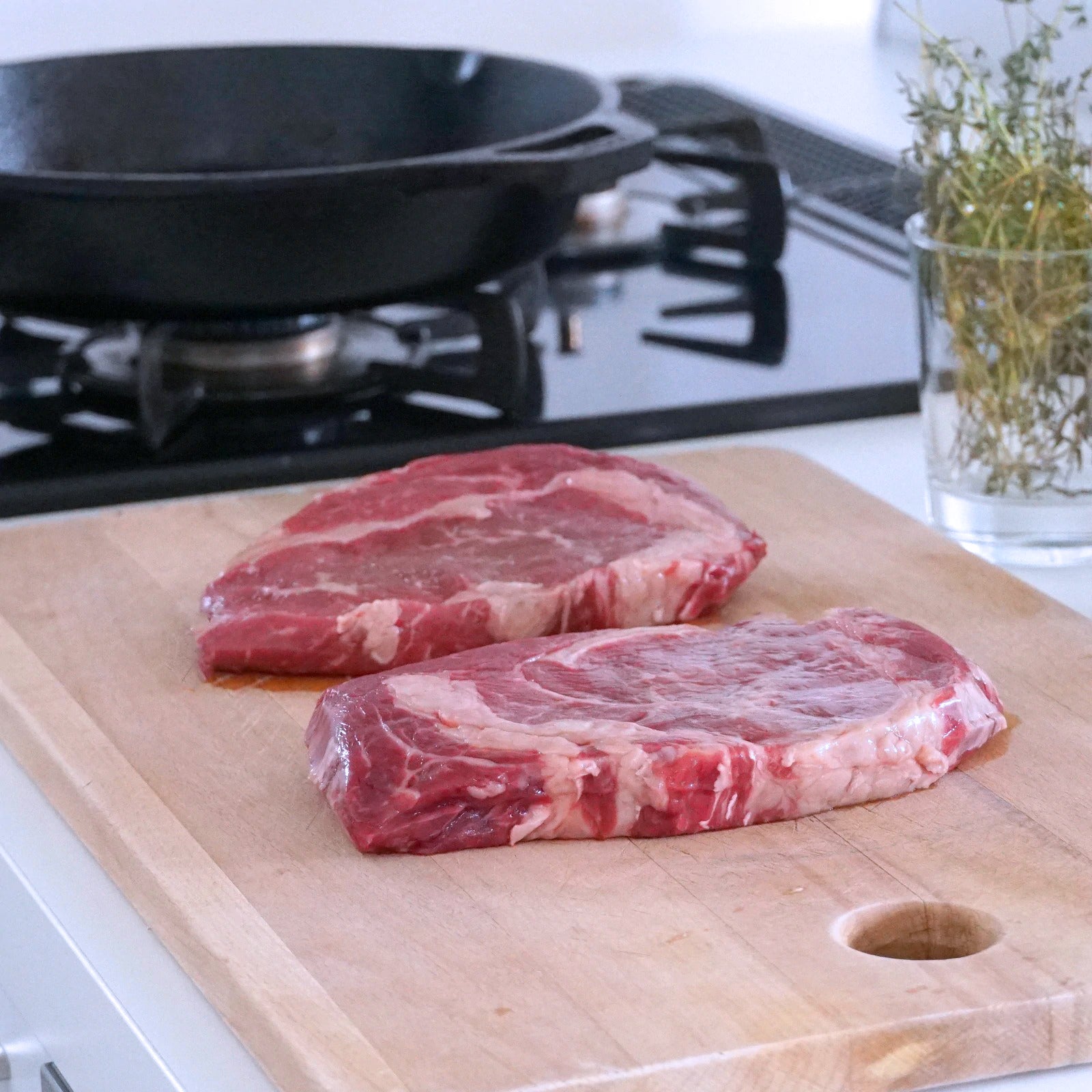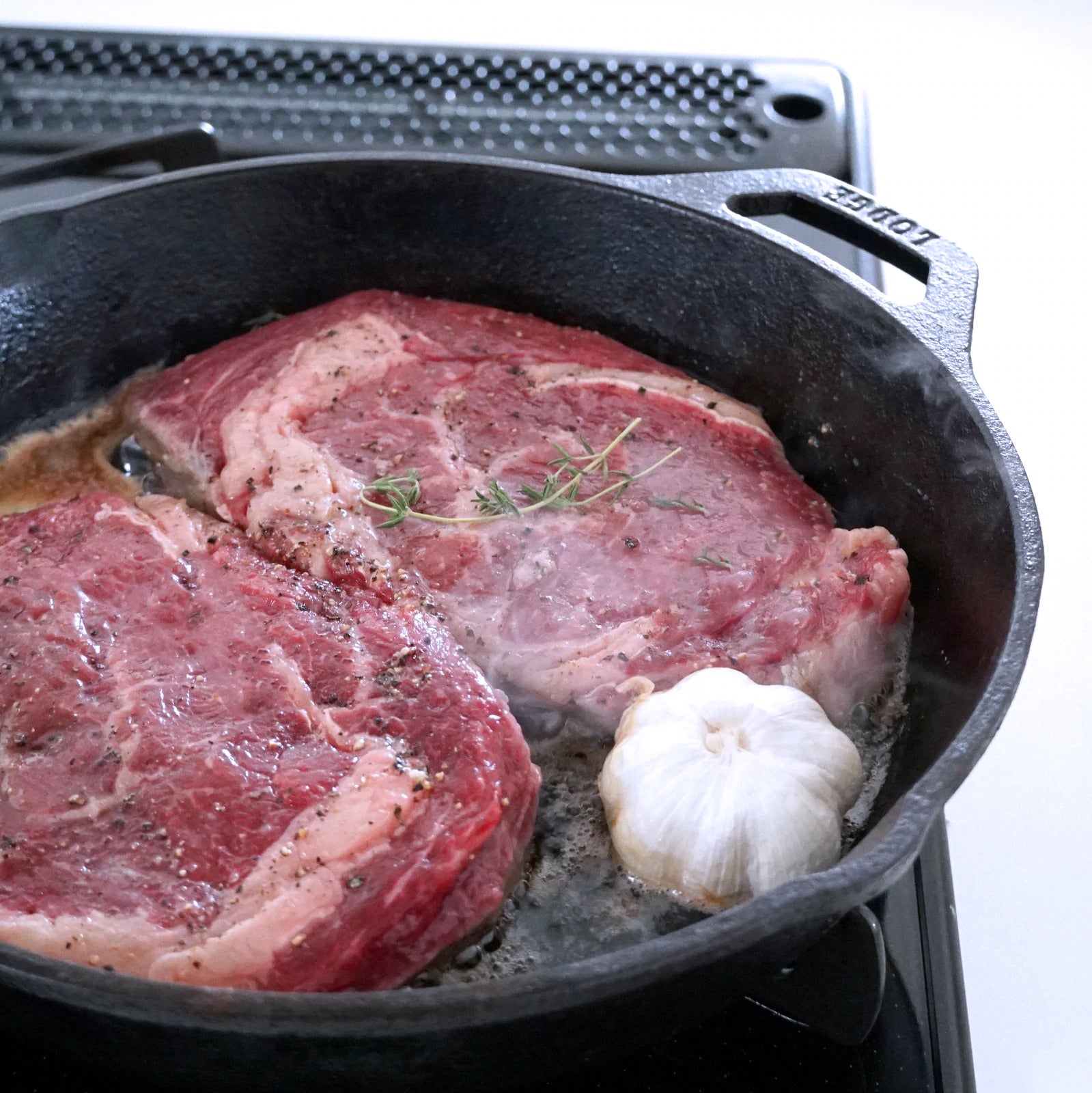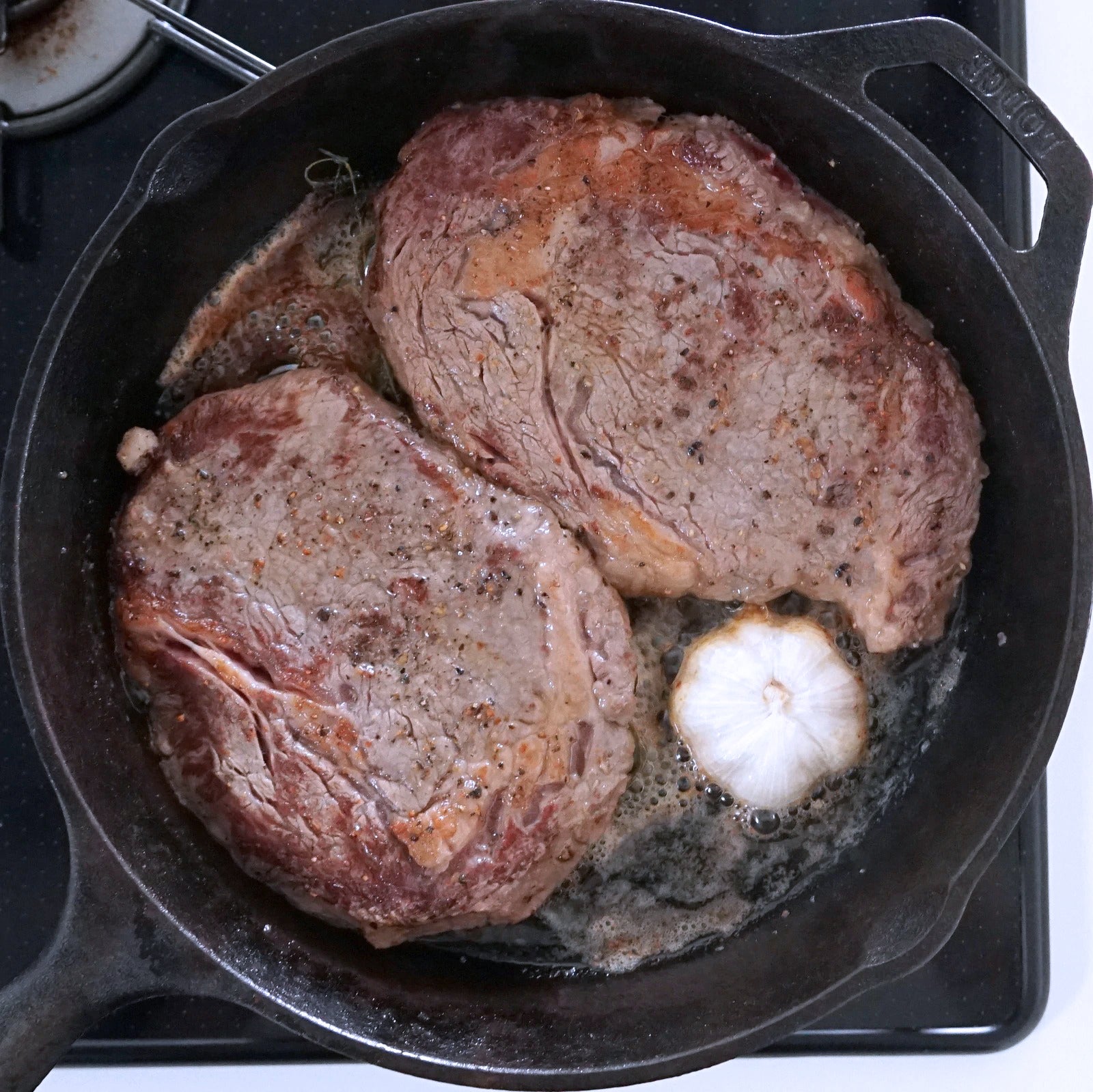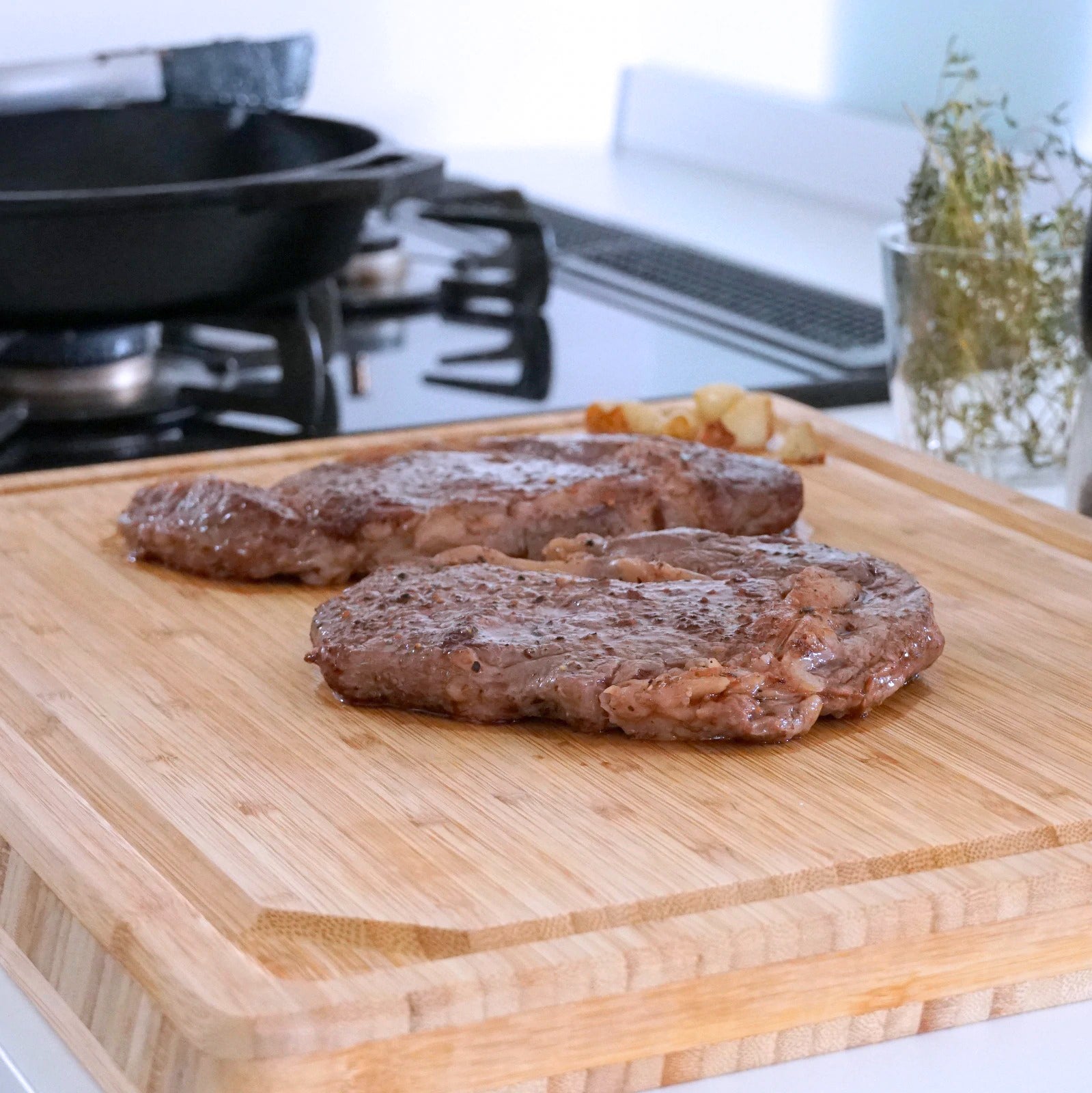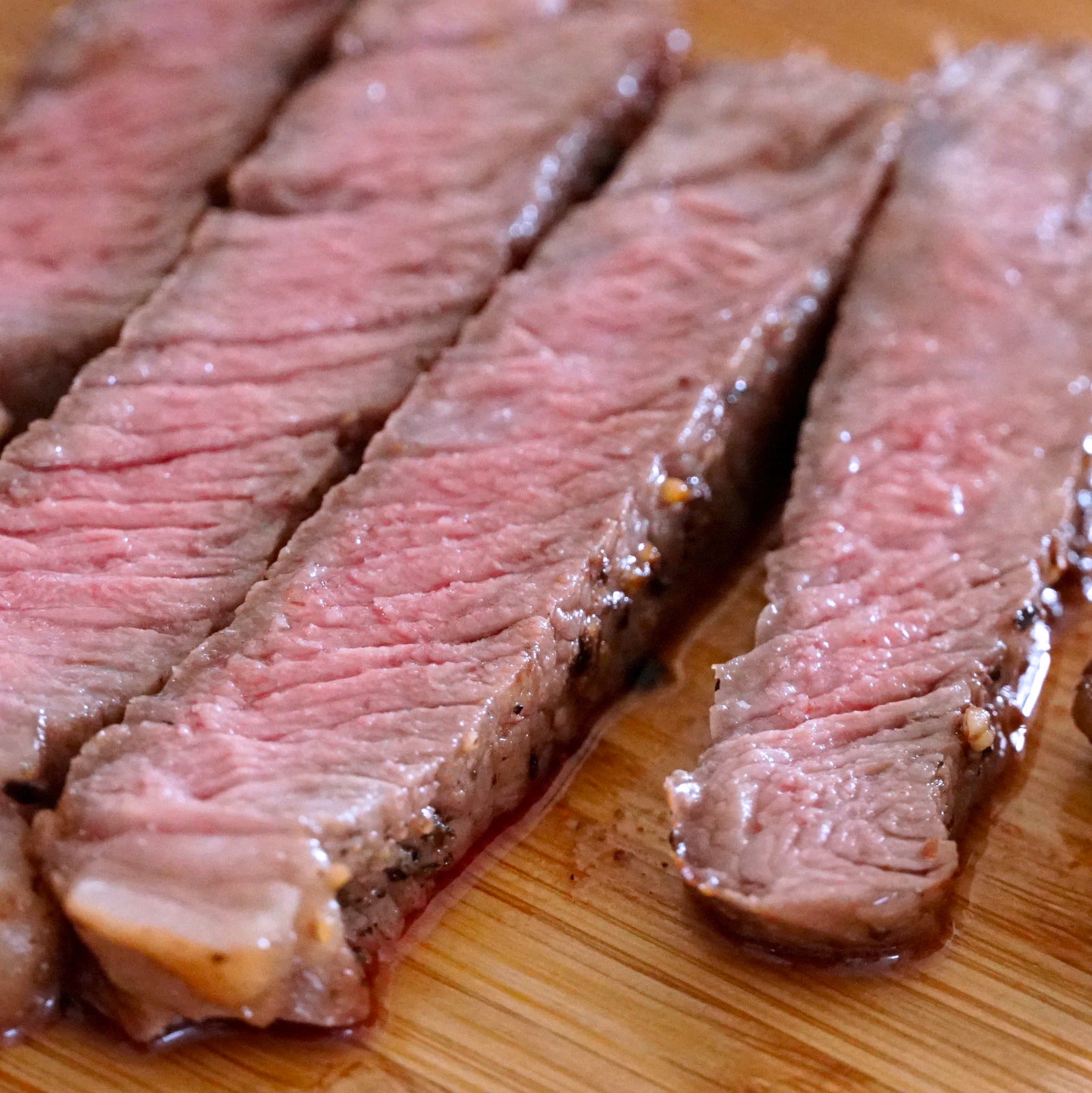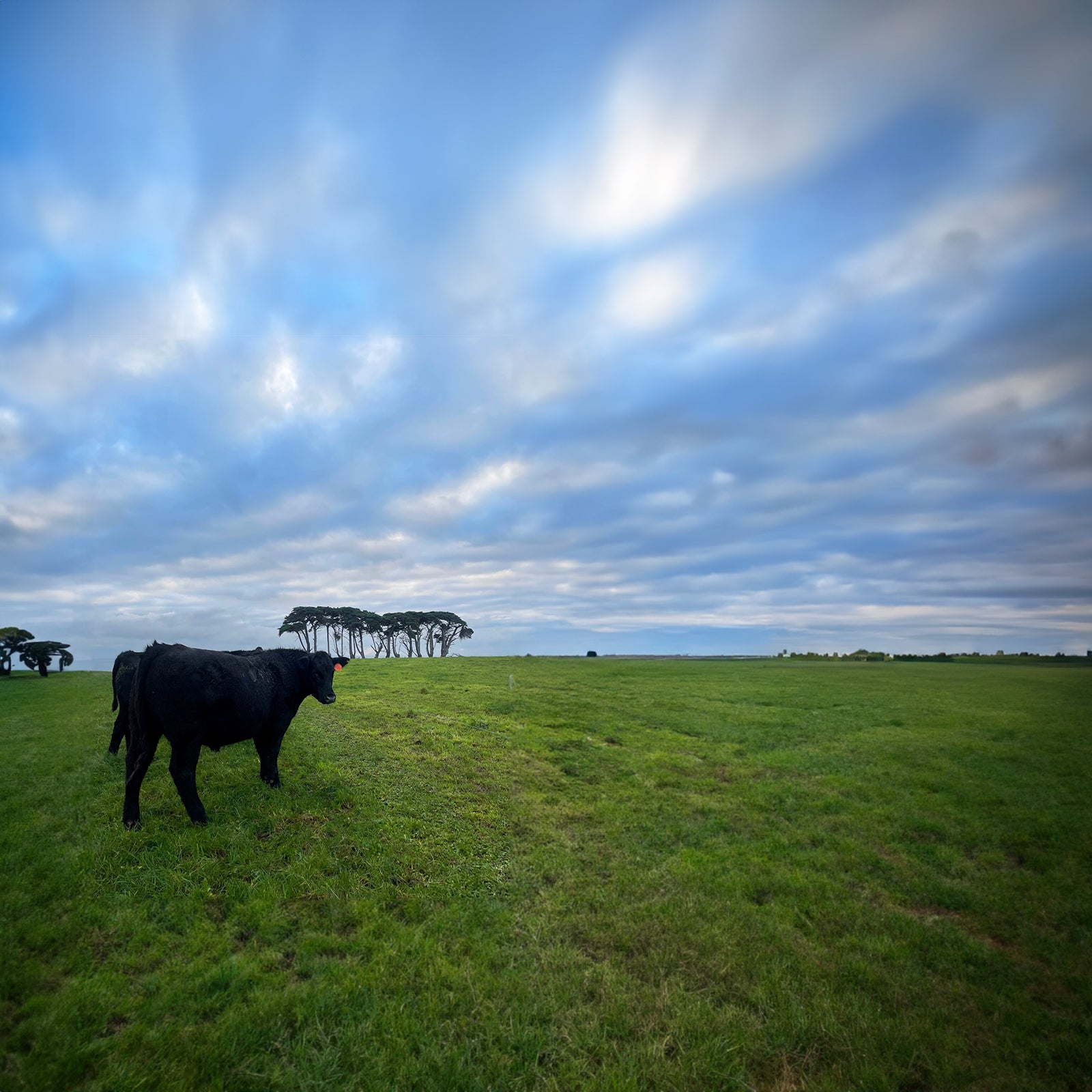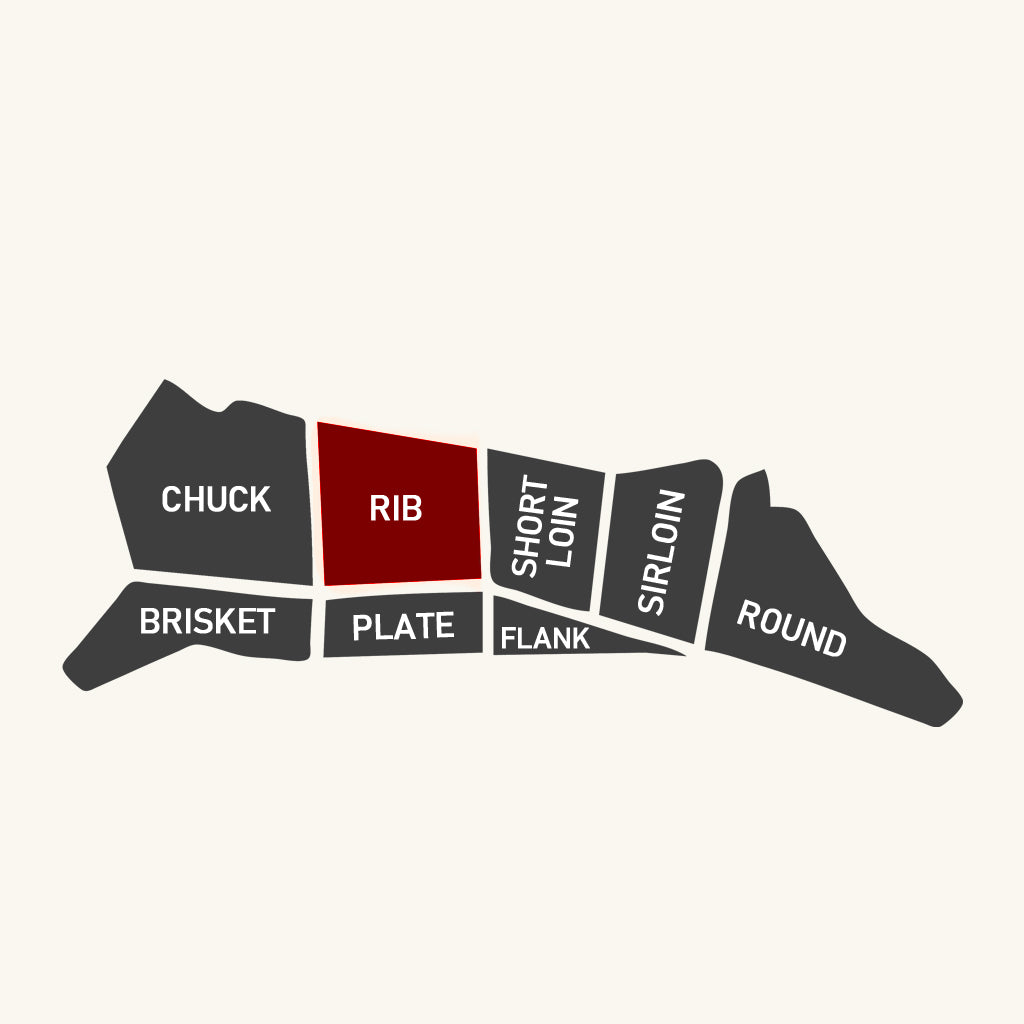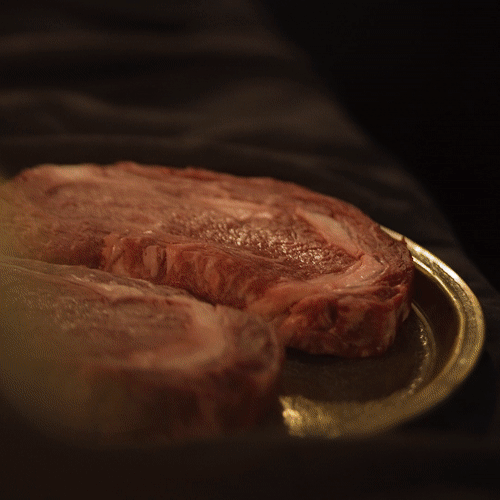 Premium Grain-Fed Beef MB5+ Ribeye Steak from Australia (200g)
Buy More, Save More:
200g x 1 (Regular Price)
Please note that the weight of this product has changed from 300g to 200g and that the price has been adjusted accordingly. 
One 200g (7.0oz) juicy ribeye steak cut directly from the rib primal. Superbly marbled barley-fed free-range Black Angus beef from Australia. The ribeye is by far the most popular cut of steaks as it combines marbling, tenderness, and rich flavor. We recommend seasoning these steaks with simple sea salt and freshly ground pepper only. Check out our cooking instructions at the bottom.
✔ Grass-Fed and Grain-Finished on a custom GMO-free barley feed for at least 150 days for superior marbling and flavor. 

✔ Free-range and open pasture-raised all year round.

✔ Humanely raised and treated with respect.

✔ No antibiotics or growth hormones - ever!

✔ "Tenderstreched" method of processing increases the tenderness of the meat. 
Contents
| | |
| --- | --- |
| Contents | 1 steak |
| Weight | 200g (7.0oz) |
| Serves | Serves 1-2 |
Shipping & Handling
Shipping
Shipping and delivery is frozen
Handling
Keep frozen below -18°C (0°F)
Defrosting Time
In the fridge: approx. 24h
In ice-water: 2 hours
Cooking Method
Grill, Cast-Iron Skillet, Fry-Pan, Oven
Best By


Frozen: 

see packaging label (usually more than 1 month)




Chilled: Please consume unopened pack within 5 days.
Details
| | |
| --- | --- |
| Also known as | Rib eye steak, Delmonico, Entrecote, Entrecôte, Scotch Fillet, Prime Rib, Rib Roast, Rib Eye Roast |
| Country of Origin | Australia |
| Ingredients | Beef |
| Cut from | Rib |
| Category | Steaks |
| Packaging | Individually vacuum packed |
PURE Black beef from Australia. Black Angus free-range Aussie cows are long fed for at least 150 days on a proprietary GMO-free barley feed for superior marbling and a buttery-rich flavor. They are then "tenderstretched" - a method of processing known to considerably increase the tenderness of the meat. Only cuts that have a Marbling Score of 5+ (MB5+, the highest score) are selected - guaranteeing a gourmet marbling you would find in five-star restaurants. Absolutely no use of subtherapeutic antibiotics or growth hormones. Ethical and luxurious at the same time. Taste the difference.
At A Glance
Cattle Breed
Black Angus
Farm/Ranch

PURE Black (Australia)

Breeding

100% free-range on open pastures.

Feeding
Grass-fed from birth then

long fed for 

at least 

150 days on a proprietary GMO-free barley grain feed.

Traceability
100% fully traceable from farm to fork.
Growth-Hormones
Never
GMO-feed or use
Never
Antibiotics
Never
Importer

Horizon Farms, Inc.

Processing

Locally processed in Japan.
Completely defrost in the fridge or in cold water. Open pack and pat dry any moisture with a paper towel. Let the steaks sit at room temperature for at least 10 minutes. You will see vivid color changes as the steaks are exposed to oxygen.
Quality steaks do not require heavy seasonings or marinate. Simply use sea salt and freshly ground pepper and rub with extra virgin olive oil.
Use a fry-pan or cast-iron skillet. Preheat to low/medium. You need to hear the steak sizzle. If you are using a grill, place the steaks into the indirect heat zone not directly over the flames.
Cook low and slow on all sides. Keep turning the steaks. There is no need to sear these steaks! Keep turning them. Use a thermometer to determine the core temperature. We recommend medium-rare for steaks. 
Remove from the heat once the core temperature has reached 50 degrees Celsius (125 degrees Fahrenheit) and place on a cutting board. The steaks will continue to cook internally on residual heat. Let the steak rest for at least 5 minutes.
Use a large sharp knife and cut the steak into slices. 
Perfectly cooked to medium-rare. Serve and eat while warm for the best taste experience. 
Sprinkle with sea salt if necessary. Enjoy!
Perfect balance
Just the right combination of fat and lean protein for juiciest and tastiest experience.
Translated from Japanese: My family doesn't like wagyu beef, so I tried this for the first time. These 300g had no odor and I finished it all by myself in a blink of an eye.
Translated from Japanese: It's a reorder. It's delicious because it's grain-finished.
Soft and delicious!
Translated from Japanese: I bought it several times and it's always delicious, so this time I had an early meal with my son's family on New Year's Day. When I grilled the ribeye steak, my grandchildren were happy that it was "soft and delicious." Before grilling, I cut the meat streaks with the tip of a kitchen knife, beat it a little, season it with salt and black pepper and topped it with fried slices of raw garlic in oil. Everyone loved it, so I can't pass on the ribeye steak anymore when I order again.