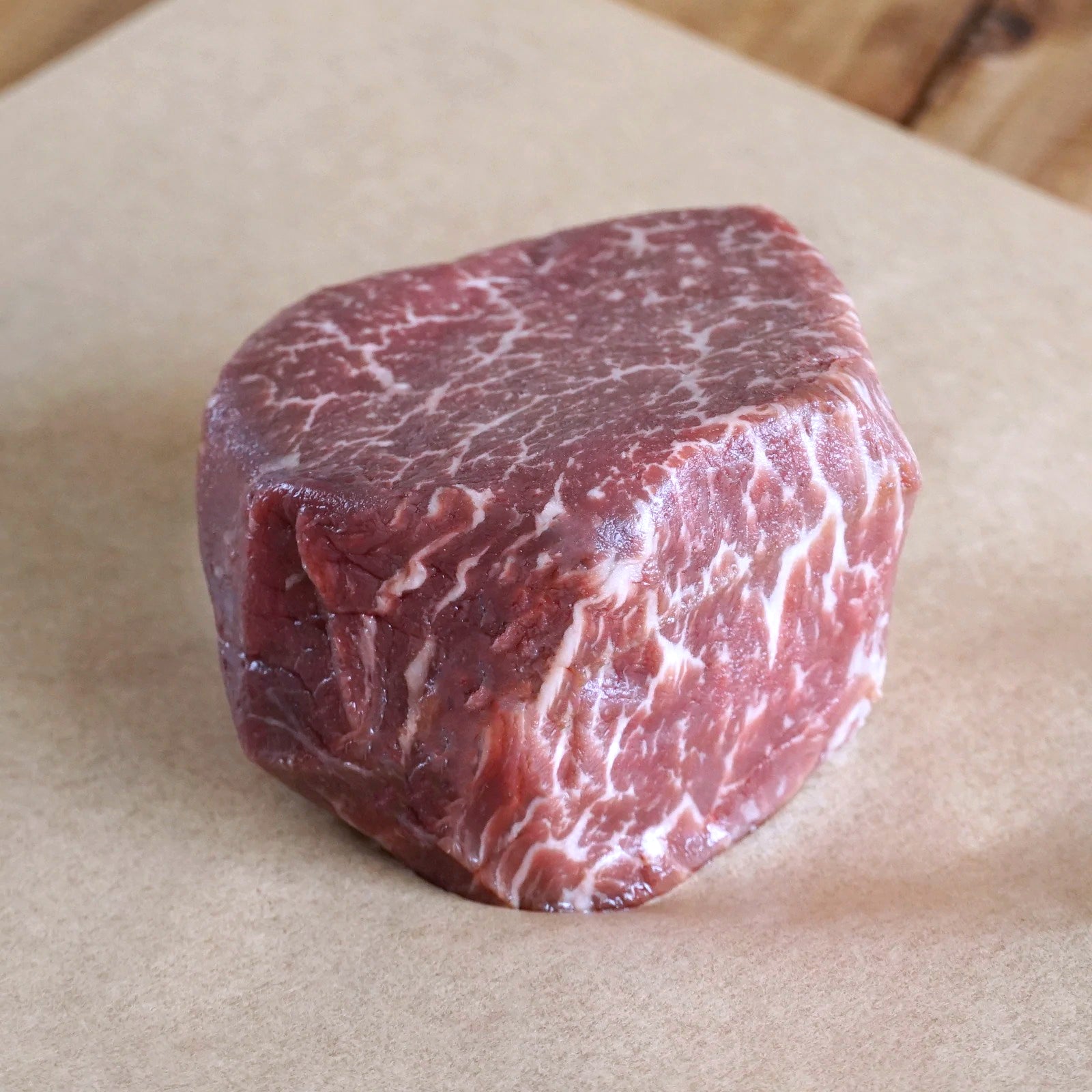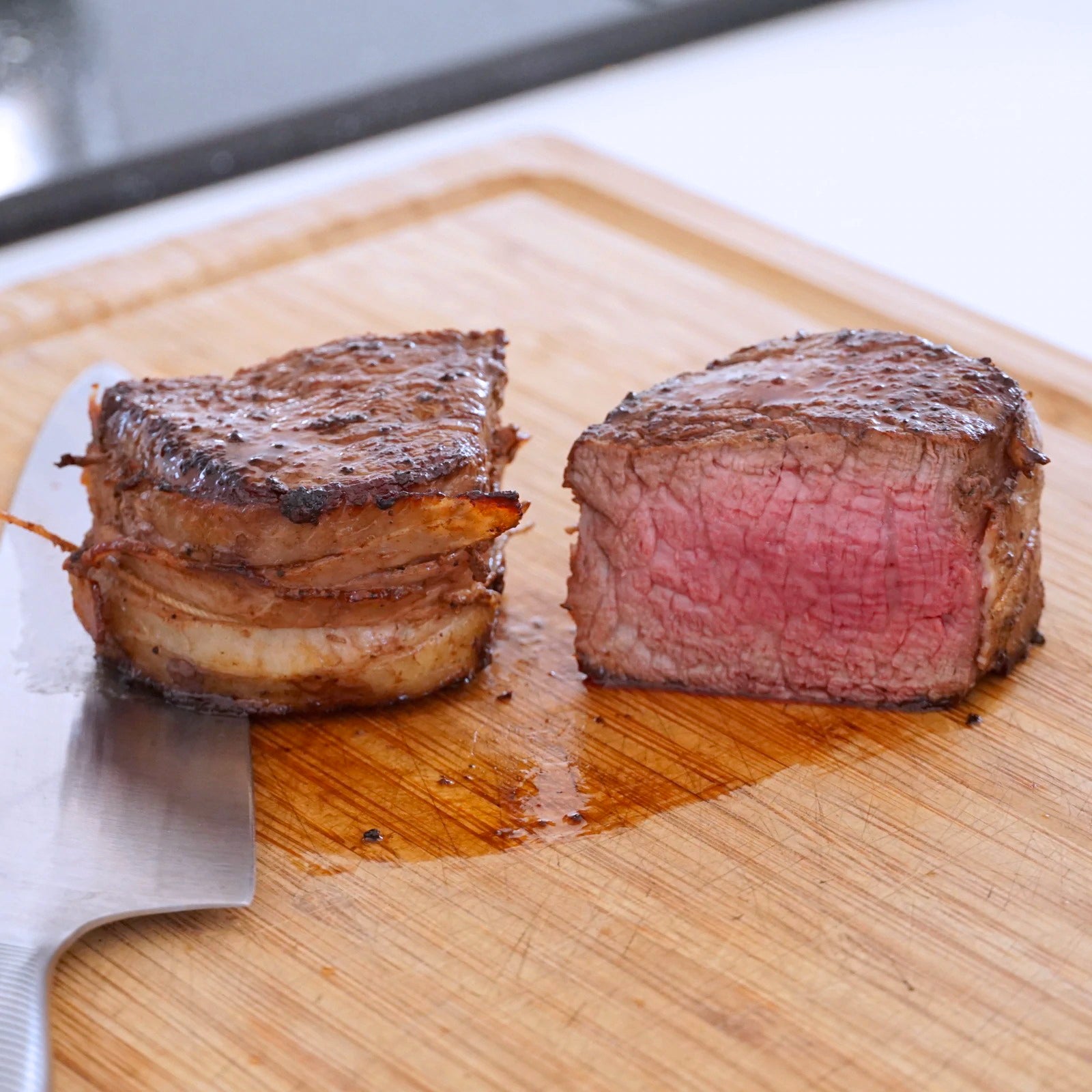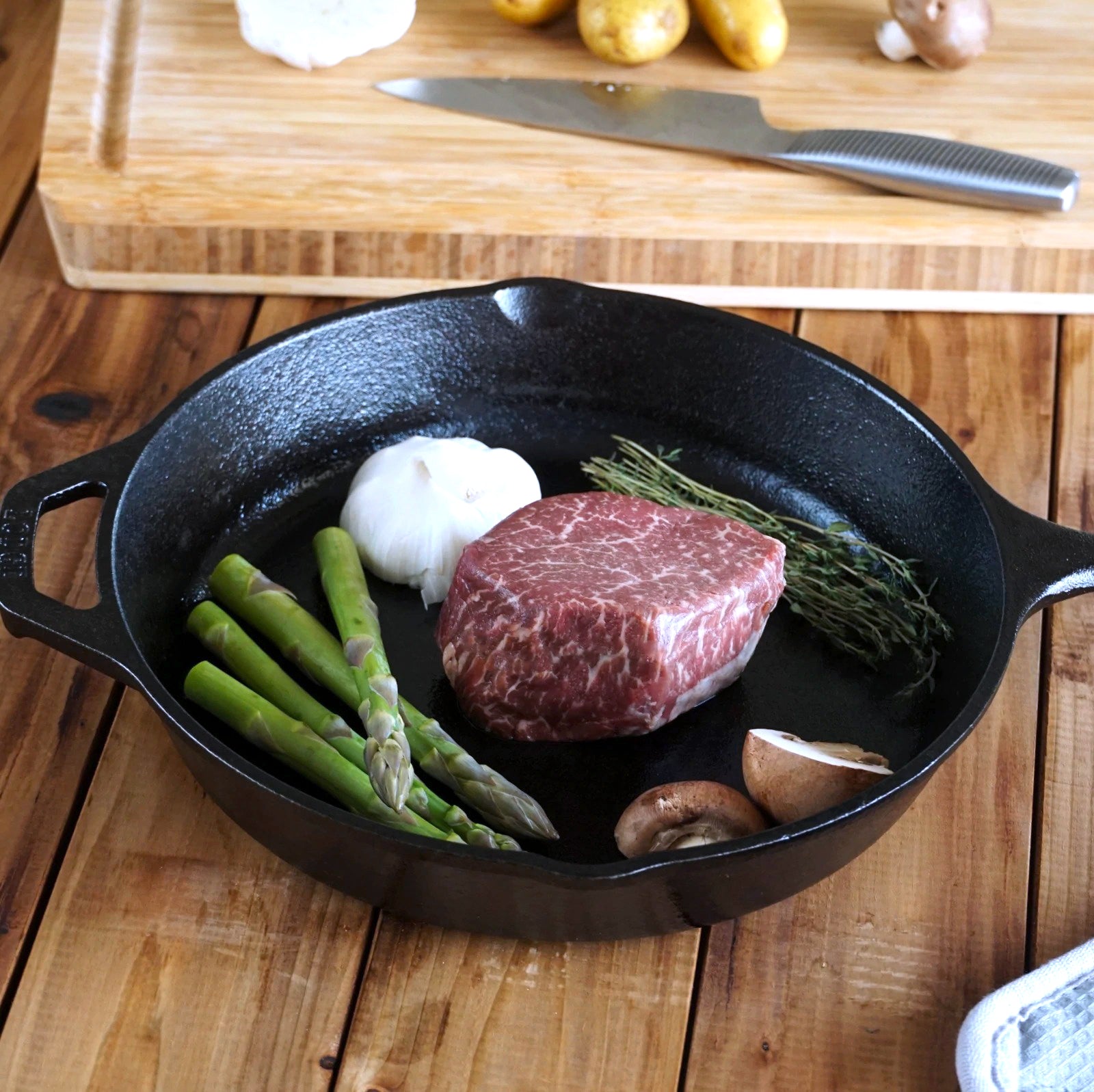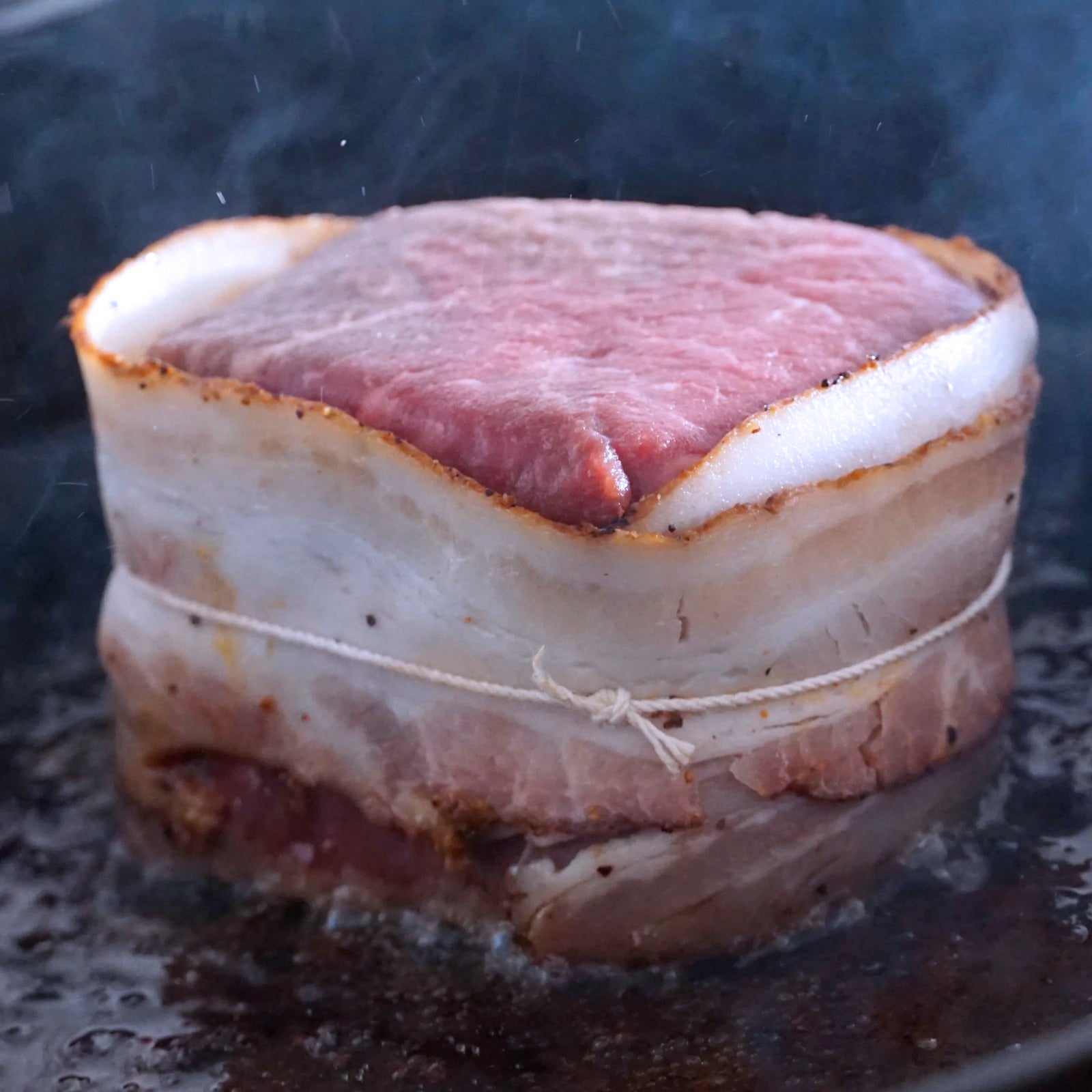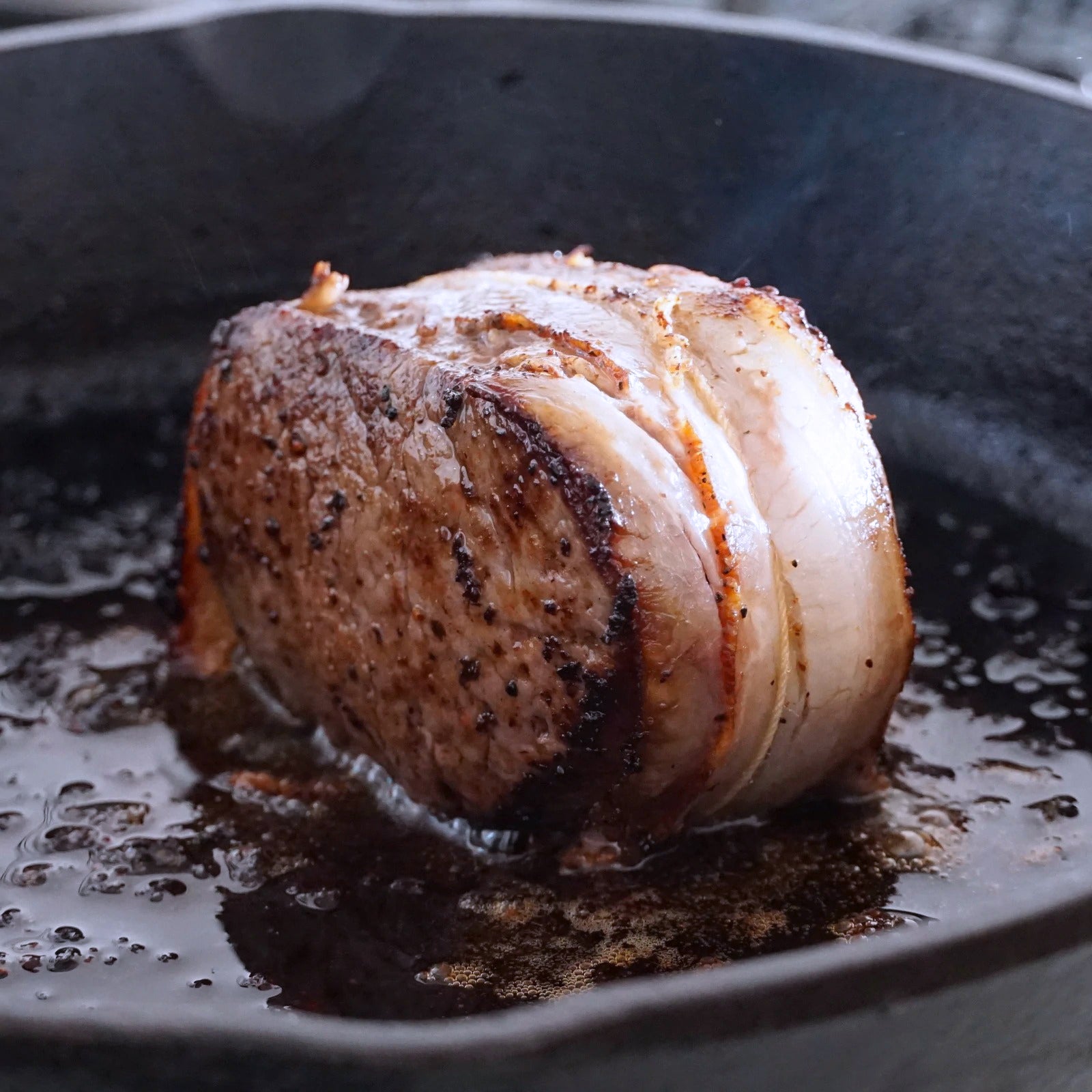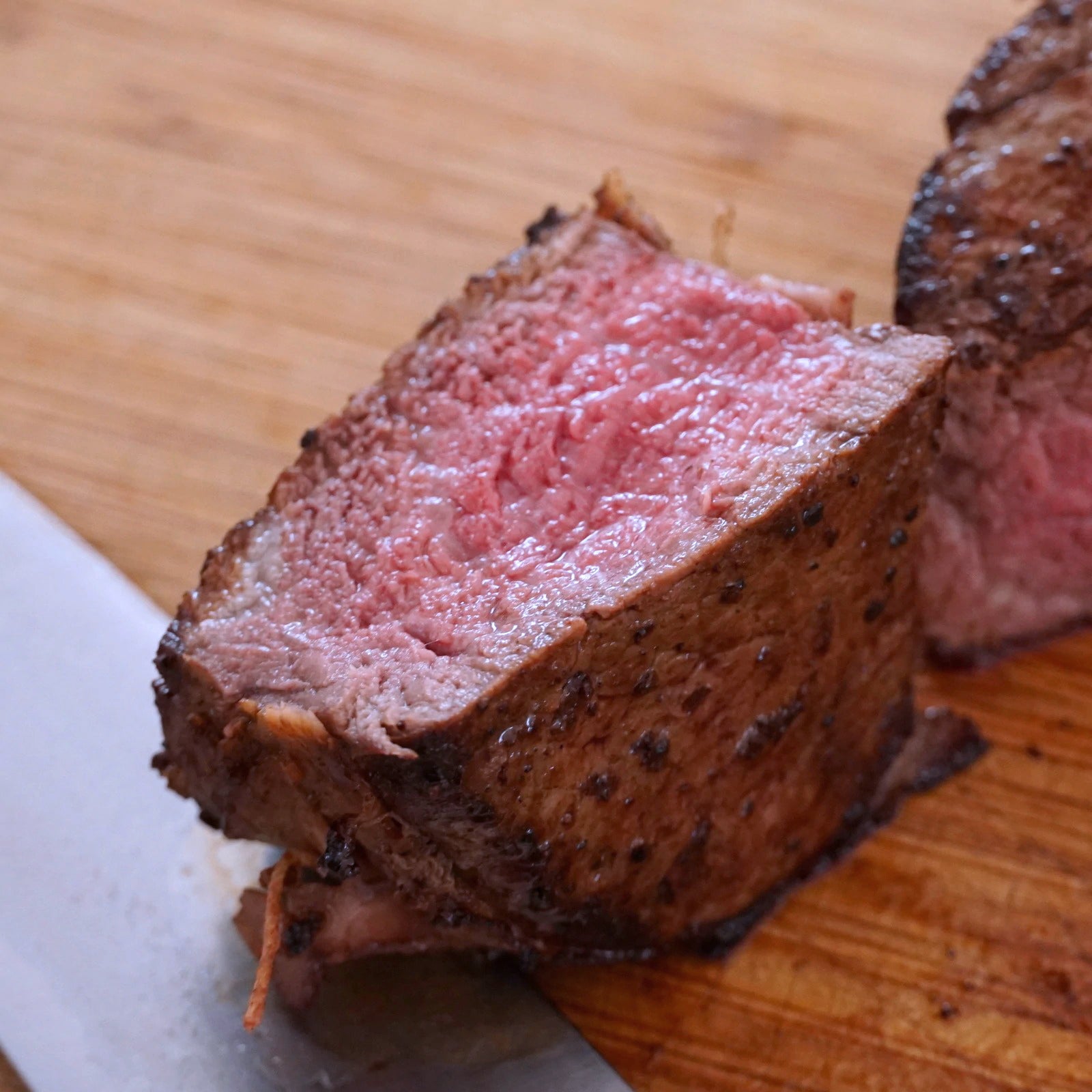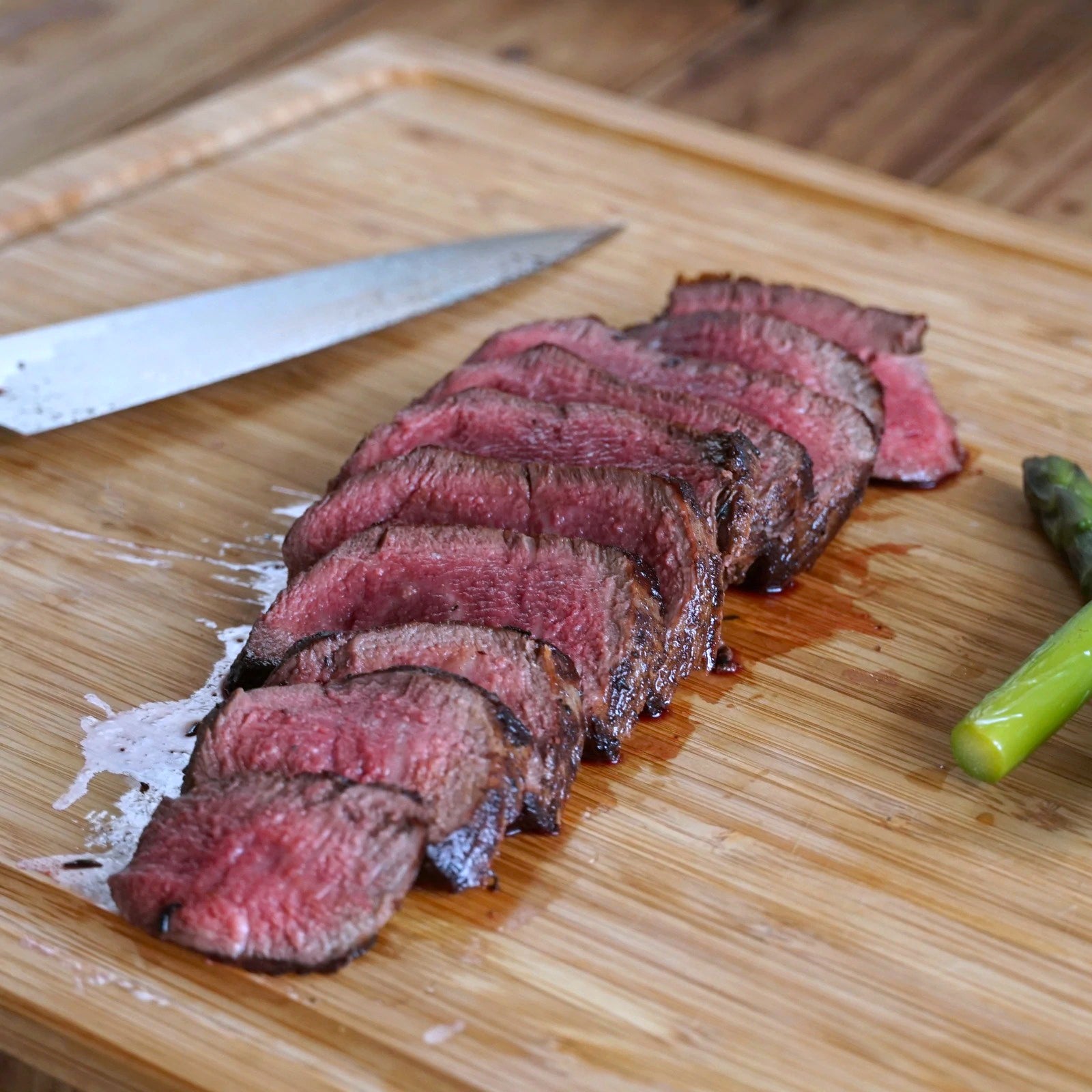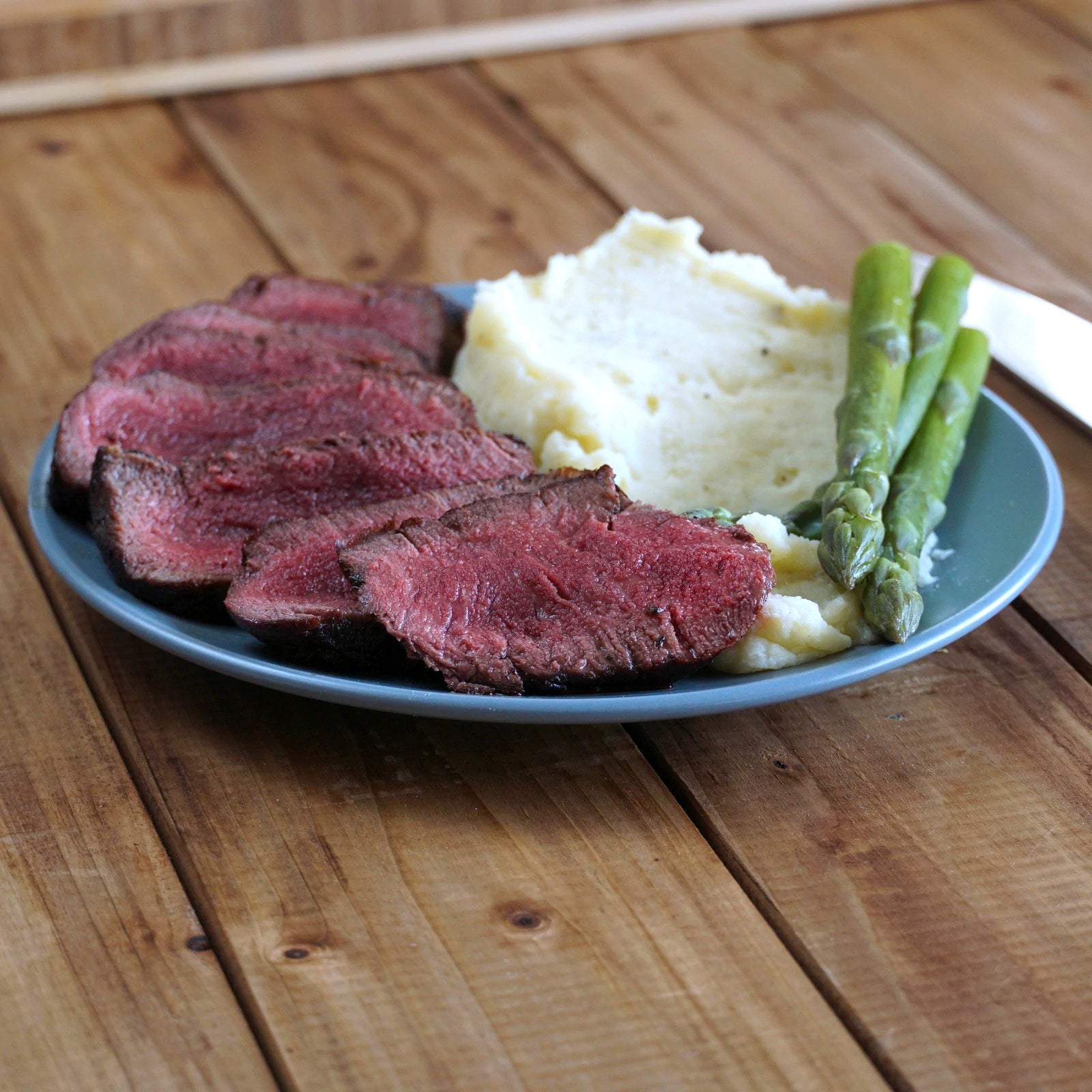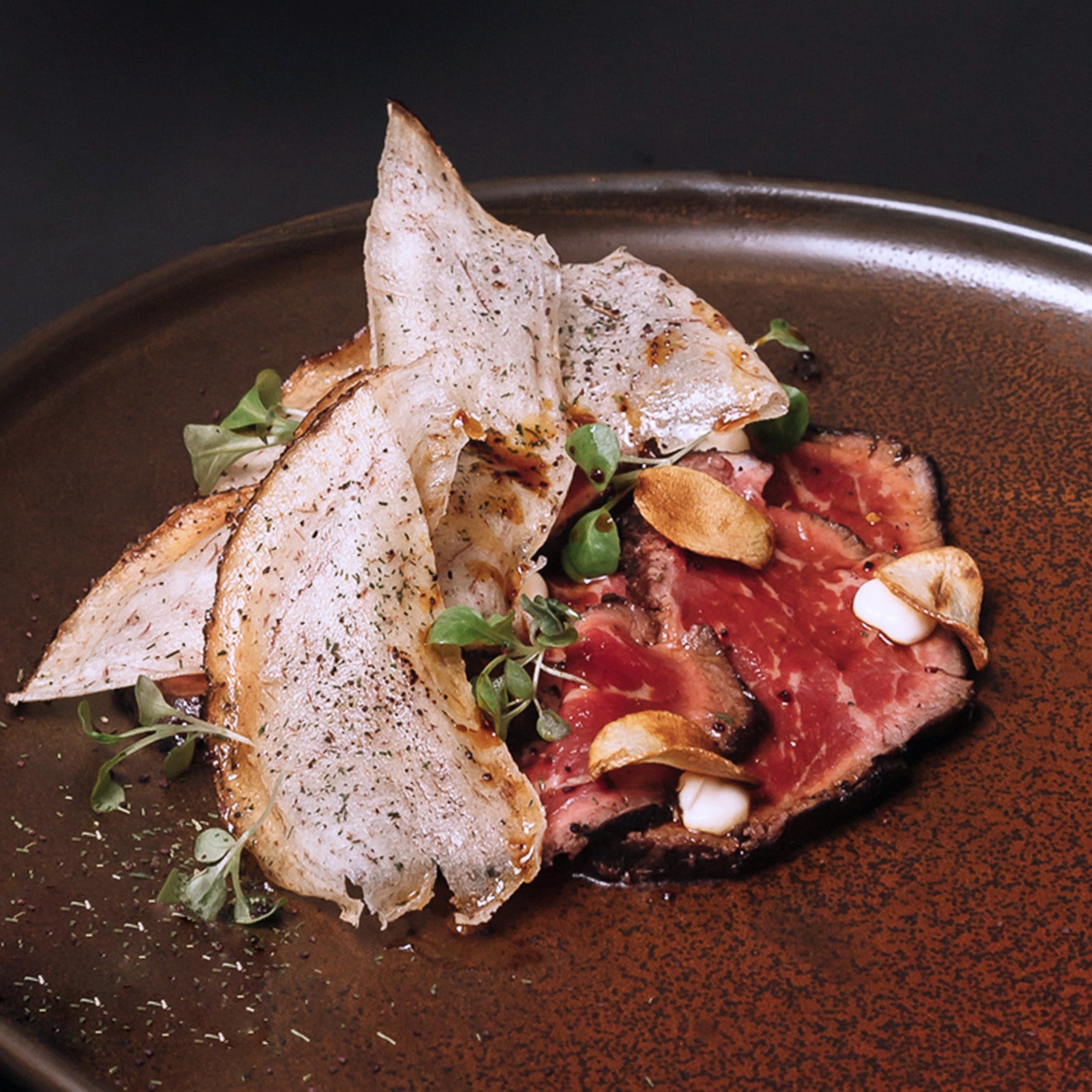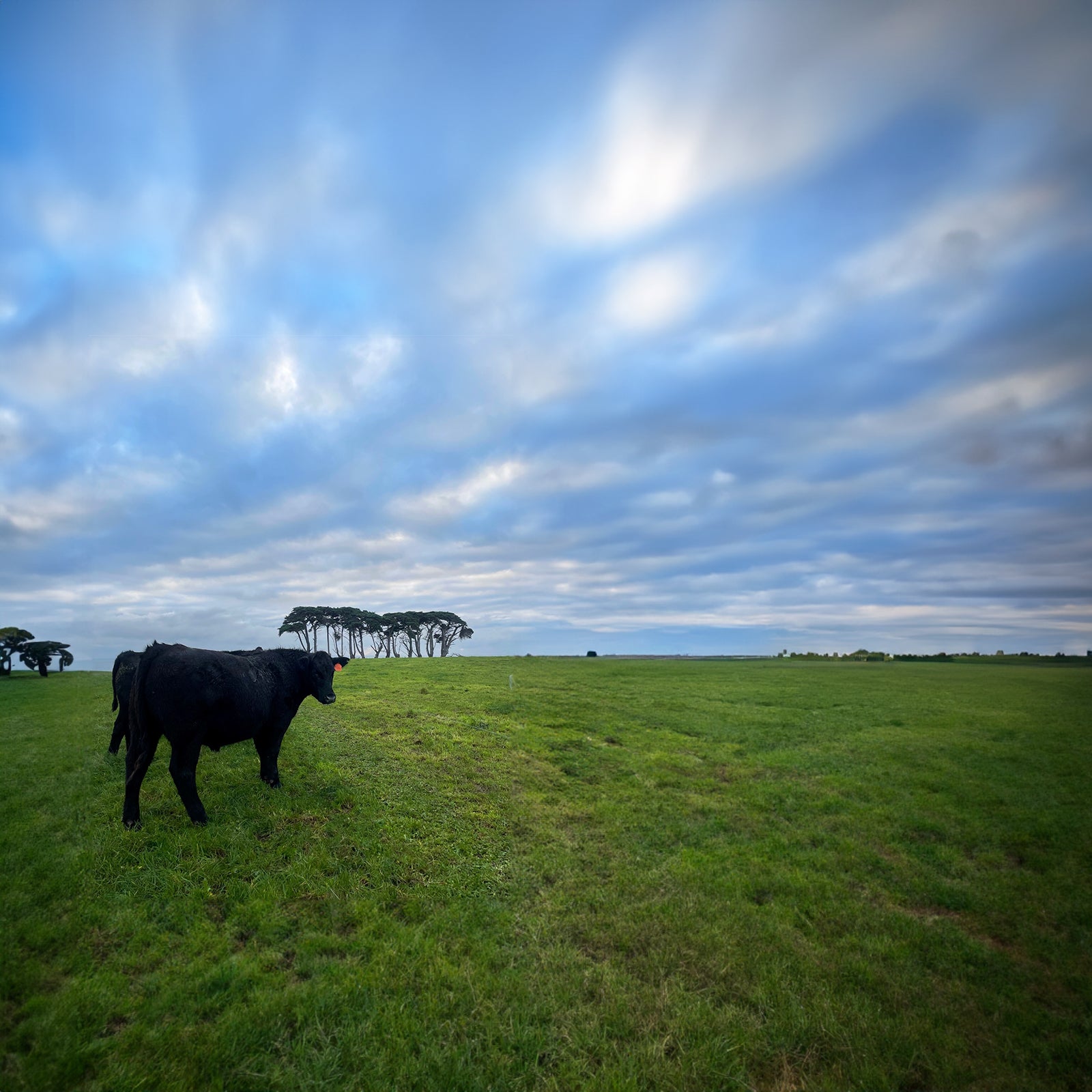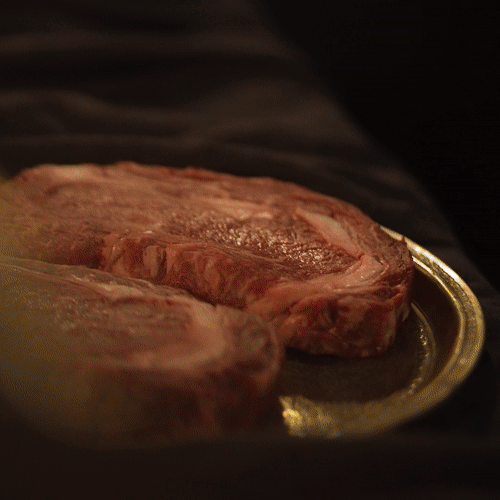 Premium Grain-Fed Beef MB5+ Filet Steak from Australia (200g)
Buy More, Save More:
200g x 1 (Regular Price)
We are proud to announce that we have renewed this product with a more premium, incredibly marbled steak - as the source farm for this product has been changed. Rest assured the beef is still nasty-free and sourced from free-range cows. Please note that the price has changed. 
You get a 200g (7.0oz) filet steak cut from the famously expensive tenderloin of beef, the same part the Chateaubriand is cut from. Superbly marbled barley-fed free-range Black Angus beef from Australia. Compared to other popular cuts, the tenderloin is typically much leaner, but this steak is made from only the most well-marbled beef. Our steaks are perfectly trimmed and ready for a luxurious cooking experience right at home. Cooked medium-rare the steak is incredibly tender - typical for steaks cut from the tenderloin. For best results check our cooking instructions below.
✔ Grass-Fed and Grain-Finished on a custom GMO-free barley feed for at least 150 days for superior marbling and flavor. 

✔ Free-range and open pasture-raised all year round.

✔ Humanely raised and treated with respect.

✔ No antibiotics or growth hormones - ever!

✔ "Tenderstreched" method of processing increases the tenderness of the meat. 
Contents
| | |
| --- | --- |
| Contents | 1 Pack |
| Weight | 200g (7.0oz) |
| Serves | Serves 1 |
Shipping & Handling
Shipping
Shipping and delivery is frozen
Handling
Keep frozen below -18°C (0°F)
Defrosting Time
In the fridge: approx. 24h
In ice-water: 2h
Cooking Method
Grill, Cast-Iron Skillet, Fry-Pan, Oven
Best By


Frozen: 

see packaging label (usually more than 1 month)




Chilled: Please consume unopened pack within 3 days.
Details
| | |
| --- | --- |
| Also known as | Fillet steak, tenderloin steak, filet mignon, fillet mignon, petit steak, chateaubriand steak |
| Country of Origin | Australia |
| Ingredients | Beef |
| Cut from | Tenderloin |
| Category | Steaks |
| Packaging | Individually vacuum packed |
PURE Black beef from Australia. Black Angus free-range Aussie cows are long fed for at least 150 days on a proprietary GMO-free barley feed for superior marbling and a buttery-rich flavor. They are then "tenderstretched" - a method of processing known to considerably increase the tenderness of the meat. Only cuts that have a Marbling Score of 5+ (MB5+, the highest score) are selected - guaranteeing a gourmet marbling you would find in five-star restaurants. Absolutely no use of subtherapeutic antibiotics or growth hormones. Ethical and luxurious at the same time. Taste the difference.
At A Glance
Cattle Breed
Black Angus
Farm/Ranch

PURE Black (Australia)

Breeding

100% free-range on open pastures.

Feeding

Grass-fed from birth then 

long fed for 

at least 

150 days on a proprietary GMO-free barley grain feed.

Traceability
100% fully traceable from farm to fork.
Growth-Hormones
Never
GMO-feed or use
Never
Antibiotics
Never
Importer

Horizon Farms, Inc.

Processing

Locally processed in Japan.
Defrost the steak overnight slowly in the fridge or place the sealed pack in cold water for about 2 hours. Once completely defrosted remove from the pack and let the steak openly "breathe" at room temperature for about 15 minutes. Once exposed to oxygen the meat will regain its vivid colors.
In our example, we're using our all-natural bacon to wrap our steak. This gives the filet additional flavor. All you need is butcher twine or cooking twine. Simply use 2-3 slices to wrap the steak. No additional seasoning is required.
First, sear the outside on medium heat until caramelized. Then cook very slowly on low heat and keep turning the steak to make sure it cooks evenly on all sides.
Don't forget to cook the sides as well. Let the bacon juices flow into the steak.
Once the core temperature of the steak has reached 54 degrees Celsius or 130 Fahrenheit take it off the heat and let it cook on residue heat for 5 more minutes before slicing it up.
Use a large sharp knife to cut the filet into slices or serve as a portion.
Don't forget to remove the twine. Sprinkle with sea salt flakes. Enjoy.
Purchased as a Father's Day gift.
Translated from Japanese: Both of my parents loved it.
It was very tender and had no smell at all!
I'd like to try other meat parts as well.
I'm very satisfied with the fast delivery, too!
As expected
Translated from Japanese: It was soft and had a good taste. As expected.
I will buy it again.
This is my favorite
Translated from Japanese: Each of the Horizon Farms fillet steaks is attractive and very tasty, but my favorite is this New Zealand grain-finished meat.
I'm fascinated by the juicy, tender lean meat with a moderate (very well-balanced) fat portion. I cooked it medium rare, buttered it as soon as I cut it and served it with red wine.
The butter I used was Calpis butter (sorry, Horizon Farms). The smooth and transparent flavor of this butter goes well with the lean meat.
I think Burgundy's red fruit-based Pino Noir is the best wine, better than the Bordeaux type. You can have a delicious and luxurious time with the meat and wine together.
Translated from Japanese: The filets here are soft enough to justify the price. I cooked this steak on both sides with garlic and olive oil, wrapped it in foil and placed in a toaster for 7/8 minutes until medium-rare.
I often use it when I have guests!
Good
Translated from Japanese: Just as expected, the taste was good. A little expensive though.