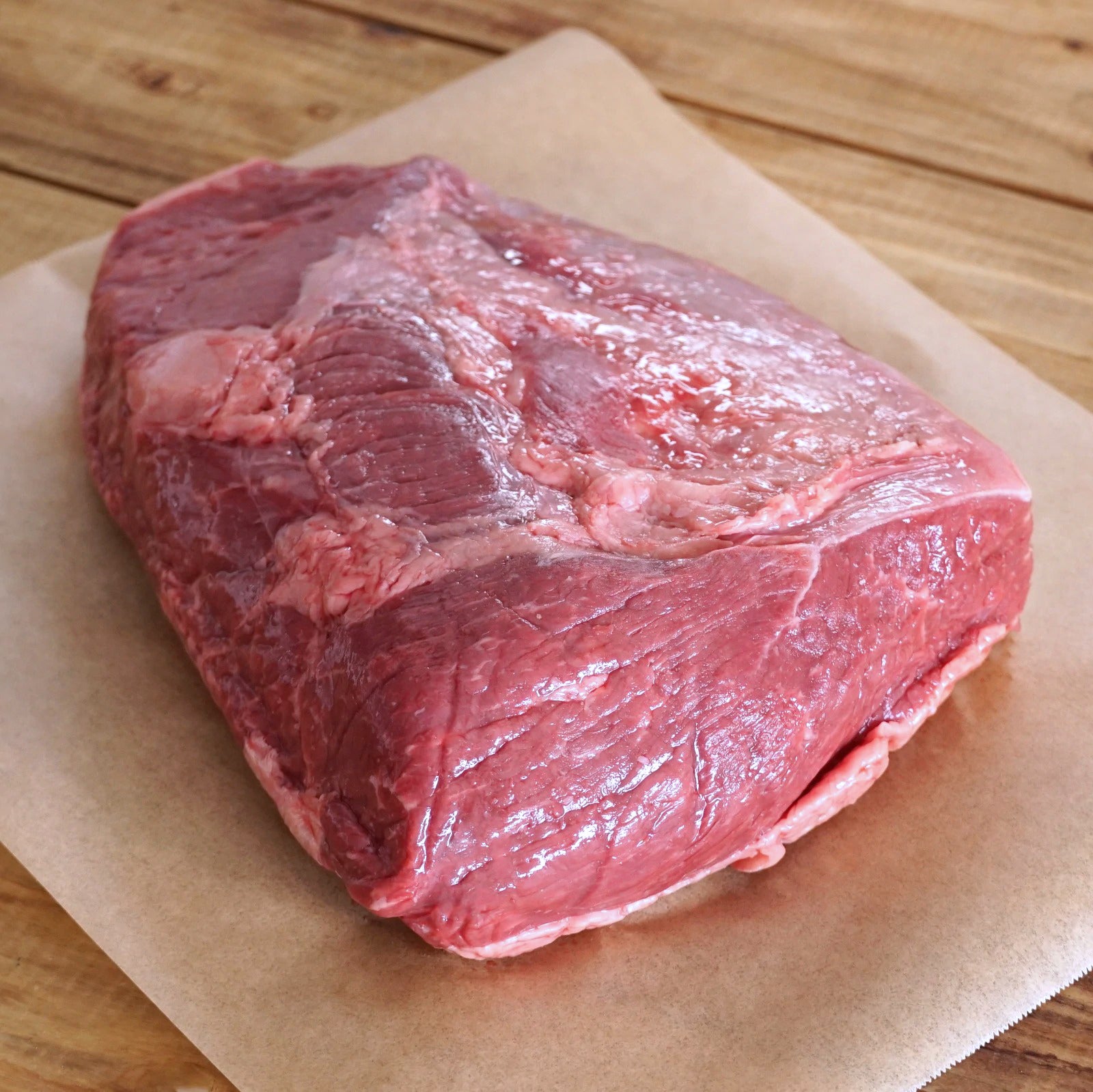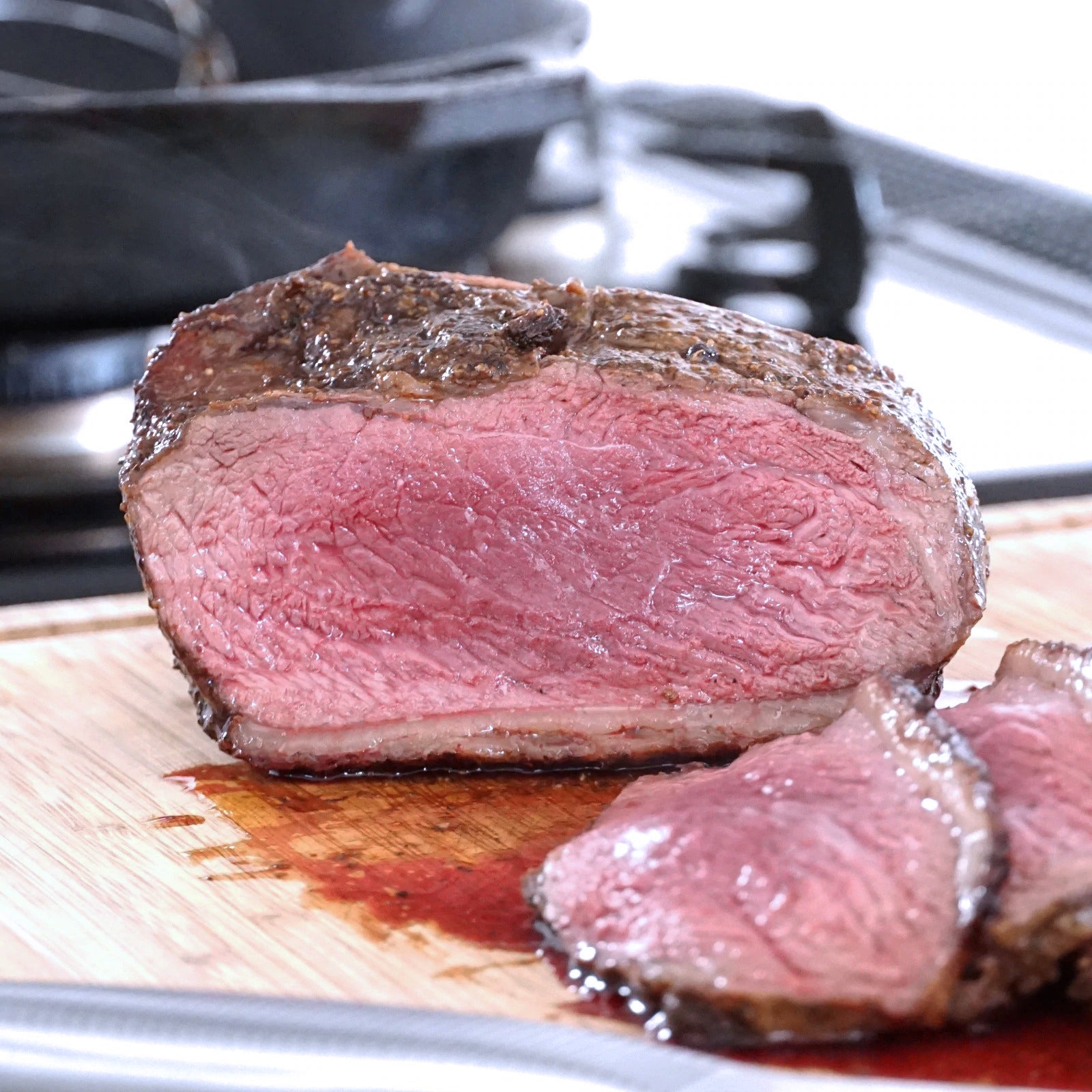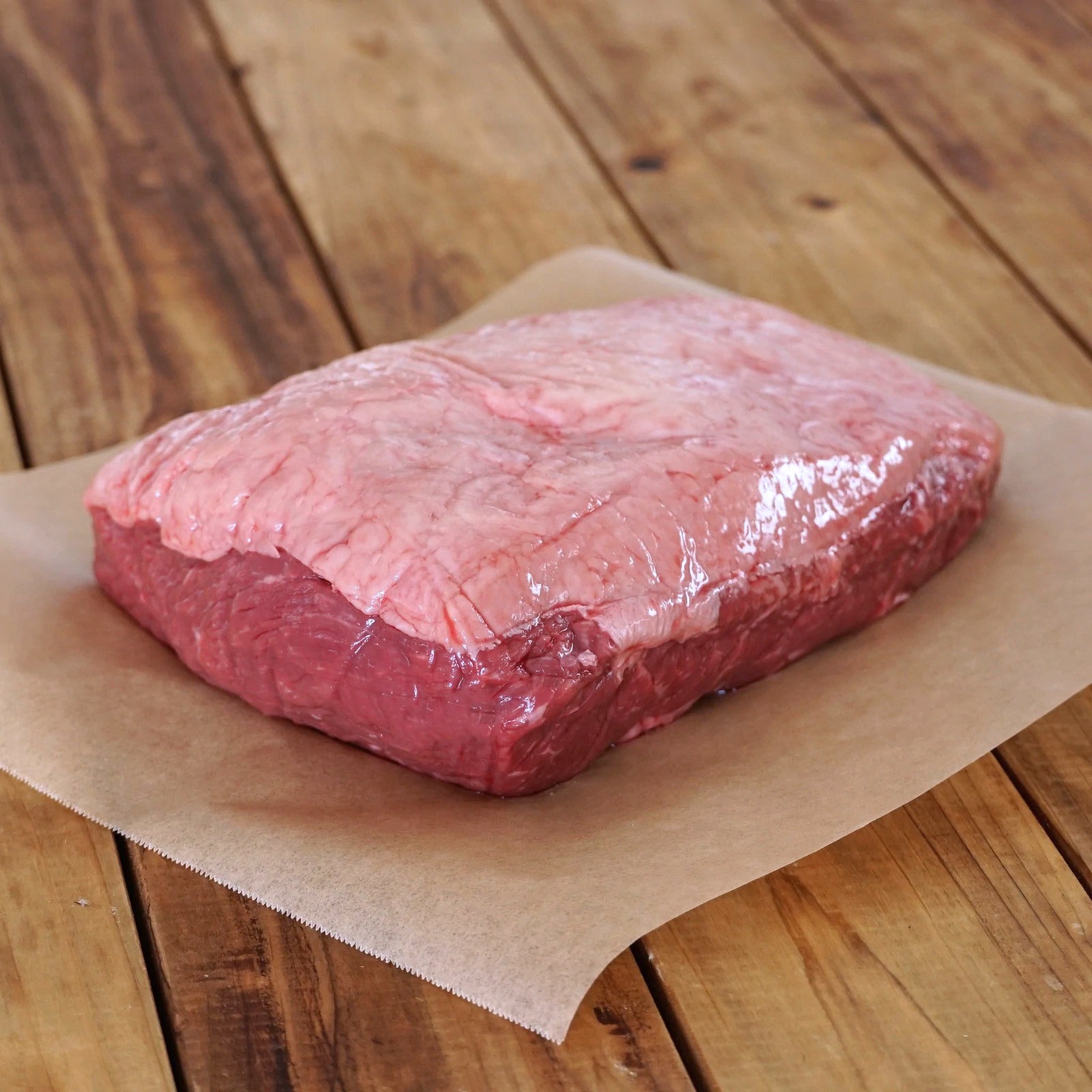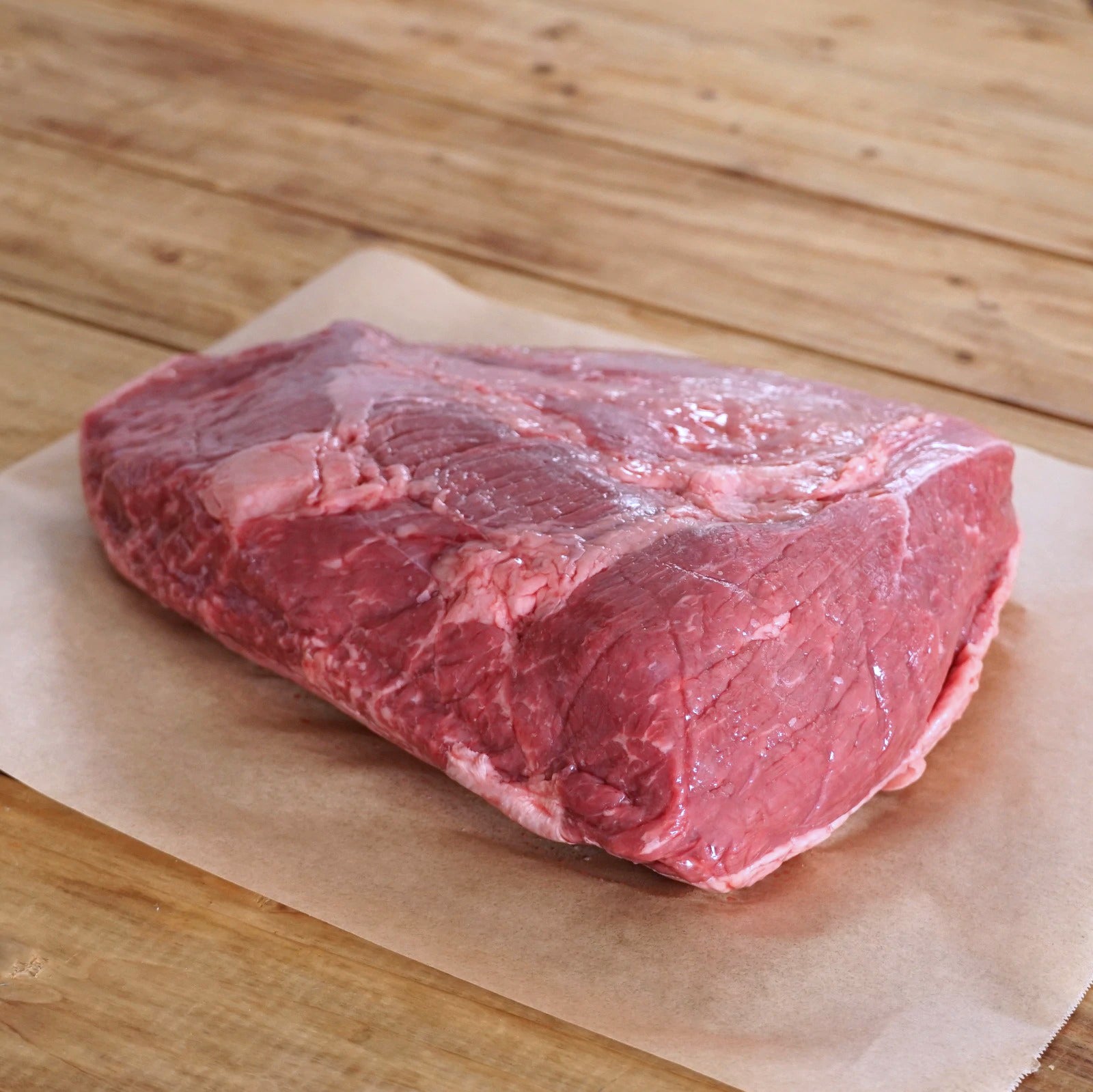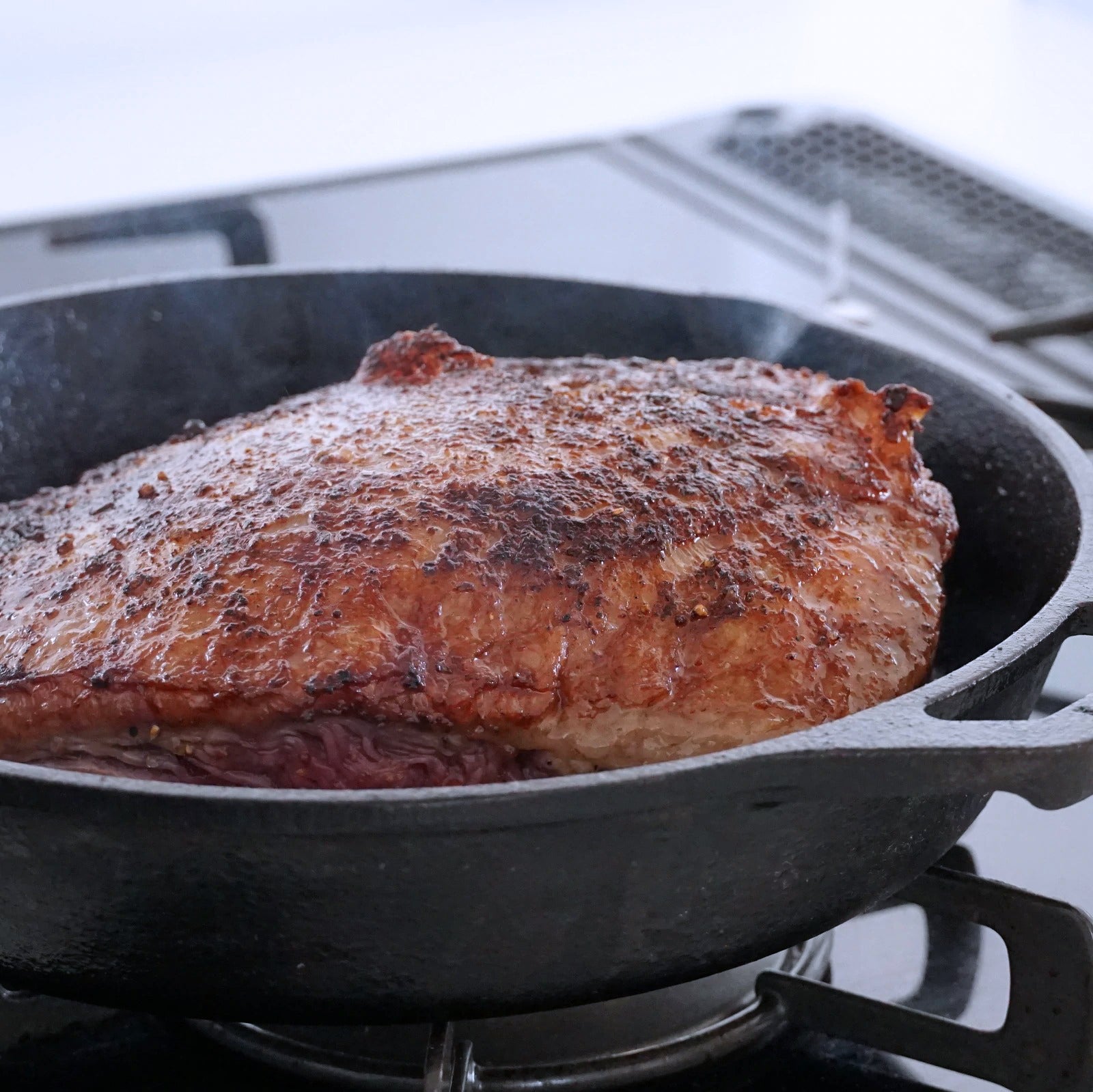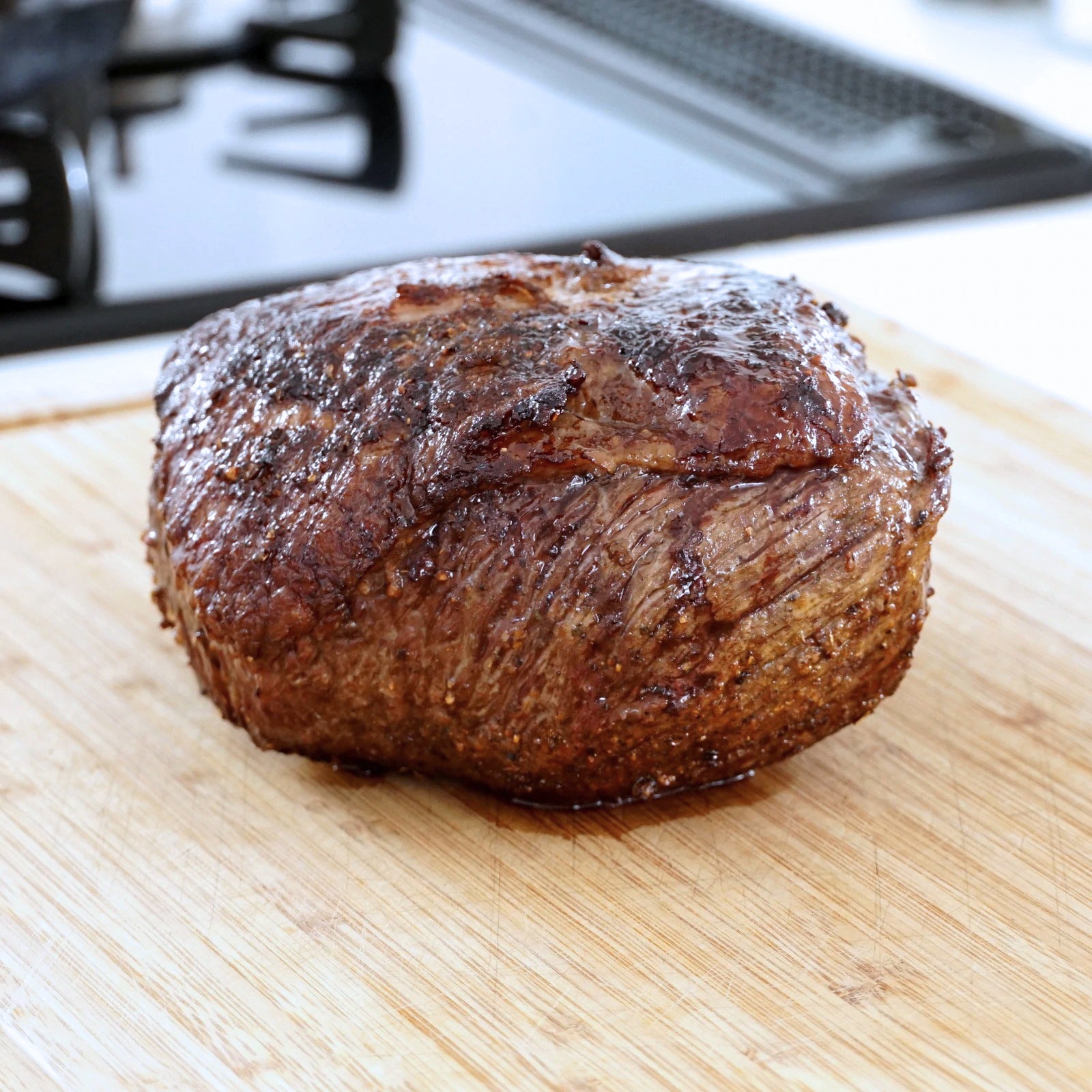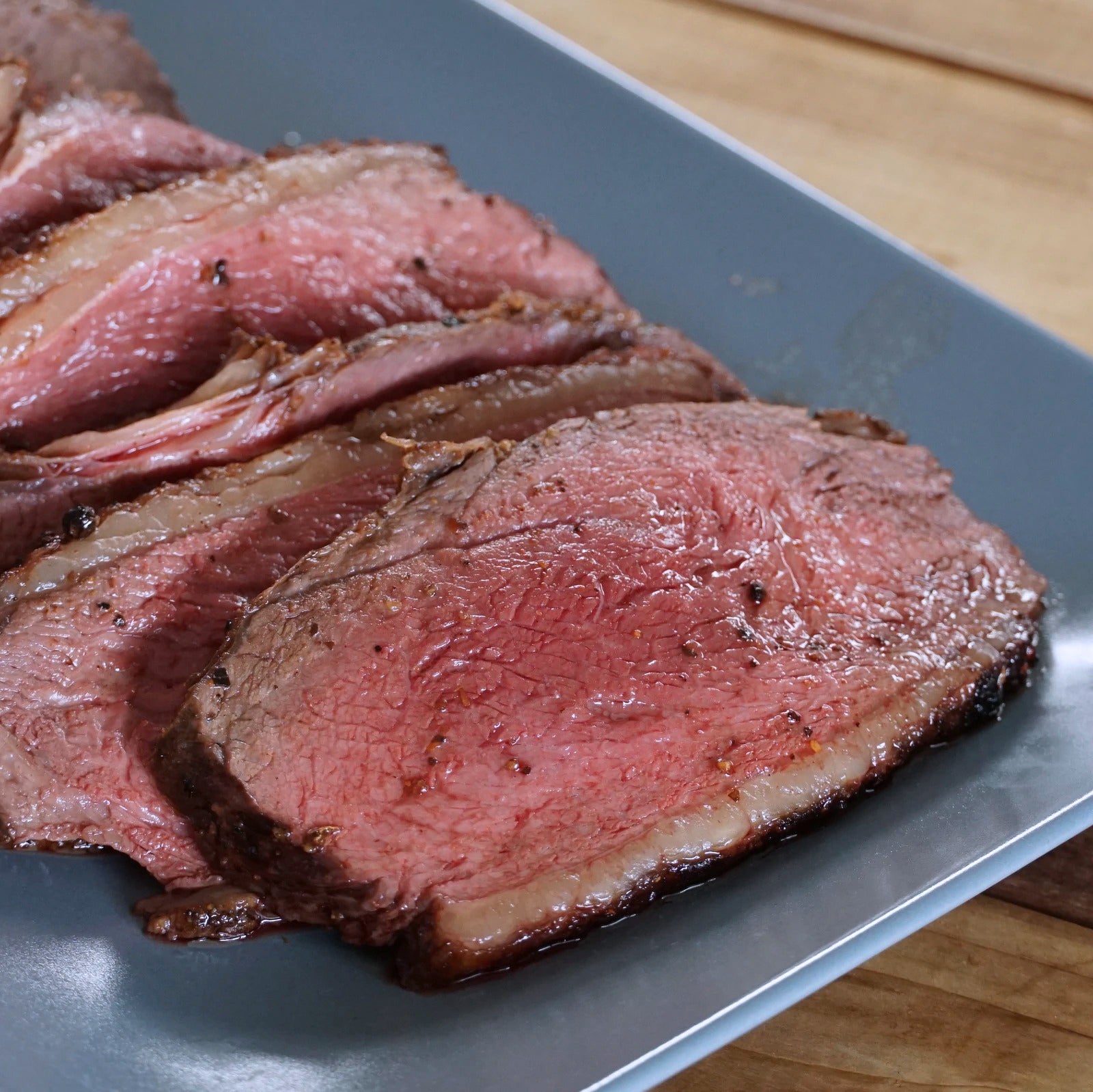 Grass-Fed Beef Culotte / Rump Roast (1-2kg)
Buy More, Save More:
1kg (2.2lbs) (Regular Price)
This product will now be sourced from either New Zealand or Australia. All meat is pasture-raised. Please note that it's not possible to choose the location. We thank you for your understanding.
This whole block of culotte (also known as rump cap or picanha) roast weighs 1kg and is the ideal cut for juicy and meaty roasts with plenty of flavors. We recommend leaving the fat cap on. Sear fat-down first and finish the roast in the oven to medium-rare. If you are a fan of rump steaks you can cut this roast into smaller steaks of course. In that case, it is best to trim the fat cap. Also the ideal cut for Brazilian Churrasco. See the cooking instructions below.
The beef that we use comes from either New Zealand or Australia. We only source meat from farms that never treat their cattle with growth hormones or antibiotics. No GMOs or chemicals are used on the pastures where the cows graze. If you are looking for clean grass-fed and grass-finished beef with a high red meat to fat ratio this is your best choice. See more information and actual images of the farms below.
Contents
| | |
| --- | --- |
| Contents | 1 Roast |
| Weight | Choose between: 1kg (2.2lbs), 2kg (4.4lbs) |
| Package Dimensions | 15 x 15 x 10cm (5.9" x 5.9" x 3.9") (1kg) |
Shipping & Handling
Shipping
Shipping and delivery is frozen
Handling
Keep frozen below -18°C (0°F)
Defrosting Time
In the fridge: approx. 48h
In ice-water: Not recommended
Cooking Method
Grill, Oven, Churasco
Expiration
Frozen: see packaging label (usually more than 3 months)
Chilled: Please consume unopened pack within 3 days.
Details
Also known as
Rump Cap, Churrasco, Picanha, 

 Sirloin cap, Rump Cover, Culotte



Country of Origin
Australia or New Zealand
Ingredients
Beef
Cut from
Sirloin (Rump)

Category
Steaks, Roasts
Packaging
Individually vacuum packed
✔ Free-range and open pasture-raised.

✔ Humanely raised and treated with respect by family-owned farms.

✔ No antibiotics or growth hormones - ever!

✔ No chemical pesticides on pasture land. 

✔ GMO-free.

At A Glance
Cattle Breed

English Hereford and Black Angus Breed

Farm/Ranch

Silver Fern Farms (New Zealand)




Murray Pure (Australia)




Great Southern Beef (Australia)




Bass Strait Beef (Australia)




Southern Ranges (Australia)

Farmers

Contracted small-scale family farms

Breeding

100% free-range on open pastures for life.

Feeding

Grass-fed for life on open pasture.

Traceability
100% fully traceable from farm to fork.
Growth-Hormones
Never
GMO-feed or use
Never
Antibiotics
Never

Chemical Pesticides on Pasture Land

Never
Importer

Horizon Farms, Inc.

Processing

Locally processed in Japan.
Slowly defrost the roast in the fridge for about 2 days. Defrosting in water is not recommended. 20 minutes before cooking open the packaging and pat dry with a paper towel. Then let the roast breathe on the countertop at room temperature. 
When you prepare steaks, sea salt and freshly ground pepper are enough. For roasts, we recommend using a seasoning mix and olive oil. Mix and rub well. Do not remove the fat cap as it plays an important role during cooking and makes the roast juicier. 
Now, preheat your fry pan to maximum heat. Add a bit of olive oil and immediately place the roast fat side down in the fry-pan to sear the whole fat side.
After about 3 minutes turn off the heat and turn the roast around for a quick sear. We only want to crisp up the outer layer. 
Place on an oven tray. Use a leave-in thermometer if at hand. Check out our thermometer we sell. 
Cook on medium heat at 180 degrees Celsius for about 40 minutes. The roasting time depends on many factors such as oven size, power, and the roast size. If you are unsure try 30 minutes first and then check the core temperature at the center of the roast. Once the roast hits 50 degrees Celsius (130 degrees Fahrenheit) remove from the oven.
The roast continues to cook on the inside. Wrap it in aluminum foil and let it rest for another 15 minutes. 
Check this one out. Cooked to perfectness. For the best taste experience, we recommend cooking roasts and steaks to medium-rare. 
Very important: Make sure you cut against the grain like seen in this image. This way you make sure the meat does not become chewy. 
Slice and serve. Enjoy high quality and safe grass-fed beef from Australia with the whole family.
Usual dish
Translated from Japanese: After defrosting it slowly in the refrigerator, I cook the fatty part with konjac to make beef stew, and use the meat part up bit by bit by making different dishes such as steak, or roast beef.
A little disappointed
Translated from Japanese: I ordered for the first time in a long time, but I was a little disappointed.
The meat was hard and it wasn't flavorful.
When making steak, it's better if it has fat, but there wasn't much on this.
It's a pity.
Instead of roast beef, I used it for yakiniku
Translated from Japanese: I always make roast beef, but when it's a big chunk, I cut it and use it for yakiniku.
For roast beef, a meat thermometer is very useful. My family also loves it because it's easy to do.
If there's a thicker layer of fat, I squeeze it before grilling it and put it in the oven. It's very delicious.
It was the best!
Translated from Japanese: Everyone in my family doesn't like fatty meat, but loved this.
I was able to enjoy the deliciousness of the lean part.
I will order again!
When I want to have roast beef, it's always from Horizon Farms
Translated from Japanese: Usually I get the classic beef chunk, but today I tried this rump roast. After thawing it for a few days, I baked the surface with olive oil in the oven at 120 ° C after adding simple seasoning like salt, pepper and fried garlic. After 90 minutes, it was done. I let it rest before I cut it into thick pieces and ate it with my family. It was baked perfectly and our family of three almost finished all of it. We had the rest for lunch the next day. I'm grateful to Horizon Farms because I can enjoy delicious food at a reasonable price.