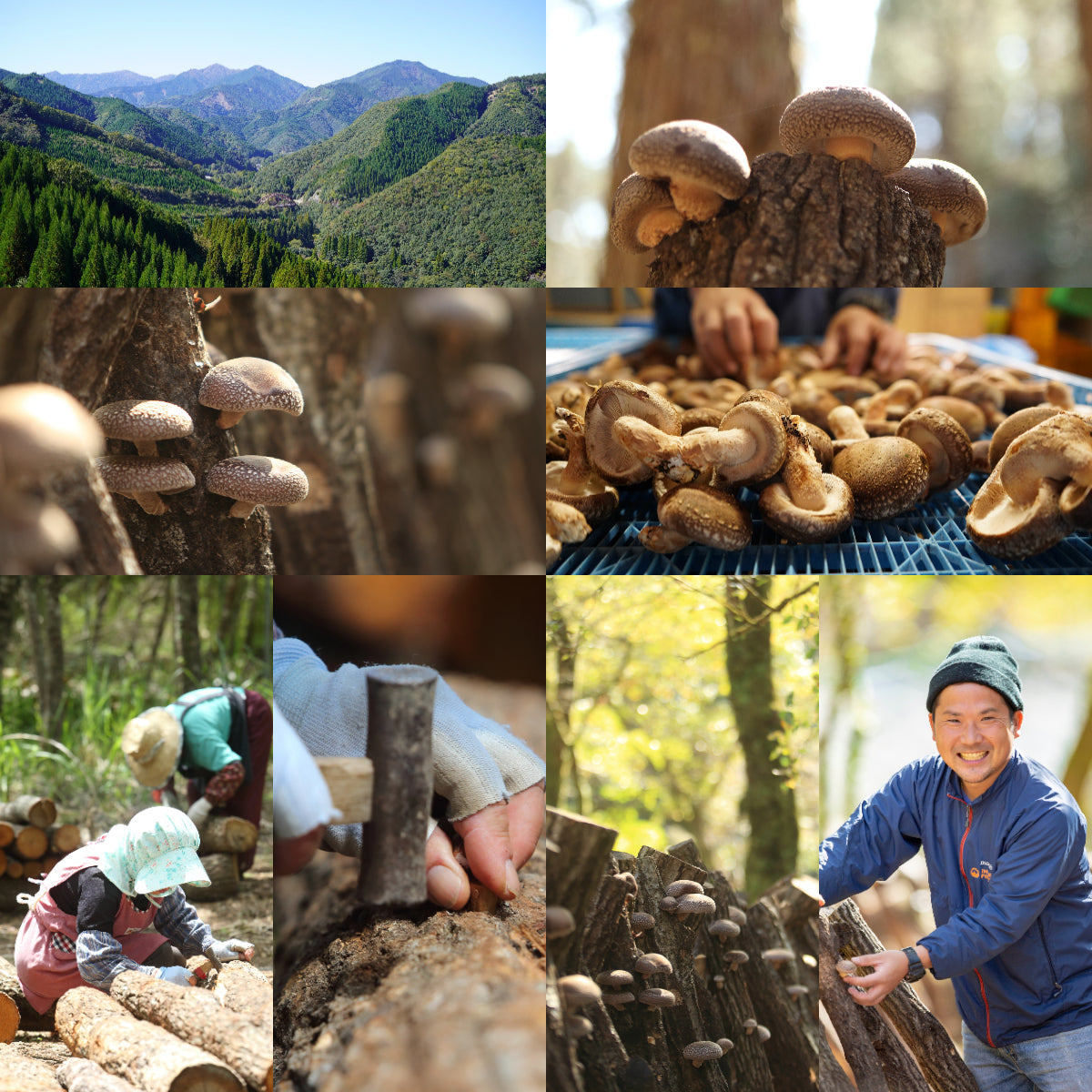 Certified Organic Sliced Raw Dried Shiitake Mushrooms from Japan (20g-60g)
Buy More, Save More:
1 Pack (Regular Price)
Please note that if the product is bought together with frozen items, it may arrive partially or fully frozen. There is no quality or safety issue. 
Three 20g (0.7oz) bags of thinly sliced, certified organic shiitake mushrooms from Japan. These premium shiitake mushrooms are cultivated with love from local farmers located in Misato, Miyazaki. They are log-grown, meaning they are produced using only the sun, clean mountain water, and nutrients from the trees - as natural as it gets. This gives them a delicious mellow woody aroma and rich flavor. Also a great source of vitamin D and dietary fiber, making them highly desirable worldwide.
These mushrooms are dried but sliced thin, so all it takes is 90 seconds in boiling water and they return to their original form. Super convenient, you can just add these straight to miso soup, or other dishes of your choice, to instantly level up the flavor. Of course, no preservatives, GMOs, sweeteners, artificial colors, or artificial flavors are added. Just clean, healthy, and delicious shiitake mushrooms.
What are "log-grown" mushrooms? Most of the shiitake mushrooms distributed in Japan today are "mycorrhizal shiitake mushrooms," which are produced in factories. However, these shiitake mushrooms grow only with nutrients from trees, without additives or pesticides. They are aromatic, thick-fleshed, and have a great chewiness and flavor.
About Certified Organic

This product is certified Japan Agricultural Standard Organic (JAS) - both in the country of origin and Japan. Japan has one of the world's strictest organic certification standards. But what does certified organic mean when it comes to fruits and vegetables?
✔ Free of harmful synthetic chemical inputs such as fertilizer, pesticides or any food additives.
✔ Free of genetically modified seeds (non-GMO)
✔ The farmland and soil in use are free of any chemical treatments.
✔ Organic produce is heavily regulated. Producers and importers are checked and inspected by governmental bodies or certified third parties. Organic certification requires detailed bookkeeping and documentation for 100% tracability. "Certified organic" is a protected word and the use is legally restricted.
✔ Organic farming is a more sustainable when it comes to holistic food production. The lack of harmful pesticides is better for the environment.
✔ Organic produce comes mostly from family-owned farms that own smaller acres of organic land.
It is also important to mention that organic produce is more cost-intensive. Organic farming has lower yields compared to conventional farming and is oftentimes more labor-intensive as well. Additionally, organic certification and auditions require annual fees for producers, exporters, and importers resulting in higher prices for the end consumers.
Contents
Contents
1 bags

Weight
20g
Package Dimensions
11.8 x 5.0 x 21.2 cm (4.6" x 2.0" x 8.3")
The above measurements are an estimate. Real size may vary.

Shipping & Handling
| | |
| --- | --- |
| Shipping | Shipped dry, but may come chilled or frozen depending on the rest of your order. Rest assured that even so there is no loss in quality or safety. |
| Handling | Store in a cool place away from direct sunlight, high temperature, or high humidity. After opening, keep sealed and consume as soon as possible. |
| Expiration | Check product label, usually more than 6 months. |
Details
Ingredients
Organic shiitake mushrooms (log grown)
Packaging

Resealable bag




*Package may differ depending on the time of arrival.

Place of Origin
Miyazaki, Japan

Organic Certificates

Organic Japan Agricultural Standard (JAS) - Certificate Number: KOAA 2003-A07

Nutritional Facts
Based on 100g serving size

Calories: 182kcal
Protein: 19.3g
Total Fat: 3.7g
Total Carbohydrate: 34.0g
Sodium: 0mg