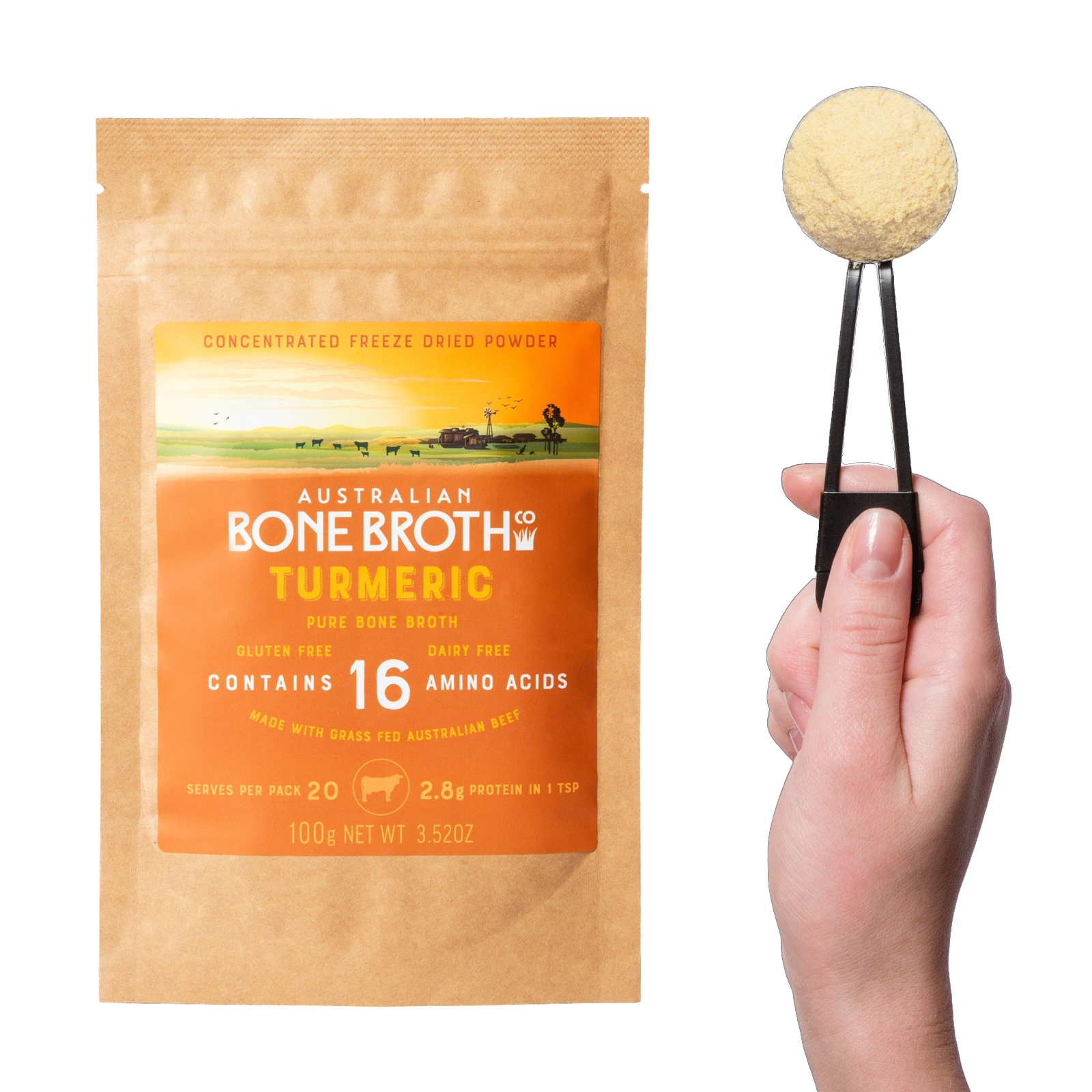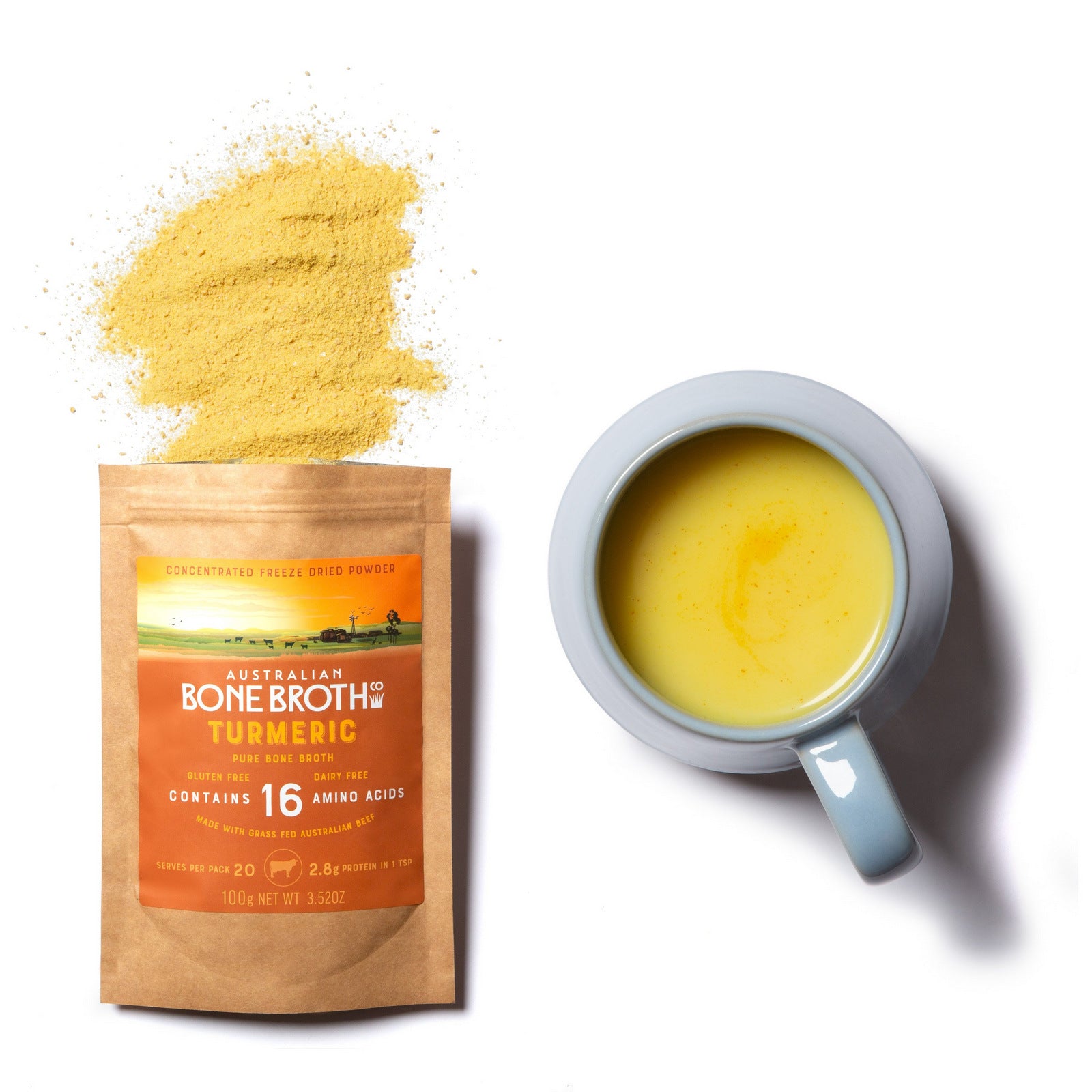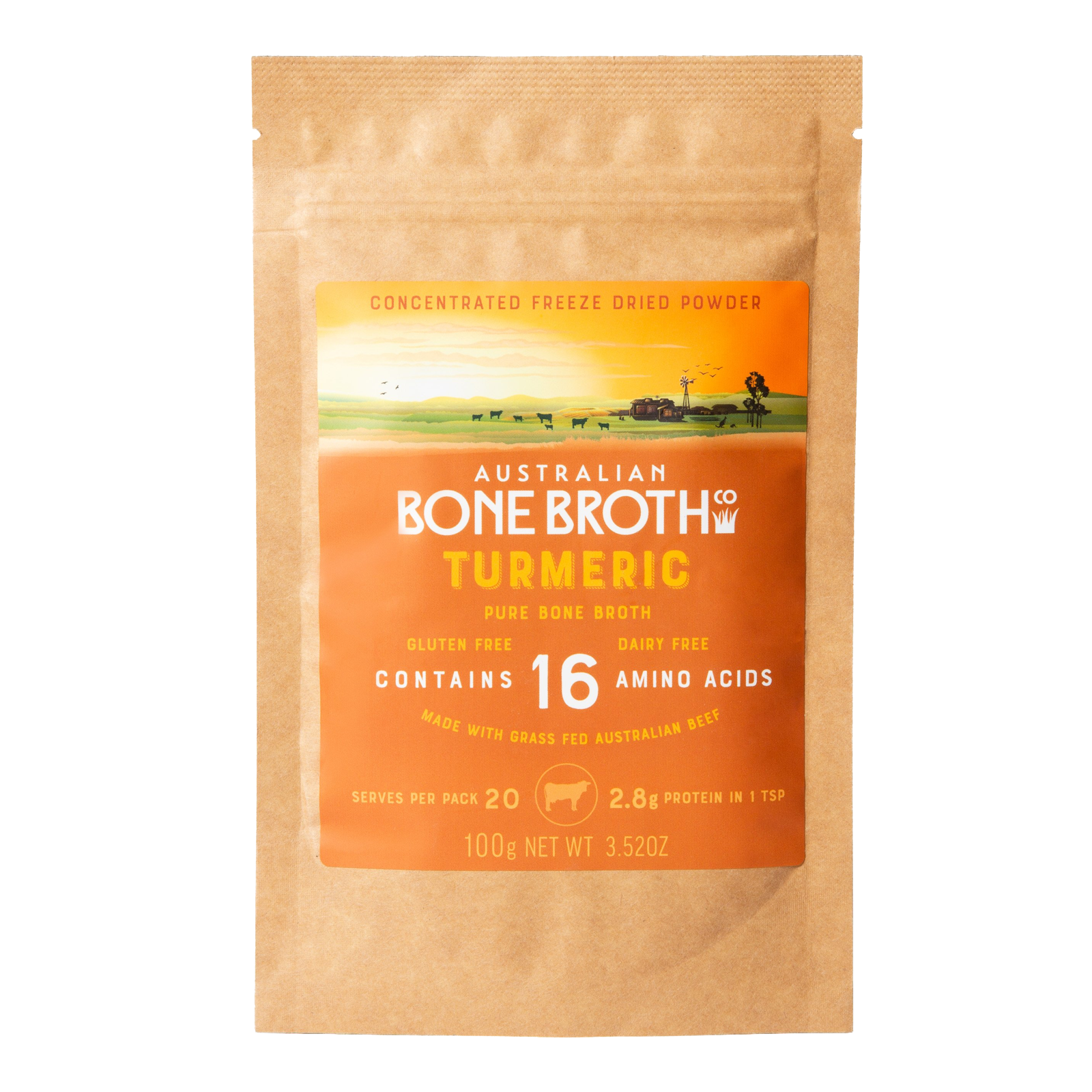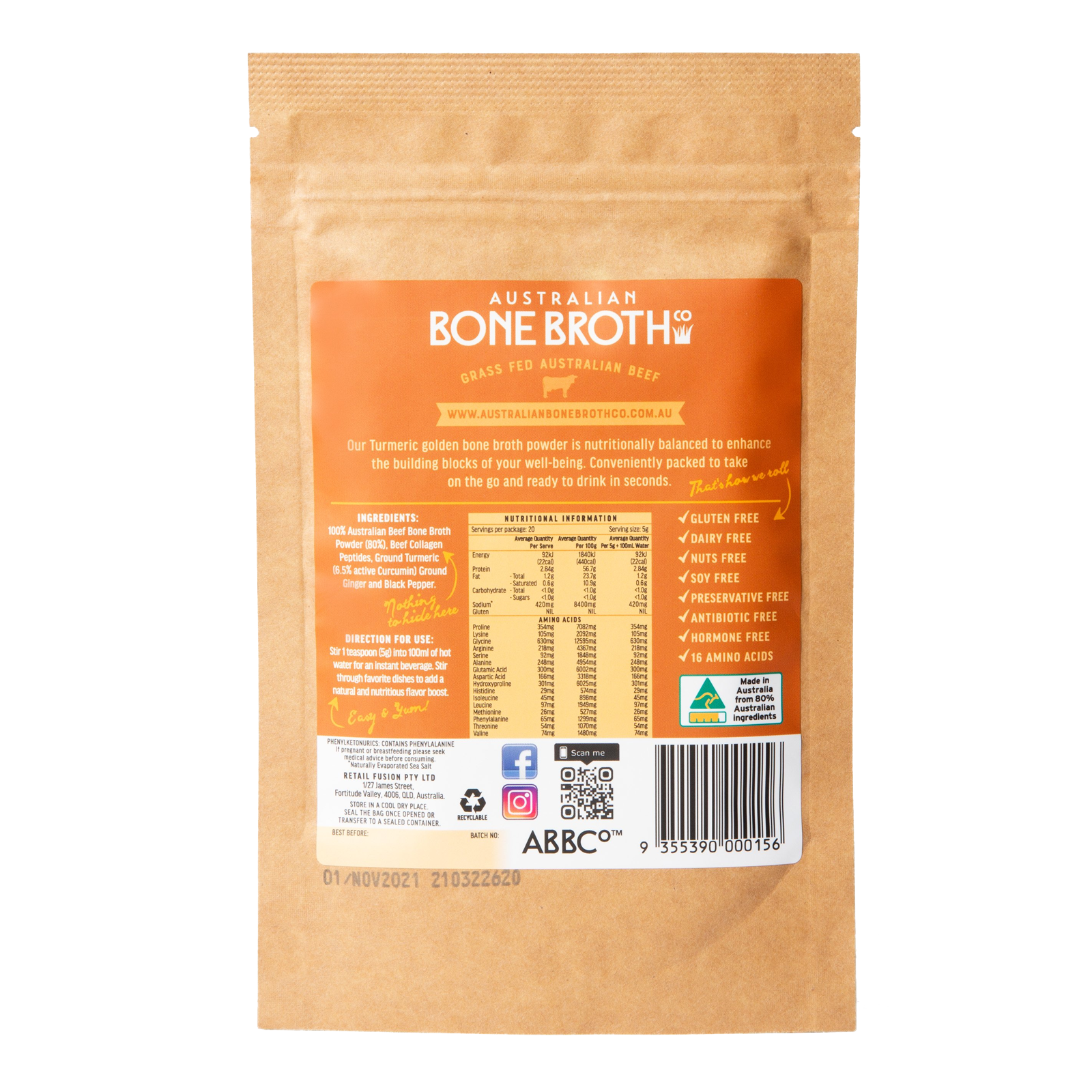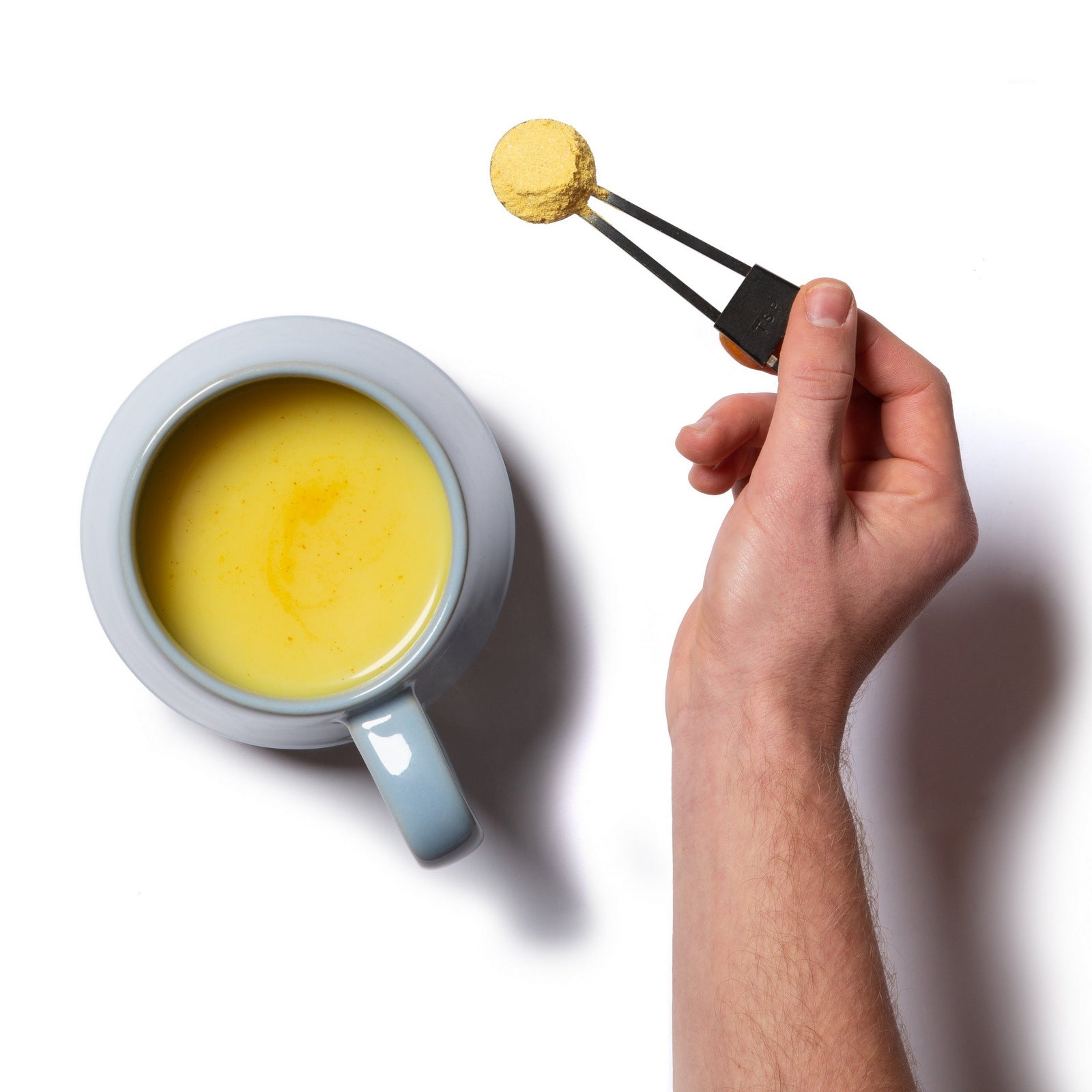 All-Natural Grass-Fed Beef Bone Broth Powder with Turmeric (100g/20 Servings)
Bringing you what is probably the cleanest bone broth powder on this planet. The bones that have been used to make this quality product come from Australian free-range grass-fed cows. Never ever have the cows been treated with growth hormones or antibiotics. It's also gluten-free, preservative-free and additive-free. Additionally, this version is enriched with beef collagen peptides, ground turmeric, ginger, and black pepper for extra nutrition, amino acids, and taste. At 5g per serving one sachet is enough for 20 servings. One serving brings along a load of nutritional values including 16 amino acids, see nutritional values below. 

Meant for drinking as a highly dense nutritional supplement or for when you need to beef up the children's meals, or need an afternoon pick me up until dinner time. This highly (!) concentrated freeze-dried beef bone broth powder has been gently manufactured to capture and preserve all nutritional goodness. Whether you are traveling, camping, or just going to work and need to take your broth with you, this is the ideal product.
Remember, this concentrated beef bone broth powder is not your typical homemade beef broth for soups. Usage: Simply stir 5 grams into 100 ml of hot water for an instant beverage. The video below shows our classic version without added spices.
Contents
| | |
| --- | --- |
| Contents | 1 sachet |
| Content Weight | 100g |
Shipping & Handling
| | |
| --- | --- |
| Shipping | Shipping is either, dry, chilled, or frozen depending on your order. |
| Handling | Keep dry and lid tightly closed. Once opened, keep in an air-tight container. Properly sealed, it can be stored in the fridge or freezer without quality loss. |
| Expiration | Check product label, usually more than 3 months |
Details
Ingredients
100% Australian beef bone broth powder (80%) (beef bone broth, naturally evaporated sea salt), beef collagen peptides, ground turmeric (6.5% active curcumin), ginger, black pepper.
Packaging
Aluminum pouch

Country of Origin
100% Australia

Brand
Australian Bone Broth Co.
Nutritional Values

Nutritional values for 100g/5g serving size

Energy: 1840kJ/92kJ
Protein: 56.7g/2.84g
Fat: 23.7g/1.2g
- Saturated: 10.9g/0.6g
Carbohydrates: less than 1g/less than 1g
- Sugars: 

less than 1g/less than 1g


Sodium: 8400mg/420mg

Amino Acids
Nutritional Values for 100g/5g serving size

Proline: 7082mg/354mg
Lysine: 2092mg/105mg
Glycine: 12595mg/630mg
Arginine: 4367mg/218mg
Serine: 1848mg/92mg
Alanine: 4954mg/248mg
Glutamic Acid: 6002mg/300mg
Aspartic Acid: 3318mg/166mg
Hydroxyproline: 6025mg/301mg
Histidine: 574mg/29mg
Isoleucine: 898mg/45mg
Leucine: 1949mg/97mg
Methionine: 527mg/26mg
Phenylalanine: 1299mg/65mg
Thereonine: 1070mg/54mg
Valine: 1480mg/74mg
Importer
Horizon Farms, Inc.
Convenient for travel
I bought it for the first time for travel purpose.
Really convenient and easy to drink.
I was able to drink a bone broth everyday during travel periods.
We've been repeat-ordering this for awhile now, drinking it every morning with just hot water and a little bit of freshly cracked black pepper.
Tasty and beats making your own beef broth!
Translated from Japanese: Delicious curry flavor.
It's satisfying with just hot water.
Translated from Japanese: Before, when I heard that bone broth was good for my health, I bought the ingredients and made it myself, but I was frustrated because it took too much time and effort. I used to use a stick type supplement from another company, but I gave up because of the high price. I searched a lot and found this and purchased it. The taste is delicious. It had a turmeric flavor and was like a delicious soup. I drink it every day with my parents, and my mother said she hopes for her knees to get better. I think that my skin's condition has improved and that it has gotten more elastic.
Easy to drink
Translated from Japanese: The taste of the spices accentuates it, making it easier to drink compared to the regular type.