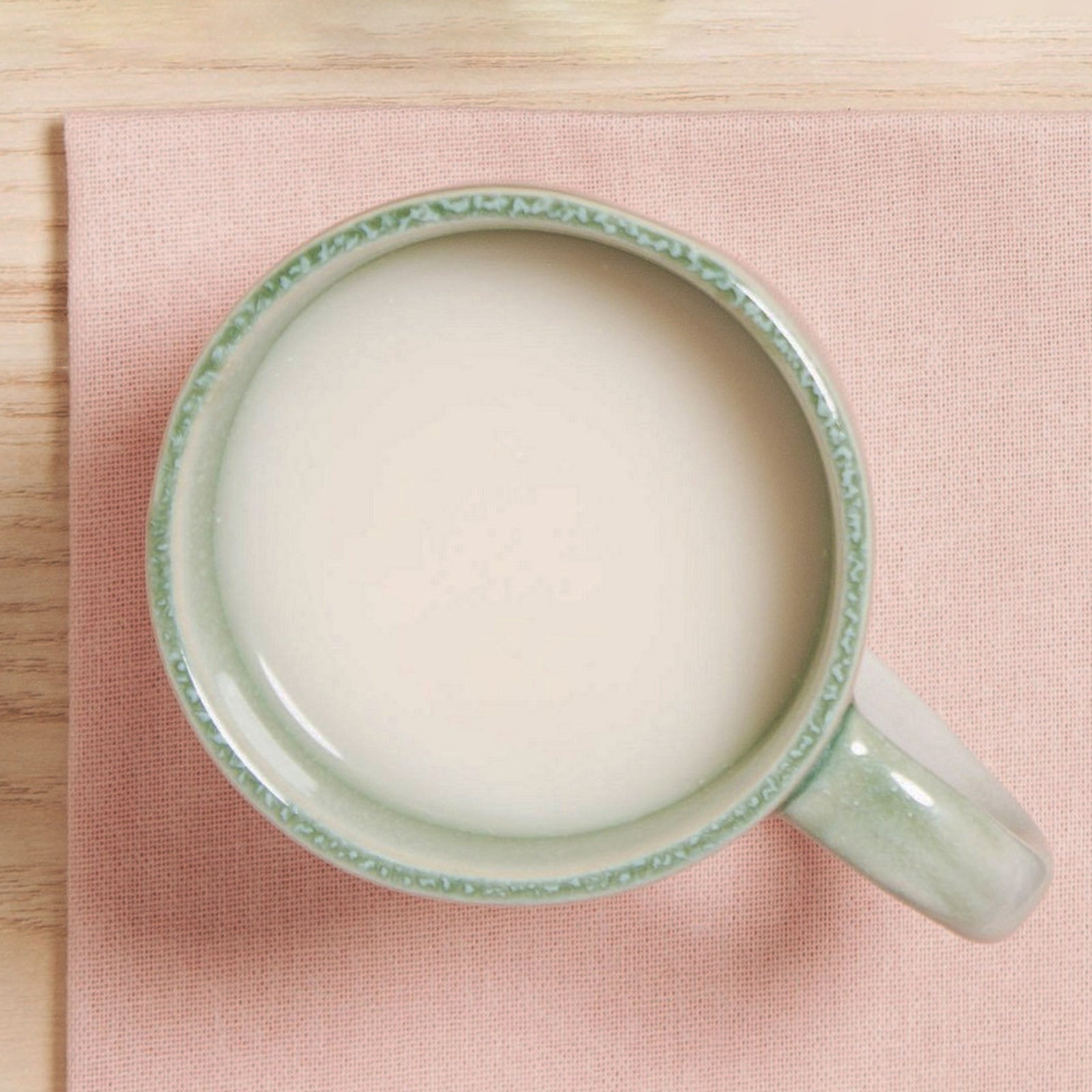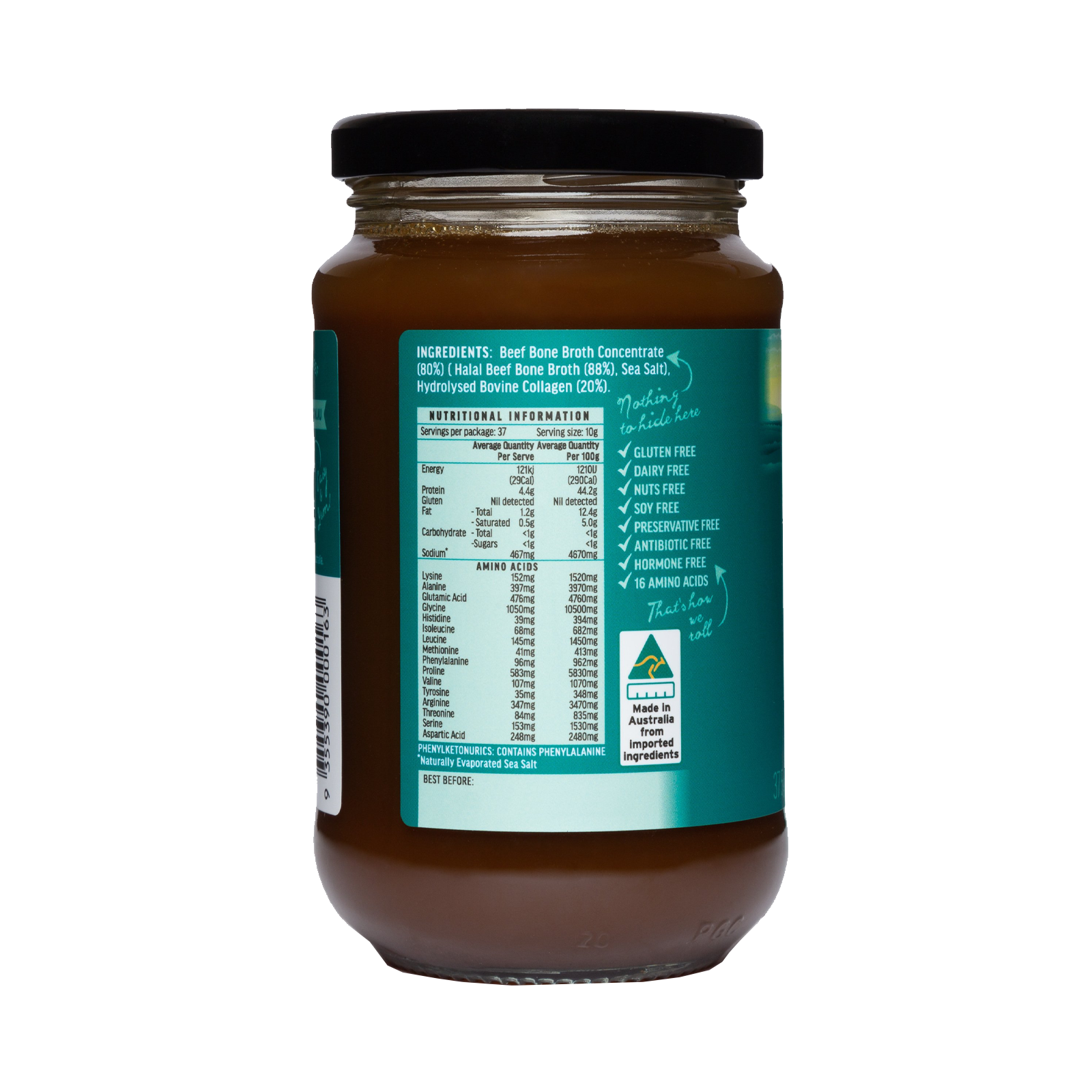 All-Natural Grass-Fed Beef Bone Broth Concentrate with Collagen (375g/37 Servings)
This beef broth with beef collagen is a blended paste concentrate to boost your daily broth beverage or meal. Made from grass-fed New Zealand beef bones and evaporated sea salt, mixed with grass-fed beef collagen. Never ever have the cows been treated with growth hormones or antibiotics. It's also gluten-free, preservative-free and additive-free. How to use: stir 1 teaspoon (10 grams) into 100ml of hot water for an instant beverage. Stir through favorite dishes to add a natural and nutritious flavor boost. One jar is enough for 37 servings.

What is Collagen? Collagen is an abundant protein in your body. It serves as one of the major building blocks in skin, bones, tendons, ligaments, muscles, and blood vessels. It's associated with several health benefits, including arthritis relief, improved skin health, and bone loss prevention. Check out the nutritional values below.
Check out our entire lineup of bone broth products, ranging from bones to liquids to powders to concentrates. Click here.
Contents
| | |
| --- | --- |
| Contents | 1 glass jar |
| Content Weight | 375g (13fl oz) |
Shipping & Handling
| | |
| --- | --- |
| Shipping | Shipping is either, dry, chilled, or frozen depending on your order. |
| Handling | Keep dry and lid tightly closed. Once opened, keep it in the fridge or freezer. |
| Best By | Check product label, usually more than 3 months |
Details
Ingredients
Beef bone broth concentrate 80%, sea salt, beef collagen 20%

Packaging
Glass jar
Country of Origin
Beef bones from New Zealand. Manufactured in Australia.
Brand
Australian Bone Broth Co.
Nutritional Values

Nutritional values for 100g/10g serving size

Energy: 1210kJ/121kJ
Protein: 44.2g/4.4g
Fat: 12.4g/1.2g
- Saturated: 5g/0.5g
Carbohydrates: less than 1g/less than 1g
- Sugars: 

less than 1g/less than 1g


Sodium: 4670mg/467mg

Amino Acids
Nutritional Values for 100g/10g serving size

Proline: 5830mg/583mg
Lysine: 1520mg/152mg
Glycine: 10500mg/1050mg
Arginine: 3470mg/347mg
Serine: 1530mg/153mg
Alanine: 3970mg/397mg
Glutamic Acid: 4760mg/476mg
Aspartic Acid: 2480mg/248mg
Histidine: 394mg/39mg
Isoleucine: 682mg/68mg
Leucine: 1450mg/145mg
Methionine: 413mg/41mg
Phenylalanine: 962mg/96mg
Threonine: 835mg/84mg
Valine: 1070mg/107mg
Tyrosine: 348mg/35mg
Other
Please consult with your doctor before using this as baby food.
Importer
Horizon Farms, Inc.
The first bottle that was delivered to me had a problem but the seller are really kind simple folks and accommodating to replace it.
So after trying it for a while now here's my review.
I like the simple ingredients. Those are what I need in a bone broth. Good ingredients and nutritious.
It's in a glass jar so it's very convenient to use.
The only problem though is when you scoop it surely some caramel colored gel broth (this is the color and consistency) will spill on the glass rim and then when you want to use it again and open it this time the cap is sticking, it'll be very hard to open.
So my advice will be to put a plastic wrap on the glass rim so the cap will not stick.
Every time I drink mine every morning I add turmeric and black or white pepper powder. I think it taste better this way.
Bone broth
Excellent viscosity and taste along with incredible nutritional value. 37 servings is also good value. Will buy again.
Bone broth soup ingredient
Translated from Japanese: The powdered bone broth soup was sold out, so I ordered this one.
It's easy to use because it's a paste and contains collagen. I appreciate that I can take in nutrients easily with it.
Translated from Japanese: I wanted to season it myself, so I wanted powder, but it was sold out, so I bought this one. Looking at the reviews, I expected it to be delicious, but at first I was worried about the smell. When I drank it, the taste was delicious and I got used to the smell as I continued drinking it. I'd like to modify this as well and arrange it.
Translated from Japanese: When I changed to this, there was almost no odor. I didn't like the powder type so much.