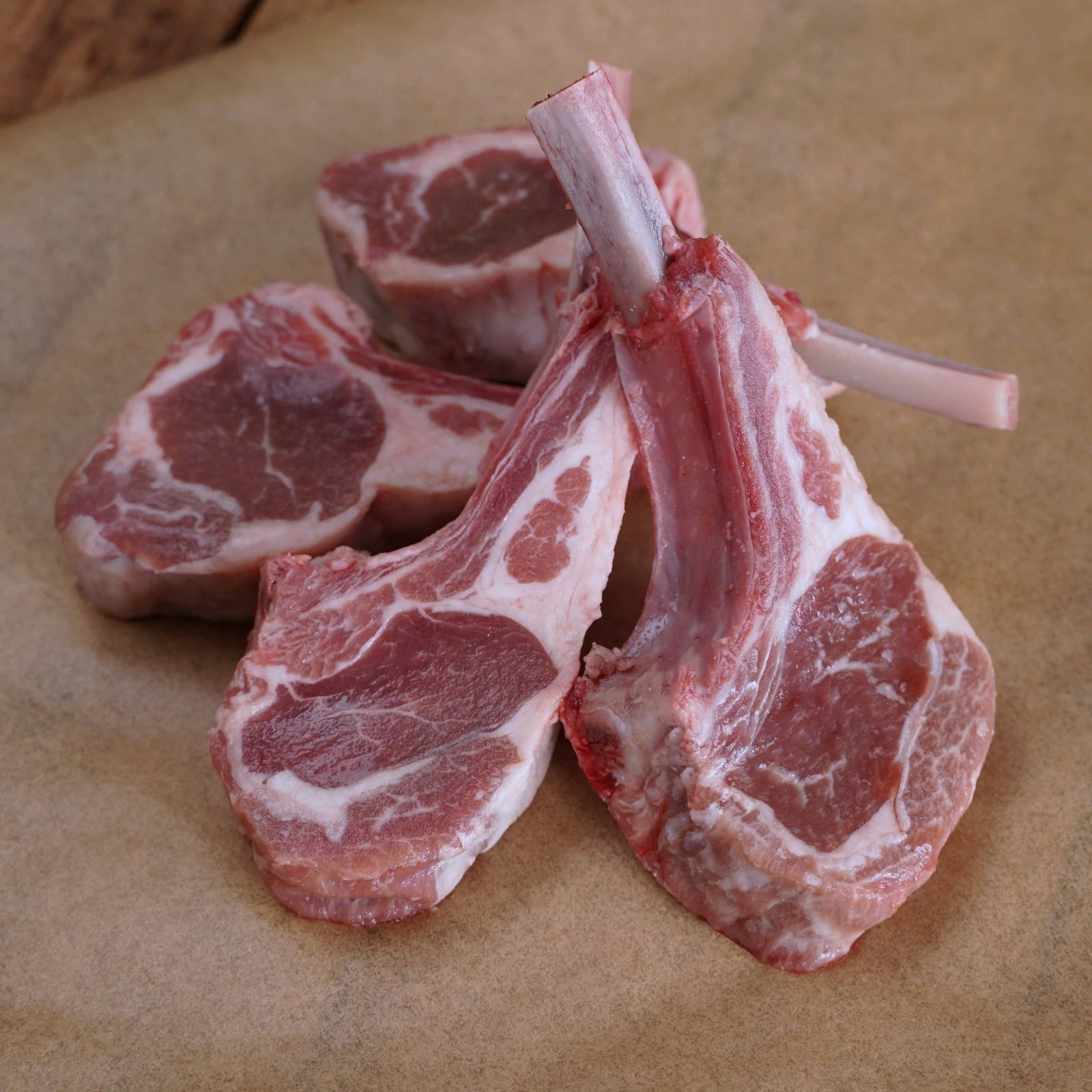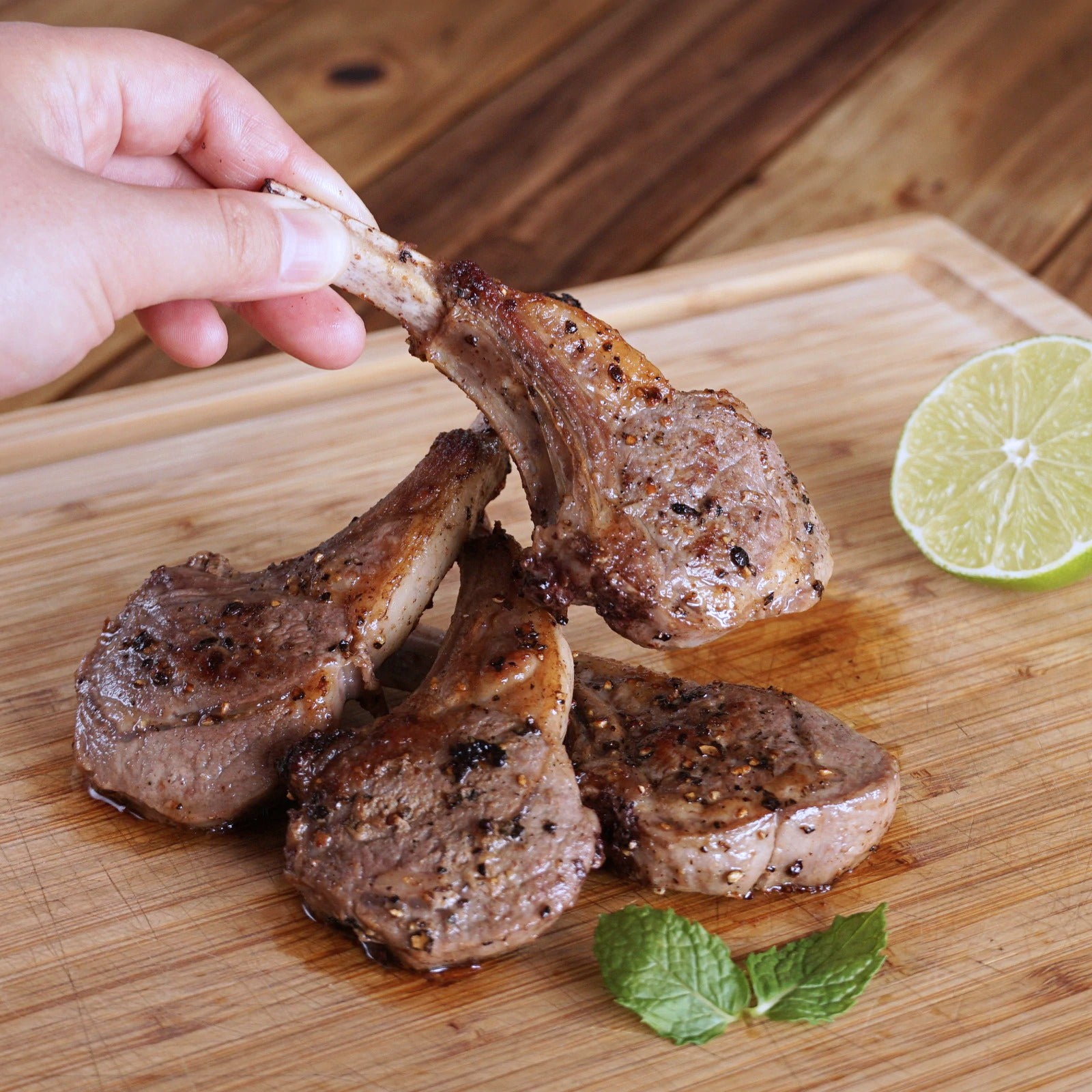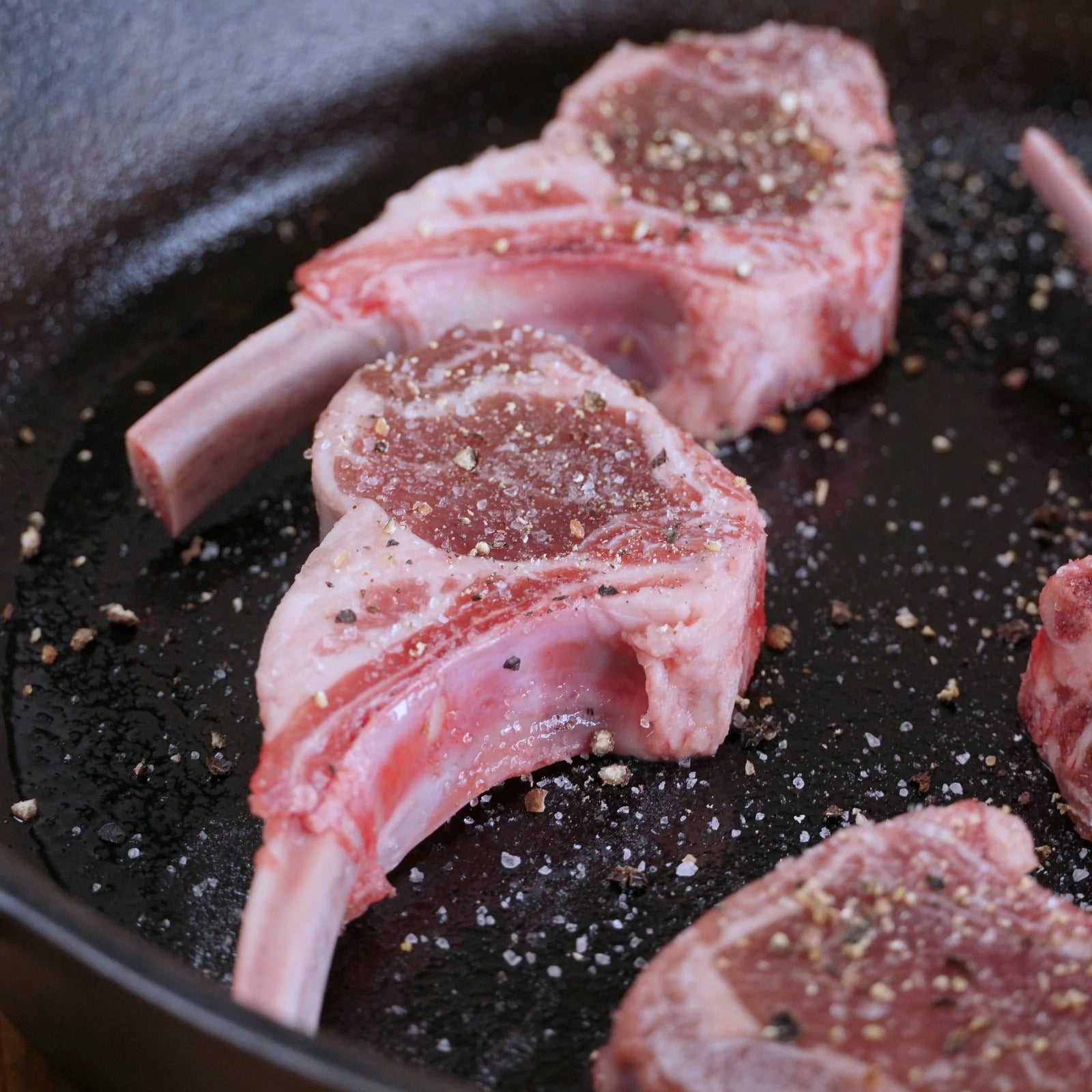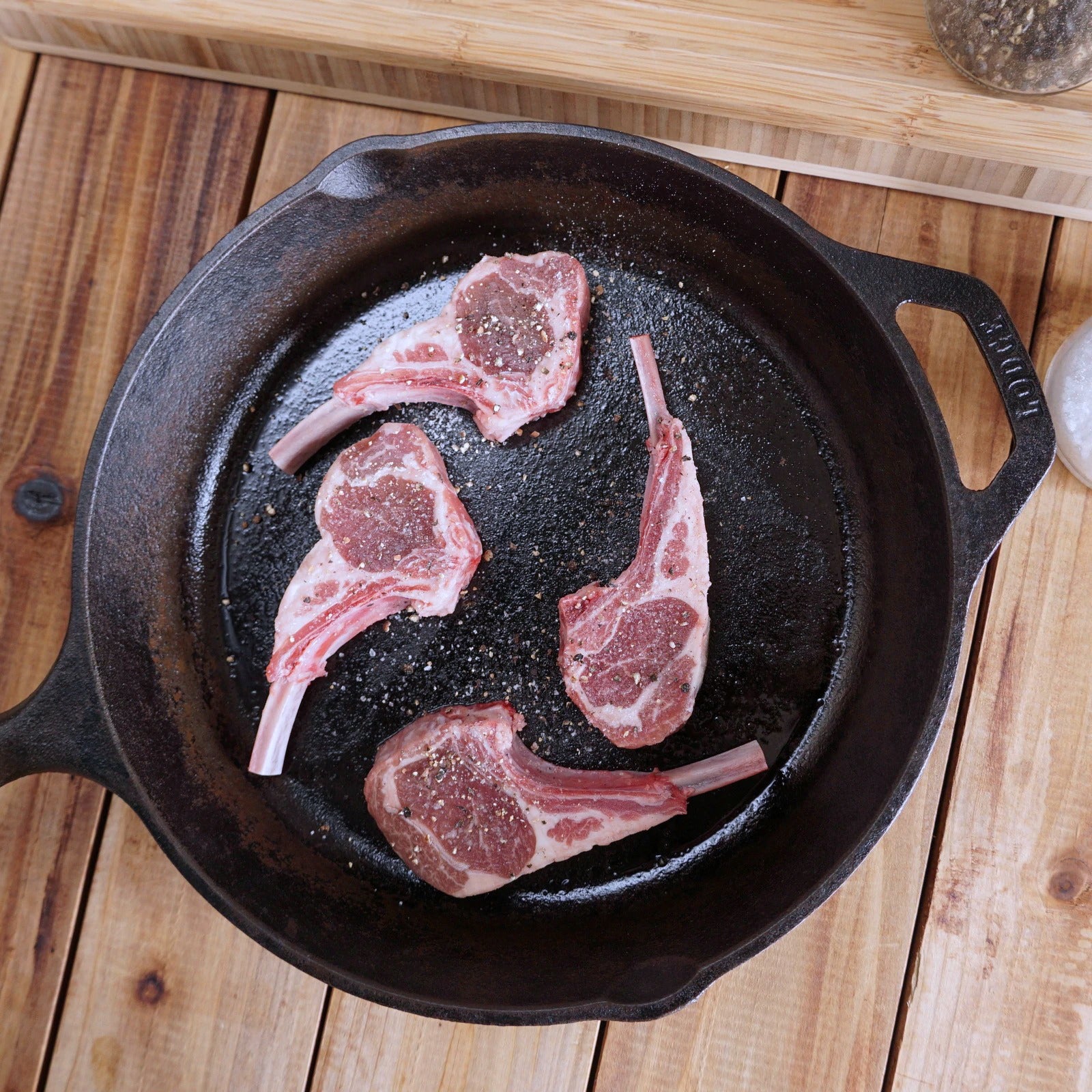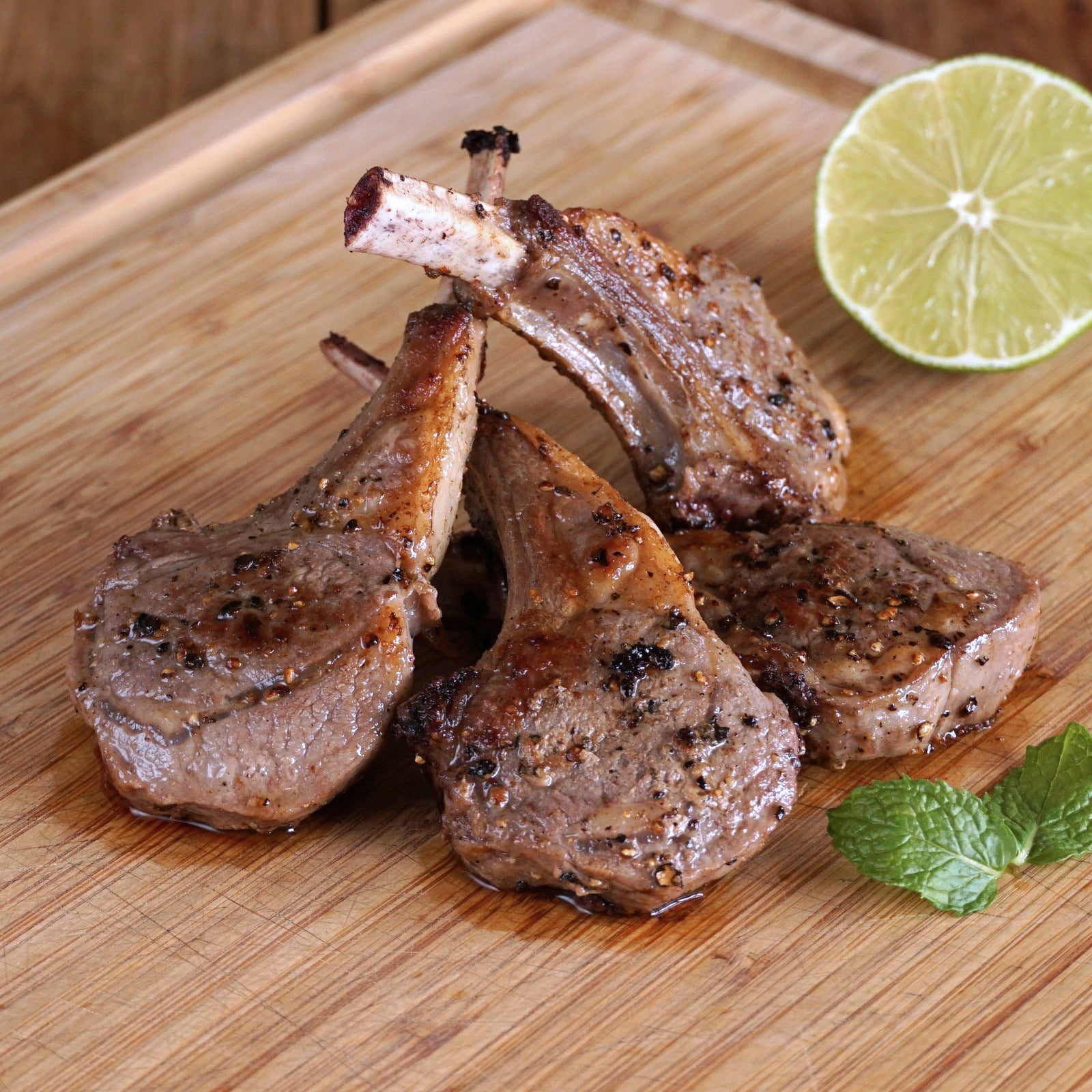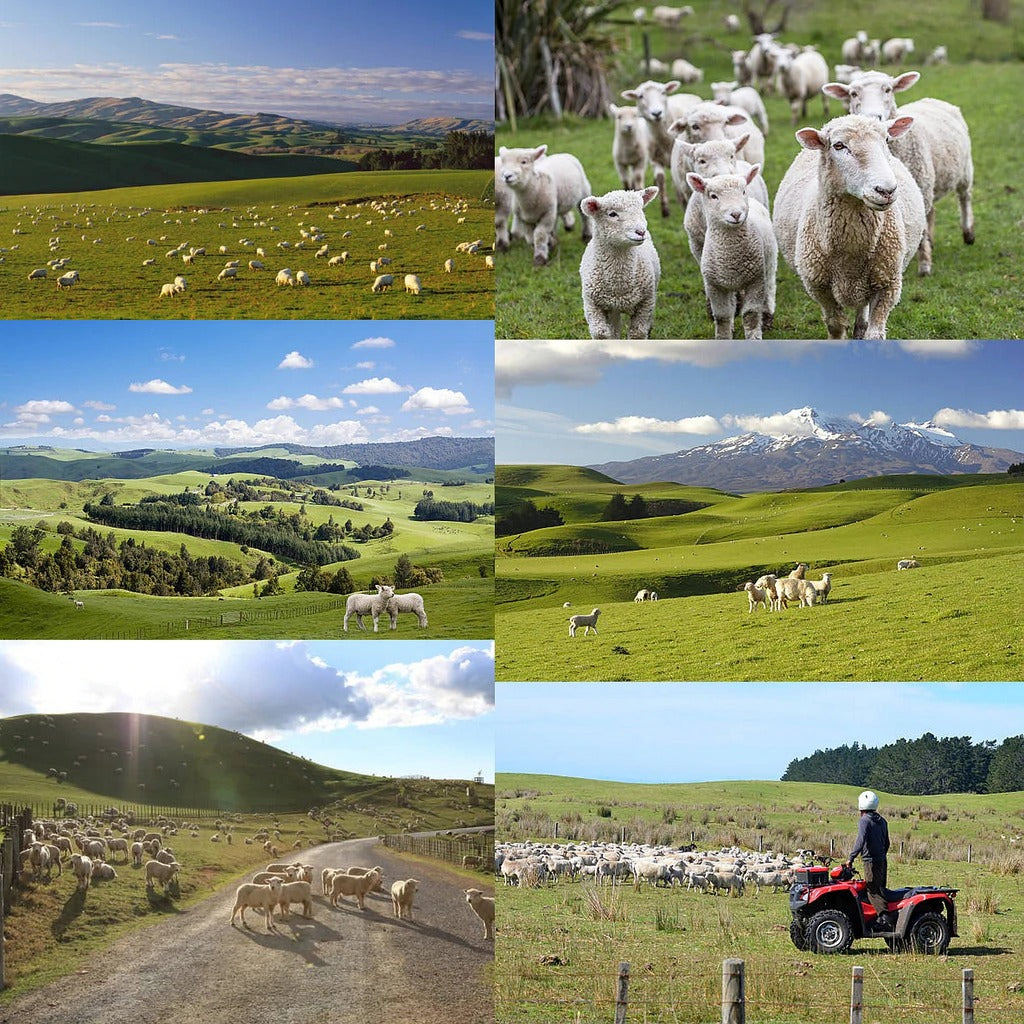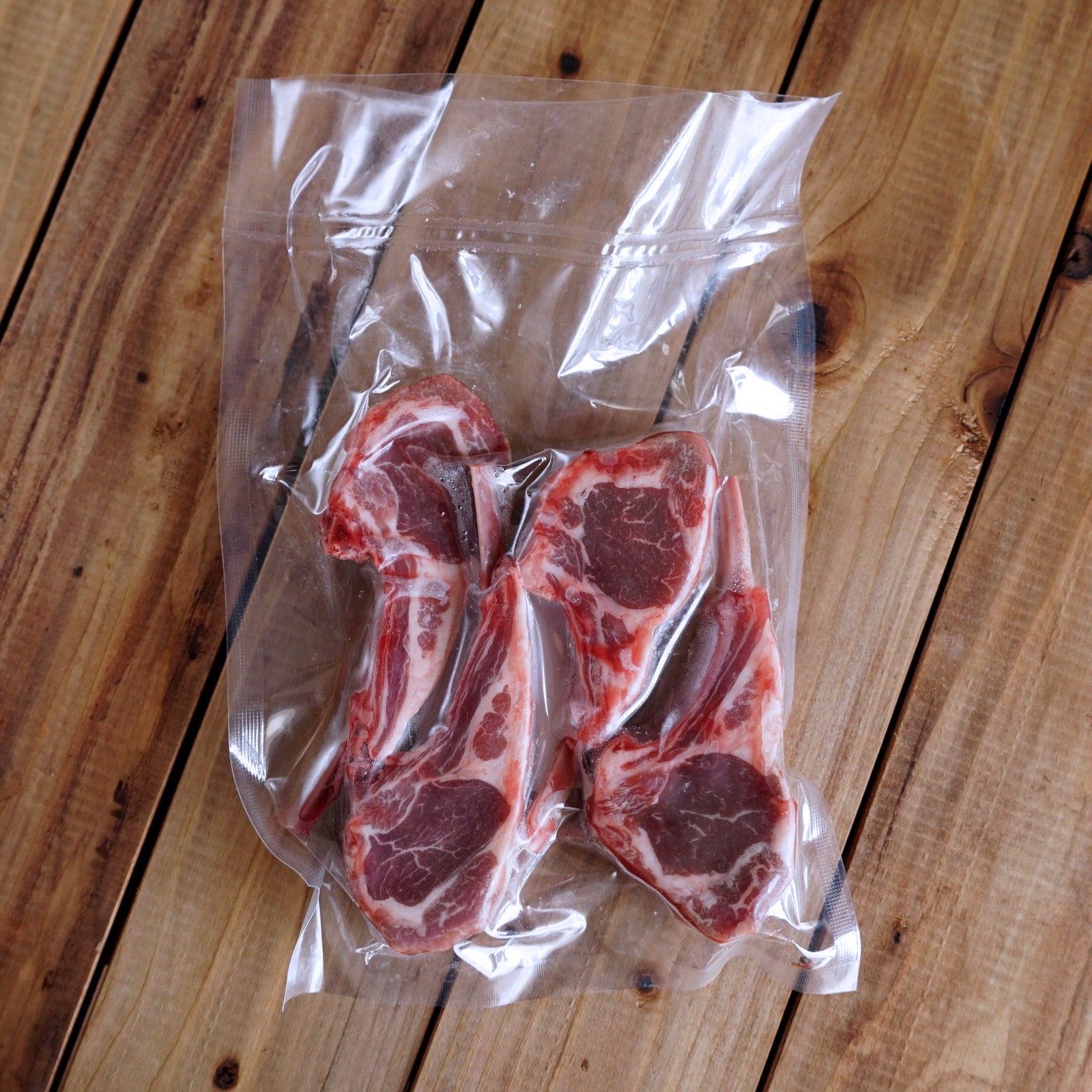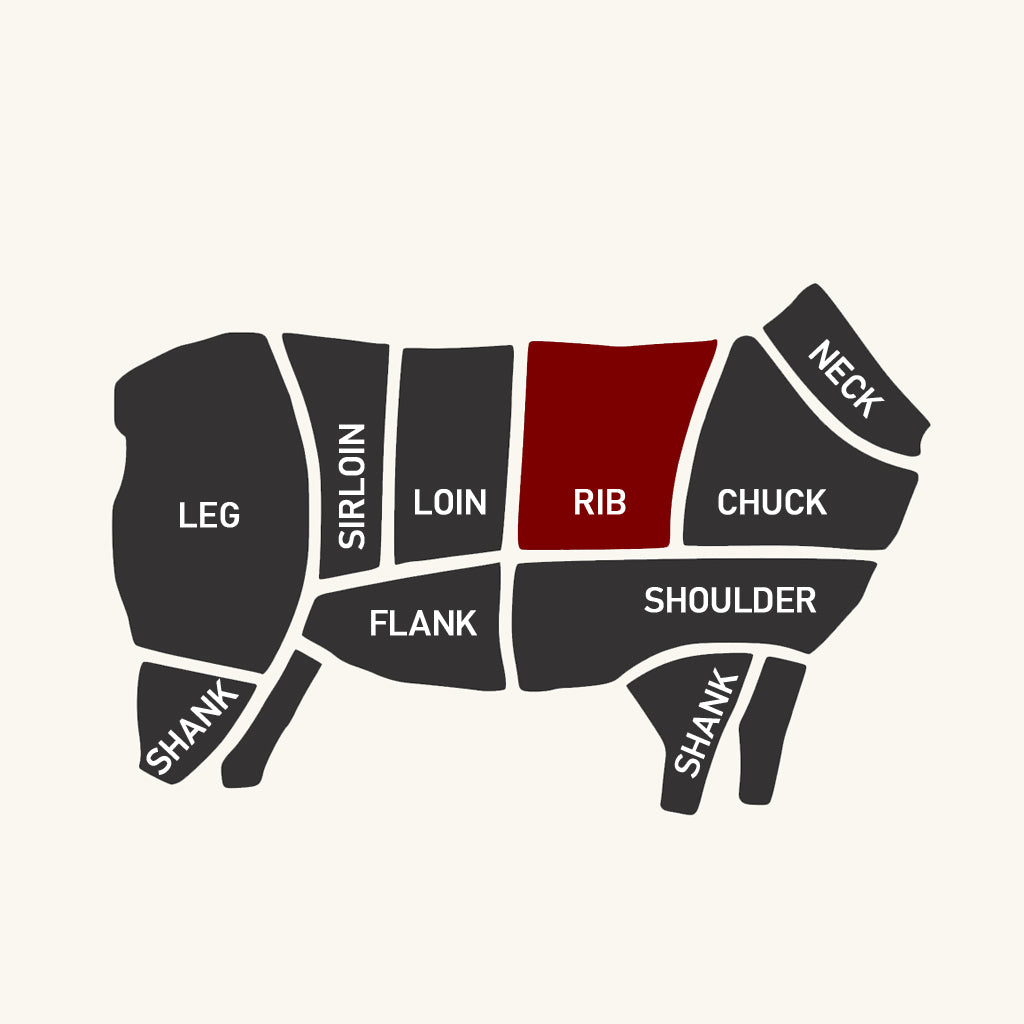 Free-Range Lamb Chops from New Zealand (210g)
Buy More, Save More:
1 Pack (Regular Price)
New Zealand lamb is internationally known for its superior quality and taste. Our New Zealand lamb chops take it one step further: All year free-range open pasture-raised, grass-fed lambs. Free of growth-promoting hormones and subtherapeutic use of antibiotics. 
Our quality lamb chops come from family-owned and operated farms and ranches in New Zealand only. Ethical raising has always been the cultural tradition in New Zealand. These lamb chops are incredibly tender and loaded with flavor. Simple to prepare and visually impressive. Our top-quality lamb is free of strong lamb odor and the meat is tender, juicy and much brighter in color due to the young age of the lambs at the time of harvest. You get 4 small lamb chops/cutlets per pack - trimmed, cut and ready for cooking.
Contents
| | |
| --- | --- |
| Contents | 1 pack contains 4 chops |
| Weight | 210g (0.5lbs) |
| Serves | Serves 1-2 |
Shipping & Handling
Shipping
Shipping and delivery is frozen
Handling
Keep frozen below -18°C (0°F)
Defrosting Time
In the fridge: approx. 24h
In ice-water: approx. 1h
Cooking Method
Cast-Iron Skillet, Fry-Pan, Grill
Expiration
Frozen: see packaging label (usually more than 3 months)
Chilled: Please consume unopened pack within 5 days.
Details
| | |
| --- | --- |
| Also known as | Spring lamb, lamb ribs, lamb cutlets, lamb rack, lamb loin |
| Country of Origin | New Zealand |
| Ingredients | Lamb |
| Cut from | Rib |
| Category | Steaks, Chops |
| Packaging | Loosely vacuum packed. A strong vacuum causes the lamb chop bones to pierce holes through the packaging which then becomes a food safety concern. |
✔ All year free-range and open pasture-raised. Grass-fed and grass-finished.
✔ Humanely raised and treated with respect by family farmers.
✔ No subtherapeutic use of antibiotics. 
✔ Free of growth-promoting hormones.
✔ No GMO-feed.
✔ Tender, juicy and light in color due to the natural feed and the young age of the lambs.
At A Glance
| | |
| --- | --- |
| Sheep Breed | Romney breed |
| Farm/Ranch | Family farms in New Zealand |
| Region | North Island of New Zealand |
| Breeding | All year free range on open pastures |
| Feeding | Grass-fed and grass-finished |
| Traceability | 100% fully traceable from farm to fork through lot numbering and management. |
| Growth-Hormones | Never |
| Subtherapeutic Use of Antibiotics | Never |
| Chemically Pesticide Treated Grass | Never |
| GMO feed | Never |
Completely defrost the chops in the fridge overnight or in cold water within a few hours. Open the pack and pat dry with a paper towel. Allow the chops to breathe for a few minutes.
Season with olive oil, freshly ground coarse (!) black pepper and coarse (!) sea salt. That's it. For the best taste experience do not add sauces or "ready spice mixes" - this quality lamb tastes incredibly good the way it is.
Preheat the fry-pan or skillet to medium-high heat - you need to hear it sizzle. The lamb chops are very small and cook very fast. Keep turning them.
Make sure the outer layer is crispy brown and caramelized. Take off the heat once firm to the touch. You can't really go wrong with overcooking the lamb chops. 
We are great fans of the natural taste of quality products and will always recommend avoiding heavy sauces and spice mixes. Try our lamb just like this - you'll love it. If you had a bad experience with lamb in the past - give our quality lamb a chance. 
Lamb chops taste best eaten by hand. Juicy, tender and flavorful New Zealand quality lamb. Enjoy
Tasty and safe
I never thought of free-range Lamb can be purchased in Japan. Juicy and tasty. Glad I chose to buy this.
Lamb chops
Excellent taste and quality
Translated from Japanese: It was juicy and tasty and barely smelled like lamb.
Translated from Japanese: I purchased this for a BBQ with my business partners. I'm glad they liked it.
It's so delicious♪
Translated from Japanese: I was worried about whether lamb would have a peculiar taste and smell, but these worries disappeared right away.
It was so delicious.
I will order again.