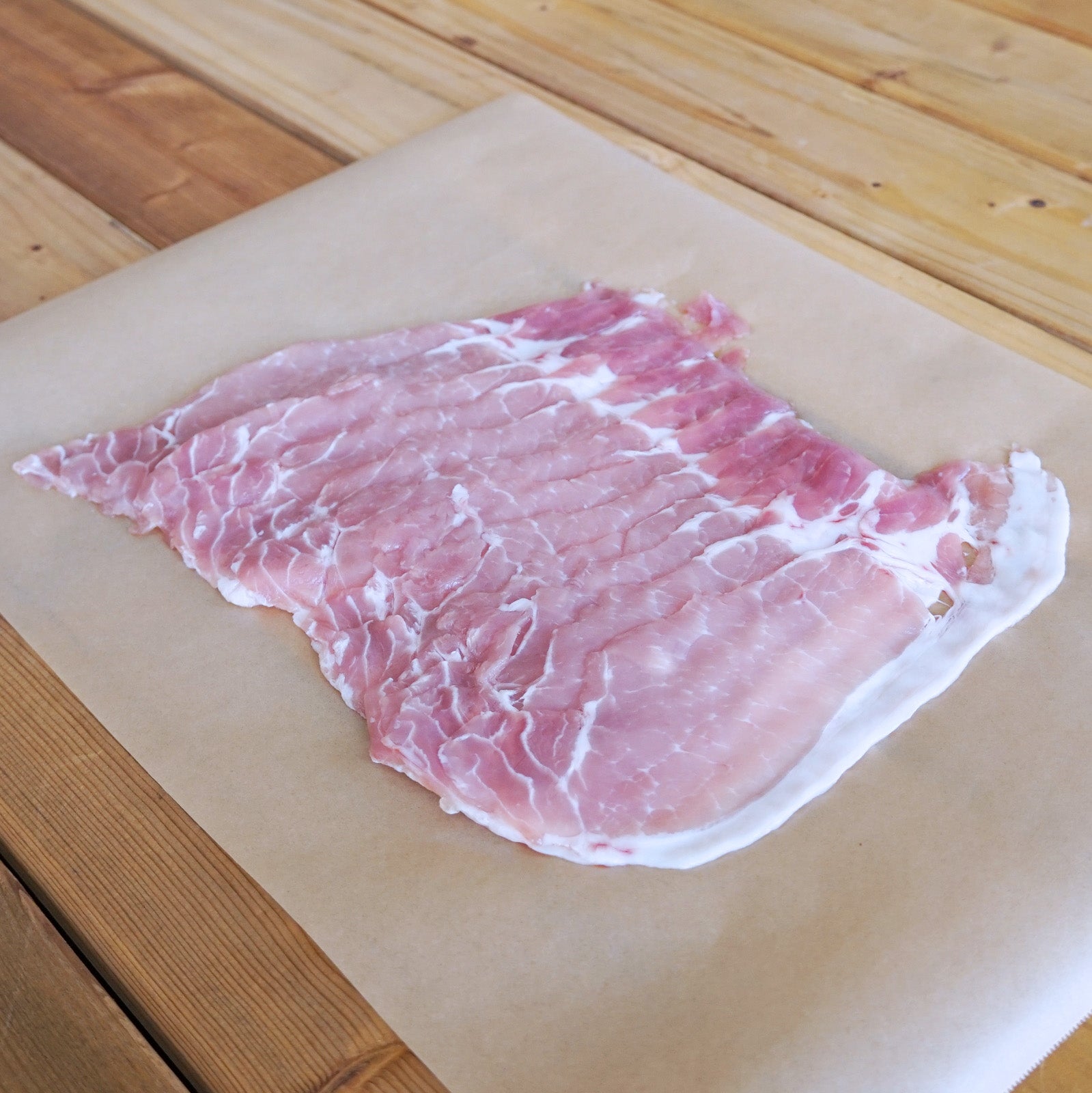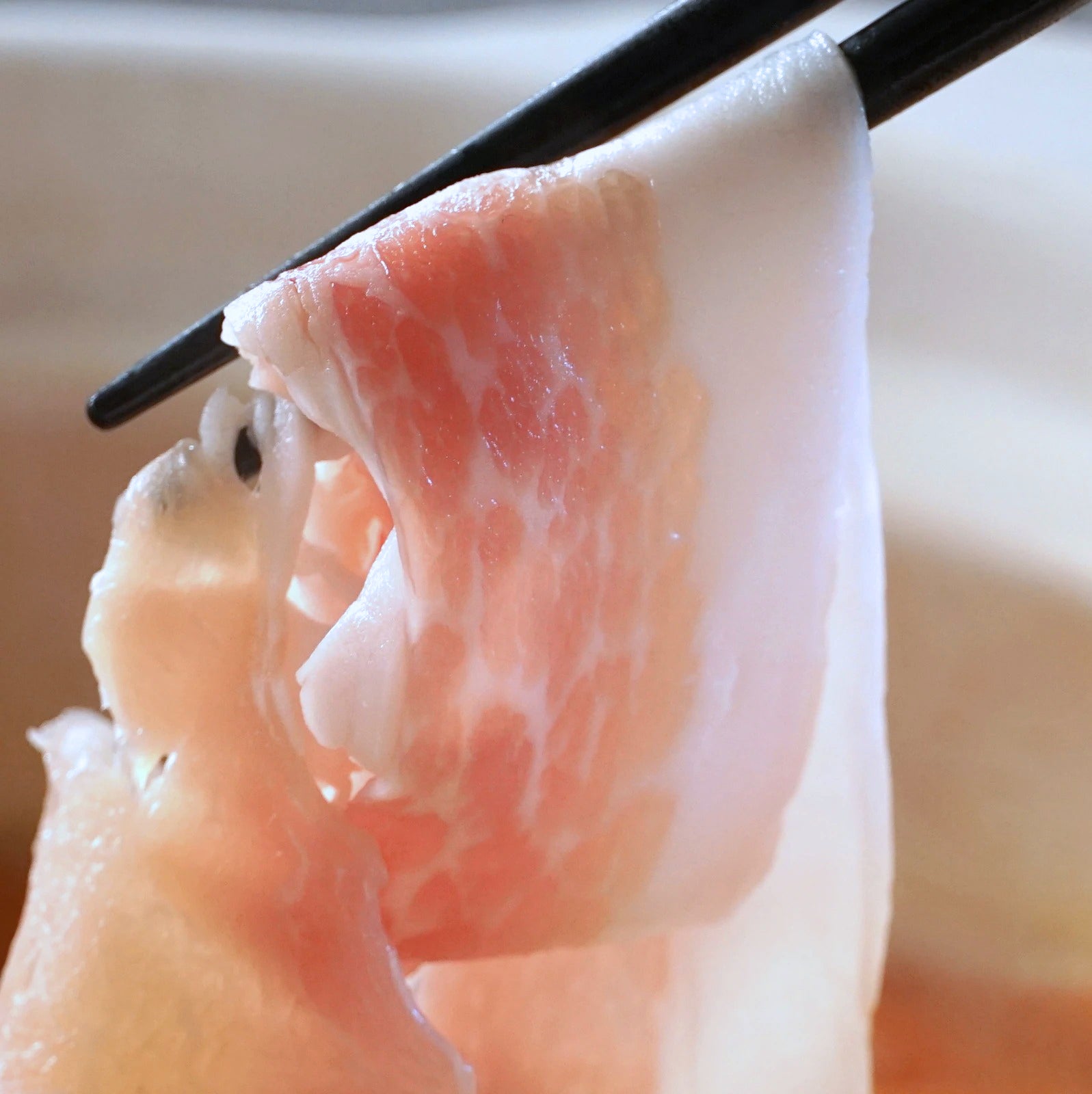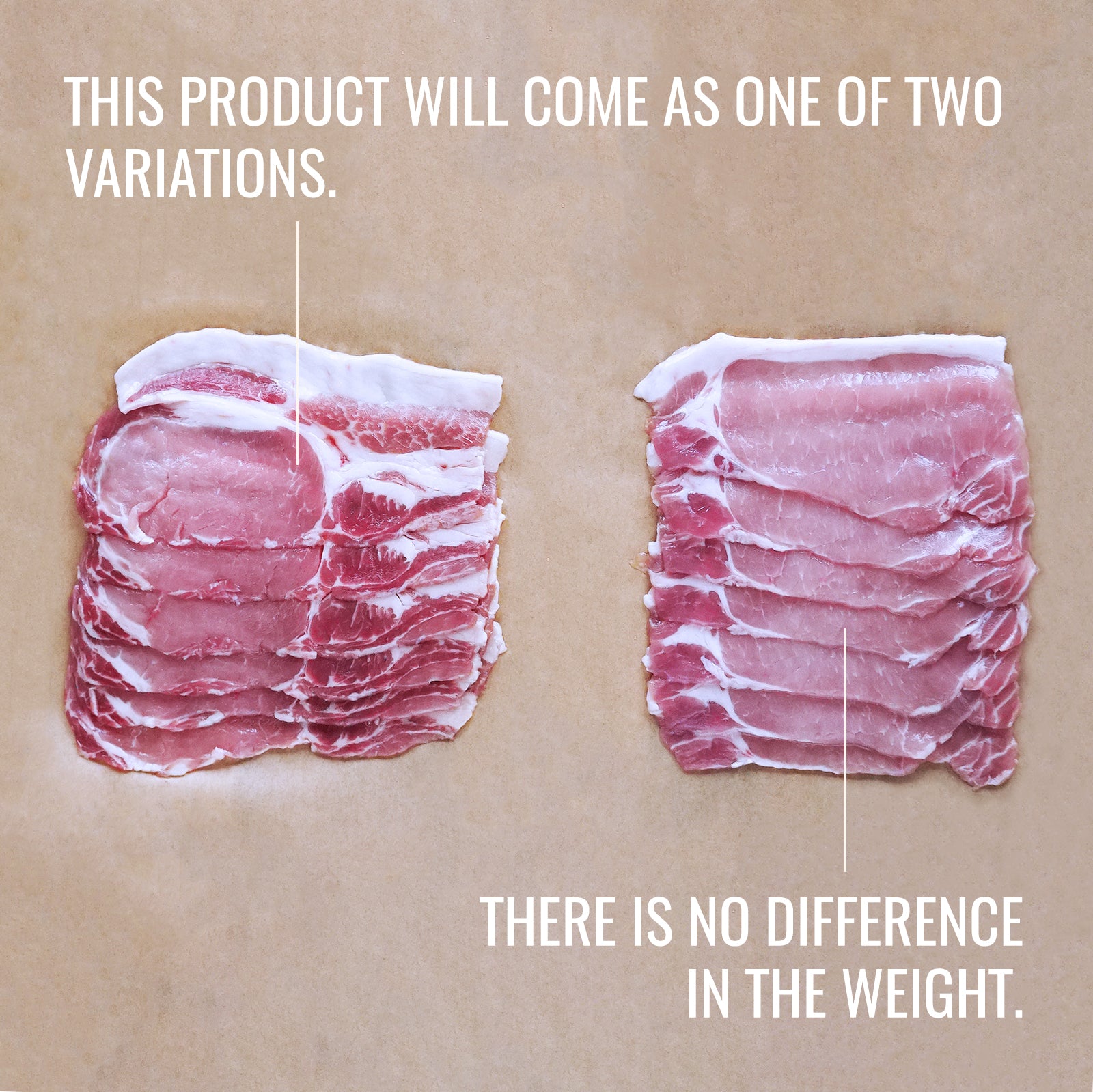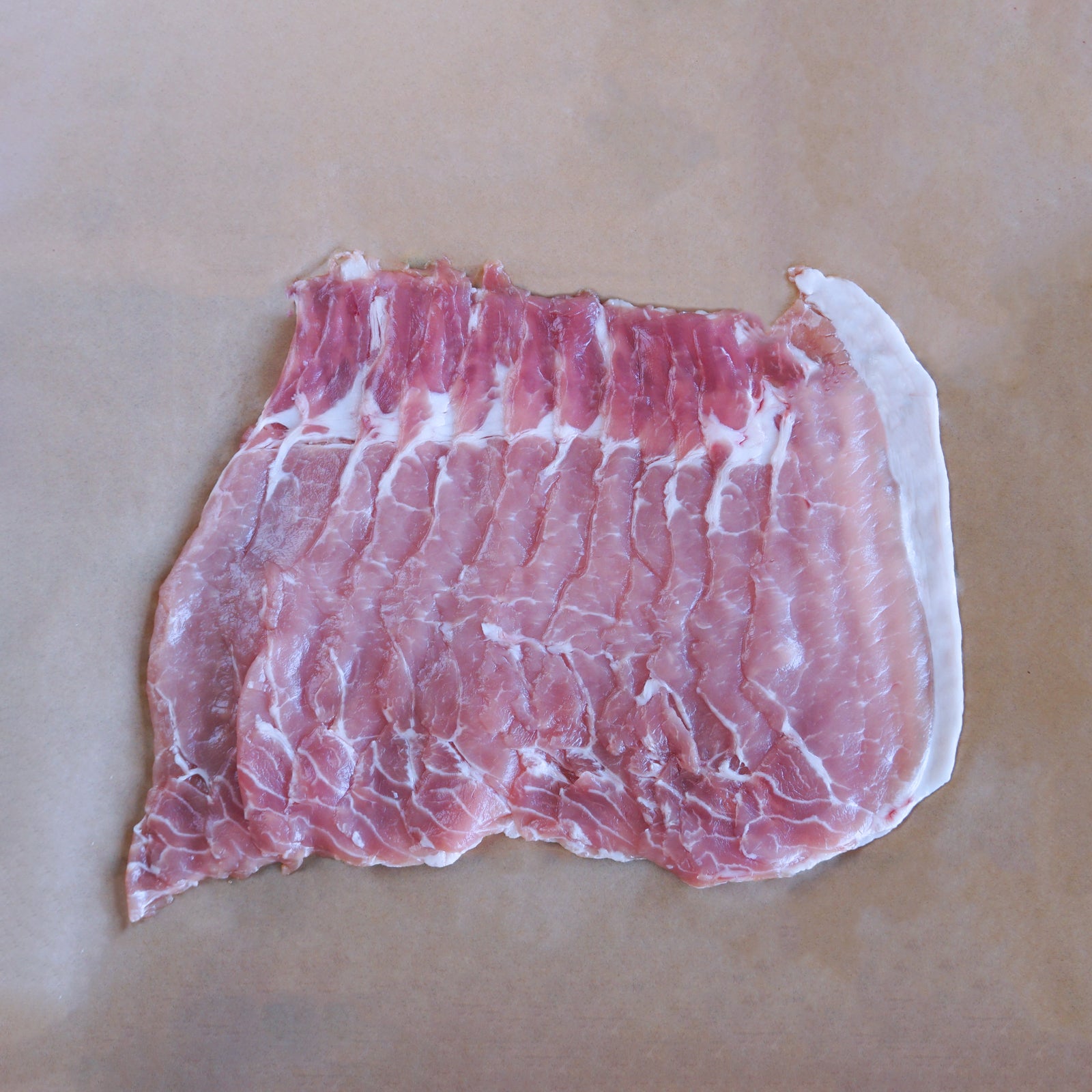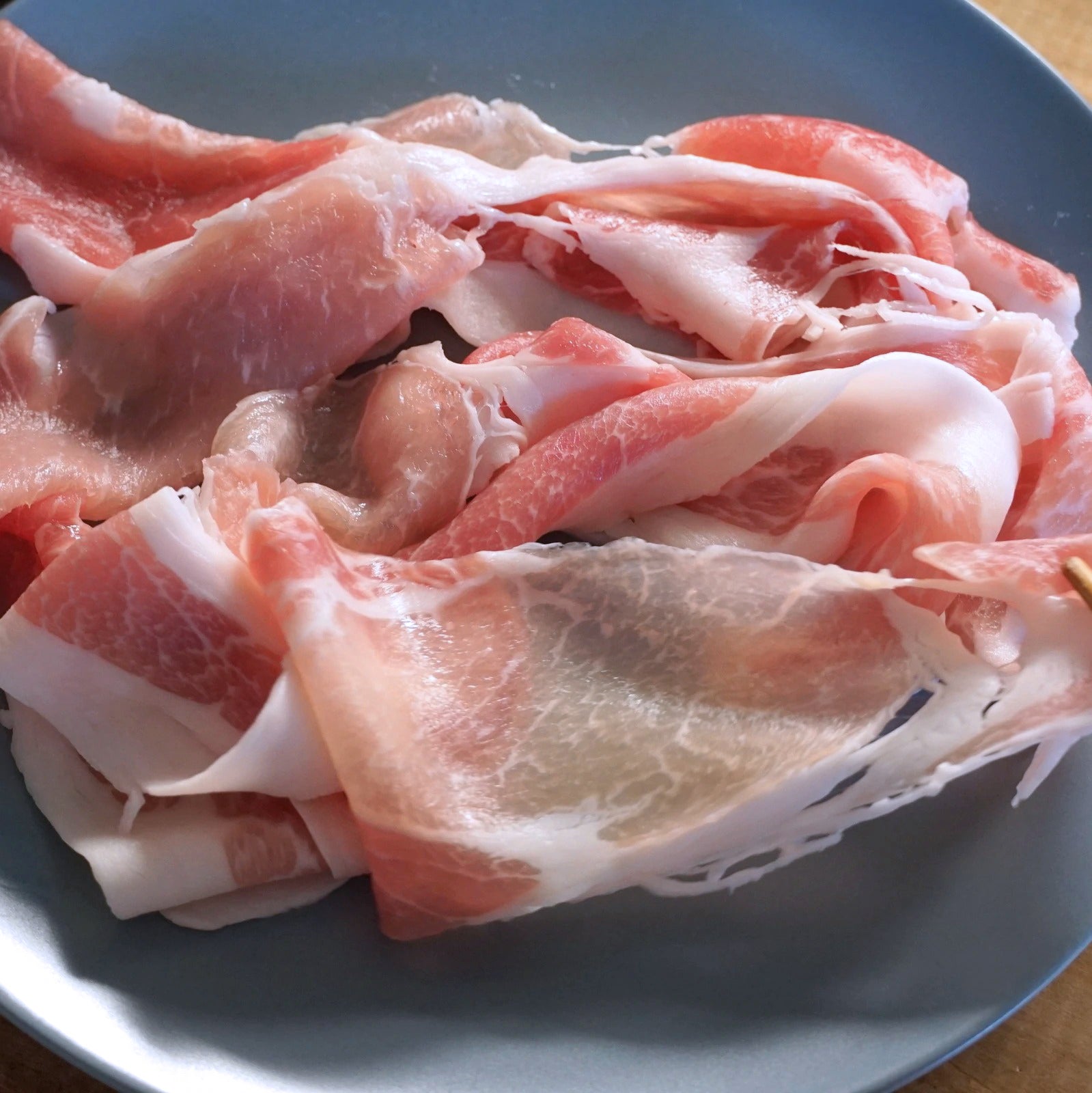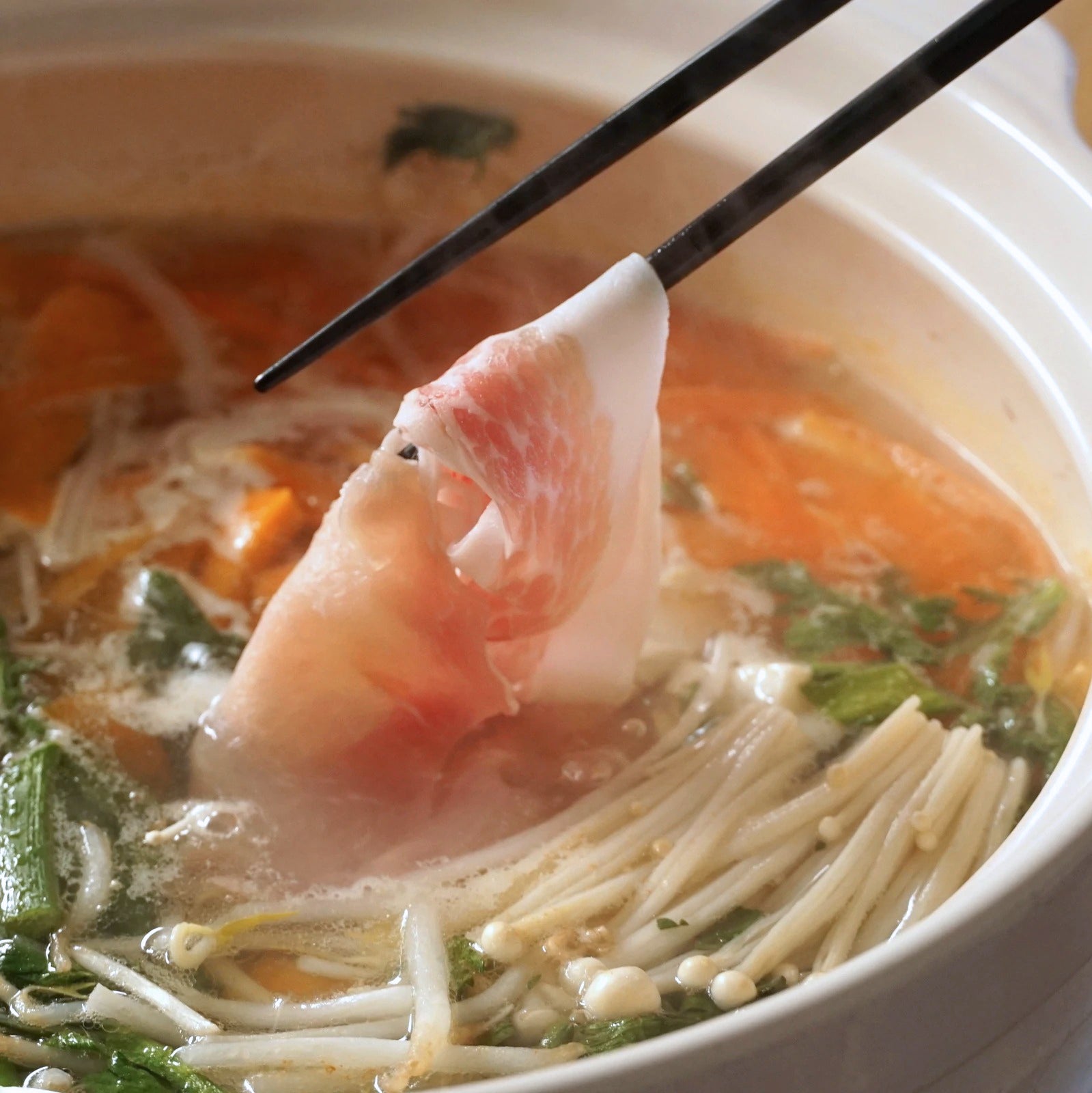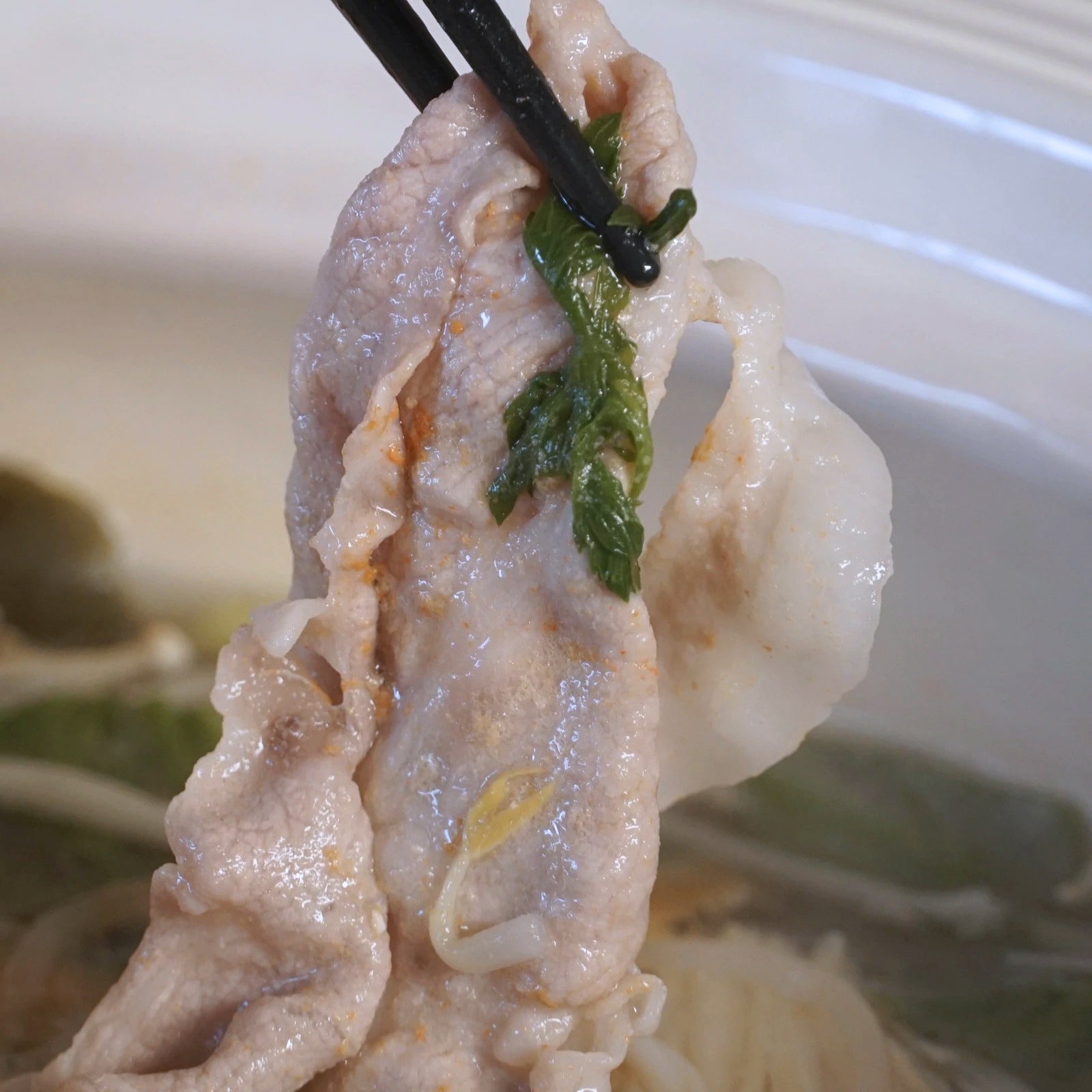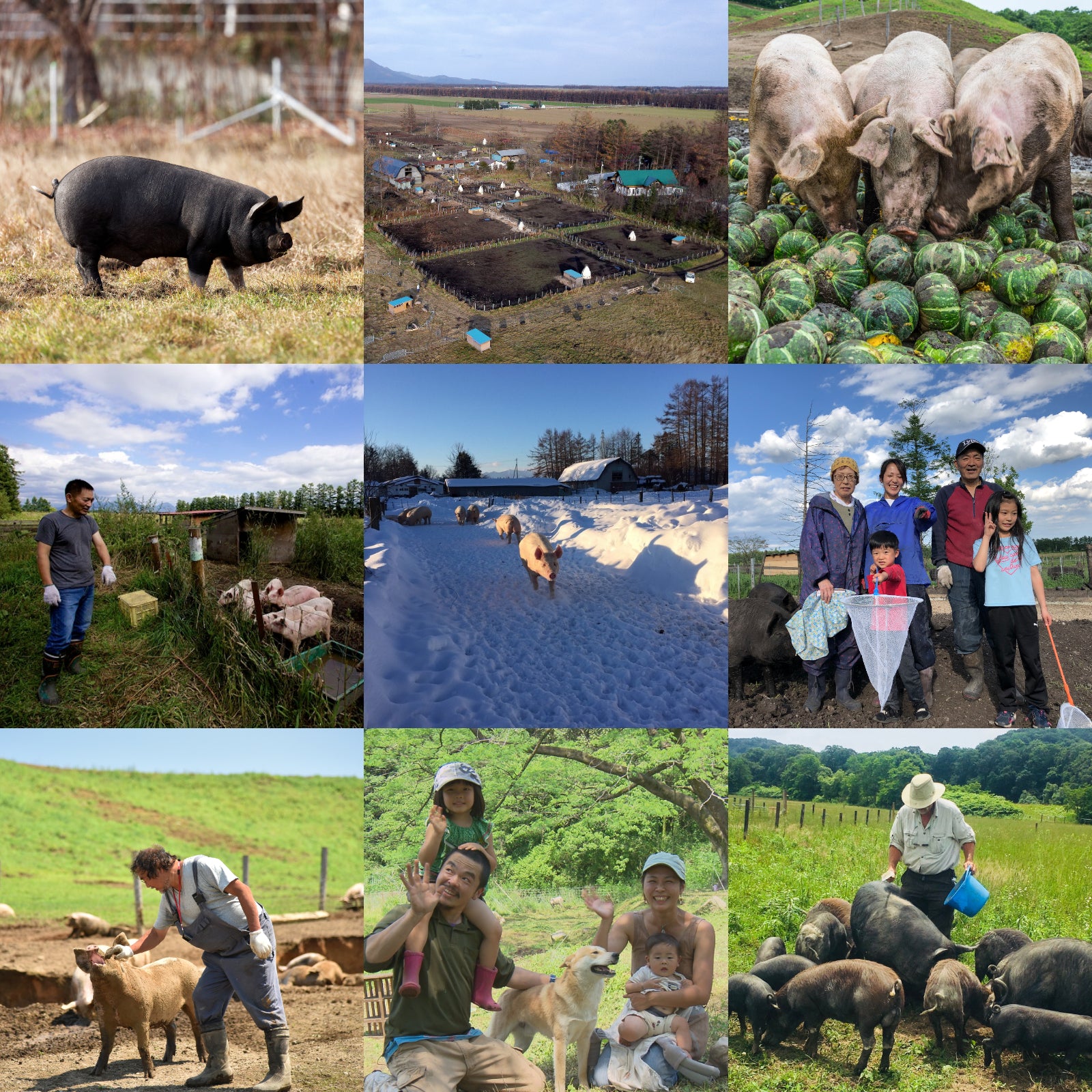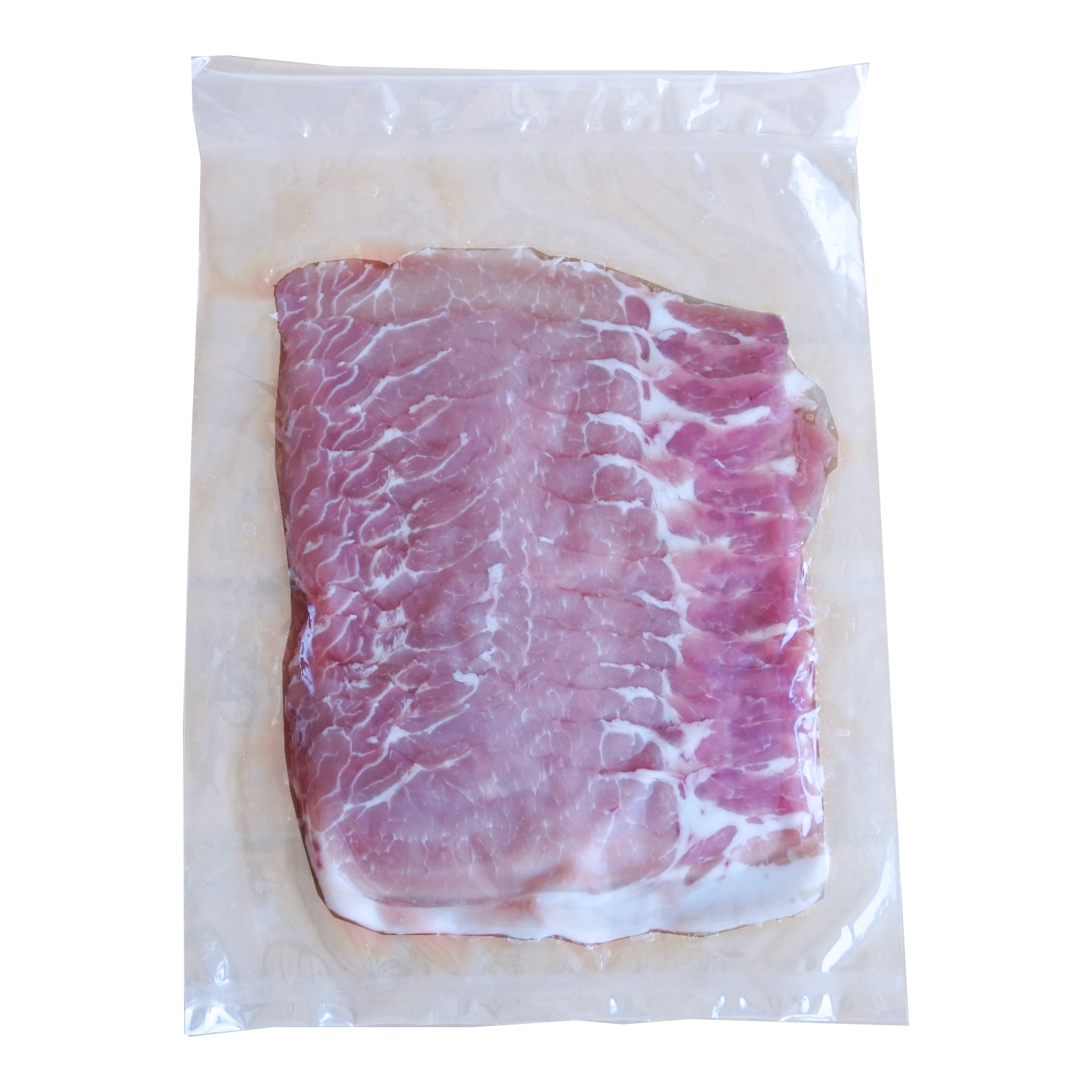 Free-Range Pork Loin Slices for Shabu Shabu (300g)
Buy More, Save More:
1 Pack (Regular Price)
This product will now be sourced from the following family farms: El Paso Ranch, Nakano Farm, Curly Flats, or Tsukinoakari. Rest assured there is no difference in quality or size and all pigs are raised free-range all year through. The slices may have individual differences in size and fat content due to the meat being sourced naturally. Please note that we are unable to accept requests for a specific farm or fat content regarding this product. Thank you for your understanding.
300g of extremely thin (2mm / 5/64″) slices of pork from the ribeye. One of the most expensive and sought-after cuts of pork. All-year free-range raised pigs give these slices their high quality that you won't find even at top-end Shabu Shabu restaurants in Japan. Highly marbled, tender, and very flavorful.
100% real free-range and naturally raised pork from Japan. Happy as a pig in mud. Bathing in the nearby river during summer and playing around on the snowfields in winter - that's the happy life of these pigs that are raised completely free-range. And when we say free range we mean the real deal free-range. Spring, summer, autumn, and winter - 24 hours, all year free-range. The images below are actual photos of the farms.
Free-range pork, in this case, pastured pork tastes different because it is different! The pigs are able to exercise freely and build natural muscles without the aid of growth promoters. Give it a try and taste the difference!
Contents
| | |
| --- | --- |
| Contents | 1 pack |
| Weight | 300g (10oz.) |
| Serves | Serves 1-2 |
Shipping & Handling
Shipping
Shipping and delivery is frozen
Handling
Keep frozen below -18°C (0°F)
Defrosting Time
In the fridge: approx. 12h
In ice-water: approx. 30 min.
Cooking Method

Shabu Shabu (Japanese hotpot)

Expiration
Frozen: see packaging label (usually more than 3 months)
Chilled: Please consume unopened pack within 3 days.
Details
| | |
| --- | --- |
| Also known as | Pork Slices, Shabu-Shabu, Pork Loin, Hokkaido, Tokachi, Kagoshima |
| Ingredients | Pork |
| Country of Origin | Japan |
| Cut from | Loin |
| Packaging | Vacuum packed |
✔ Raised free-range all-year-round on mineral-rich soil. They grow up healthy and happy, basking in the sun and running around freely.
✔ No growth hormones, no subtherapeutic use of antibiotics - ever!
✔ Fed a large variety of clean, carefully selected, high-quality feed.
✔ No gestation crates for sows. No teeth clipping or tail docking of piglets.
✔ No factory farming! Humanely raised and treated with respect. The pigs live a much longer and happier life than other general farms.
✔ 100% traceability from farm to fork.


At A Glance
Region
Hokkaido or Kagoshima
Breeding
All year 100% free-range pasture-raised 
Farm / Ranch
El Paso Ranch (Tokachi, Hokkaido)
Nakano Farm (Tokachi, Hokkaido)
Tsukinoakari Ranch (Kagoshima)
Curly Flats Ranch (Hidaka, Hokkaido)

Feeding
A large variety of grains, protein sources, and vegetables such as wheat, corn, soybeans, potatoes, acorns, grass roots, walnuts, bamboo grass, and yams.
Traceability
100% fully traceable from farm to fork
Hormones
Never
Subtherapeutic Antibiotics Use
Never

Livestock 

B

y-Product Use in Feed

Never
We recommend defrosting the packs shortly before serving. Defrosting the thin slices over a long period of time, for example, more than 24h will make the pork fat too soft to handle.
You could either serve the pack as is on the table and have each person take a pork slice themselves or you could separate all slices ahead and place them on a plate for your guests to take.
For a real Shabu Shabu experience, you will need a hot pot and a portable gas burner or hot plate for indoor use - a very common appliance in Japan. Once the water has reached boiling point reduce it to a simmer for cooking. Then add the vegetables. For high-quality meat, the broth for Shabu Shabu should be water and just a kombu seaweed. The meat and vegetables are dipped in sauce before eating. 
Next, cook the pork, swishing the pieces lightly through the broth or submerging them briefly. Cook only one slice at a time, rather than trying to cook everything at once. 
Shabu Shabu should be enjoyed slowly like fondue, with the ingredients cooked over the course of the meal. Take the slice out of the broth once cooked - no worries if you eat slightly undercooked pork. 
Submerge the slice in your own small bowl of favorite sauce. The most popular sauces are Ponzu (a citrus-based sauce commonly used in Japanese cuisine) and sesame sauce. Enjoy five-star quality Shabu Shabu at home with the whole family.
Translated from Japanese: I used it in cold shabu-shabu and it was tender and very tasty. The thinness and quantity were just right and easy to use.
Translated from Japanese: I ate it as shabu-shabu with lettuce! Even when thawed, there was no odor at all, and even the fat was delicious. The thickness was also exquisite and it was just the right amount for two adults.
I will order again
Translated from Japanese: It was very delicious ✨
I will buy it again 🌱
If you eat this, you can't eat other shabu-shabu meat anymore
Translated from Japanese: The fat is delicious. The meat is also delicious. It's delicious even if you don't soak it in ponzu sauce. If you use this, you will never be able to have shabu-shabu with supermarket meat again.
Translated from Japanese: It's a reorder.
I was surprised at how delicious it was when I bought it to use for BBQ.
I can't eat other meat anymore.