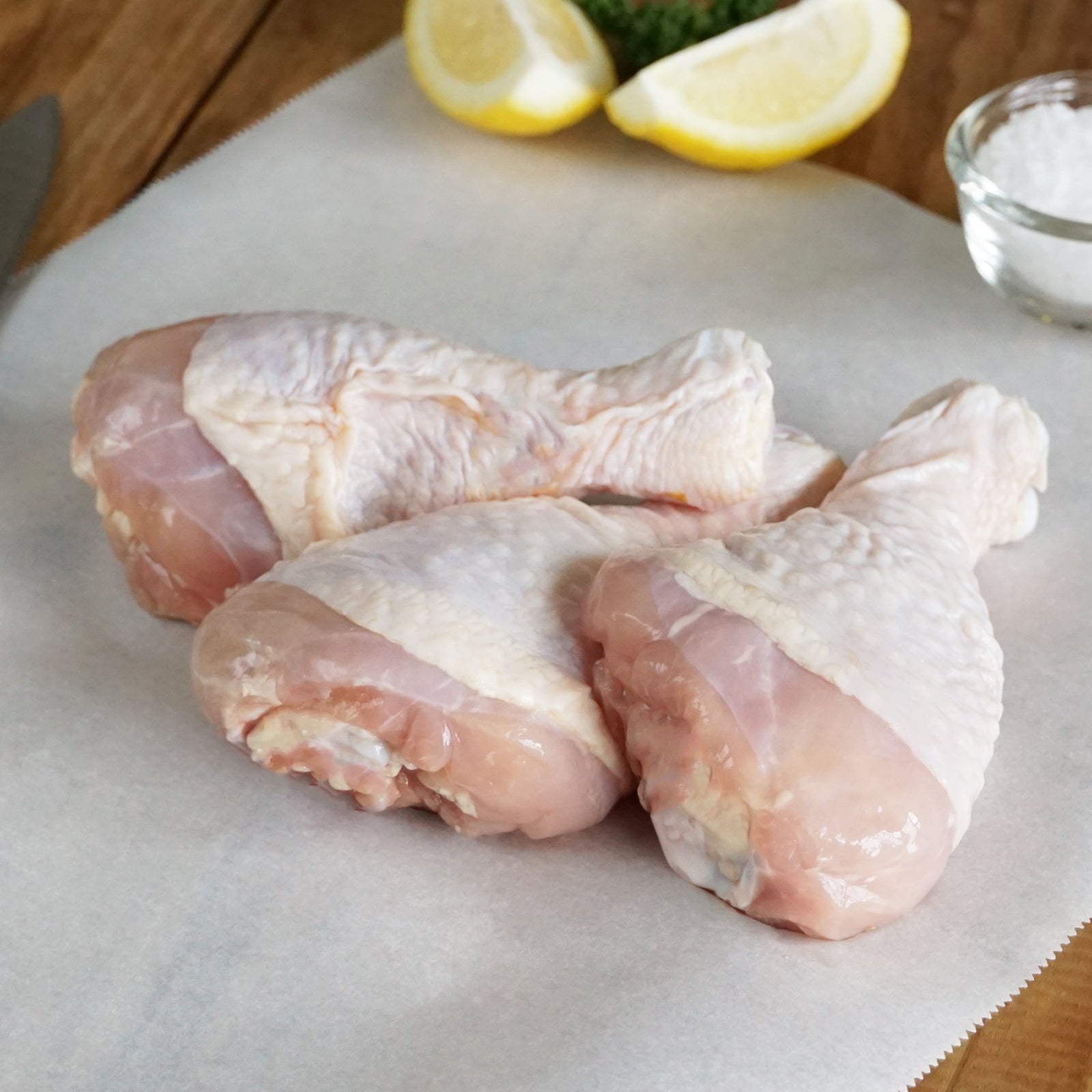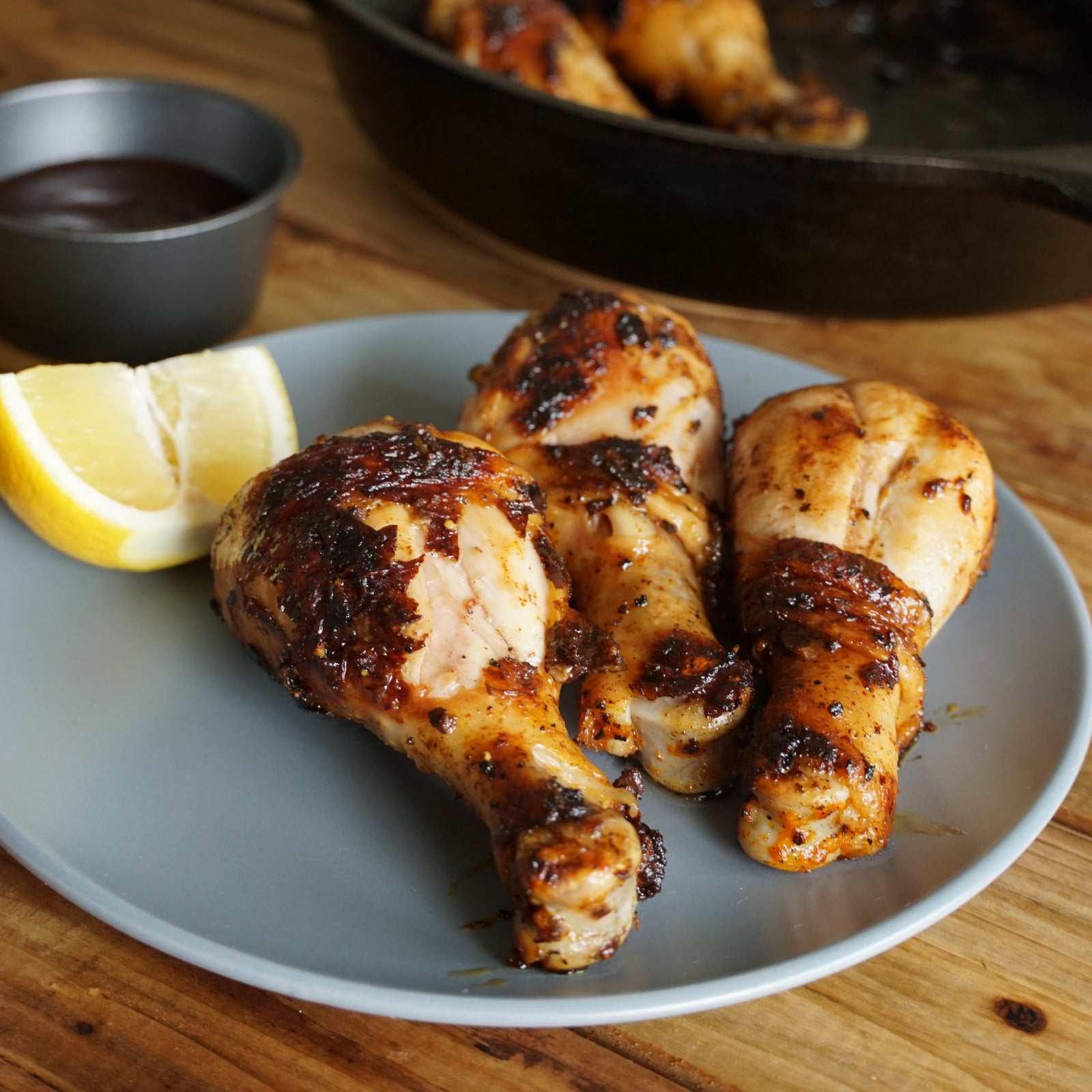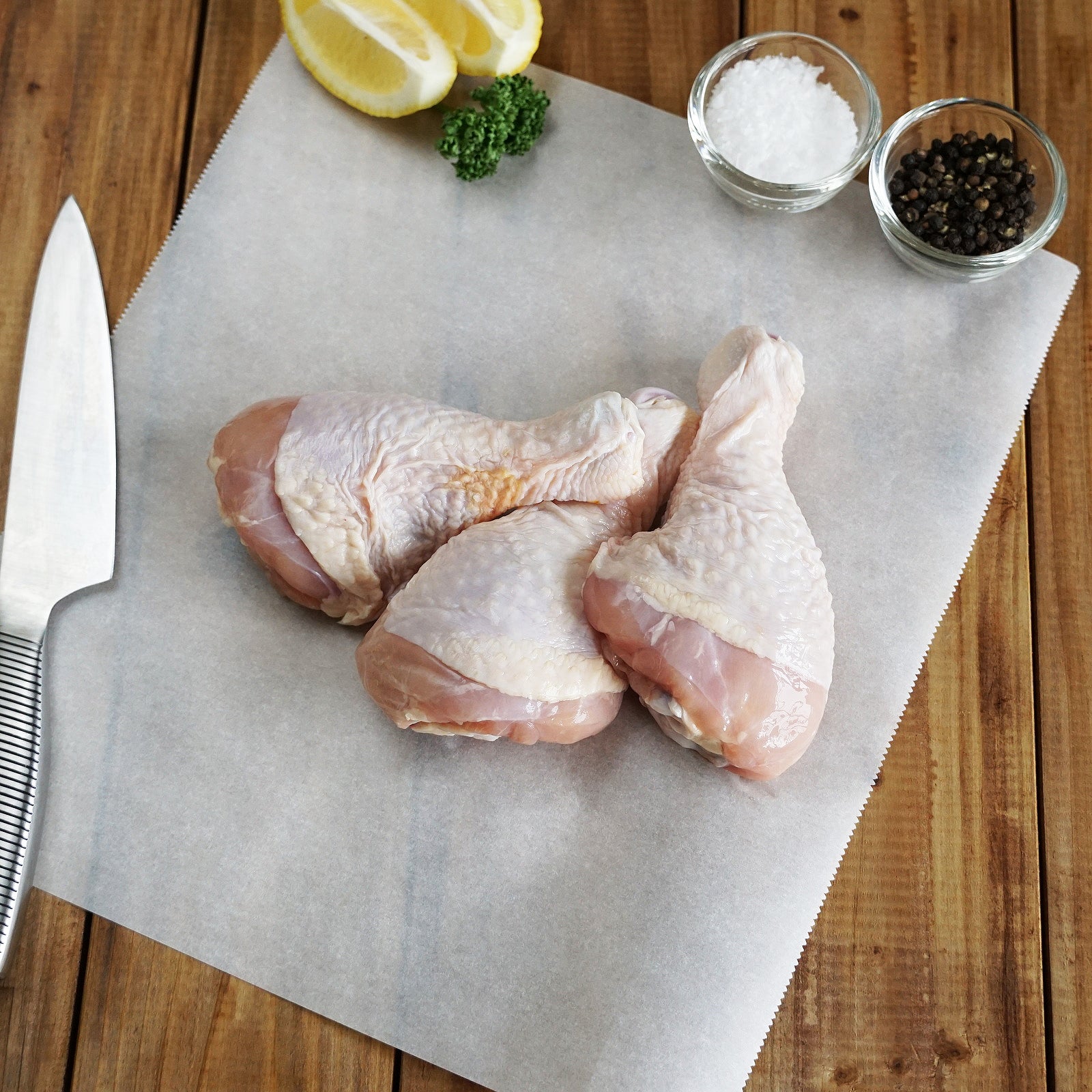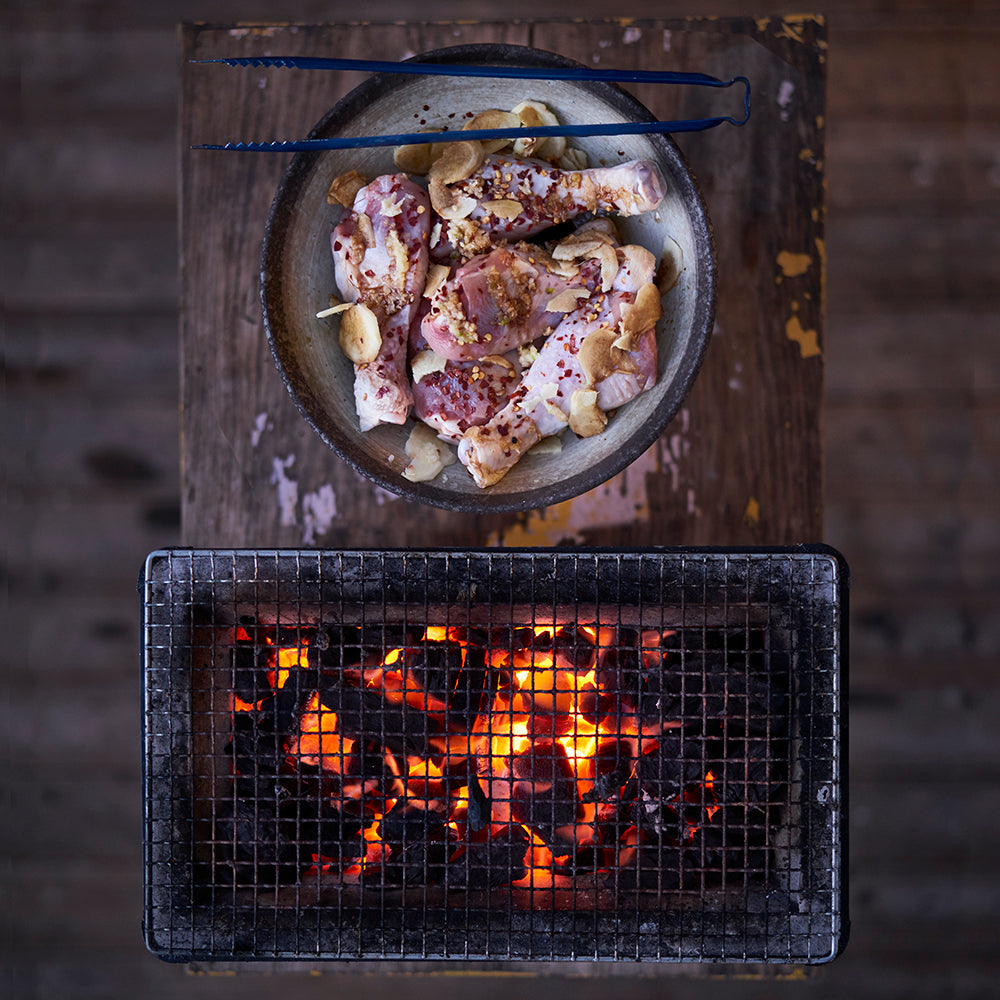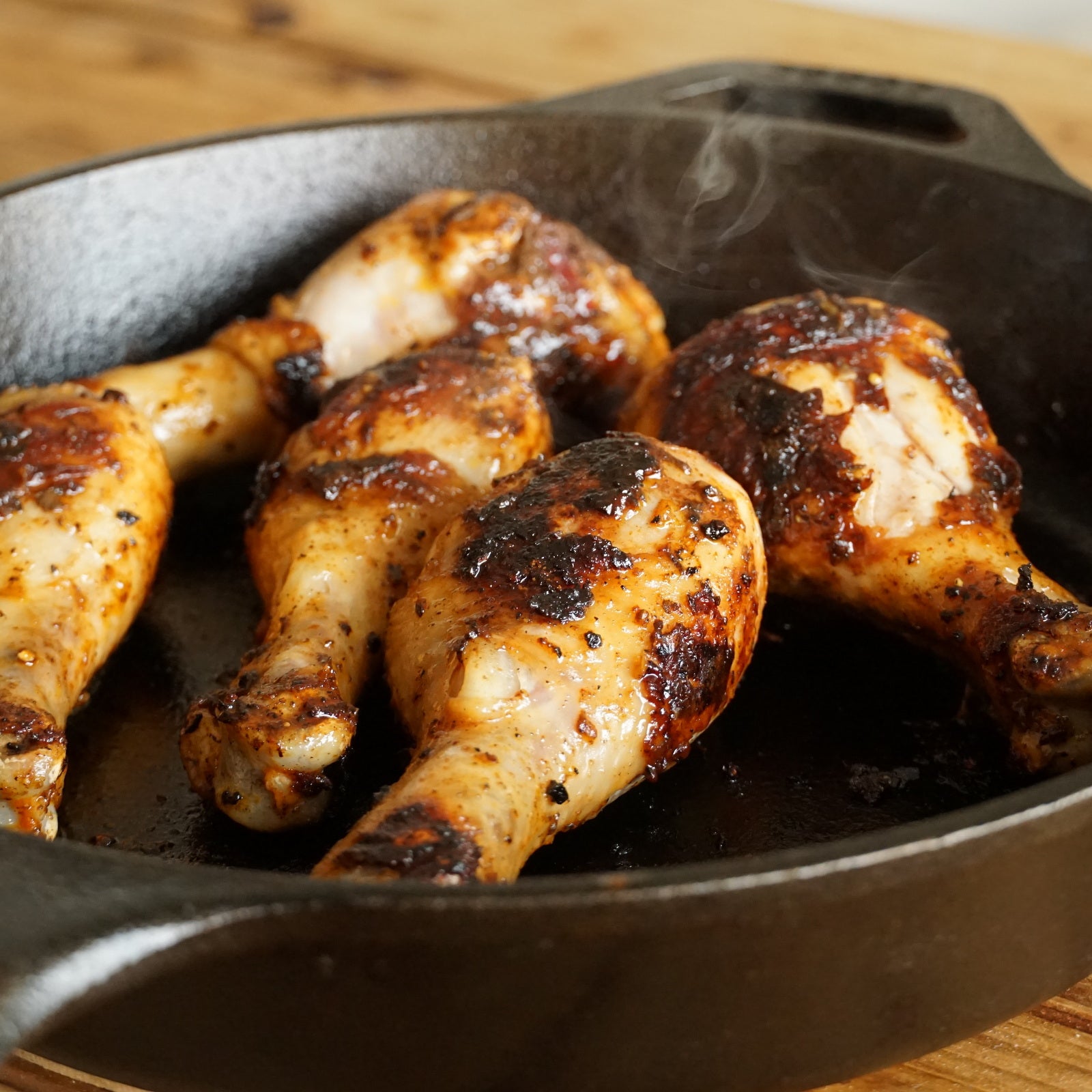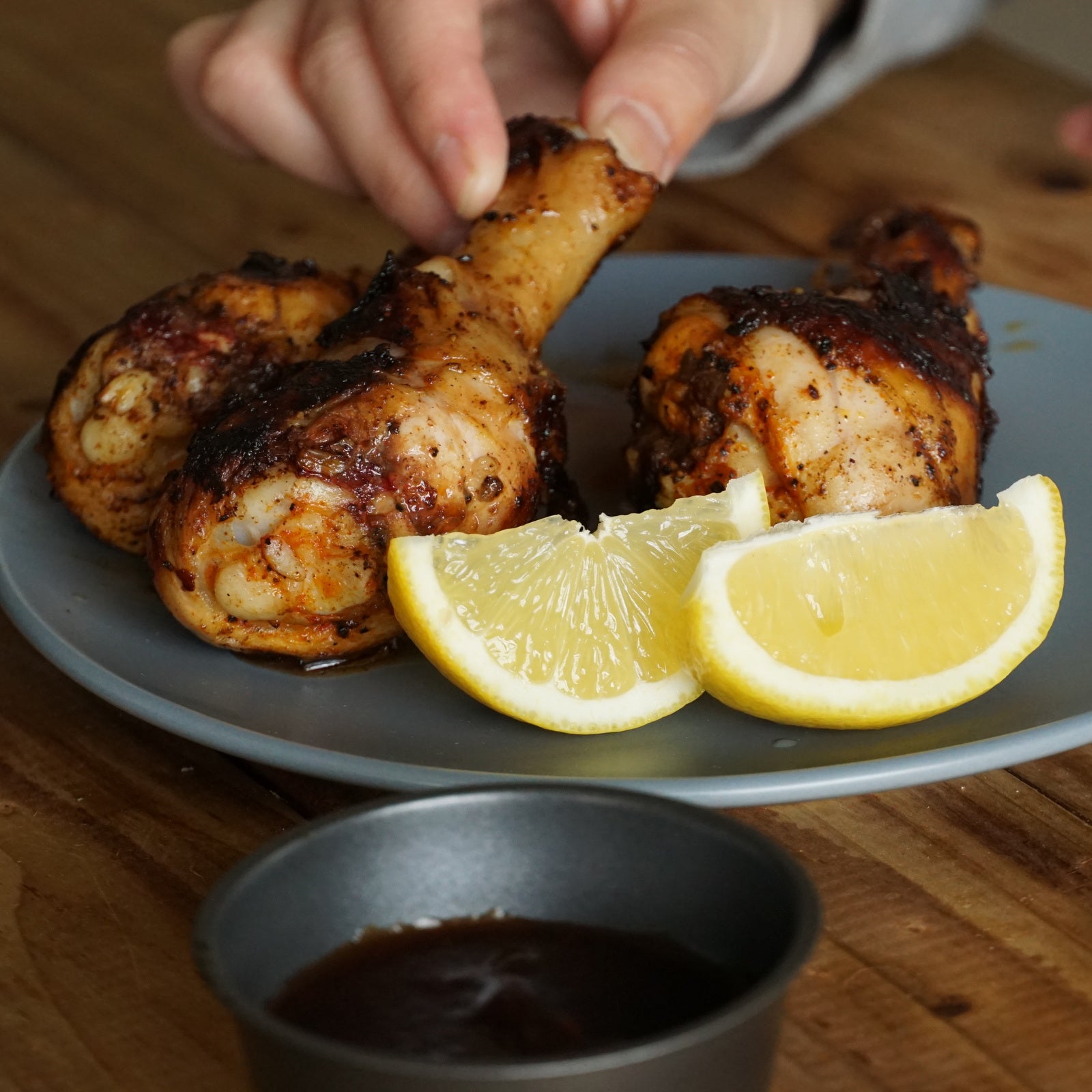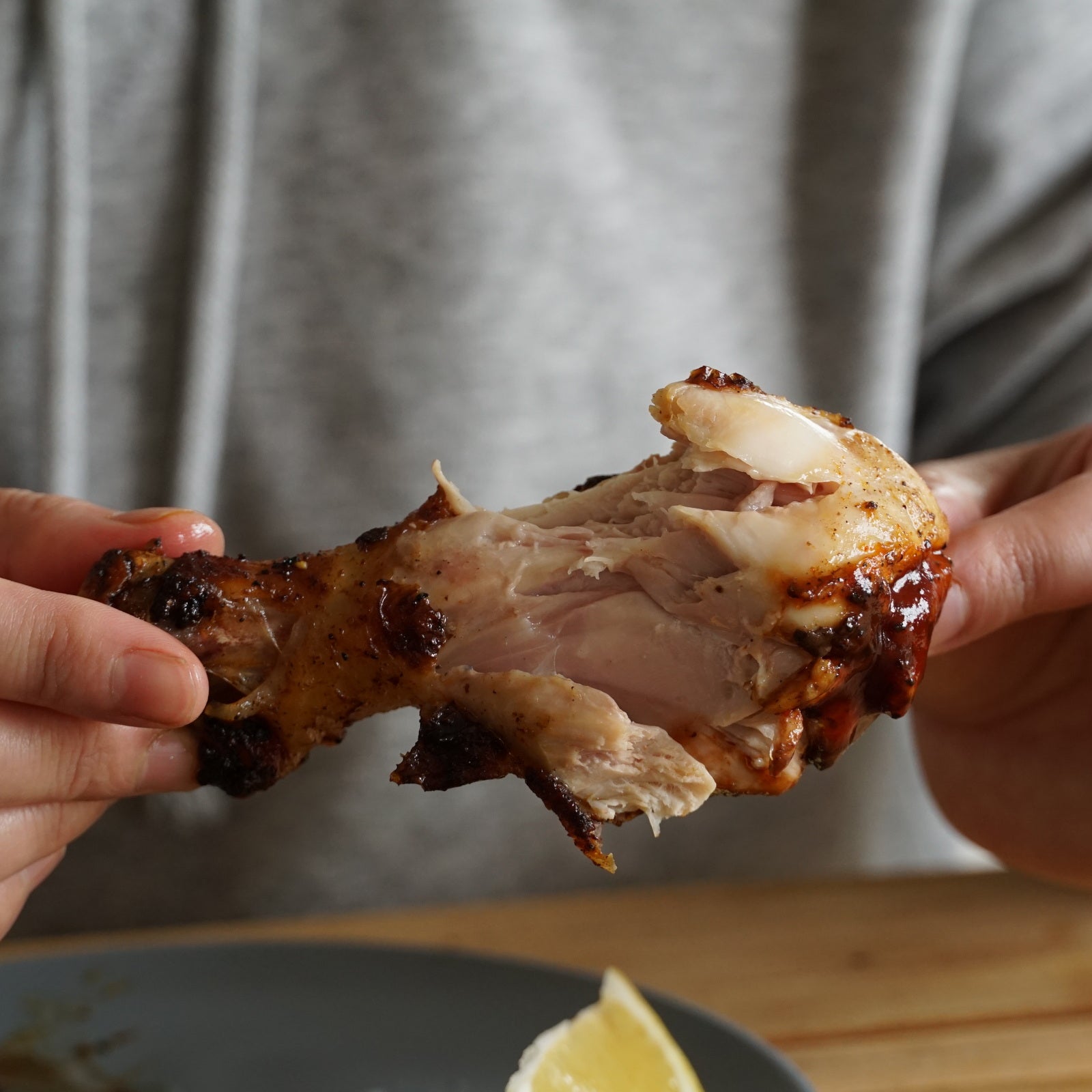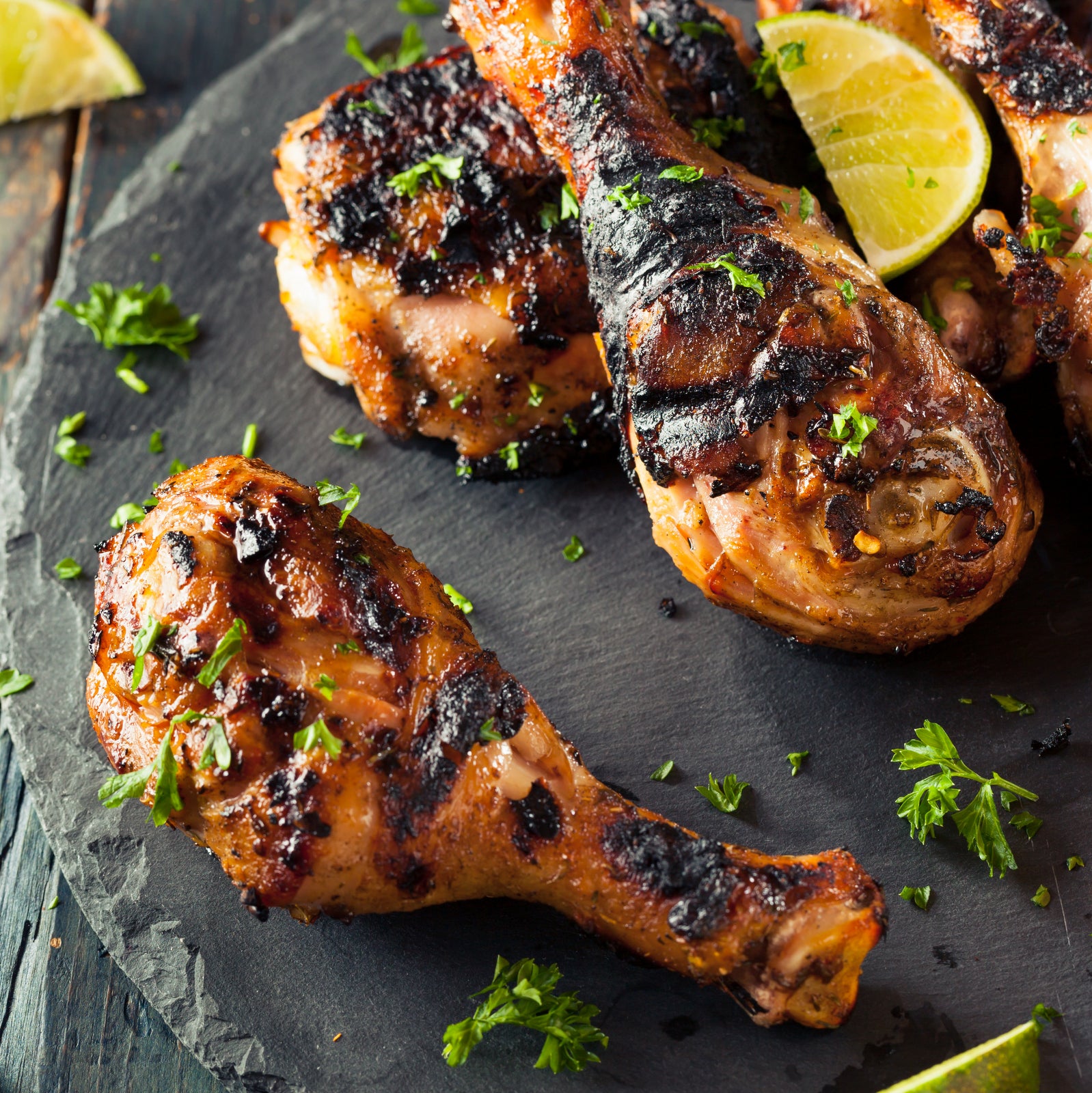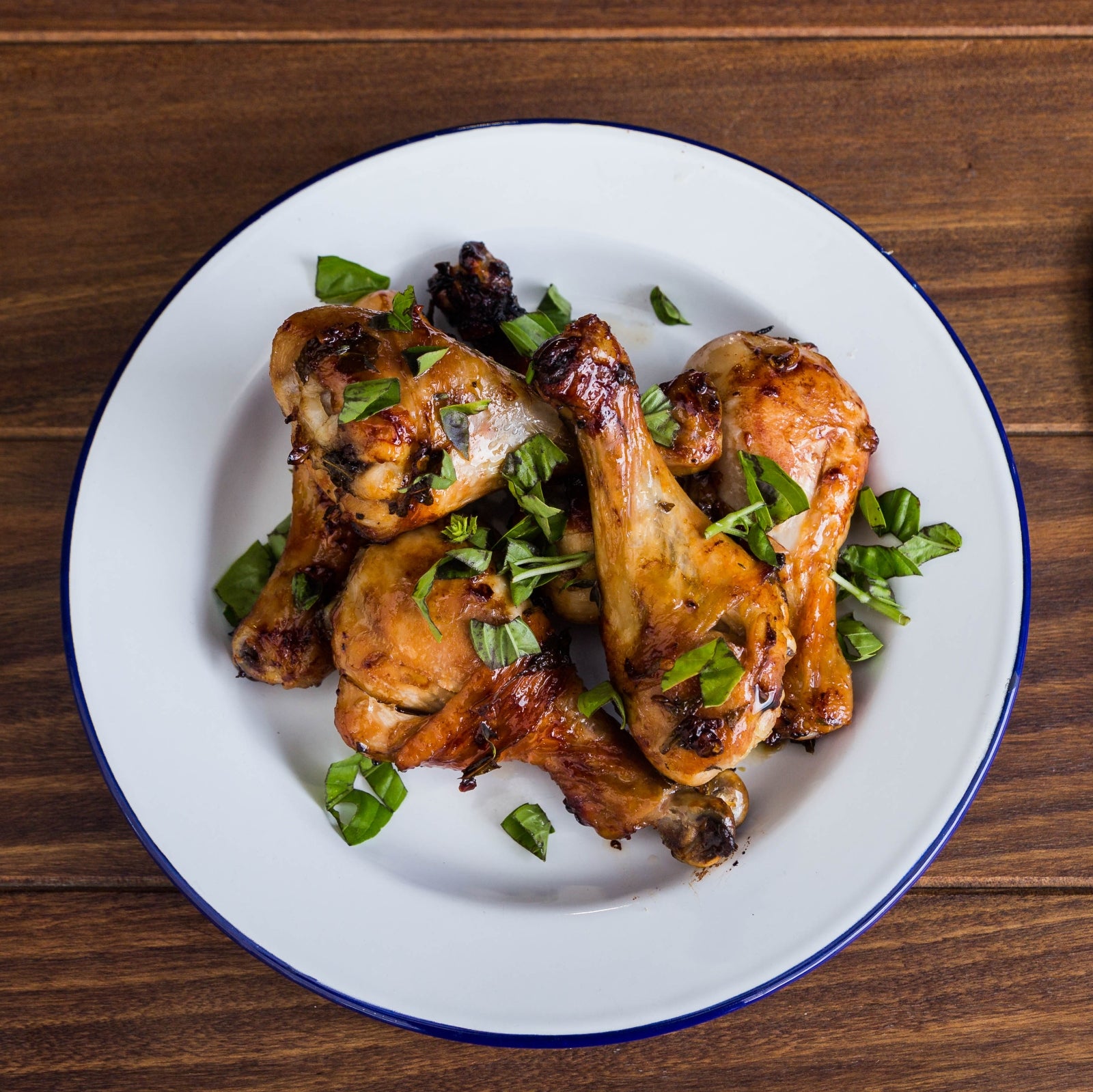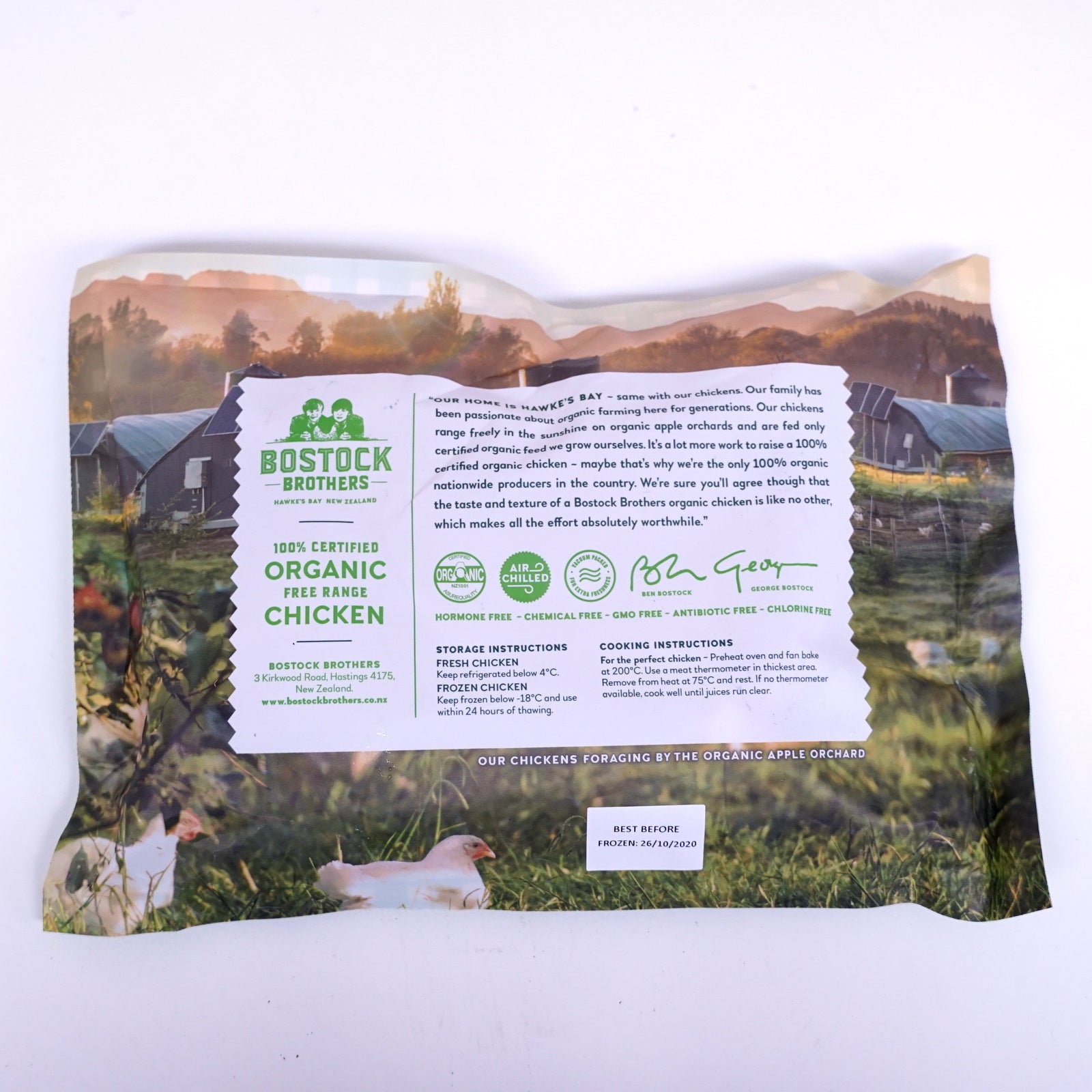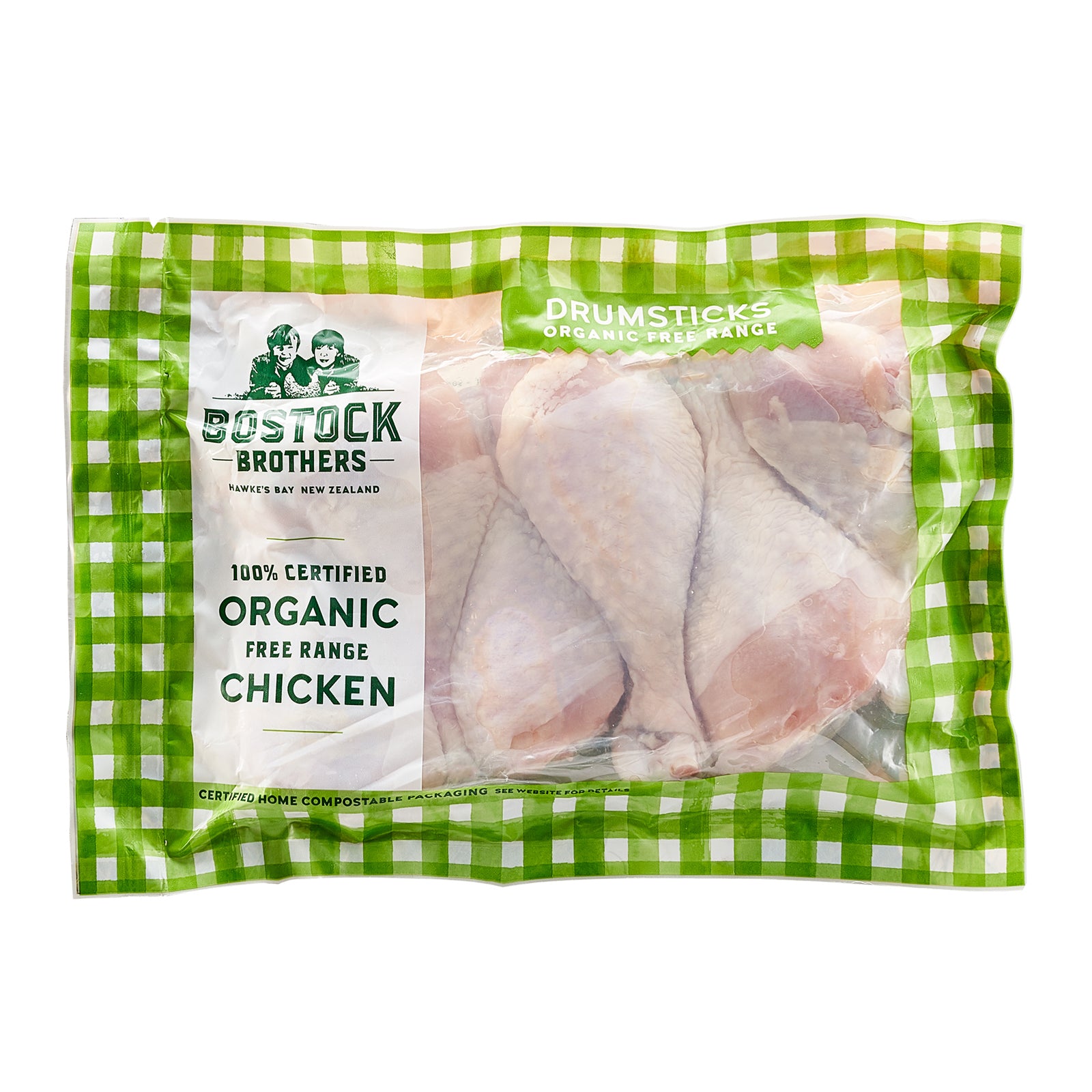 New Zealand Certified Organic Free-Range Chicken Drumsticks (500g)
Buy More, Save More:
1 Pack (Regular Price)
Organic chicken meat tends to have red or brown coloring around the bones even after cooking. This is not blood, rather it is proteins called myoglobin and hemoglobin which are predominantly found in healthy free-range chicken that exercise and move a lot. There are no safety or quality concerns. Brining the chicken 24h prior to cooking in a salt solution helps reduce the visual impact.
You get 3-5 bone-in skin-on chicken drumsticks in a convenient 500g vacuum pack. The chicken is naturally slow grown and therefore the meat is much healthier, better formed, tastier, and juicier than commodity chicken.
When it comes to chicken meat for a BBQ, drumsticks are the most popular choice and fly off the plate. Chicken drumsticks are super easy to prepare and taste delicious. This will be your favorite dish for your late weeknight meal. Drumsticks are so popular that there are literally millions of recipes online. See our recipe at the bottom of this page. Please note that our drumsticks are not the Japanese smaller Tebamoto drumsticks/drumettes that are usually found in Japan. Our drumsticks are the much larger and meatier version that is commonly available outside of Japan. Find the smaller drumettes aka. Chicken Tebamoto here.
Free-range, open pasture-raised certified organic chicken from New Zealand. Naturally and sustainably slow-grown with love and care on certified organic apple orchards in Hawke's Bay. The happy chicken roam and forage freely as nature intended. Absolutely no antibiotics, no vaccines, no growth hormones, no GMO feed, and no chlorine washing. The feed and the land are free of any synthetic chemicals. Certified organic is not only good for you but most importantly good for the environment. Bostock Brothers organic chicken is the only certified organic chicken farm in all of New Zealand.
Due to bilateral agreements, this chicken is only certified organic in New Zealand. Japanese JAS organic is being applied for and in process.
Contents
| | |
| --- | --- |
| Contents | 1 pack contains 3-5 chicken drumsticks |
| Weight | 500g (1.1lbs.) |
| Serves | Serves 2-5 |
Shipping & Handling
Shipping
Shipping and delivery is frozen
Handling
Keep frozen below -18°C (0°F)
Defrosting Time
In the fridge: approx. 12h
In ice-water: approx. 1h
Cooking Method
oven roast, grill, cast-iron skillet, frypan, slow cooker
Best By

Frozen: see packaging label (usually more than 3 months)
Chilled: Please consume unopened pack within 4 days.
Details
| | |
| --- | --- |
| Ingredients | Chicken |
| Country of Origin | New Zealand |
| Bone | Bone-in |
| Skin | Skin-on |
| Packaging | Vacuum packed. |
✔ Free-range, open pasture-raised with love and care in Hawke's Bay, New Zealand.
✔ Chicken freely forage and exhibit natural behavior. Chalets provide shelter from the elements which they can use at free will.
✔ Certified organic pasture land, feed and chicken.
✔ Naturally slow-grown chicken. Meat is better formed, of much higher quality and superior taste.
✔ No use of antibiotics or growth-promoting hormones - ever
✔ No GMOs, no synthetic chemicals used on land, feed or in meat. Meat is never chlorine-washed.
✔ Air chilled - no water is used to cool the meat. Which means less shrinkage and water loss during cooking.
✔ One farm, one family, one importer - traceability from farm to fork.
✔ The happiest, healthiest, and tastiest chicken available - taste the difference.
At A Glance
| | |
| --- | --- |
| Chicken Breed | Cornish Cross, raised and bred for meat. |
| Farm/Ranch | Bostock Brothers Farm |
| Region | Hawke's Bay, New Zealand |
| Breeding | All year free-range, free-roaming. Once fully feathered they are free to leave the chalets and roam outside on green pasture grass. Bred for quality, not quantity which means the chickens are much slower growing and are as pure and natural as they can be. |
| Raised by | Ben and George Bostock |
| Farming Experience | Organic apple farming since childhood, pasture-raised chicken since 2014 |
| Feeding | Certified organic lush, green grass and juicy organic apples as well as home-grown feed including corn and barley (80%). Additional supplements may include 100% organic and GMO-free soybean meal (+/-14%) and fishmeal from New Zealand (+/- 5%). Chicken are free to forage on open pasture which means they also eat insects and everything they find within the orchards including salts and limestones. |
| Traceability | 100% fully traceable from farm to fork |
| Growth Promoting Hormones | Never |
| Antibiotics | Never |
| Animal By-Products Feeding | Never |
| GMO feed | Never |
| Synthetic Chemical use on pasture land or feed | Never |
| Chlorine Washing | Never |
| Water Injections | Never |
| Vaccines | Never |
| Processing | All handling and packaging is performed locally in New Zealand. No further processing is done in Japan. |
| Importer | Horizon Farms, Inc. |
Completely defrost chicken drumsticks and pat dry with a paper towel. All you need is sea salt, paprika powder, garlic, olive oil, black pepper and lemon. 
Mix well. There is no need to over spice, a couple of pinches of each spice is sufficient. Crush and mince two garlic knobs and gently rub the chicken. The paprika powder is not spicy and suitable for kids. If you want spicy drumsticks to add just a little bit of cayenne powder. 
Leave the drumsticks to marinade in the fridge for 30 min or place in a ziplock bag and keep refrigerated for up to 24h max. Before cooking, heat up the skillet or fry pan to very hot, then add extra virgin olive oil and then the drumsticks. This makes the skin crispy and darker in color. Keep rotating for about 5 min. 
Now reduce heat to low and let the drumsticks cook slowly but thoroughly. We recommend adding a lid for shorter cooking times and juicier meat. If you prefer crispy, cook without a lid on low heat, keep rotating so they cook evenly. 
Serve while hot and with wedges of lemon, great and healthy salad without dressing and barbeque sauce. 
Some people worry about the pinkish color around the bones. This is not blood but myoglobin. No matter how long you cook the chicken, the color will not change. If the meat is cooked until the color is white and the internal temperature has reached at least 70 degrees Celsius the meat is safe to eat.
Best drumsticks
We find it challenging to get drumsticks like these in our local supermarket. We love the quality and taste of these and have reordered many times. Try them with a chicken Marbella recipe in the oven or simply with a bit of salt, pepper and paprika. Kids love them too!
Translated from Japanese: It's very satisfying. My husband was satisfied with it, so I ordered again to roast it with herbs during BBQ next time.
I found organic chicken
Translated from Japanese: It was very tender and safe to eat.
Translated from Japanese: I just added salt and pepper and grilled it in the oven and it was very delicious. You can see that it's a high-quality chicken with no meat odor. I'll order again as soon as I finish it.