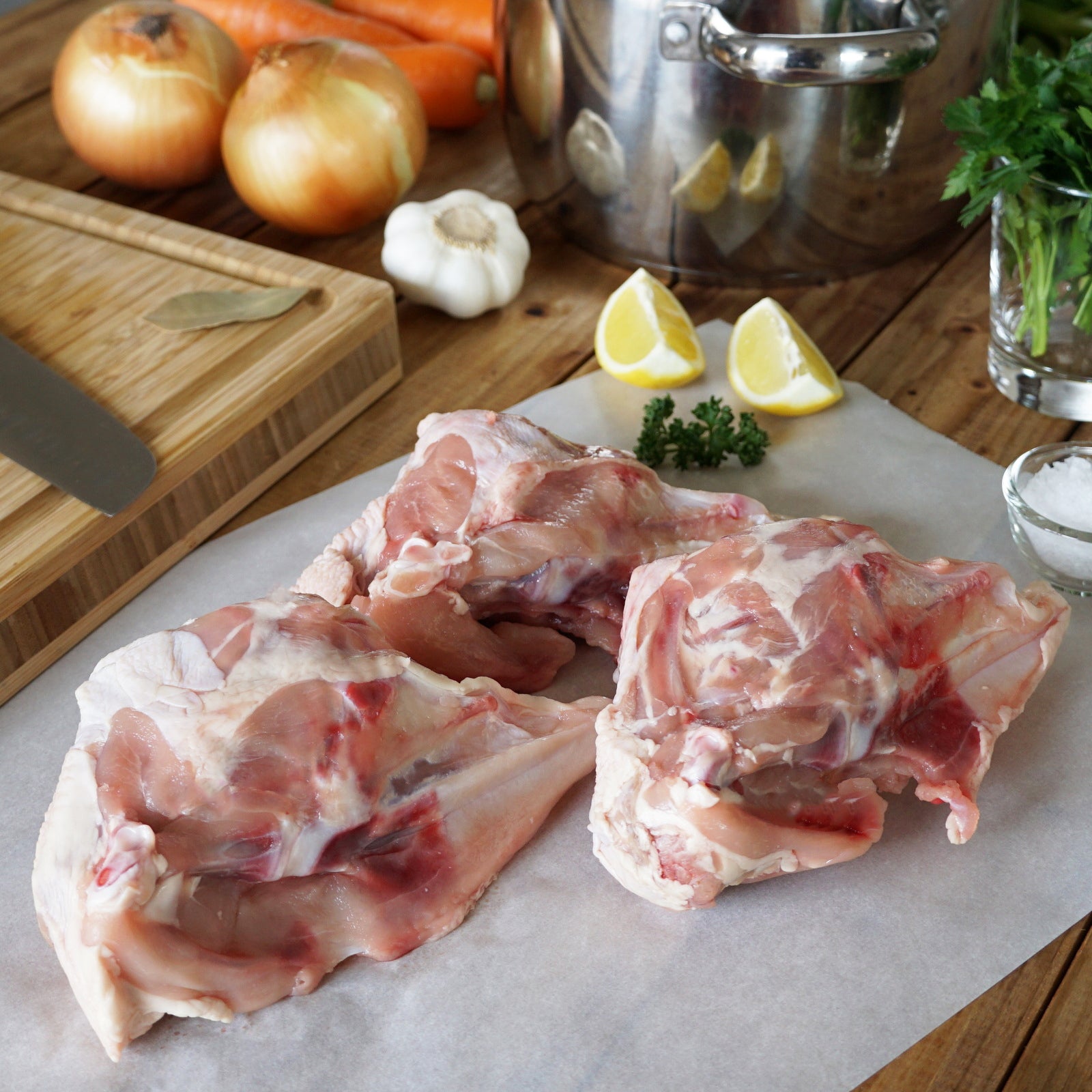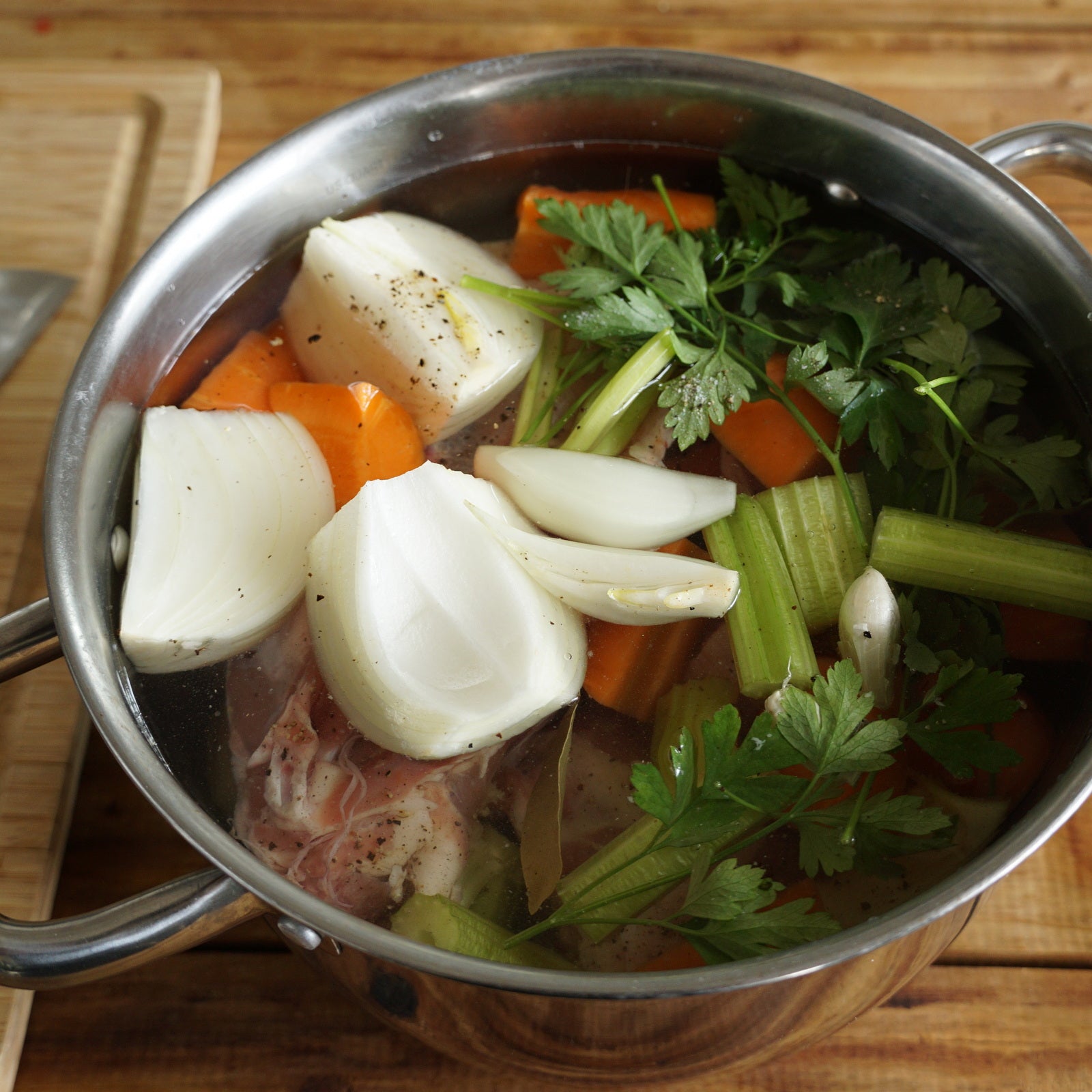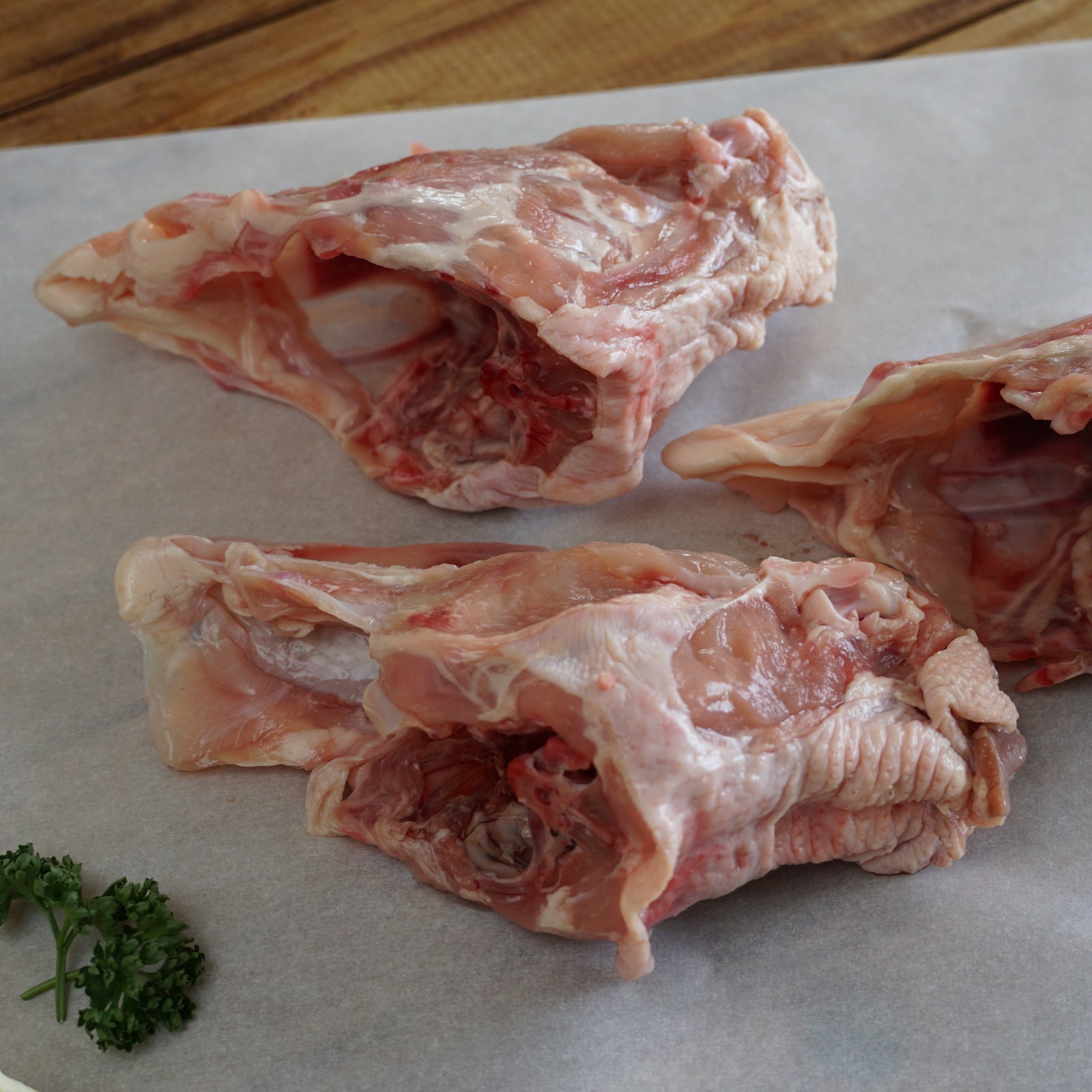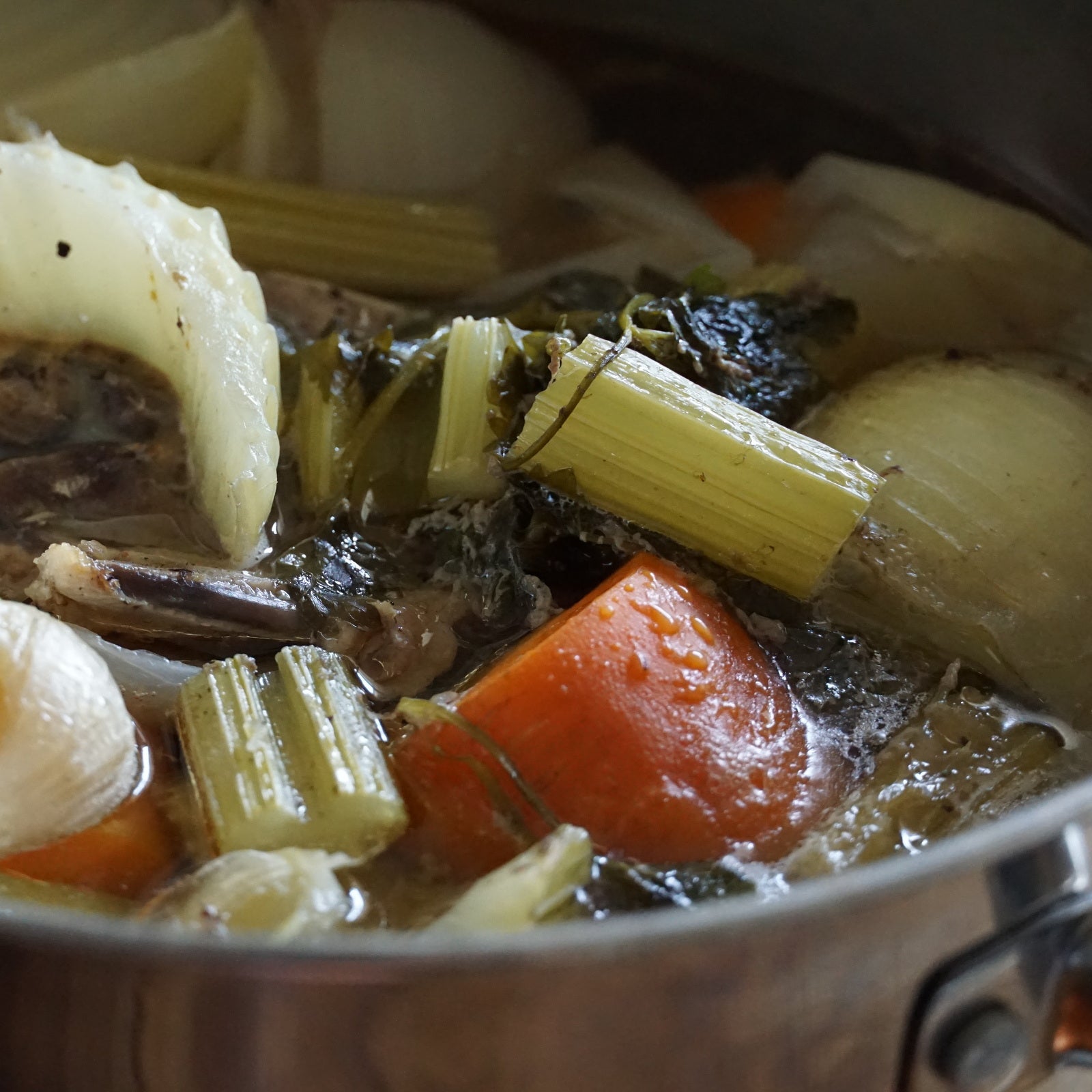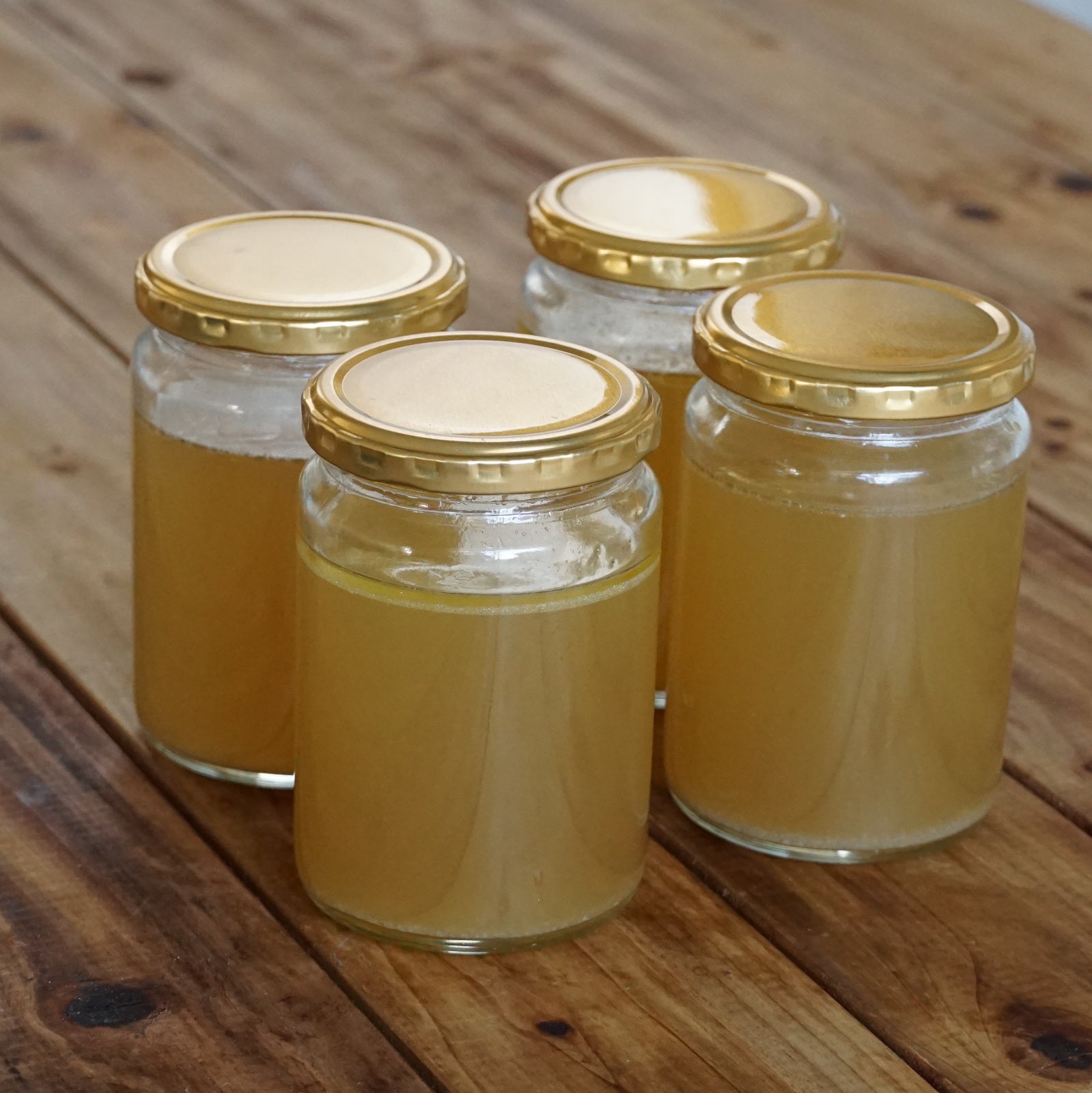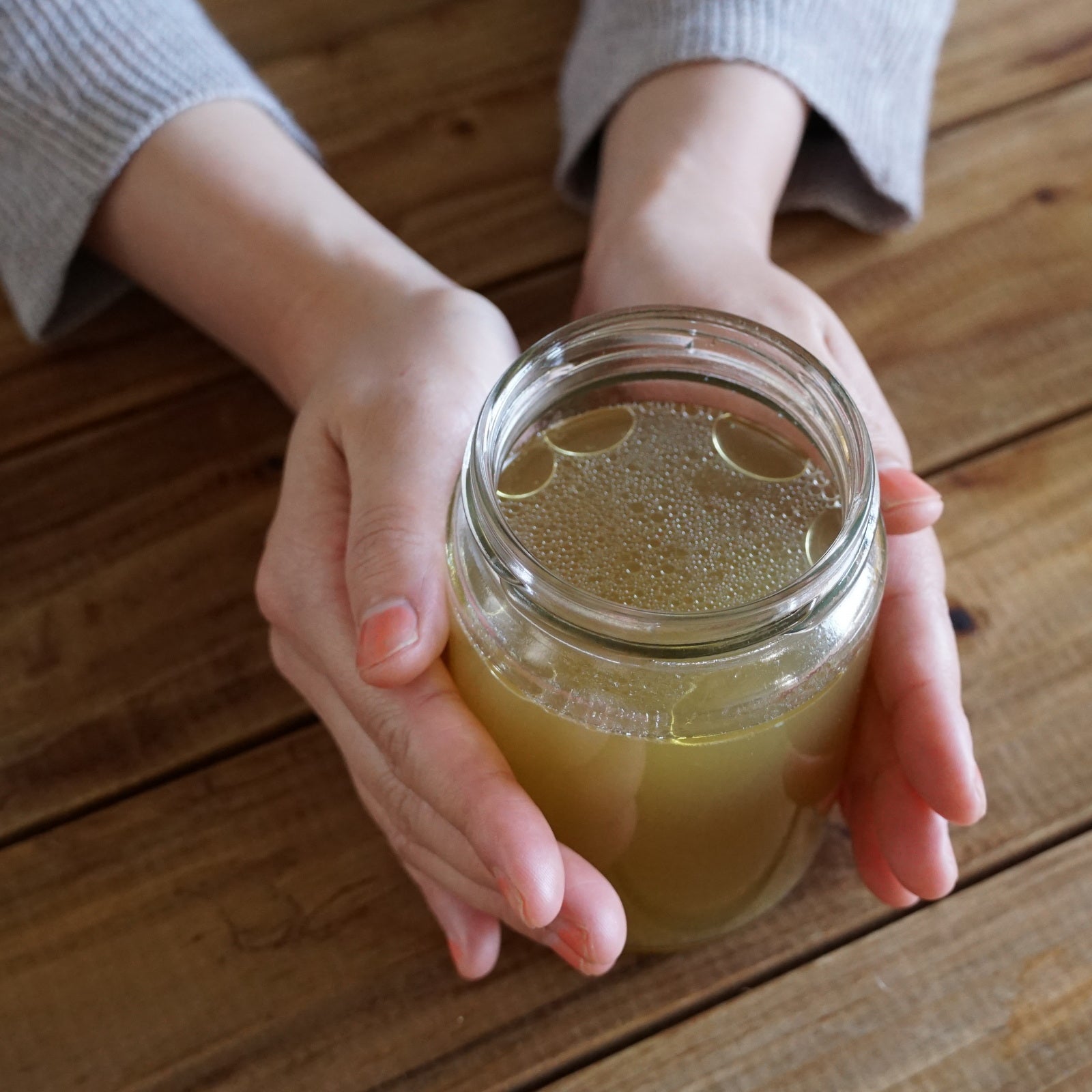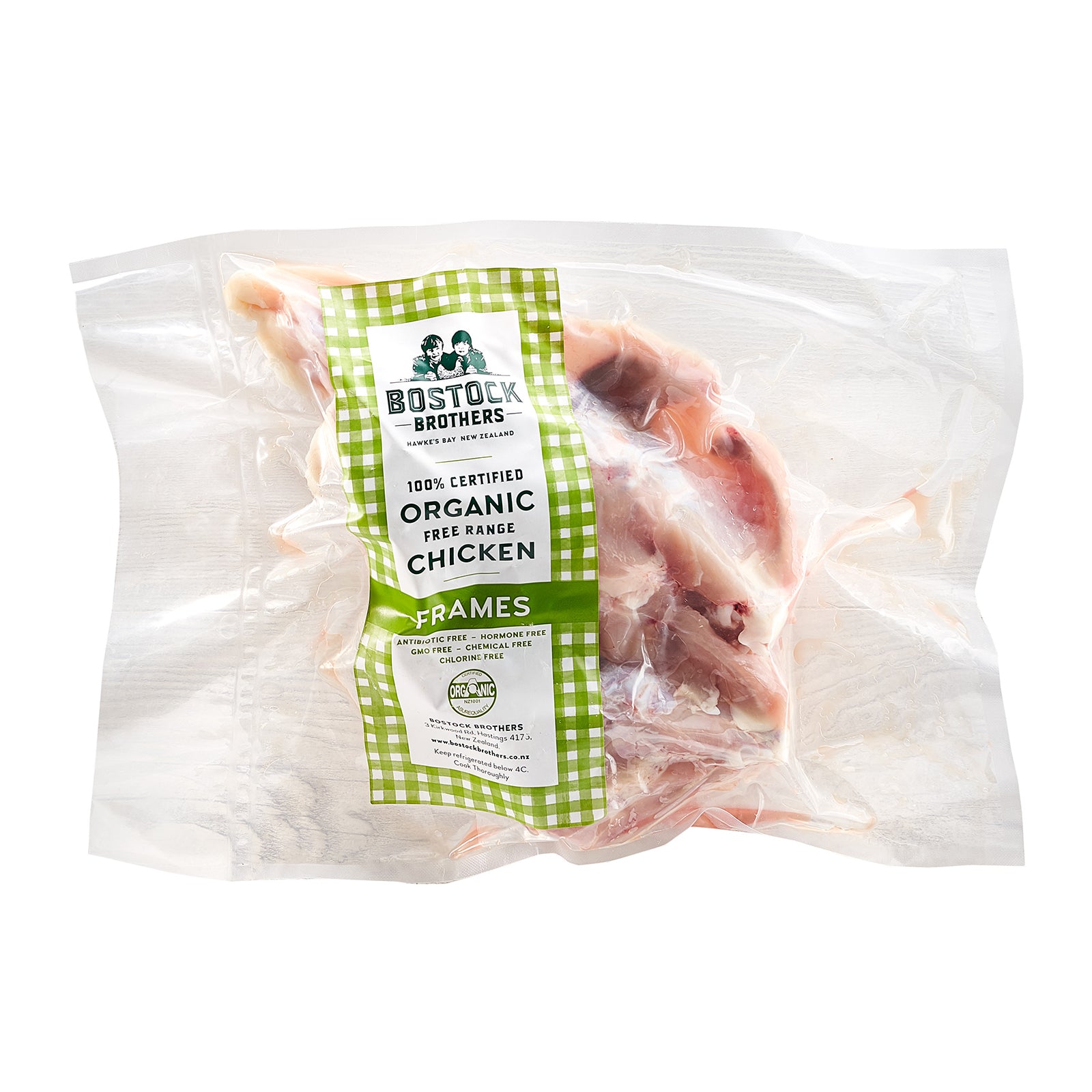 New Zealand Certified Organic Free-Range Chicken Frames / Bones (500g)
Buy More, Save More:
1 Pack (Regular Price)
Organic chicken meat tends to have red or brown coloring around the bones even after cooking. This is not blood, rather it is proteins called myoglobin and hemoglobin which are predominantly found in healthy free-range chicken that exercise and move a lot. There are no safety or quality concerns. Brining the chicken 24h prior to cooking in a salt solution helps reduce the visual impact.
You get 500g (about 1 or 2) meaty chicken frames, also known as chicken carcass or rotisserie chicken leftover for the ultimate top quality organic chicken bone broth/chicken stock. 500g of the chicken frame is enough to feed the whole family and your neighbors. You may need to freeze the leftover broth for later use. See the video and images below for cooking instructions.
Free-range, open pasture-raised certified organic chicken from New Zealand. Naturally and sustainably slow-grown with love and care on certified organic apple orchards in Hawke's Bay. The happy chicken roam and forage freely as nature intended. Absolutely no antibiotics, no vaccines, no growth hormones, no GMO feed, and no chlorine washing. The feed and the land are free of any synthetic chemicals. Certified organic is not only good for you but most importantly good for the environment. Bostock Brothers organic chicken is the only certified organic chicken farm in all of New Zealand.
Due to bilateral agreements, this chicken is only certified organic in New Zealand. Japanese JAS organic is being applied for and in process.
Contents
| | |
| --- | --- |
| Contents | 1 pack contains 1 or 2 chicken frames |
| Weight | 500g (1.1lbs.) |
| Serves | A lot |
Shipping & Handling
Shipping
Shipping and delivery is frozen
Handling
Keep frozen below -18°C (0°F)
Defrosting Time
In the fridge: approx. 24h
In ice-water: approx. 2h
Cooking Method
Simmering
Best By

Frozen: see packaging label (usually more than 3 months)
Chilled: Please consume unopened pack within 4 days.
Details
| | |
| --- | --- |
| Ingredients | Chicken |
| Country of Origin | New Zealand |
| Bone | Bone-in |
| Skin | Skin-less |
| Packaging | Vacuum packed |
✔ Free-range, open pasture-raised with love and care in Hawke's Bay, New Zealand.
✔ Chicken freely forage and exhibit natural behavior. Chalets provide shelter from the elements which they can use at free will.
✔ Certified organic pasture land, feed and chicken.
✔ Naturally slow-grown chicken. Meat is better formed, of much higher quality and superior taste.
✔ No use of antibiotics or growth-promoting hormones - ever
✔ No GMOs, no synthetic chemicals used on land, feed or in meat. Meat is never chlorine-washed.
✔ Air chilled - no water is used to cool the meat. Which means less shrinkage and water loss during cooking.
✔ One farm, one family, one importer - traceability from farm to fork.
✔ The happiest, healthiest, and tastiest chicken available - taste the difference.
At A Glance
| | |
| --- | --- |
| Chicken Breed | Cornish Cross, raised and bred for meat. |
| Farm/Ranch | Bostock Brothers Farm |
| Region | Hawke's Bay, New Zealand |
| Breeding | All year free-range, free-roaming. Once fully feathered they are free to leave the chalets and roam outside on green pasture grass. Bred for quality, not quantity which means the chickens are much slower growing and are as pure and natural as they can be. |
| Raised by | Ben and George Bostock |
| Farming Experience | Organic apple farming since childhood, pasture-raised chicken since 2014 |
| Feeding | Certified organic lush, green grass and juicy organic apples as well as home-grown feed including corn and barley (80%). Additional supplements may include 100% organic and GMO-free soybean meal (+/-14%) and fishmeal from New Zealand (+/- 5%). Chicken are free to forage on open pasture which means they also eat insects and everything they find within the orchards including salts and limestones. |
| Traceability | 100% fully traceable from farm to fork |
| Growth Promoting Hormones | Never |
| Antibiotics | Never |
| Animal By-Products Feeding | Never |
| GMO feed | Never |
| Synthetic Chemical use on pasture land or feed | Never |
| Chlorine Washing | Never |
| Water Injections | Never |
| Vaccines | Never |
| Processing | All handling and packaging is performed locally in New Zealand. No further processing is done in Japan. |
| Importer | Horizon Farms, Inc. |
Put the frozen or defrosted chicken frame as is into a large pot. 
 Add vegetables like celery, onion, carrots and parsley.
Cover with water. Add sea salt and freshly ground pepper.
Bring to a boil and immediately reduce heat to bring the stock to a simmer. Simmer partially covered for 1.5-2 hours, occasionally skimming off any foam that comes to the surface. 
The longer you let it simmer the more concentrated the stock will be. 
Remove the bones and vegetables and strain the stock through a fine mesh sieve. Store in glass jars and fill only to 80% to leave space for the liquid to expand in case you are freezing it.
Homemade chicken stock is good for 4 days in the fridge and 1 year in the freezer. 
We've managed to store more than 1 liter of concentrated organic chicken soup after simmering for 4 hours. That is a lot!
Always repeat order
I purchased multiple times to make savory and healthy bone broth.
Excellent
This is so convenient. I can make bone broth anytime, and actually there a lot of meat left on the bones, we pick it off and eat it. What a great deal. Quality and taste are wonderful. So glad horizon makes this product available. We order this at least once a month and I have 2 quarts of bone broth to use during the month.
Great for bonebroth
I made bonebroth with my instantpot. It's tasty and packed with nutrients. I notice glowy skin and increase in hairgrowth after consuming for several days.
I bought it a couple of times already and will definitely continue to buy ! 🙂
Safe and healthy
I use this to make chicken soup . It's safe and healthy for my whole family. Adding vegetables like onion , carrot, potatoes and radish will make a perfect bone broth.