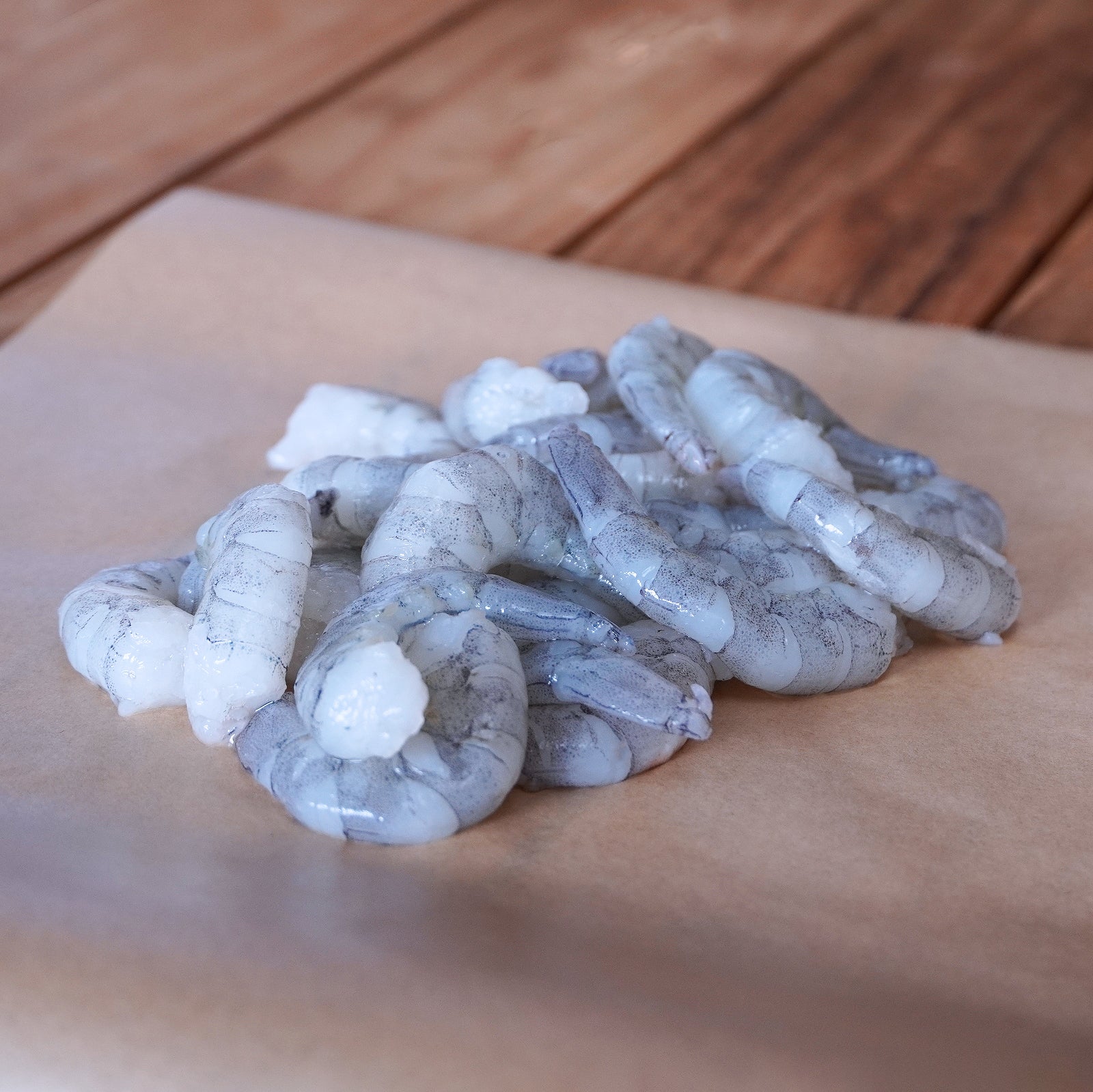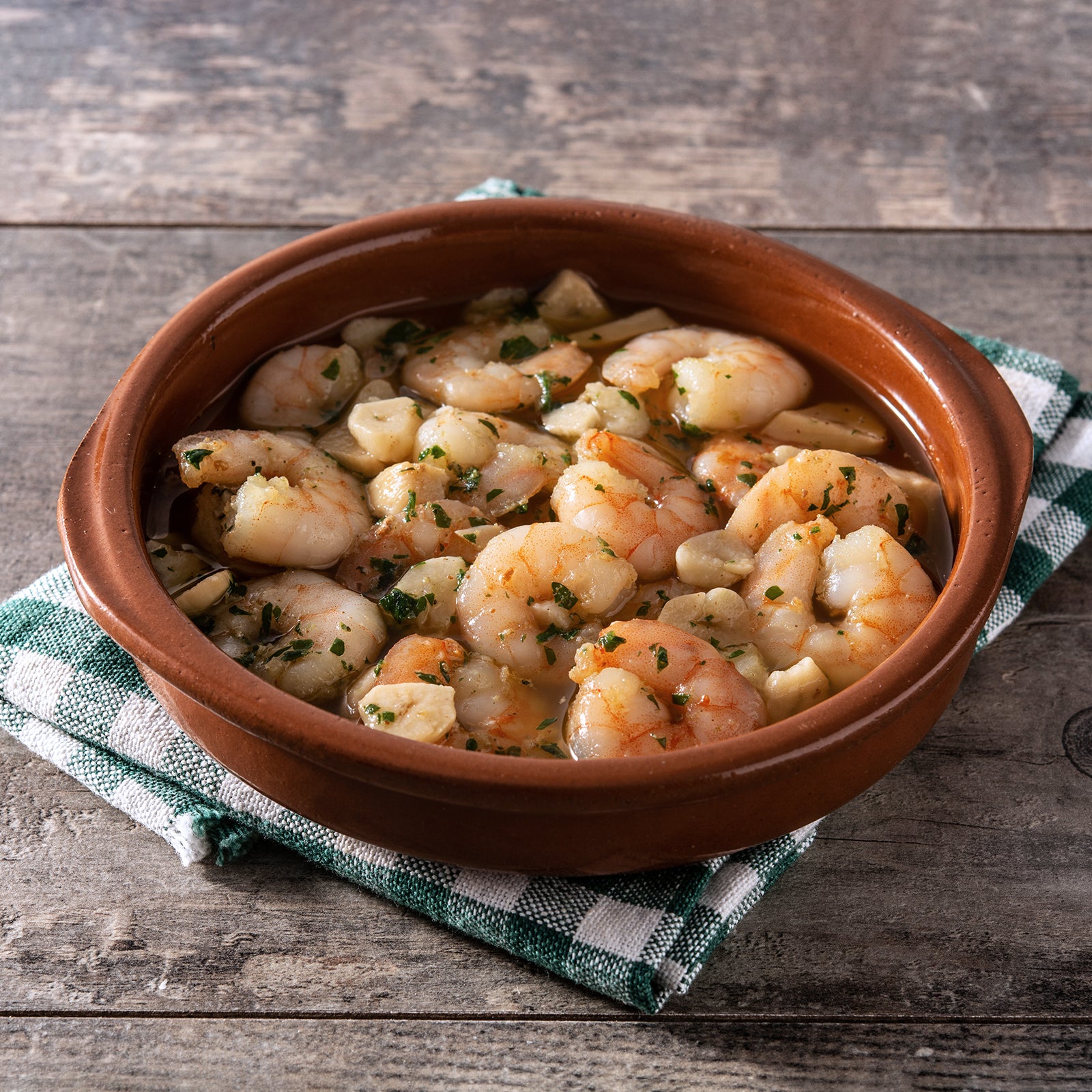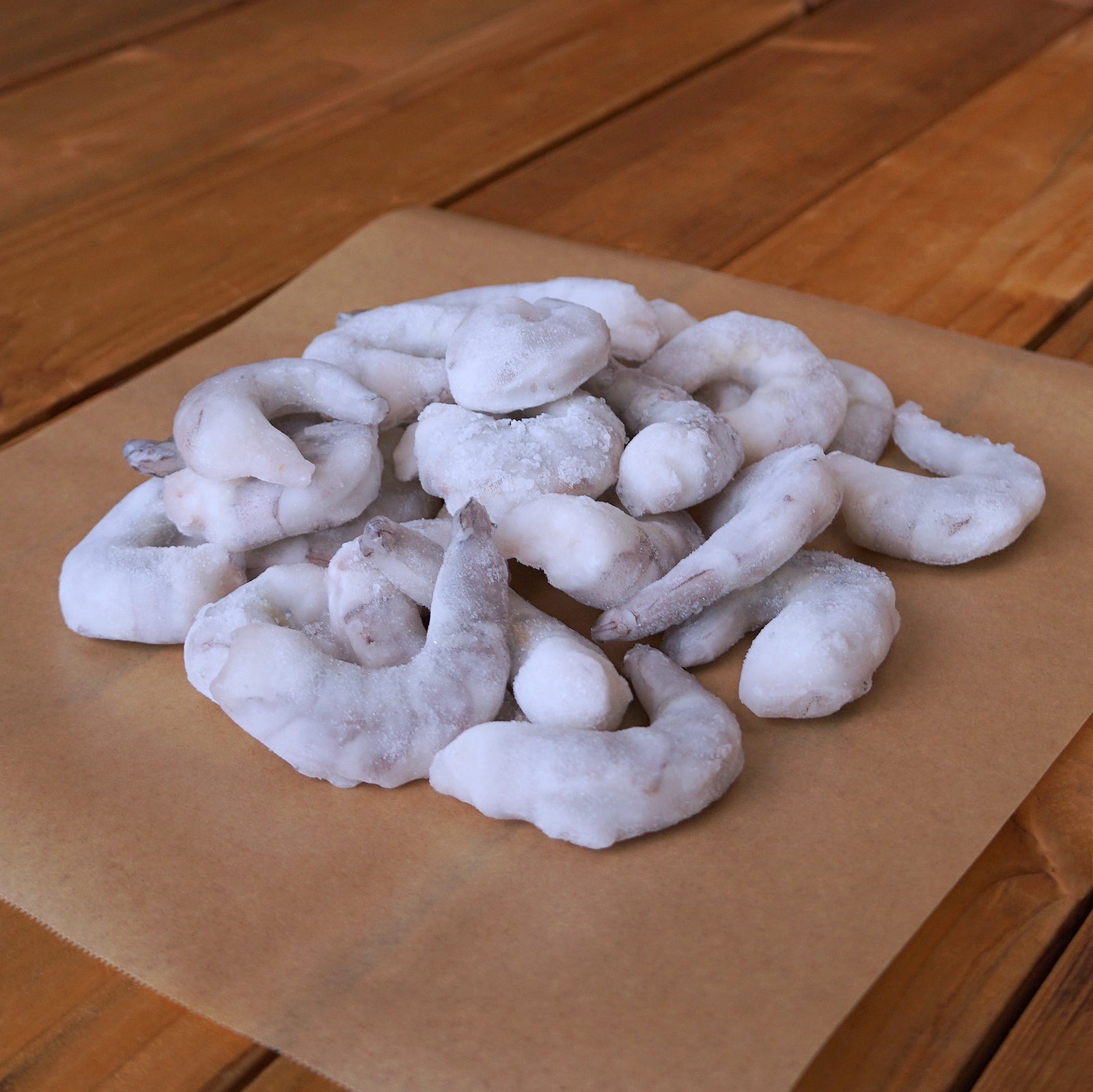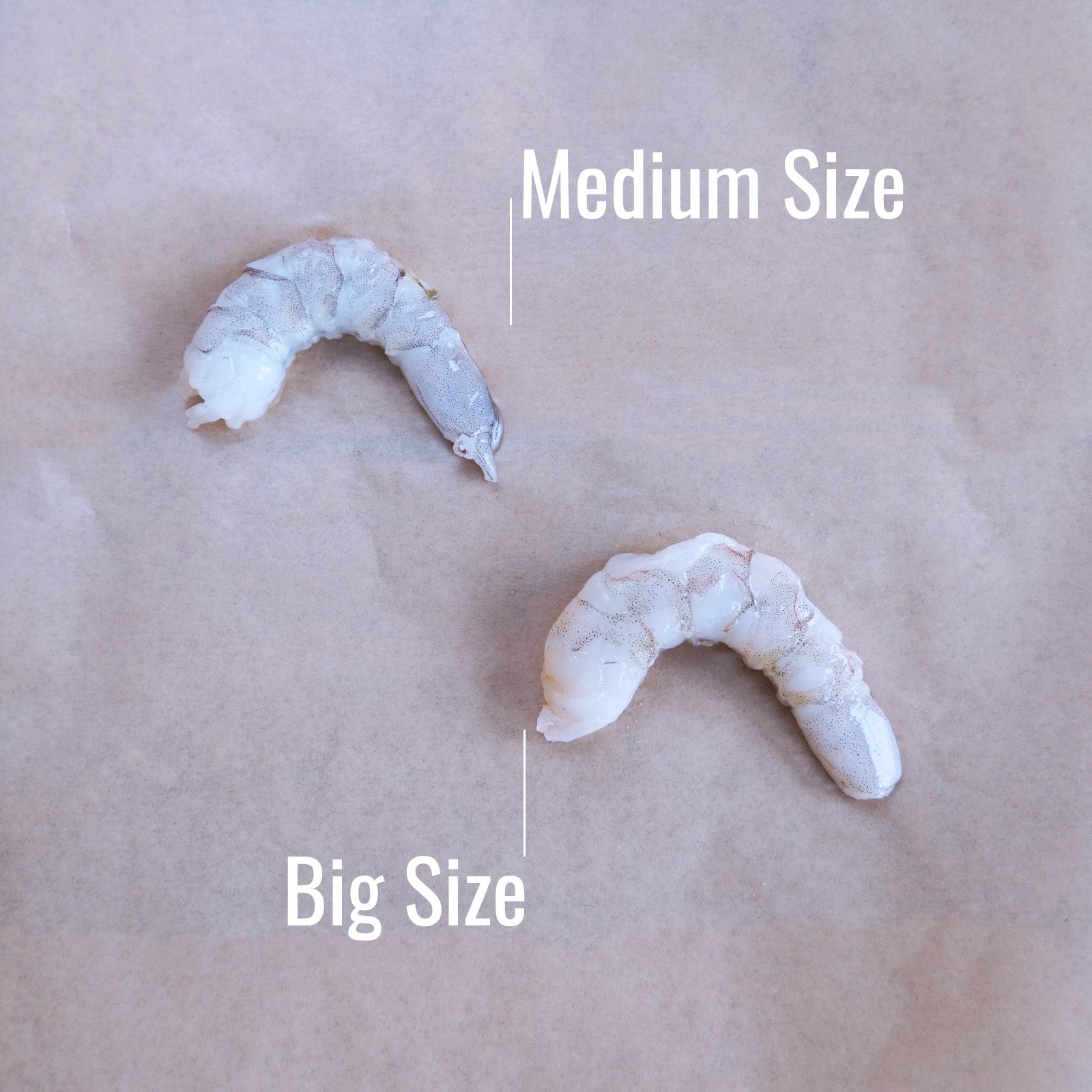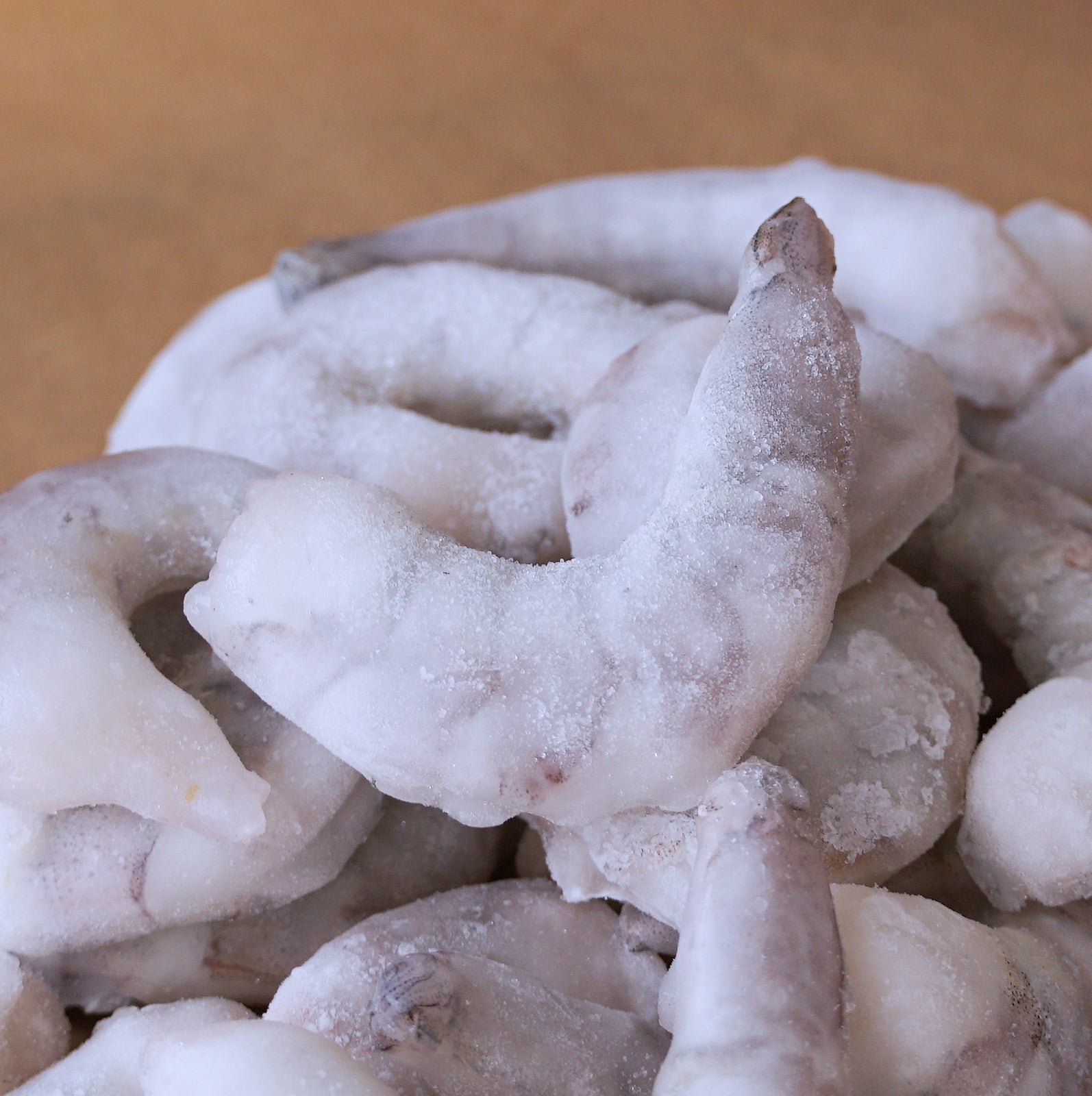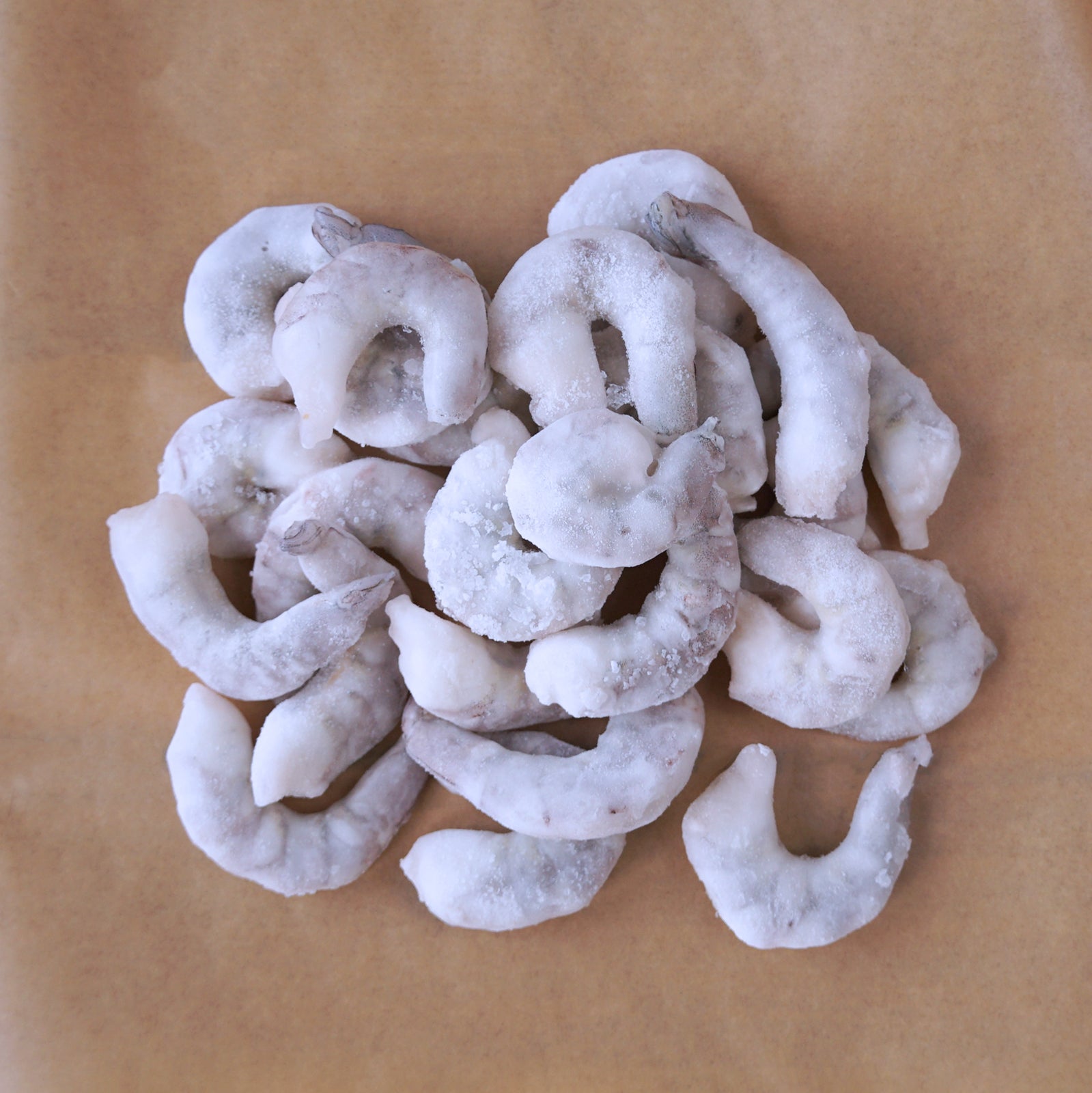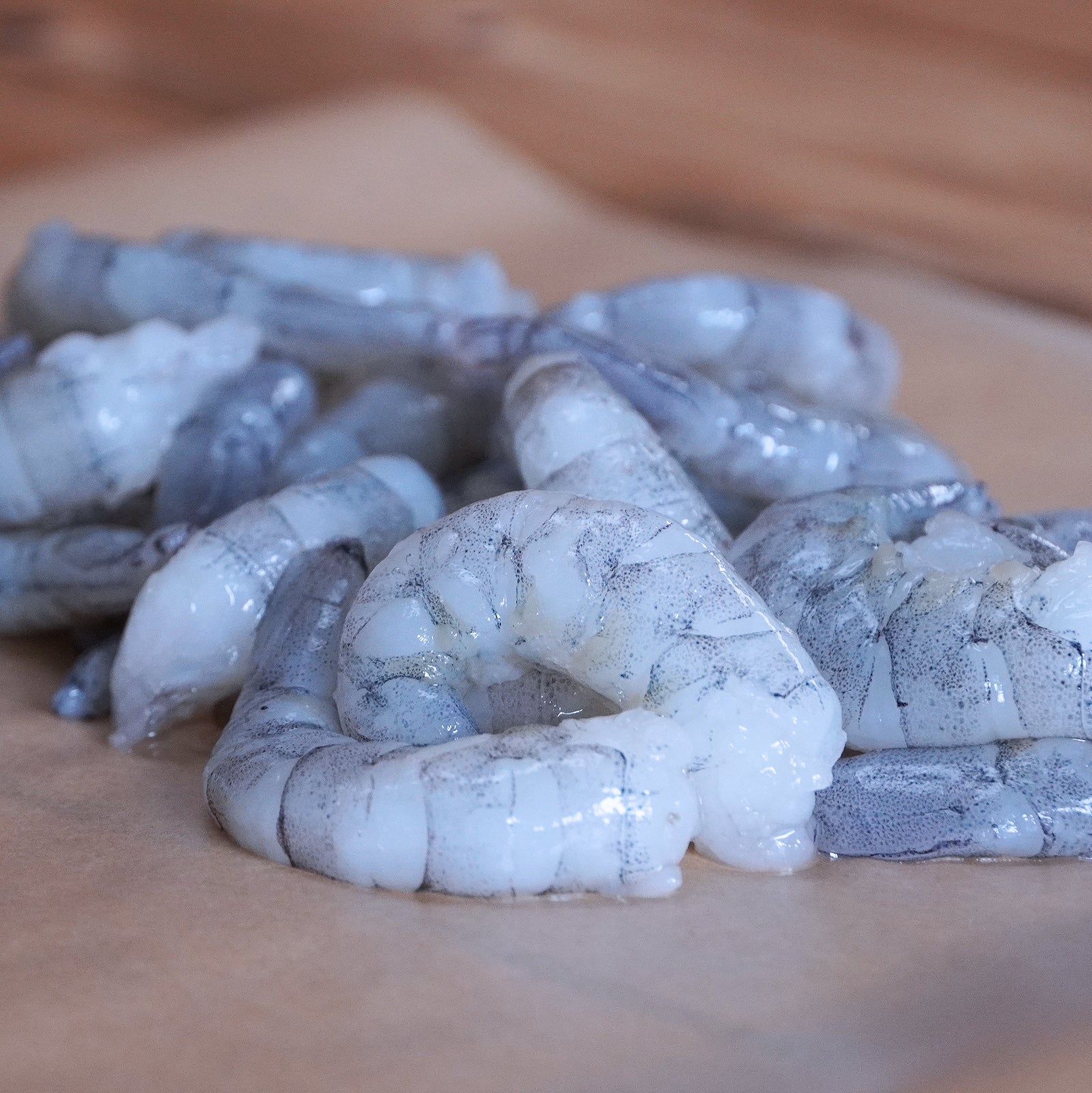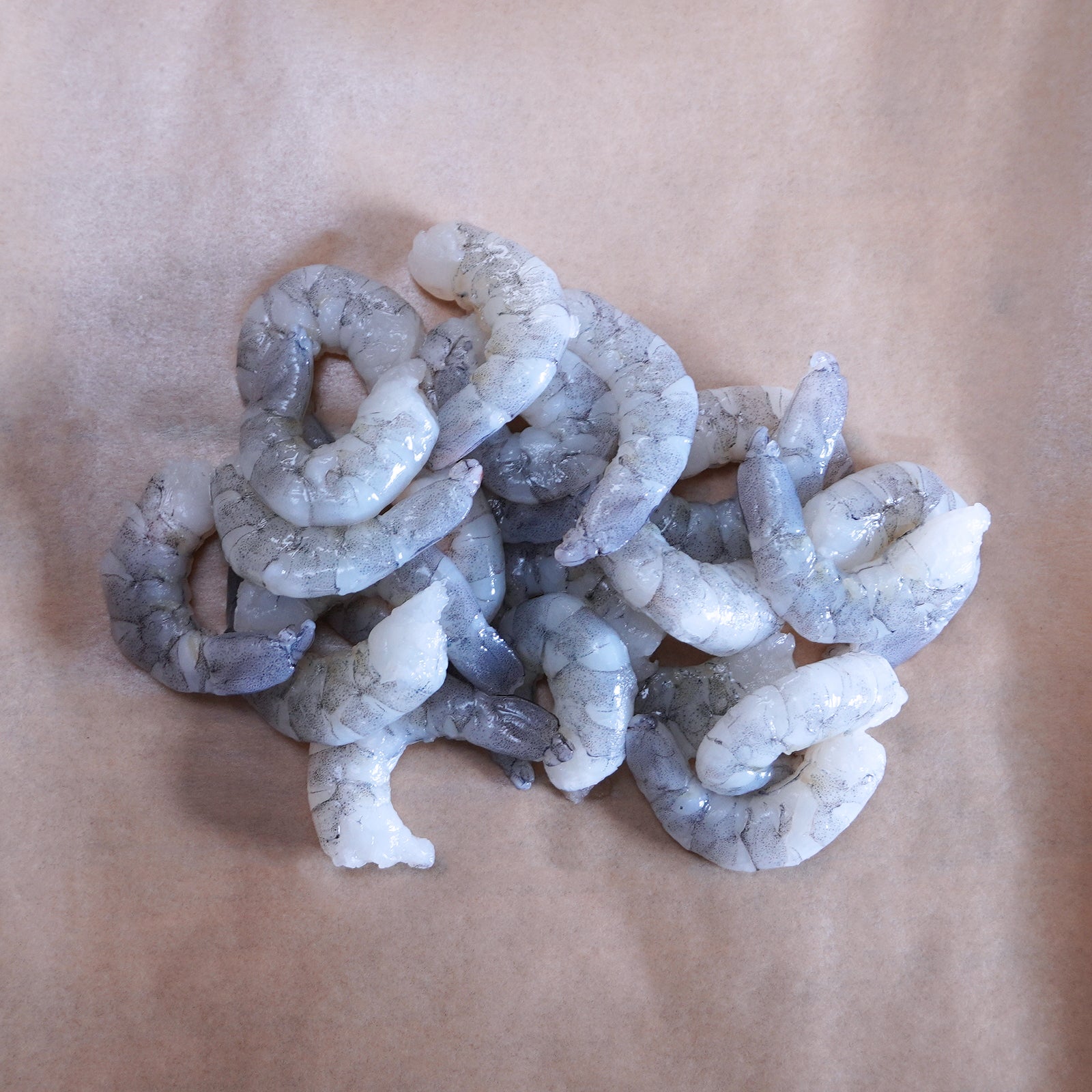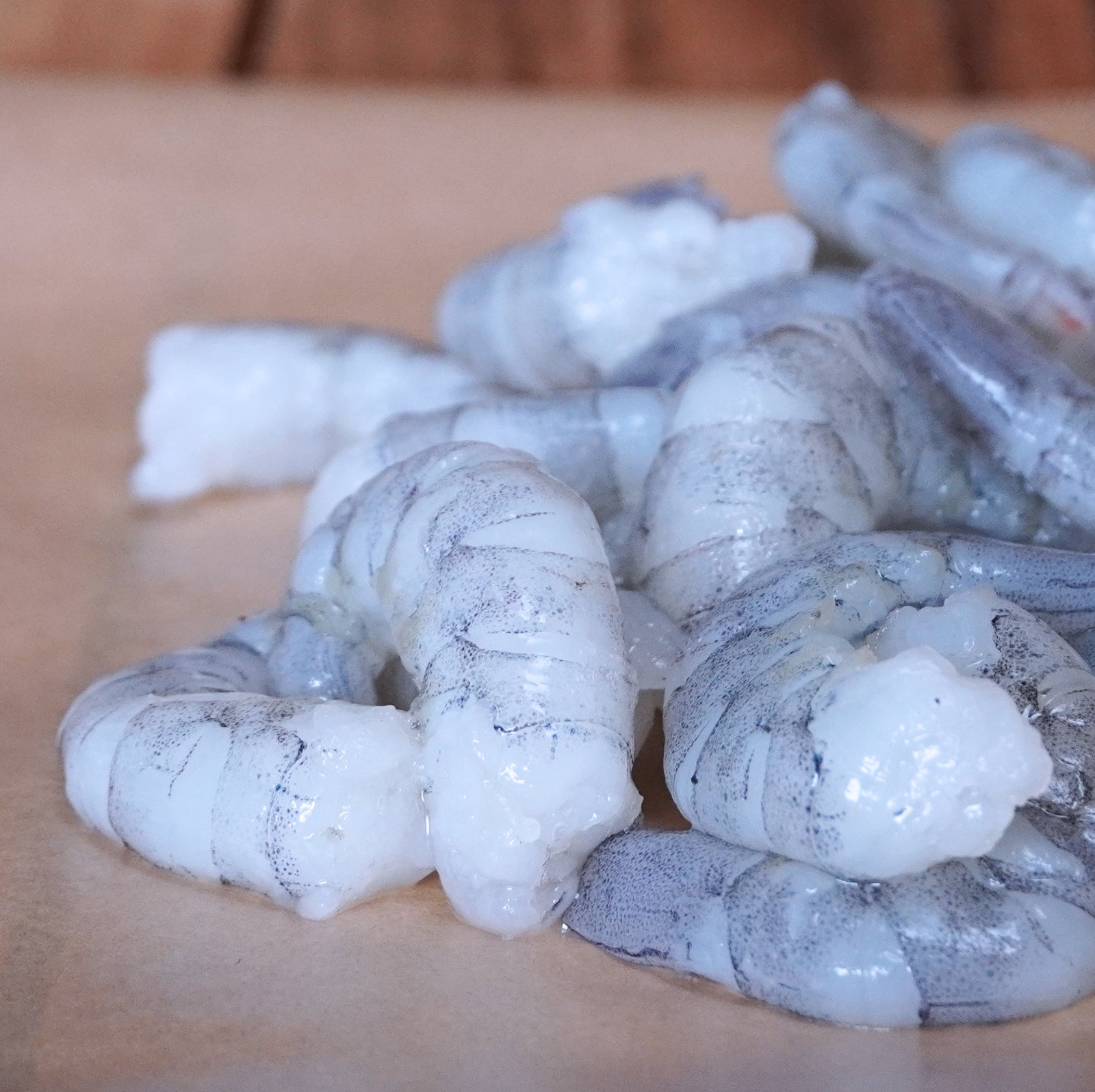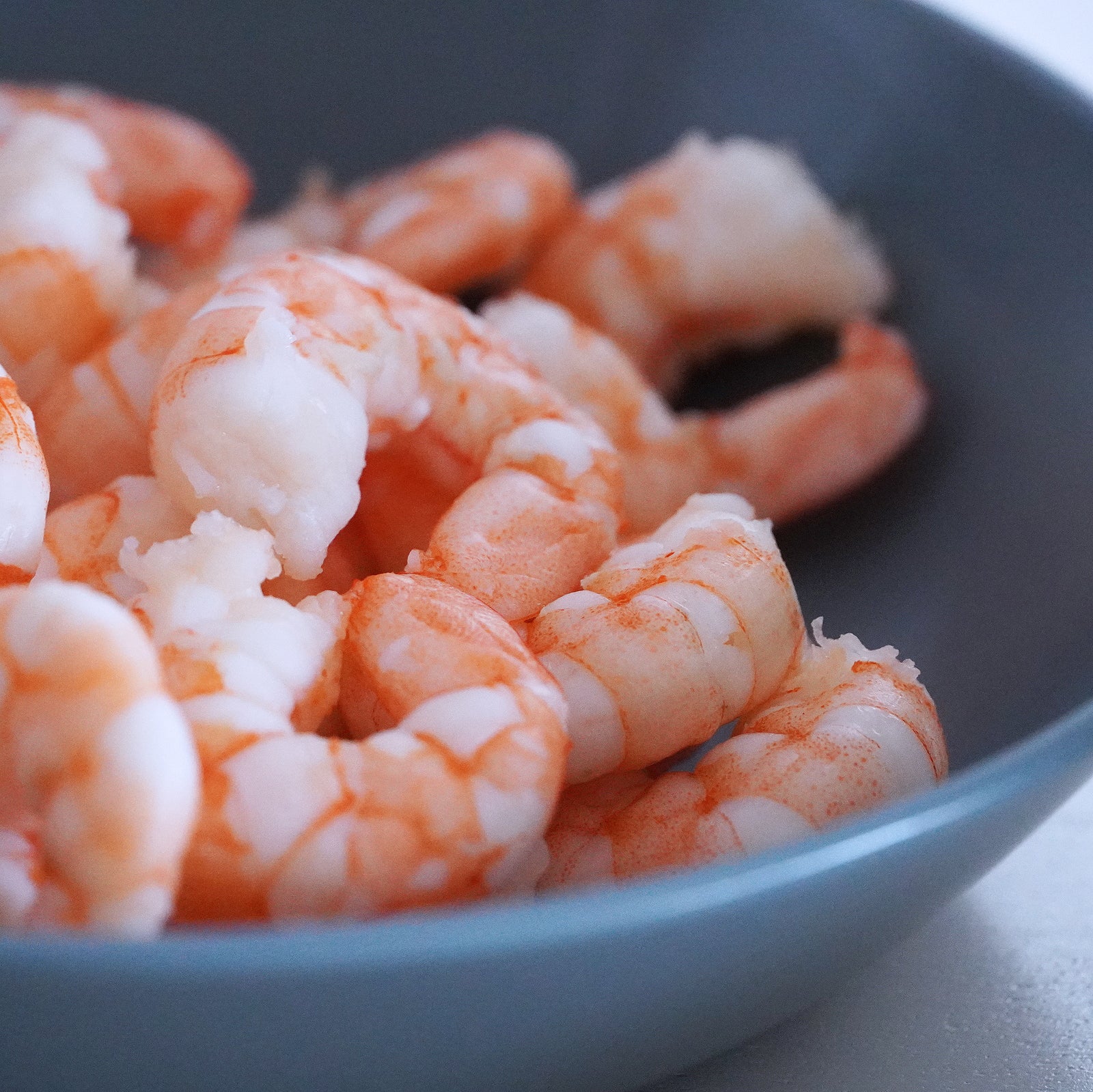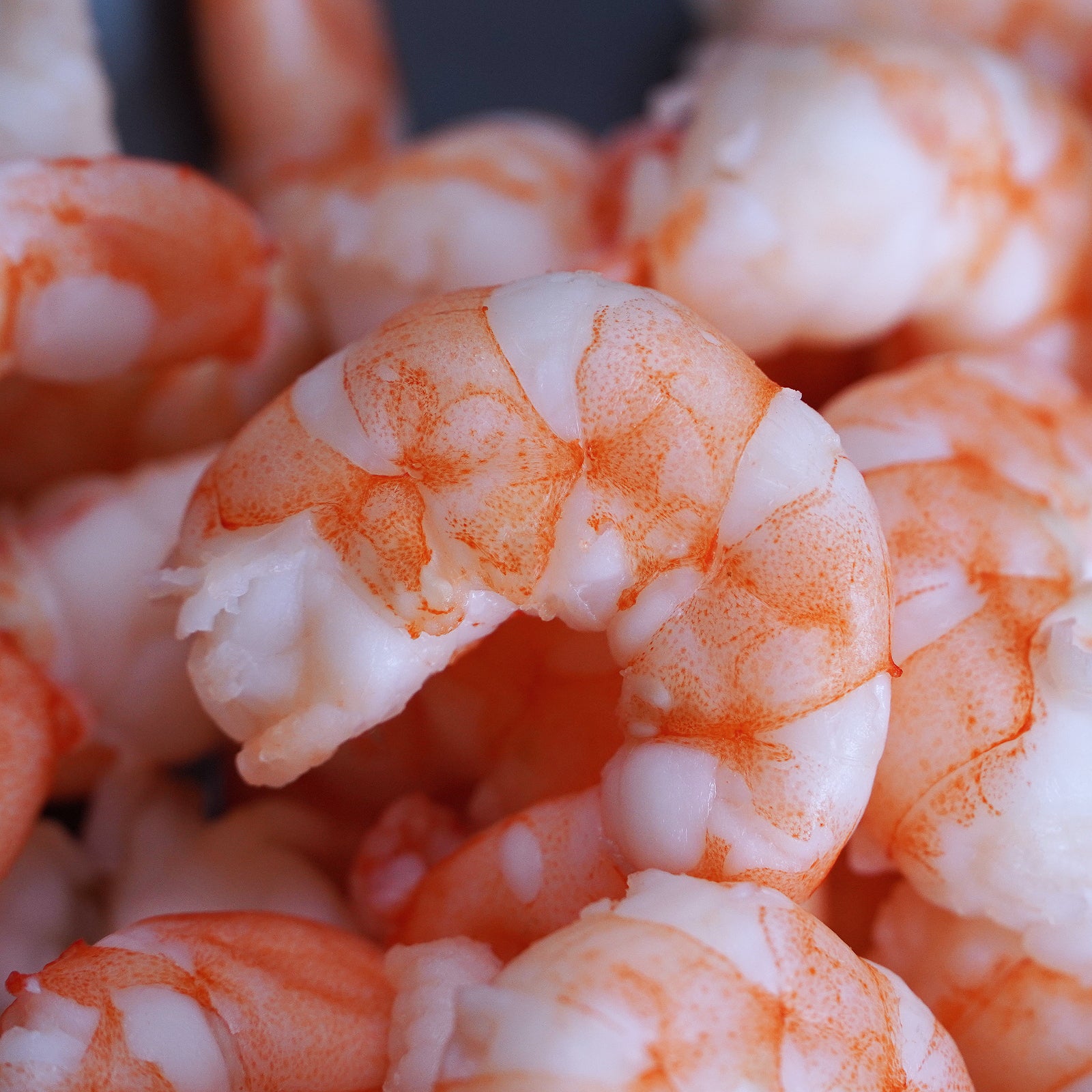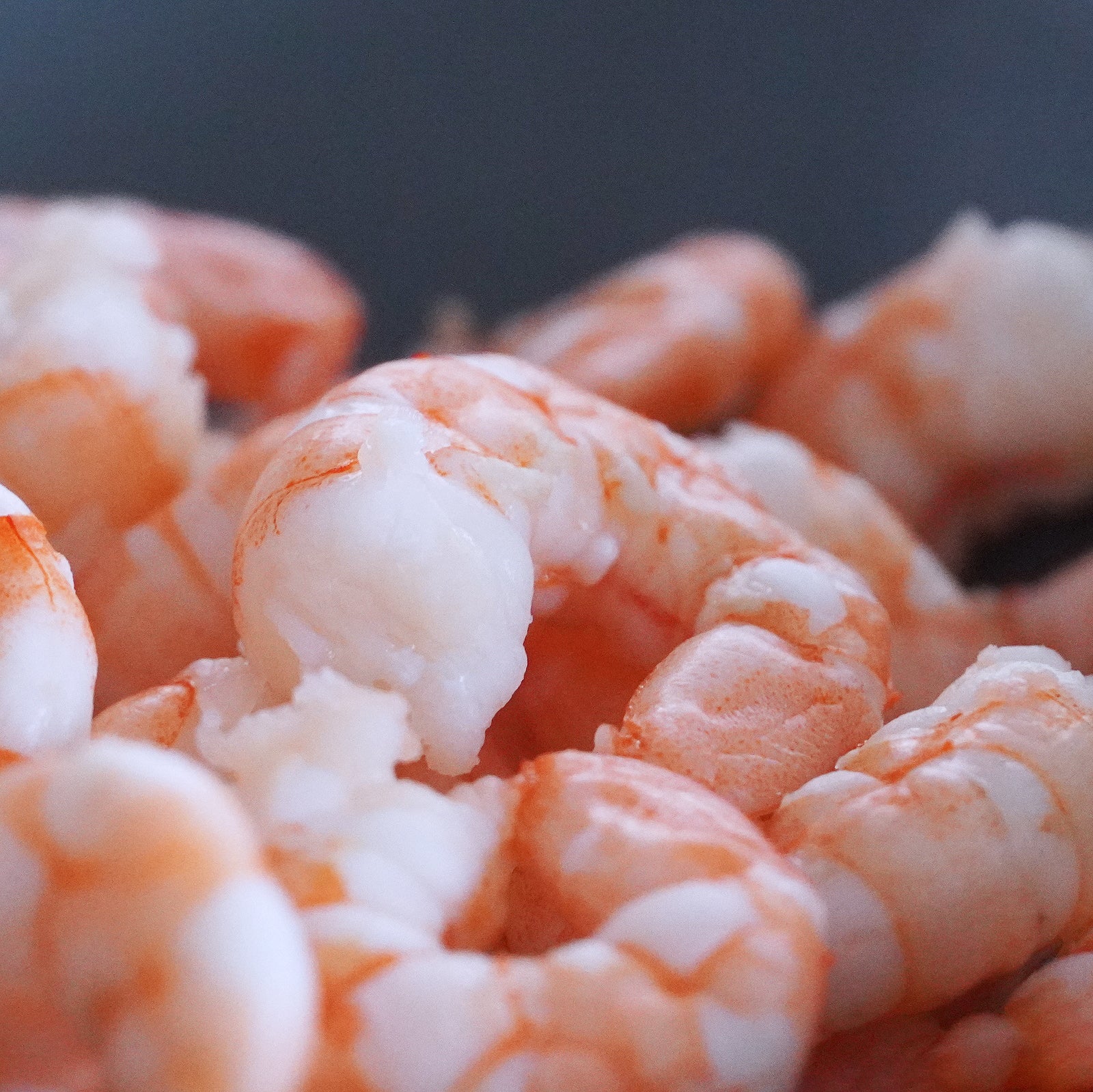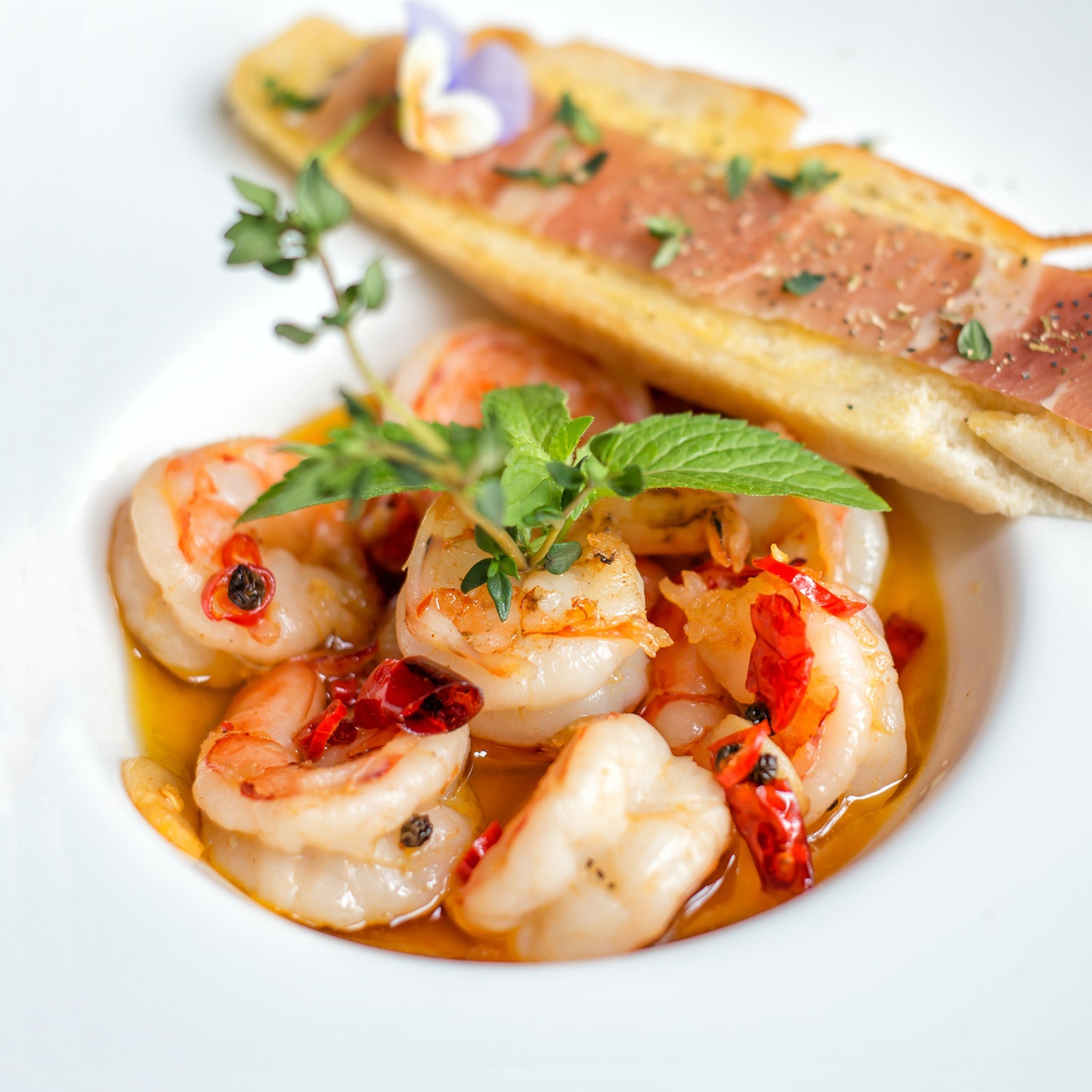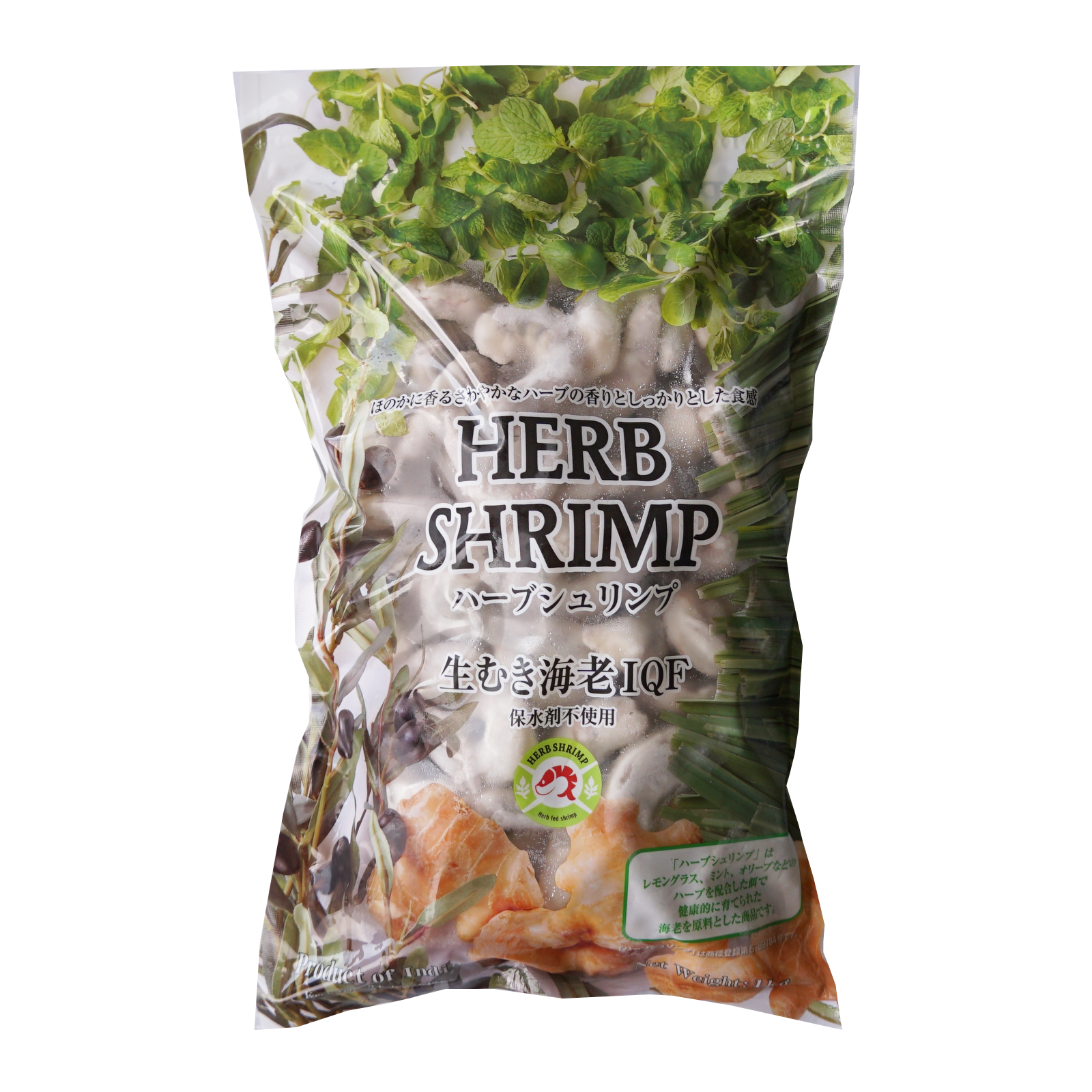 All-Natural Peeled Raw Shrimp - Preservative and Nasty Free (1kg)
Buy More, Save More:
Medium Size (1kg)
1kg (2.2lbs) of frozen pre-peeled, raw shrimp, safe and responsibly farmed in a natural environment - free of nasties and preservatives. The medium size shrimp bag contains around 50 shrimp, the big size shrimp bag contains about 80 shrimp. Both are easy to use in a variety of dishes such as stir-fries, soups, deep-fried dishes, and more. The images show 1/4 of the actual quantity in the bag. As they're already peeled and individually flash frozen for convenience, you can simply take out and defrost just the right amount you need at any time. 
These pre-peeled shrimp are responsibly farmed in low-density aquaculture farms in India. What do we mean by nasty-free? They are fed a diet free of antibiotics or synthetic antimicrobials. Additionally, no phosphates or pH adjusting agents are used to retain water, making these free of MRAs (moisture retention agents) and super natural. For freshness, the shrimp are individually frozen and have thin ice around them as seen in the images. 
Why responsibly farmed is sometimes better than wild-caught
Wild-caught, in many cases, endangers the fish population and the environment. Shrimp, in particular, are heavily overfished. Responsibly farmed shrimp have a very low ecological footprint. Irresponsible farming often uses antibiotics to prevent the spread of diseases due to inadequate farming methods. Our shrimps are as natural as can be and do not need to be treated with antibiotics because of their natural and low-density environment.
Contents
Contents
1 bag
Weight
Medium size: 1kg (2.2lbs) (Approx. 80 shrimp)
Big size: 1kg (2.2lbs) (Approx. 50 shrimp)
Shipping & Handling
Shipping
Shipping and delivery is frozen
Handling
Keep frozen below -18°C (0°F)
Defrosting Time

In the fridge: approx. 12h (only defrost in a separate bowl)


Run under cold water for approx. 10min

Cooking Method
Stir-fried, deep-fried, simmered

Expiration
Frozen: See packaging label (usually more than 1 month)
Chilled: Please consume same-day after defrosting.
Details
Species
Whiteleg shrimp (

Litopenaeus vannamei)



Also known as
Shrimp, shelled shrimp, ebi, vannamei shrimp, prawn, king prawn

Country of origin
India or Vietnam

Product Size (1 piece)
Medium Size: Length: 8 - 9cm, Weight: 11 - 15g (0.4 - 0.5oz)
Big Size: Length: 10 - 11cm, Weight: 18 - 22g (0.6 - 0.8oz)
Ingredients
Shrimp, salt
Traceability
100% from ocean to table
Packaging
Resealable food-grade bag
Package size
22 x 5 x 36cm (8.7" x 2.0" x 14.2")
※Approx. size
Nutritional Values

Based on 100g portion size



Energy: 84

kcal


Protein: 20.3g
Carbohydrates: 0.0g
Fat: 0.3g
Sodium: 240mg

A stable
I always buy this product. The flavor is good and it is not nasty at all. As it is already peeled, the preparation takes less time.
Easy to prepare and super delicious
Delicious!
I'm often put off by shrimp sold in the supermarket here because they come from places that fail miserably on Seafood Watch. I can honestly say these are the tastiest shrimp I've ever had. The price is extremely reasonable for what you get. Highly recommended!!