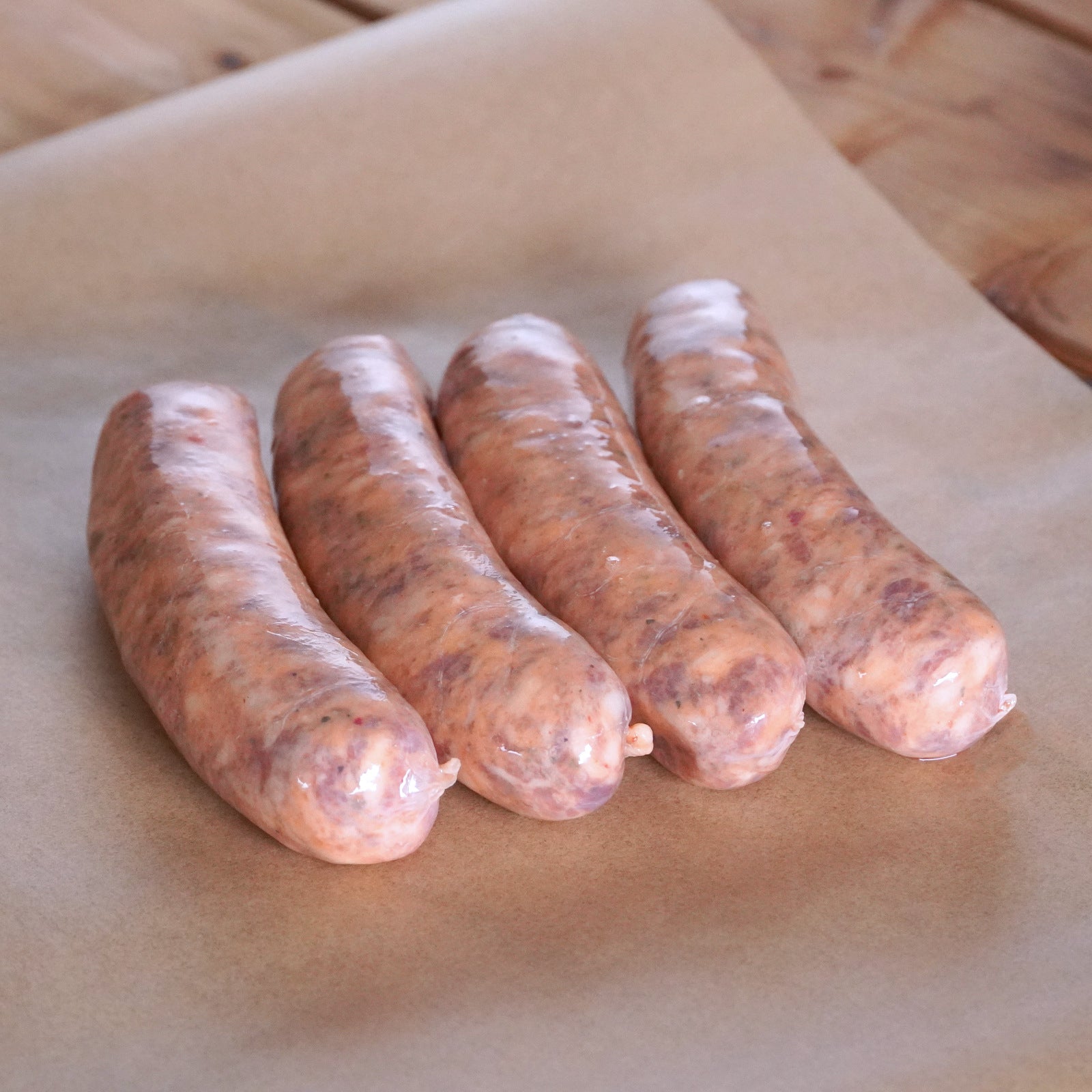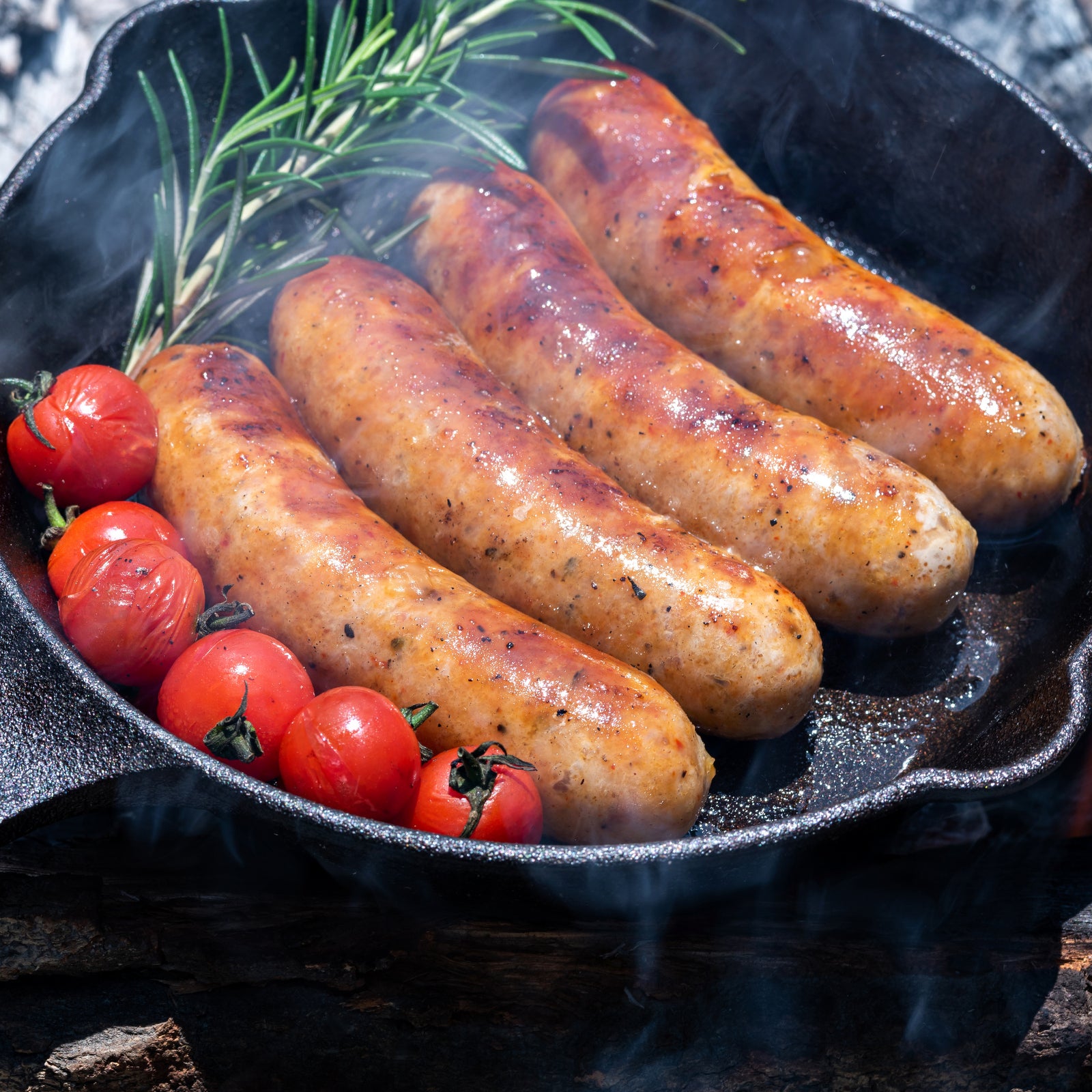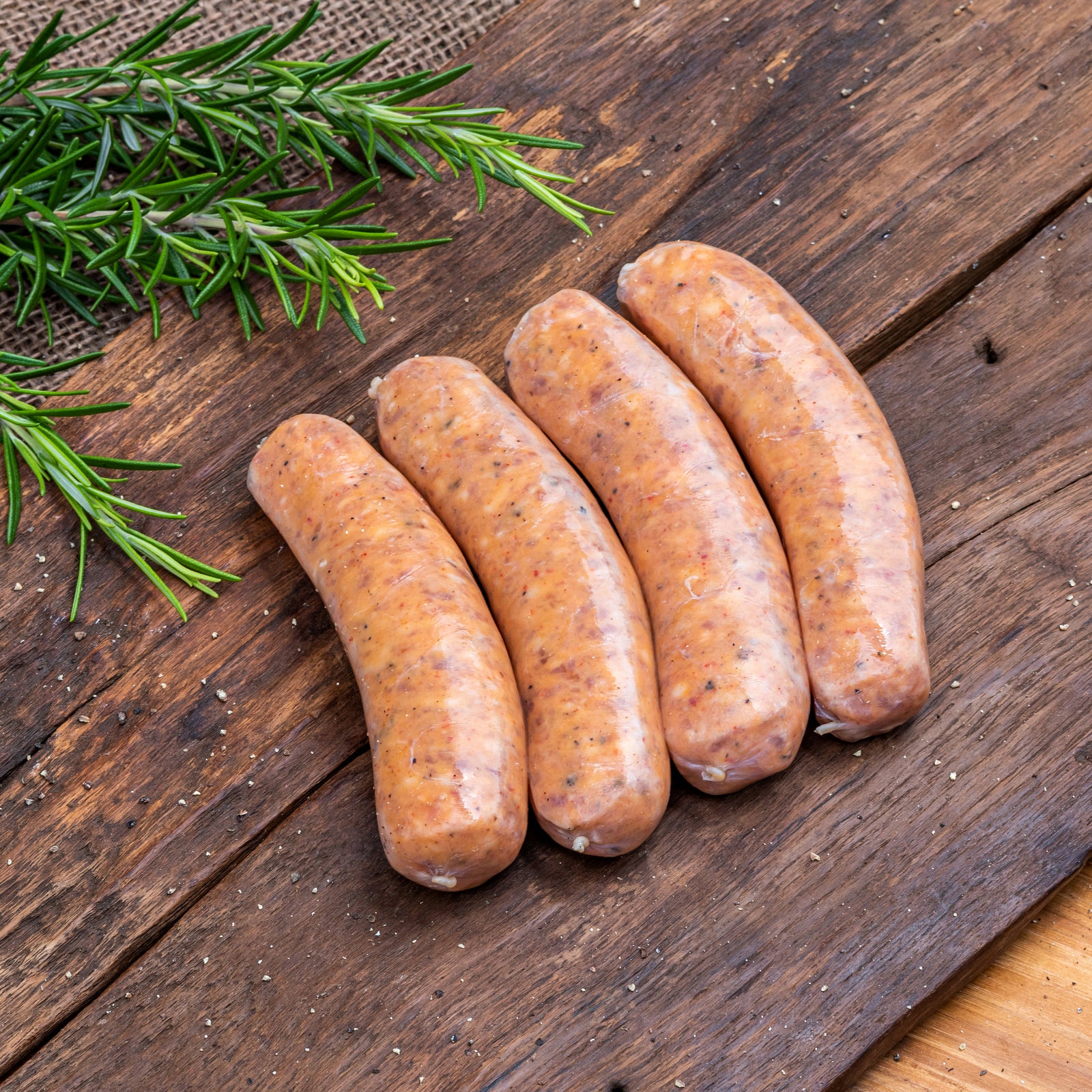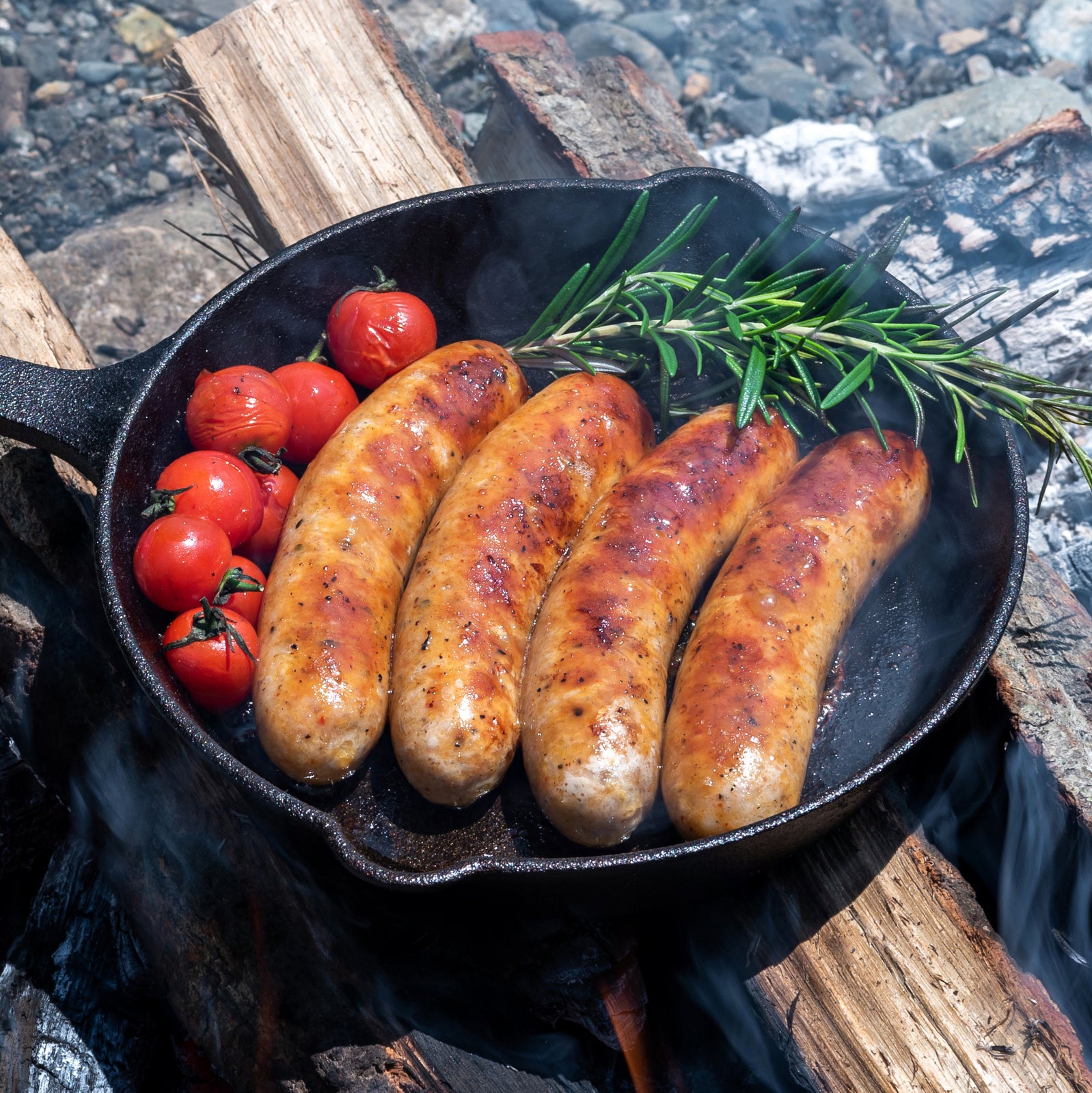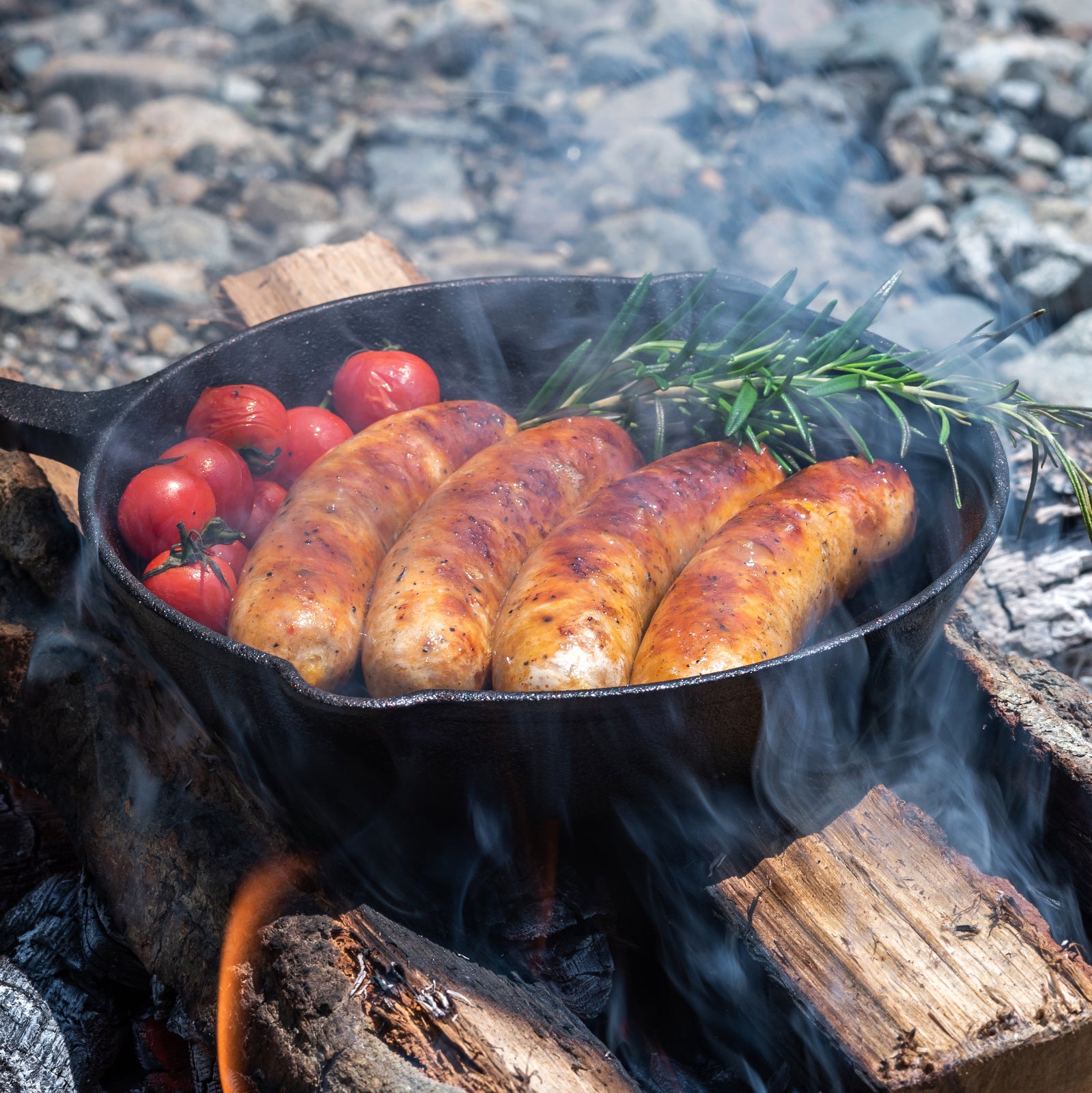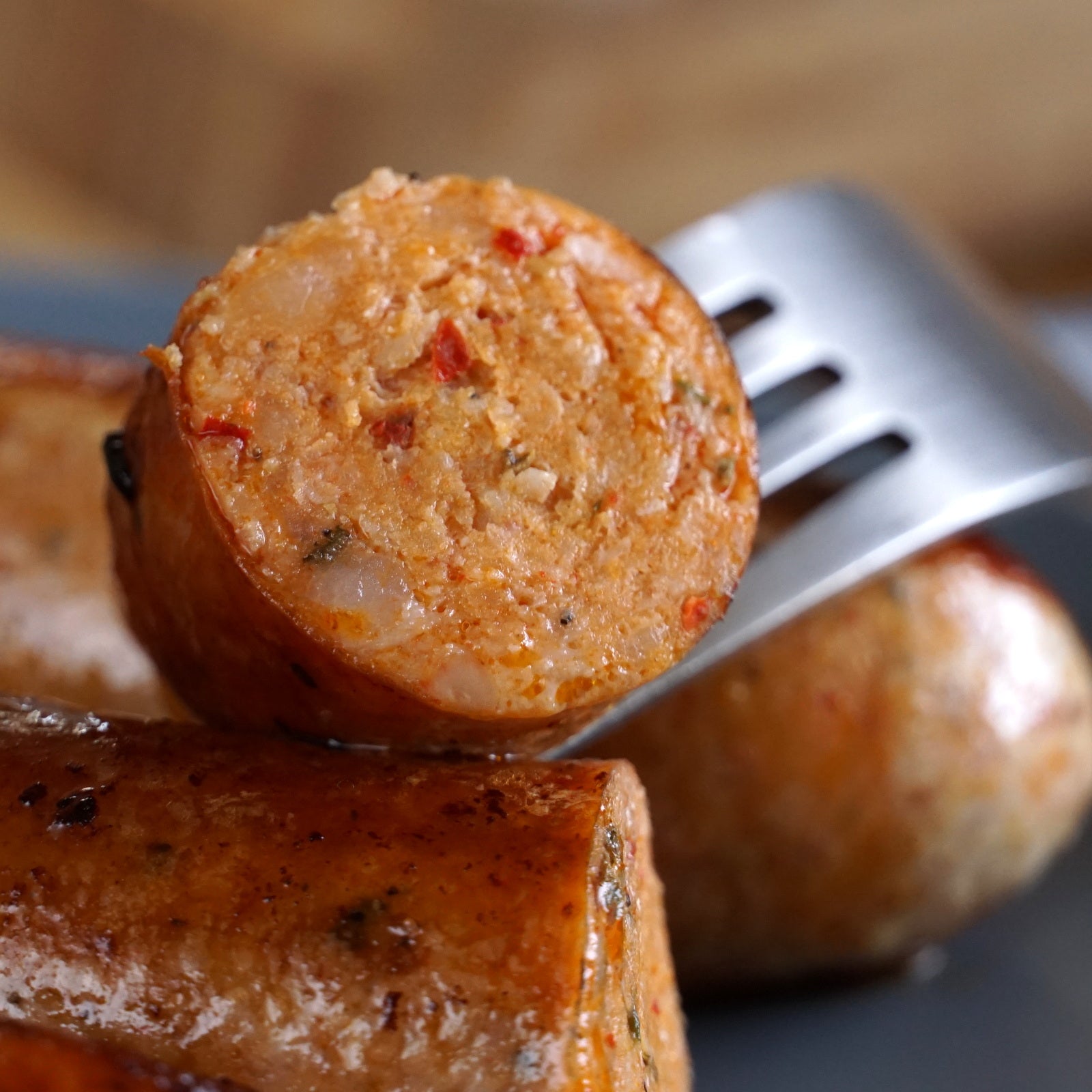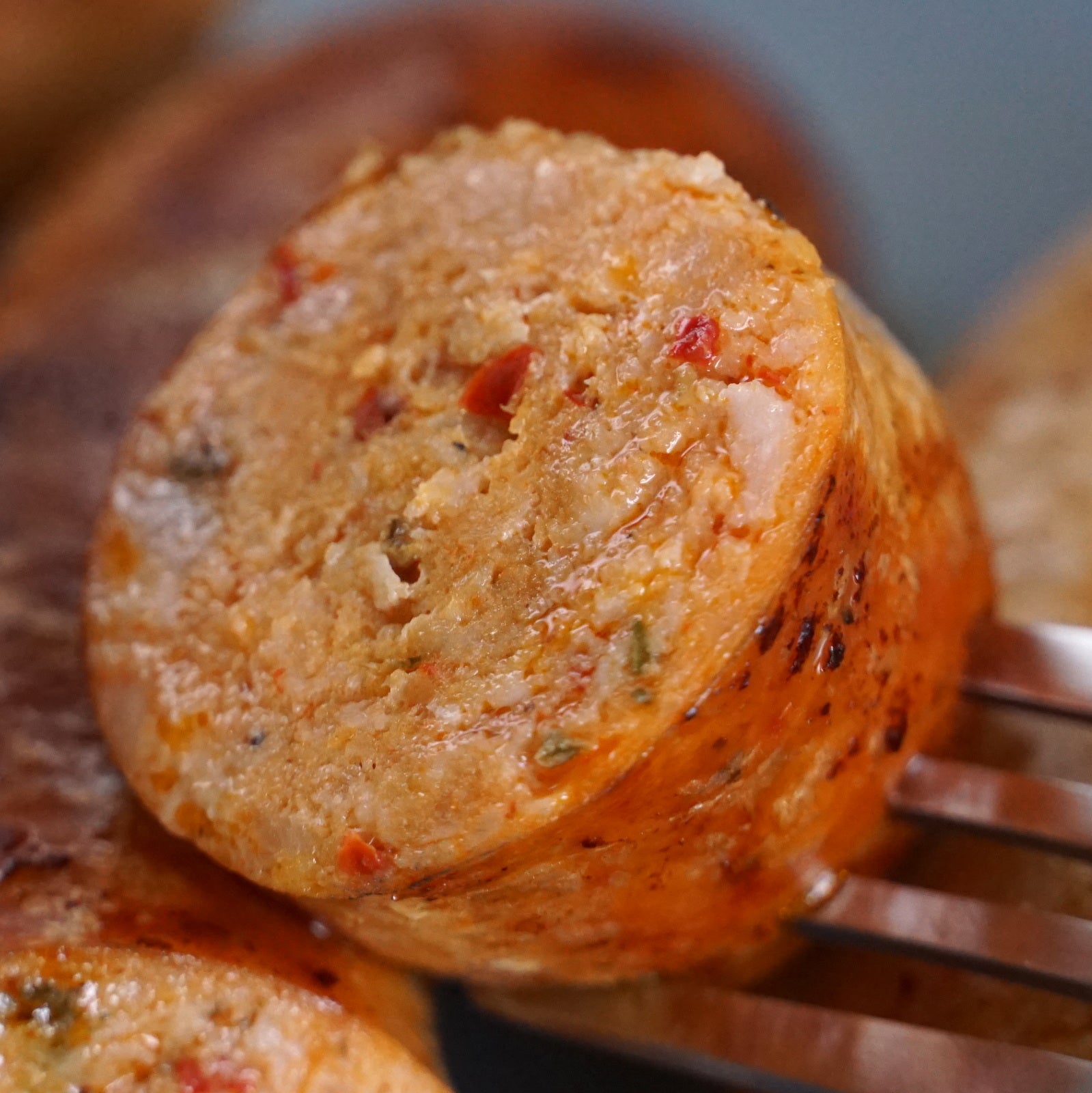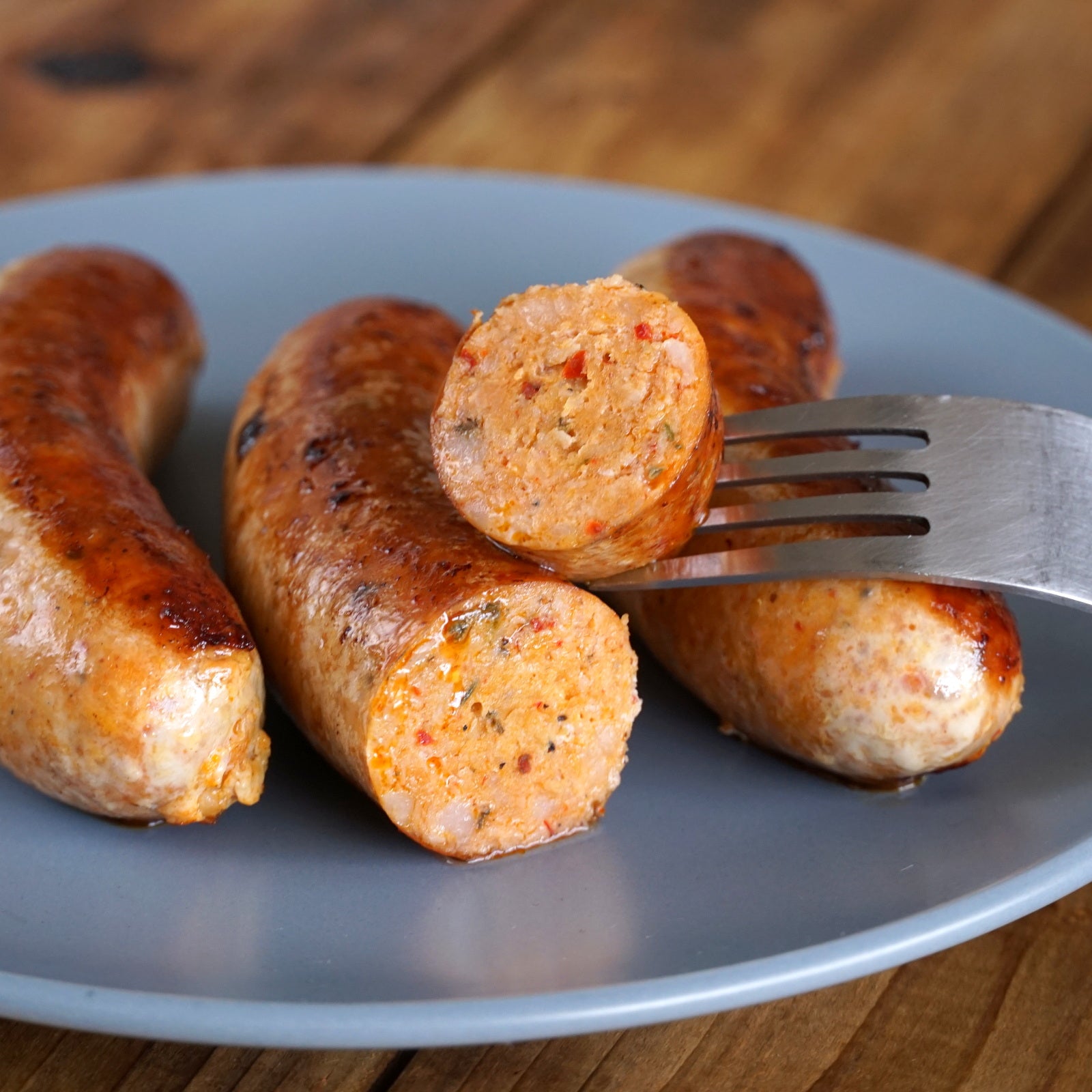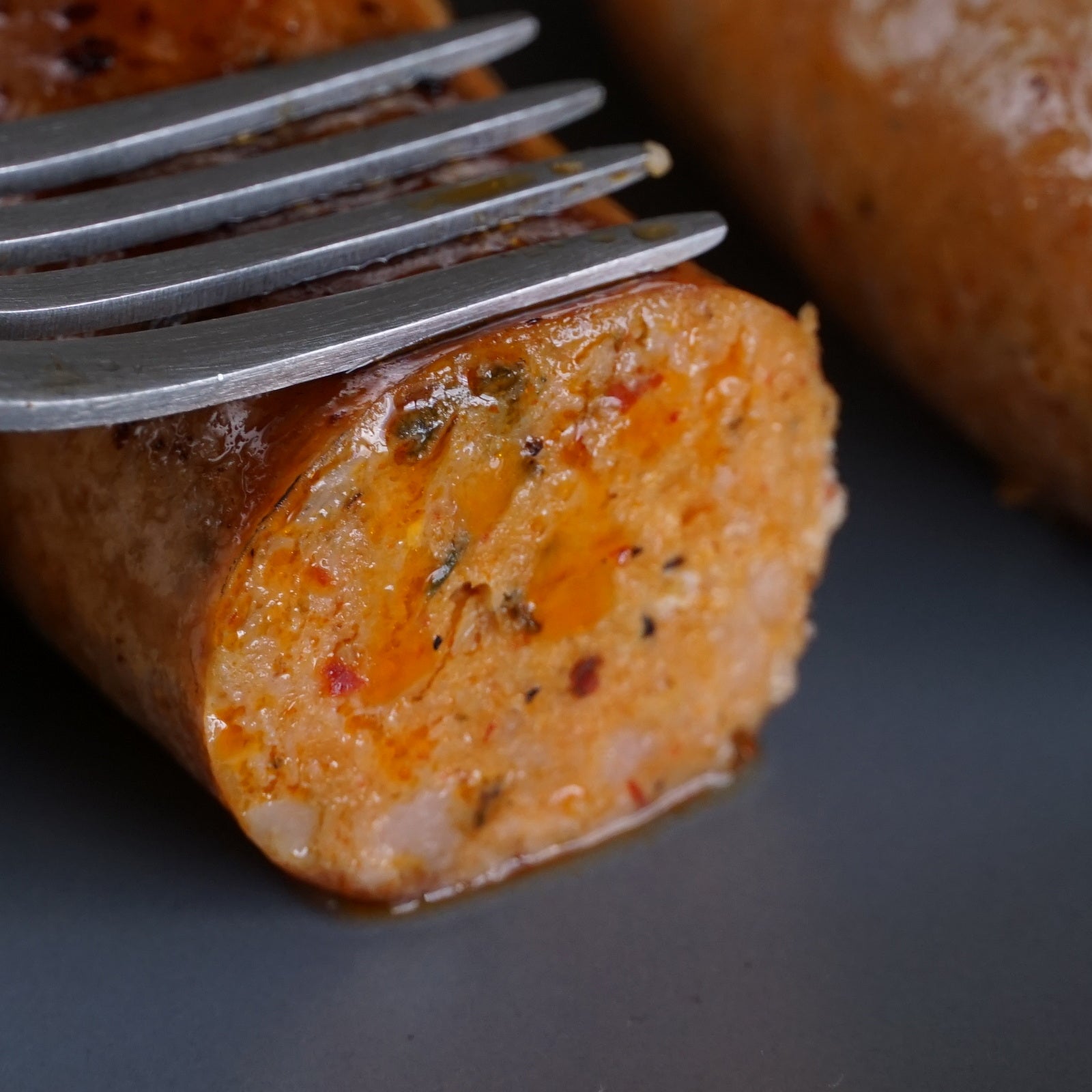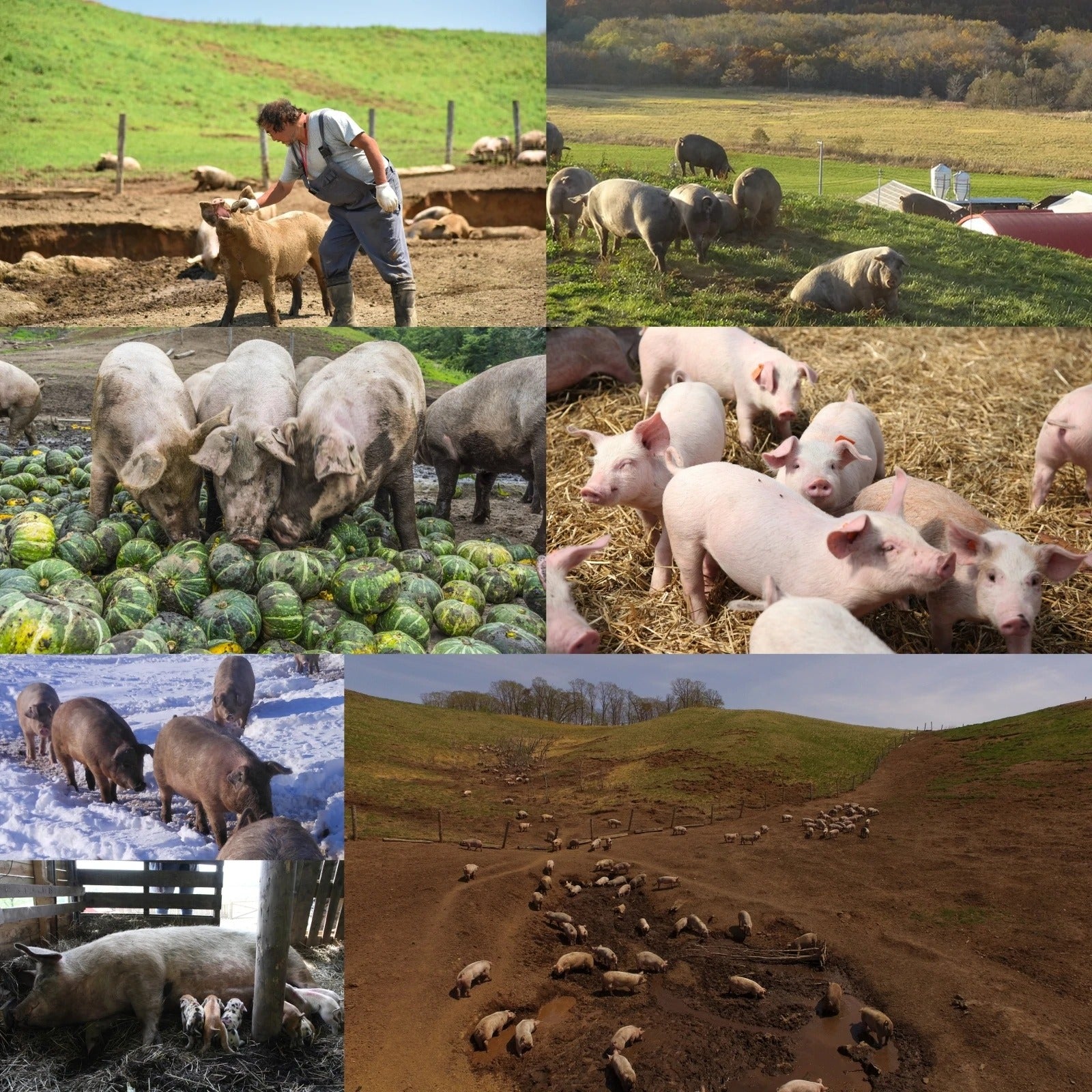 All Natural Hot Italian Sausage (4pc)
Buy More, Save More:
1 Pack (Regular Price)
We tried to keep it as close as possible to the popular American style hot Italian sausage. It won't make you blow steam out of your ears but will certainly increase your body temperature. Our original, 100% all-natural hot Italian style sausage. Freshly ground spices, hot crushed paprika, and a few real chili flakes - not too spicy. The free-range pork comes from family farms in Hokkaido, Japan. Strictly no factory farming. Completely free of antibiotics and growth hormones. Read more about the farms below.
We only use the whole ham (leg) and a variety of natural spices, minimally processed, the ethically raised pork is completely free of growth hormones, antibiotics. The raw sausages come free of preservatives, additives, gluten, lactose, MSG, fillers, nitrates, enhancers, sugar or any artificial ingredients or nasties, just family farm produced, ethically raised pork and top quality natural spices from around the world. Freshly prepared and blast frozen. Hands down, this might be the cleanest sausage available. A difference in quality you can taste. 
One sausage weighs 80g (2.8oz) - you get 4 per pack. Simmer them in almost boiling water before finishing them off in the fry-pan or grill for a crispy gold-brown skin. Goes well for any occasion, breakfast, BBQ, lunch or dinner. 
Contents
| | |
| --- | --- |
| Contents | 1 pack contains 3 sausages |
| Weight | 320g (11.3oz) |
| Serves | Serves 3-4 |
Shipping & Handling
Shipping
Shipping and delivery is frozen
Handling
Keep frozen below -18°C (0°F)
Defrosting Time
In the fridge: approx. 12h
In ice-water: approx. 1h
Cooking Method
Nonstick fry pan or the grill
Expiration
Frozen: see packaging label (usually more than 3 months)
Chilled: Please consume the unopened pack within 4 days.
Details
| | |
| --- | --- |
| Also known as | Salsiccia Sausage, New York-style Italian Sausage, Hot Sausage, Chili Sausage |
| Ingredients | Pork, pork fat, salt, potato starch and other natural spices |
| Country of Origin | Hokkaido, Japan |
| Cooked/Uncooked | Uncooked raw sausage. Cook thoroughly. |
| Packaging | Vacuum packed  |
Happy as a pig in mud. Bathing in the nearby river during summer and playing around on the snowfields in winter - that's the happy life of the pigs on the family-owned El Paso Ranch in Hokkaido that are raised completely free-range in the Tokachi area. And when we say free range we mean the real deal free-range. Spring, summer, autumn and winter - 24 hours, all year free-roaming on 30 hectares (75 acres) of land. The pigs are a slow and naturally grown British Camborough breed. They are fed a large variety of feed mixes that contain all kinds of grains, corn, soybeans, and other vegetables and farm produce (pigs can't survive only on grass, so there won't be grass-fed pork any time soon). Newborn stay in a shelter together with their mother until they learn how to take care of themselves. No tail clipping of piglets, no gestation crates for sows. No factory farming. They receive all the respect, love and care. See for yourself, all images and videos are real.
✔ No factory farming! Humanely raised and treated with respect.
✔ No growth hormones, no subtherapeutic use of antibiotics - ever!
✔All year free-range pasture-raised on 30 hectares (75 acres) of land. 
✔ One farm, one family, one processor - traceability from farm to fork.
✔ No gestation crates for sows. No teeth clipping or tail docking of piglets.
✔ Fed a large variety of grains, nuts and protein sources.
At A Glance
| | |
| --- | --- |
| Pork Breed | Camborough Pork |
| Farm/Ranch | El Paso Rancho |
| Region | Tokaichi, Hokkaido, Japan |
| Breeding | All year 100% free-range pasture-raised |
| Feeding | A large variety of grains and protein sources (wheat, whey, corn, soybeans, vegetables). |
| Raised by | Hirabayashi family and staff |
| Traceability | 100% fully traceable from farm to fork |
| Hormones | Never |
| Subtherapeutic Antibiotics Use | Never |
| Processing in | Japan |
Nutritional Information per 100g
| | |
| --- | --- |
| Energy/100g | 282 cal |
| Protein (g) | 12.8g |
| Total Fat (g) | 23.9g |
| Carbohydrate (g) | 3.9g |
| Salt(g) | 1.7g |
Completely defrost the sausages in the fridge overnight or in a bowl of cold water shortly before cooking. The sausages are raw and require cooking.
The easiest way is to simmer the sausages (not boiling) slowly for about 10 minutes and then finishing them off in a nonstick fry pan or hot plate as used in the image. Use a little bit of olive oil. While cooking the sausages, pork fat will ooze out, be careful and use a splatter screen if at hand.
Make sure you crisp up the skin. Turn often. The casing for the sausage is natural casing and tends to be chewy if not cooked crispy brown on high heat.
Serve with fried or mashed potatoes and green peas. Tastes great with dijon mustard with mustard seeds. Juicy and tasty sausages made from all-natural ingredients and ethically raised and safe pork. A difference in quality that you and your family can taste - due to the spices, not recommended for kids, though. Enjoy.
Really flavourful. And very large! Works well with a variety of dishes.
Wonderful!
Good sausages are not available in supermarkets. Impossible. There are some good butchers here and there in Japan - but unfortunately you can't get coarse, salty Italian sausages there.
Wonderful!
Delicious sausages!
Perfect for easy dinners and delicious pastas. I've been purchasing these regularly - highly recommend!
Translated from Japanese: They taste so good!
These sausages have no unnecessary additives, so you can directly taste the original flavor of the meat.
The other types were also delicious, but these Italian sausages were my favorite!
Translated from Japanese: This is the third time I have purchased this sausage. I'm amazed that such delicious sausages are available in Japan. I always keep them in stock in my freezer. This Italian sausage goes very well with beer. The country style one goes well with beer and wine, but is also very tasty in soups.