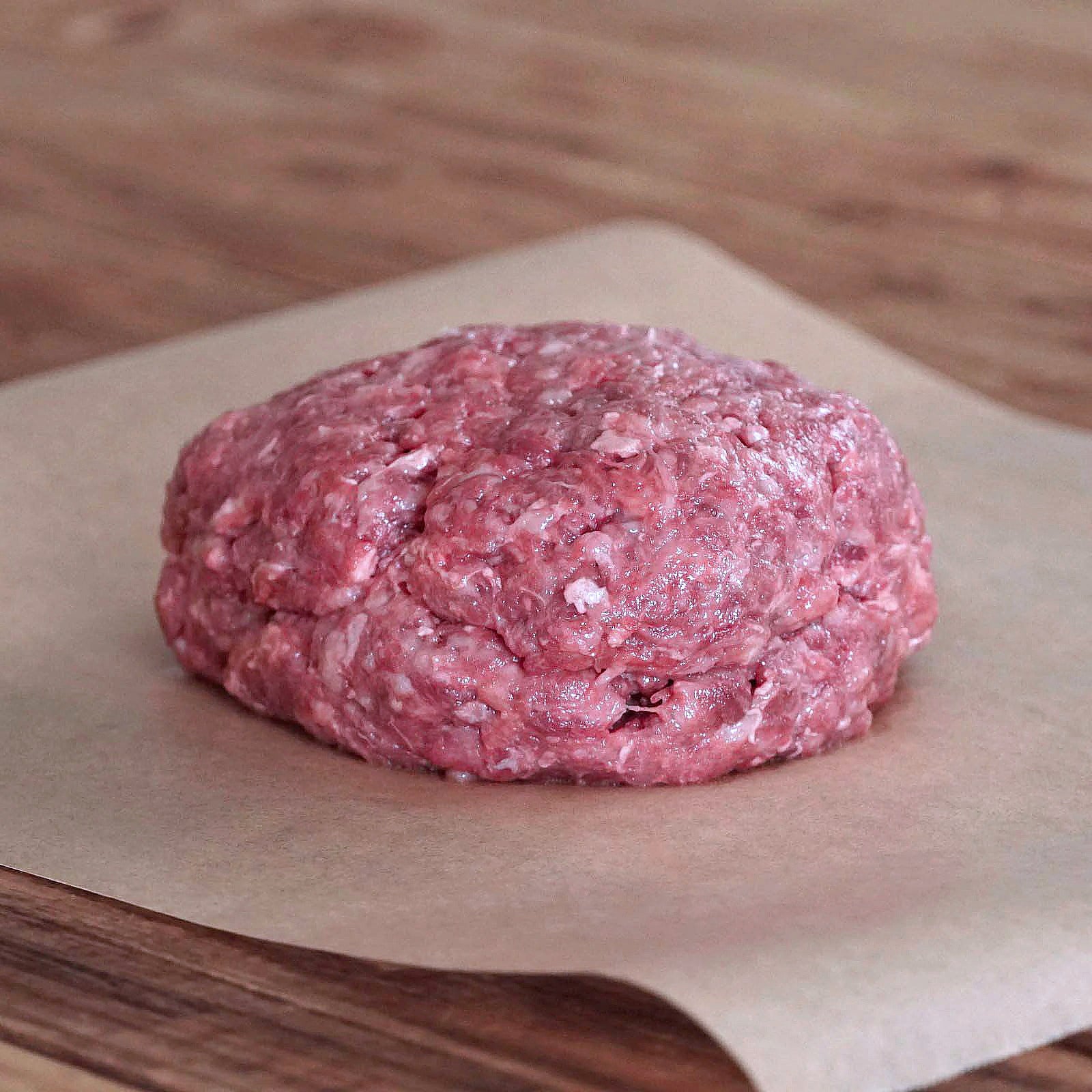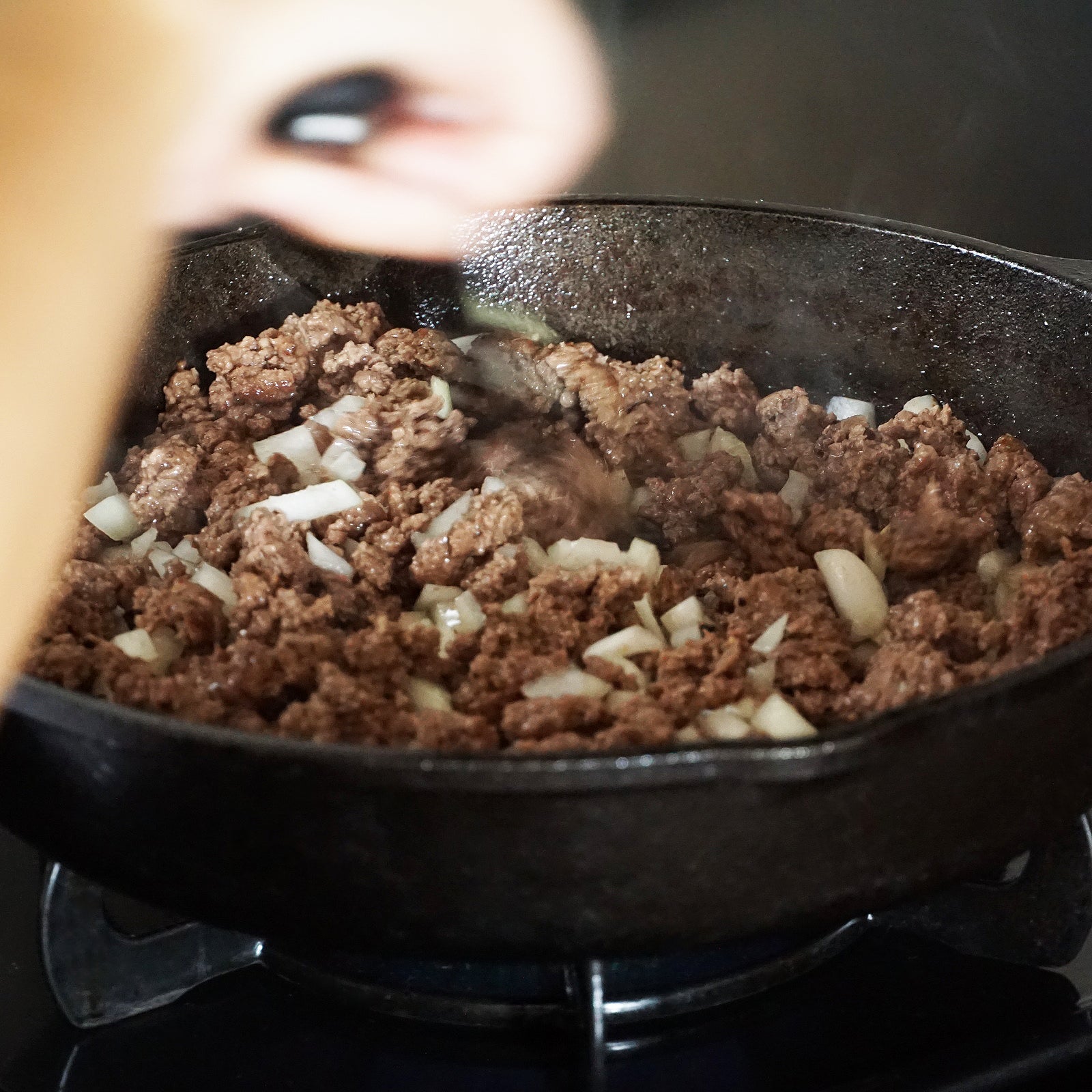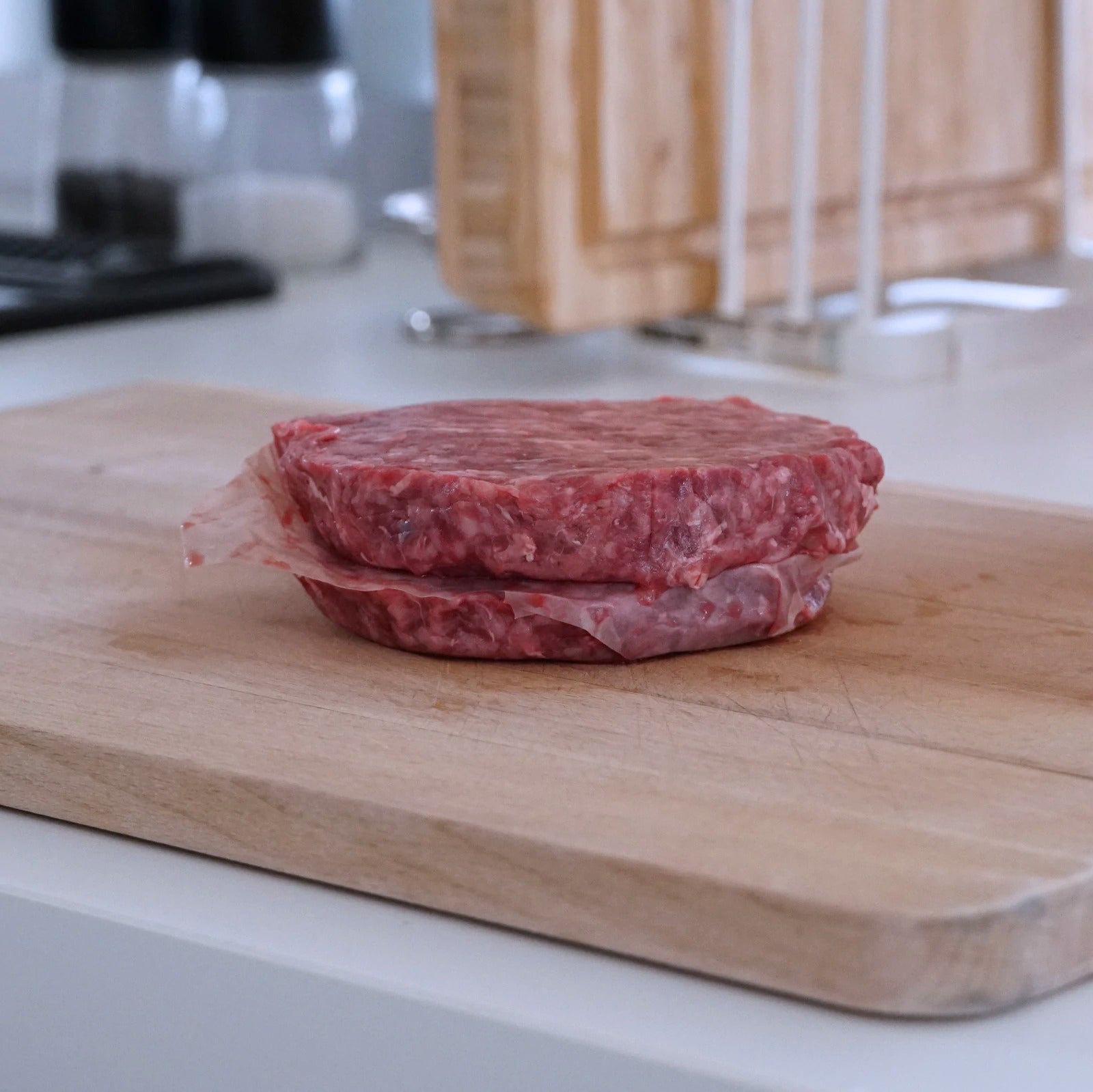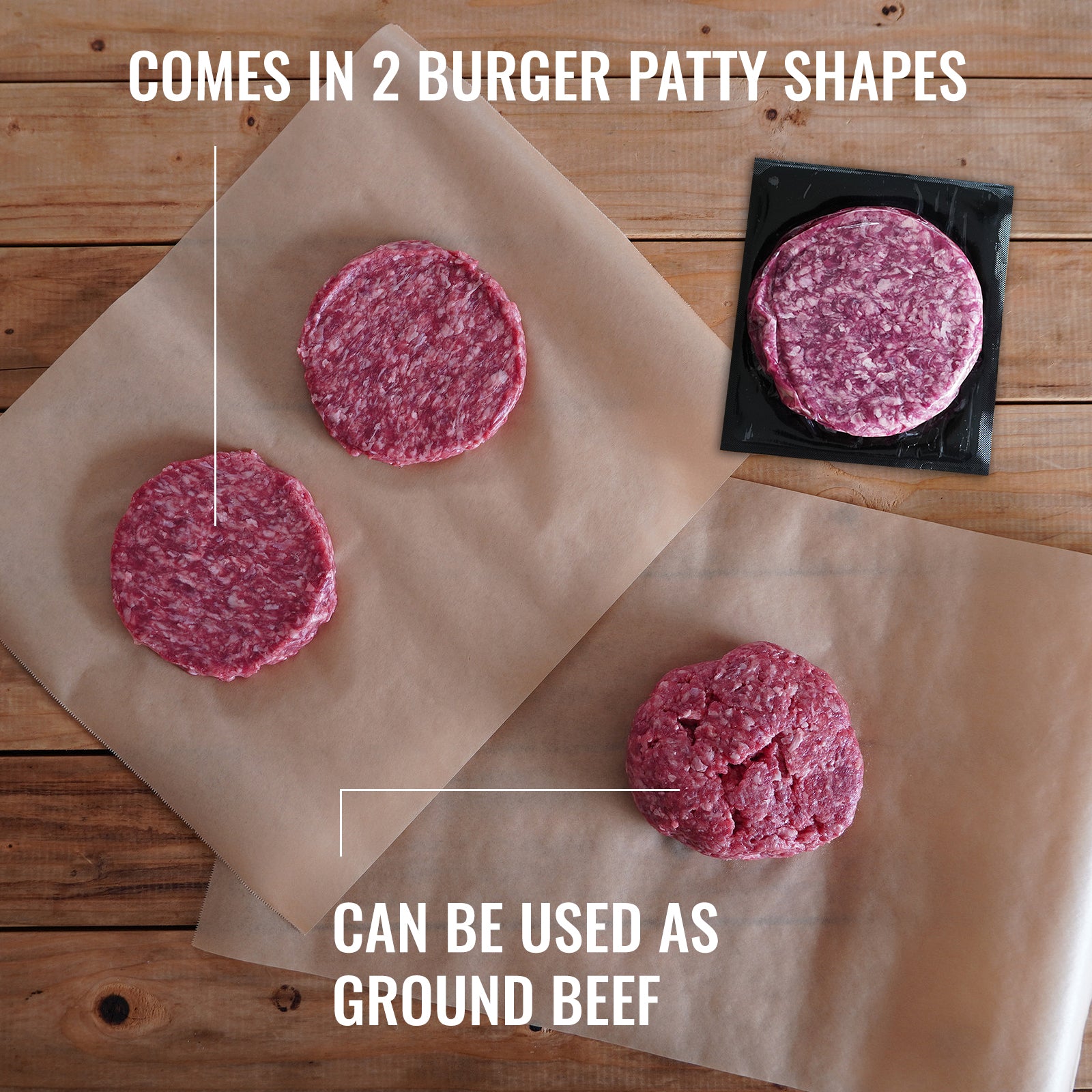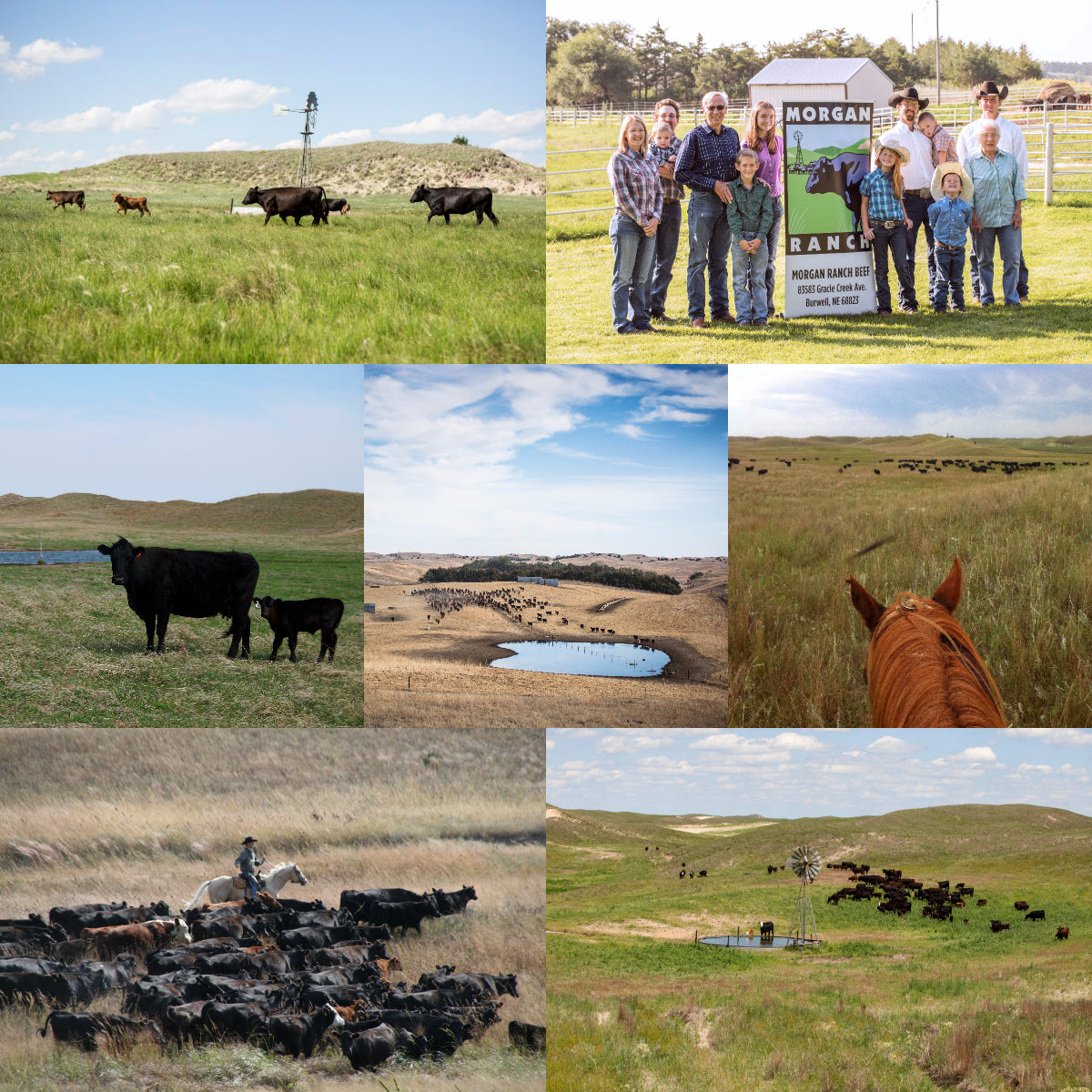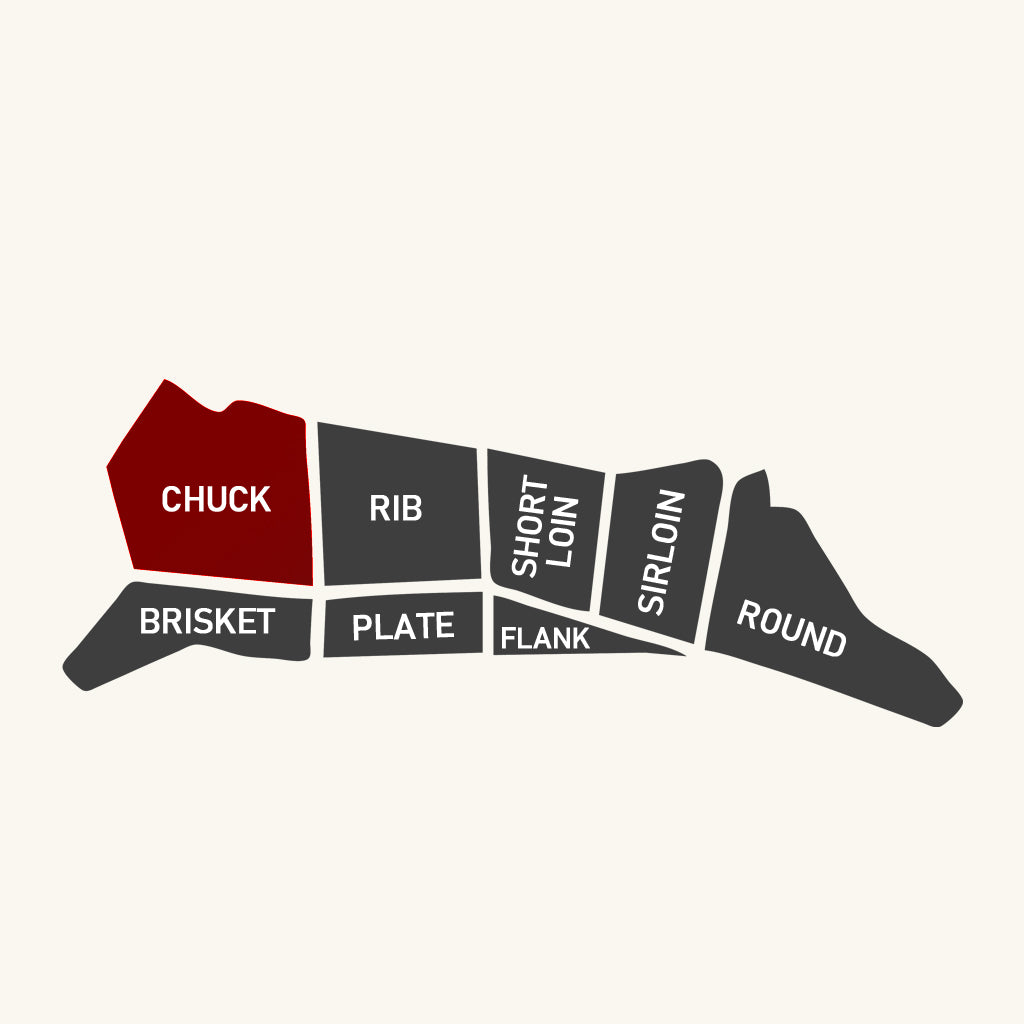 Morgan Ranch USDA Choice Ground Beef 80/20 (300g)
Buy More, Save More:
1 Pack (Regular Price)
This product is the exact same as our beef burger patties. It is shaped like patties but can also be used as normal ground beef. The shape is shown in the fourth photo.
There's ground beef, and then there's ground beef. The juiciest and most flavorful ground meat you've ever tasted. One of the finest ground beef available in Japan! 100% beef, not mixed with pork or fat. The cut used for the ground meat is the chuck shoulder clod aiming at a juicy 80/20 lean-to-fat ratio. If you are looking for juicy ground beef with a lot of flavors choose Morgan Ranch ground beef!

These come in small packs of 300g (10.6 oz.) for very convenient use. Please note that the ground beef comes in a patty shape (see images) divided by wax paper into 2 portions - this is the same product as the beef burgers! Store multiple packs in the freezer for quick and easy meals such as beef pasta, tacos, meatballs, sliders, hamburgers, beef chili, sloppy joes, meatloaf, and the list goes on. Taken straight from the freezer and defrosted in cold water a pack is ready for cooking in under 2h. 
Morgan Ranch Beef - one of the finest and most luxurious American beef money can buy. Directly imported into Japan from the Morgan family Ranch which located in the pristine environment of the Sandhills in the heart of Nebraska. Discover the true taste of American beef. Free-range, pasture grazed, then finished on 100% vegetarian grain feed (200 days) for superior marbling, tenderness, and unprecedented taste experience. Never have the cows been treated with growth hormones or antibiotics! Morgan Ranch Beef is featured on the menus of the finest restaurants in the world including Michelin starred ones. All images from the ranch are actual images. See for yourself. 
Contents
| | |
| --- | --- |
| Contents | 1 pack |
| Weight | 300g (10.6oz.) |
| Serves | Depends on the recipe |
Shipping & Handling
Shipping
Shipping and delivery is frozen
Handling
Keep frozen below -18°C (0°F)
Defrosting Time
In the fridge: approx. 24h
In ice-water: approx. 3h
Cooking Method
Any
Expiration
Frozen: see packaging label (usually more than 3 months)
Chilled: Please consume unopened pack within 5 days.
Details
| | |
| --- | --- |
| Also known as | Beef mince, hamburger meat, burger meat,  |
| Country of Origin | United States |
| Ingredients | Beef |
| Aged | 30 days wet-aged |
| Marbling Score | USDA Choice |
| Cut from | Chuck Shoulder |
| Category | Ground beef |
| Packaging | Vacuum packed together |
✔ Ethical. No factory farming! Humanely raised and treated with respect.
✔ Safe. No growth hormones or antibiotics - ever!
✔ Sustainable. The ranch sits on the world's largest underground water resource. All feed is locally sourced.
✔ Free-Range. All-year open pasture-raised in the heart of the sandhills, Nebraska. 
✔ Grass-fed, grain-finished on 100% vegetarian grain feed for superior tenderness, marbling, and an unprecedented taste experience.
✔ Full traceability. The Morgan family is in full control. One ranch, one family, one importer - ranch to fork!
✔ Strictly non-commodity. Family farming takes time, attention, patience, and care. Only 2% of all US beef is Prime graded.
✔ Morgan Ranch Beef is the number one choice of over 70 top-class gourmet restaurants in Europe, the USA, and Japan, including Michelin-starred ones.
At A Glance
| | |
| --- | --- |
| Cattle Breed | The breed contains Japanese Wagyu genetics. Composition of Wagyu, Angus and Hereford.  |
| Farm/Ranch | Morgan Ranch |
| Region | Nebraska, USA |
| Breeding | All-year free-range pasture grazed on 50 square kilometers (over 12000 acres!) in the heart of the sandhills. Sitting on the Ogallala Aquifer - the world's largest underground water resource. |
| Raised by | Dan Morgan and family |
| Farming Experience | Since 1934, Certified American Wagyu since 1992 |
| Feeding | Pasture grazed from birth, finished on grain feed containing maize, alfalfa (aka. lucerne), hay, distillers grains, vitamins, and minerals (100% vegetarian) for at least 200 days before harvesting. |
| Traceability | 100% fully traceable from farm to fork |
| Growth-Hormones | Never |
| Antibiotics | Never |
| Chemical pesticides on pasture | Never |
| Animal By-Products Feeding | Never |
| Importer | Horizon Farms, Inc. |
Defrost the ground beef in the refrigerator which requires less than 24h. If you are in a hurry simply place the sealed package in cold water. It will take less than 2 hours. 
You can use ground beef for a very wide range of recipes. We will be showing you one of our favorite ground beef recipes. Quick and easy cheesy skillet beef pasta. Start with cooking the ground beef on medium heat in the frying pan. Keep splitting the chunks of beef into smaller pieces.
Add diced onions and stir. Next, add one tablespoon of Worcestershire sauce, one teaspoon of salt, pepper, garlic powder and two teaspoons of Italian seasoning.
Next, add two cans of tomato sauce. 100% natural diced tomato sauce out of the can works great. Stir well. 
Next, comes the main part. The pasta. We recommend fusilli pasta. Use a pasta of your liking. Stir well. 
 
Cover the skillet or fry pan with a lid but leave extra space for the steam to evaporate. The goal is to cook the pasta to the perfect doneness. This process usually takes 10 minutes. Keep checking for doneness.
Once the pasta is ready, sprinkle all-natural cheese. Cheddar cheese is best. Turn off the heat and cover with a lid for another minute and allow the cheese to melt. Mhhh yeah - get the table ready!
Just looking at this picture is mouth-watering. Morgan Ranch ground beef is juicy and of very high quality - we're confident to say this is the best beef available. 
Your family and guests will notice the difference right away. Because as you know, there is ground beef and then there is Morgan Ranch ground beef. Give it a try yourself. Cheers!
It's delicious, but the price went up...
Translated from Japanese: It was delicious and I intended to order it again, but the price has risen by 500 yen and I can't afford it like this. I'm disappointed.
Beef soboro tsukudani. I made soboro bowl.
Translated from Japanese: I like Japanese dishes and because I was able to buy safe ground beef, I wanted to try making beef soboro.
It was delicious when I put Japanese pepper fruit in it.
I put it on freshly cooked rice.
☆ It's beautiful if you put roasted eggs on it ☆
After that, because there was unexpectedly a large amount of ground beef and after a long time (I wonder how many years…), I also made omelet. It's been a long time and I didn't do too well, but it was delicious.
Translated from Japanese: The hamburger steak, minced meat sauce and meat pie I made were very delicious. Even if you put it in a bowl, it's not sticky like the meat on the market. I'm waiting for it to be restocked.
Translated from Japanese: I haven't eaten it yet so I don't know about the taste, but I'm a little worried about the dark color.
It's delicious!
Translated from Japanese: It's expensive, but when I bought it as a trial, it was really delicious. It was worth the money.
I made a hamburger steak. I got a lot of oil, but it didn't smell. I made a gravy sauce using the meat juice. The steak was rich and the sauce was delicious.
I will order it again when I want to eat luxuriously!