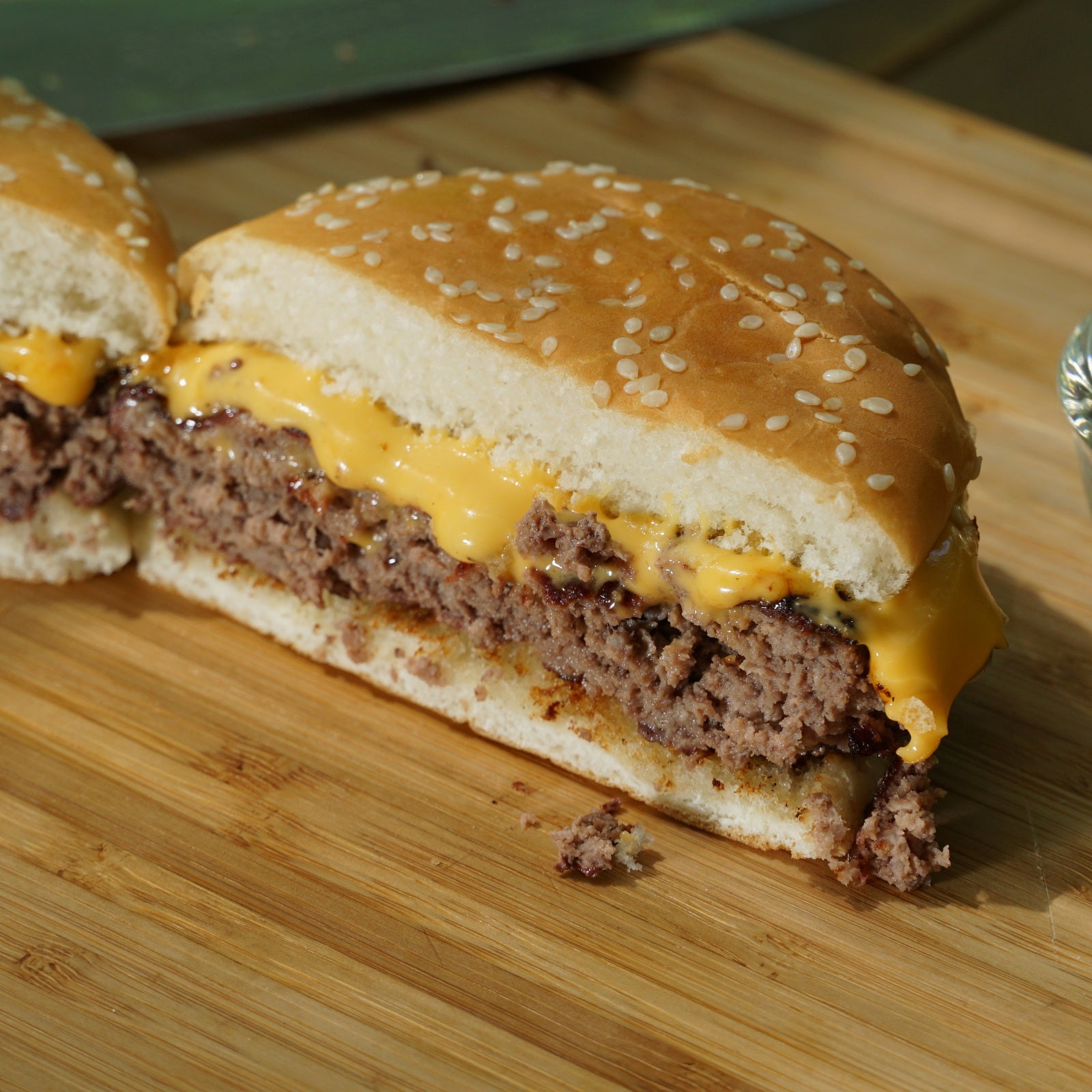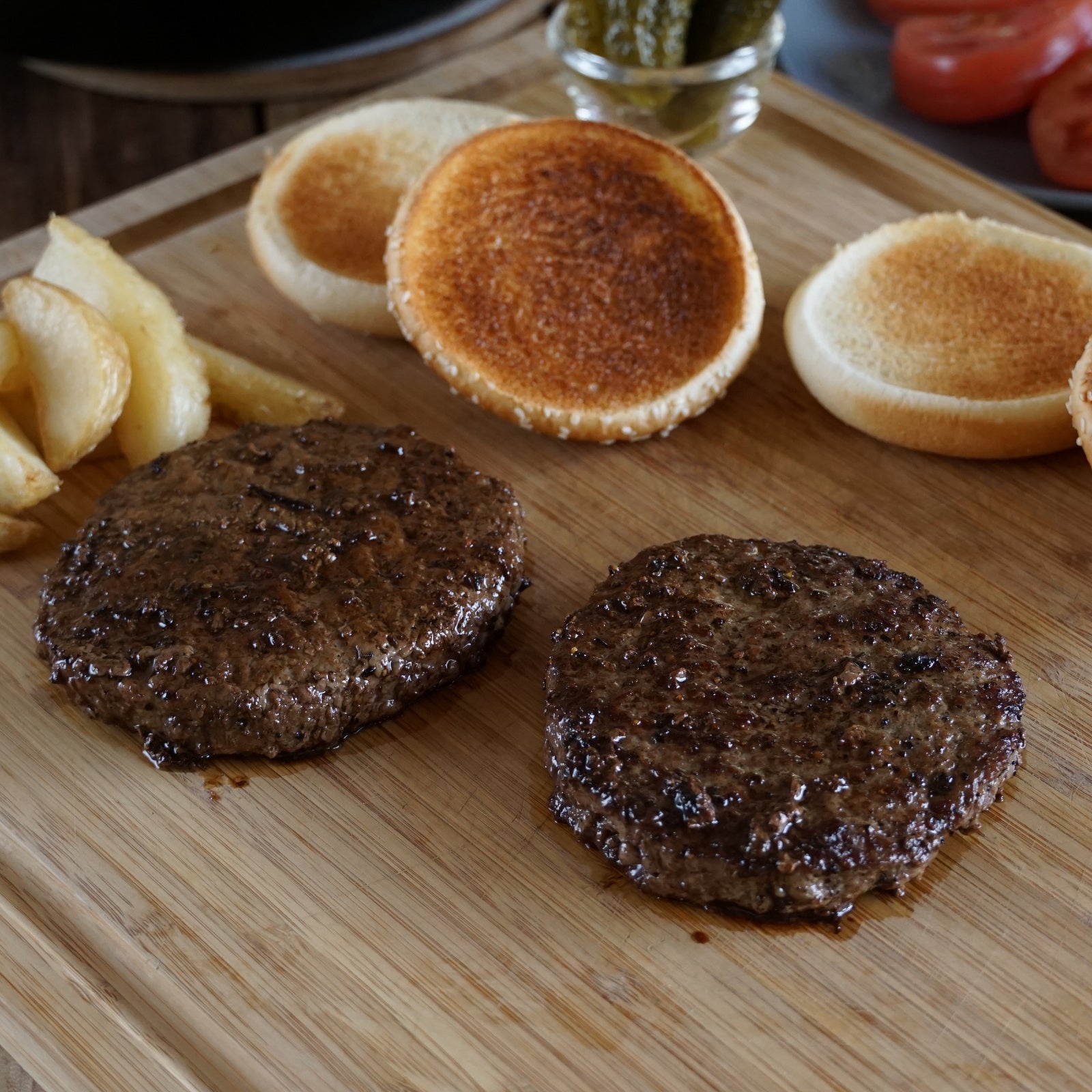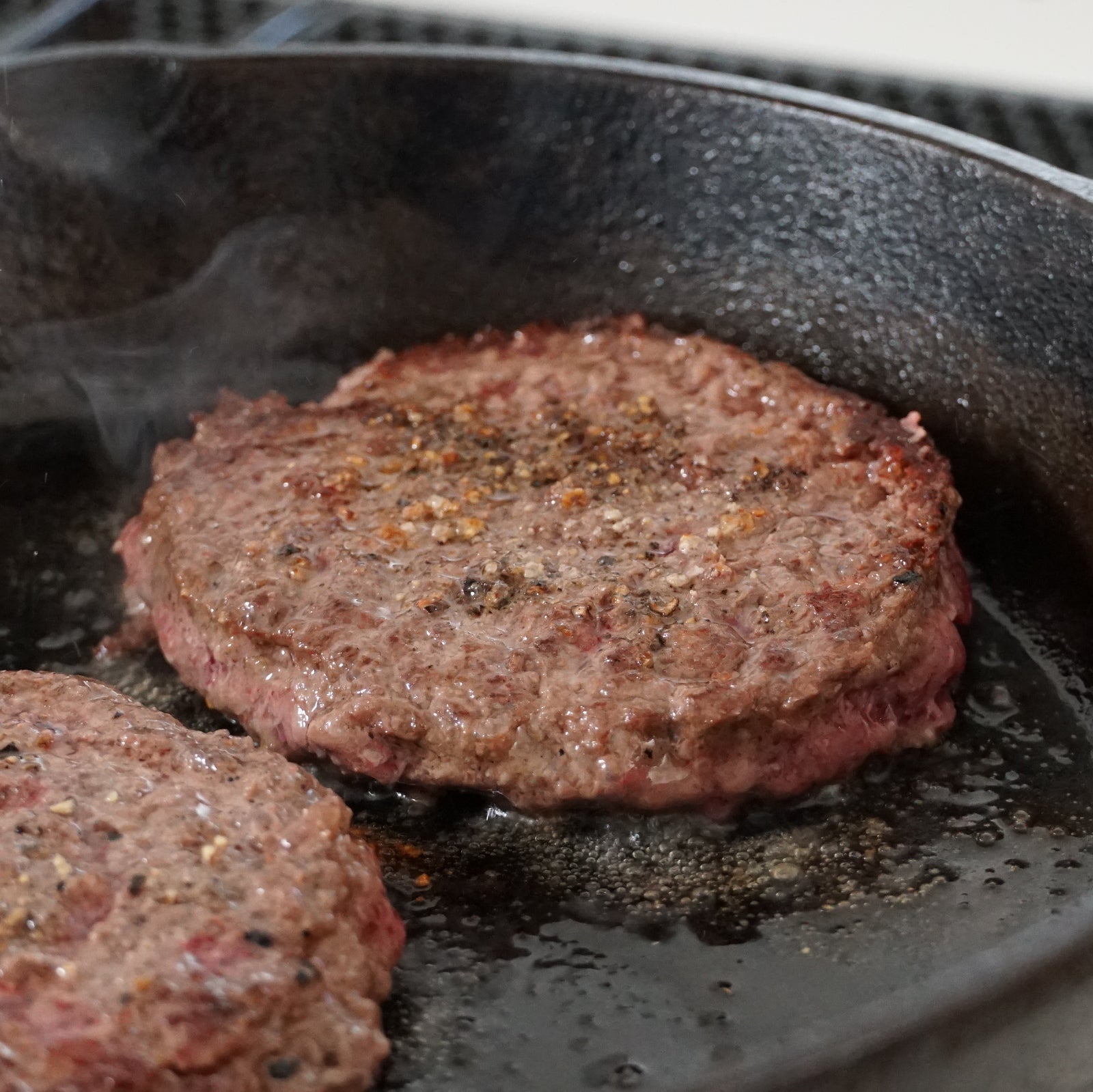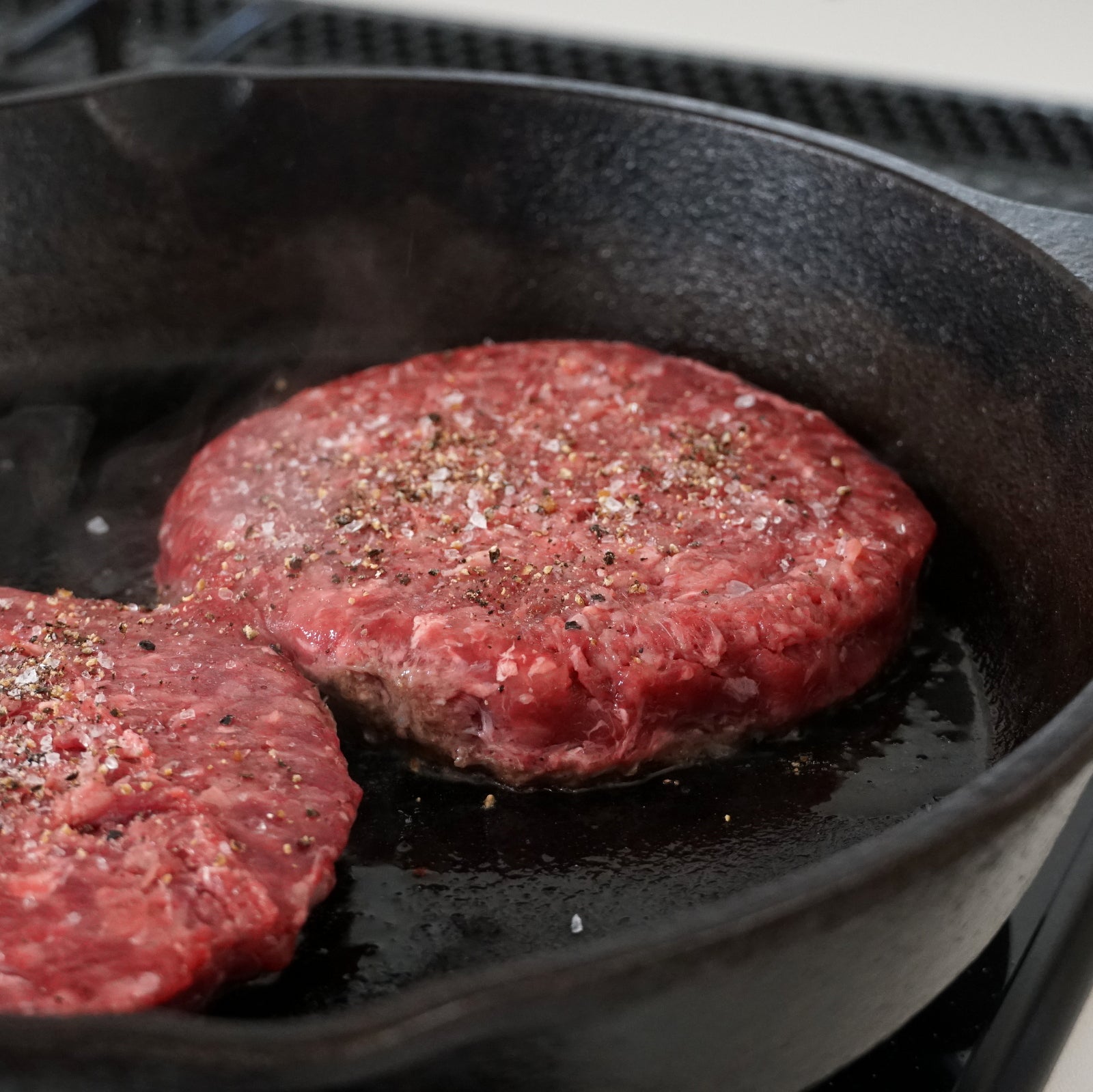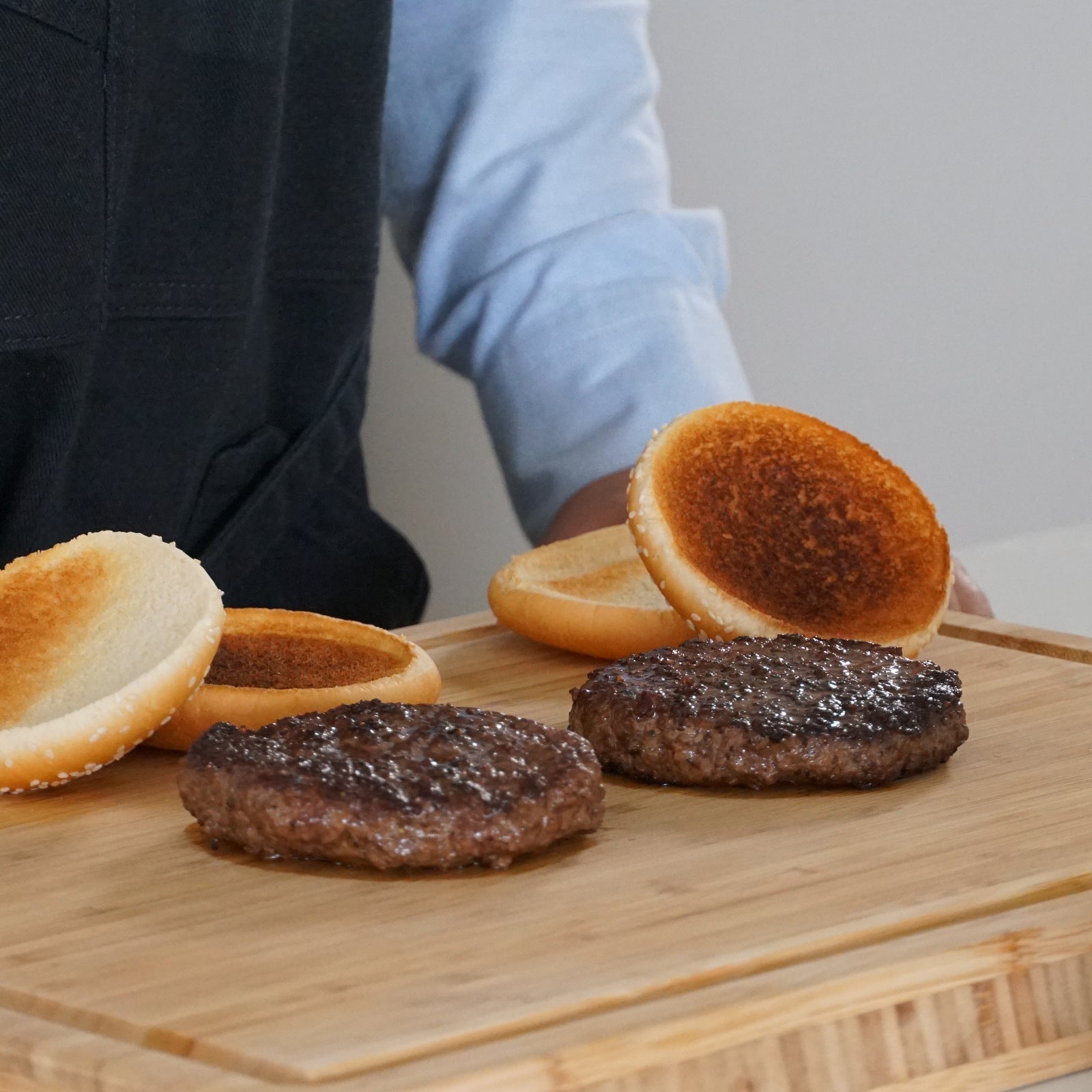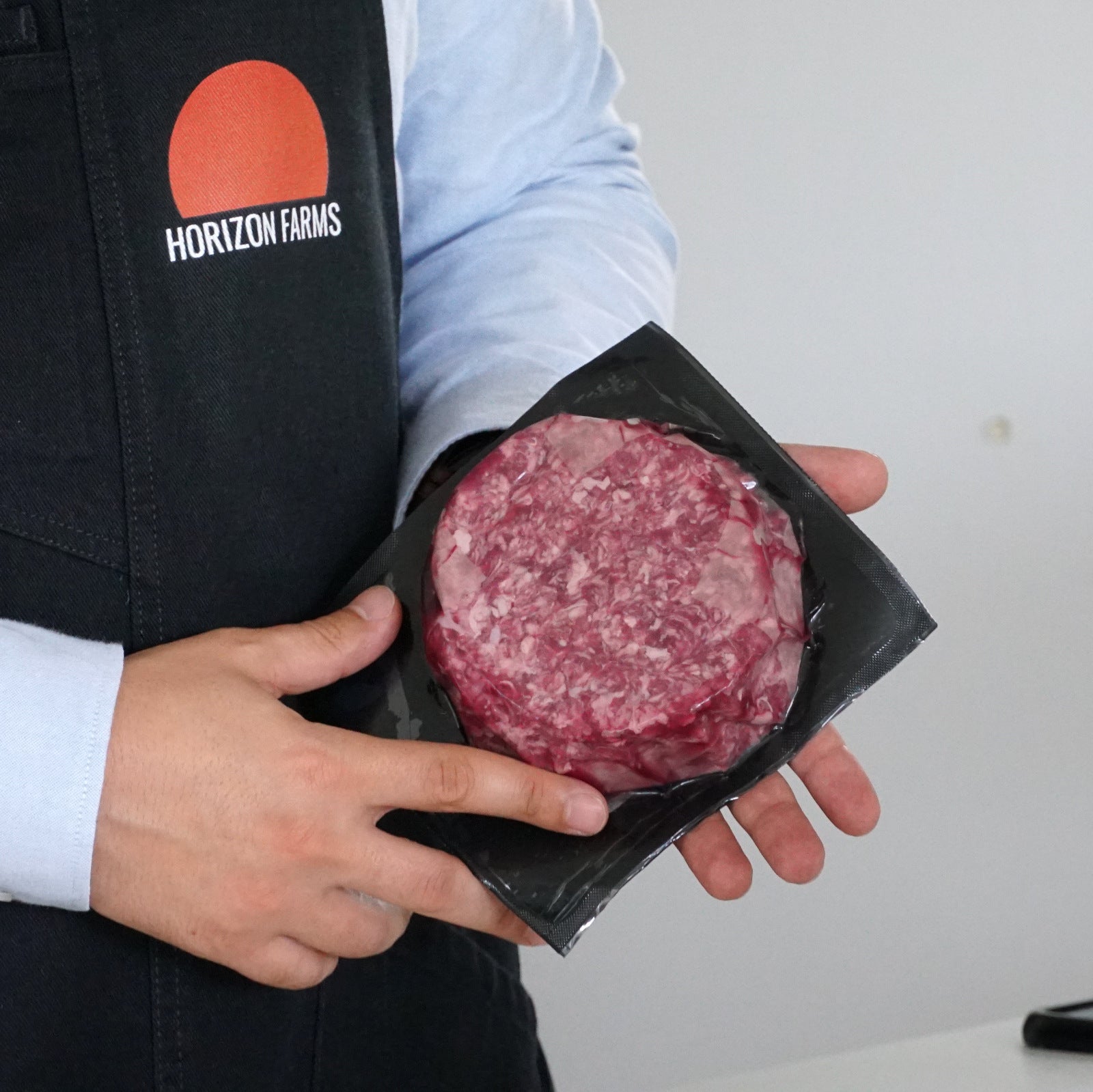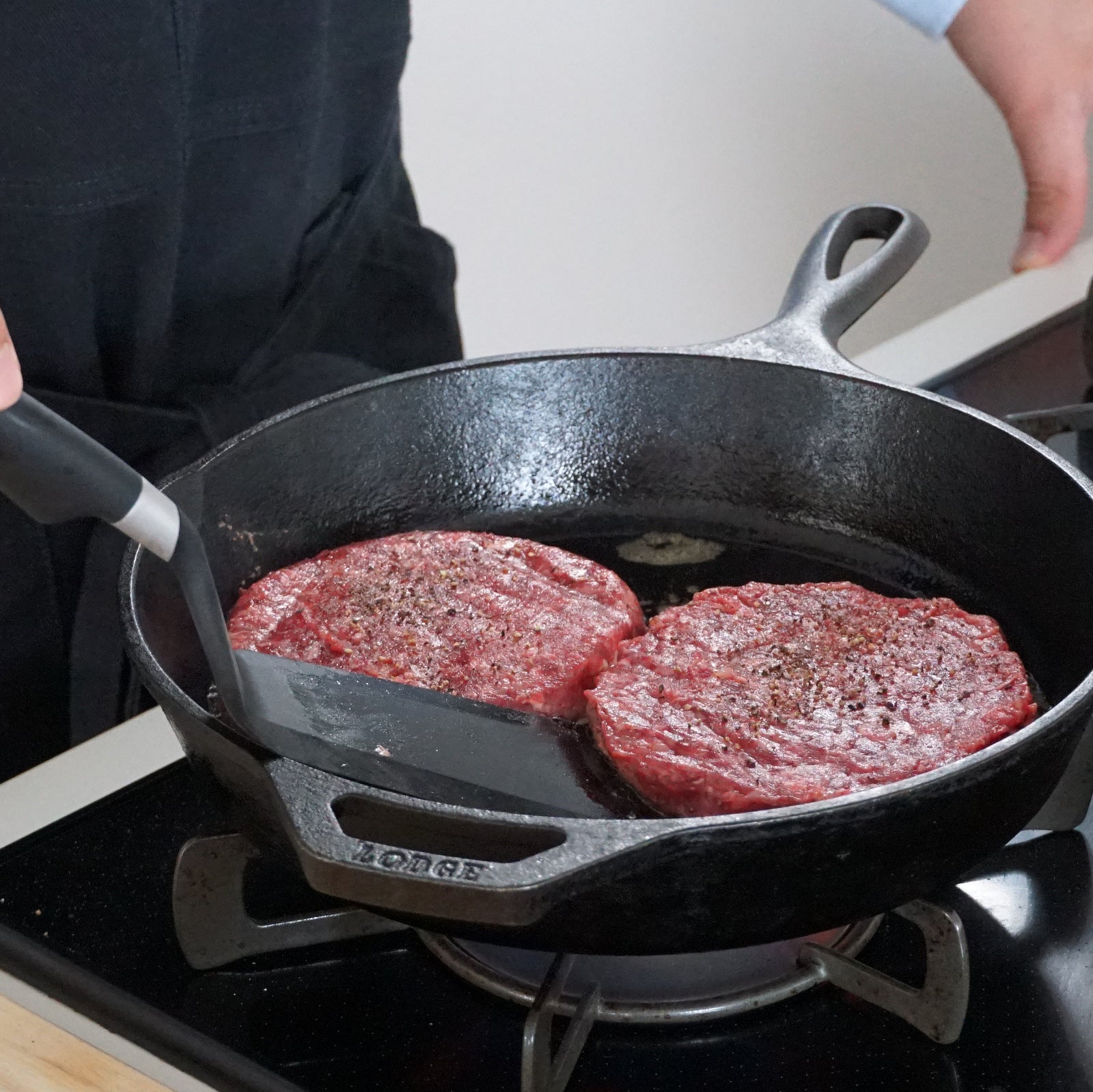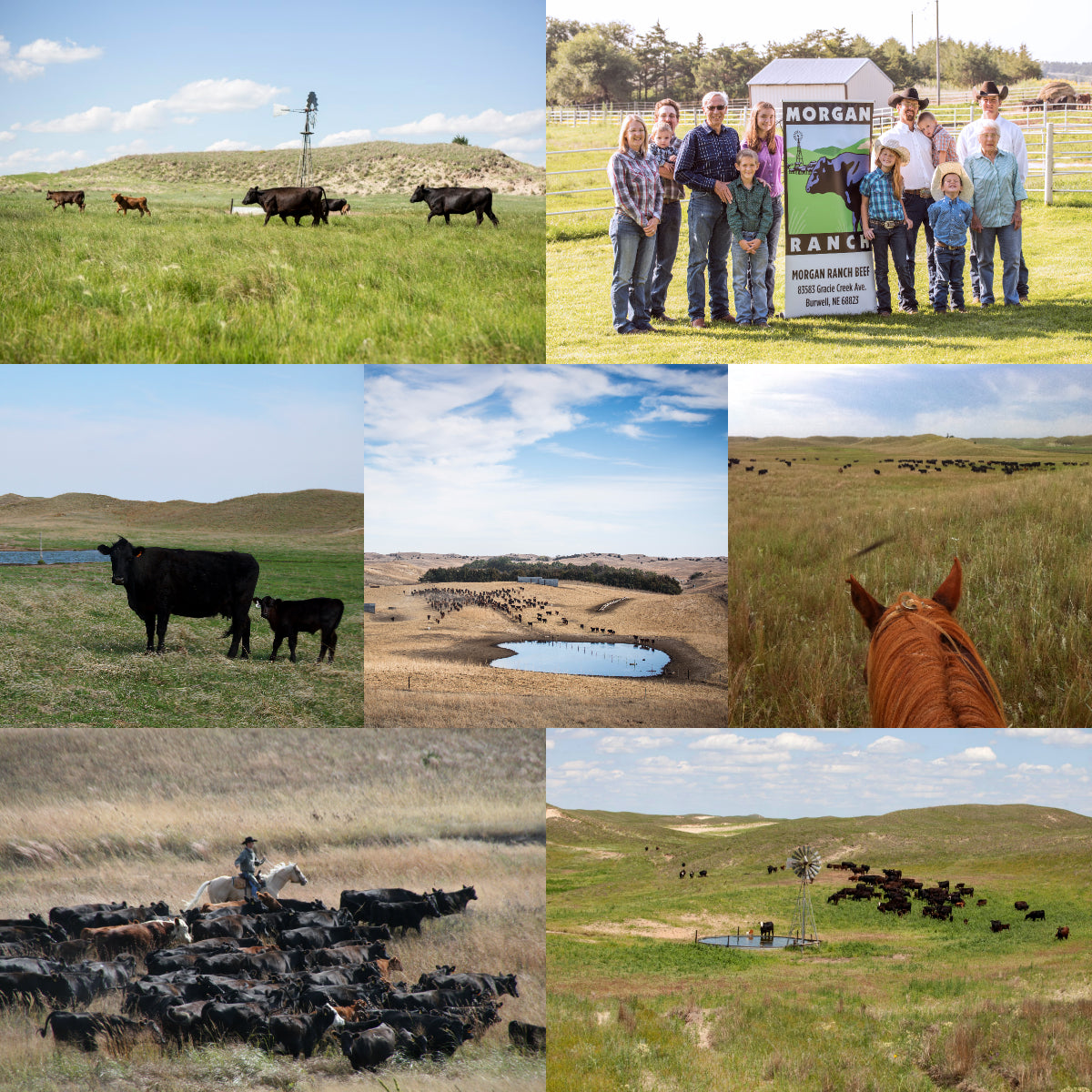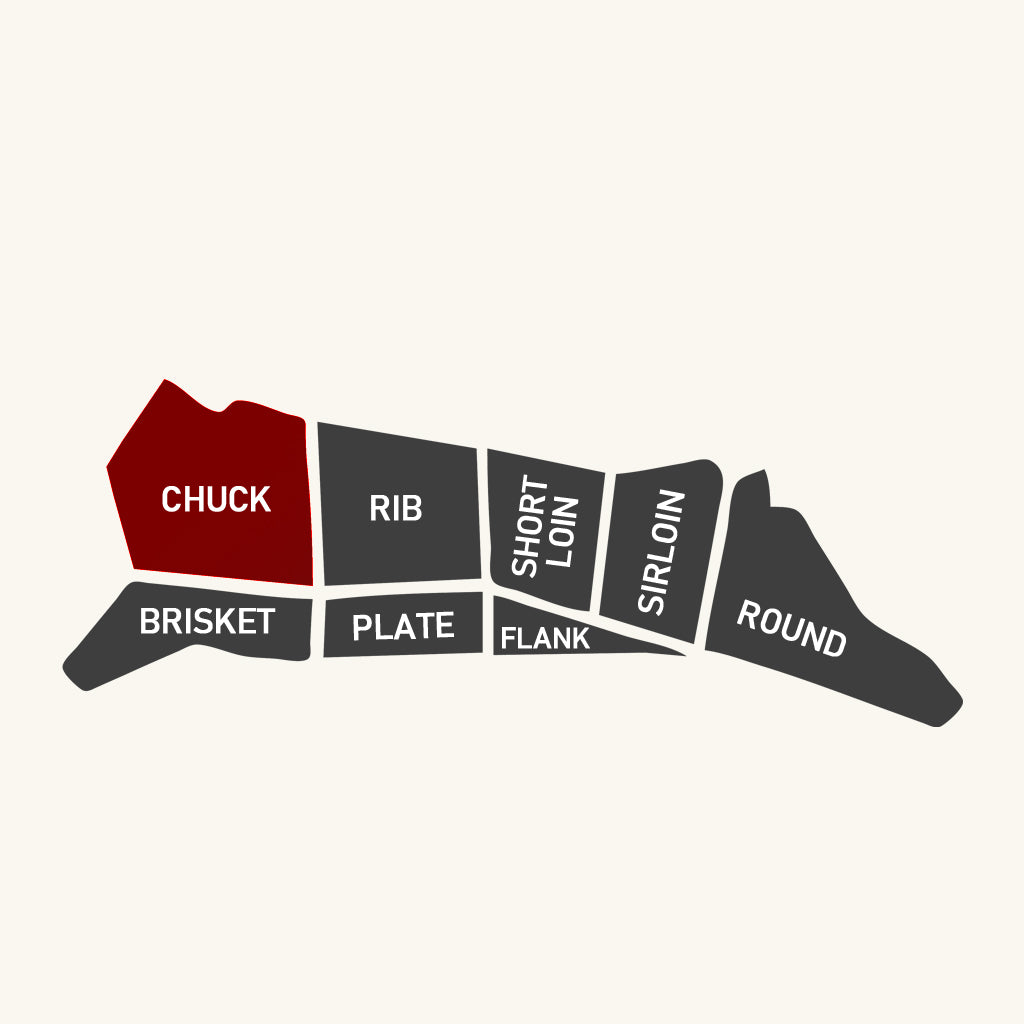 Morgan Ranch USDA Choice Beef Steak Burgers (2pc)
Buy More, Save More:
2 Burgers (Regular Price)
The two patties are packaged frozen together seperated by a wax sheet. They are easy to seperate once defrosted and the sheet must be removed before cooking.
Our all-time best-selling Morgan Ranch Beef burgers pre-shaped and vacuum packed. Each pack contains two patties. No fillers, no trimmings, no added fat. Absolutely no added ingredients. Just pure high-quality beef from the chuck. So clean, this burger can safely be eaten medium-rare. Our Morgan Ranch burger is served at a handful of high-end restaurants all throughout Japan from Okinawa to Hokkaido and is praised for its superior quality, rich beefy flavor, and juiciness. Taste the real taste of American Burger.

This meat is so good and of superior quality, we recommend serving as a simple burger without condiments or sauces that would cover up the original taste! All you need is to sprinkle a bit of good quality salt and fresh pepper while cooking. If you like, top with good quality red cheddar cheese or real Italian Gorgonzola cheese and serve with pickles. Tastes great over a real charcoal fire but the skillet or fry-pan at home does an excellent job as well.
Morgan Ranch Beef - one of the finest and most luxurious American beef money can buy. Directly imported into Japan from the Morgan family Ranch which is located in the pristine environment of the Sandhills in the heart of Nebraska. Discover the true taste of American beef. Free-range, pasture grazed, then finished on 100% vegetarian grain feed (200 days) for superior marbling, tenderness, and unprecedented taste experience. Never have the cows been treated with growth hormones or antibiotics! Morgan Ranch Beef is featured on the menus of the finest restaurants in the world including Michelin starred ones. All images from the ranch are actual images. See for yourself.
Contents
| | |
| --- | --- |
| Contents | 2 burger patties |
| Weight | 150g (5.3oz) per burger = 300g total (10.6oz) |
| Serves | Makes 2 burgers |
Shipping & Handling
Shipping
Shipping and delivery is frozen
Handling
Keep frozen below -18°C (0°F)
Defrosting Time
In the fridge: approx. 24h
In ice-water: approx. 2h
Cooking Method
Grill, Cast-Iron Skillet, Fry-Pan
Expiration
Frozen: see packaging label (usually more than 3 months)
Chilled: Please consume unopened pack within 5 days.
Details
| | |
| --- | --- |
| Also known as | Patty, Patties, Hamburger, Cheeseburger |
| Country of Origin | United States |
| Ingredients | Beef |
| Aged | 30 days wet-aged |
| Marbling Score | USDA Choice |
| Cut from | Shoulder Clod (Chuck) |
| Category | Burgers, Patties |
| Packaging | Vacuum packed together |
✔ Ethical. No factory farming! Humanely raised and treated with respect.
✔ Safe. No growth hormones or antibiotics - ever!
✔ Sustainable. The ranch sits on the world's largest underground water resource. All feed is locally sourced.
✔ Free-Range. All-year open pasture-raised in the heart of the sandhills, Nebraska. 
✔ Grass-fed, grain-finished on 100% vegetarian grain feed for superior tenderness, marbling, and an unprecedented taste experience.
✔ Full traceability. The Morgan family is in full control. One ranch, one family, one importer - ranch to fork!
✔ Strictly non-commodity. Family farming takes time, attention, patience, and care. Only 2% of all US beef is Prime graded.
✔ Morgan Ranch Beef is the number one choice of over 70 top-class gourmet restaurants in Europe, the USA, and Japan, including Michelin-starred ones.
At A Glance
| | |
| --- | --- |
| Cattle Breed | The breed contains Japanese Wagyu genetics. Composition of Wagyu, Angus and Hereford.  |
| Farm/Ranch | Morgan Ranch |
| Region | Nebraska, USA |
| Breeding | All-year free-range pasture grazed on 50 square kilometers (over 12000 acres!) in the heart of the sandhills. Sitting on the Ogallala Aquifer - the world's largest underground water resource. |
| Raised by | Dan Morgan and family |
| Farming Experience | Since 1934, Certified American Wagyu since 1992 |
| Feeding | Pasture grazed from birth, finished on grain feed containing maize, alfalfa (aka. lucerne), hay, distillers grains, vitamins, and minerals (100% vegetarian) for at least 200 days before harvesting. |
| Traceability | 100% fully traceable from farm to fork |
| Growth-Hormones | Never |
| Antibiotics | Never |
| Chemical pesticides on pasture | Never |
| Animal By-Products Feeding | Never |
| Importer | Horizon Farms, Inc. |
Defrost the burgers in the fridge overnight or in cold water for at least 2 hours.

There are two patties per pack, separated by a wax sheet. This is high-quality meat made from the chuck of beef only. There is no need to season with spices or mix with pork meat. All you need is freshly ground pepper and sea salt. 
Set the fry-pan to medium heat. Make sure to flip the burgers often so they cook evenly. Slightly press the burgers with a spatula during cooking to speed up the cooking process.
You know the burger is done when there is no pink juice running out when you press the burger slightly. Morgan Ranch burger is not made from trimmings or offcuts. Only the whole chuck of beef is used. You can enjoy the burger medium-rare. There is no safety concern.
Allow the burgers to rest on a cutting board for 5 minutes. Use high-quality natural buns.
A high-quality gourmet burger does not need heavy seasoning or sauces. We use freshly cut tomatoes and quality pickles.
Enjoy the finest, safest, and highest quality American burger, right at home with your family in Japan. 
Classic Burger
Took these camping and it was perfect. Already shaped into a patty, just threw them on the grill and had a delicious burger.
Really tasty, didn't change shape or size after cooking.
Translated from Japanese: It's surprisingly delicious. It doesn't smell like meat, but it's very meaty without being too much and the size is just right. I made a burger by sandwiching it between the buns and vegetables sold here as well. I'm glad that I can enjoy such a delicious hamburger at home.
Morgan Ranch Beef USDA Choice Beef Steak Burgers (2 pieces)
Translated from Japanese: They're the best just by using salt and pepper before grilling them. I've ordered them countless times already.
Translated from Japanese: Very hearty and delicious. I wanted to buy the buns as well, but they were out of stock. Too bad.