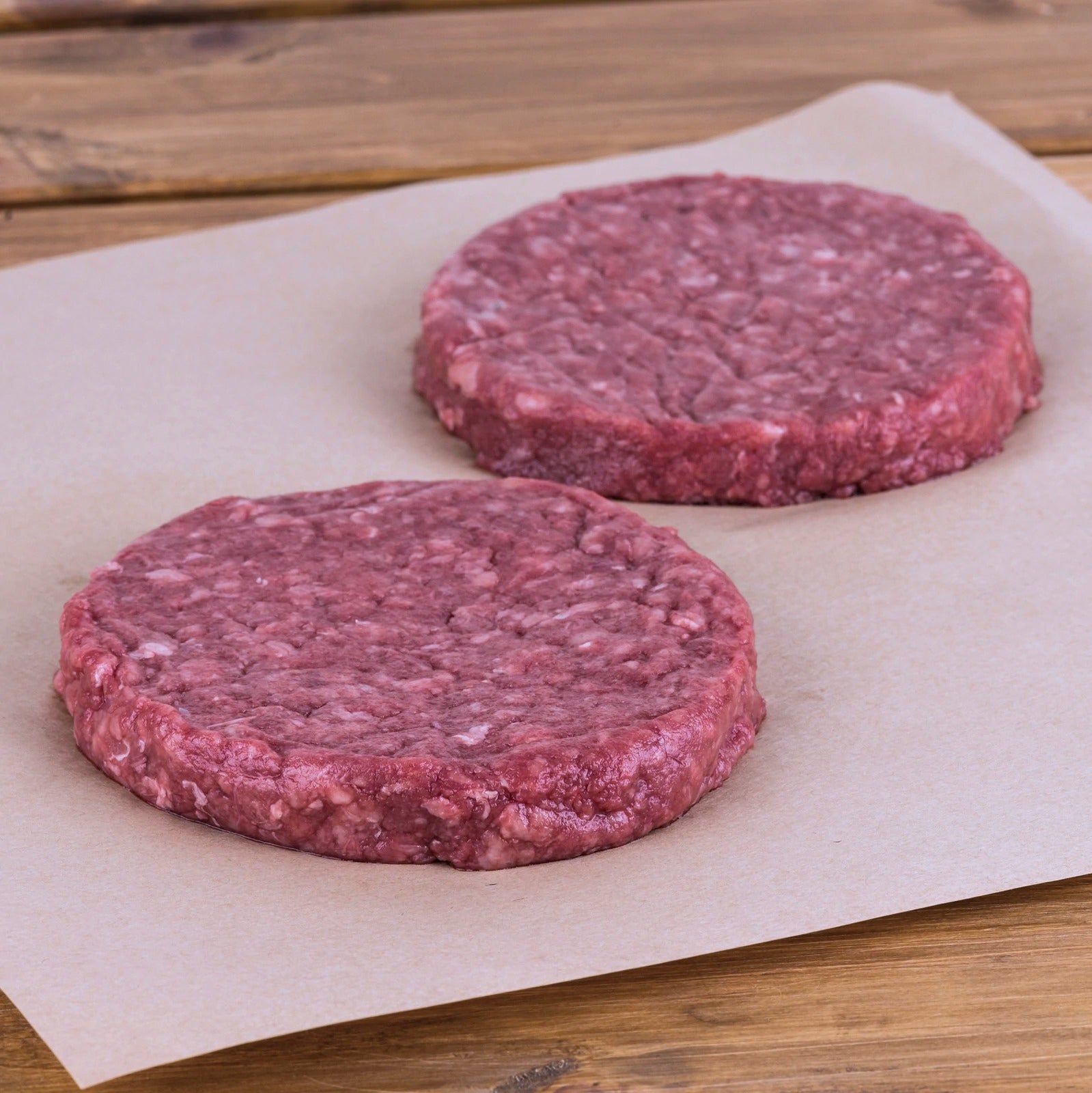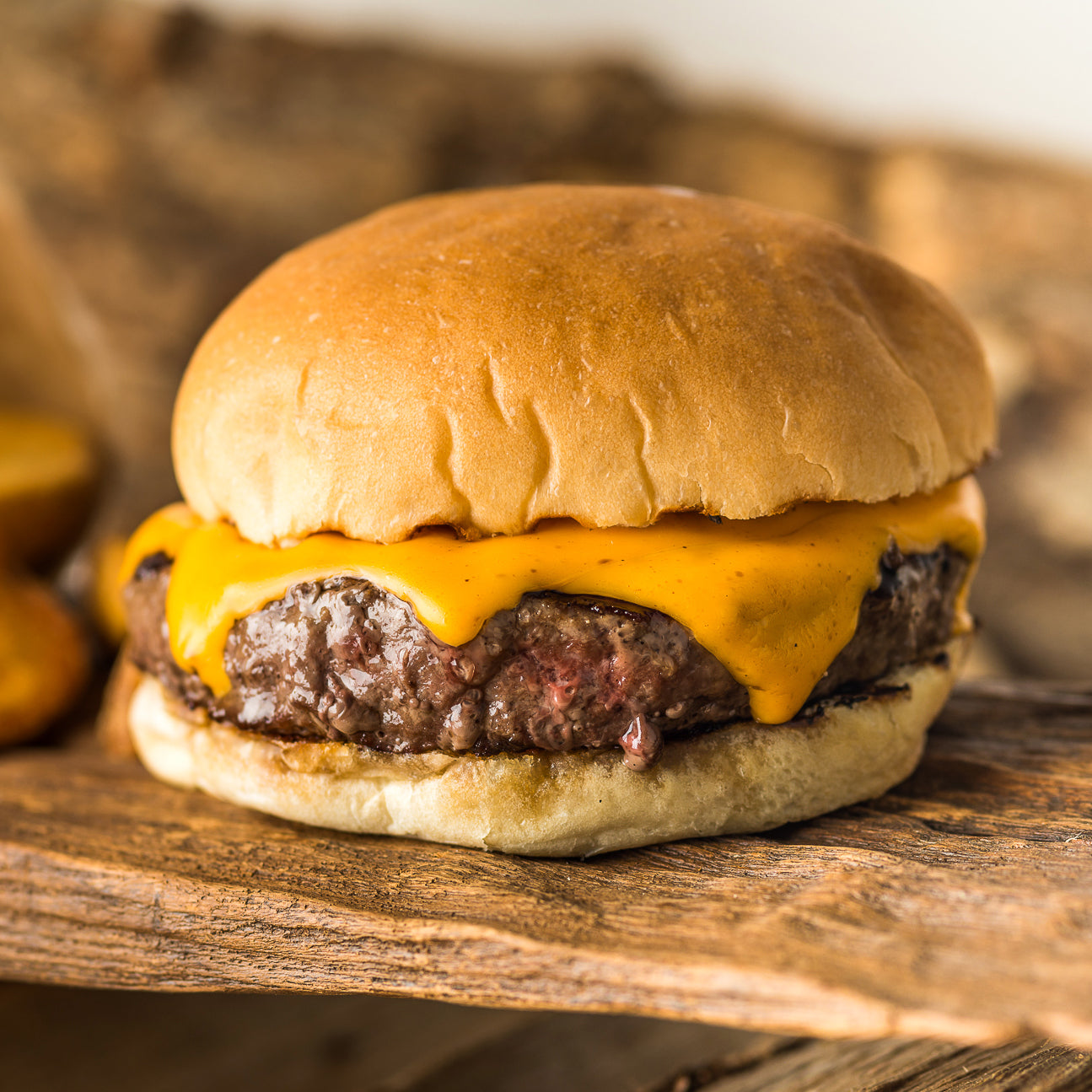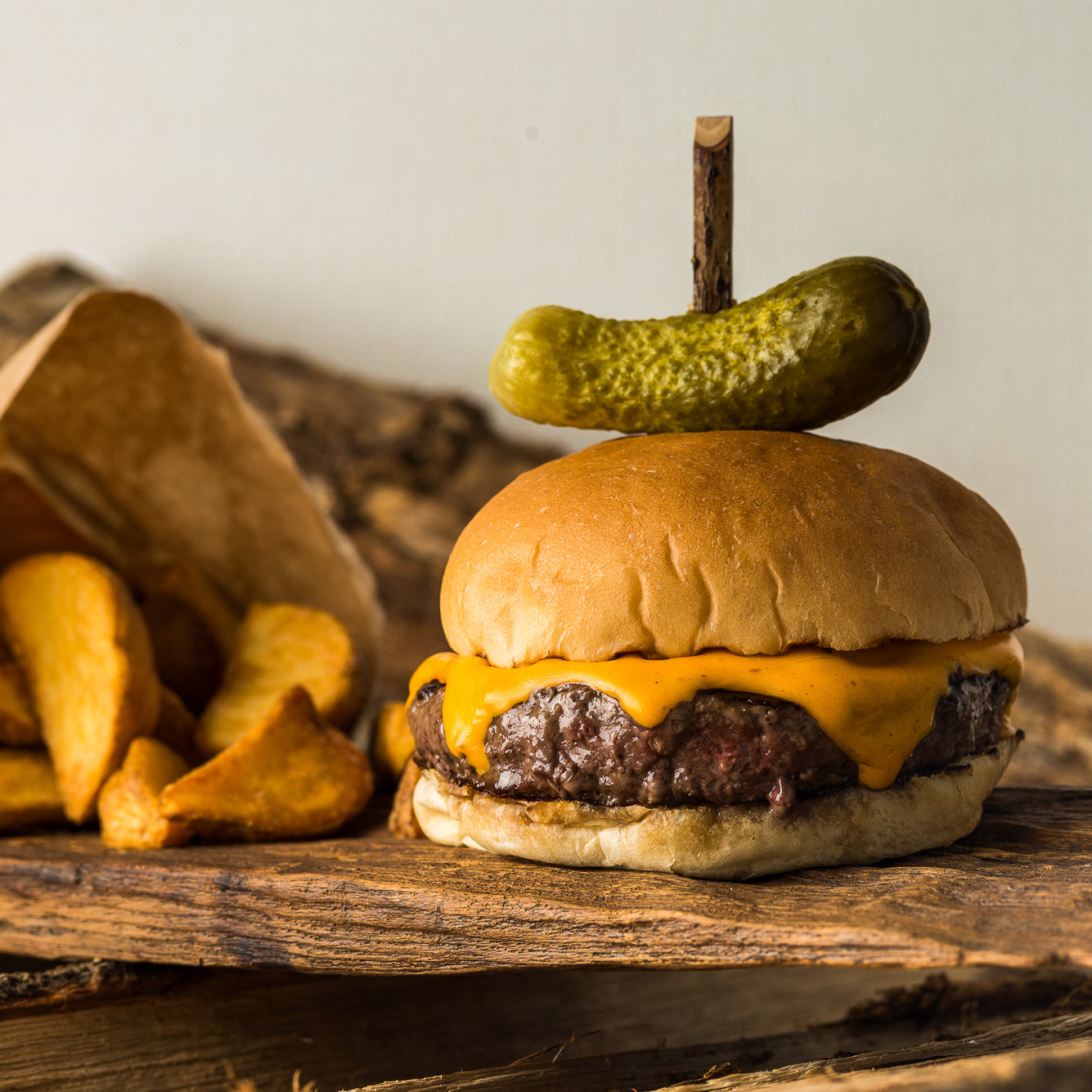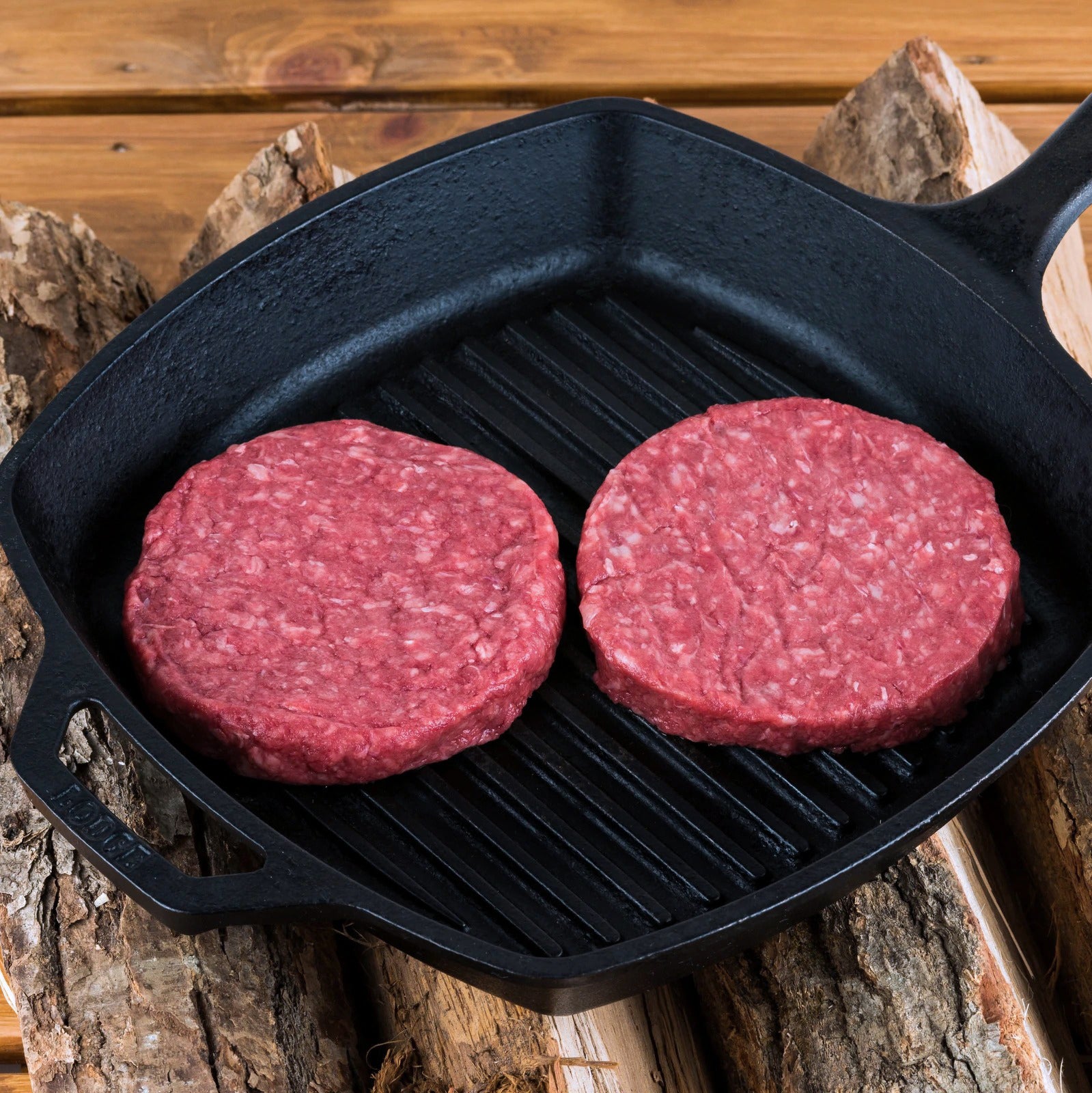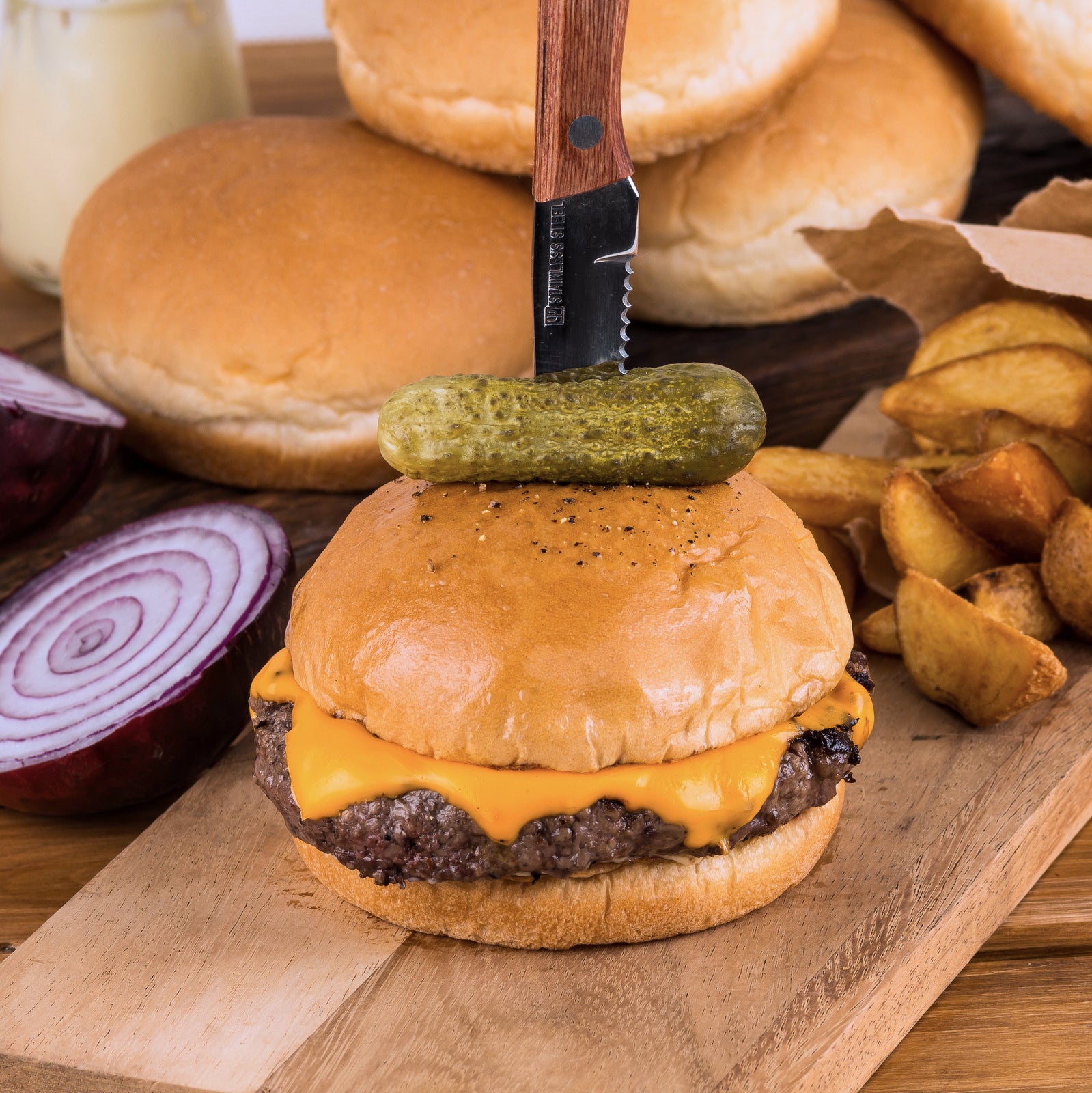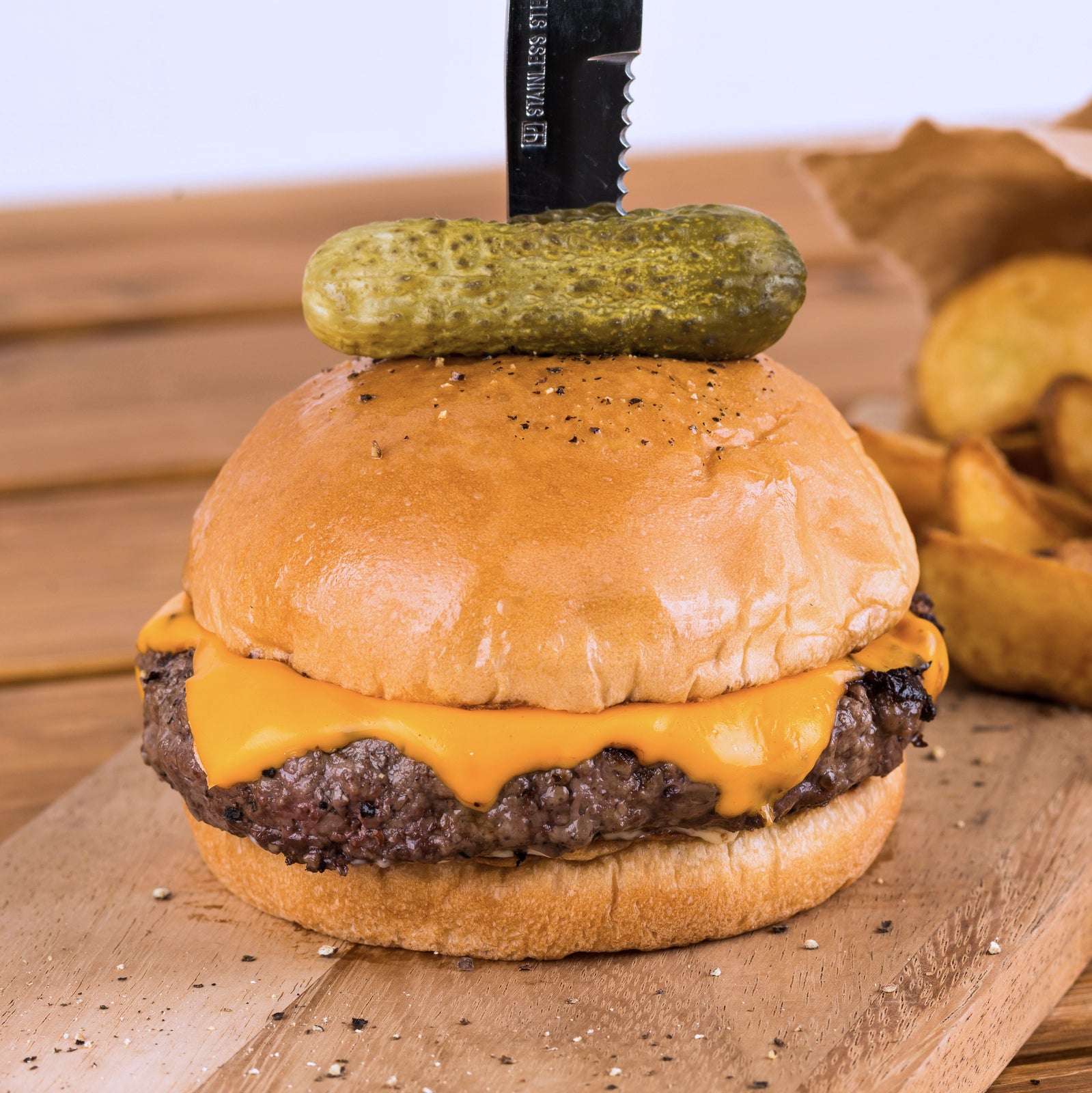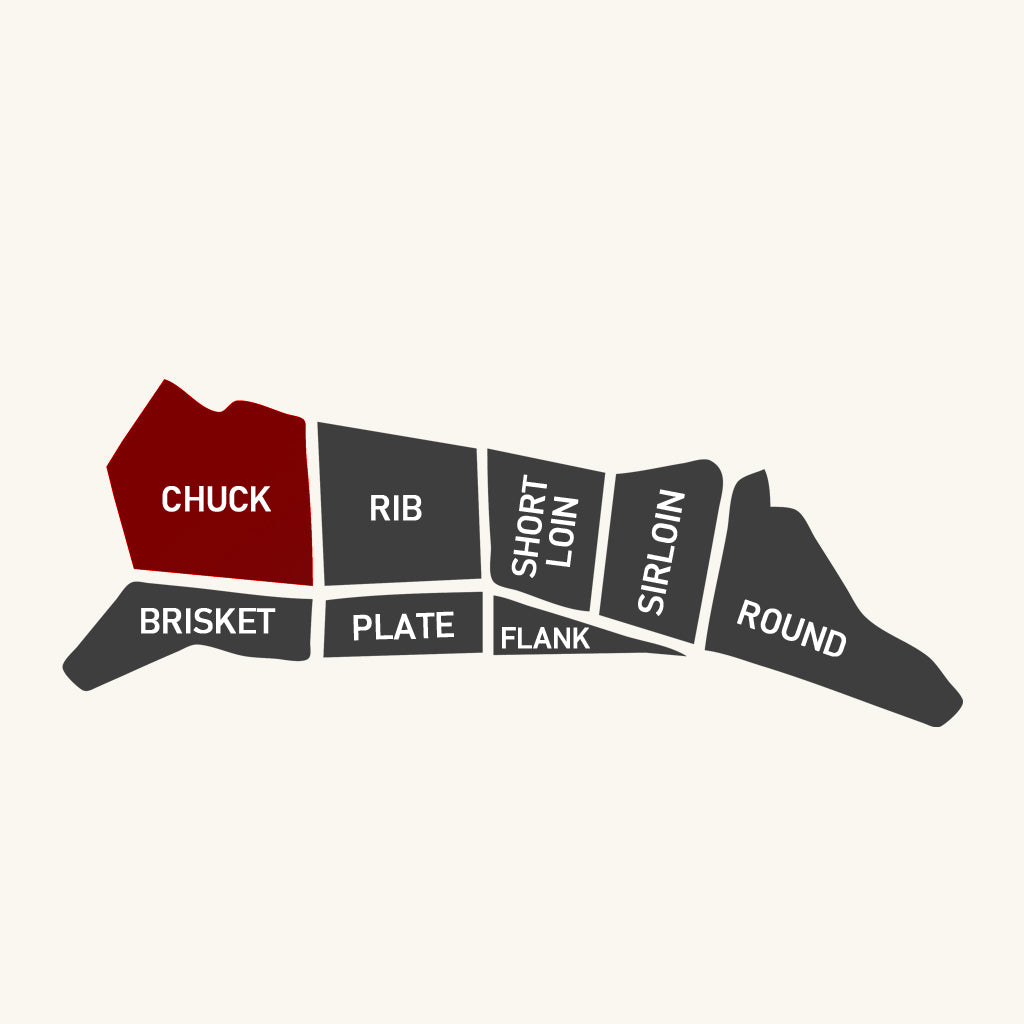 Grass-Fed Black Angus Beef Burgers (2pc)
Buy More, Save More:
2 Patties (Regular Price)
The two patties are packaged frozen together separated by a sheet. They are easy to separate once defrosted and the sheet must be removed before cooking.
Top-quality grass-fed Australian black Angus beef burgers. 100% beef - nothing else is added. Each burger patty is nicely shaped and weighs 150g (5oz) - the perfect volume and size for a classic burger. You get two per pack. 
We use only 100% beef chuck shoulder meat for our burgers - no trimmings or fat is added. The burgers come lean at a 15% fat to 85% red meat. Make sure to add enough salt-free butter while cooking for extra juiciness. Cook low and slow and turn often.
Gippsland Pure beef is directly imported from Australia by Horizon Farms. Nestled in the Gippsland heartland of Southeastern Australia, Gippsland Pure teams its passion for creating clean, safe, ethical, and nutritionally wholesome produce with some of Australia's most enviable prime farming land. Gippsland Pure's high-quality animal livestock practices result in superior eating quality meat and a subtle farming footprint on some of Australia's most beautiful land. All cattle are free-range pasture-raised on grass their entire life. No use of antibiotics or growth hormones - ever.


Contents
Contents
2 burger patties
Weight
300g (10.5 oz.), 150g (5oz) per patty 
Serves
Serves 2, 

makes 2 burgers
Shipping & Handling
Shipping
Shipping and delivery is frozen
Handling
Keep frozen below -18°C (0°F)
Defrosting Time
In the fridge: approx. 12h
In ice-water: approx. 1h
Cooking Method
Grill, Cast-Iron Skillet, Fry-Pan
Expiration
Frozen: see packaging label (usually more than 3 months)
Chilled: Please consume unopened pack within 5 days.
Details
| | |
| --- | --- |
| Also known as | Patty, Patties, Hamburger, Cheeseburger |
| Country of Origin | Australia |
| Ingredients | Beef |
| Cut from | Chuck (Bolar Blade) |
| Category | Burgers, Patties |
| Packaging | Vacuum packed |
At A Glance
| | |
| --- | --- |
| Cattle Breed | Black Angus |
| Farm/Ranch | Family Farms in Gippsland |
| Region | Southeastern Australia |
| Breeding | 100% free-range on open pastures for life. |
| Feeding | Grass-fed for life on open pasture. |
| Traceability | 100% fully traceable from farm to fork |
| Growth-Hormones | Never |
| GMO-feed | Never |
| Antibiotics | Never |
| Pesticides on Pasture | Never |
| Export and Processing | Processed, packaged, and frozen in Australia. Directly imported to Japan by Horizon Farms.  |
It is possible to cook the patties while they are still partially frozen but the cooking has to be done very very slowly. We recommend defrosting the burgers first for a better cooking experience.
There are two patties per pack, individually vacuum packed for convenience. Remove the burger patties from the packaging and let them rest at room temperature for about 10 minutes. Season lightly with freshly ground pepper and sea salt.
Grass-fed and grass-finished beef is always leaner and will require non-salted butter for extra juiciness. It also helps cook the patties evenly. Set the fry-pan to medium, you need to hear the burgers sizzle.

Flip the burgers often. Make sure both sides are cooking evenly. You will have juices flowing out during the process. You can press down the burgers with your spatula to accelerate the process. 
Crisp up the buns for a few seconds on the grill, skillet or fry-pan. You can also use a blow-torch.  
Serve with potatoes, pickles. Keep it simple. We recommend our customers to leave out any condiments to enjoy the natural and rich beefy flavor of the burger. 
Add cheddar cheese over the hot burger patties for a classic cheeseburger that will knock you off your feet.

Expensive, but the best you can buy
These burgers will not be those soft and bread and spice filled hamburgers you get from a fast food restaurant. However, these are the best burgers for your body and while expensive, I will buy these forever.
Yummy!!
I recently tried the Grass-Fed Black Angus Beef Burgers, and they were undeniably tasty. The patties had a great flavor and were cooked to perfection. I'm already planning to buy them again for my next meal.
This will be my usual get-go order here! Tasty and good price!
Tasty
Pretty tasty burgers. No where near as good as mine, but i am the burger king 😁
The only burgers we eat now
These burgers are so juicy and easy to work with. So much flavor and a perfect fat to meat ratio.