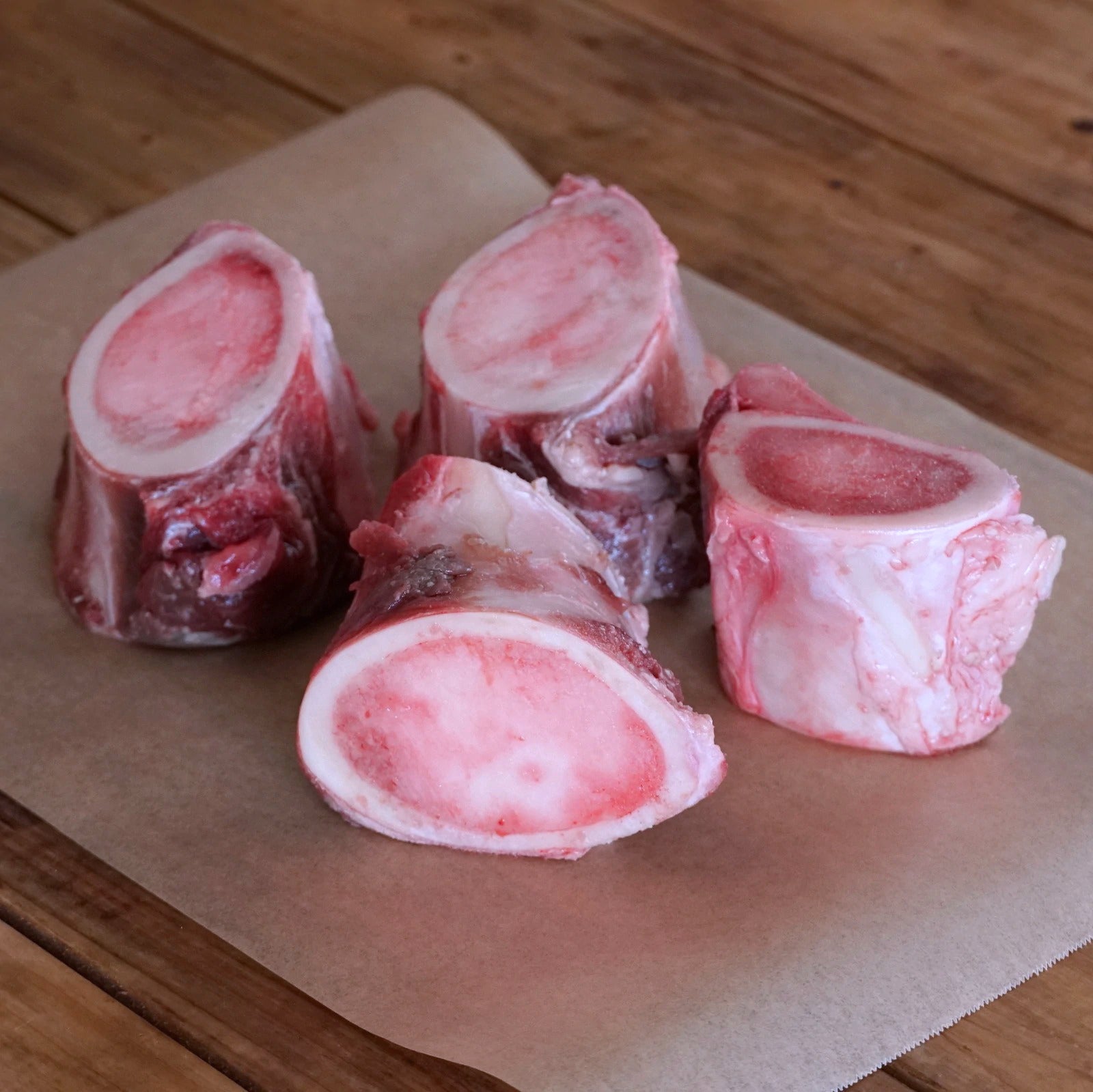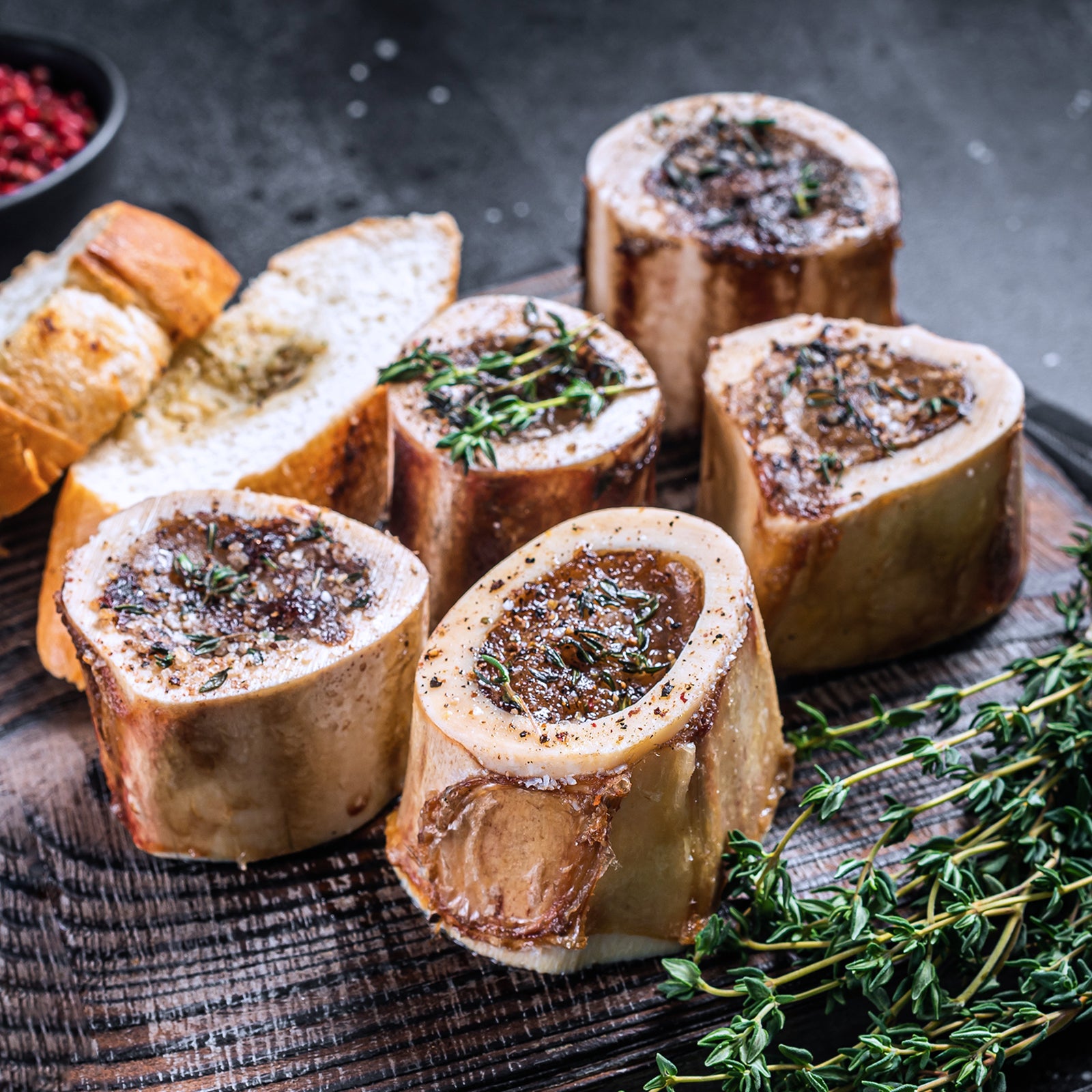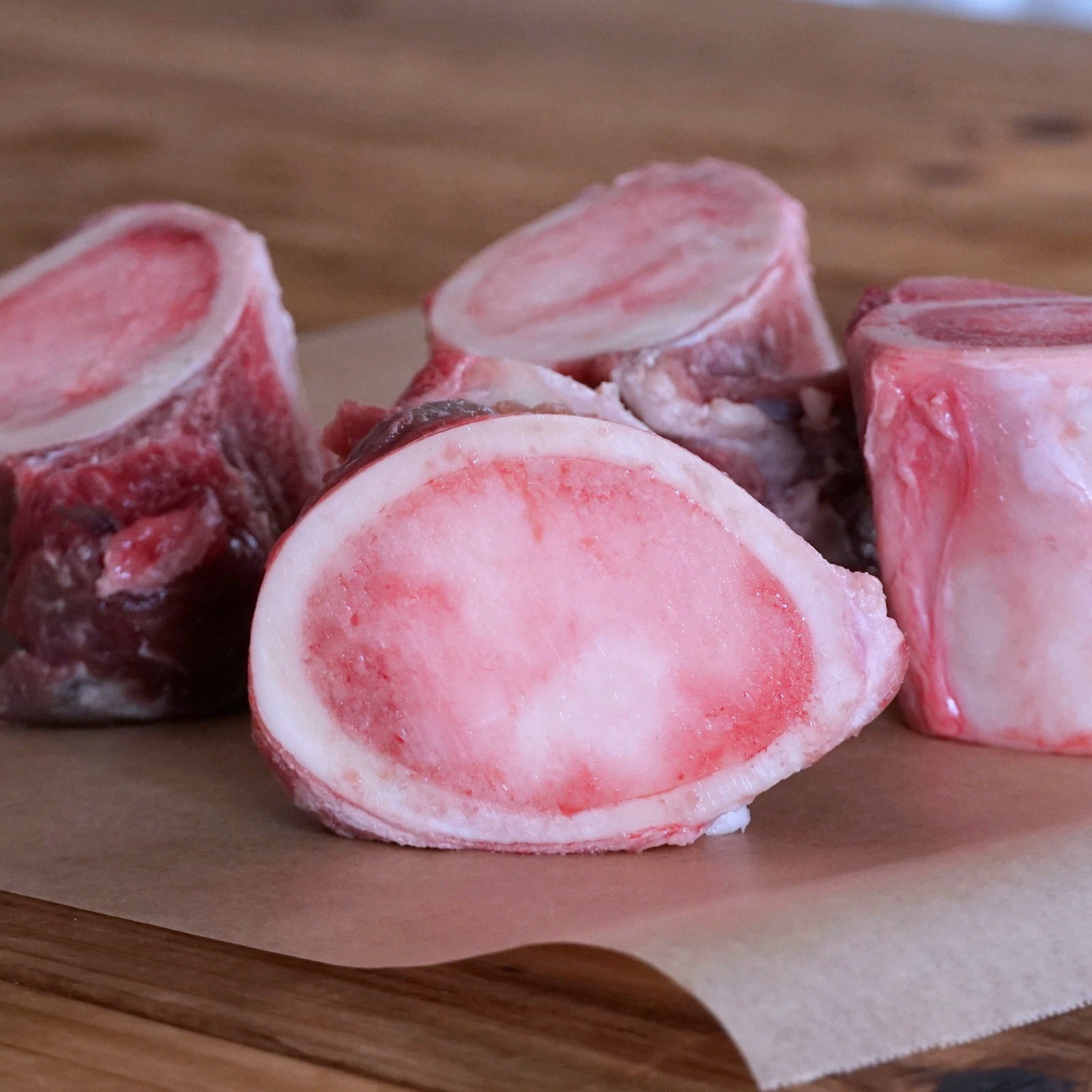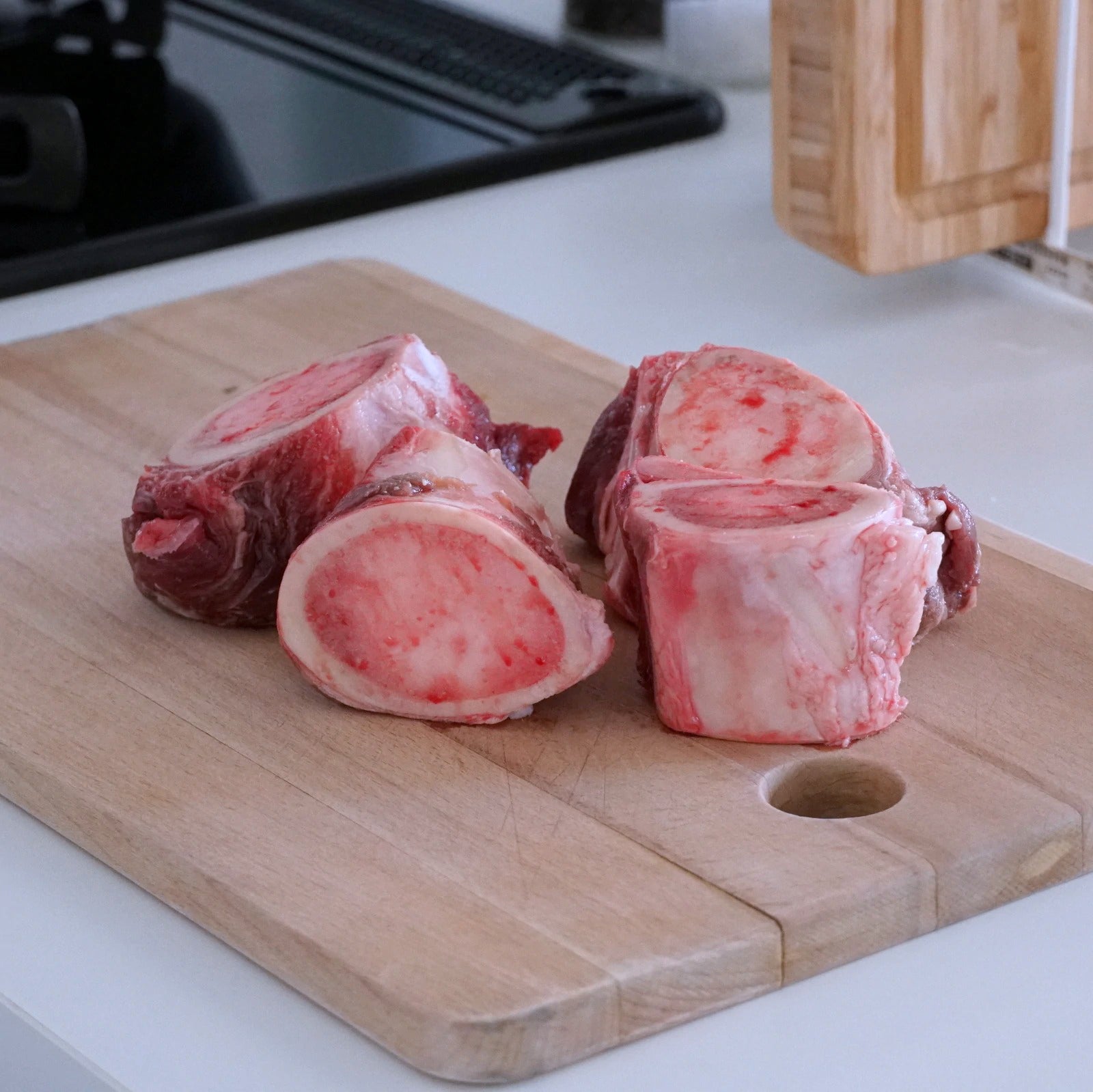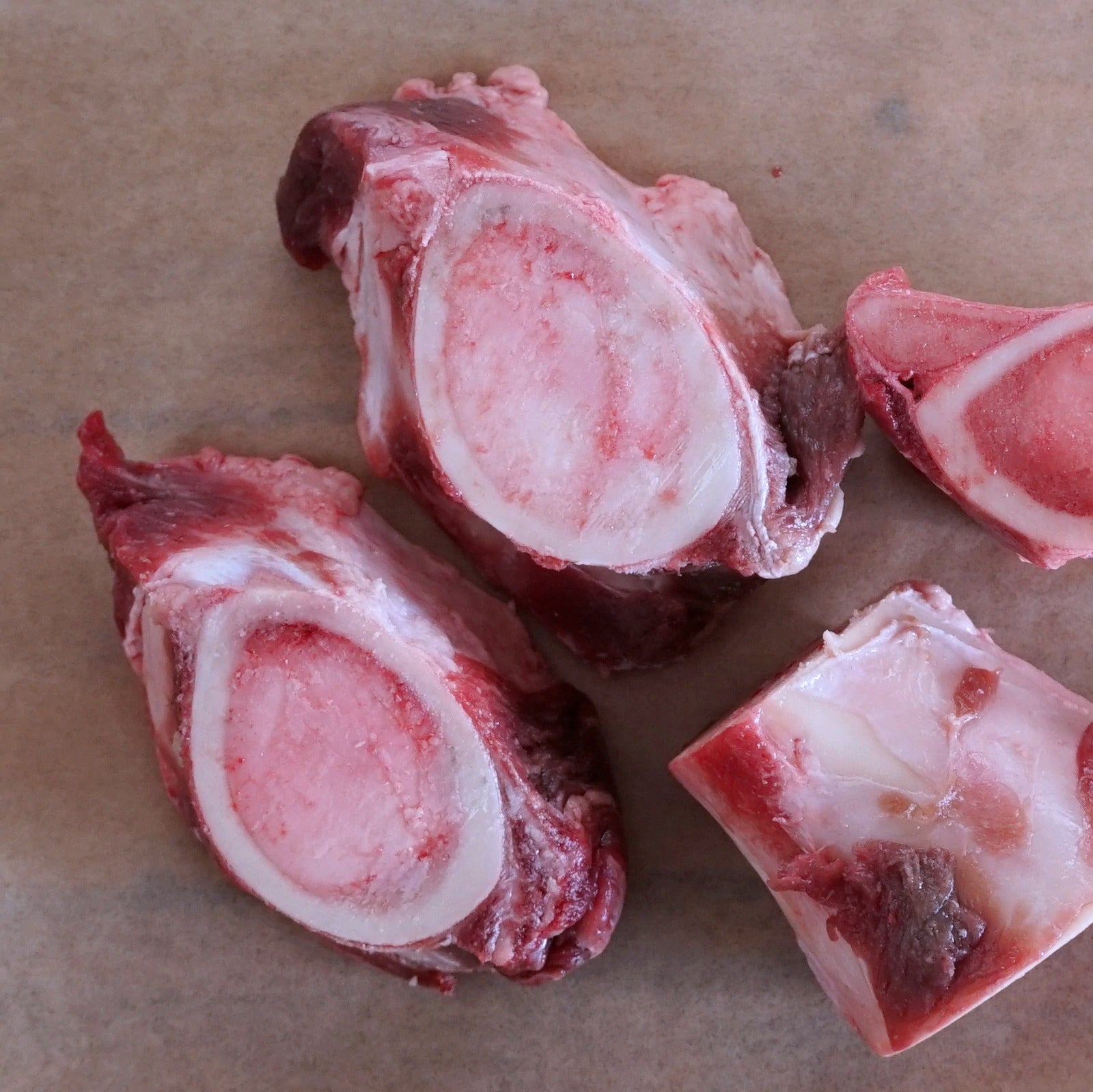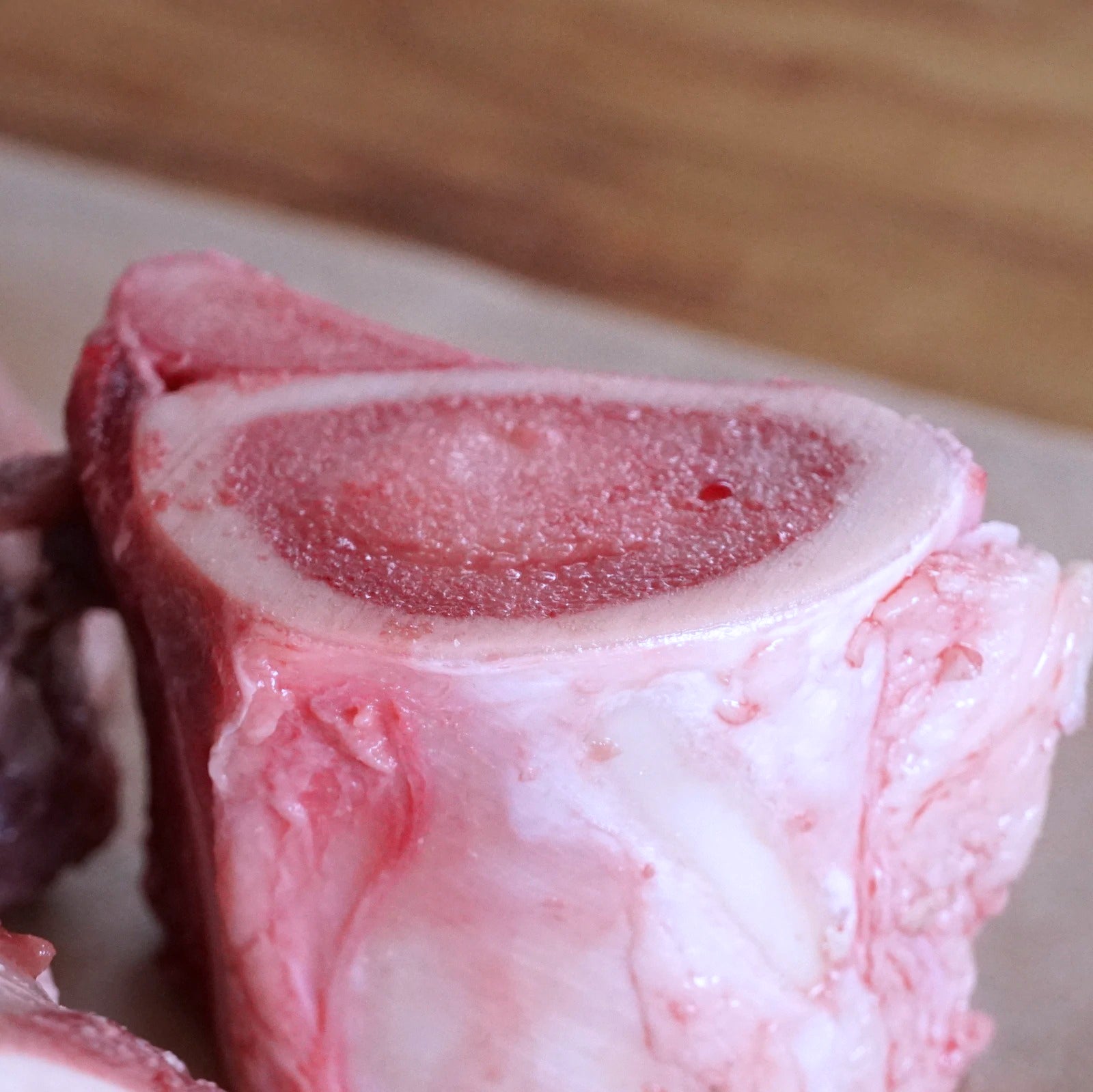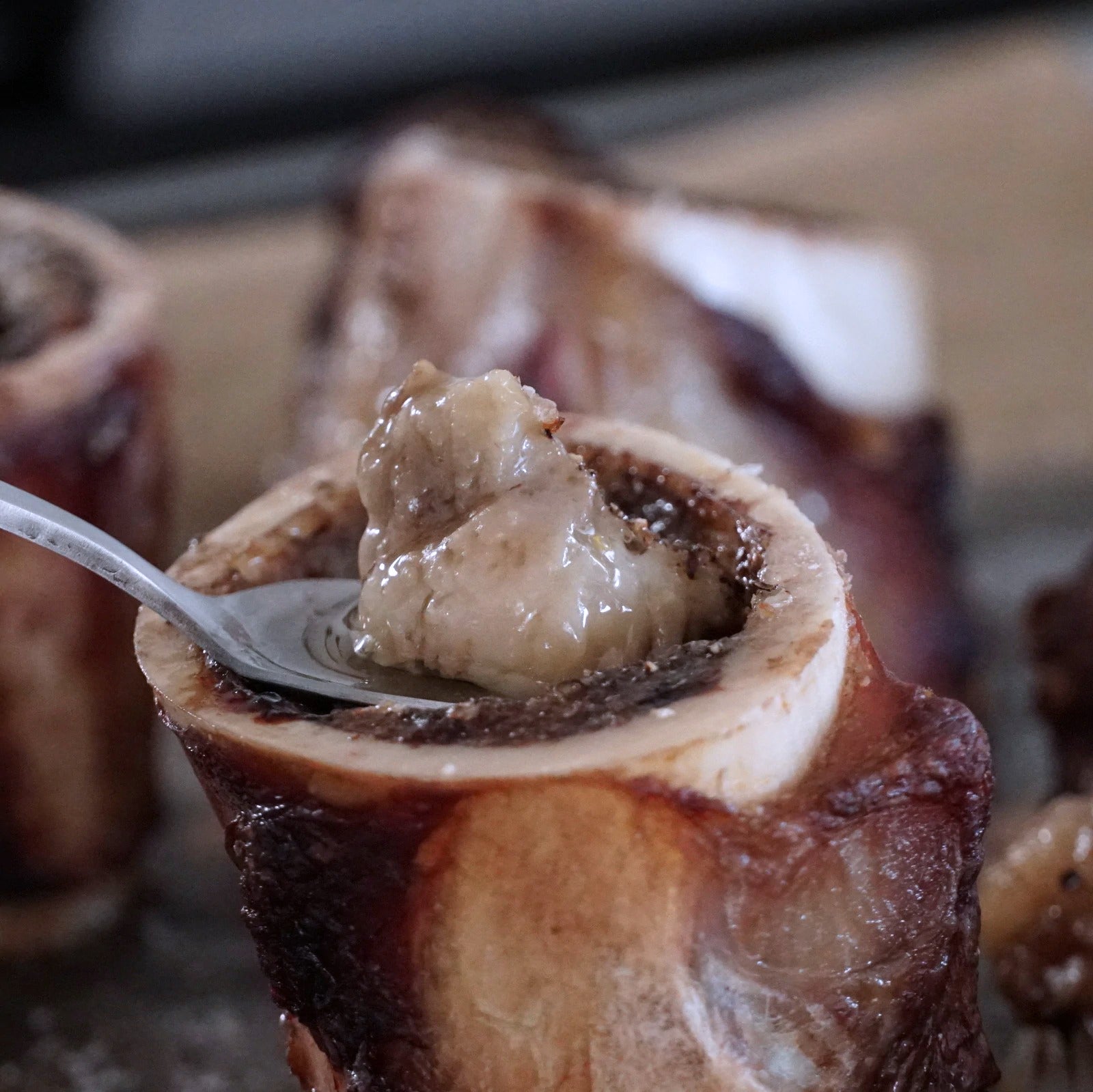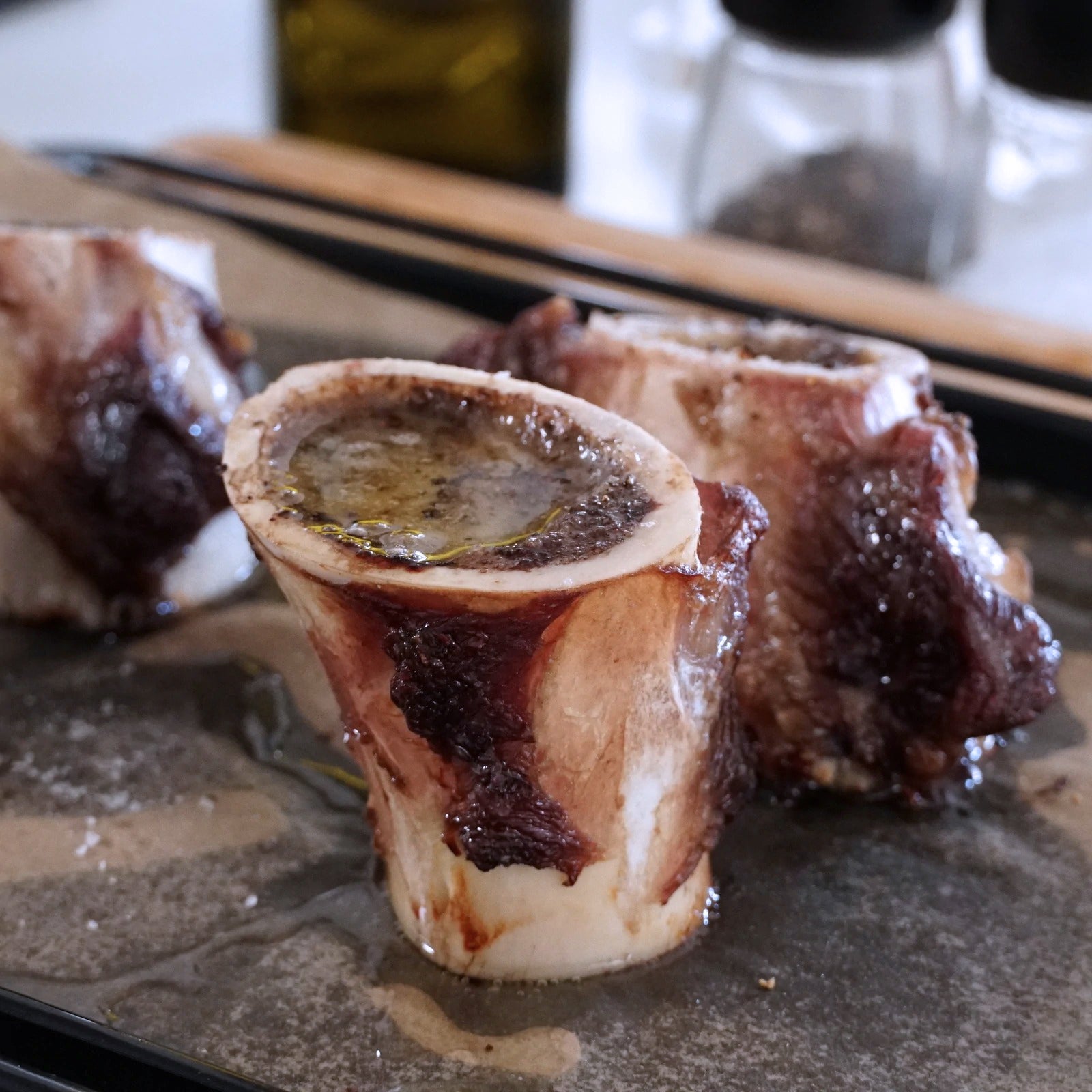 Grass-Fed Beef Marrow Bones from Australia (1kg)
Buy More, Save More:
1 Pack (Regular Price)
Extremely hard to come by in Japan. Beef marrow bones from happy free-range cows. Grass-fed and all free of antibiotics and growth hormones. Pasture-raised their entire life. These are the cleanest beef bones you can lay hands on in Japan. We guarantee that - or get your money back. Marrow bones have recently started to show up on gourmet restaurant menus - vertically cut into canoe style. You can use marrow bones to make super healthy bone broth, or you can roast the bones and use the marrow the same way you would use butter to spread it on your toast like in our example. Or cook steaks, eggs, or roast vegetables with it - the same you'd use ghee.
Why is it so difficult to find imported (grass-fed, free-range) marrow bones in Japan? Beef marrow bones are very heavy and bulky. Making transportation costs to Japan more expensive than the product itself. This is the main reason you won't likely find imported marrow bones anywhere else in Japan. The second reason is the lack of incentives for farmers. Exporting marrow bones is not a lucrative business and the bones are therefore sold locally for the market value. We work very closely with Australian farmers and exporters and are able to import a limited amount of marrow bones together with our regular products when there is room left in our container. Please expect this product not to be available all year round and to sell out fast. 

Due to limited availability, we source the bones from multiple farms in Australia. All of the bones are grass-fed. We guarantee that the cows were all pasture-raised for life and that the cows were never treated with growth hormones or antibiotics. 
Contents
| | |
| --- | --- |
| Contents | 1 pack of marrow bones |
| Weight | 1kg (2.2lbs.) |
| Serves | Varies greatly depending on the serving method. |
Shipping & Handling
Shipping
Shipping and delivery is frozen
Handling
Keep frozen below -18°C (0°F)
Defrosting Time
In the fridge: approx. 24h
In ice-water: not recommended.
Cooking Method
For soup making or serve as is.
Best By

Frozen: see packaging label (usually more than 1 month)
Chilled: Please consume unopened pack within 5 days.
Details
| | |
| --- | --- |
| Also known as | Beef bones, bone broth, marrow bones, beef stock |
| Country of Origin | Australia |
| Ingredients | Beef |
| Cut from | Bones |
| Category | Whole Cuts |
| Packaging | Loosely packed |
At A Glance
| | |
| --- | --- |
| Cattle Breed | English Hereford and Black Angus Breed |
| Farm/Ranch | Family farms from Australia |
| Region | New South Wales or Queensland |
| Breeding | 100% free-range on open pastures for life. |
| Feeding | Grass-fed for life on open pasture. |
| Traceability | 100% fully traceable from farm to fork |
| Growth-Hormones | Never |
| Antibiotics | Never |
| Animal By-Products Feeding | Never |
| Importer | Horizon Farms, Inc. |
| Processing in | Japan |
There are many ways to serve marrow bones. The gourmet-style way is to simply bake the bones in the oven to serve for scooping. For this, you need to defrost the bones in the fridge for at least 24h. Do not defrost in water or on the countertop. 
 Place on an oven tray and use a baking sheet if necessary. The marrow in the bone will melt. Make sure the bones are standing and not laying.
Season with freshly ground pepper and sea salt. Nothing else.
Preheat the oven to 180 degrees Celsius and place the bones in the middle for 30 minutes.
Soon after the marrow will start to bubble and liquify. Remove from the oven and serve while still warm. Sprinkle with parsley if at hand.
You can easily scoop the marrow with a small teaspoon. Spread on a piece of toasted bread. If you want to get real fancy, consider one of the marrow bone scoops that are available out there. Enjoy!
Very delicious and healthy broth that can be used in so many dishes.
Translated from Japanese: Purchased them to make bone broth.
Haven't made it yet, but looking forward to it!
I wanted to drink safe and reliable bone broth
Translated from Japanese: I was looking for a safe and reliable bone broth...and I found it. I usually make fish broth and this is my first time trying bone marrow, but it's so rich and easy to drink and tastes so good that it soaks into my body. This is real bone broth! I thought, "I can keep drinking this!" The correspondence and shipping was also very good.
Bone marrow is the best!
Translated from Japanese: The marrow is tender, rich, and delicious! The bone itself was large and the marrow packed inside was very satisfying.
Translated from Japanese: I bought it because of a friend who recommended this as the easiest to eat. I made my first boiled bone broth soup for my body. It's thick and mild. I'm not used to eating it, so I wondered how it would be. I thought it would be a salty soup along with vegetables. When made into curry, it had an authentic flavor. It was delicious. I have frozen it, so I'd like to try it in various dishes little by little.