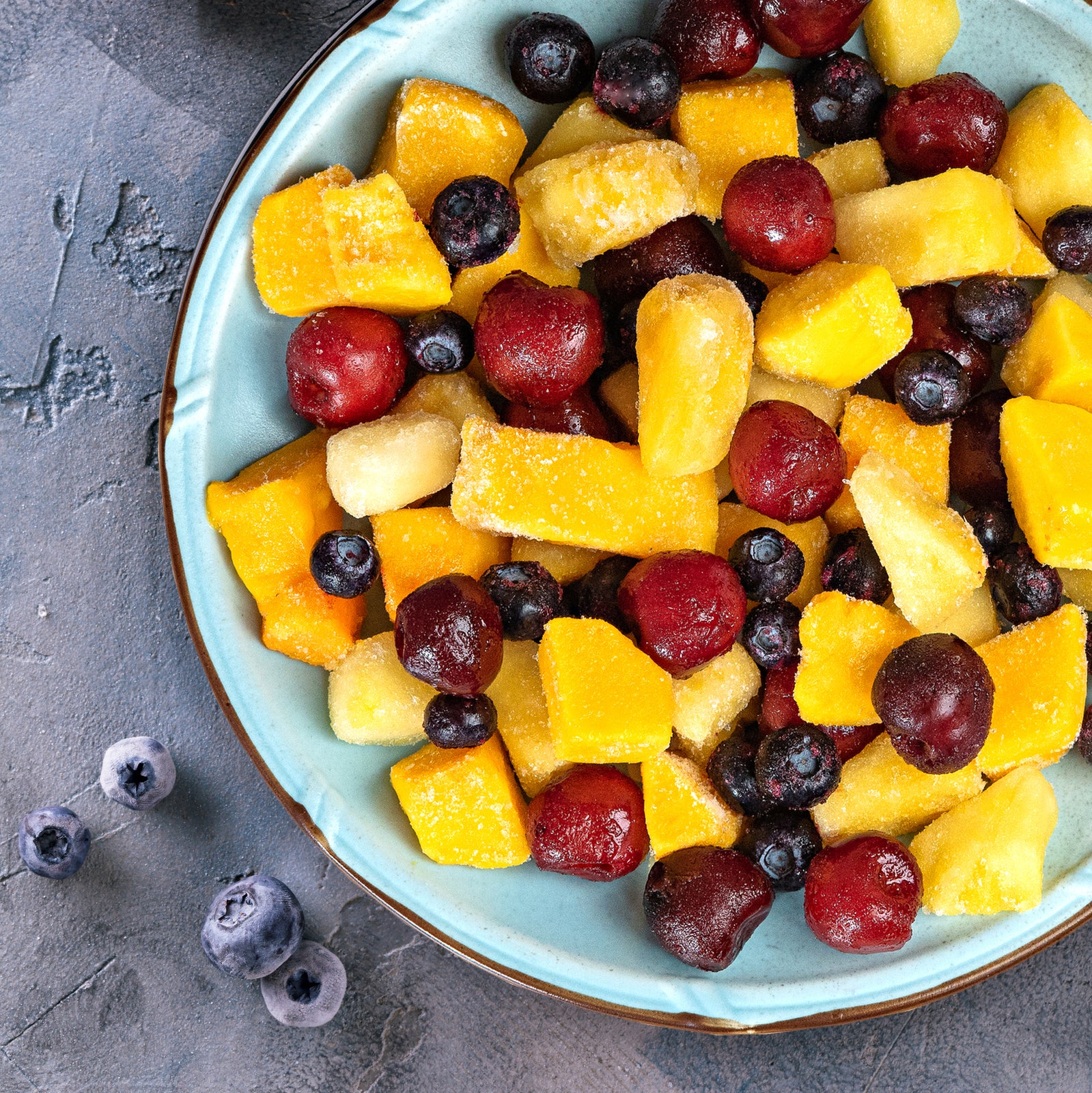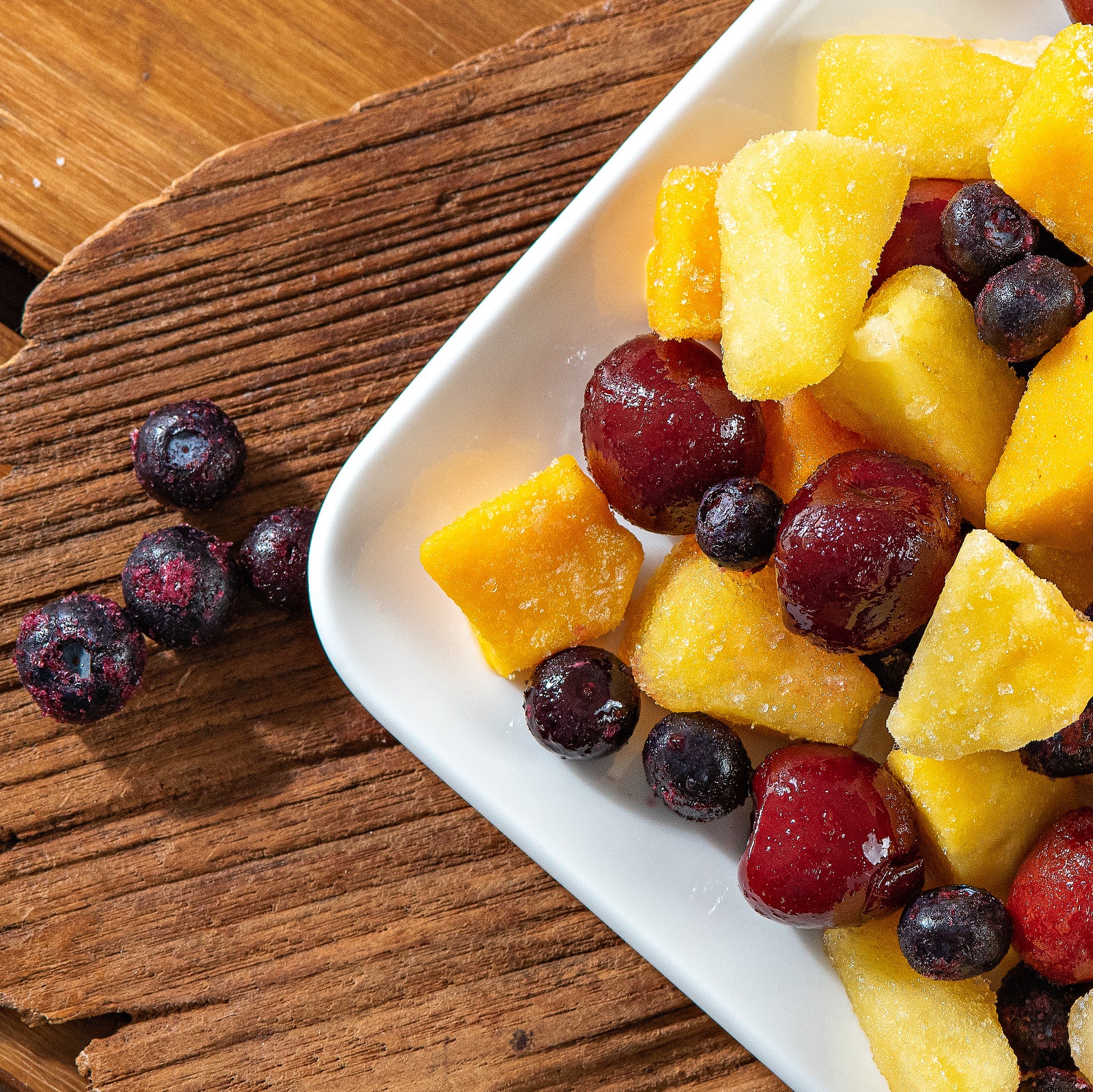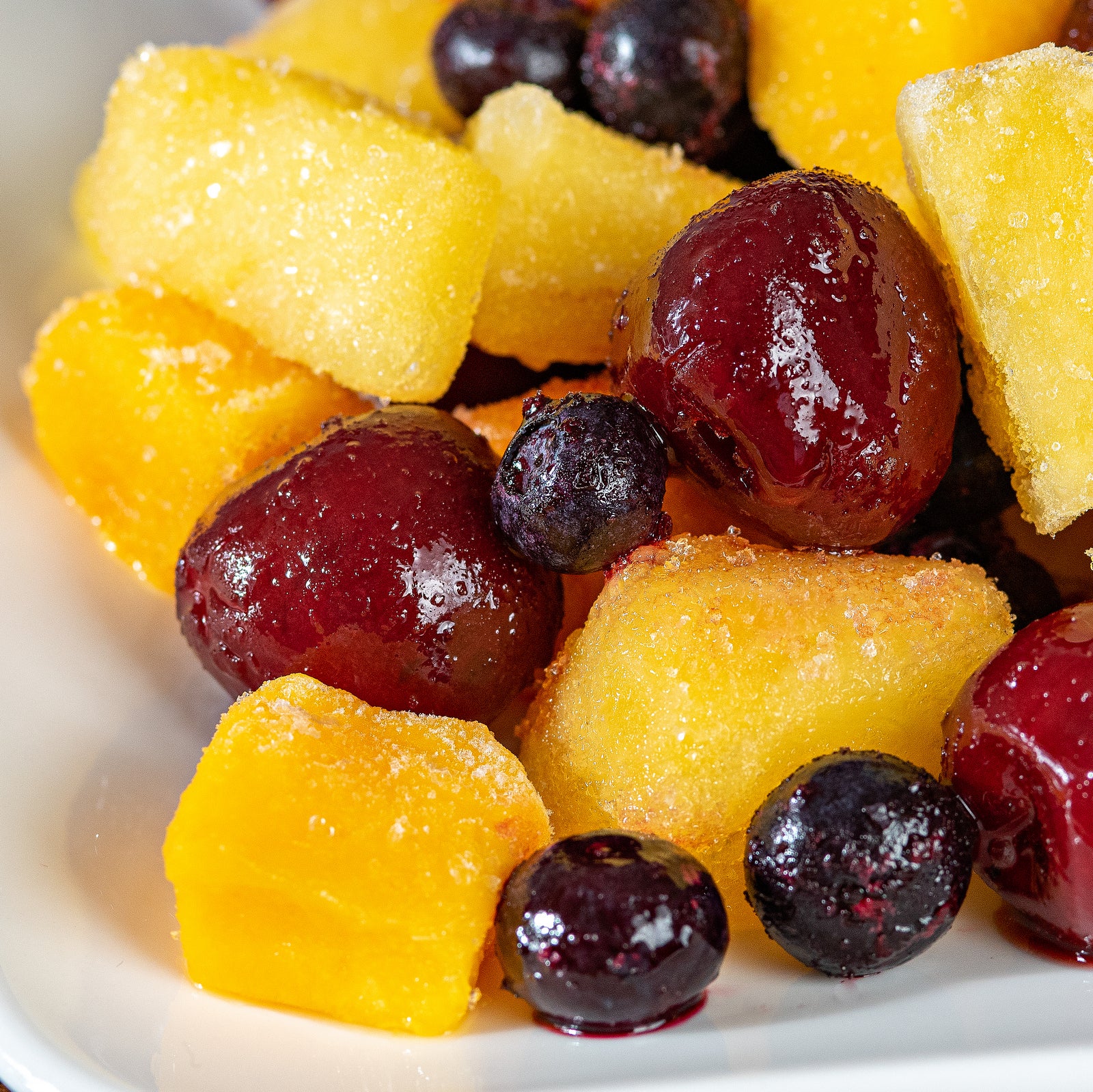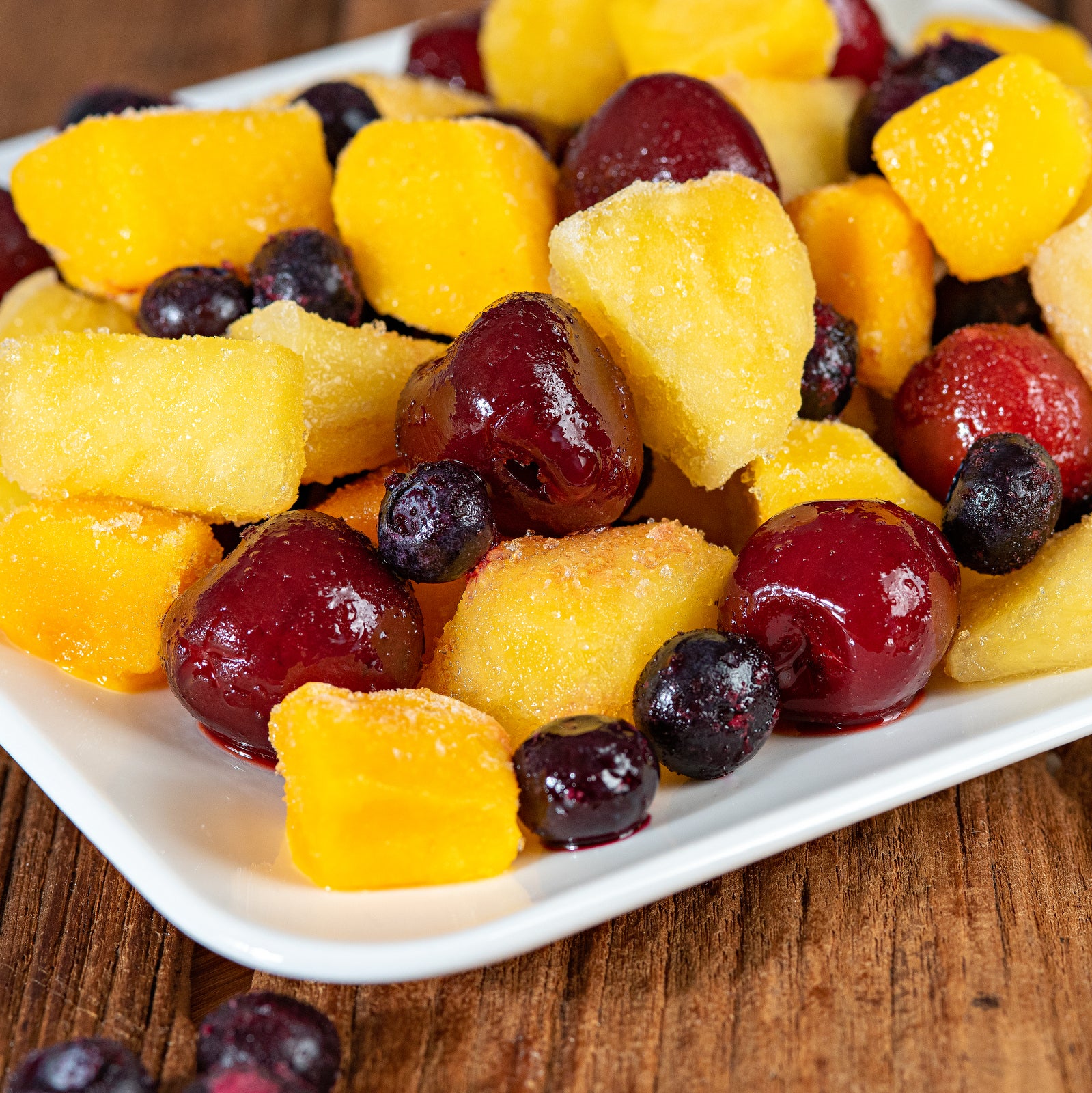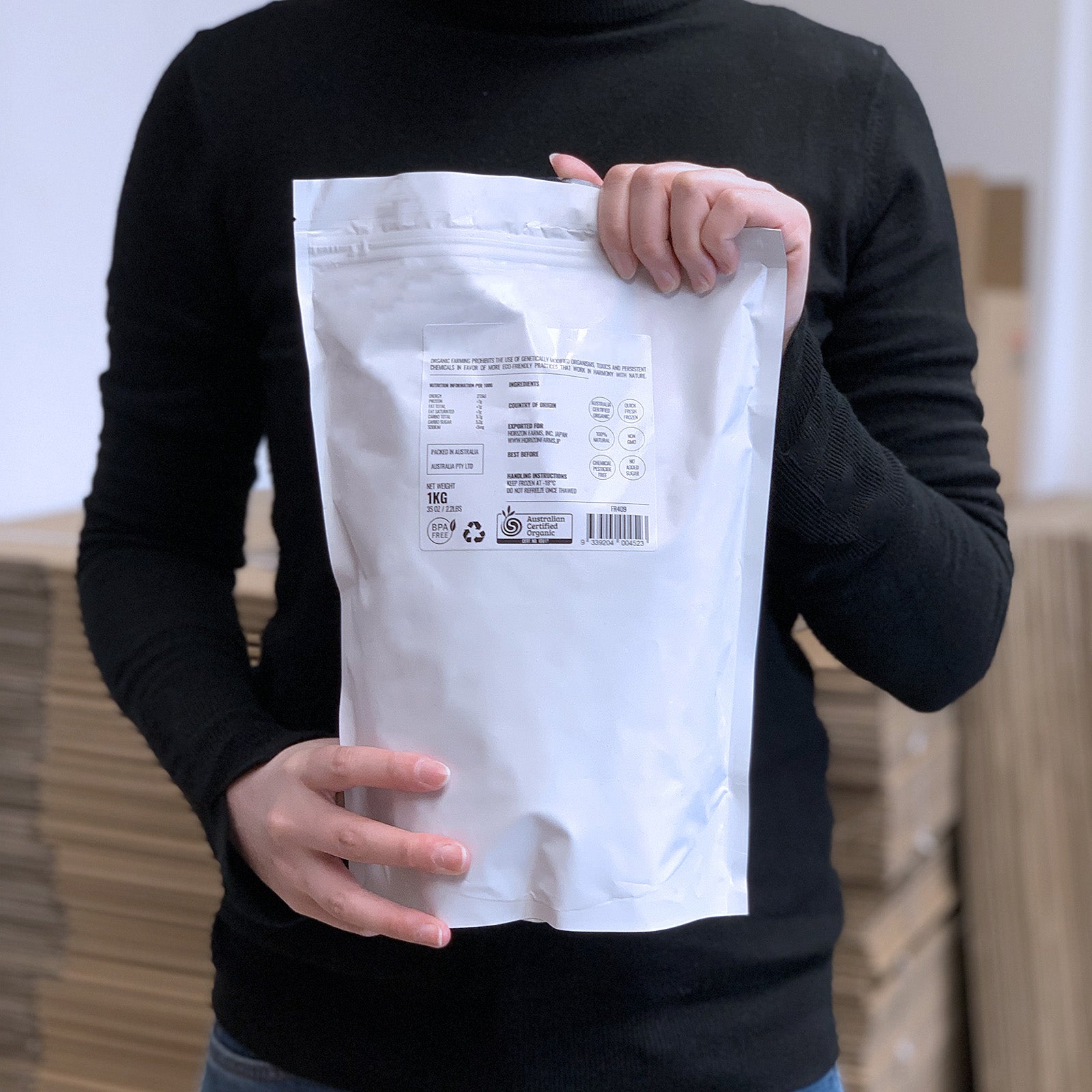 All-Natural Frozen Tropical Fruits Mix (1kg)
Buy More, Save More:
1 Pack (Regular Price)
Please note that this product is grown to organic standards of ACO (Australian Certified Organic) and USDA Organic - however, due to a bureaucracy issue this product is not recognized as JAS organic in Japan.
One full bag of 1kg (2.2lbs) naturally farmed fresh frozen tropical fruit mix from all over the world. All hand-picked and individually flash-frozen (IQF) right after harvest for freshness. The tropical fruit mix contains equal proportions of pineapple chunks from Costa Rica, blueberries from Chile, mango chunks from Peru, and sweet dark cherries from Turkey. No use of chemical fertilizers and pesticides. GMO-free. Please note that the dark cherry juice will stain all the other fruits, so when opening the bag everything might look red - consider this extra natural flavoring. 
OUR GUARANTEE
✔ All our imported fruits and vegetables are strictly tested for E Coli, coliforms, molds, yeasts as well as listeria and salmonella and therefore meet very high microbiological safety standards.
✔ Free of harmful synthetic chemical inputs such as fertilizer, pesticides, antibiotics, food additives, irradiation, and the use of sewage sludge.

✔ Free of genetically modified seeds (non-GMO)
✔ No added sugars, sodium, or refined starches. 
✔ The farmland and soil in use have at least been 3 years free of any chemical treatment before the harvest.
✔ Flash-frozen after harvest for maximum conservation of vitamins and nutritional values.
Please note that non-processed, non-GMO, and chemical-free produce will always have a minor degree of defects (less than 5%) these may include, decolorations, insect damage, broken damage, crumble damage, squashed damage, over or under maturity, and minor natural non-harmful mold.
Contents
| | |
| --- | --- |
| Contents | 1 pack |
| Weight | 1kg (2.2lbs) |
| Package Dimensions | 16 x 9 x 30cm (6.2" x 3.5" x 11.8") |
Shipping & Handling
| | |
| --- | --- |
| Shipping | Shipping and delivery is frozen |
| Handling | Keep frozen below -18°C (0°F) |
| Expiration | Check product label, usually more than 12 months. |
Details
Ingredients
25% Blueberries, 25% Pineapple, 25% Mango, 25% Sweet Cherries

Packaging

Resealable food-grade aluminum pouch

Country of Origin
Chile, Costa Rica, Peru, Turkey

Importer

Horizon Farms, Inc.

Organic Certificates 

Australian Certified Organic (ACO) - Certificate Number: 10817

Other

Please note that there may be some loss in shape, insect bites, scratches, or mold on the inside that cannot be seen during visual inspections, but they are not harmful and can be removed. Thank you for your understanding.

Nutritional Facts
100g serving size

Energy: 205kJ
Total Fat: 0.4g
Fat Saturated: 0g
Sodium: 77.3mg
Total Carbohydrate: 11.9g
Carbohydrate Sugar: 9.8g
Protein: 0.4g

Translated from Japanese: I was looking for a safe, pesticide-free product to feed my children. It's more expensive, but indispensable for my peace of mind.
I wish there was a bigger discount for those buying in bulk.
Tropical flavors
Translated from Japanese: This combination is very delicious.
Translated from Japanese: This is one of the products I ordered again.
I make smoothies every morning, so organic fruits are a must, but it's not easy to prepare fresh organic fruits all year round, so there are very useful.
Except for the pineapples, all of the fruits thaw in a few minutes indoors, so I recommend eating them as a snack, too. All the fruits are delicious!
I like the combination
Translated from Japanese: When I open the bag, it smells like mango. The mango and pineapple are dyed in blueberry color, so it doesn't look as colorful as the product image, but everything is very delicious. These 4 types are my favorite combination, so I plan to order again.
Translated from Japanese: It had really big cuts of pineapple and mango in it!