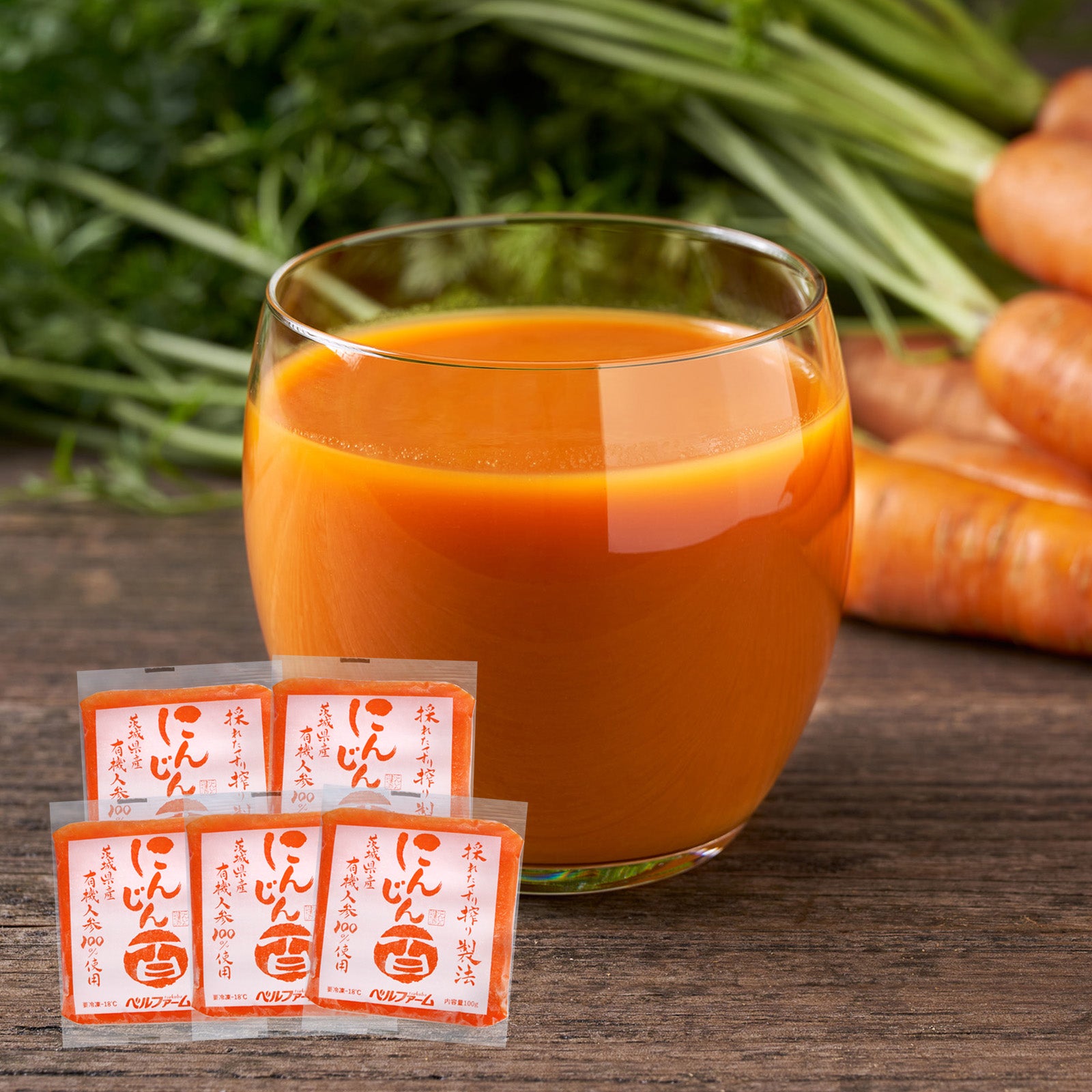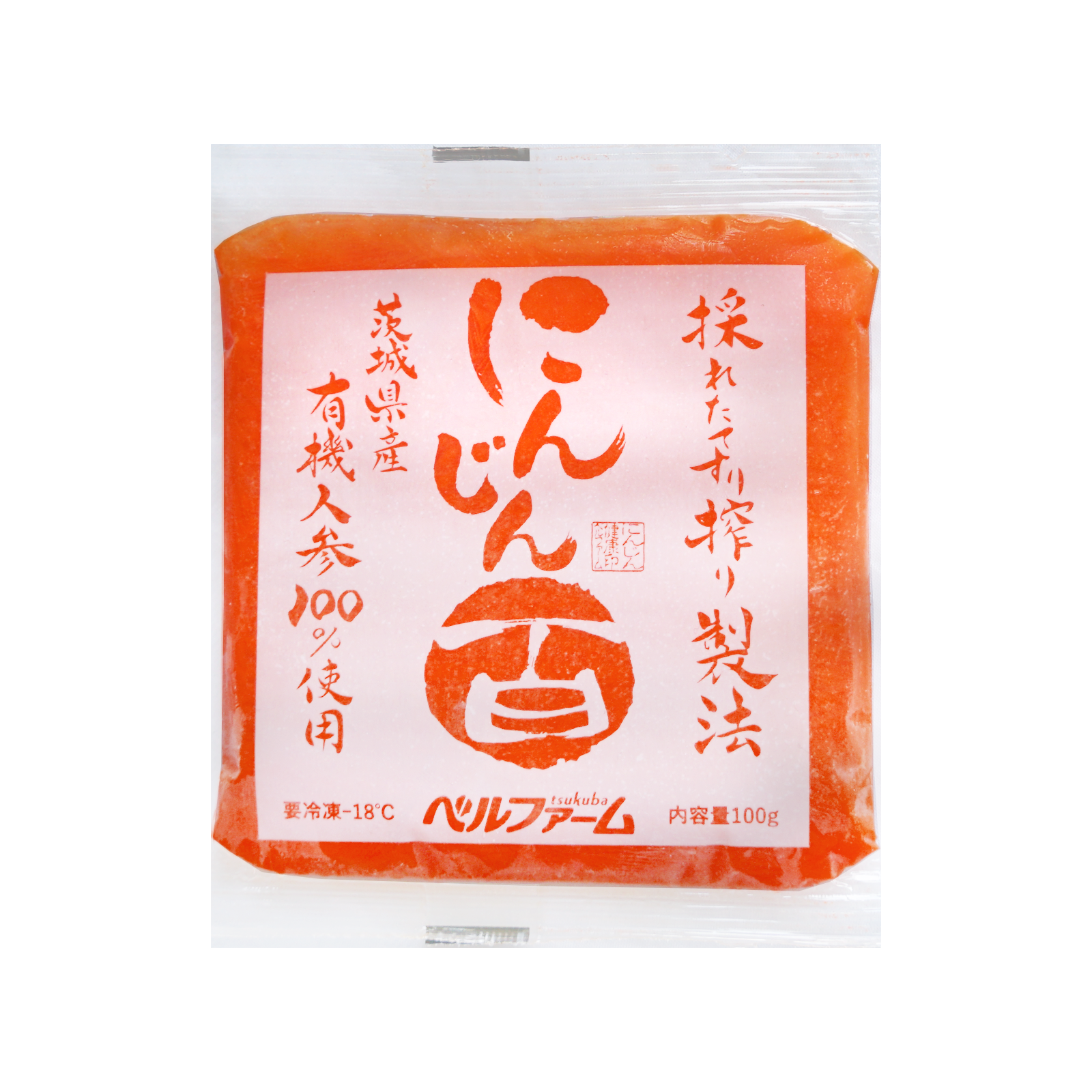 Certified Organic Additive-Free Straight Carrot Juice (500g-2kg)
Buy More, Save More:
100g x 5 = 500g (Regular Price)
Please note that although this product itself does not contain the certified JAS logo, rest assured it is made with 100% organic JAS-certified carrots.
5 packs, 100g (3.5oz) each, of certified organic, 100% straight carrot juice. Made from organic carrots with grown longer than usual to add an extra boost of sweetness and flavor. No use of added sugars, additives, preservatives, antioxidants, coloring agents and other nasties. 100% carrot juice with absolutely no water added. An easy and quick way to take in nutrients such as β-carotene, vitamin C, vitamin E and polyphenols.
The carrots are naturally and carefully grown in clean soil that has been free of chemical fertilizers and pesticides for over 30 years. After harvesting, they are thoroughly cleaned and pressed then frozen at low temperatures to retain maximum freshness and nutrients. Instead of a typical mixer that easily oxidizes due to the heat from the rotating blades, the juice is pressed using a patented low-speed pressing method that ensures the remainder of enzymes, vitamin C and other nutrients.
The juice is in a flat plastic package that can be stocked in the freezer without taking up much space at all. The defrosting time is conveniently short and which means you don't need a mixer. After defrosting, simply pour the juice into a cup and enjoy fresh, delicious and healthy carrot juice before starting the day.
Contents
Contents
Choose between 5, 10 or 20 plastic bags

Volume

100g x 5 bags = total 500g (17.6oz)
or
100g x 10 bags = total 1kg (2.2lbs)
or
100g x 20 bags = total 2kg (4.4lbs)
Shipping & Handling
| | |
| --- | --- |
| Shipping | Shipping and delivery is frozen |
| Handling | Keep frozen below -18°C (0°F) |
| Defrosting Method | Defrost with liquid inside the bag under running water. Can also be defrosted in hot water below 35℃ (95°F). |
| Best By | Check the product label; usually more than 6 months. Consume immediately after defrosting. |
Details
Also Known As
Carrot Juice, Vegetable Juice, Veggie Juice, Pure Carrot Juice

Ingredients
Organic carrots (Ibaraki Prefecture)

Country of Origin
Japan

Package Dimensions

12.5cm x 10.5cm x 1.2cm (4.9" x 4.1" x 0.5")

Nutritional Information
Nutritional Values Per 100g



Energy: 28kcal




Protein: 0.8g




Fat: 0.2g




Carbohydrate: 5.7g


Sodium: 8mg
β-Carotene: 5,240μg

So good
Very sweet and delicious juice🧡🧡🧡🥕🥕🥕
High quality as always❣️
🥕ORGANIC STRAIGHT CARROT JUICE 🥕
This is the most delicious carrot juice I have ever had! Please keep this in stock. I could never have enough of this!!
⭐️⭐️⭐️⭐️⭐️
HIGHLY RECOMMEND