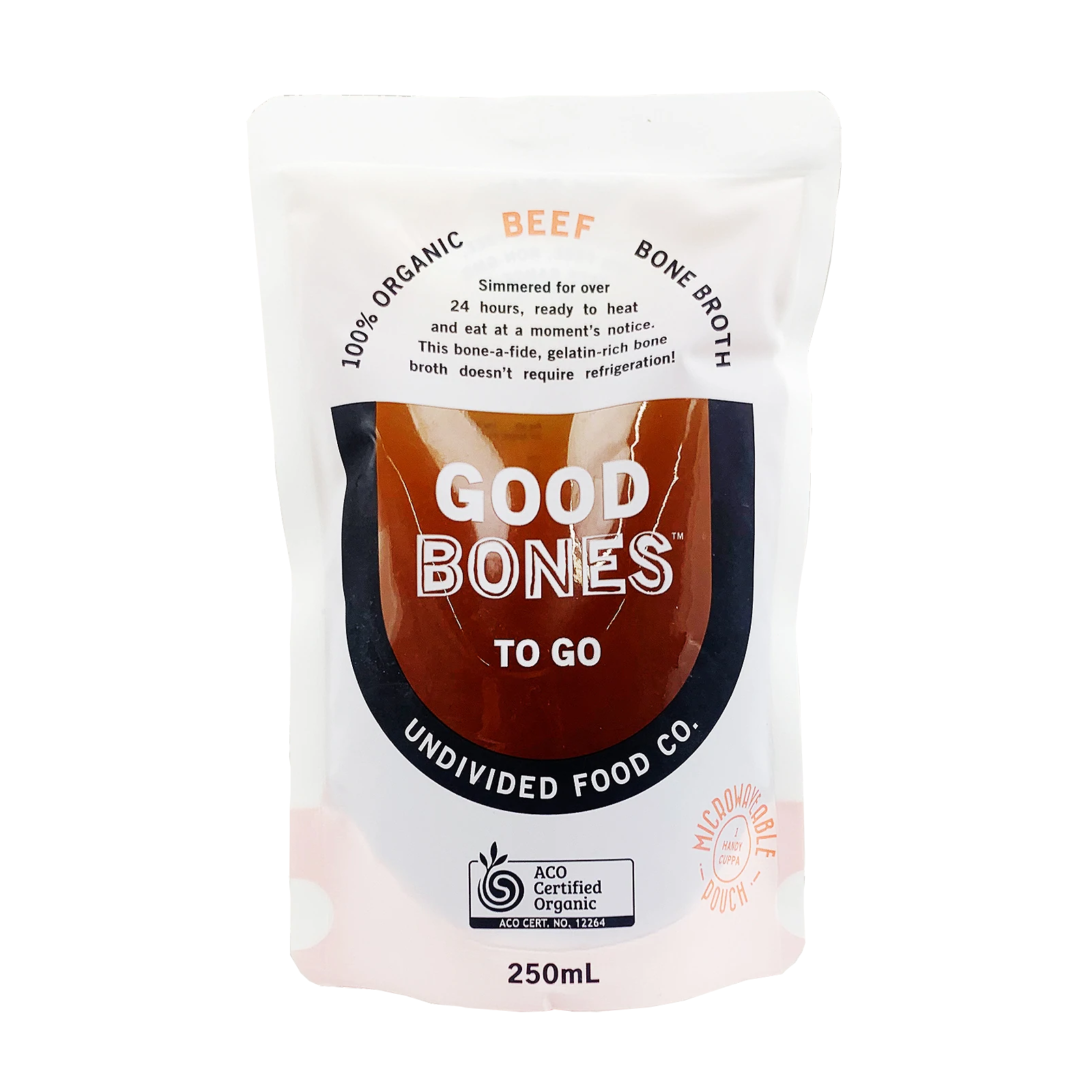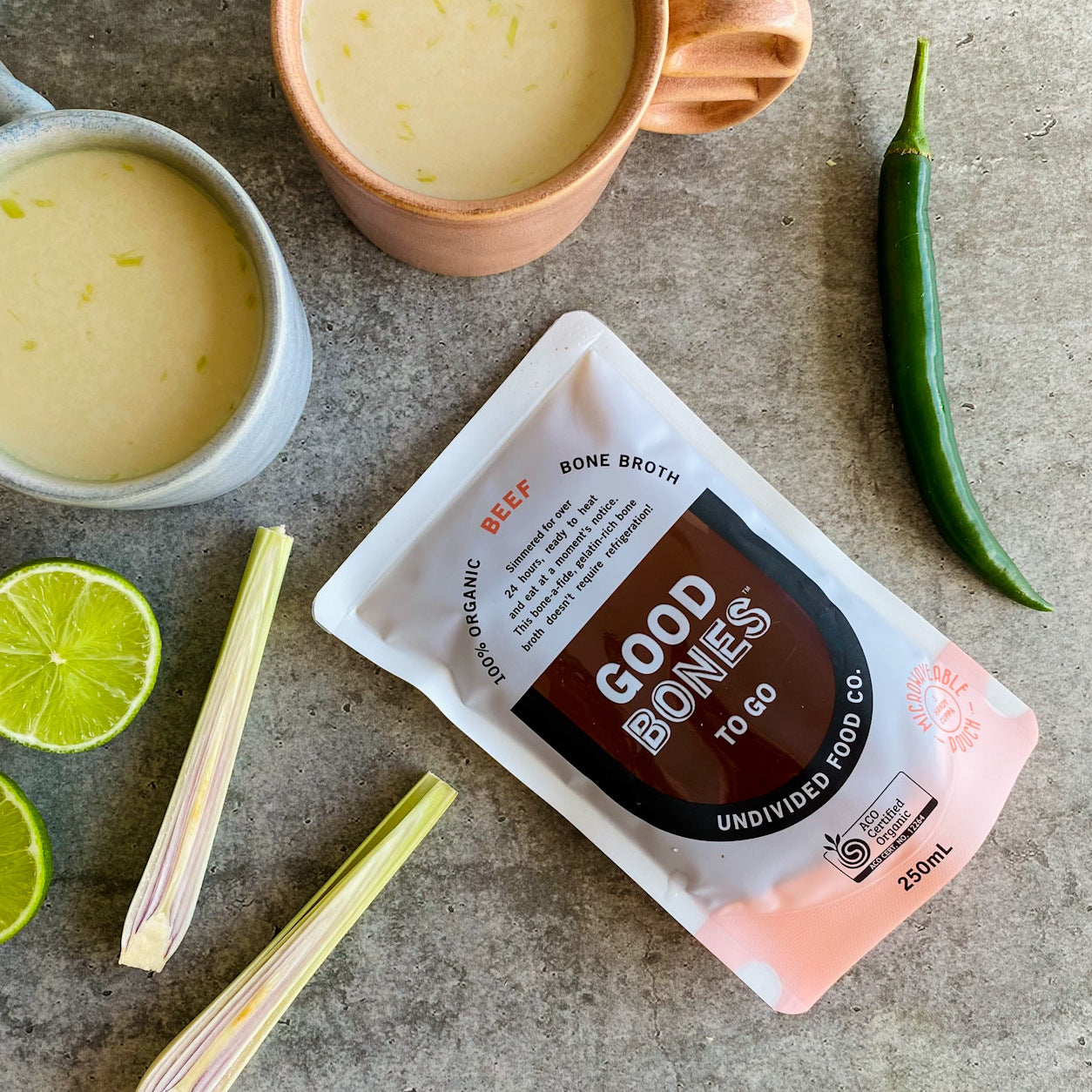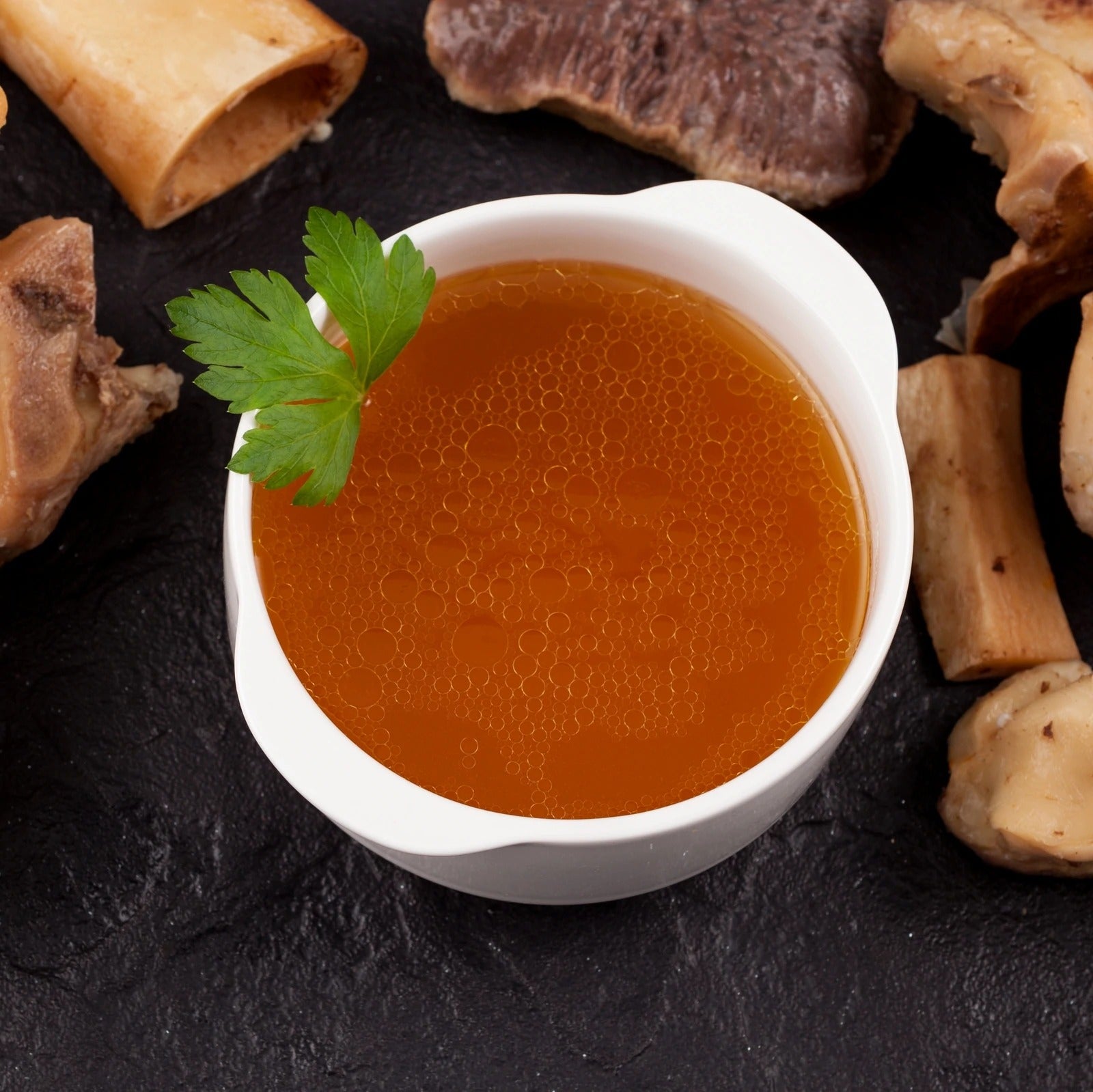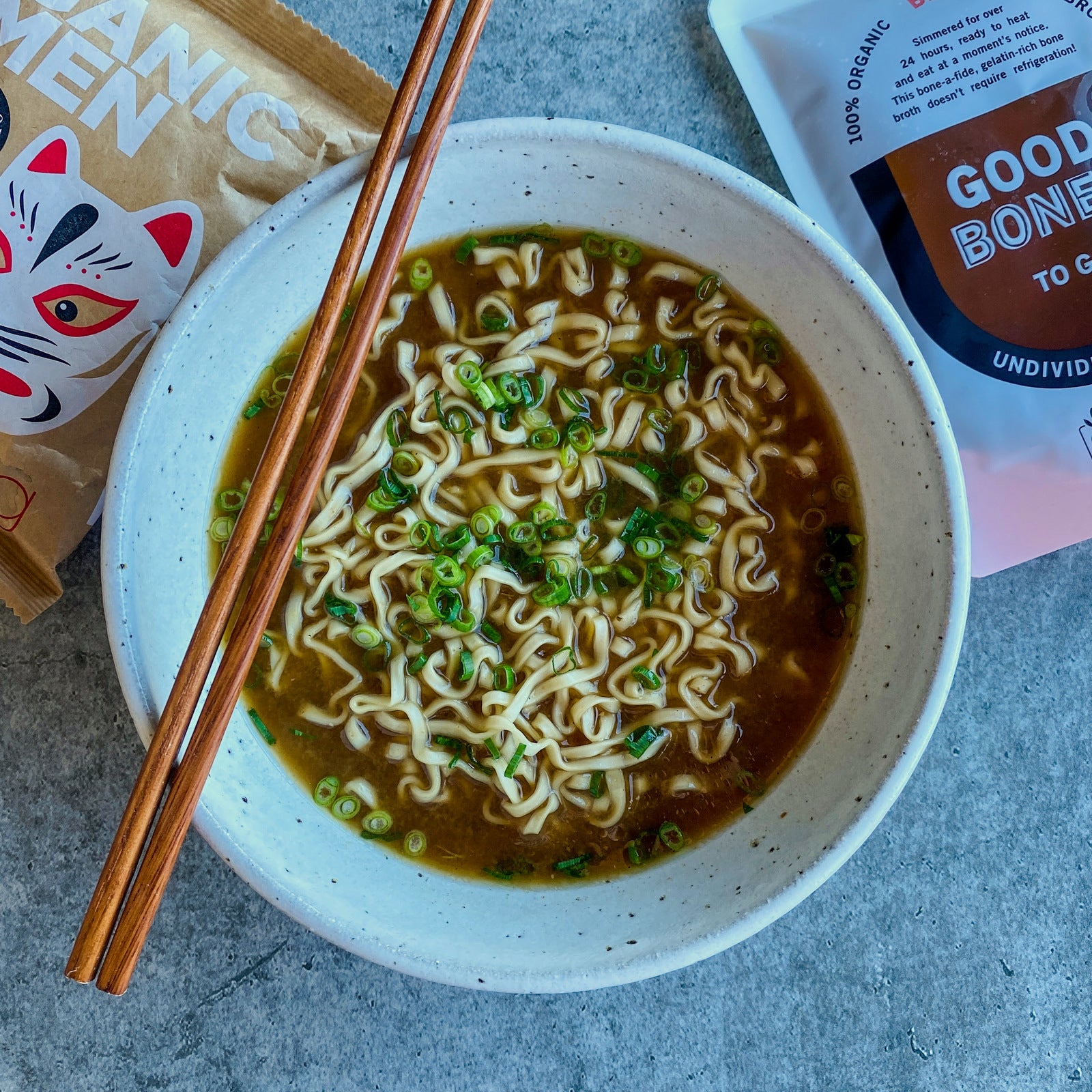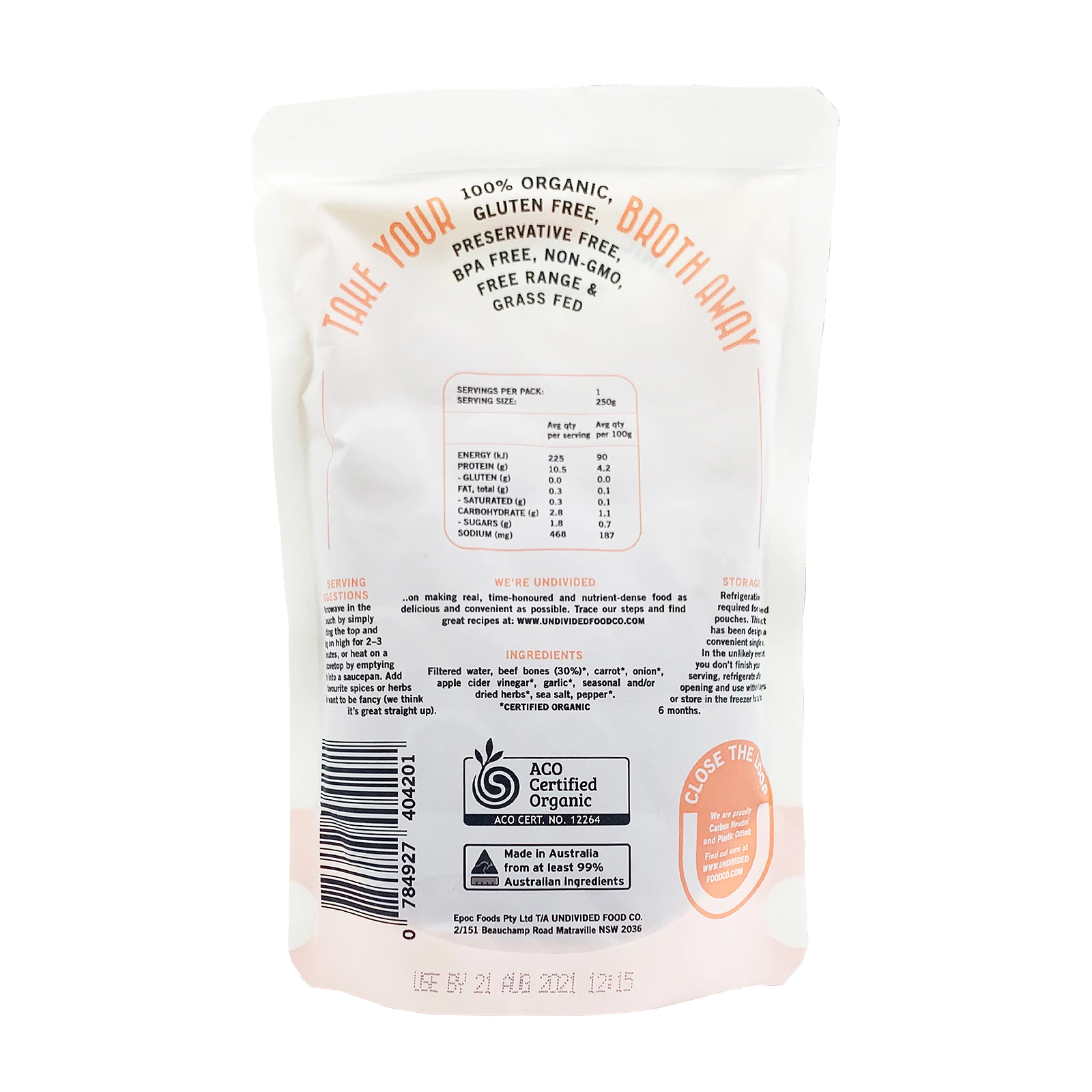 Certified Organic Beef Bone Broth (250ml)
Buy More, Save More:
1 Pack (Regular Price)
If the product is bought together with frozen items, it may arrive partially or fully frozen. There is no quality or safety issue. Certified organic chicken bone broth soup is also available here
This authentic, gelatin-rich bone broth is the best alternative to making your own bone broth at home. 100% certified organic ready to heat and eat beef bone broth in a pouch. Only free-range, grass-fed and organic beef bones from Australia are used which are free from hormones and antibiotics. Simmered low and super slow for maximum nutrient density for over 24 hours together with certified organic, Australian-grown vegetables and herbs including carrot, onion, garlic, and seasonal herbs, and organic apple cider vinegar. Only filtered water which is free from added chemicals like fluoride and chlorine is used. The final product is a thick and flavourful broth packed with vitamins, minerals, and the star player: gelatin. Gluten-free, preservative-free, paleo-friendly, BPA-free, low salt, non-GMO.
How to enjoy this bone-broth?
| | |
| --- | --- |
| Sip it | Straight out of a mug, add salt and pepper to taste.  |
| Soup it | Use as a base to make quick, easy and flavoursome soups, stews, or risottos. |
| Sauce it | Create delicious gravies or add flavour and depth to your tomato or cream-based sauces. |
| Saute it | With your favourite veggies. |
| Steam it | Add to the bottom of your pot when steaming veggies to infuse more flavour. |
| Simmer it | Poach chicken, fish and more in the broth for a healthy low-fat meal option. |
Contents
| | |
| --- | --- |
| Contents | 1 pouch |
| Weight/Volume | 250ml |
Shipping & Handling
Shipping
Shipping is either, dry, chilled, or frozen depending on your order.
Handling

Store in a cool dry place

Expiration

Check the product label, usually more than 3 months.




Once opened: store in an air-tight container and store in the fridge.
Details
Ingredients

Filtered water, organic beef bones (30%), organic carrots, organic onions, organic apple cider vinegar, organic garlic, organic seasonal and/or dried herbs, sea salt, organic pepper.

Packaging
Pouch

Country of Origin
Australia
Brand
Undivided Food Co.

Organic Certifications
Australian Certified Organic (ACO)
Certification No. 12264

Japanese Agricultural Standard Organic (JAS)
Certification No. UNY-02081101
Nutritional Facts
Based on 100g serving size

Energy: 90kJ
Protein: 4.2g
- Gluten: 0g
Fat: 0.1g
- Saturated: 0.1g
Total Carbohydrate: 1.1g
- Sugars: 0.7
Sodium: 187mg
Importer
Horizon Farms, Inc.
The best bone broth I have tried. It's so hard to get beef bone broth in Japan and this one is so good!
Great bone broth
Really like this broth as it's hard to find beef bone broth on Japan. This is lovely
Easy & High-Quality Nourishment
Well-made bone broth with mild taste and a calming effect on the nervous system. The price is a little steep for regular use, but when you need it, you need it, and it couldn't be more convenient to consume. Straight out of the pack is fine, or with salt and pepper, or even add allspice and other things as you like. 炊き込みご飯にも良さそうです。
Translated from Japanese: I used it in ratatouille and stewed dishes. It was excellent.
Safe, secure and delicious
Translated from Japanese: I bought it to do bone broth fasting. You can enjoy it just by warming it up without adding anything else. I wanted to drink a little more, so I added a little water to 125 ml at a time, added natural salt, and drank it. It was so delicious that I thought I was drinking soup from a high-class restaurant every time I drank it.
I'll keep using it for fasting from time to time!