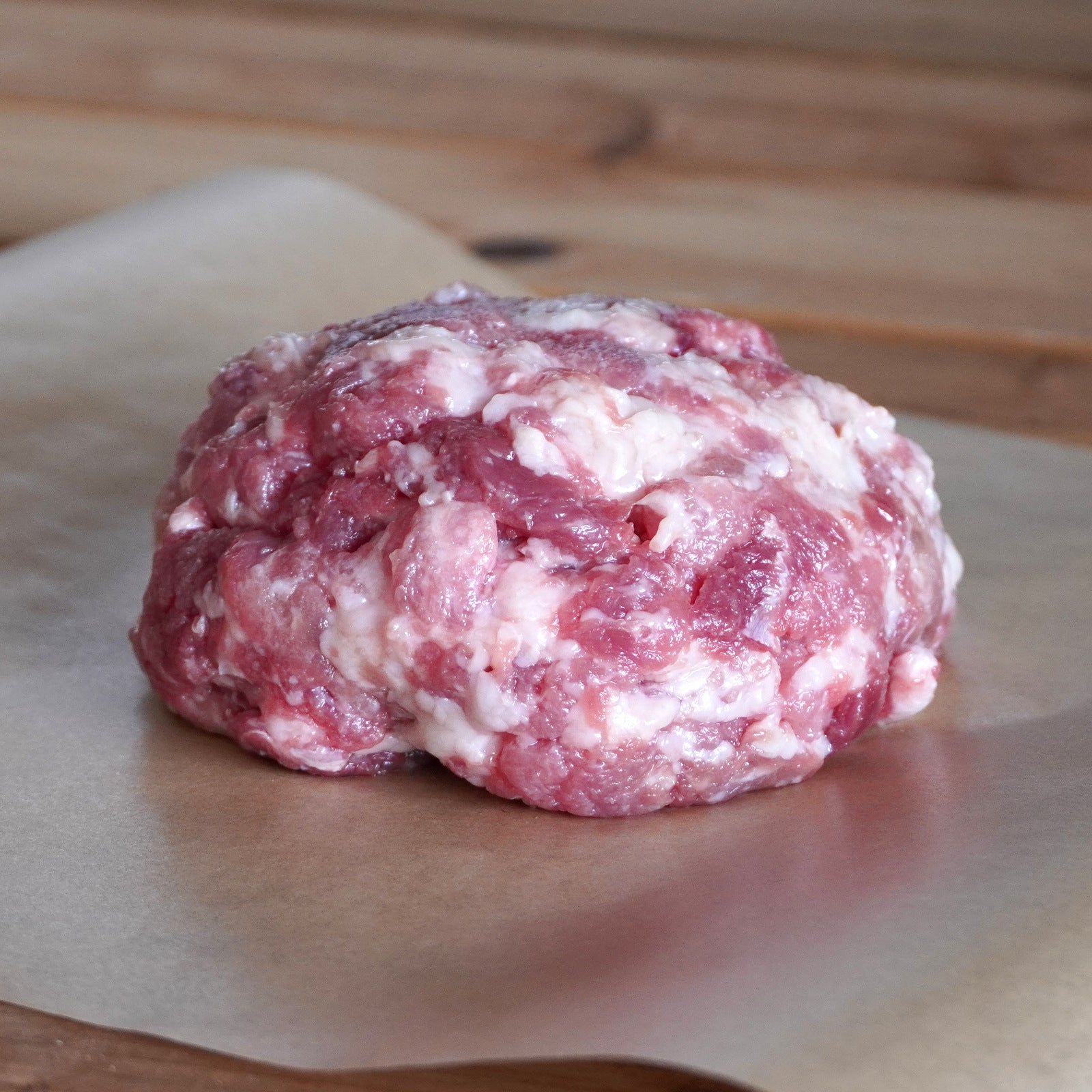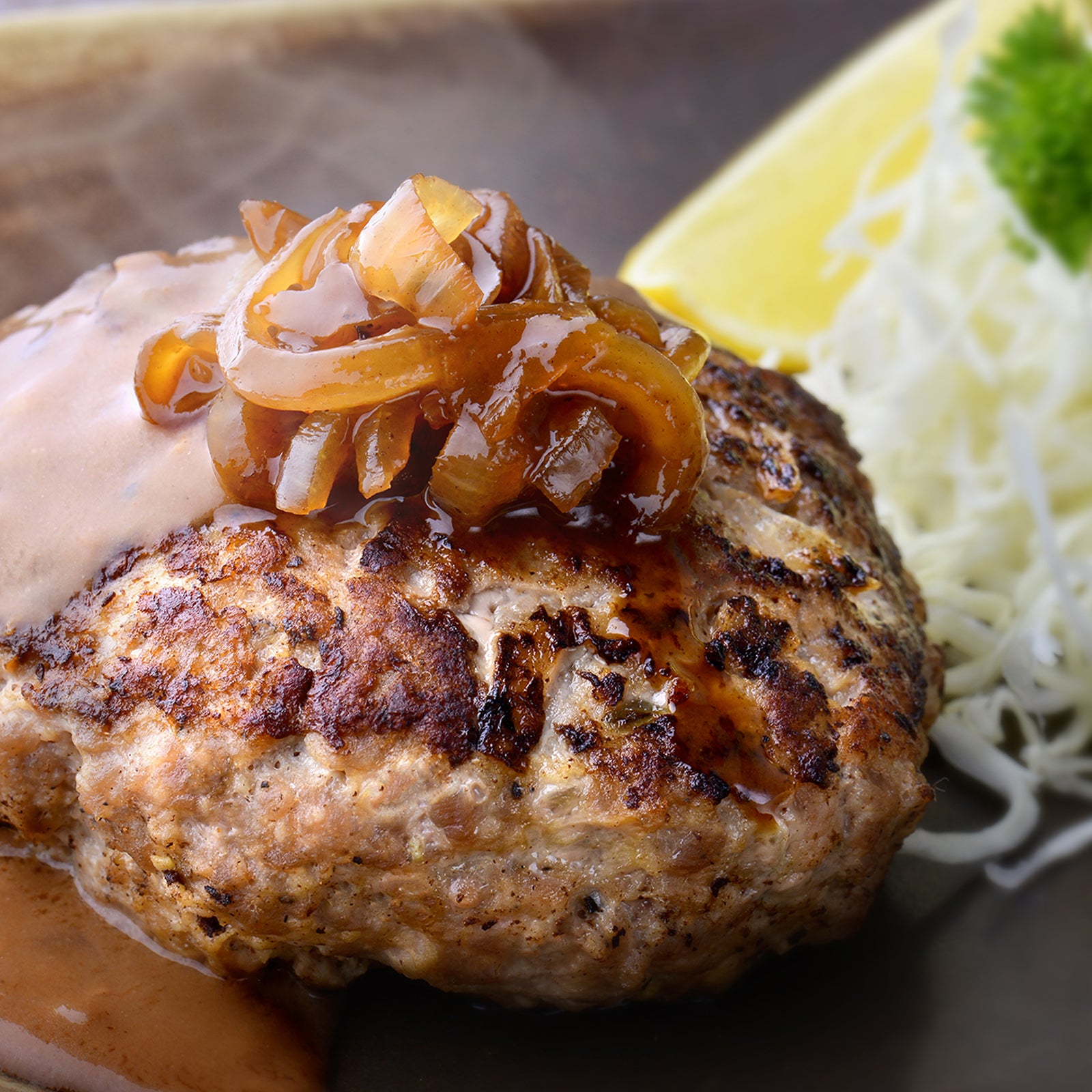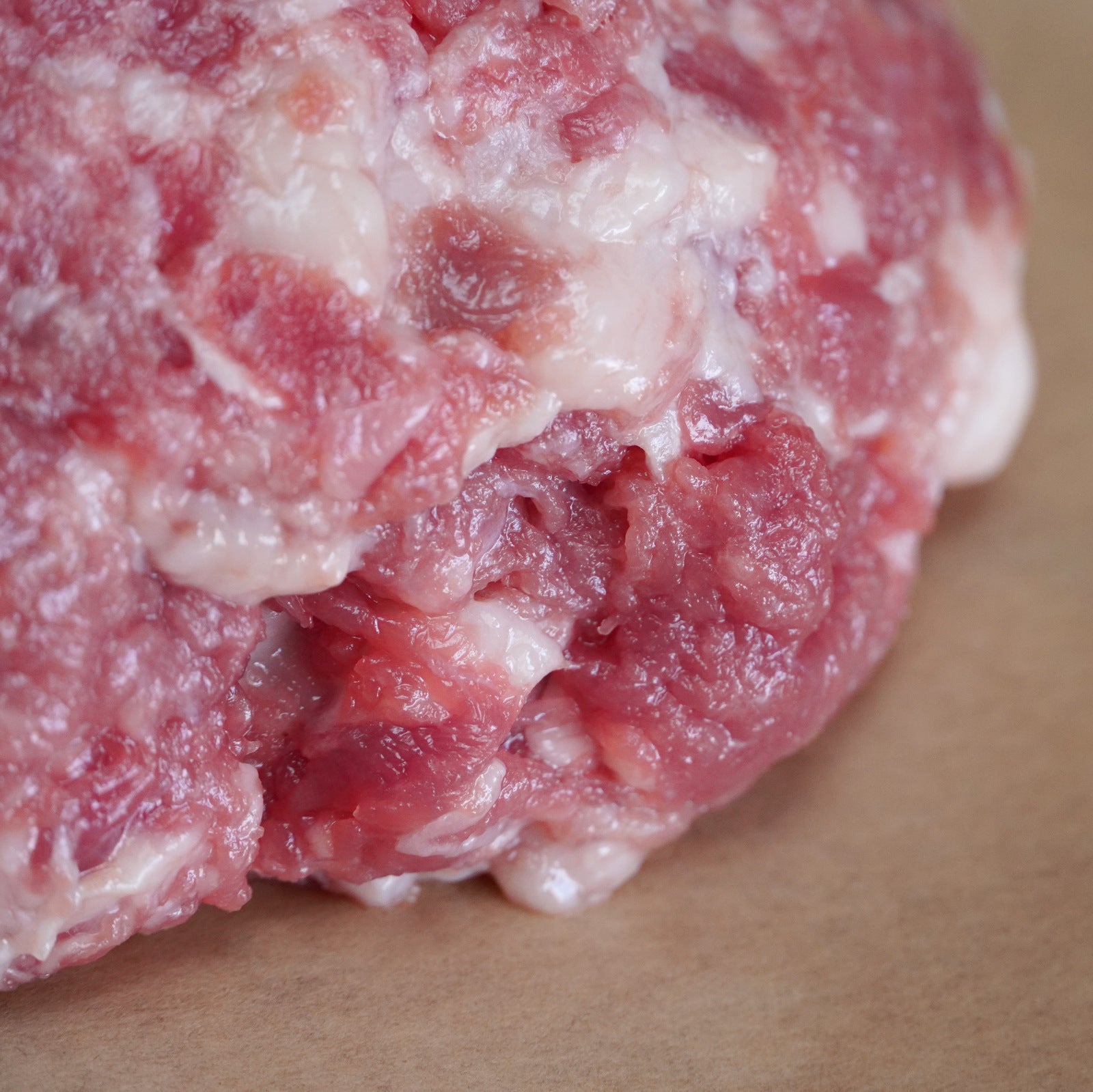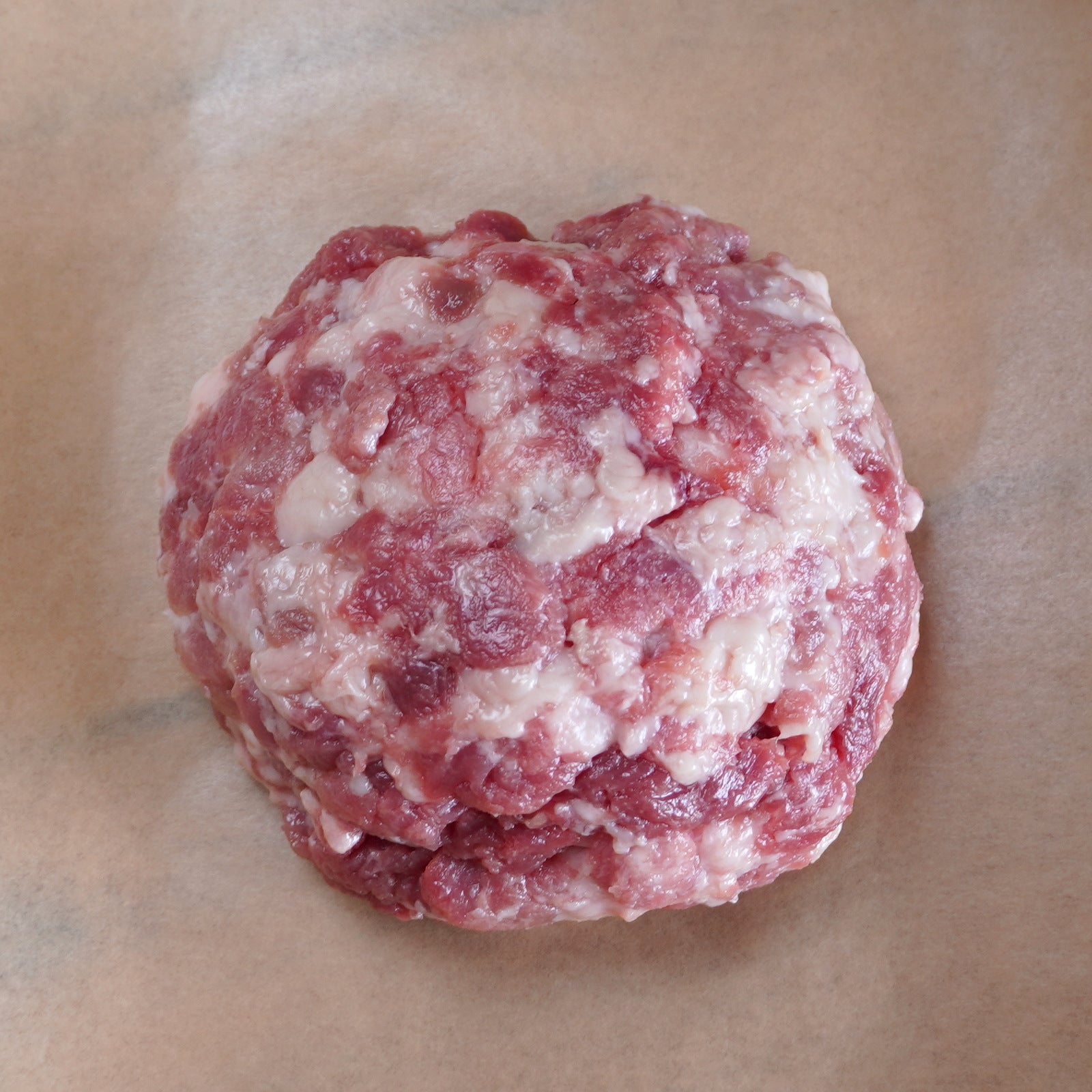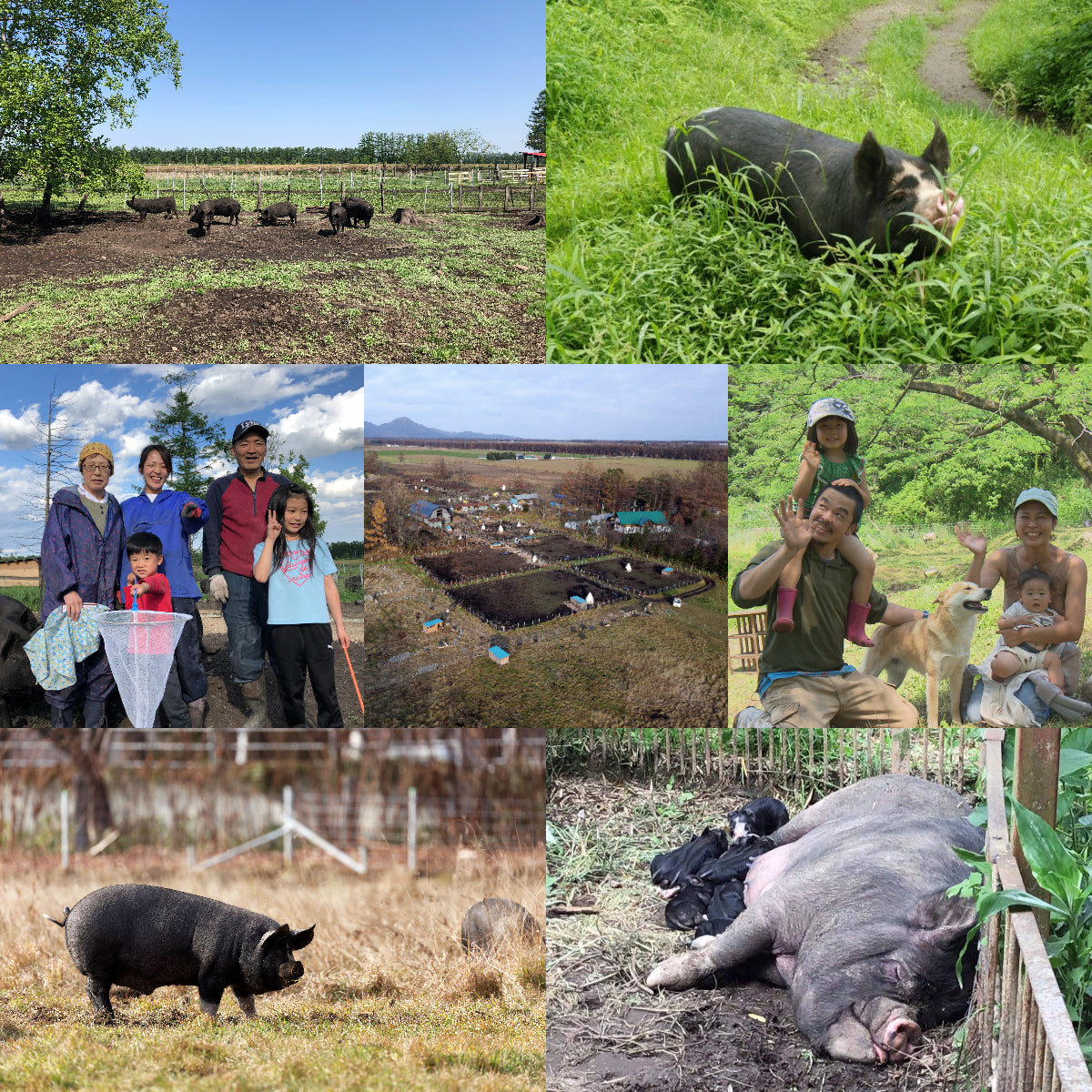 Free-Range Kurobuta Coarse Ground Pork (300g)
Buy More, Save More:
1 Pack (Regular Price)
300g (10.6oz) of coarse ground 100% Kurobuta pork/mince from Japan. Kurobuta Pork is juicy, well-marbled, and has a superior flavor. We use the pork leg and pork picnic ham as well as parts from the primal cuts. A typical characteristic of kurobuta pork is a high-fat ratio. This ground pork comes at a 70/30 lean-to-fat ratio and is therefore extremely juicy. Do not add any oil and cook vegetables or other ingredients in the pork fat for incredible flavor. Use for quality meatloaves, meatballs, and burgers. 
100% full-blooded Kurobuta pork is well-known for superior quality, juiciness, flavor, and marbling. Kurobuta is slightly darker in color and richer in flavor. The Kurobuta pigs are raised on open pasture as nature intended. The pigs are free to forage and wallow on the open pasture and are raised slowly with love and respect. It goes without saying that the pigs are raised without antibiotics or growth-promoting hormones. All images are actual images of the family farms. See below.
Contents
| | |
| --- | --- |
| Contents | 1 pack |
| Weight | 300g (10.6oz.) |
| Serves | Serves 2-3, depending on the recipe |
Shipping & Handling
Shipping
Shipping and delivery is frozen
Handling
Keep frozen below -18°C (0°F)
Defrosting Time
In the fridge: approx. 12h
In ice-water: approx. 1h
Cooking Method

Non-stick skillet or fry-pan

Expiration
Frozen: see packaging label (usually more than 3 months)
Chilled: Please consume unopened pack within 2 days.
Details
| | |
| --- | --- |
| Also known as | Pork mince, coarse ground, Tokachi pork, Kagoshima pork, Hokkaido pork |
| Ingredients | Pork |
| Country of Origin | Japan |
| Cut from | Picnic ham, ham (pork leg), and trimmings of primal cuts. |
| Packaging | Vacuum packed in 300g portions |
✔ Certified 100% full blood Kurobuta. Kurobuta pork is well-known for superior quality, juiciness, flavor, and marbling.
✔ All year free-range raised in the great outdoors. The pigs forage around freely and wallow in the mineral-rich natural soil.
✔ No growth hormones, no subtherapeutic use of antibiotics - ever!
✔ Kurobuta Berkshire pork traits are known for juiciness and tenderness due to the well-balanced marbling and fine grain.
At A Glance
Pork Breed
100% Fullblooded Kurobuta Berkshire
Region
Hokkaido or Kagoshima, Japan
Breeding
All year free-range
Feeding
Contains wheat, soybeans, corn, etc.
Farm

Nakano Farms (Hokkaido)
Tsukinoakari Farms (Kagoshima)
Traceability
100% fully traceable from farm to fork
Growth Hormones
Never
Antibiotics
Never
Livestock By-Product Use in Feed
Never
It was delicious, no need to put oil since it's fatty already 😊 I made meatballs with it for pasta. 😊
Good Flavour
The fatty parts give it a bit more beefy flavour and tender if cooked right
Translated from Japanese: It's safe to eat, flavorful, and it's great in just about any dish!
Very tasty!
Translated from Japanese: Juicy, very tasty minced meat!
Translated from Japanese: It has a lot of oil, but is also refreshing.
It's filling, so even a small amount is satisfying!
I made meat sauce and dumplings with it.