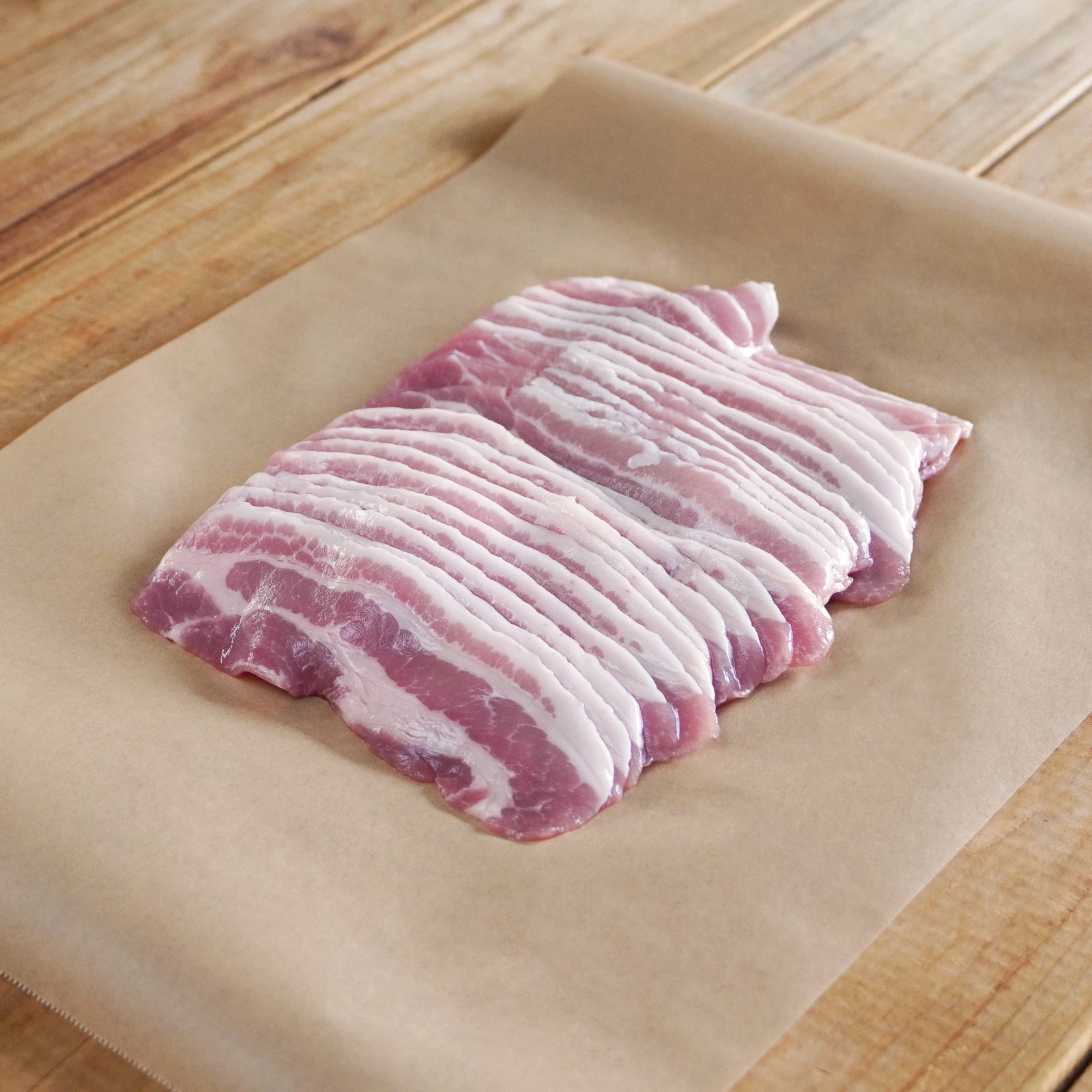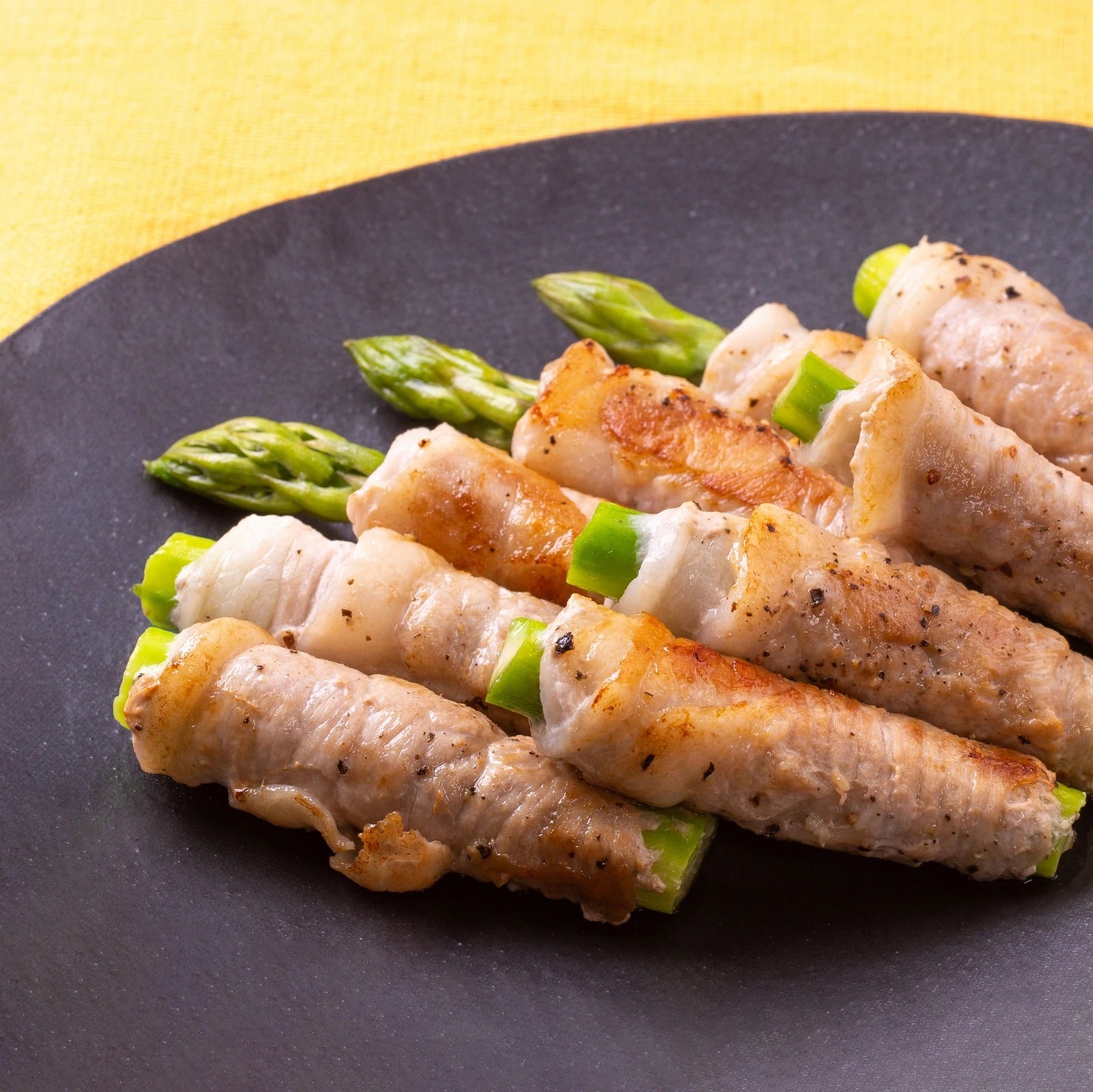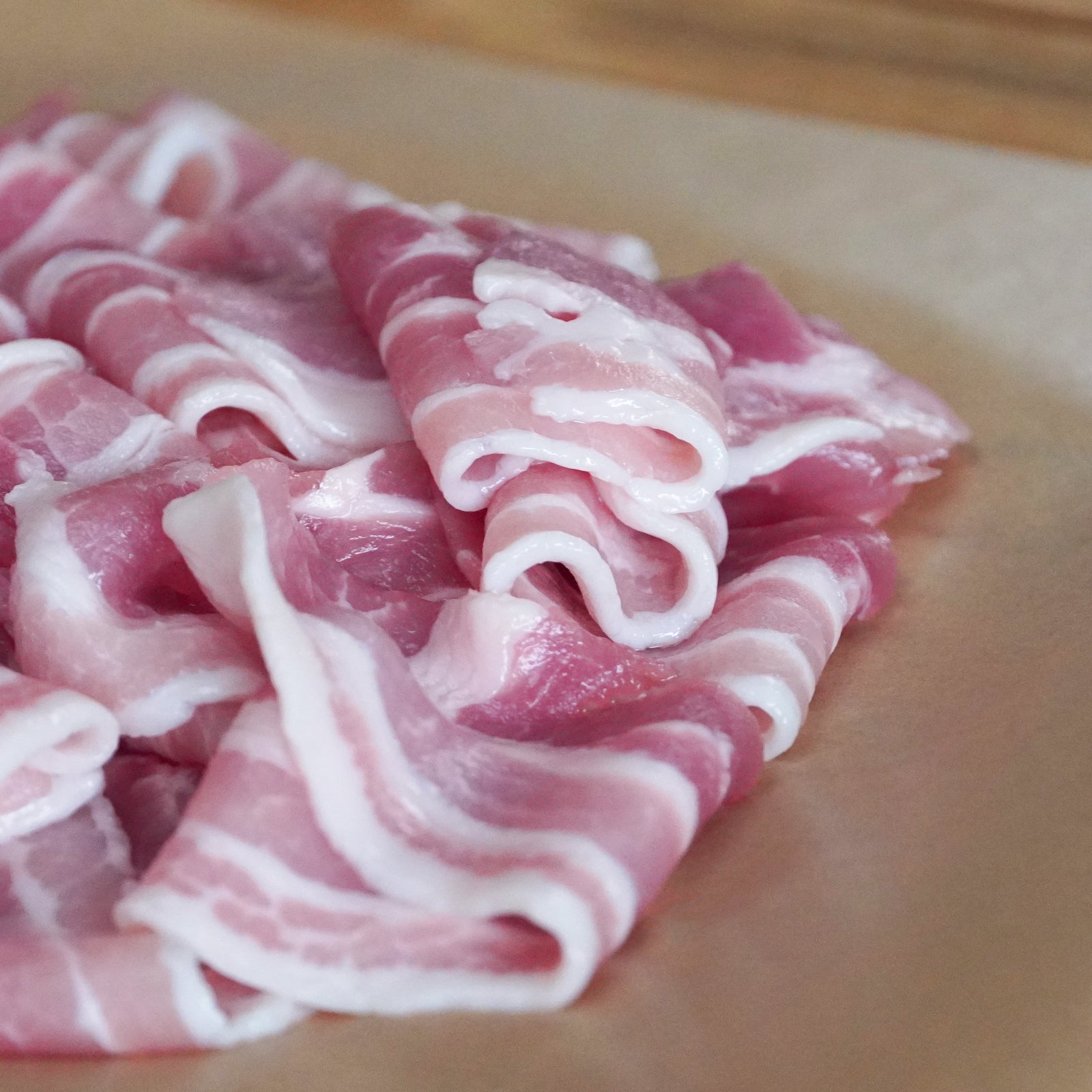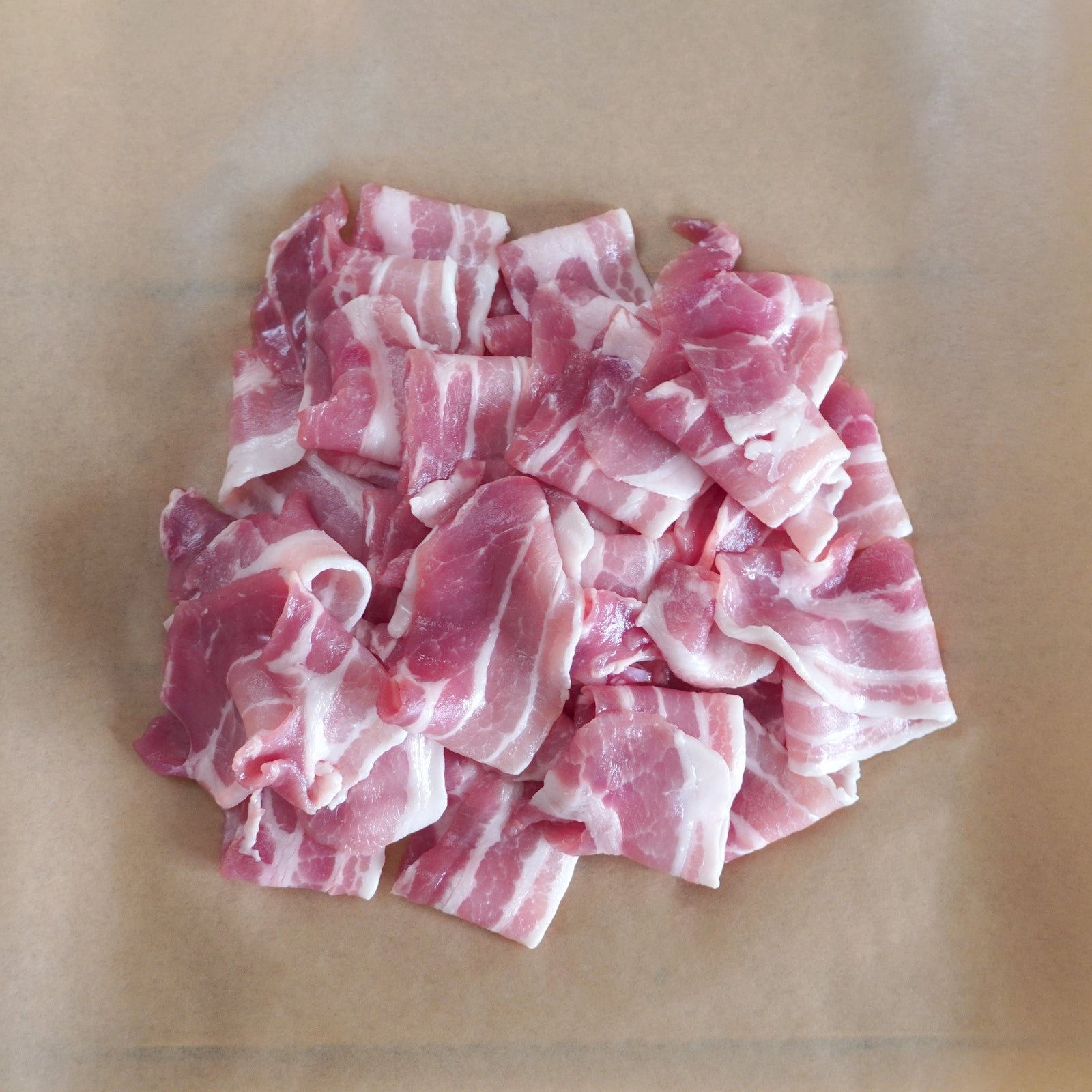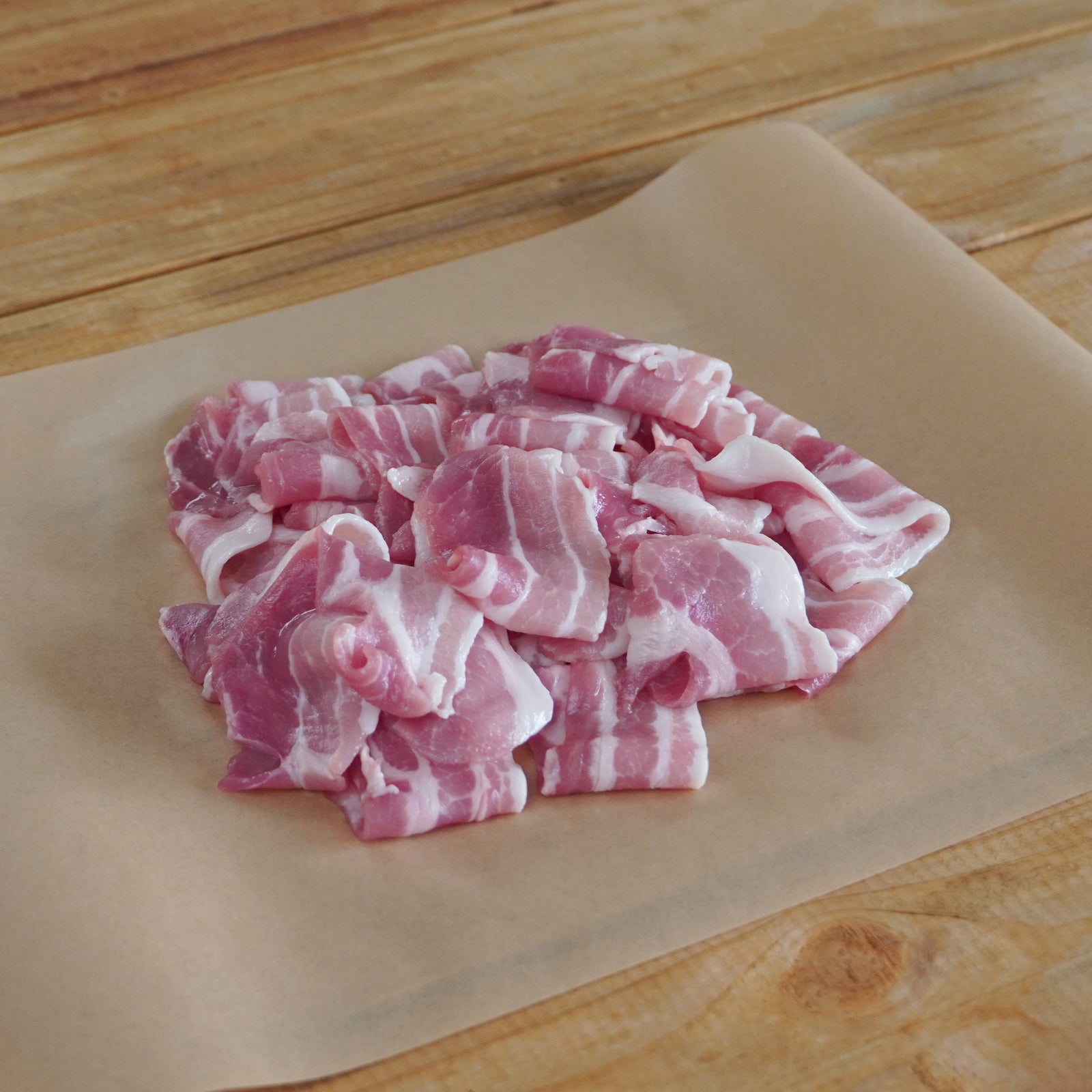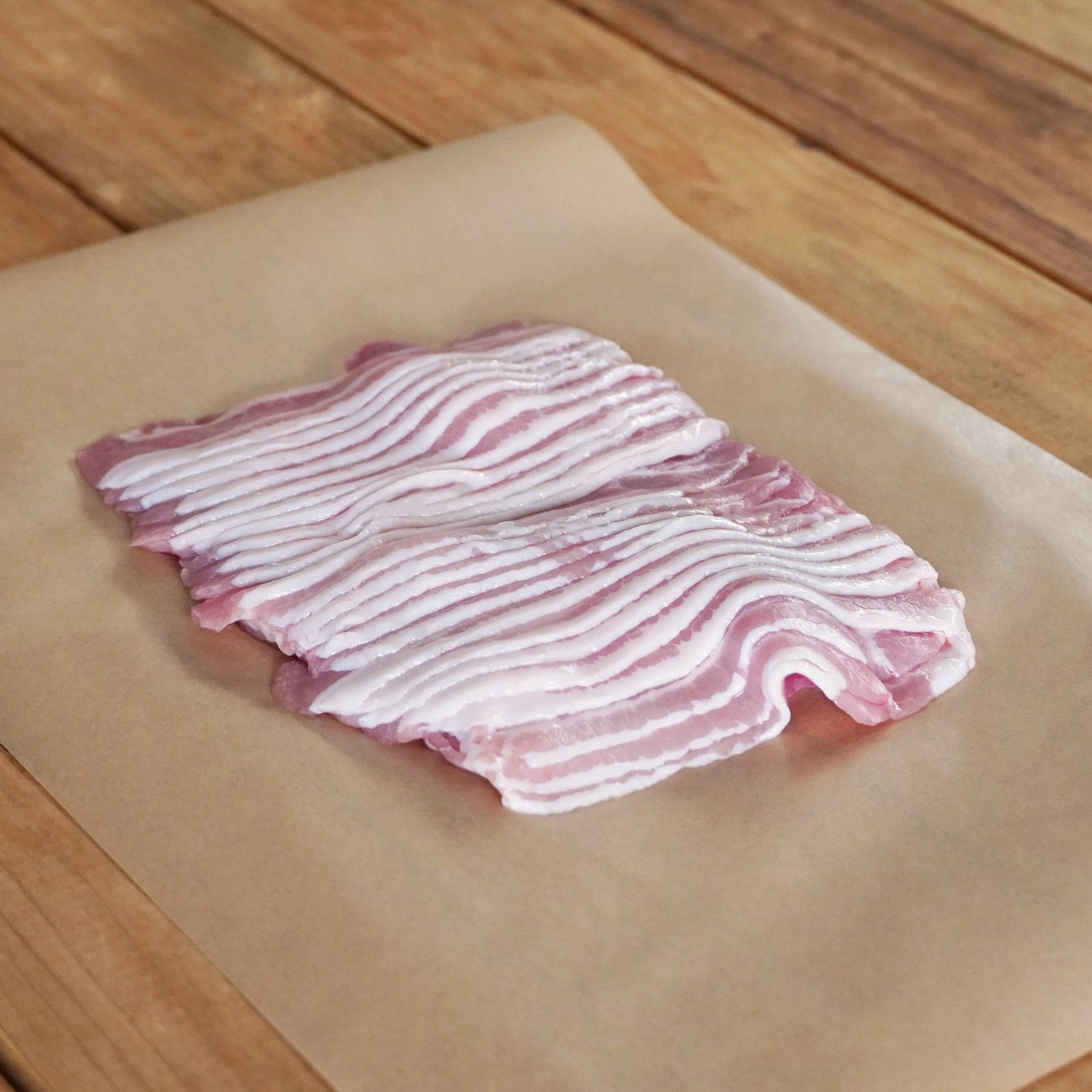 Free-Range Pork Belly Slices from Australia (300g)
Buy More, Save More:
1 Pack (Regular Price)
300g (10.6oz) of meaty top-quality skinless pork belly, cut into 3mm (1/8") thin slices. Free-range Berkshire pork comes with great fat to meat ratio - the highest quality of free-range pork belly that money can buy. Incredibly versatile tender meat that melts in the mouth. Many Japanese stir fry dishes call for sliced pork belly, for example, Buta Shogayaki (pork belly with ginger and onions) or the famous yakisoba (stir fry noodles).
This free-range pork has taken on the superior flavor and tenderness of pork from a bygone era. Free of growth hormones, antibiotics, or any nasties. It has a superior flavor and all-natural tenderness and how pork should taste. 

✔ Humanely raised free-range pigs from Australia.
✔ The pigs live outdoors where they can truffle and play.
✔ Sows raise their piglets in individual straw-filled huts and have room to roam, can wallow in mud, and socialize with each other. Absolutely no gestation crates.
✔ Pigs are fed a natural, nutritiously balanced diet free of chemical residues. All feed is free of GMOs.
✔ No antibiotics or growth hormones - ever.
Contents
| | |
| --- | --- |
| Contents | 1 Pack |
| Weight | 300g (10.6oz) |
| Serves | Serves 1-2 |
Shipping & Handling
Shipping
Shipping and delivery is frozen
Handling
Keep frozen below -18°C (0°F)
Defrosting Time
In the fridge: approx. 24h
In ice-water: approx. 1h
Cooking Method

Fry-pan, grill

Expiration
Frozen: see packaging label (usually more than 3 months)
Chilled: Please consume unopened pack within 2 days.
Details
| | |
| --- | --- |
| Also known as | Pork belly slices, pork belly strips, skinless pork belly |
| Country of Origin | Australia |
| Ingredients | Pork |
| Cut From | Belly |
| Category | Slices |
| Packaging | Vacuum packed |
At A Glance
| | |
| --- | --- |
| Pork Breed | Berkshire Mixed Breed |
| Farm/Ranch | Contracted small-scale family farms |
| Breeding | All-year free-range pasture/mud raised |
| Feeding | Natural non-GMO feed only. Corn, barley, wheat, soybean meal, extraction meal, mineral mixtures.  |
| Traceability | 100% fully traceable from farm to fork |
| Growth Hormones | Never |
| Subtherapeutic Antibiotics Use | Never |
| Animal By-Product Feeding | Never |
| GMO Feed | Never |
| Importer | Horizon Farms, Inc. |
| Processing | Processed locally in Japan. |
Simply delicious
Absolutely delicious pork. I stir fry them with some mushrooms, it was fantastic. Also, these have a lot of fat, so much I had some left over lard that was awesome to make breakfast fried eggs. Fantastic.
Tasty & tender
I use these to make quick pork sandwiches for dinner - on sourdough bread with coleslaw, it's very delicious and easy to make. The pork isn't overly fatty & it has a good flavour. Will order again
Great flavor.
Translated from Japanese: The flavor was strong and delicious in soup.
I will order again
Translated from Japanese: It's been almost two years since I started buying meat here, and I didn't notice a smell because I was used to meat on the market before, but I bought it the other day. I was surprised at the bad smell of meat.
I can't eat meat with various additives anymore.
Delicious without any smell
Translated from Japanese: It's even delicious for my husband who always complaints about meat smelling and it might be because the juices are sweet. It's safe, fast to cook and perfect!