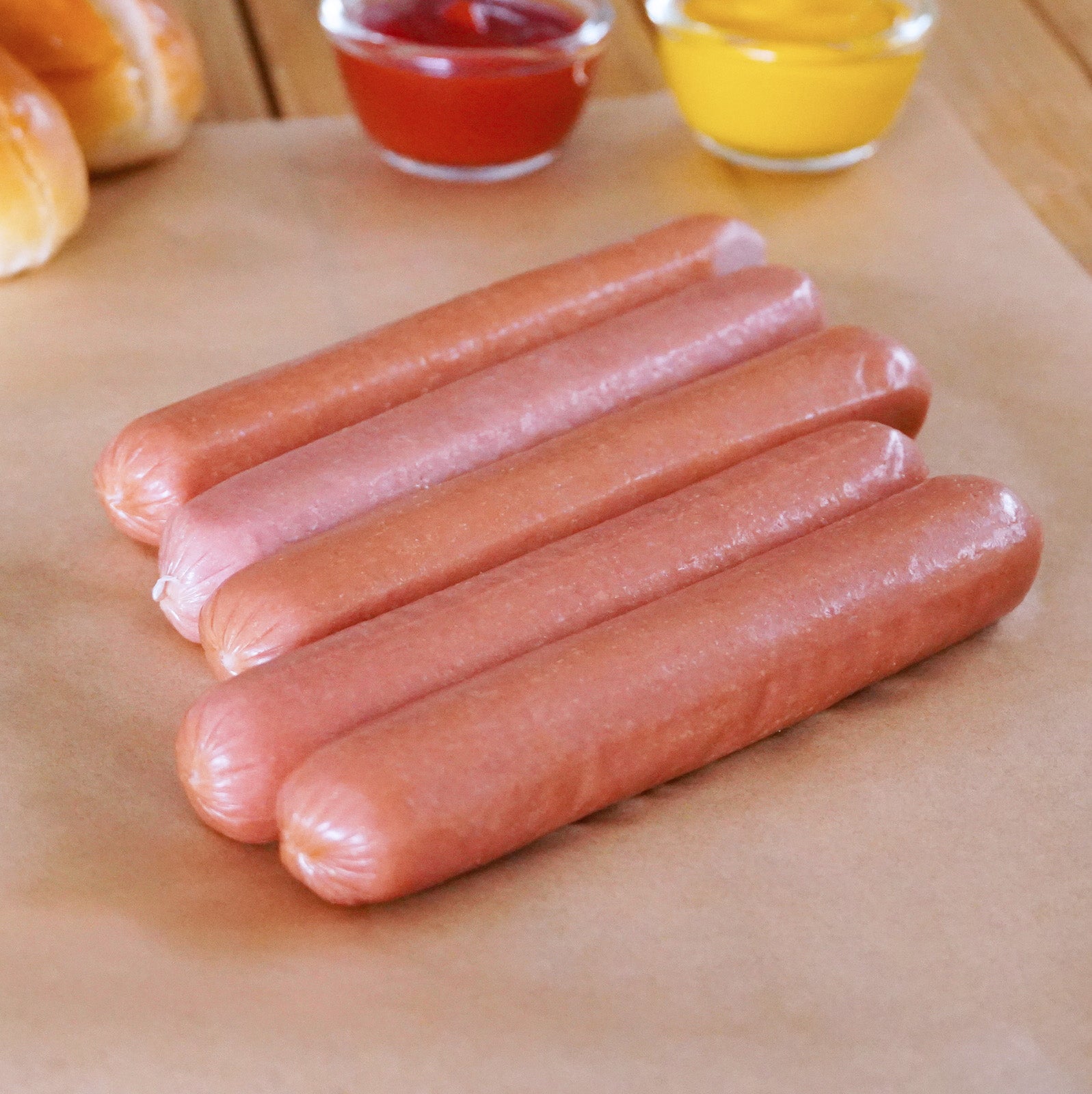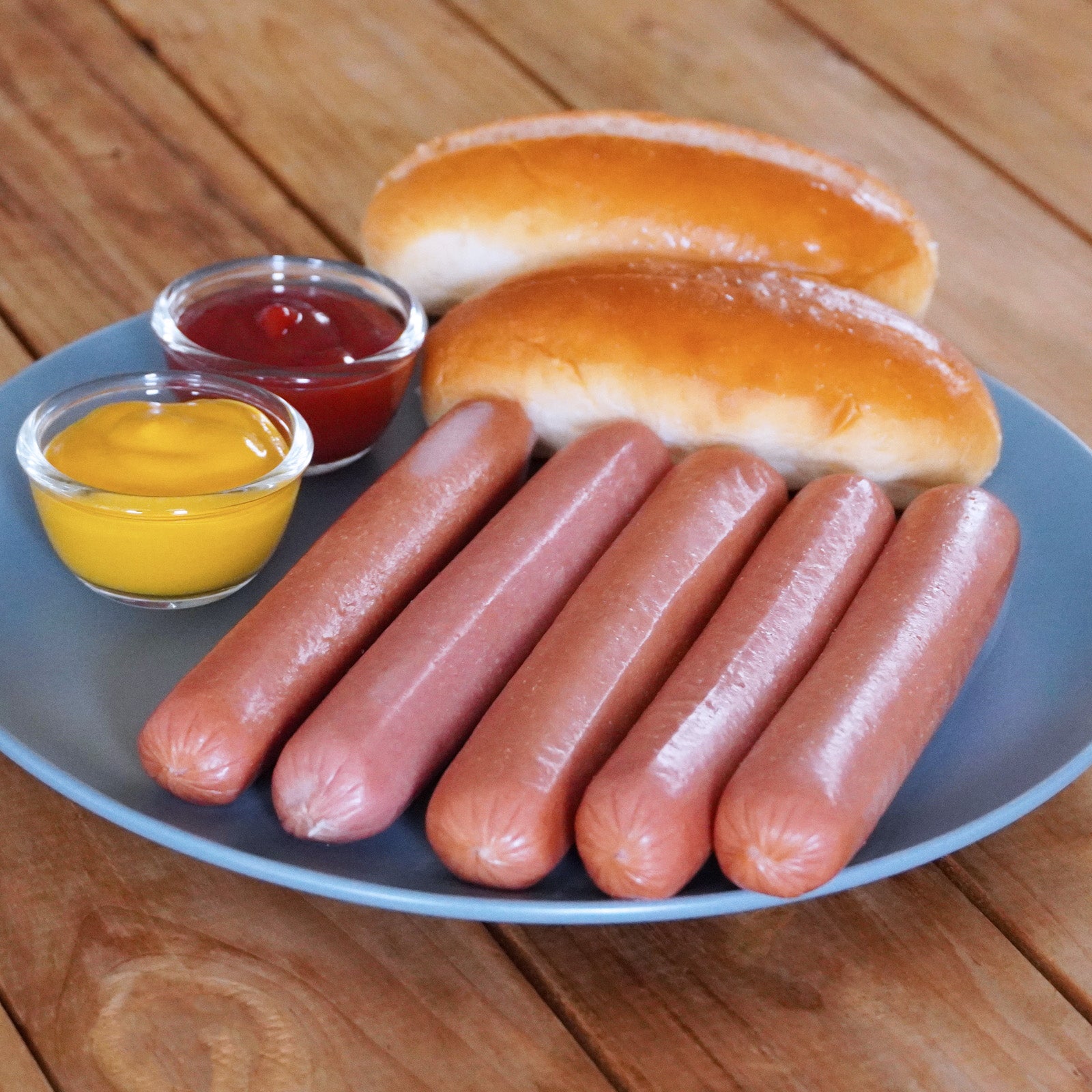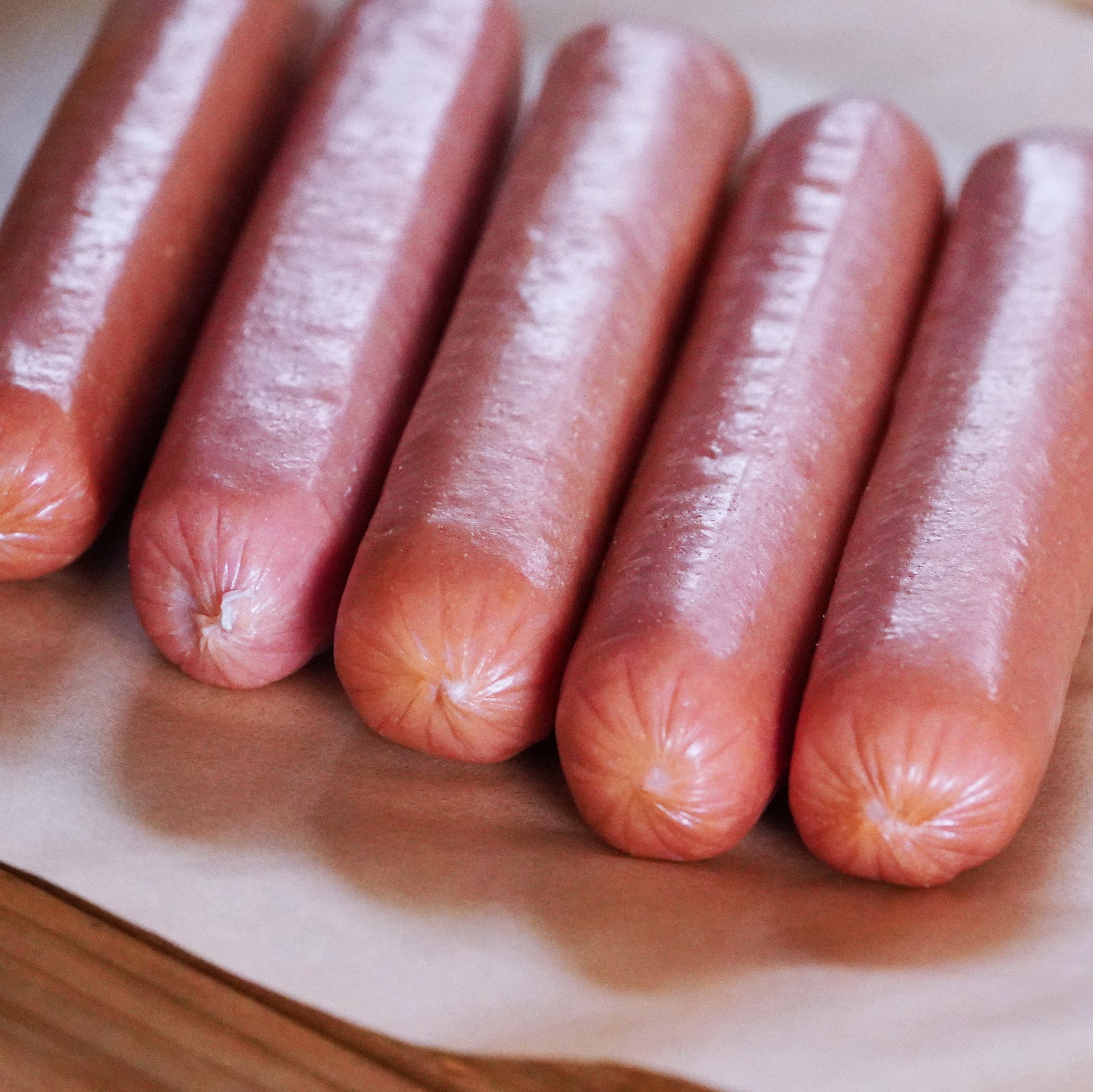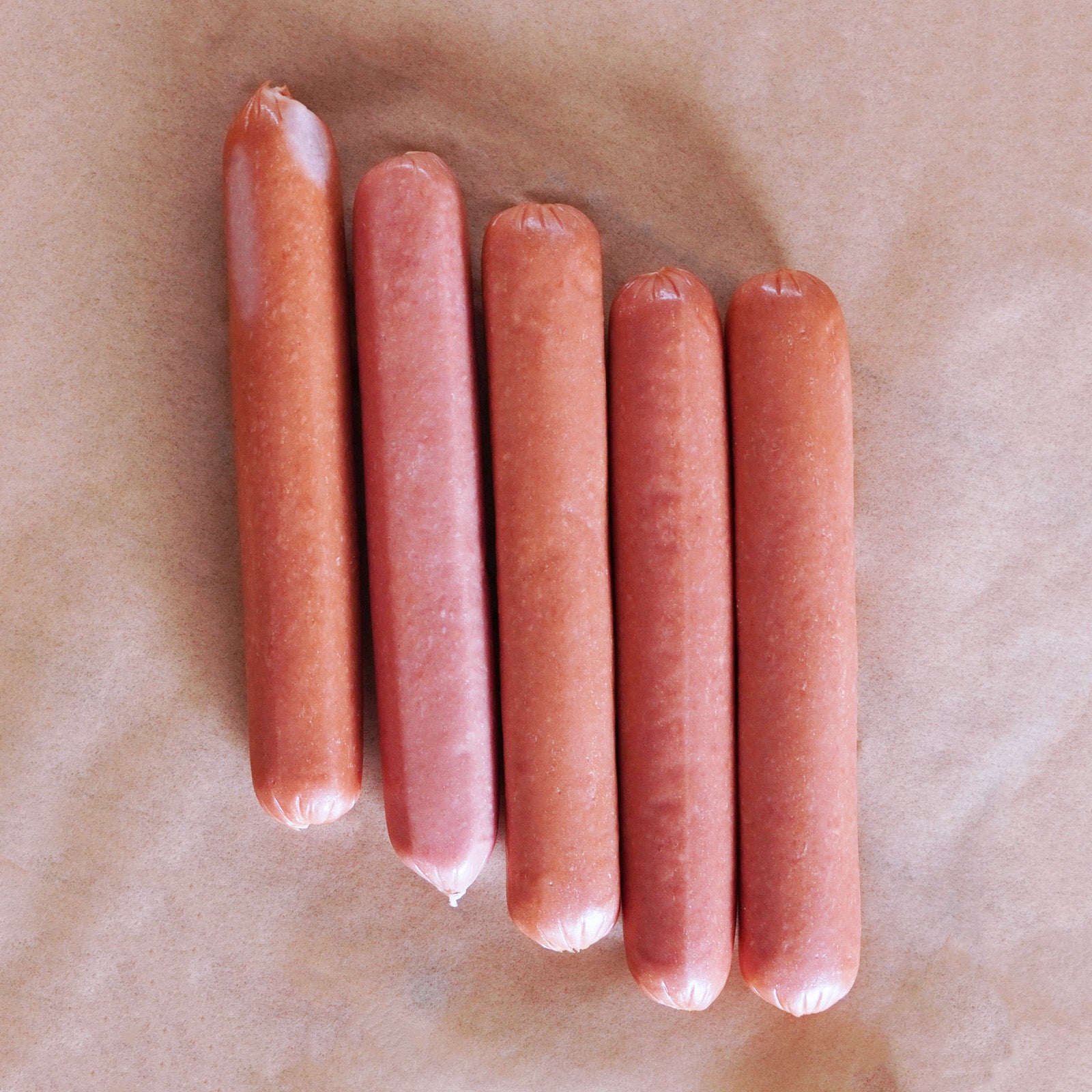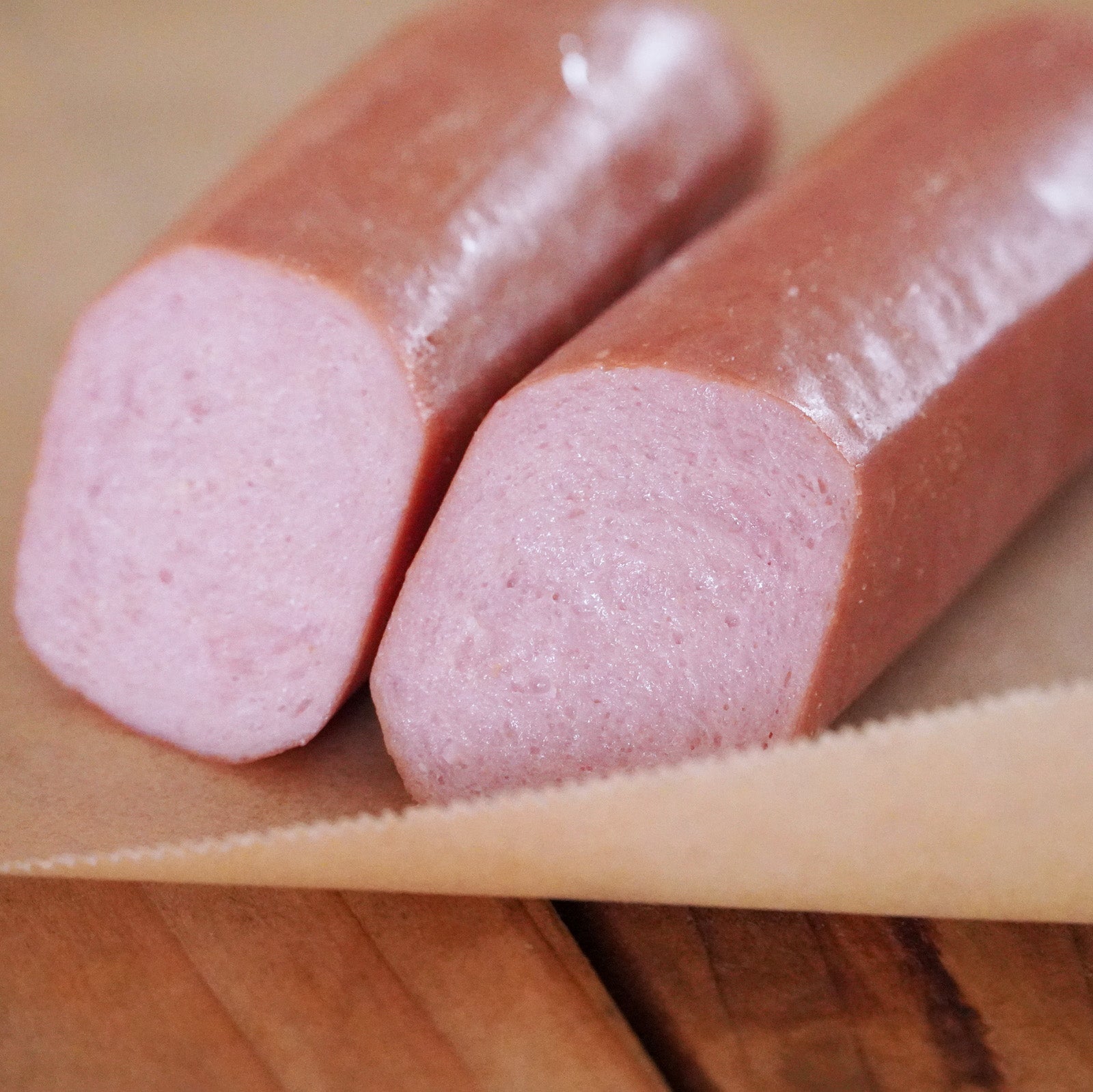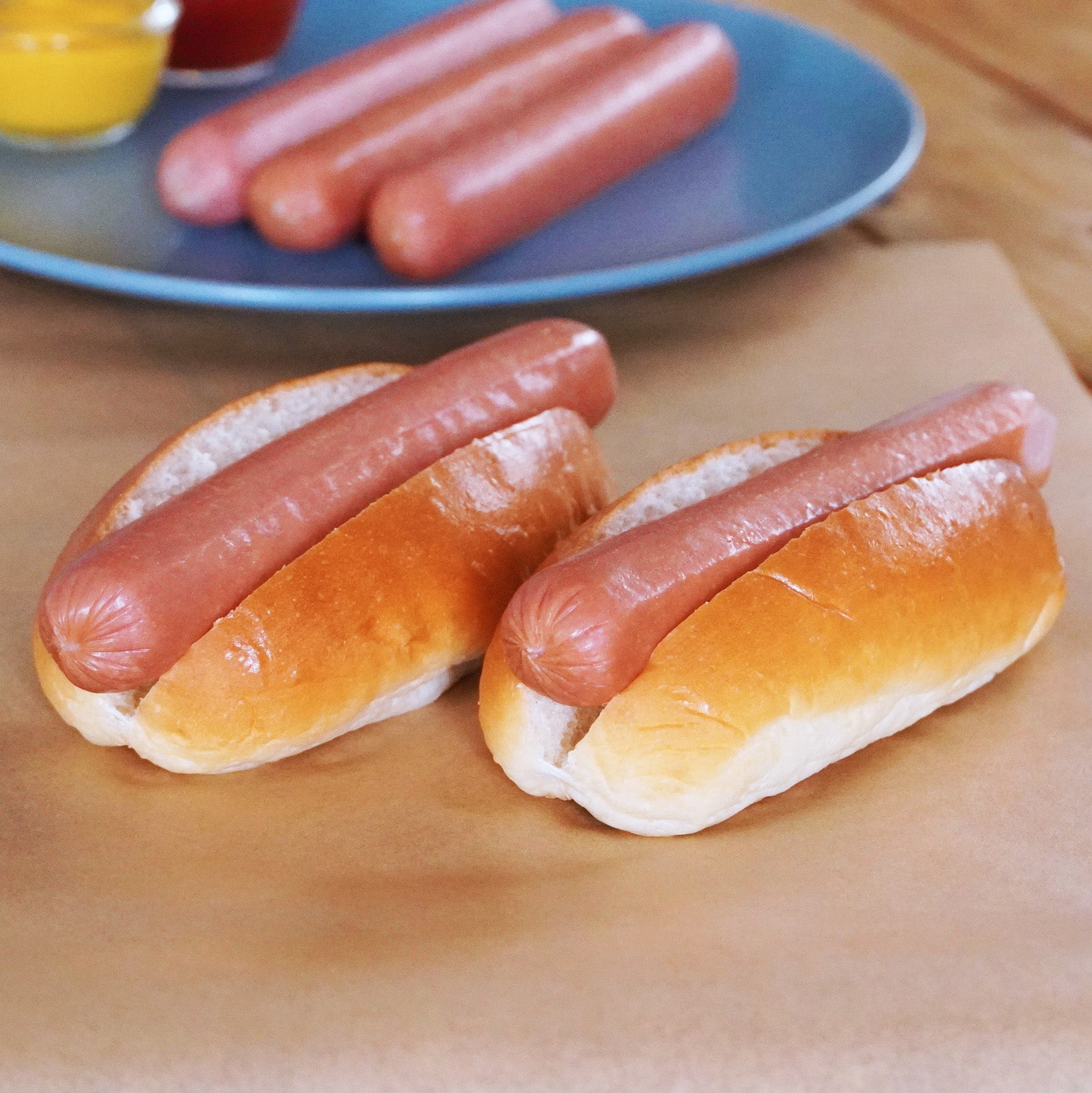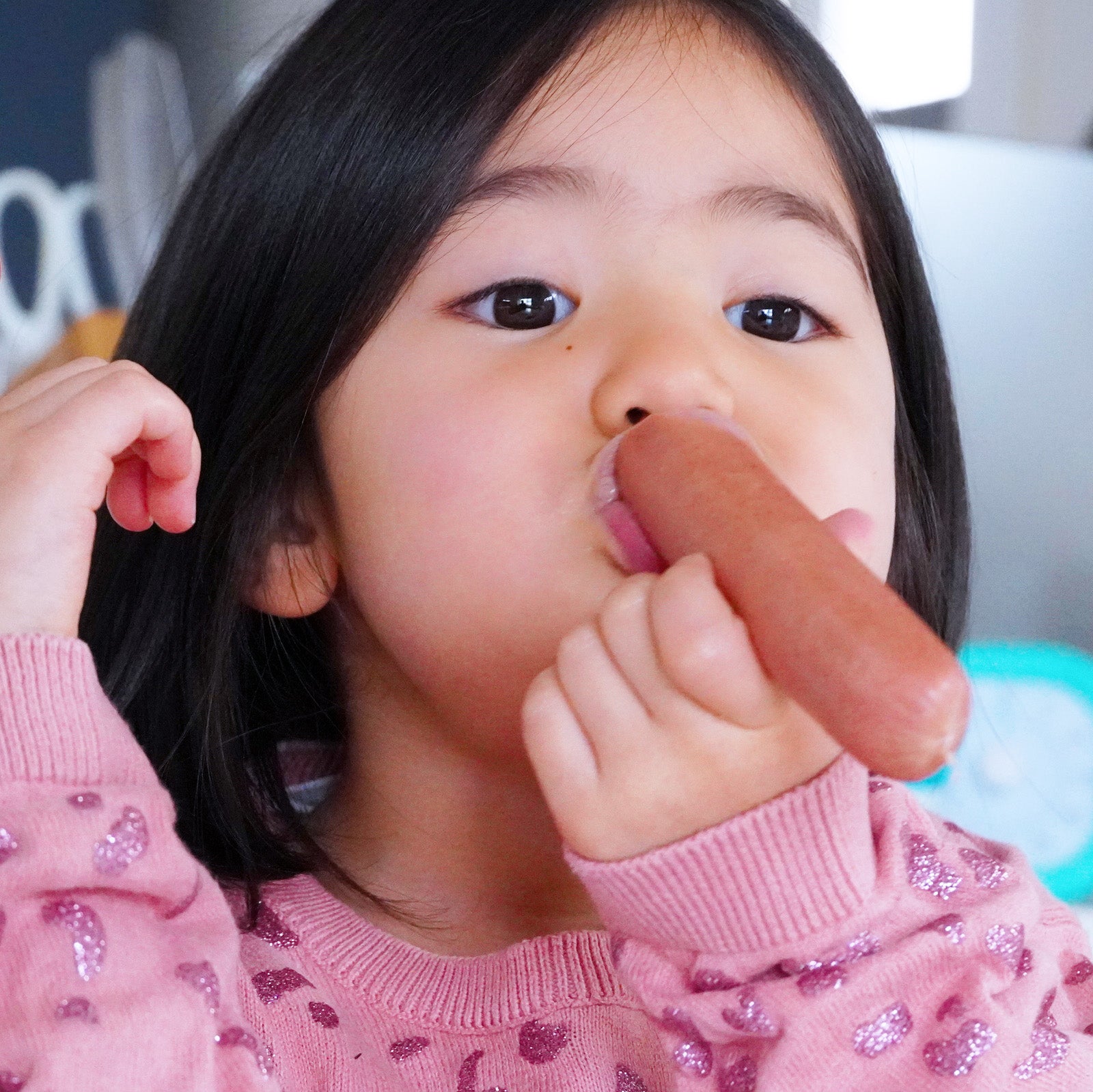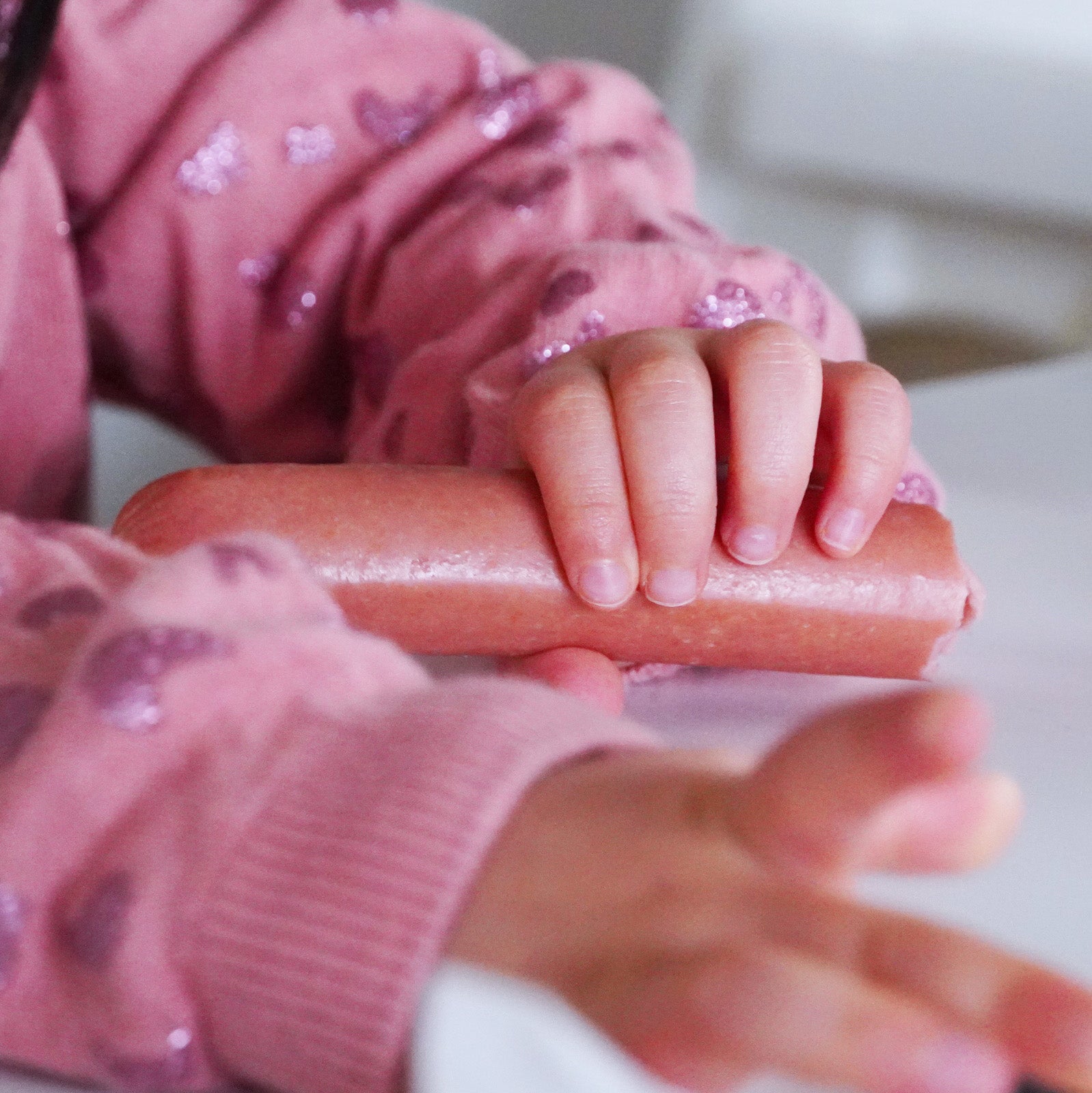 All-Natural Free-Range Kurobuta Pork Hot Dogs from Iowa (5pc)
Buy More, Save More:
1 Pack (Regular Price)
All-natural and free-range Kurobuta (Berkshire) pork hot dog sausages from America - each pack contains 5 hot dogs each about 15cm long. These are real American hot dogs made from Kurobuta pork, known for its superior juiciness and flavor, from family farms in Iowa, USA. The pigs have never been treated with growth hormones or antibiotics and the sausages contain only super clean all-natural ingredients. Free of preservatives, additives, nitrates / nitrites, MSGs, gluten and other nasties.
These hot dog sausages are fully cooked and then frozen - making them super convenient. They can be easily steamed, grilled, boiled and more. Keep a pack stocked in the freezer at all times so you can easily dish out a clean, worry-free, and delicious meal for your children.
Click here to check out our hot dog buns.
This is also available in our discounted sausage variety set here.
Contents
| | |
| --- | --- |
| Contents | 1 pack contains 5 sausages |
| Weight | 76g per sausage, total = 380g (13.4 oz.) |
| Serves | Serves 5 |
Shipping & Handling
Shipping
Shipping and delivery is frozen
Handling
Keep frozen below -18°C (0°F)
Defrosting Time
Not required.

Cooking Method
Fry-pan, grill, boiling, etc.

Best By
Frozen: see packaging label (usually more than 1 month)
Chilled: Please consume within 5 days.
Details
Also known as
Franks, Wiener, Frankfurter, Hotdogs, black hog, Berkshire pig, kurobuta

Ingredients
Pork, water, salt, turbinado sugar, spices, natural flavorings
Country of Origin
United States of America

Cooked/Uncooked
Fully cooked

Packaging
Vacuum packed
Nutritional Facts
100g serving size

Calories: 230 kcal
Protein: 9.0g
- Gluten: 0g
Total Fat: 20.0g
Total Carbohydrate: 2.0g
Sodium: 590mg
You don't need to defrost the hot dogs, simply take them out of the freezer and open the packaging. Don't worry about the odd shape, they will regain their round shape after they have been warmed up. Remember the hot dogs are already fully cooked - so you are not handling raw meat.
Prepare a pot big enough for the sausages to fully submerge. Bring the water to a boil and then lower the heat to a simmer. Place the sausages inside, they will usually drop to the bottom. Keep them in for about 10 minutes. 
Once done they are ready to serve. be careful with kids as the inside might be very hot. 
Serve with bread or just like that. Alternatively, you can also slice the hot dogs and mix them with scrambled eggs for that morning breakfast or in your pasta.
Or high-quality Dijon mustard or good old plain ketchup.
Our kids just love them plain as they come. Enjoy.
Thank You for the HOME FIELD FRANKS!!!
The first set of hot dogs I discovered here were great and then they were unfortunately discontinued. :( The replacements were mediocre at best. These however are perfect American hot dogs with honest ingredients. These will be my go to dogs as long as they are available. Defiantly a ball park home run!
So good!!!
ALL-NATURAL FREE-RANGE KUROBUTA PORK HOT DOGS taste really good and clean.
We bought gluten free hot dog bun and ate with them.
Wow! That was one of the perfect BBQ meals!
Strongly recommended!
Translated from Japanese: It's a very delicious sausage. It's a product that you definitely want to stock up on. Perfect for breakfast. It goes very well with ketchup.
What's going on in the reviews!
Translated from Japanese: They're not incredibly delicious.
They're bad. Since I've been born this might be the first time…that I didn't like sausages. I'm so shocked that I'm scared of eating sausages now. The reviews were positive and they're safe, but they're quite salty. It's a mystery to me how they didn't mention it.
The reviews are totally unreliable.
Translated from Japanese: It's a reorder. They're really delicious. They go well with toast. They're so delicious that eating them has become a habit. I'm happy to be able to eat safe sausages.