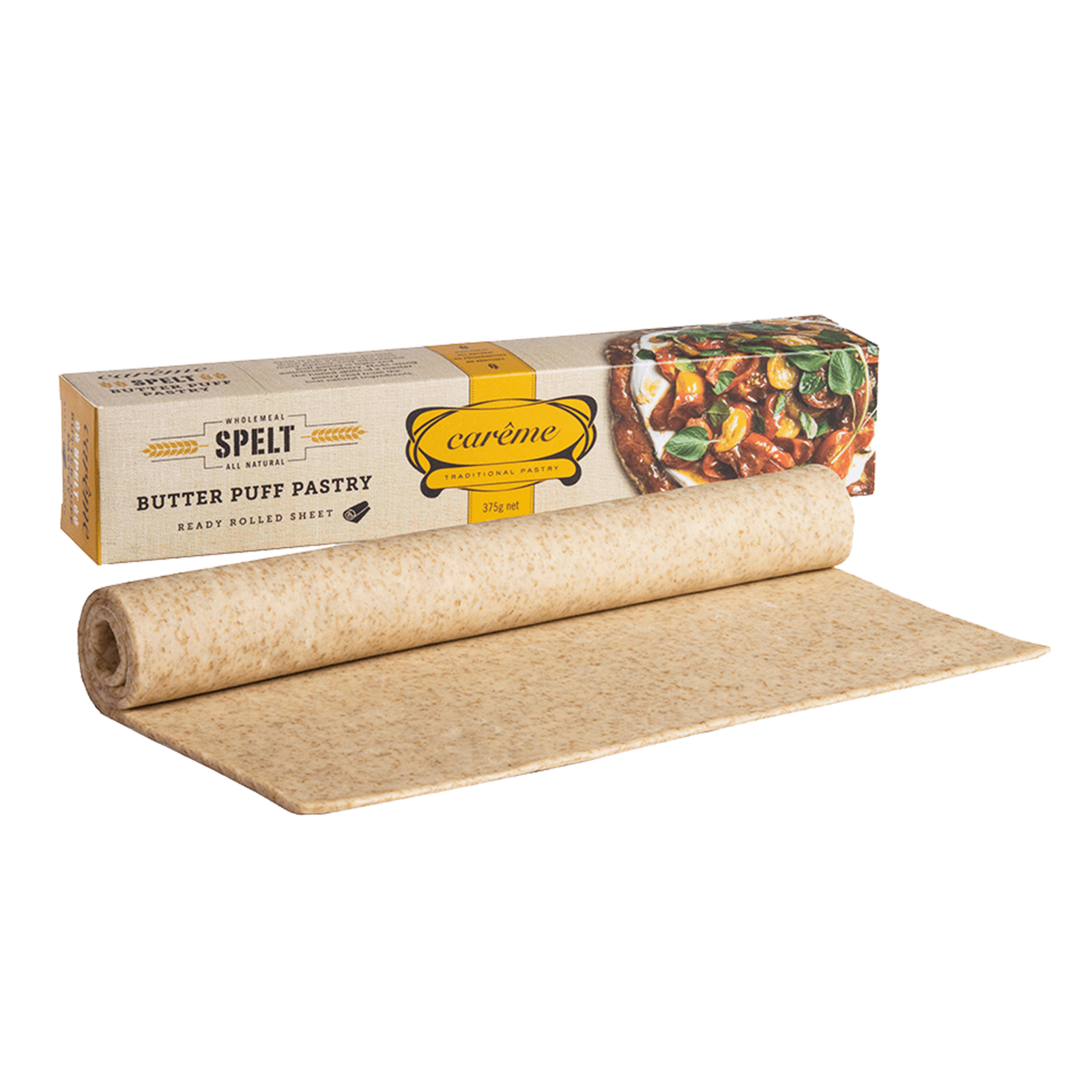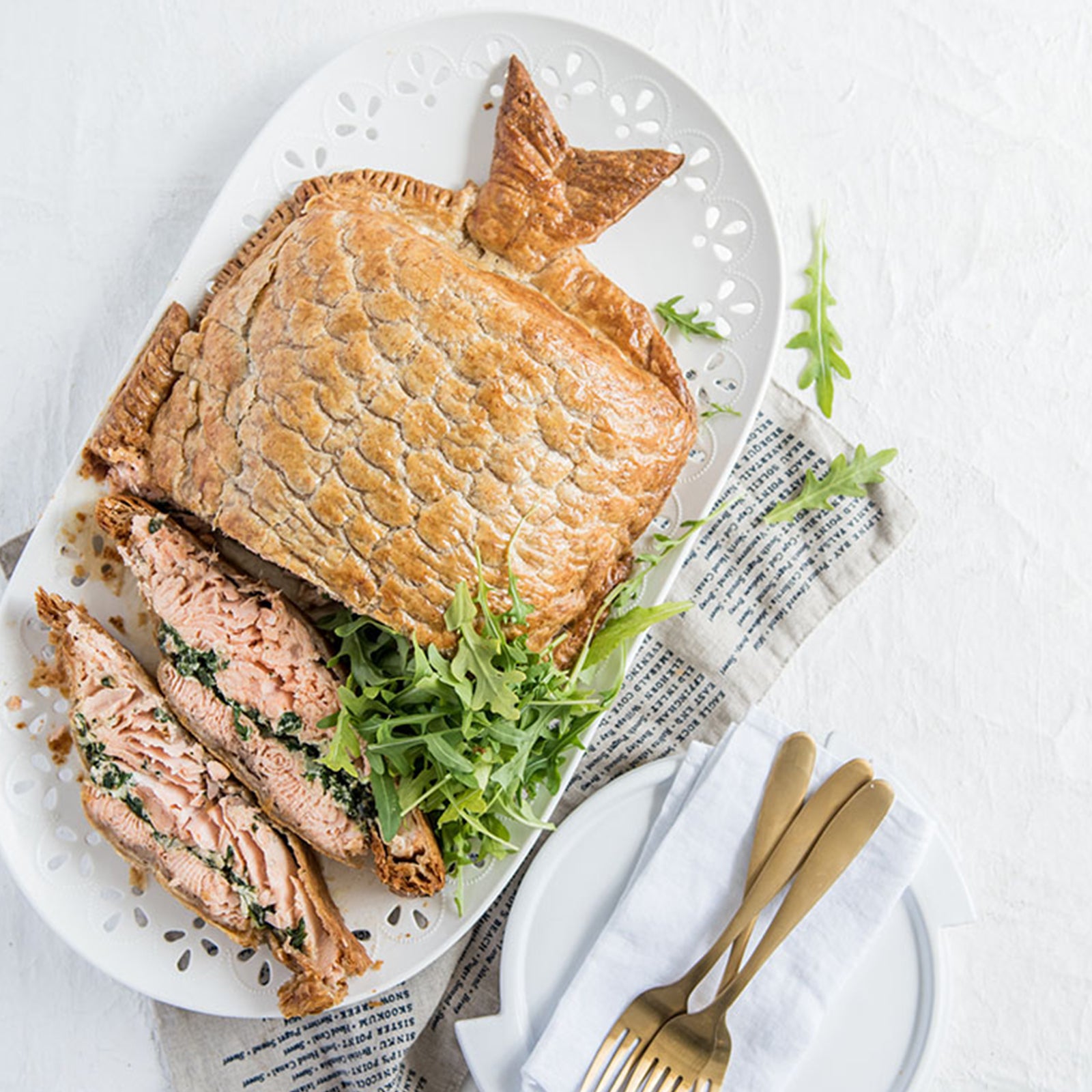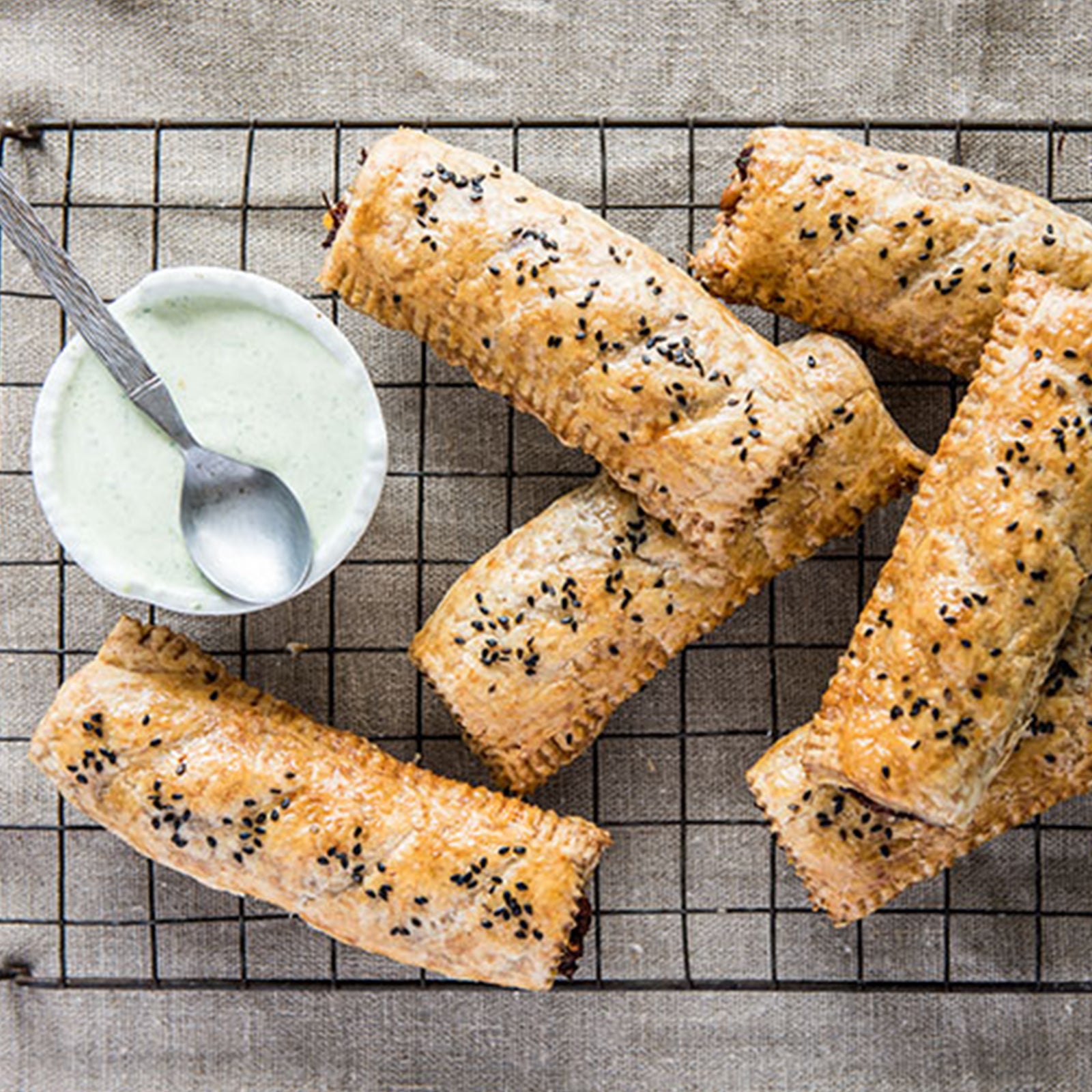 All-Natural Spelt Wholemeal Butter Puff Pastry Sheet from Australia (27cm x 36cm)
We are happy to announce that the price of this product has been lowered. We were able to reduce the import costs, and are passing on the savings to our customers.
Real pastry that takes you to the next level. Baking at home with real pastry made with real butter. All of the ingredients are natural and flour is Australian. This pastry is made by a dedicated crew of pastry lovers in the beautiful Barossa Valley, South Australia. No artificial colours, no artificial flavours, no preservatives, no additives. One ready-rolled sheet is 27cmx36cm in size which makes one large pie, or 2 medium-sized tarts or 24 mini sausage rolls. 
This wholemeal spelt butter puff pastry has been developed to provide health-conscious home cooks with a natural and nutritious alternative pastry product that's packed with health benefits but doesn't compromise on flavour or texture. Its light, flaky dough is infused with a delicate, nutty flavour that's perfect for a range of indulgent pies, tarts, quiche recipes and sausage rolls, and you can also combine it with strong flavour profiles to create a unique taste.

Carême Pastry was founded in 2005 and is owned and run by husband and wife team William and Claire Wood. 100% Australian made and owned, Carême Pastry is regarded as the leading producer of premium pastry in Australia and they have been supplying home cooks, chefs & foodservice professionals with a range of high-quality butter pastry products. Their premium pastry is made using traditional methods with all-natural ingredients that create an unparalleled flavour, texture and lift.
Contents
| | |
| --- | --- |
| Contents | 1 Roll |
| Volume | Approx. 375g (0.8lbs) |
| Size | Contains one ready-rolled sheet: 27cm x 36cmx3cm |
Shipping & Handling
| | |
| --- | --- |
| Shipping | Shipping and delivery is frozen only |
| Handling | Keep frozen below -18°C (0°F). Use within 24 hours once defrosted. Do not refreeze to preserve quality. |
| Expiration | Frozen: check the product label, usually more than 1 month. |
Details
Ingredients

Butter (Cream (Milk)) (32%), White Spelt Flour, Wholemeal Spelt Flour, Water, Salt, Vinegar.



Allergens

Contains Gluten (Spelt), Milk.



Packaging
It comes in a box wrapped in a sheet.
Country of Manufacturing
Australia
Brand
Carême Pastry
Instructions

1. Defrost. For best results defrost in the fridge.



2. Prepare. Lightly dust pastry sheet and work surface with flour before cutting.

3. Bake. Bake in a convection oven at 200 degrees C (220 degrees non-fan), for 10-15 minutes until risen, lower to 180 degrees (200 degrees for non-fan) and continue to bake until golden and crispy.
Nutritional Facts

Nutritional Values for 100g/62g serving size



Calories: 1720kj/1070kJ
Protein: 6.5g/4.0g
Total Fat: 27.6g/17.1g
- Saturated: 17.4g/10.8g
Total Carbohydrate: 33.0g/20.5g
- Sugars: 0.5g/0.3g
Sodium: 229mg/142mg
Importer
Horizon Farms, Inc.
Great taste
Great product. I used it for savery tarts. Make sure to follow defrosting instructions. I'm going to buy it again
Great!
Great for baking. Very yummy.
Translated from Japanese: The whole wheat flavor and crunchiness is very nice.
It was a great success when I baked it with agar chocolate mousse inside on a large baking sheet. I was able to make a safe and cheap chocolate pie that would have cost thousands of yen!
Unmatched taste and quality
Translated from Japanese: It's rare to find a pie sheet without margarine or shortening, and in a spelt whole wheat version.
I made a meat pie with ground game meat and soy meat for a holiday brunch. Even though it's whole wheat flour, the pie puffed up well and turned into a crispy, savory pie that went well with the flavor of the game meat. I'm sure I will order again.
Translated from Japanese: It's a pie sheet that contains all the spelt wheat particles, so it tastes healthy.