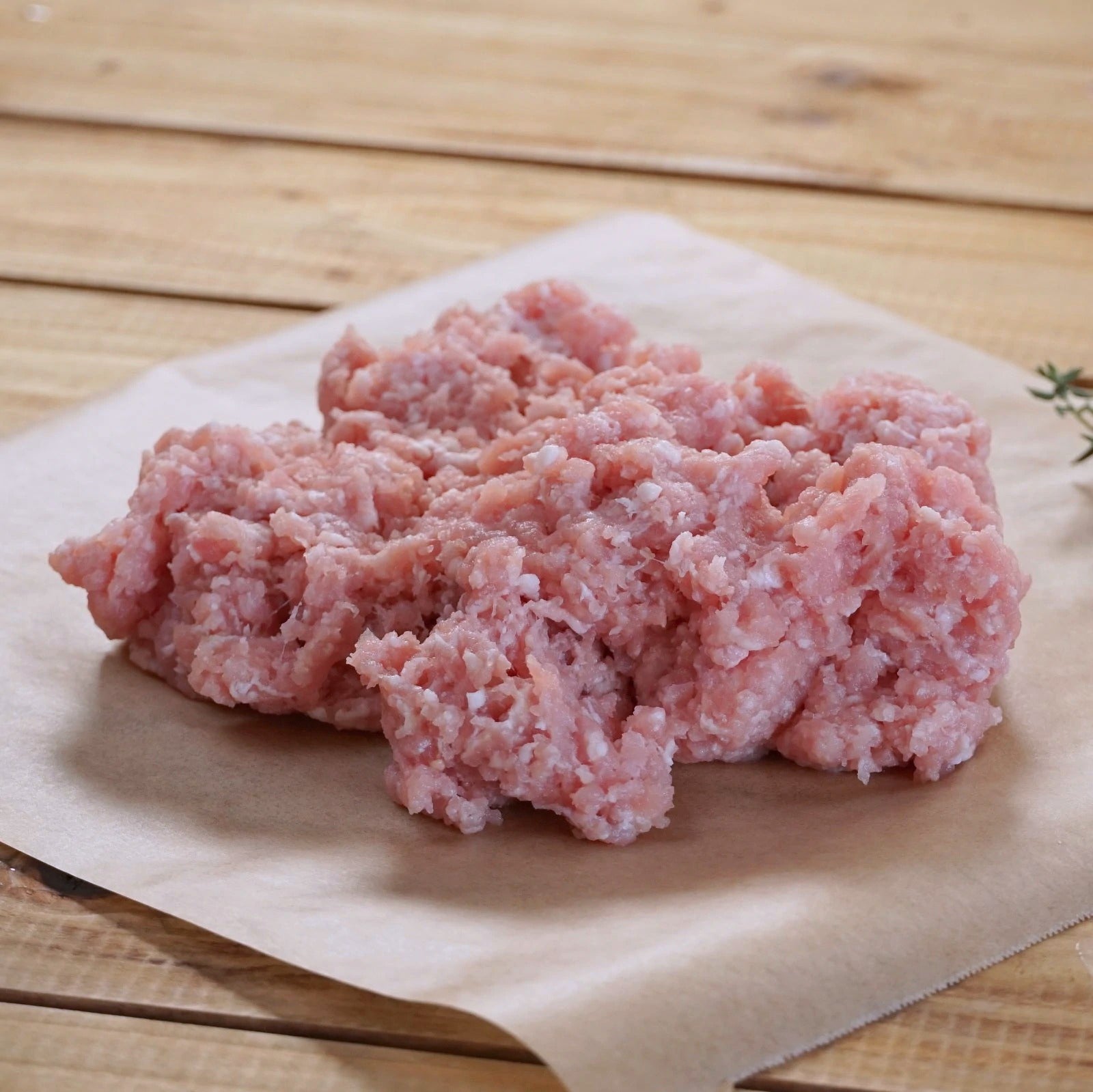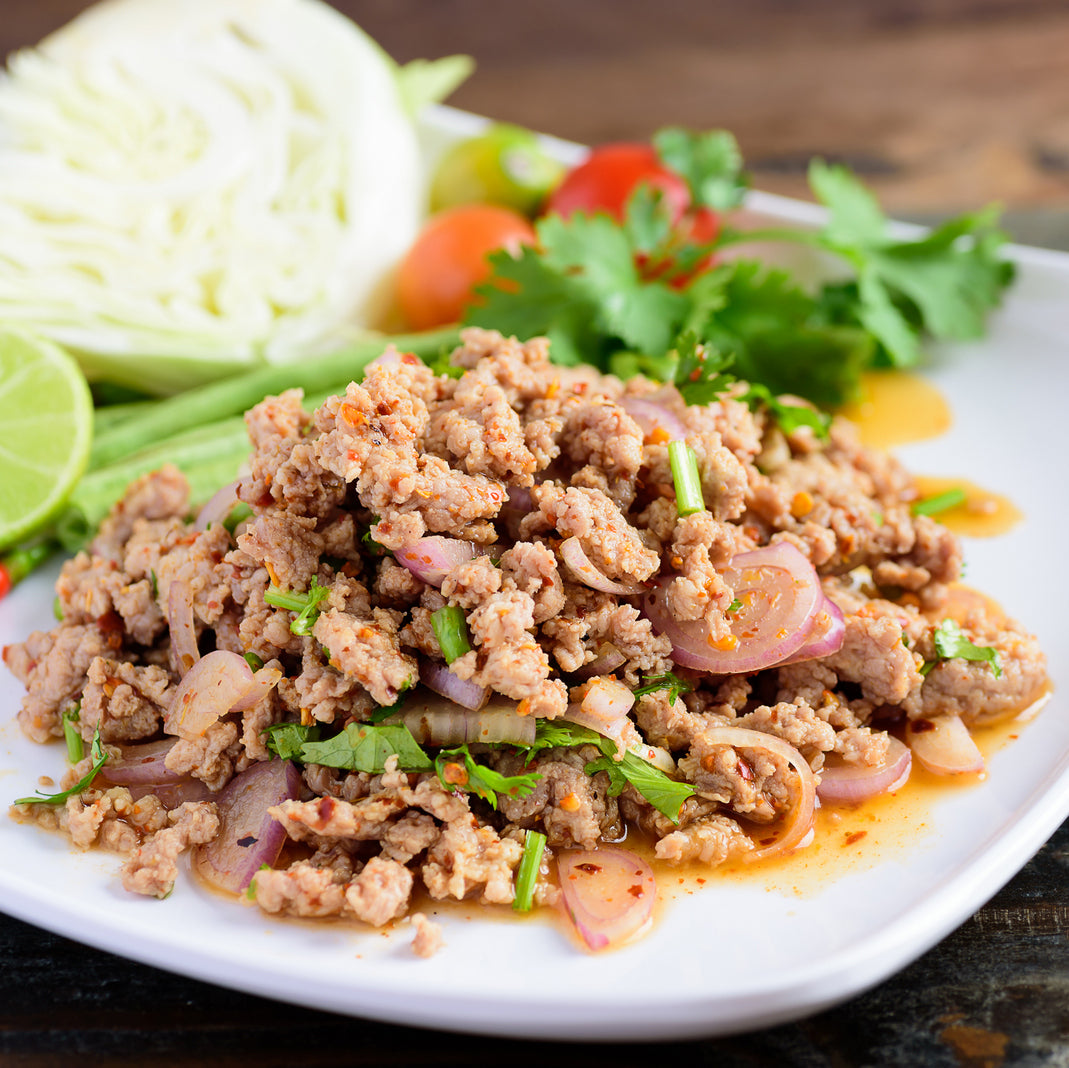 Extra Lean Free-Range Ground Pork from Australia (300g)
Buy More, Save More:
1 Pack (Regular Price)
We are happy to announce that the price of this product has been lowered. By increasing the import volume, we were able to reduce the import costs, and are passing on the savings to our customers.
300g of extra lean ground pork/mince made from free-range pork shoulder. We only use the so-called picnic ham of pork which is naturally lean. We never use trimmings or add fat. If you are looking for lean and clean ground pork - there is nothing better than this.
This free-range pork has taken on the superior flavor and tenderness of pork from a bygone era. Free of growth hormones, antibiotics, or any nasties. It has a superior flavor and all-natural tenderness and how pork should taste. 
✔ Humanely raised free-range pigs from Australia.
✔ The pigs live outdoors where they can truffle and play.
✔ Sows raise their piglets in individual straw-filled huts and have room to roam, can wallow in mud, and socialize with each other. Absolutely no gestation crates.
✔ Pigs are fed a natural, nutritiously balanced diet free of chemical residues. All feed is free of GMOs.
✔ No antibiotics or growth hormones - ever.
Contents
| | |
| --- | --- |
| Contents | 1 pack |
| Weight | 300g (10.6oz.) |
| Serves | Serves 2-4, depending on the recipe |
Shipping & Handling
Shipping
Shipping and delivery is frozen
Handling
Keep frozen below -18°C (0°F)
Defrosting Time
In the fridge: approx. 12h
In ice-water: approx. 1h
Cooking Method
Non-stick skillet or fry-pan
Expiration
Frozen: see packaging label (usually more than 3 months)
Chilled: Please consume unopened pack within 2 days.
Details
| | |
| --- | --- |
| Also known as | Pork mince, minced pork |
| Country of Origin | Australia |
| Ingredients | Pork |
| Cut From | Shoulder |
| Category | Ground meat |
| Packaging | Vacuum packed |
At A Glance
| | |
| --- | --- |
| Pork Breed | Berkshire Mixed Breed |
| Farm/Ranch | Contracted small-scale family farms |
| Breeding | All-year free-range pasture/mud raised |
| Feeding | Natural non-GMO feed only. Corn, barley, wheat, soybean meal, extraction meal, mineral mixtures.  |
| Traceability | 100% fully traceable from farm to fork |
| Growth Hormones | Never |
| Subtherapeutic Antibiotics Use | Never |
| Animal By-Product Feeding | Never |
| GMO Feed | Never |
| Importer | Horizon Farms, Inc. |
| Processing | Processed locally in Japan. |
Translated from Japanese: It has no smell at all and we use it for our usual meatballs. My growing son, who has never liked minced meat a lot, ate it up in no time.
Translated from Japanese: It was delicious and not too fatty!
Very delicious
Translated from Japanese: It was easy to thaw, had no odor and was very juicy and delicious.
Translated from Japanese: I bought it because it's Australian free-range pork and is proper traceability.
It's low in fat, easy to eat, and delicious.
Translated from Japanese: I ordered it many times.
I often mix minced beef and this minced pork.
It's really delicious.
I'm also happy that I could buy it with confidence.