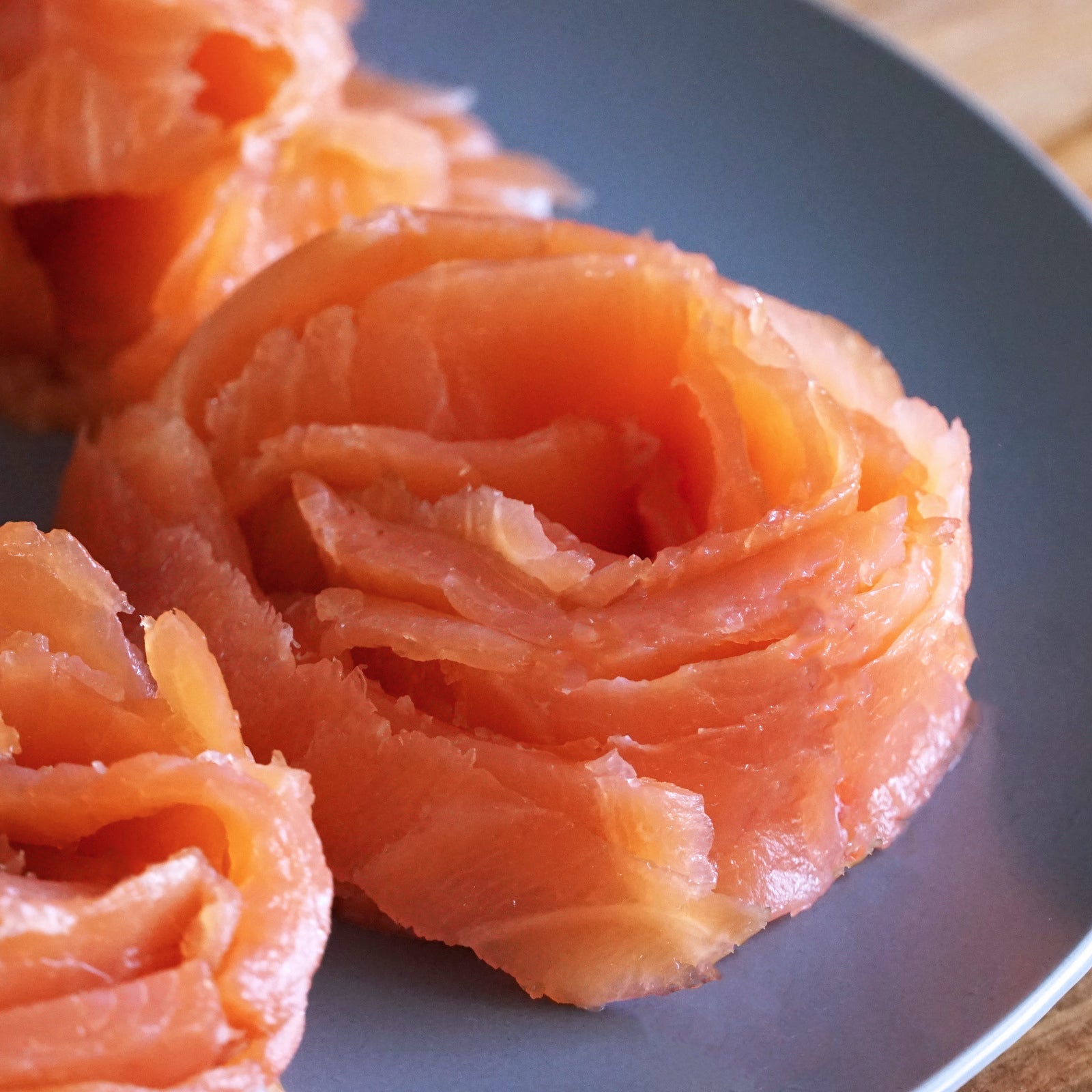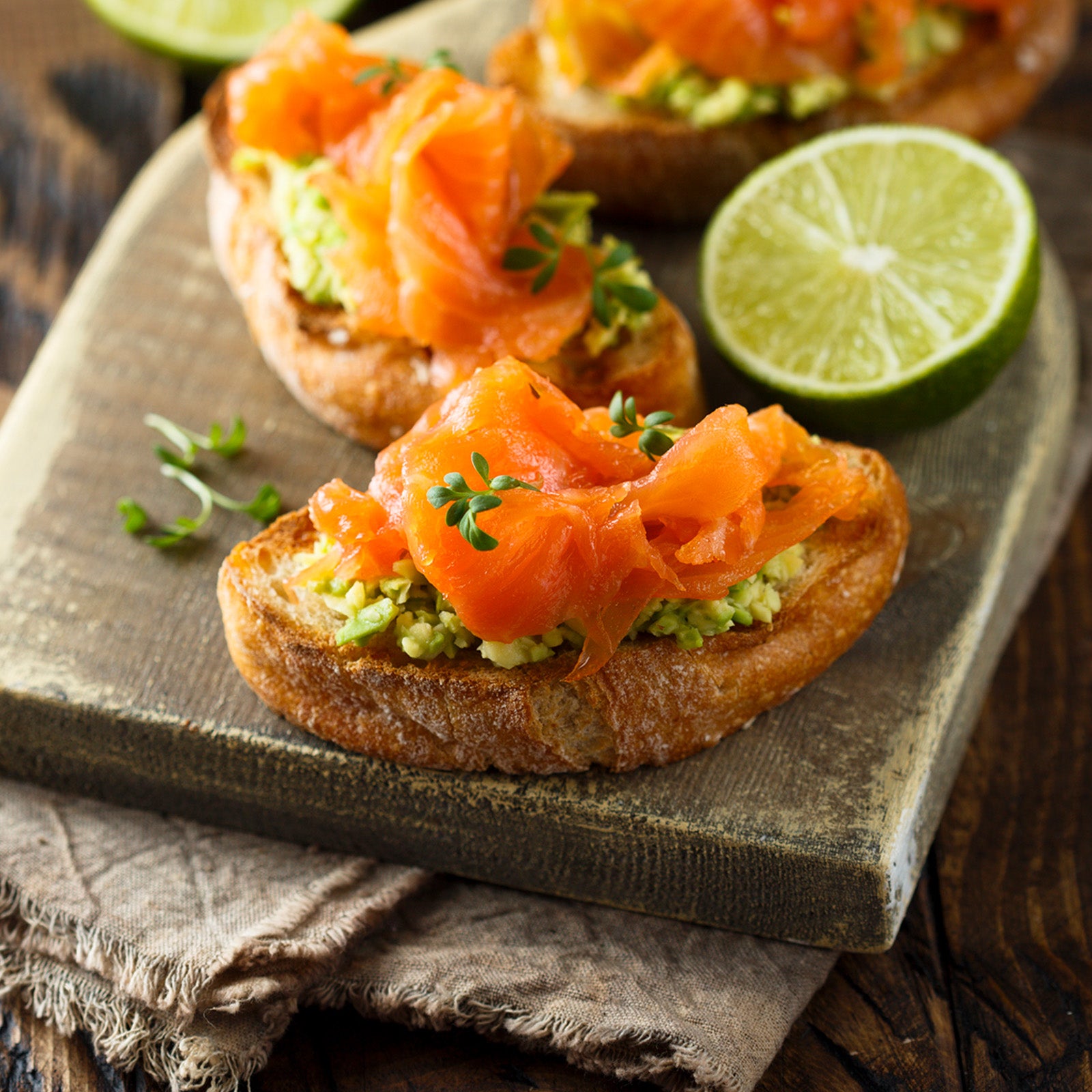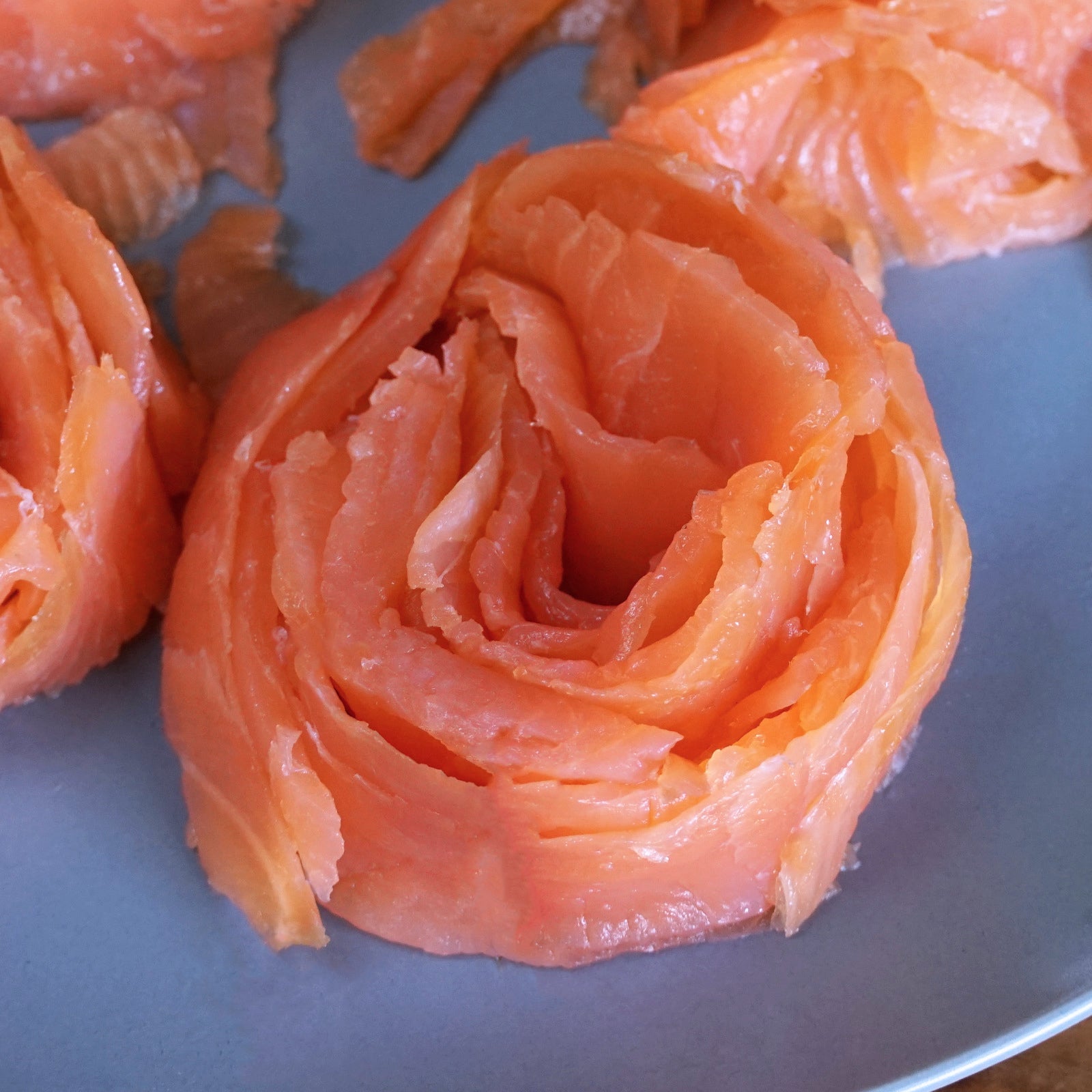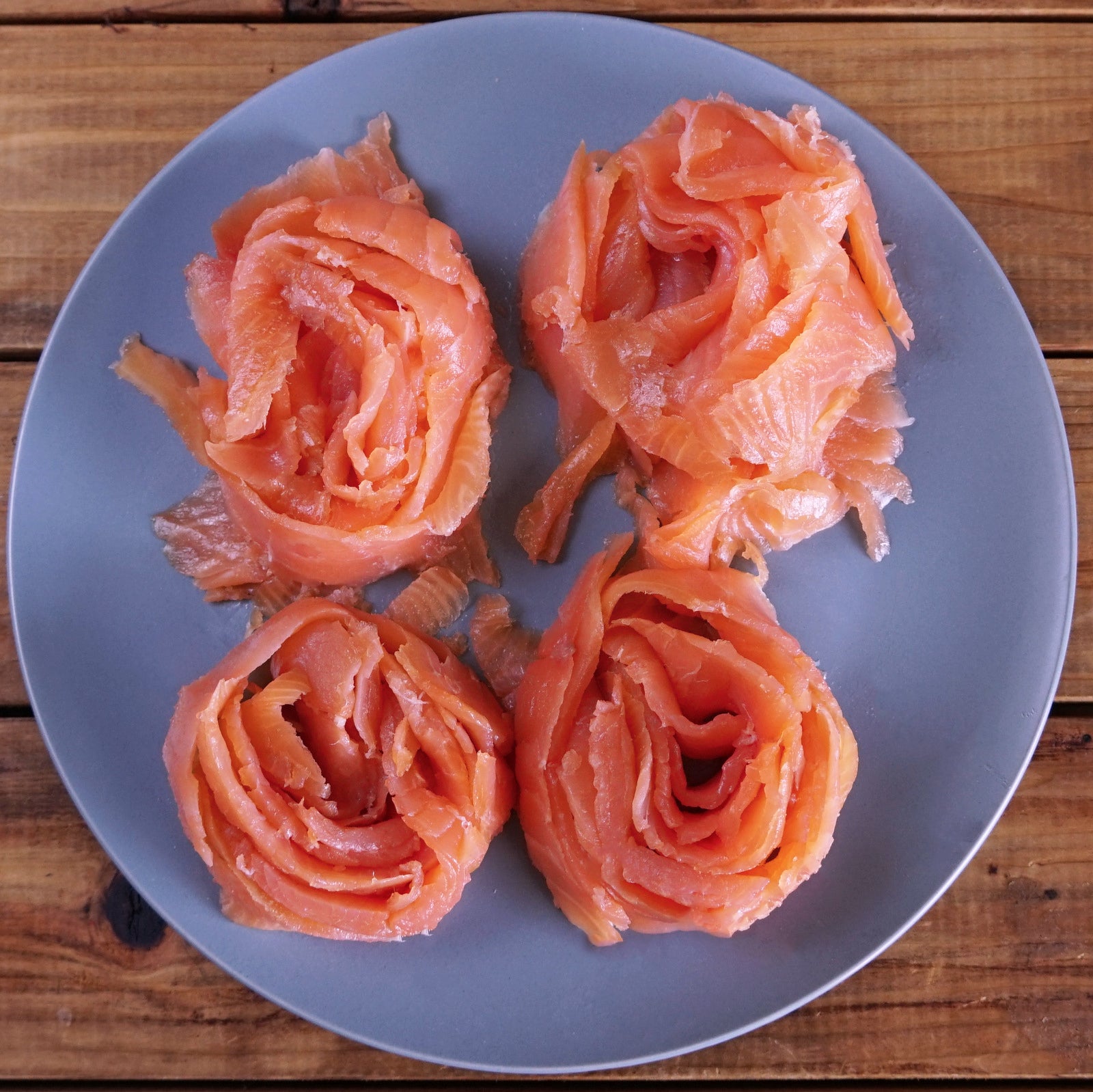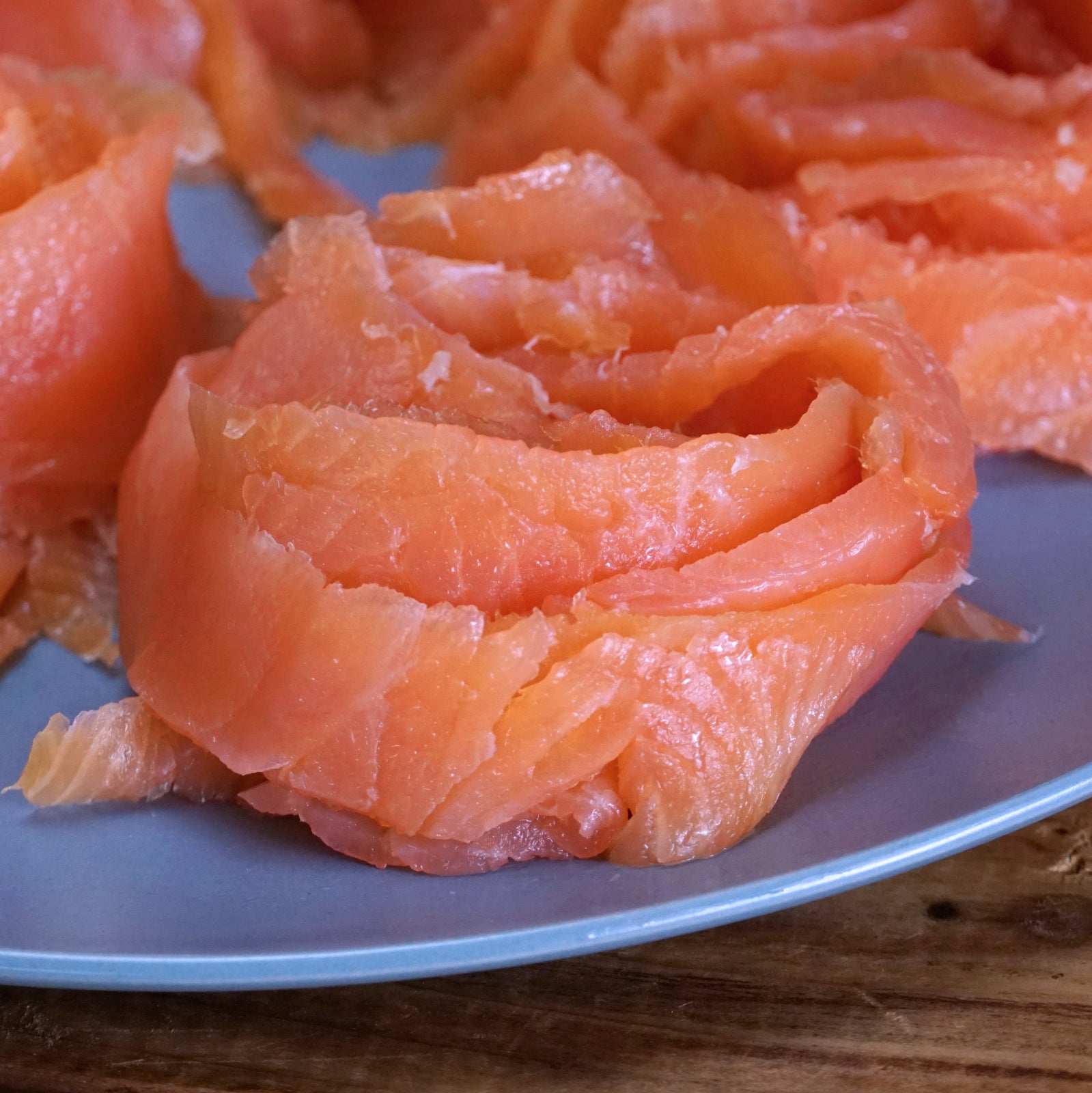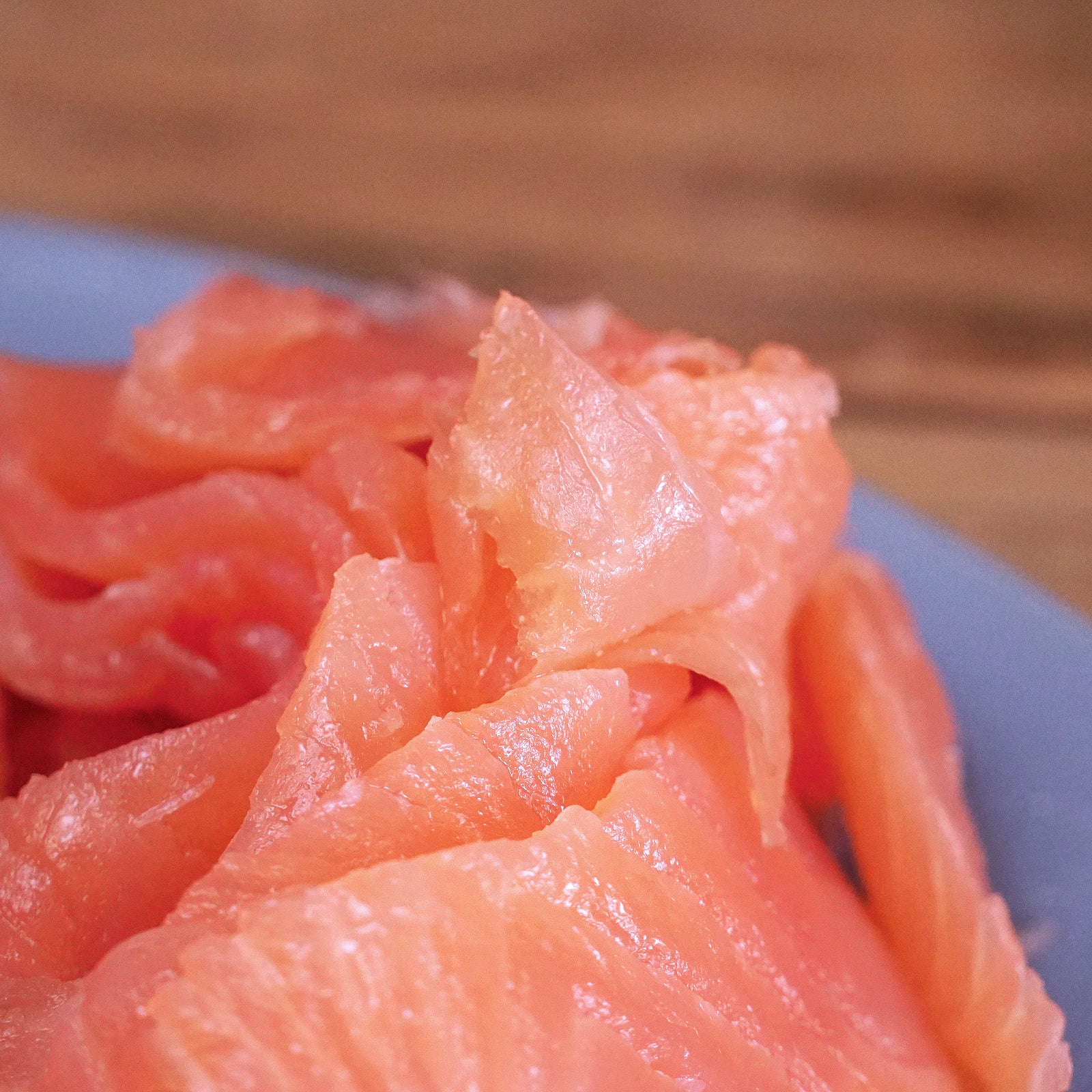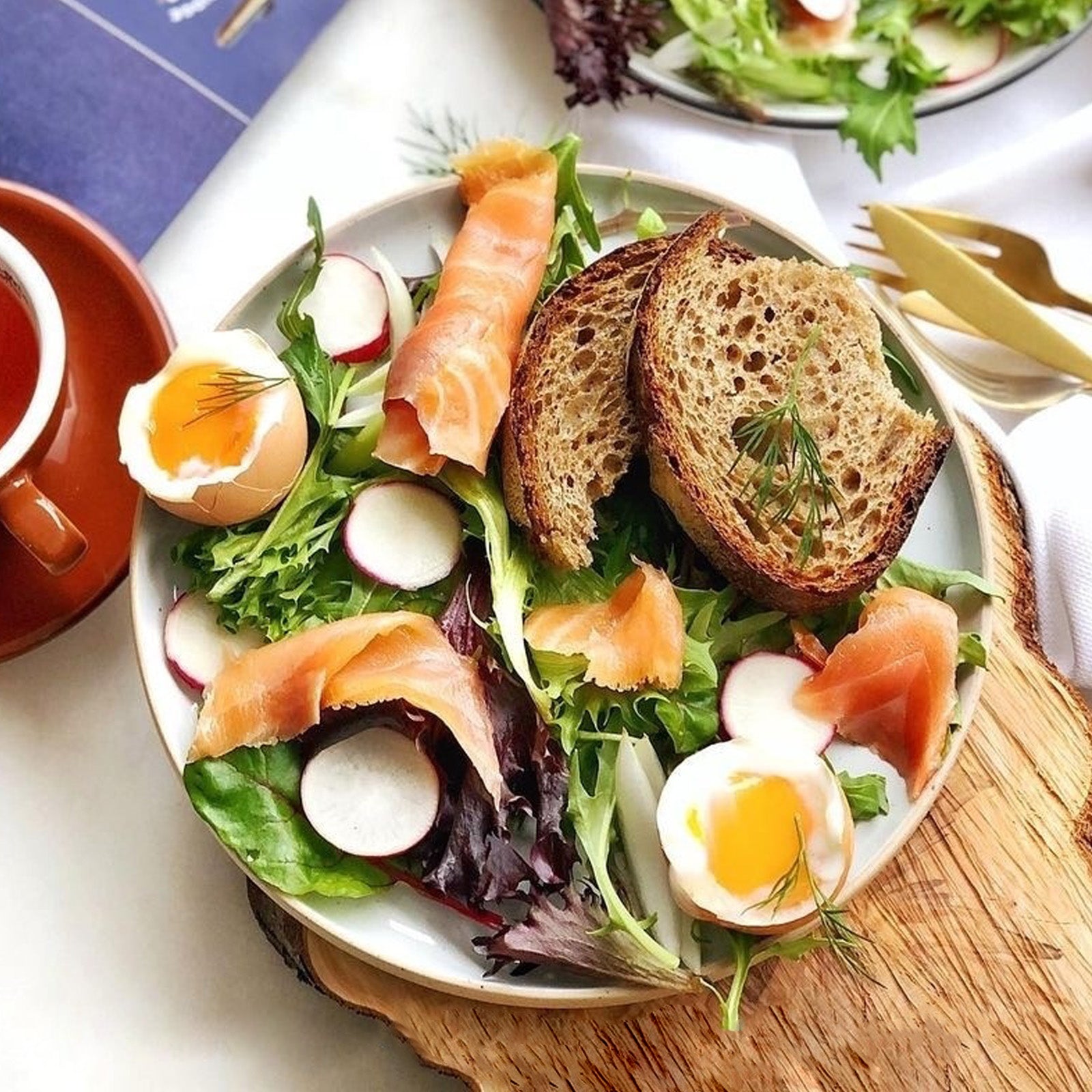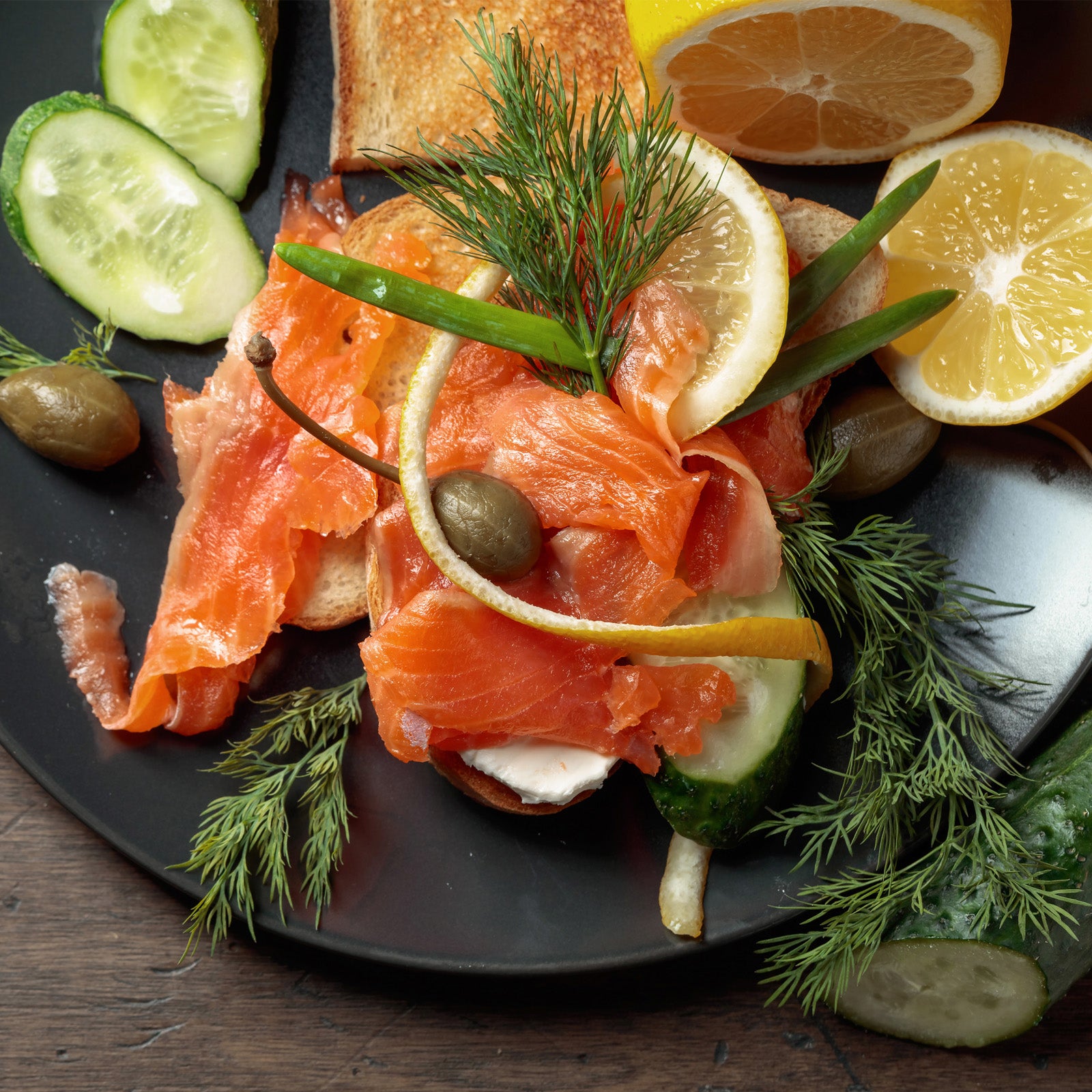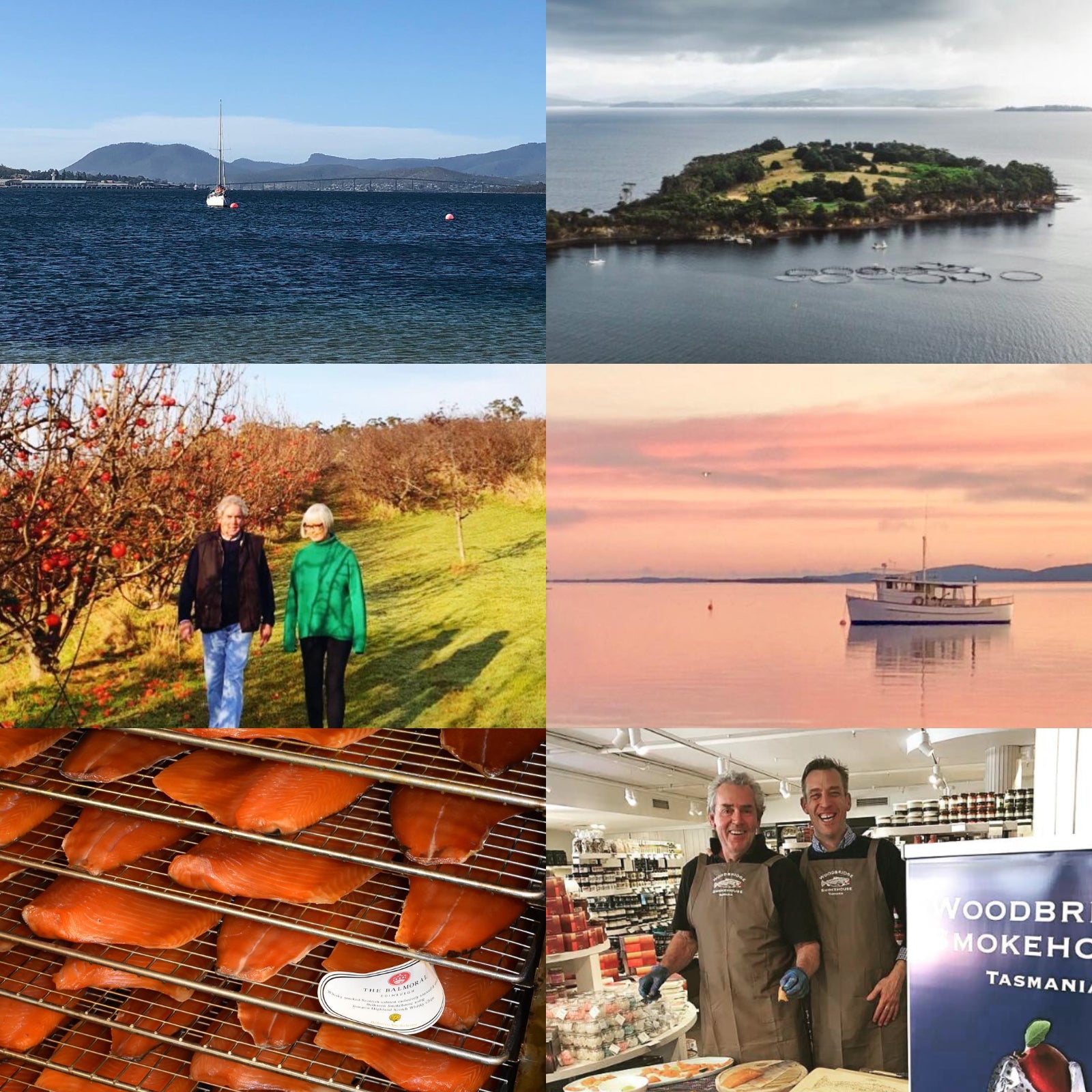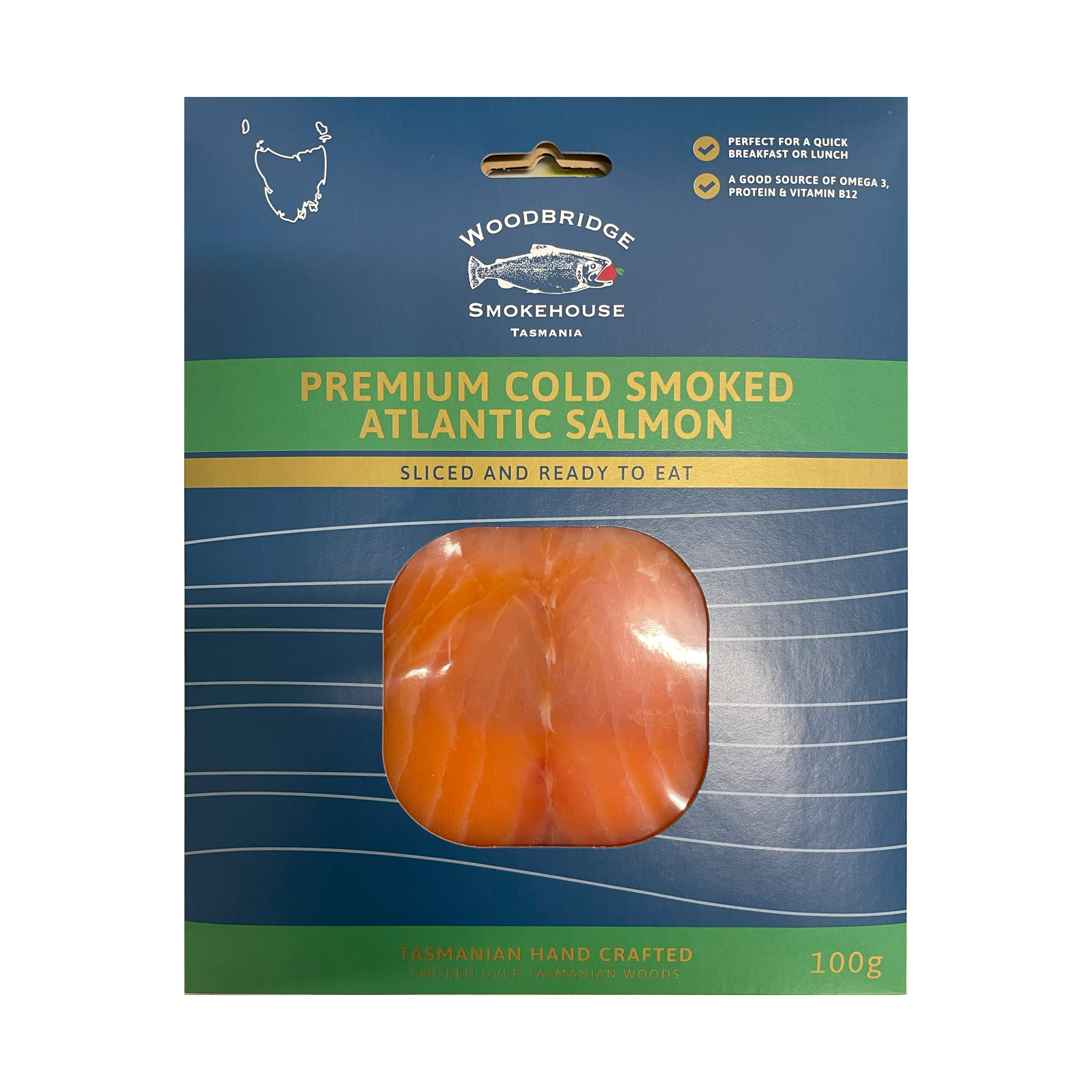 Premium Cold Smoked Antlantic Salmon Fillet from Australia (100g)
Buy More, Save More:
100g x 1 Pack (Regular Price)
100g of skinless cold-smoked salmon filet of the finest Tasmanian salmon (Atlantic Salmon) fully trimmed for the finest presentation. This salmon is freshly harvested, salt-cured, and smoked for at least 24 hours in kilns (thermally insulated chambers) which are fired by organic apple wood chips from the factory's own orchard. This smoked salmon is succulent and wonderfully flavorsome. Ideal for salads, pasta, appetizers, or other simple dishes your family will love.
Tasmania is known for its delicious Atlantic Salmon and this is no exception - a great source of Omega 3 & 6. This salmon is responsibly farmed off Tasmania's beautiful coastlines in 33m wide pens with a very low density of 1% fish and 99% water leaving plenty of space for the fish to freely and happily swim around. No use of antibiotics, growth hormones, or dye agents. 
Contents
| | |
| --- | --- |
| Contents | 1 pack |
| Weight | 100g (3.5oz) |
| Serves | Depends on the serving style. |
Shipping & Handling
Shipping
Shipping and delivery is frozen
Handling
Keep frozen below -18°C (0°F)
Defrosting Time
In the fridge: approx. 12h
In ice-water: Less than 30 minutes
Raw Consumption

This smoked salmon is fully smoked and therefore ready to eat. It can be consumed raw. 
Cooking Method
Not required. No further cooking is recommended.

Best By

Frozen: see packaging label (usually more than 3 months)
Chilled: Please consume the defrosted and unopened packaging within 7 days.
※Once opened please consume within 3 days.
Details
Also known as
Salmon, Lachs, Atlantic Salmon, Trout Salmon, Ocean Trout, Pacific Salmon, Smoked salmon

Country of Origin
Tasmania (Australia)
Ingredients
Salmon (95%), salt, natural wood smoke
Cut from
Salmon Fillet

Category
Fillet

Packaging
Vacuum packed together
Nutritional Information
Based on 100g 

Energy: 901kJ /215kcal
Protein: 26.9g
Fat: 12.0g
- Saturated: 1.8g
Carbohydrates: 0.0g
Sodium: 1240mg
At A Glance
Species/Breed
Salmo salar (Atlantic Salmon)

Country

Tasmania (I

n the South-East of Australia)



Feed
Fish meal, fish oil, v

egetable ingredients such as wheat, soya derivatives, corn gluten, and vegetable oils,

 moisture, vitamins and minerals,

 

astaxanthin. 

Also, animal-by products such as high-quality chicken oil are used. All feed is of non-GMO origin.

Farming Method
Off-shored farmed in open waters.

Importer
Horizon Farms, Inc.
Simply AMAZING
This is exactly the same one I used to have when I lived in SYD, amazing tastes, much better than any smoked salmon in the Japanese market. Cold smoke can preserve more omega 3
I recommend eating this salmon with organic lemon!
Translated from Japanese: The more I buy this product, the more I like it!
With just the right amount of salt it gets a nice smoked scent. No odor!
I'm glad that each one is big.
Recently, I think it's best to squeeze the most delicious organic lemon and slice the salmon into large pieces and eat them as they are. The whole family loves it so we finish it quickly.
It's very, very delicious salmon.
I will buy it again!
Hand-rolled smoked salmon is delicious
Translated from Japanese: I love smoked salmon with just the right amount of salt.
At home, we don't only eat it as it is, I often eat it hand-rolled.
I roll it with freshly cooked rice with no vinegar, put seaweed on top and then roll the smoked salmon around it.
I eat it with avocado and organic mayonnaise, and with organic wasabi and soy sauce.
It's very delicious.
Translated from Japanese: My husband likes smoked salmon, so I'm trying out various ones and after all, this salmon is the best.
The smoke is just right, the salt is good and above all, I'm glad that I can eat it with confidence.
I'd be grateful if the 500g were sliced...
My favorite smoked salmon
Excellent in taste, excellent in bite and in an astonishing quality. I also really appreciate that the salmon is produced sustainable and without chemical additives: You can simply taste it.
We love it just on toast with capers and horseradish or red onions. Needless to say that Champagne is a perfect match with it - in particular for a lovely Sunday brunch.
I also have to add that I am a "repeat buyer" of it: simply the best I can get in Japan.