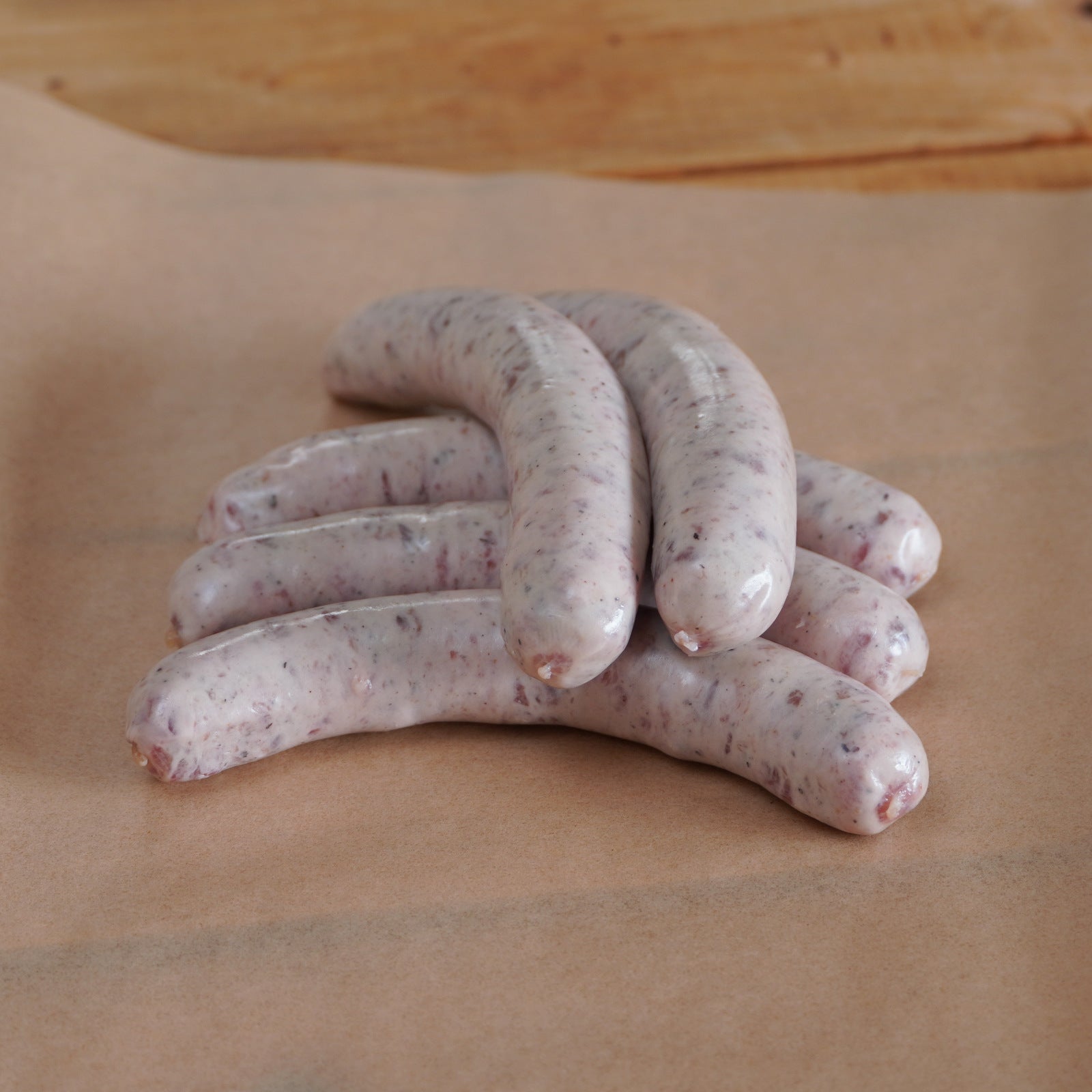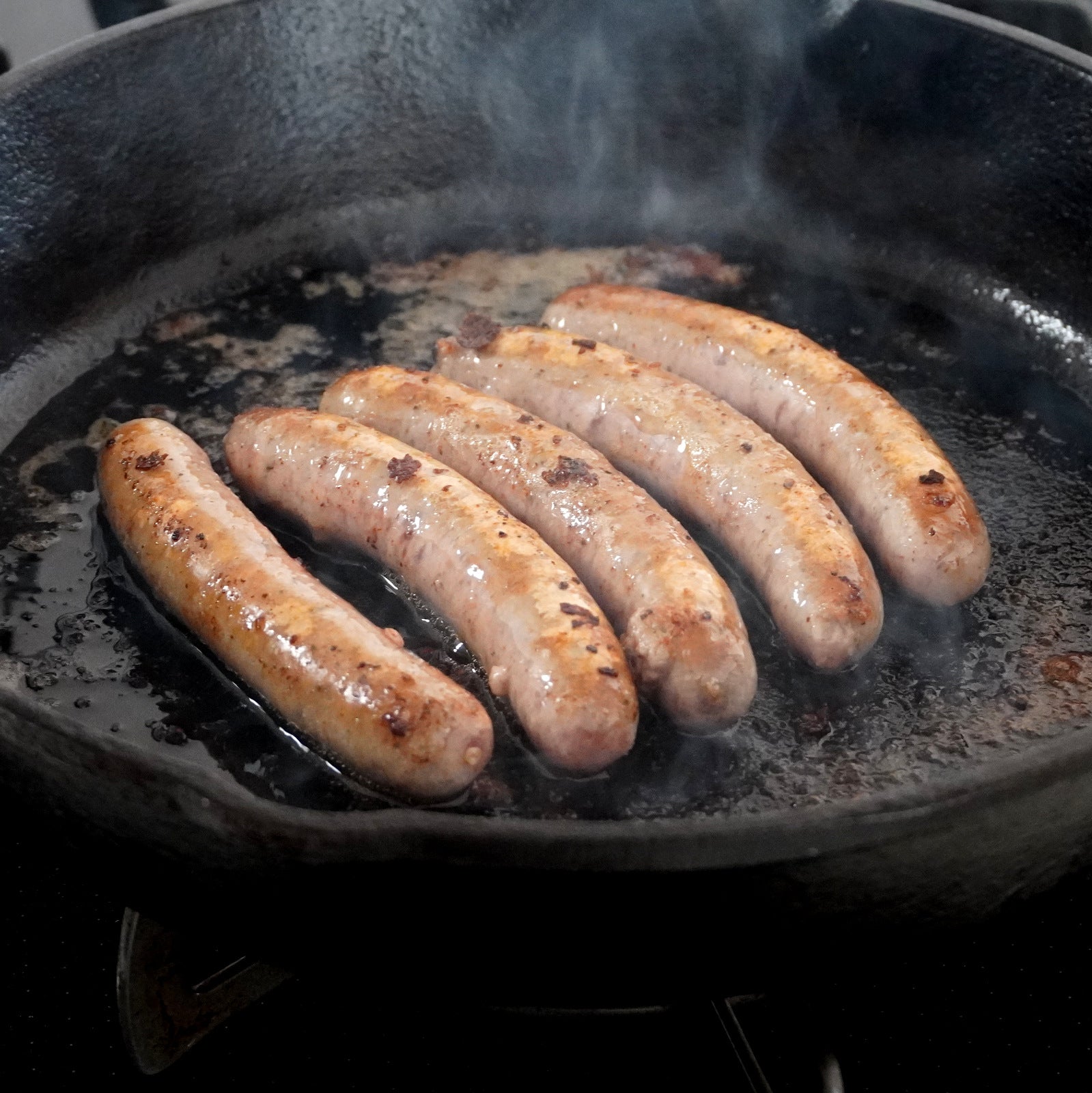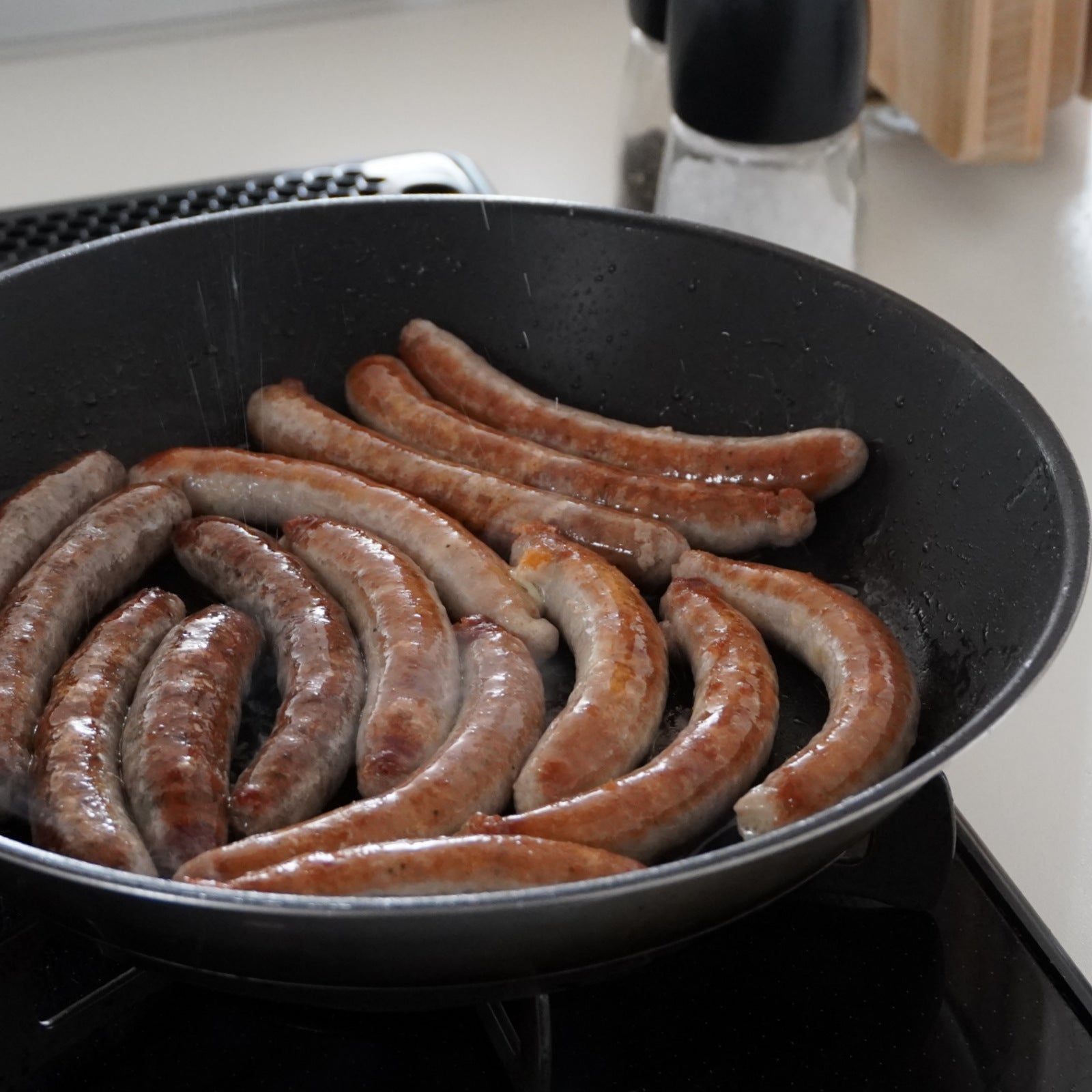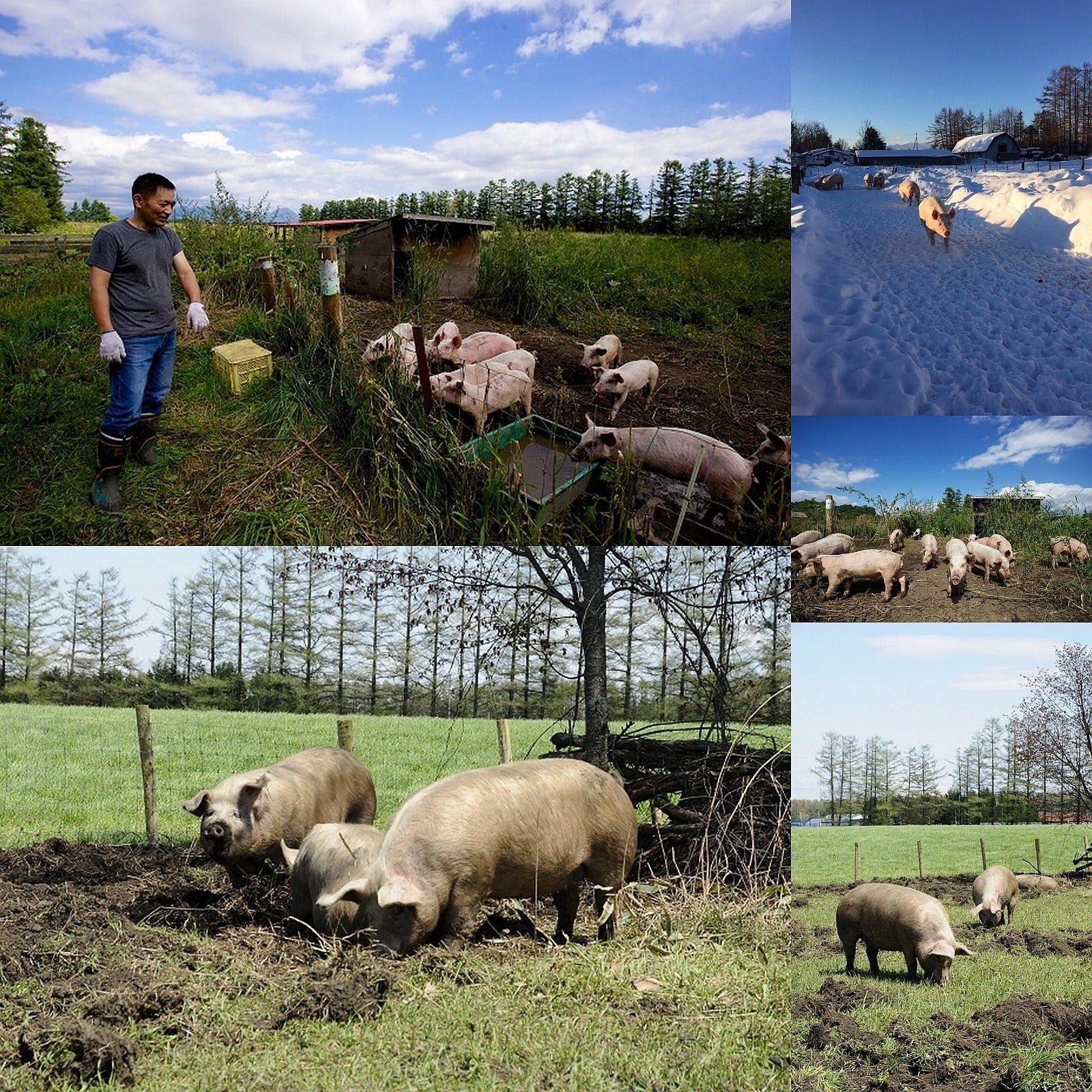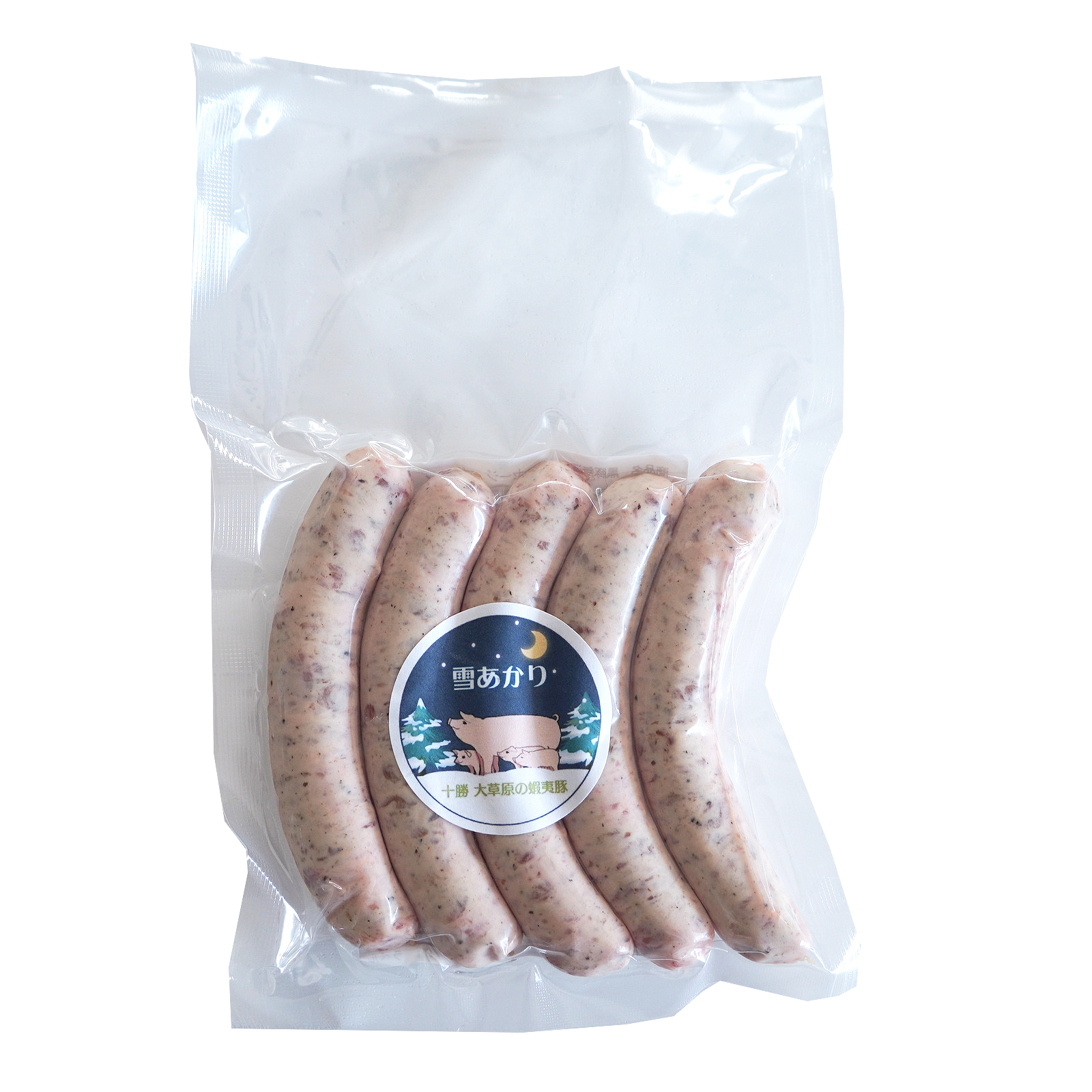 Free-Range Sugar-Free Classic Pork Sausage From Hokkaido (5pc)
Buy More, Save More:
1 Pack (Regular Price)
Additive-free, sugar-free, free-range sausage made with luxurious pork from pigs raised in the Tokachi region of Hokkaido. We won't lie to you - the sausages are on the small side, but they are quick and easy to cook, even small children can easily eat them and they make for a perfect breakfast, light meal, or even just as a snack with wine. The thickness of the sausages may differ due to the use of natural casings made from the intestines of free-range lambs from Oceania. Each pack of sausages contains 5 small sausages totaling about 150g (5oz).
We offer three different types of pork sausages from this farm so be sure to try them all. In addition to the classic pork sausage, we offer pork and cheese, and mushroom and pork sausages. All of our sausages come free of preservatives, additives, gluten, lactose, MSG, fillers, nitrates, enhancers, sugar, or any artificial ingredients or nasties, just family farm produced, ethically raised pork and top quality natural spices from around the world.
These Tokachi pigs are raised in a clean and healthy environment without the use of growth-promoting hormones or antibiotics. The pigs are raised in the tranquil wilderness of Tokachi, Hokkaido, an area of more than 100 hectares of land, where they are allowed to roam freely and are fed clean agricultural products produced locally in Tokachi. The animals are raised by Mr. Nakano and his employees with love and care. 
Contents
Contents
1 pack contains 5 small sausages
Weight

150g (5oz.) total or 30g each

Serves

Serves 2 depending on the recipe

Package Dimensions
12cm x 12cm x 2cm (4.7

"

x 4.7

"

x 0.8

"

)
(

approximate

, individual products may vary)
Shipping & Handling
Shipping
Shipping and delivery is frozen
Handling
Keep frozen below -18°C (0°F)
Defrosting Time
In the fridge: approx. 12h
In ice-water: approx. 1h
Cooking Method

Fry-pan, grill

Expiration
Frozen: see packaging label (usually more than 1 month)
Chilled: Please consume unopened pack within 3 days.
Details
Also known as
Pork sausage, breakfast sausage, sausage links, wiener sausage
Ingredients
Pork, starch, seaweed powder, rock salt, bouillon, black pepper, garlic powder, white pepper, onion powder, nutmeg
Country of Origin
Hokkaido, Japan
Cooked/Uncooked
Uncooked, raw sausage. Cook thoroughly before consuming.
Packaging
Vacuum packed together

Nutritional Facts
Based on 100g portion

Calories: 256kcal
Protein: 25.3g
Total Fat: 16.0g
Carbohydrates: 3.9g 
Salt: 2.3g
✔ All year free-range raised in the great outdoors of Tokachi, Hokkaido. The pigs forage around freely and wallow in the mineral-rich natural soil.

✔ Fed locally produced and sourced wheat, potatoes, corns, and yams.
✔ Raised slowly with respect, care, and love for 12 months which is twice the time of conventional factory-farmed pigs.
✔ No growth hormones, no subtherapeutic use of antibiotics - ever!
✔ The pigs are allowed to graze with as much space as possible, with a maximum of 5 animals per 1,000 squared meters
At A Glance
| | |
| --- | --- |
| Pork Breed | Camborough Pork |
| Region | Tokachi, Hokkaido, Japan |
| Breeding | All year free-range |
| Feeding | Wheat, potatoes, corn, yams, whey from local pastured beef, etc. |
| Raised by | Kenji Nakano |
| Farming Experience | 10 years |
| Traceability | 100% fully traceable from farm to fork |
| Growth Hormones | Never |
| Antibiotics | Never |
| Processing in | Japan |
Tasty and good ingredients
It is a relief to be able to purchase sausages without a long list of additives. The taste looses nothing and we feel comfortable feeding them to our kids.
These Hokkaido sausages were very tasty.
Great sausages
We loved these. Even my picky baby. Perfect for breakfast! Delicious
Translated from Japanese: This sausage is my family's favorite, and we all love it. The moment we eat it, we always say "delicious" and "yummy". I've not been able to eat sausages for a long time since I knew that you should be especially careful with fish paste because you don't know what is used in it, so I was very happy when I came across these. The spices and saltiness are good, and if they're safe to eat and taste good, it's a good reason to buy them again. I was very satisfied with the food and ordered again, so I can say, "Delicious! Yummy!" once more♪
Translated from Japanese: This is my second purchase. I have looked for and tried additive-free, unsalted sausages from many different places, but have not found any that beat these sausages. Safe, secure, and delicious! Even my family, who are very sensitive to taste, loves them. Although the price is not easily affordable for our family, we will keep coming back as we make ends meet.