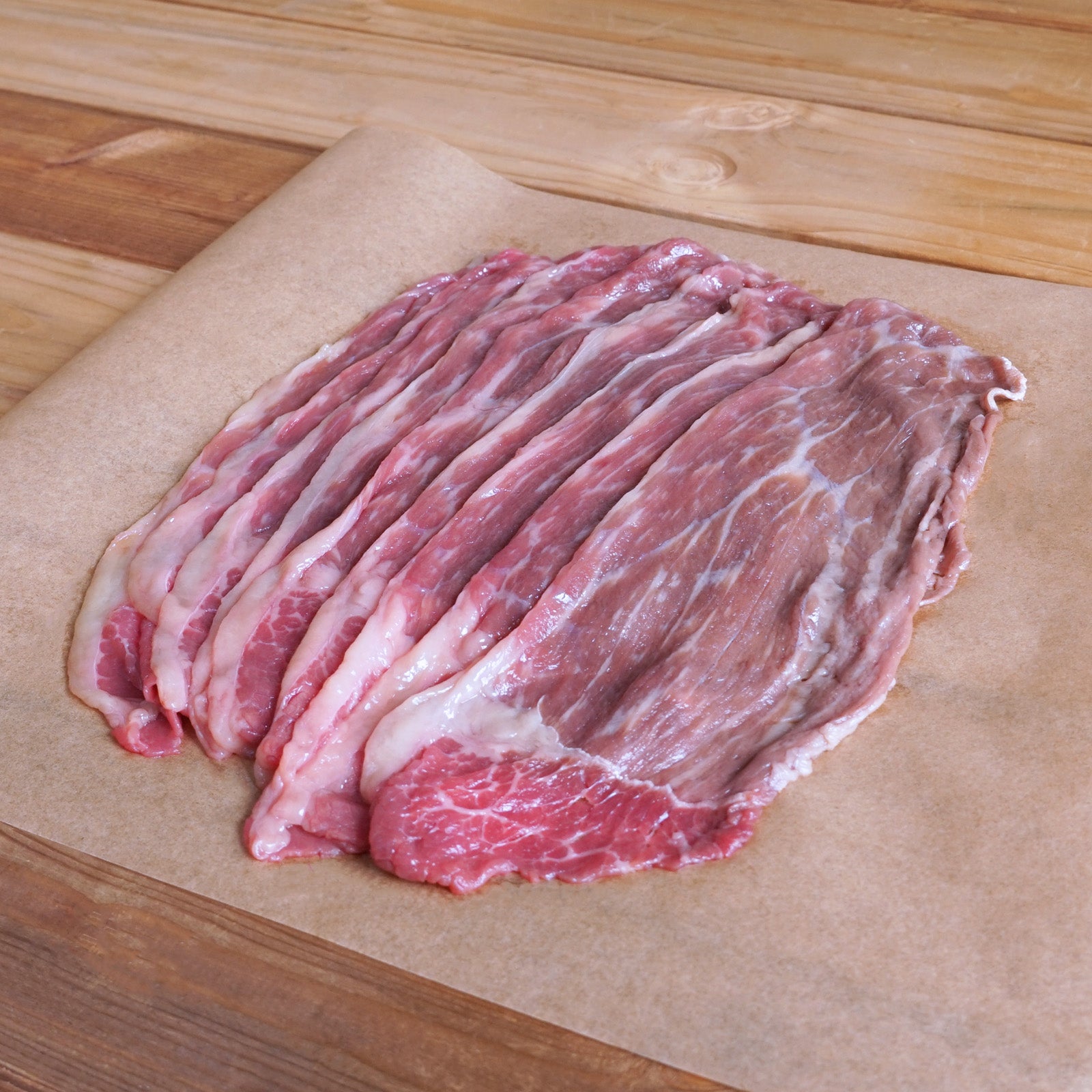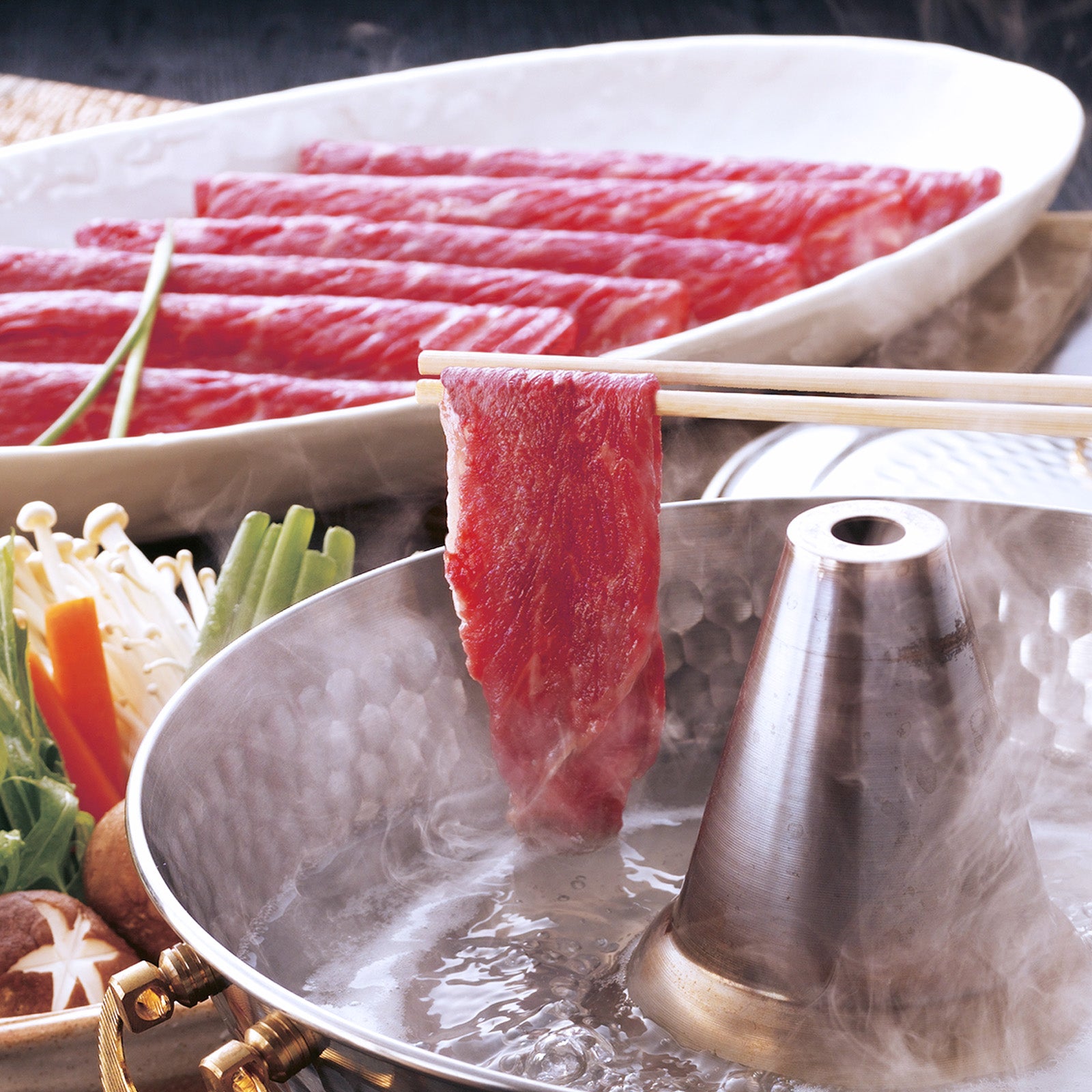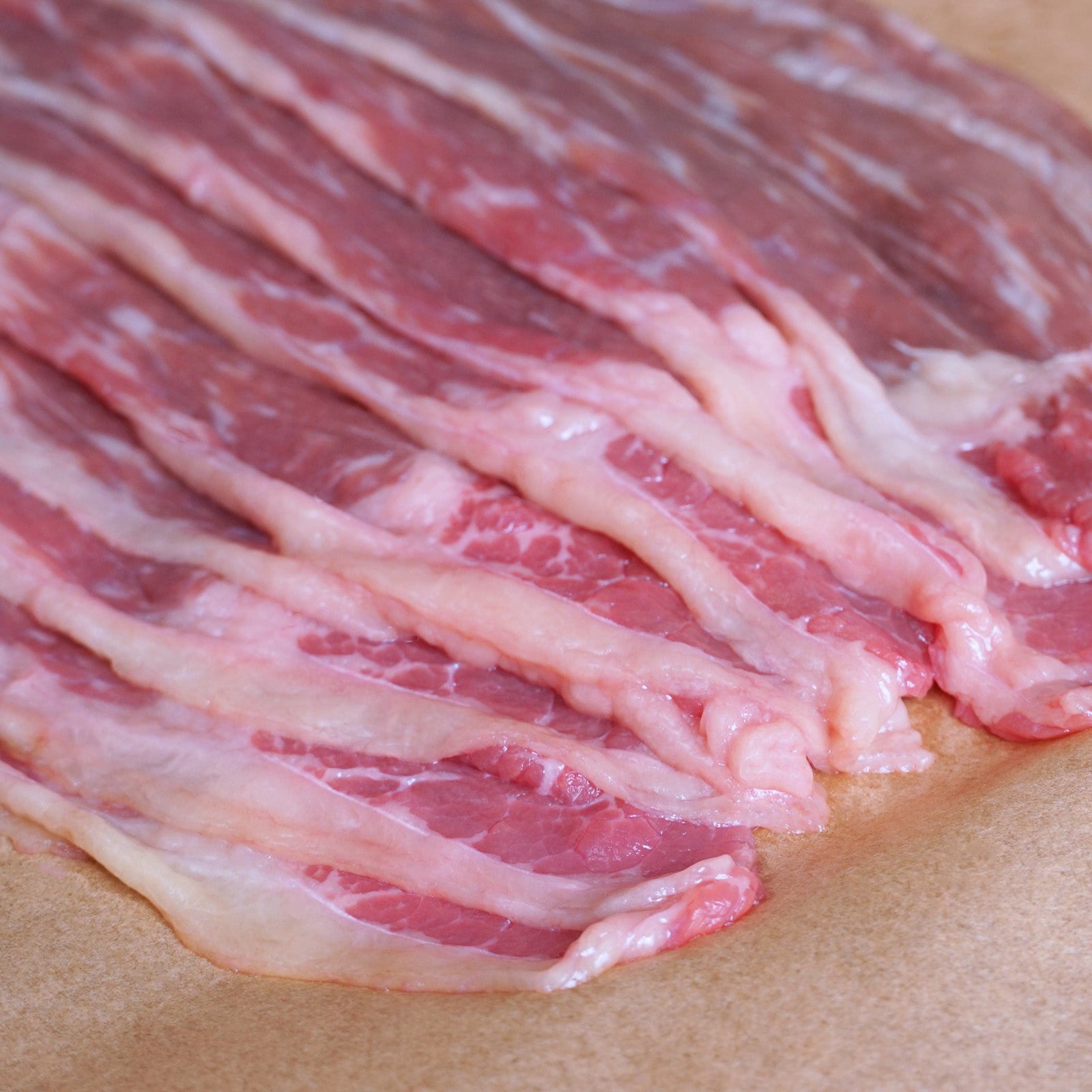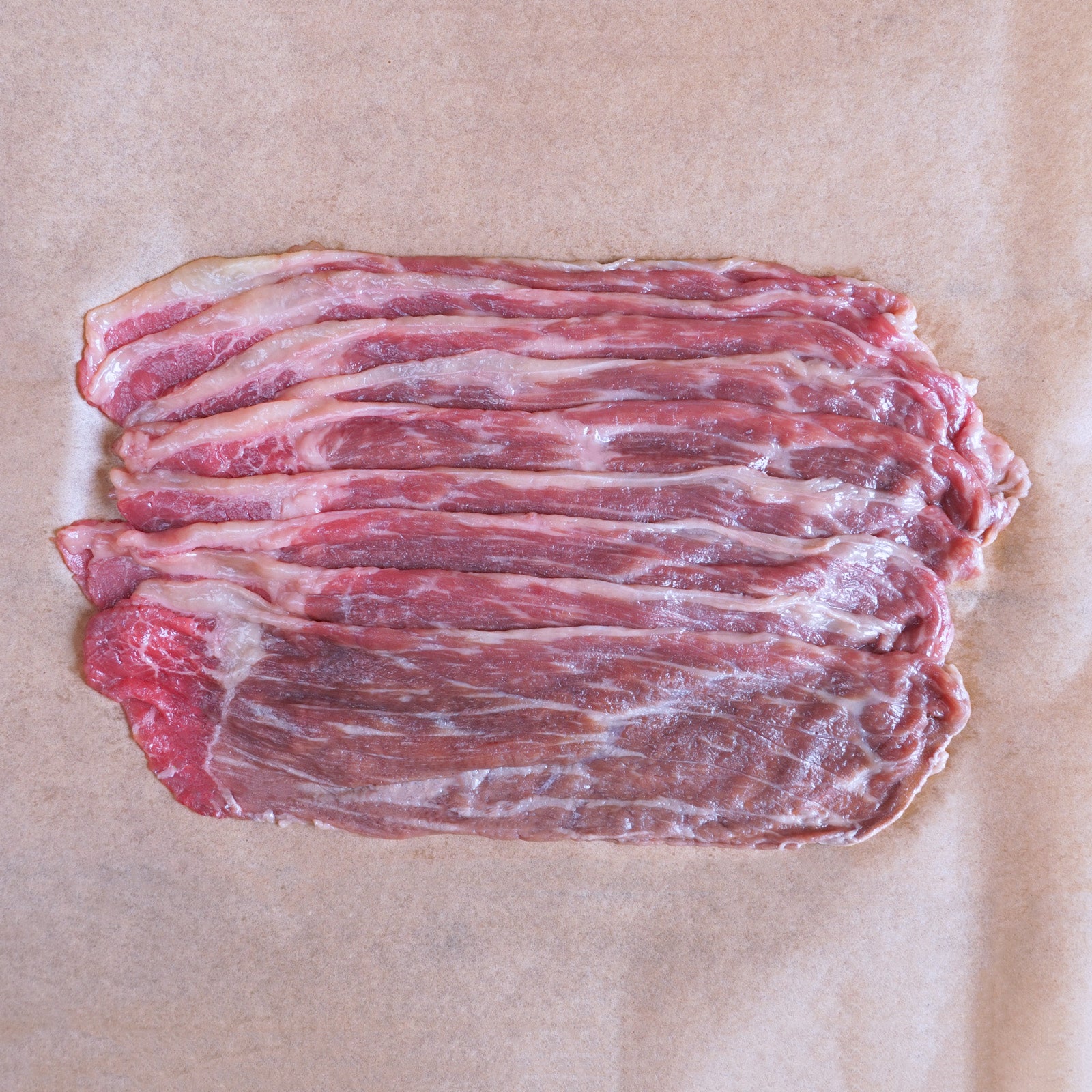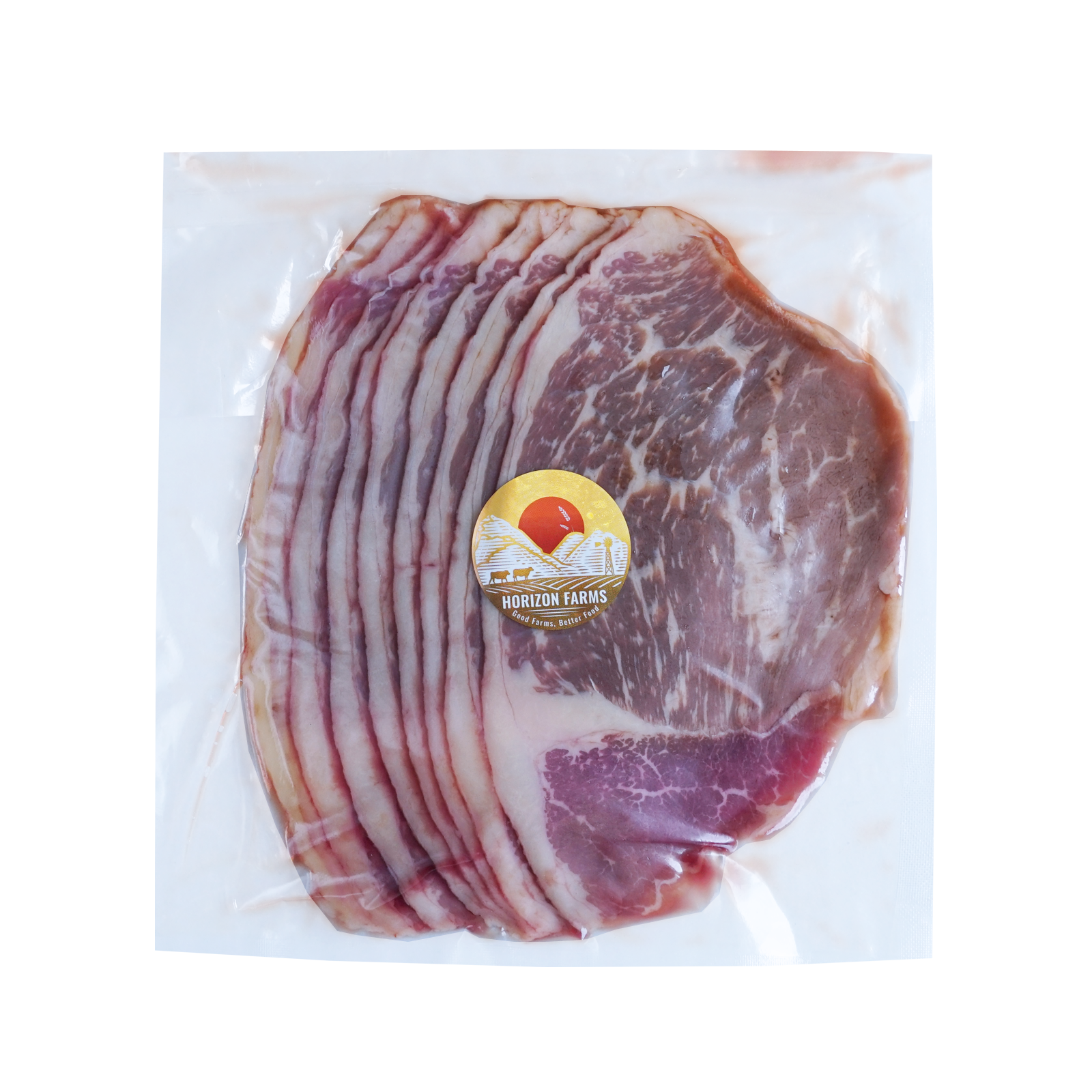 Japanese Range-Free Wagyu Beef Shank Slices for Shabu-Shabu from Iwate (300g)
Beef from cattle raised free-range can have varying shades of color. Therefore, the color of the meat you receive may vary with each order and could be a darker red than the picture. In any case, please rest assured that the meat is freshly processed in Japan, and there are no problems with quality, taste, or safety.
Introducing 300g (10.6 oz) of ethically raised and locally sourced pure Japanese Wagyu beef shank thin slices from Iwate prefecture. These luxurious slices are characterized by their deep meaty flavor and firmer texture. Beef shank is leaner meat cut which makes it an excellent choice for those who don't like fatty meat and a lighter flavor. Each slice will be a flavor sensation in a variety of dishes such as shabu-shabu (hot pot), sukiyaki, beef bowl, shabu-shabu salad or in any stir fry you like. Simply dip the meat in boiling water and enjoy the true taste of beef. We also recommend eating the slices with sauces such as Japanese ponzu. Enjoy this flavorful and luxurious meat on special occasions with your family and loved ones or simply as a treat to yourself.
✔ Ethical. No factory farming! Humanely raised and treated with respect.

✔ Safe. No growth hormones or antibiotics - ever!

✔ The cows are only fed non-GMO feeds such as grass, rice straws and dent corn.

✔ Adult cows are pasture-raised their entire lives. Calves are raised with their mothers for 10 months after birth and then spend 18 months in large barns where they can roam freely during their fattening period.

✔ Full traceability from ranch to fork!

✔ Strictly non-commodity. Family farming takes time, attention, patience, and care.
Contents
| | |
| --- | --- |
| Contents | 1 pack |
| Weight | 300g (10.6oz.) |
| Serves | Depends on the recipe. |
Shipping & Handling
Shipping
Shipping and delivery is frozen
Handling
Keep frozen below -18°C (0°F)
Defrosting Time
In the fridge: approx. 24h
In ice-water: approx. 2h
Cooking Method

Shabu-shabu, hot pot

Best By

Frozen: see packaging label (usually more than 3 months)
Chilled: Please consume unopened pack within 5 days.
Details
| | |
| --- | --- |
| Also known as | Shabu-shabu meat, beef thigh shabu-shabu, beef shank shabu-shabu, Wagyu shabu-shabu, sliced beef thigh, sliced beef shank, beef thigh, hot-pot |
| Country of Origin | Japan |
| Ingredients | Beef |
| Cut from | Shank (Leg) |
| Category | Slices |
| Packaging | Vacuum packed |
These thigh shabu shabu slices are locally sourced from pure Japanese Wagyu cows raised on a small farm in Iwate Prefecture. Among the four existing Wagyu beef breeds, this beef is from the Shorthorn variety. Compared to the "Japanese Black" breed beef, this is leaner and richer in amino acids, which contributes to its deeper umami flavor.
Not your typical Wagyu. The cows are humanely raised and treated with respect - they always have plenty of room to roam throughout their entire lives. No growth-promoting hormones, no subtherapeutic antibiotics, and no GMO feed. If you're looking for clean, premium, Wagyu beef, look no further.
At A Glance
| | |
| --- | --- |
| Cattle Breed | Japanese Wagyu |
| Farm/Ranch | Tamura Ranch |
| Region | Iwate Prefecture, Japan |
| What do we mean by "Range-Free"? | Adult cows are pasture-raised their entire lives. Calves are raised free-range with their mothers for 10 months after birth and then spend 18 months in large barns where they can roam freely during their fattening period. |
| Feeding | The cows are only fed non-GMO feeds such as grass, rice straws and dent corn. |
| Traceability | 100% fully traceable from farm to fork |
| Growth-Hormones | Never |
| Antibiotics | Never |
| GMO-Feed | Never |
| Chemical pesticides on pasture | Never |
| Animal By-Products Feeding | Never |