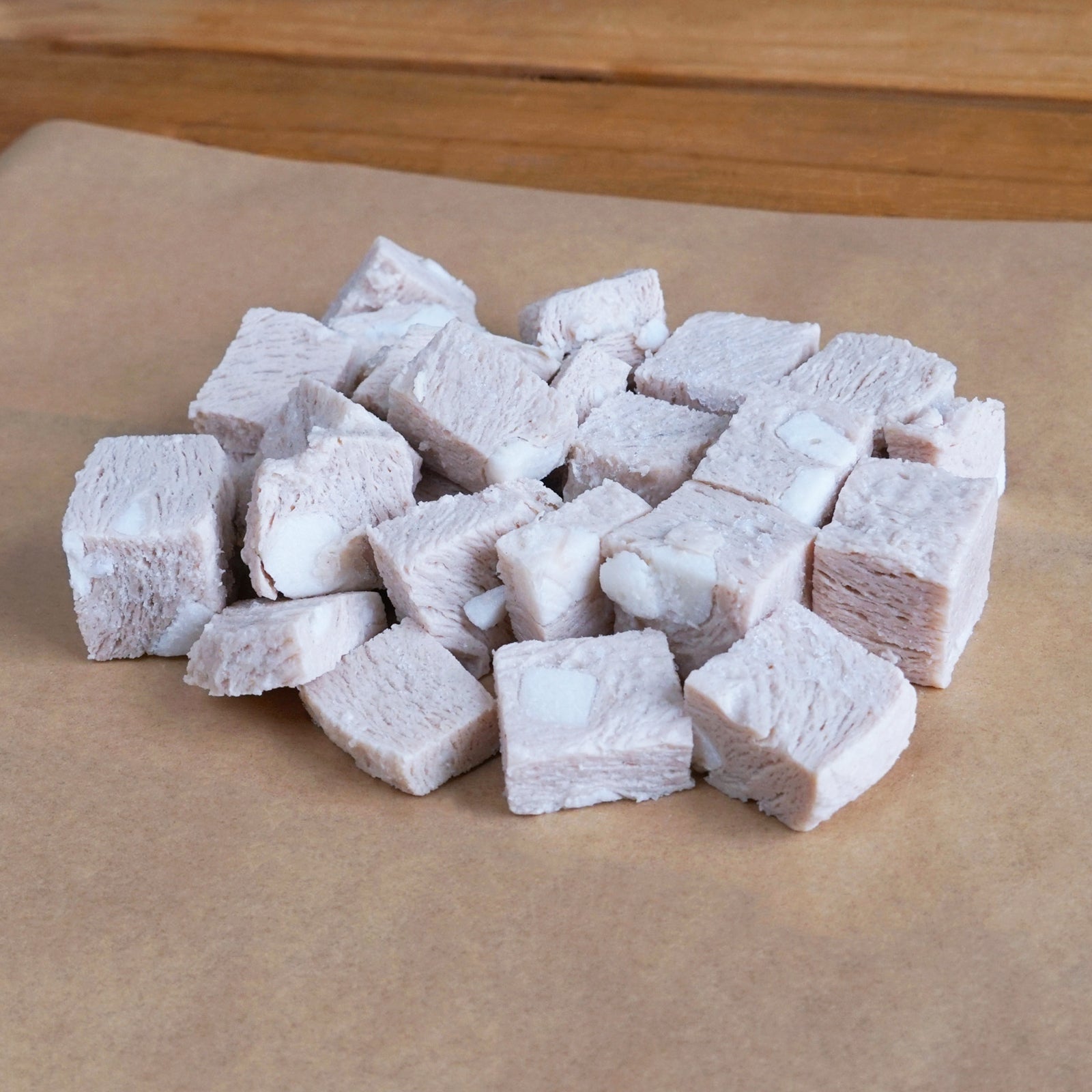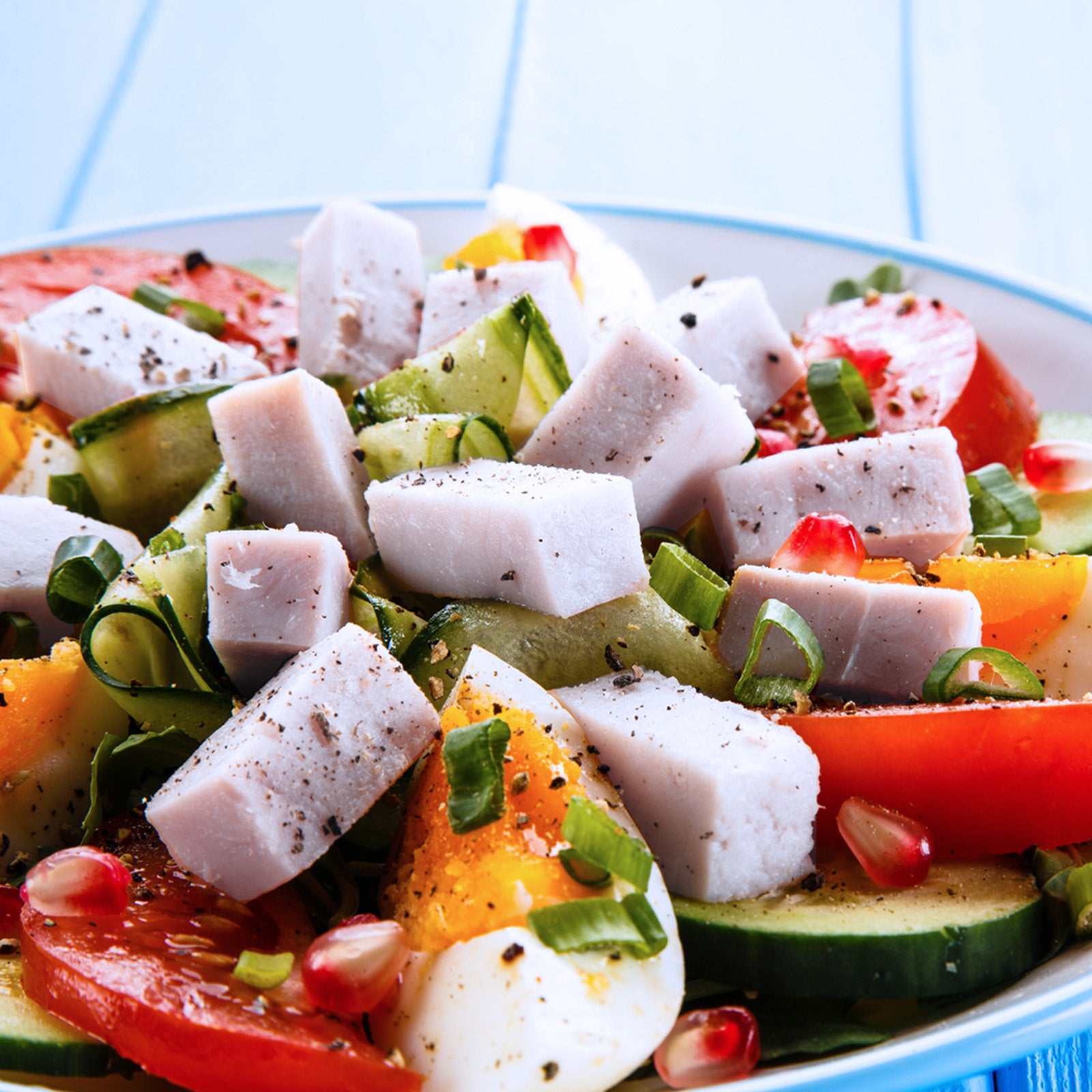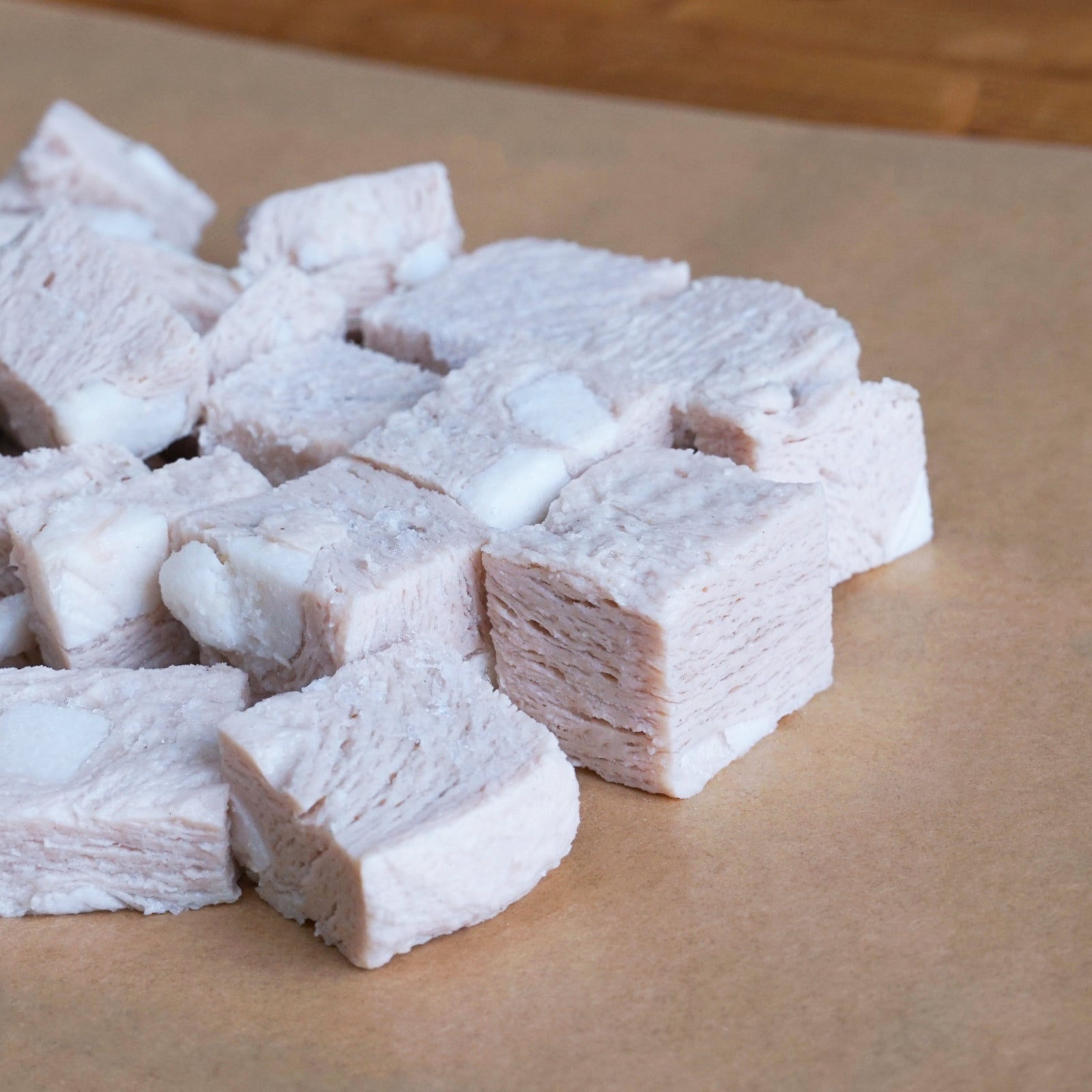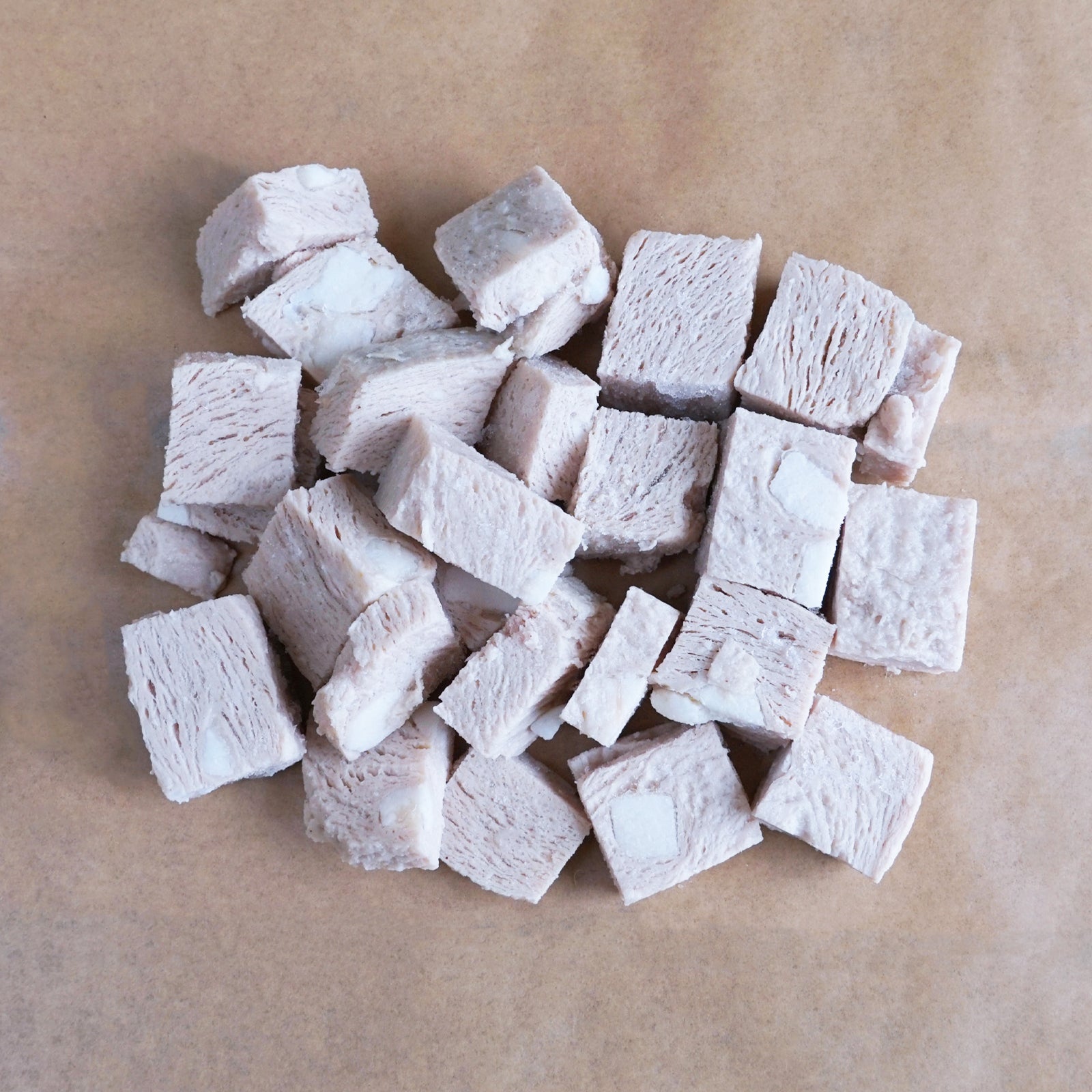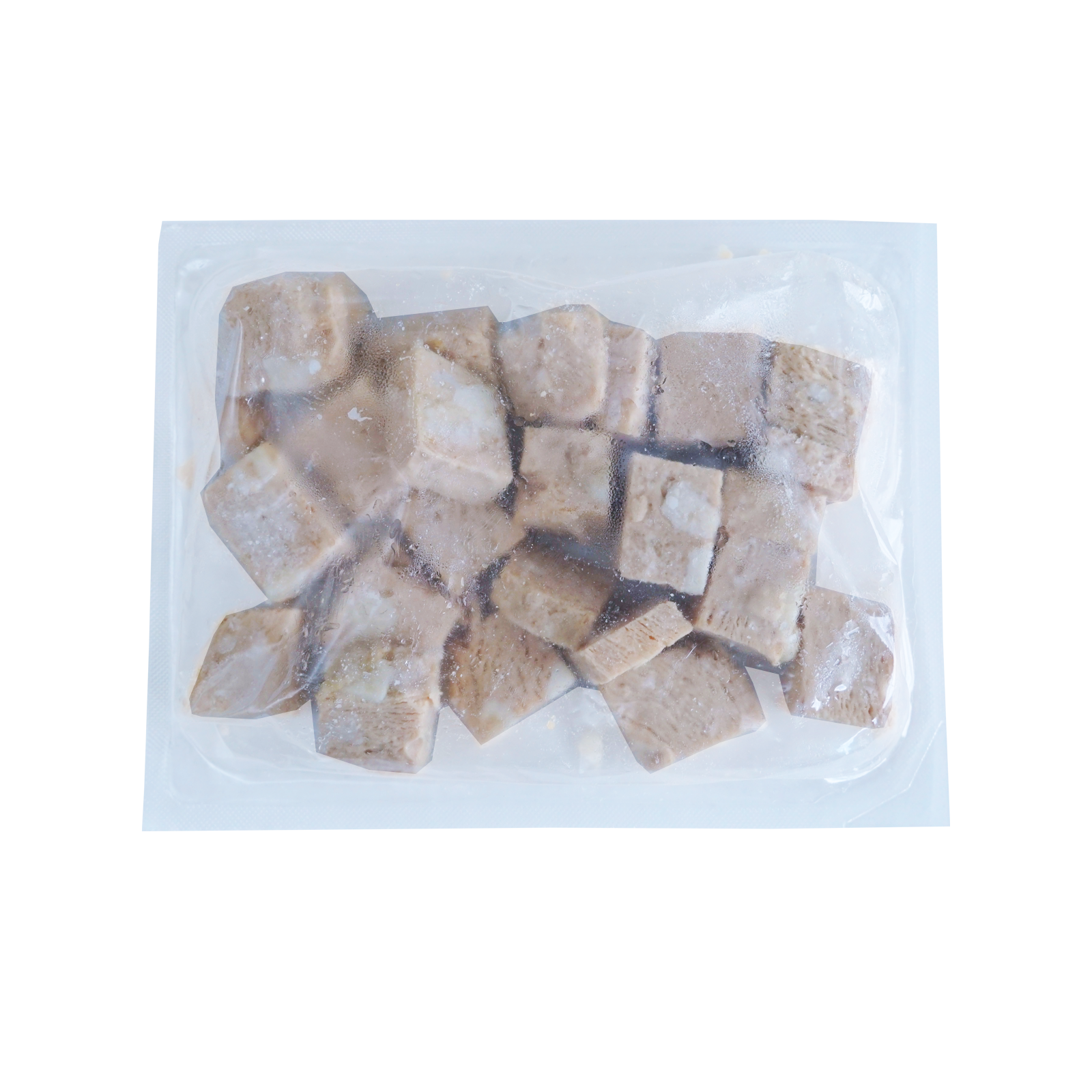 All-Natural Sugar-Free Free-Range Mortadella Cubes from the Netherlands (200g)
Premium diced additive-free mortadella from the Netherlands – a slice of European tradition crafted with care and quality. One pack contains 200g (7.0oz) of cubes. Mortadella is a finely ground cured pork sausage (similar to bologna), with small cubes of pork fat dispersed throughout. We take this one step further by cubing them into a delicious treat. Our Mortadella cubes start with top-quality organic pork, raised free-range and free from growth-promoting hormones or antibiotics. Only naturally sourced, high-quality vegetables and spices are used, ensuring a delicious and authentic flavor. No added sugar, nitrates, nitrites, preservatives, or artificial colorings. Gluten-free and lactose-free.
Conveniently diced cut, these mortadella cubes boast a delicious meaty flavor and the perfect touch of saltiness with every bite. It can be eaten as is for a quick snack or used to elevate salads, sandwiches, pizzas, omelets, and more. No cooking required - just defrost and they are ready to eat. We also love to fry them up in the pan to add a little bit of a crispy texture.
✔ Made from only high-quality pork and simple natural ingredients.

✔ No sugar, nitrates, nitrites, preservatives, colorings, or any other nasties. 
✔ Sourced from free-range pigs raised humanely on open pastures in the Netherlands.
✔ No growth-hormones or subtherapeutic antibiotics.
✔ Traceable from farm to fork.
Contents
| | |
| --- | --- |
| Contents | 1 pack |
| Weight | 200g (7.0oz) |
| Serves | Serves 1-2 depending on recipe |
Shipping & Handling
Shipping
Shipping and delivery is frozen
Handling
Keep frozen below -18°C (0°F)

Defrosting Time

In the fridge: approx. 12h




In ice-water: approx. 1hr

Raw Consumption
Pre-cured and can be eaten as is.

Cooking Method
No need to cook, consume after defrosting. Also delicious when fried.

Best By
Frozen: see packaging label (usually more than 1 month)
Chilled: Please consume within 3 days.
Details
Also known as
Mortadella, Bologna, Sausage Cubes, Italian Sausage Cubes, Cured Pork
Ingredients
Pork, water, salt, white pepper, onion, yeast extract, mace, ginger, green tea extract
Country of Origin
Netherlands

Cooked/Uncooked
Fully cured

Packaging
Vacuum packed together
Nutritional Facts
100g serving size

Calories: 256 kcal
Protein: 15.4g
Total Fat: 21.2g
Total Carbohydrate: 0.7g
Sodium: 1020mg