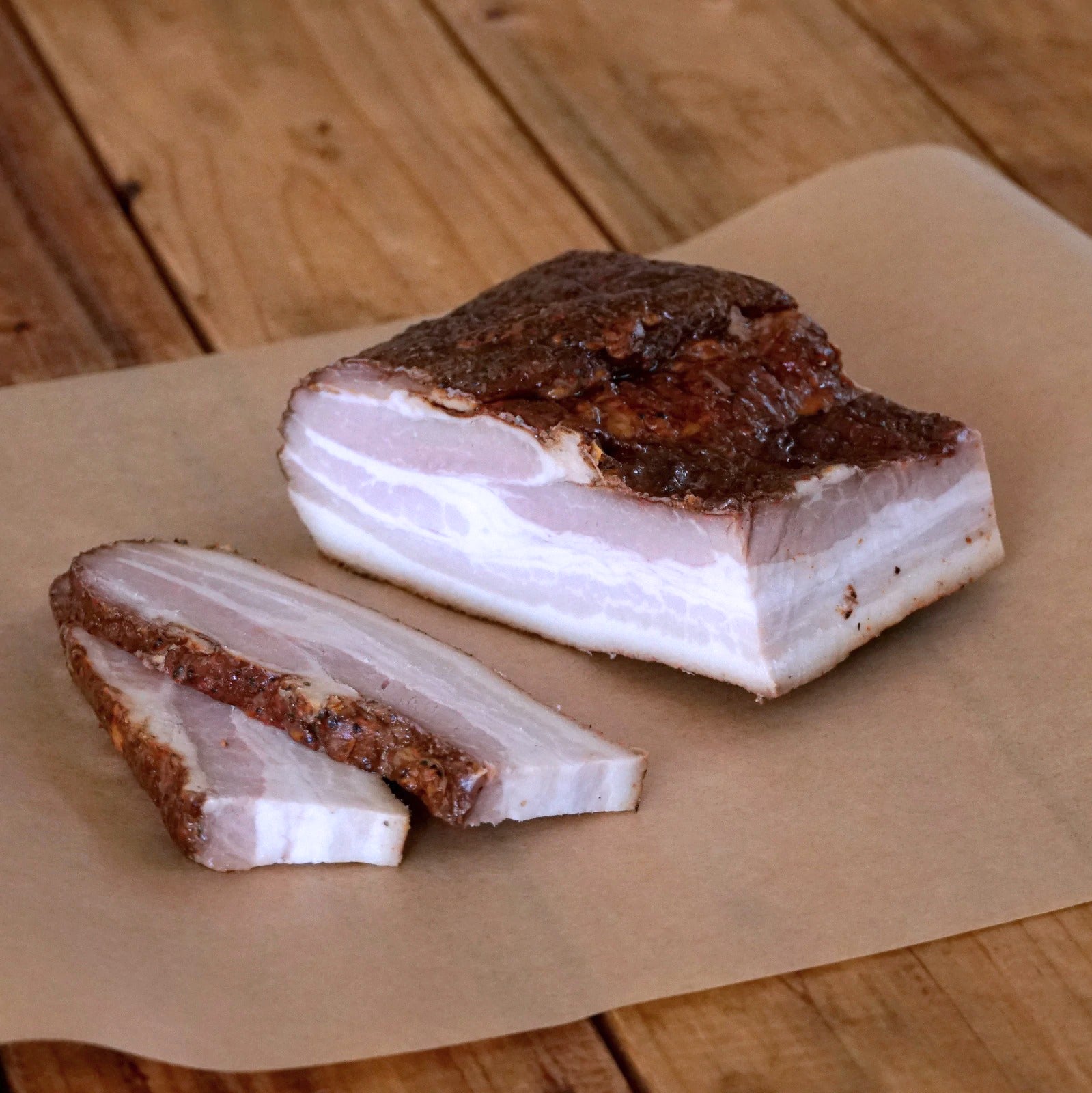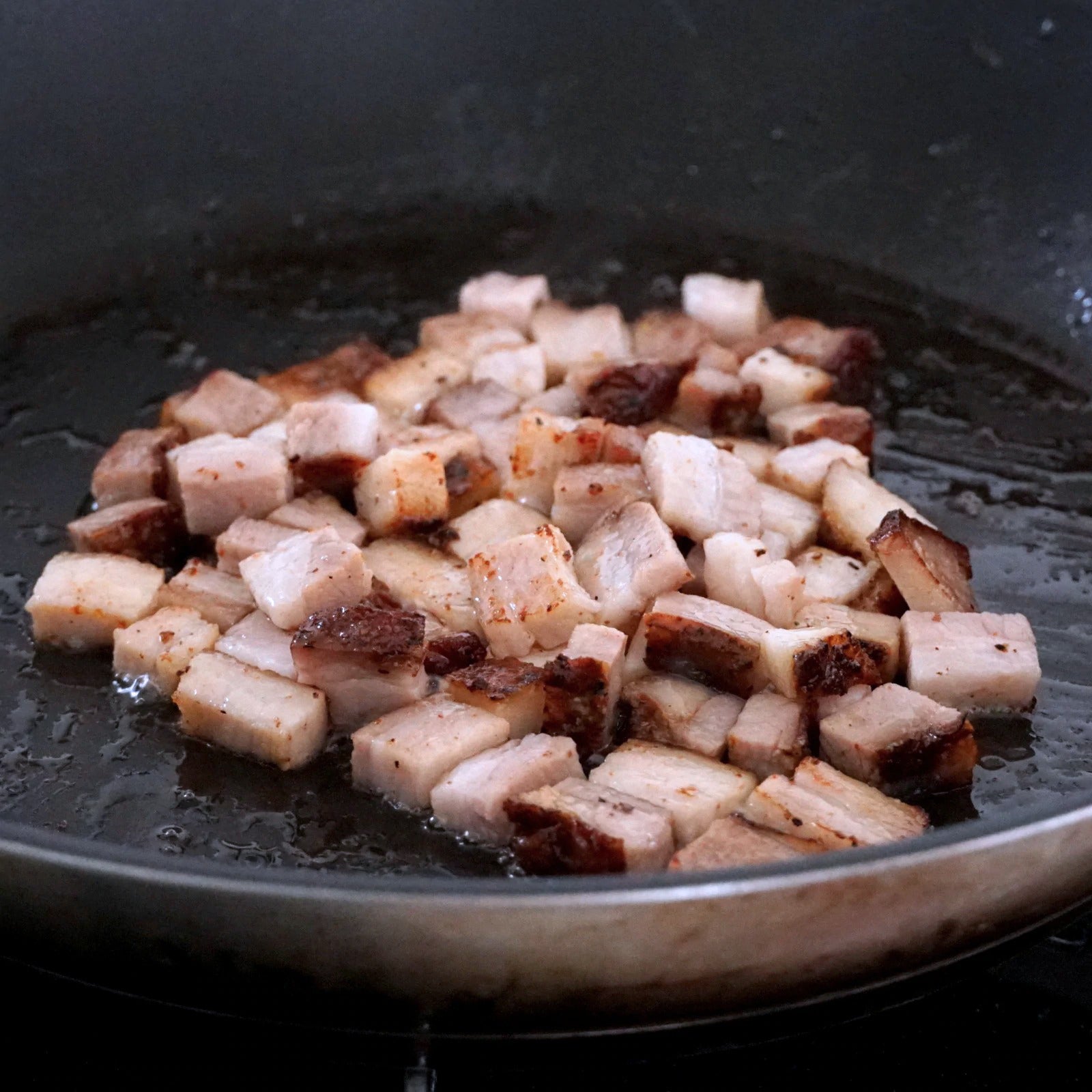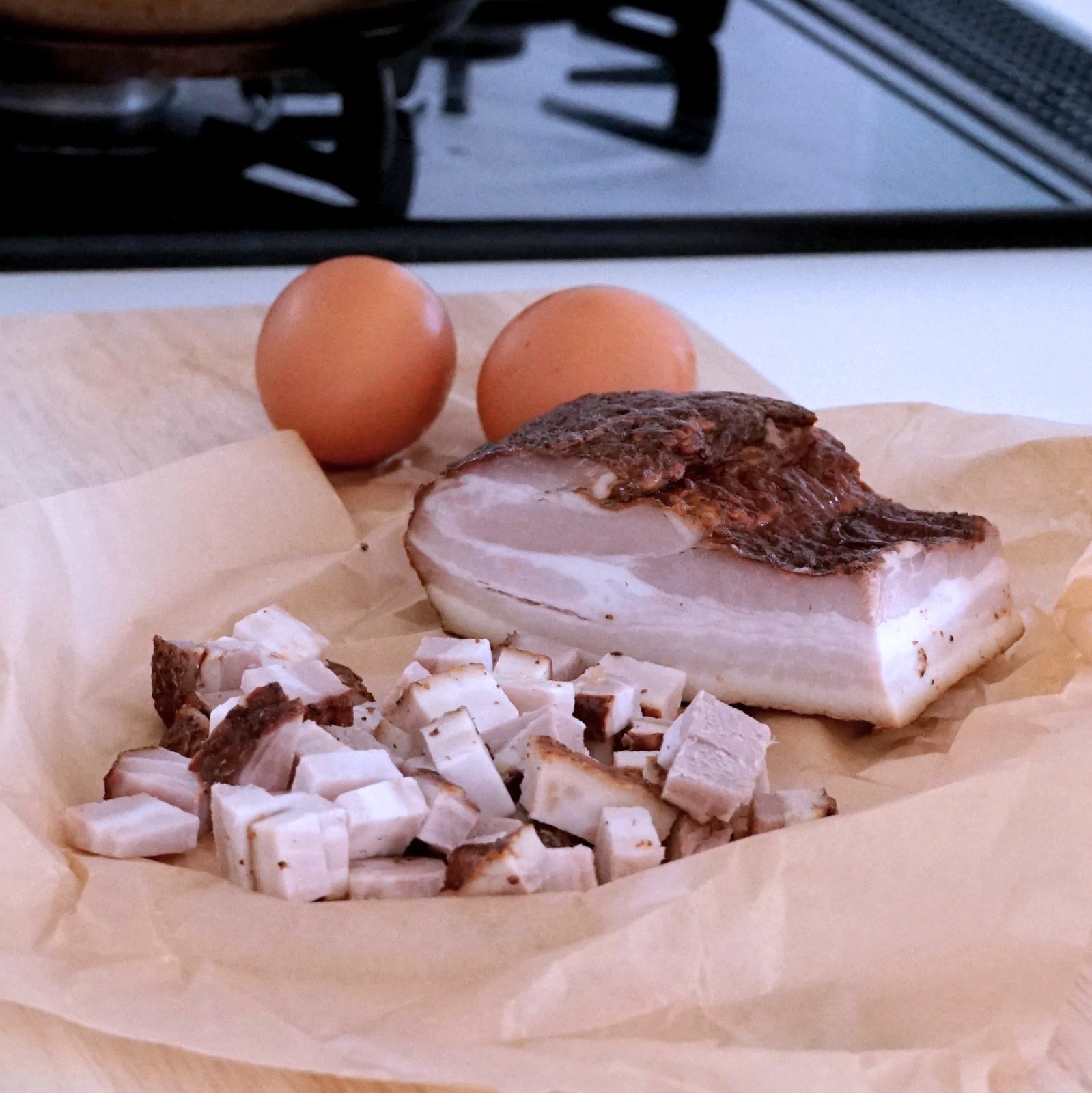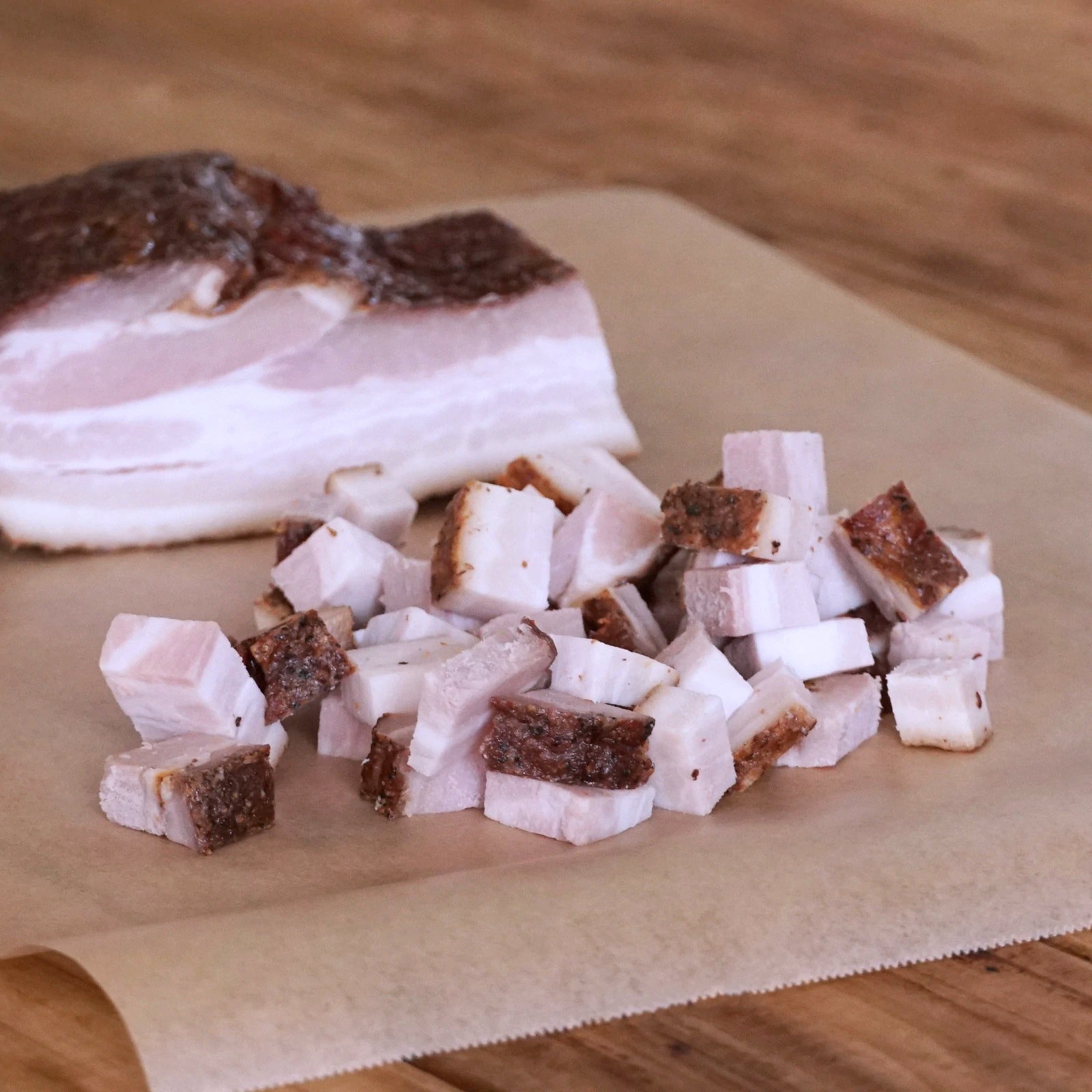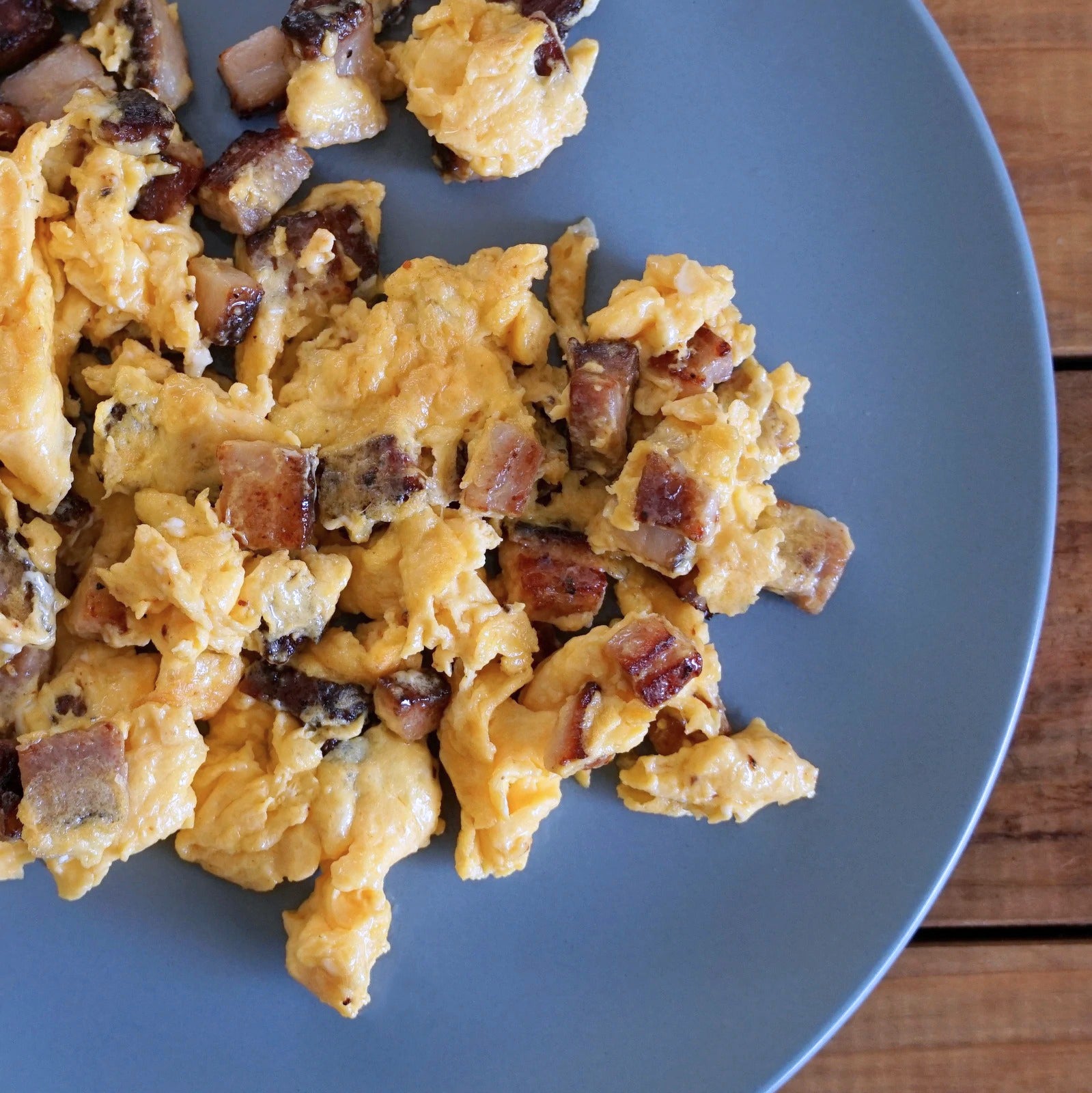 All-Natural Sugar-Free Free-Range Pork Smoked Bacon Block (200g)
Buy More, Save More:
1 Pack (Regular Price)
The cleanest high quality bacon on the market! This bacon is uncured in an all-natural process using only salt and 100% natural spices for 10 days. No nitrates, nitrites, no curing salts, no celery, no sugars, no artificial ingredients, no nasties. Naturally smoked for 2 hours using natural hickory smoke. Gluten-free, lactose-free, free of preservatives and coloring agents. The result is amazingly good bacon that you can enjoy with your whole family. We only use the belly of pork that we source from ethical farms that raise pigs free-range and never treat the pigs with growth-hormones or antibiotics. Strictly no factory-farming.

Bacon from the pork belly is the typical American style bacon that crisps up and shrinks. The pork belly has a relative high-fat content - the juices are what make our bacon so succulent.

Unsliced block of bacon. Slice or cut the way you like it. Cook on high heat without adding any oil in the frypan. Due to the high-fat content of the pork belly, the slices will shrink in size and crisp up. Best suited for a family breakfast, as a burger topping, to wrap around asparagus or to wrap a filet mignon steak. High quality bacon - taste the difference. See the cooking instructions below.
Check out our wide range of bacon products. Click on each image to view the product.
Contents
| | |
| --- | --- |
| Contents | 1 pack |
| Weight | 200g (7oz.) |
| Serves | Serves 1-2. Heavily depends on the recipe and usage |
Shipping & Handling
Shipping
Shipping and delivery is frozen
Handling
Keep frozen below -18°C (0°F)
Defrosting Time
In the fridge: approx. 12h
In ice-water: approx. 2h
Cooking Method

Nonstick fry pan

Expiration
Frozen: see packaging label (usually more than 3 months)
Chilled: Please consume unopened pack within 4 days.
Details
Also known as
Uncured bacon, American bacon, Crispy Bacon, American Style Bacon, Nitrate-free bacon, sugarfree bacon

Ingredients
Pork belly, sea salt, natural spices
Country of Origin
Canada, Austria or Australia
Processing in
Tochigi Prefecture, Japan
Cooked/Uncooked
Uncured and smoked but uncooked. Cook thoroughly before consumption.

Packaging
Vacuum packed
Traceability
100% fully traceable from farm to fork
Growth Hormones
Never
Subtherapeutic Antibiotics Use
Never
Importer
Horizon Farms, Inc.
Processing in
Japan
Nutritional Facts
Based on 100g serving size



Calories: 348kcal




Total Fat: 30.1g




Total Carbohydrates: 2.8g




Protein: 12.8g




Sodium: 679mg



Defrost the pack of bacon in a bowl of water (less than 2 hours) or in the fridge overnight. Once opened you can leave the pack in the fridge for up to 2 more days. Please do not refreeze again for quality reasons.
Prepare a frying pan to high heat and place the bacon bits or slices without additional oil or butter into it.
The pork belly that we use for the bacon is relatively high in fat and it will show during cooking. The bacon will also shrink in size and become crispy.
In our cooking example, we're presenting you our family's weekend favorite: Scrambled eggs and bacon bits. Cook the bacon bits first. Then add eggs that have been broken with a little bit of milk for extra fluffyness.

Mix well. The rendered fat from the bacon will add extra flavor. There is no need to season.

Serve for breakfast with toast and orange juice. Choose healthier and safe ingredients for a great start to the day for you and your family.
Translated from Japanese: It's low in salt and safe to eat compared to commercial products that are full of additives.
Translated from Japanese: I'm horrified of the additives that's in bacon sold in supermarkets. This bacon, on the other hand, is low in salt and the color may seem bland at first, but I'm very happy to be able to enjoy the true flavor of meat.
Bacon that looks simple but is delicious
Translated from Japanese: I was looking for unsalted bacon and bought this one. Certainly, the color looks dull, but when I think that this is the original color, the bacon I usually buy... scared me a little.
The taste is delicious and I'd like to buy it again if I have another chance.
I want to buy it again already
Translated from Japanese: It's delicious. Is there no discount for those who order often? (laughs)
Translated from Japanese: The salt content was not strong and it was easy to cook.
I think that the scent seemed to be different from the taste.