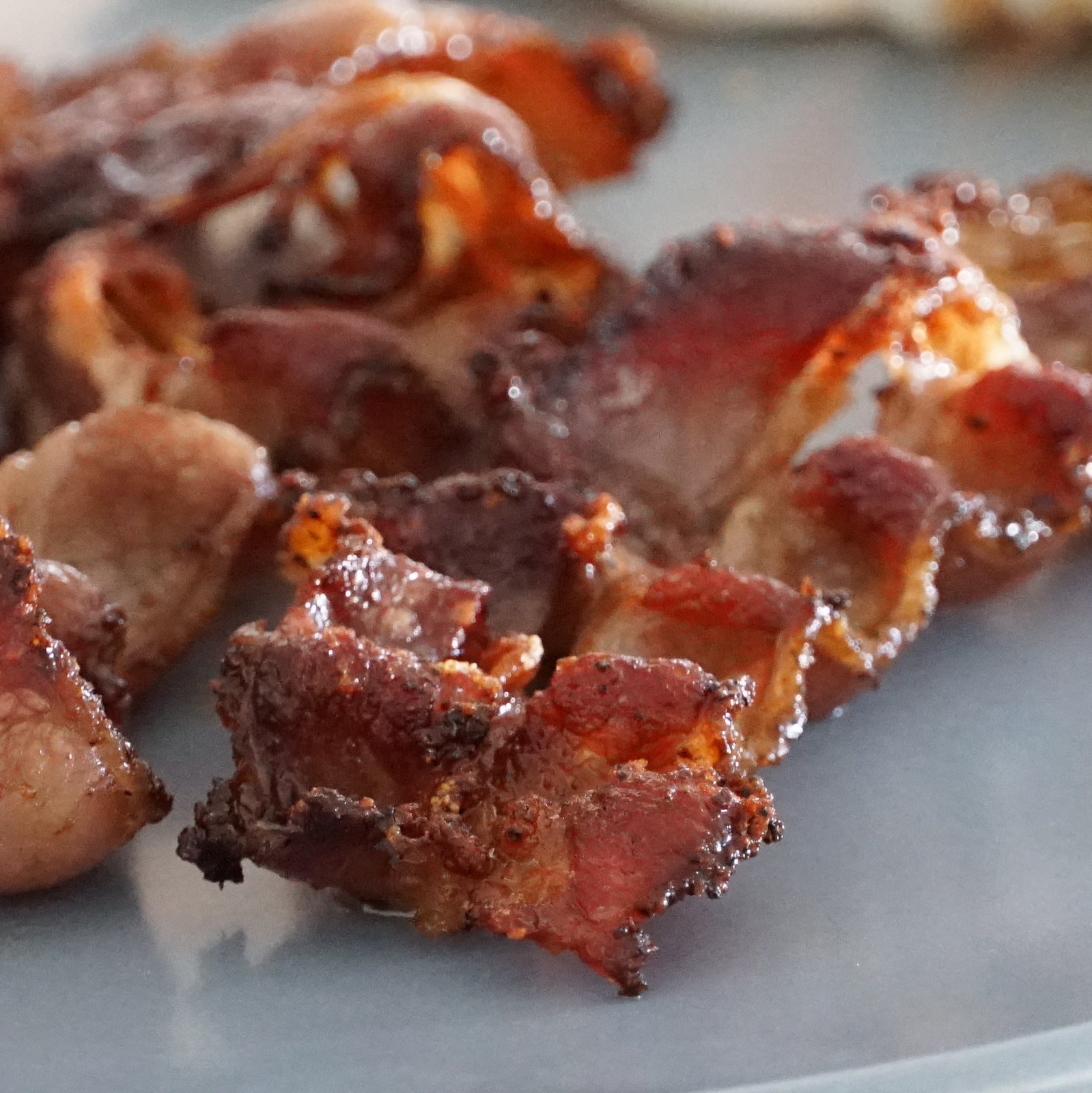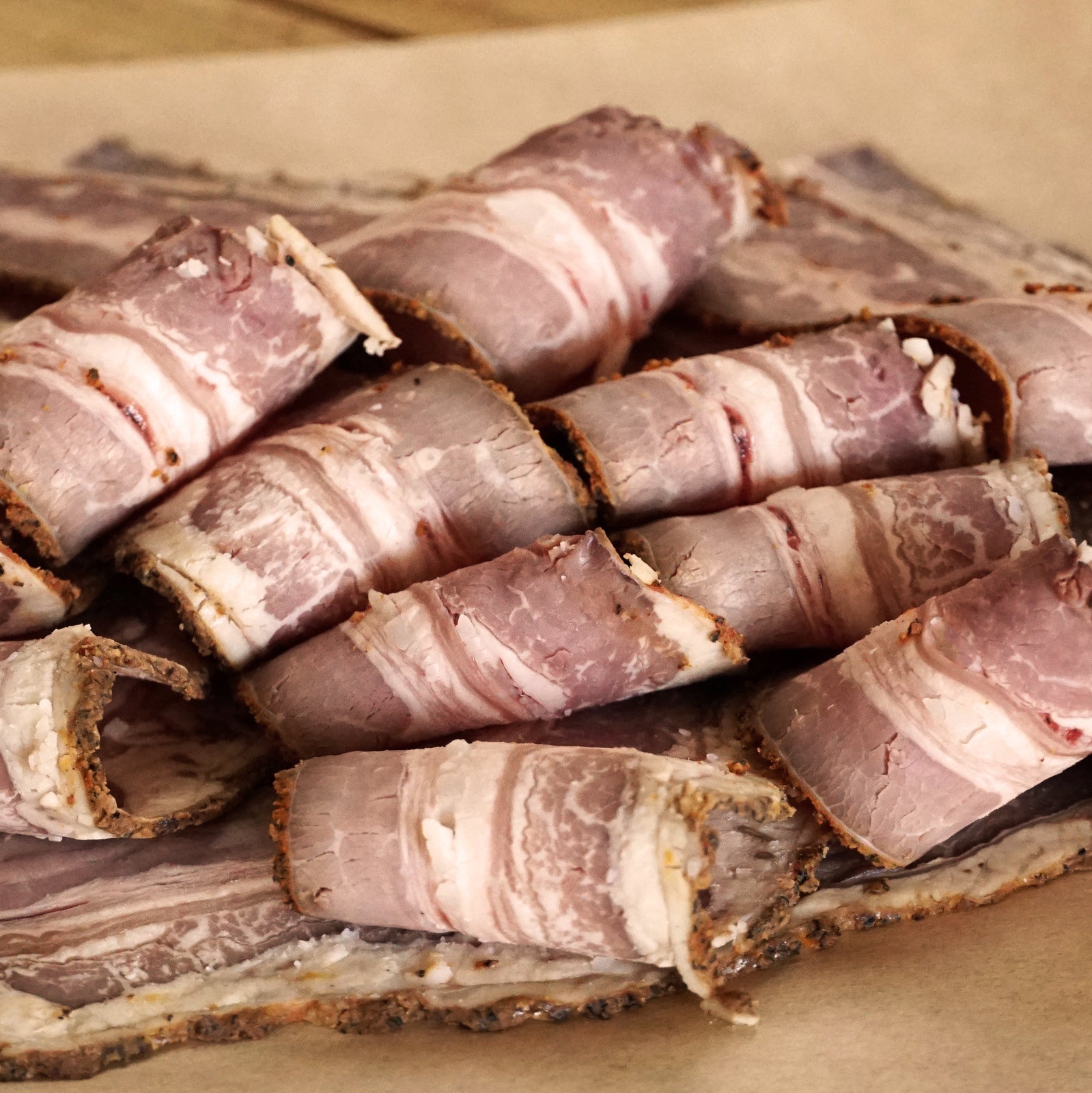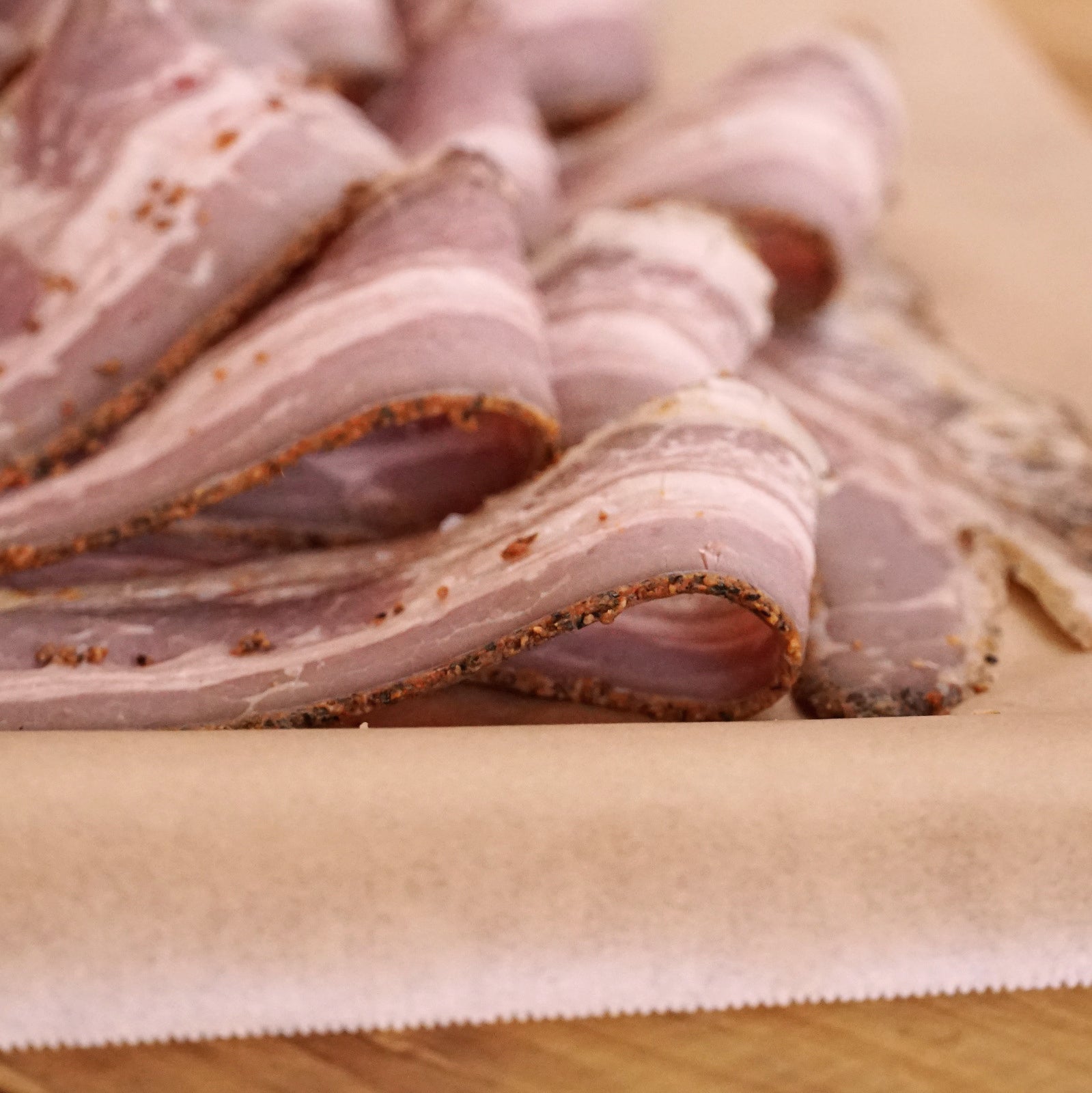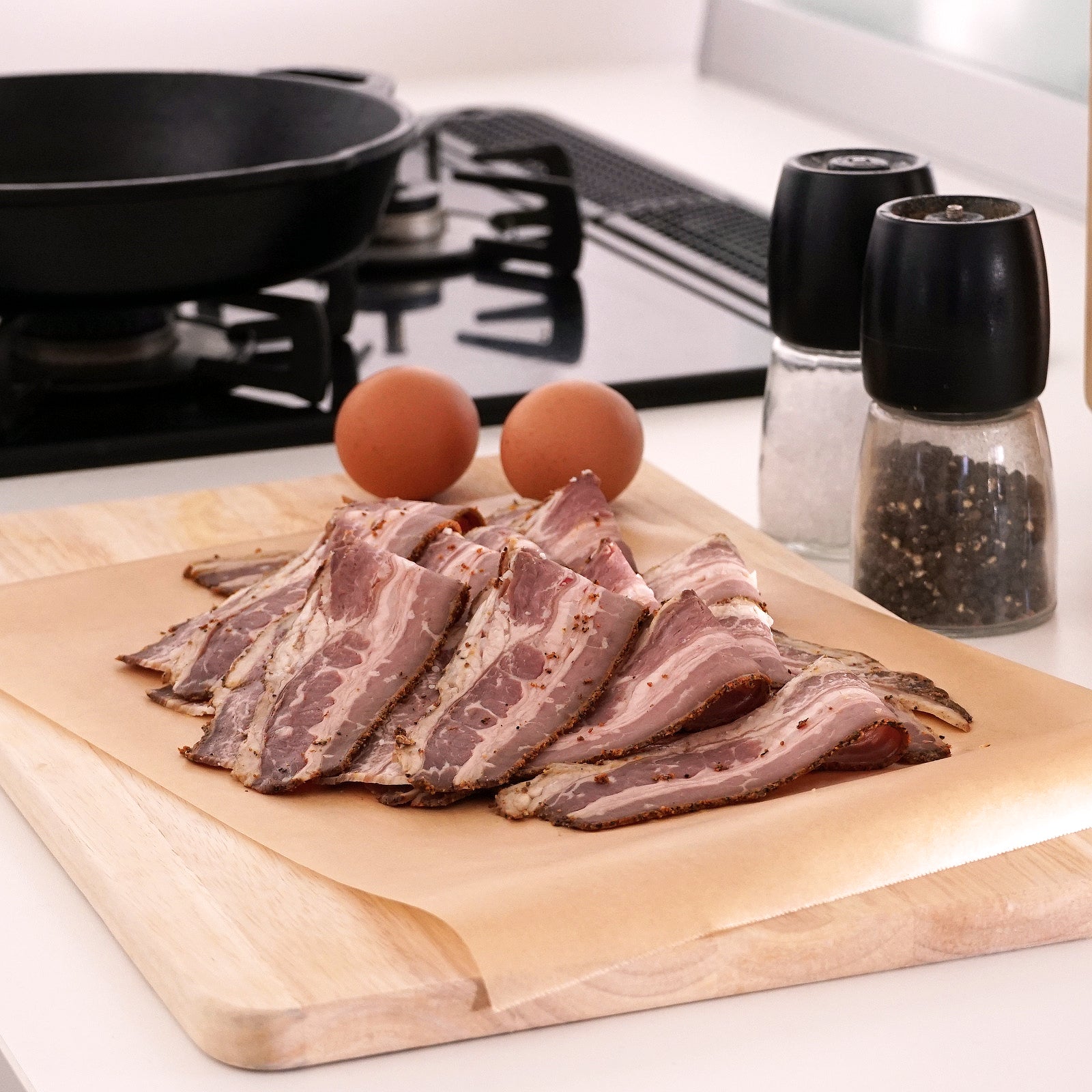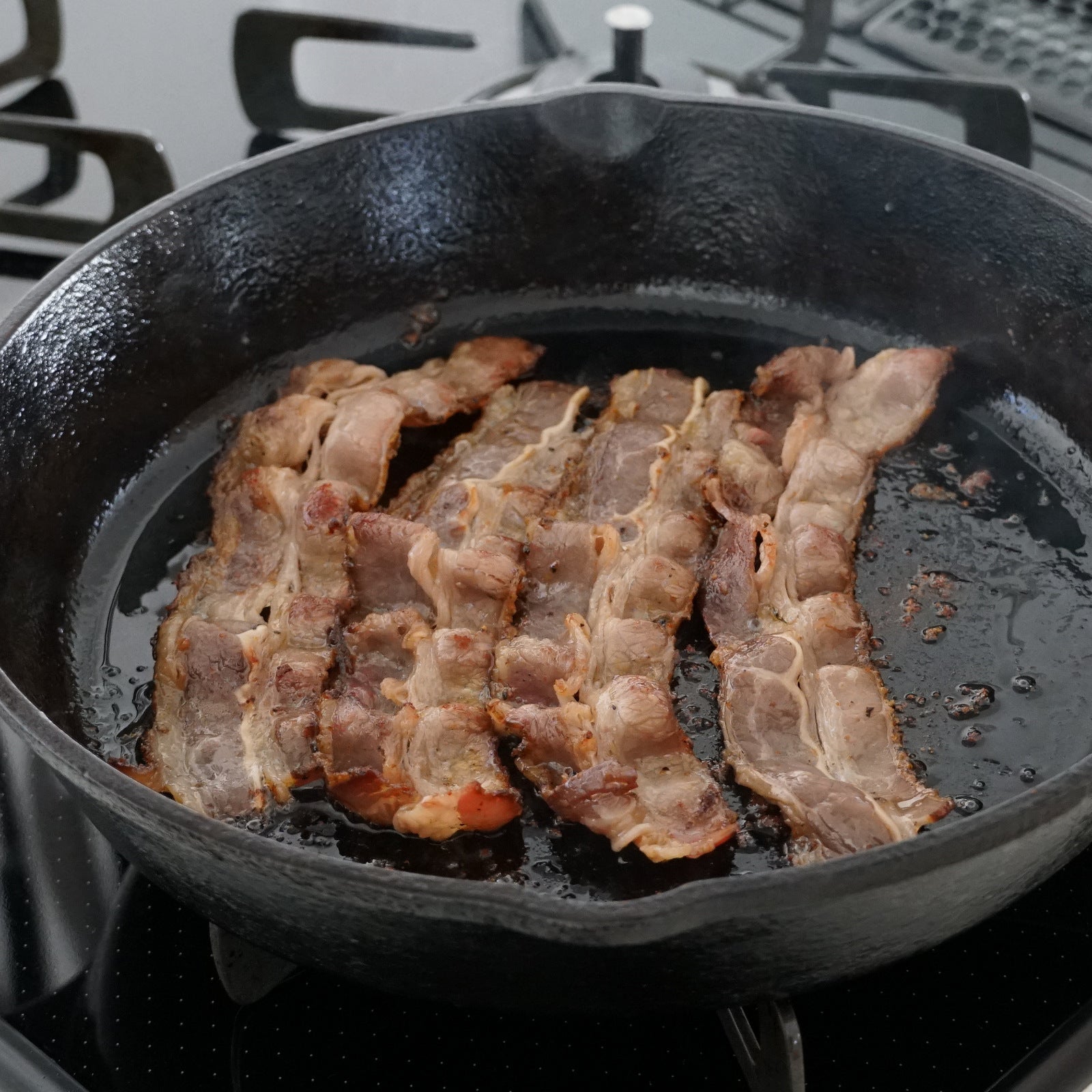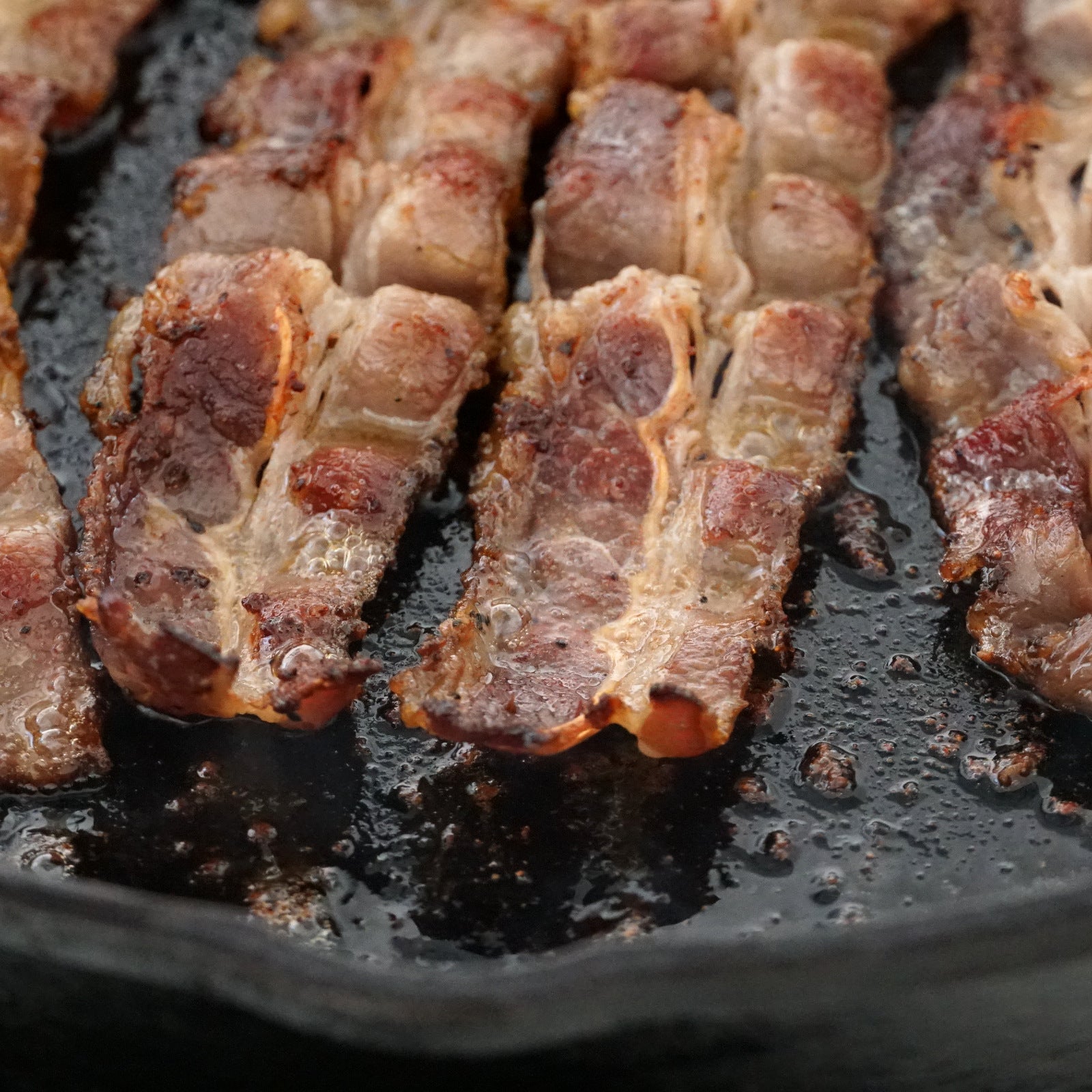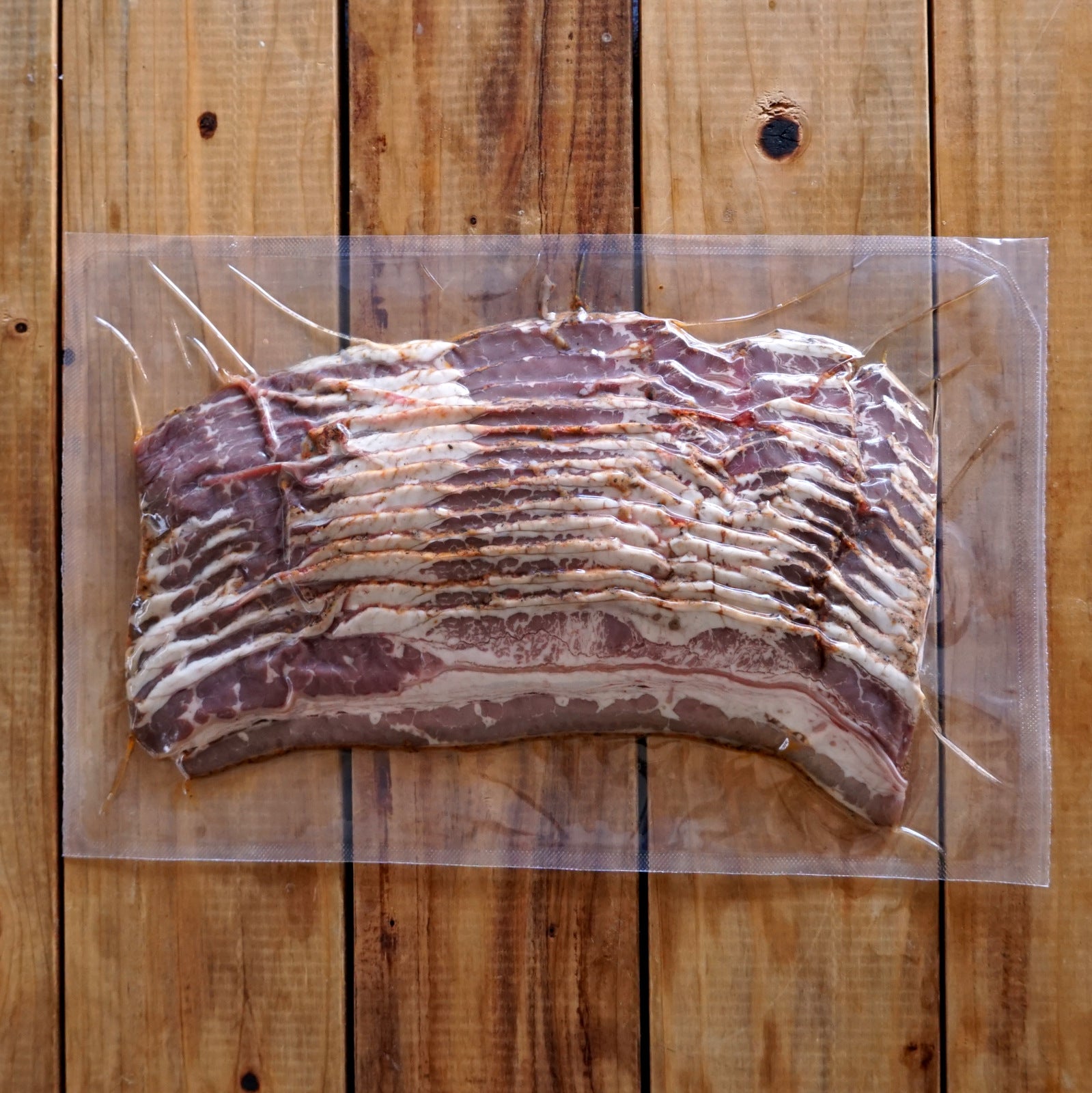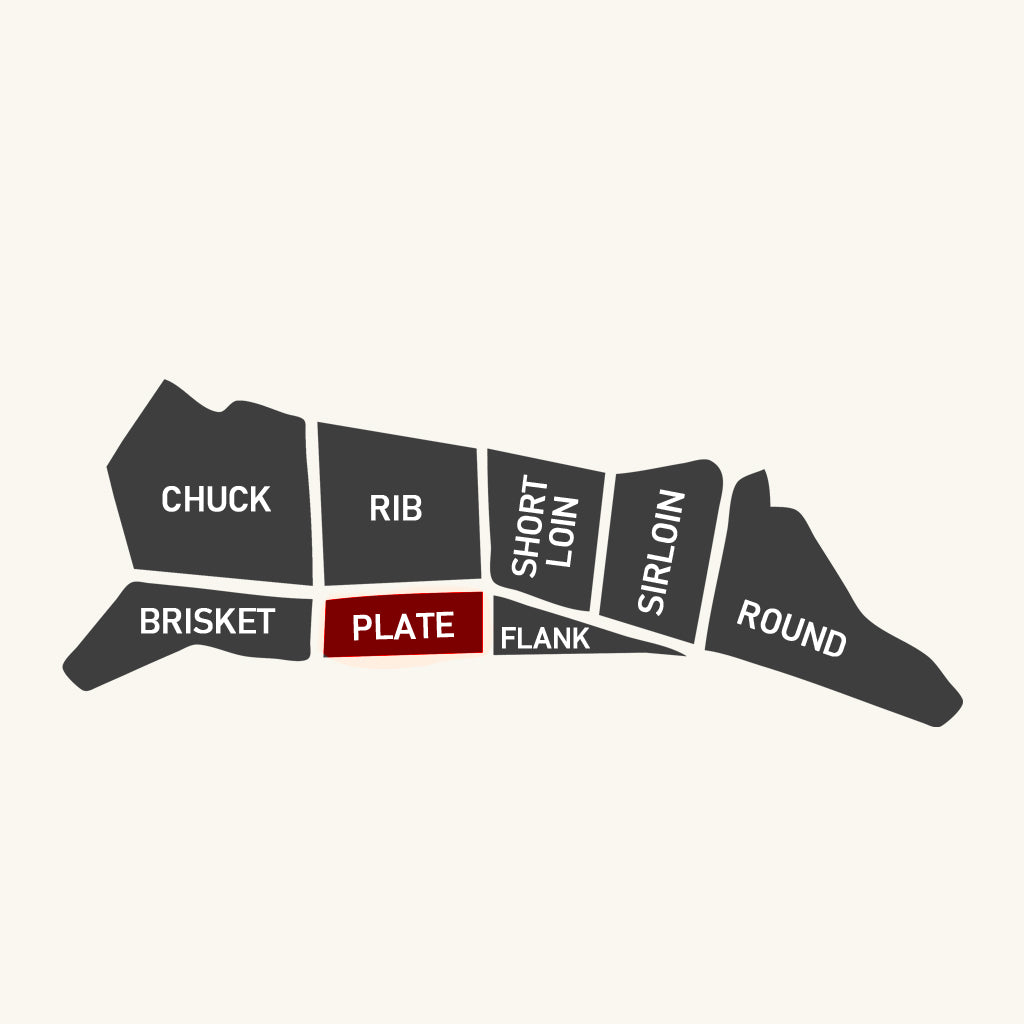 All-Natural Grass-Fed Beef Sugar-Free Smoked Pastrami Bacon (200g)
Buy More, Save More:
1 Pack (Regular Price)
The cleanest high quality bacon on the market! This bacon is uncured in an all-natural process using only salt and 100% natural spices for 10 days. No nitrates, nitrites, no curing salts, no celery, no sugars, no artificial ingredients, no nasties. Naturally smoked for 2 hours using natural hickory smoke. Gluten-free, lactose-free, free of preservatives and coloring agents. The result is amazingly good beef pastrami bacon that you can enjoy with your whole family. We only use grass-fed beef from cows that are all year pasture-raised without growth hormones, antibiotics, or other chemicals. It's family farm produced, ethically raised and there's strictly no factory-farming.

Beef pastrami bacon has a slightly more chewy bite compared to pork bacon. It's known for having a large proportion of fat, but that is where all of that juicy flavor comes from.

Pre-sliced bacon. The thickness is 2mm which is your average bacon thickness. Cook on high heat without adding any oil to the frypan. Due to the high-fat content, the slices will shrink in size and crisp up. Best suited for a family breakfast, or as a family snack - even for the kids. While testing the product we thought this makes great beef jerky as well. See the cooking instructions below.
Check out our wide range of bacon products. Click on each image to view the product.
Contents
| | |
| --- | --- |
| Contents | 1 pack / about 12-15 slices |
| Weight | 200g (7oz.) |
| Serves | Serves 1-2 |
Shipping & Handling
Shipping
Shipping and delivery is frozen
Handling
Keep frozen below -18°C (0°F)
Defrosting Time
In the fridge: approx. 12h
In ice-water: approx. 1h
Cooking Method

Nonstick fry pan, toaster oven.

Expiration
Frozen: see packaging label (usually more than 1 month)
Chilled: Please consume unopened pack within 4 days.
Details
Also known as
Uncured bacon, American bacon, Crispy Bacon, American Style Bacon, Nitrate-free bacon, sugarfree bacon, Beef jerky, beef snack, beef pastrami

Ingredients
beef, sea salt, natural spices
Country of Origin
Australia or New Zealand (beef)
Cooked/Uncooked
Uncured and smoked. We recommend cooking before consumption for the best taste experience.

Packaging
Vacuum packed
Importer
Horizon Farms, Inc.
Processing in
Japan
Nutritional Facts

Based on 100g serving size

Calories: 328kcal
Total Fat: 30.1g
Total Carbohydrates: 2.8g
Protein: 12.8g
Sodium: 679mg
Defrost the pack of bacon in a bowl of water (less than 1 hour) or in the fridge overnight. 
One pack is enough for 4 persons. Once opened you can leave the pack in the fridge for up to 2 more days. Please do not refreeze again for quality reasons.
Prepare a frying-pan to high heat and place the bacon slices without additional oil or butter into the frying pan. If you're using a cast-iron skillet add a tiny amount of butter before cooking the first slices.
The beef navel brisket that we use for the bacon is relatively high in fat and it will show during cooking. The bacon will also shrink in size and become crispy - the very characteristics of classic bacon. Turn them at least twice to have a crispy surface on all sides.
If you have a splatter screen at hand, use it. 
Take off the bacon from the heat once crispy brown. Place on a kitchen paper towel for a while to "drain the bacon from the grease".
The stronger the heat the more crispy they will become. Remove at desired crispiness.

Enjoy crispy and safe beef bacon. All-natural - without sugar - without nasties and  grass-fed beef - no growth-promoting hormones or antibiotics used. This beef bacon makes a great beef snack or home-made beef jerky. Simply dry at room temperature and slightly heat up in the toaster oven before snacking! 
Great tasting pastrami. We enjoy it in the morning.
Pastrami bacon hmmm.......
I'm new to Pastrami bacon. I loved it. That's why I ordered it again.
You can tell its very natural tasting but i struggled to get any flavour from it. I love my bacon crispy but still moistish. So i can only give it 3 for being natural
Delicious!
Great taste and great quality.
Translated from Japanese: I haven't received it yet, but the other meats are delicious, so I give 5 ☆.
I'm looking forward to cooking with it.