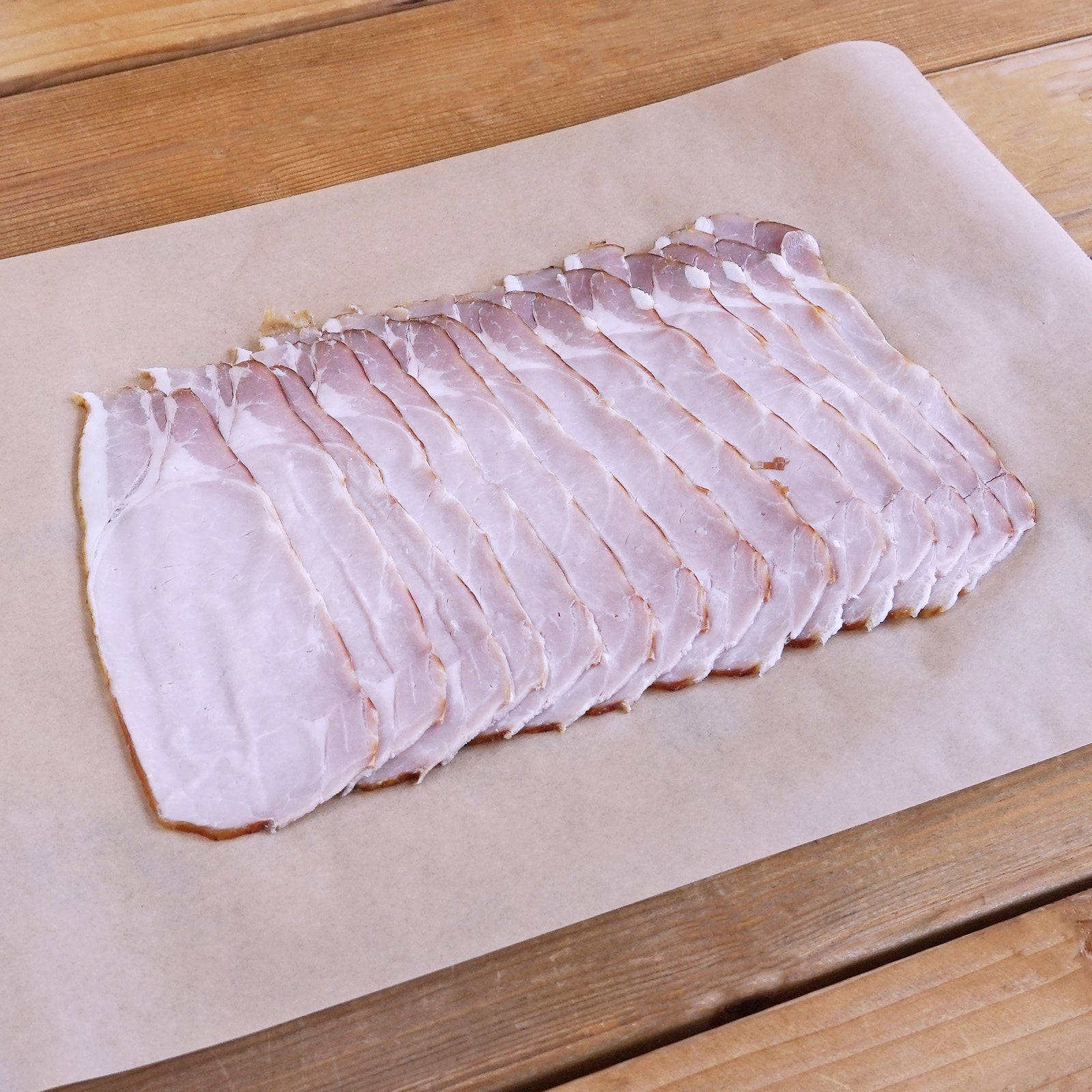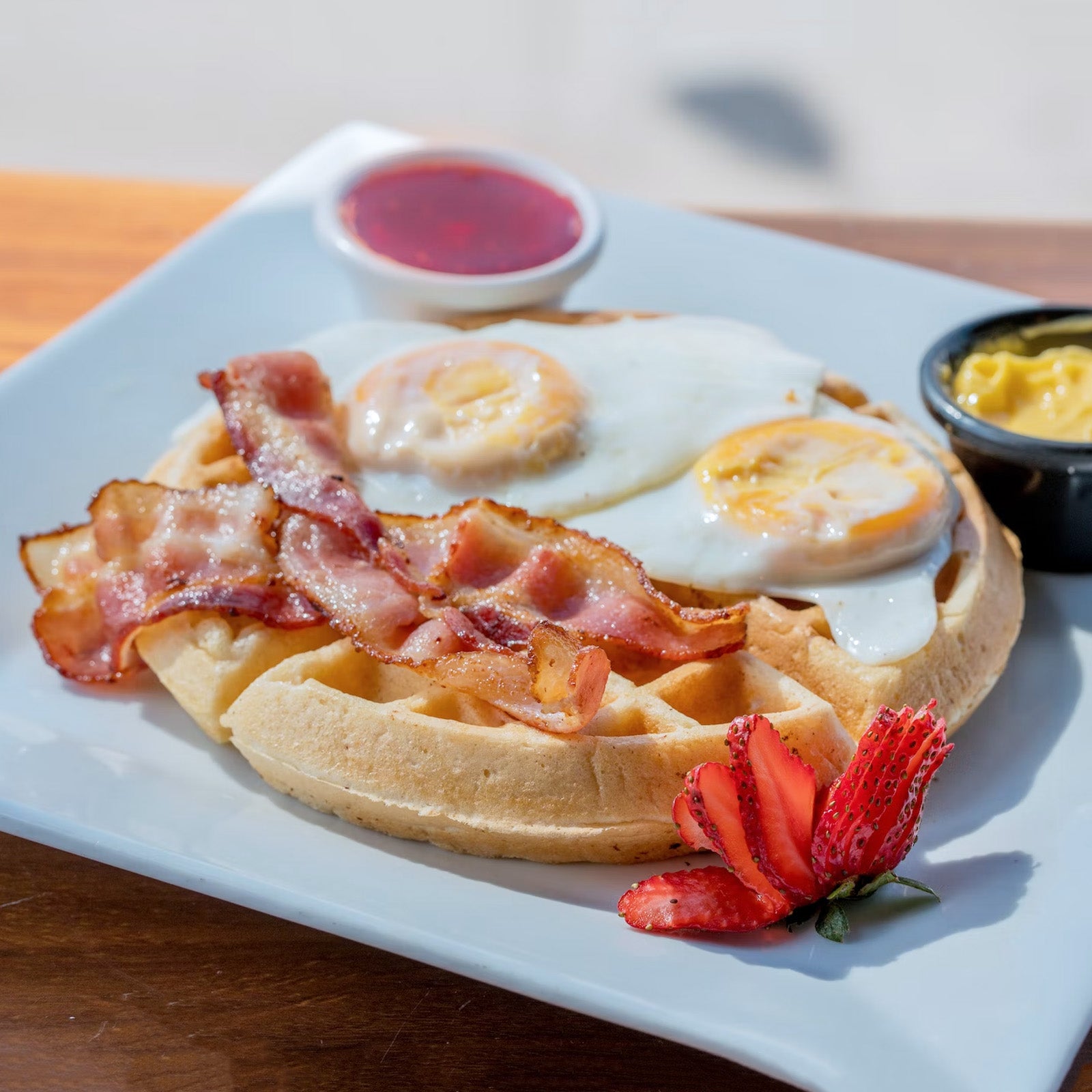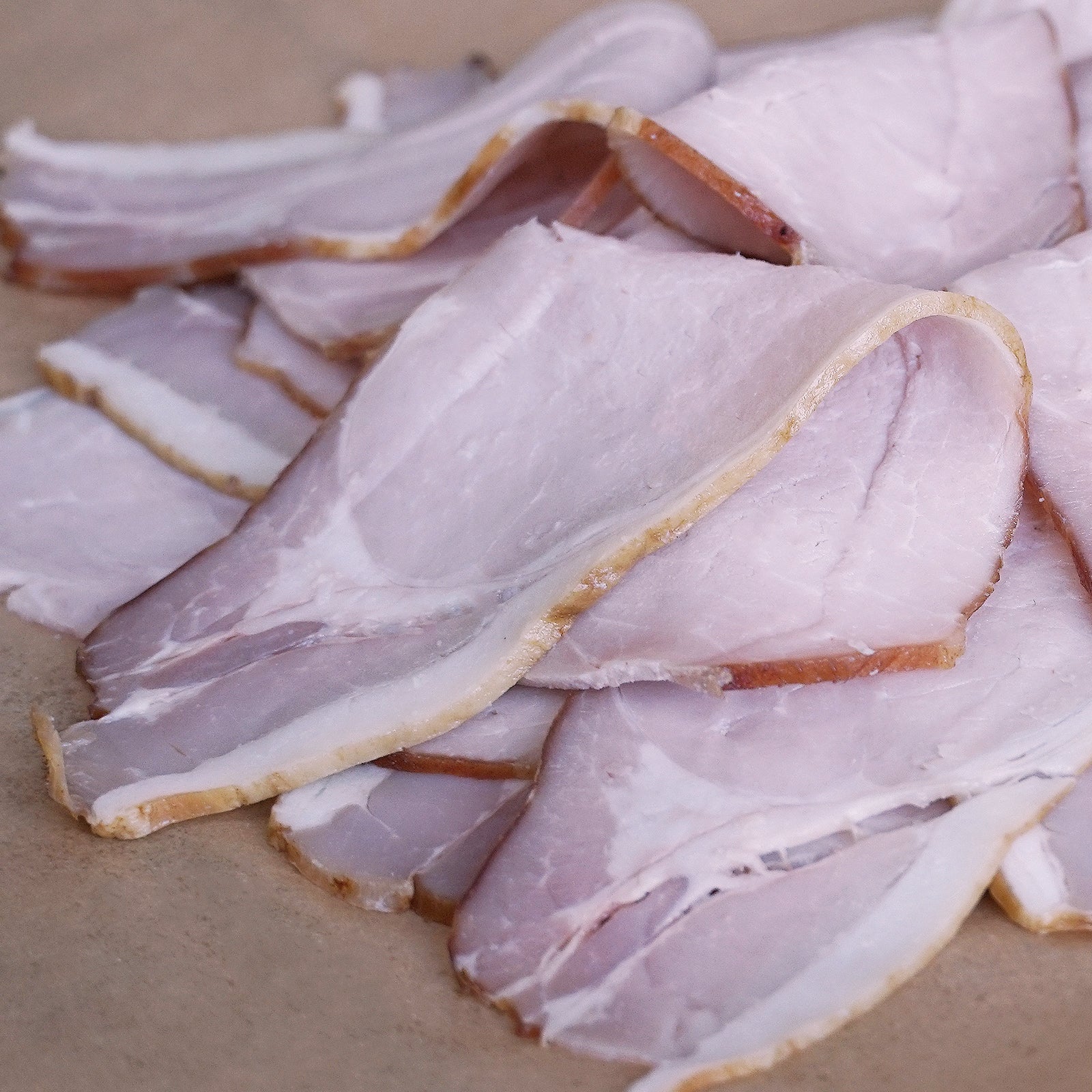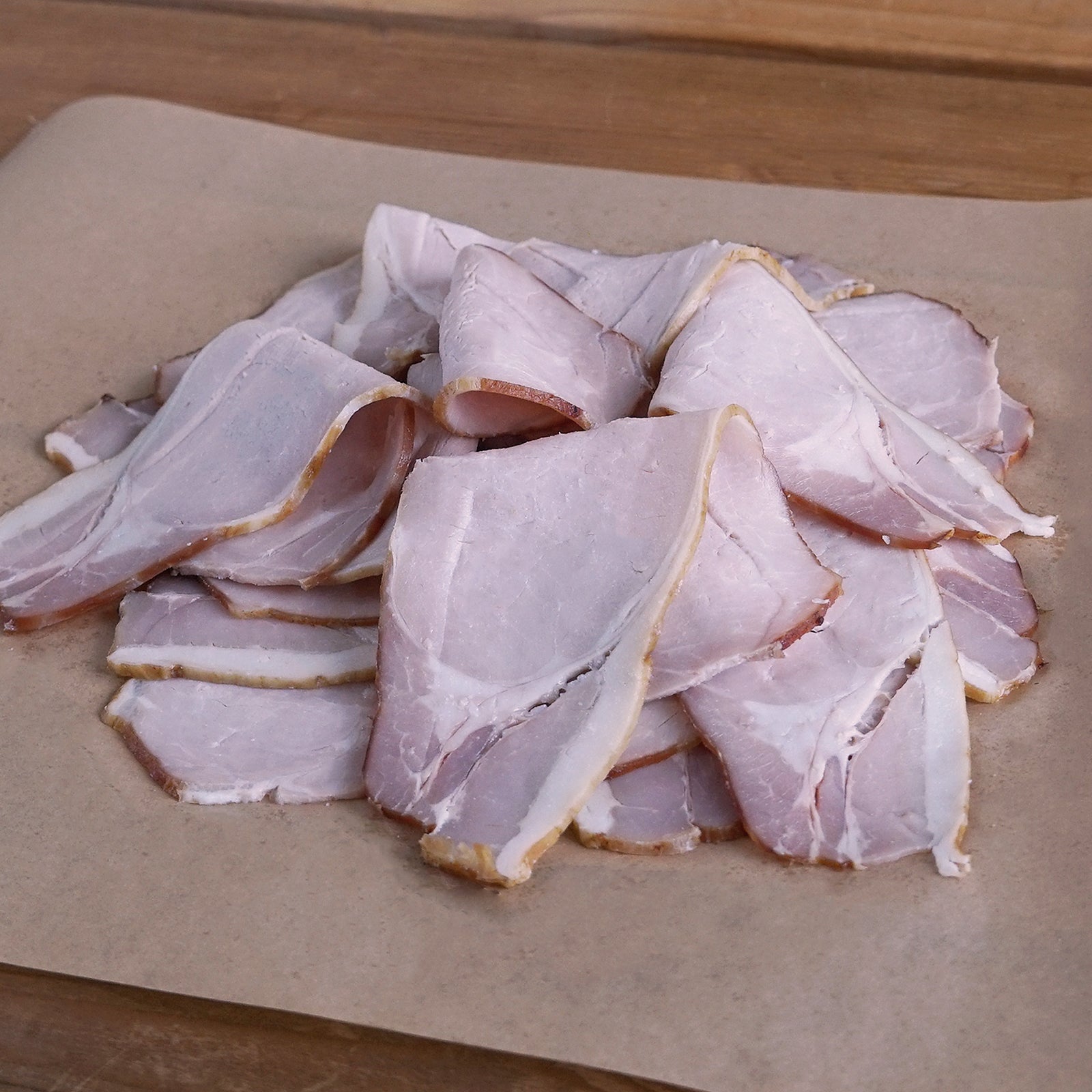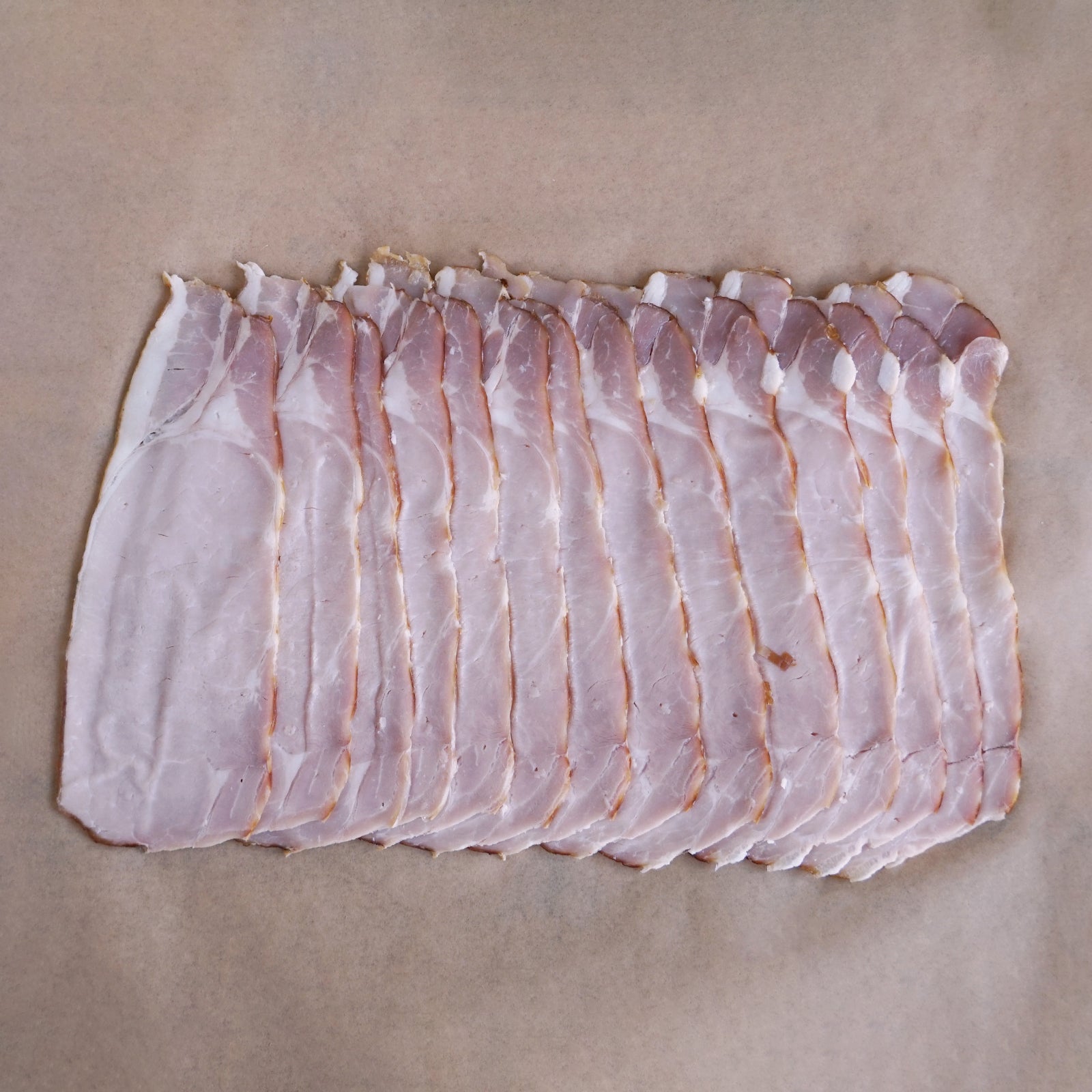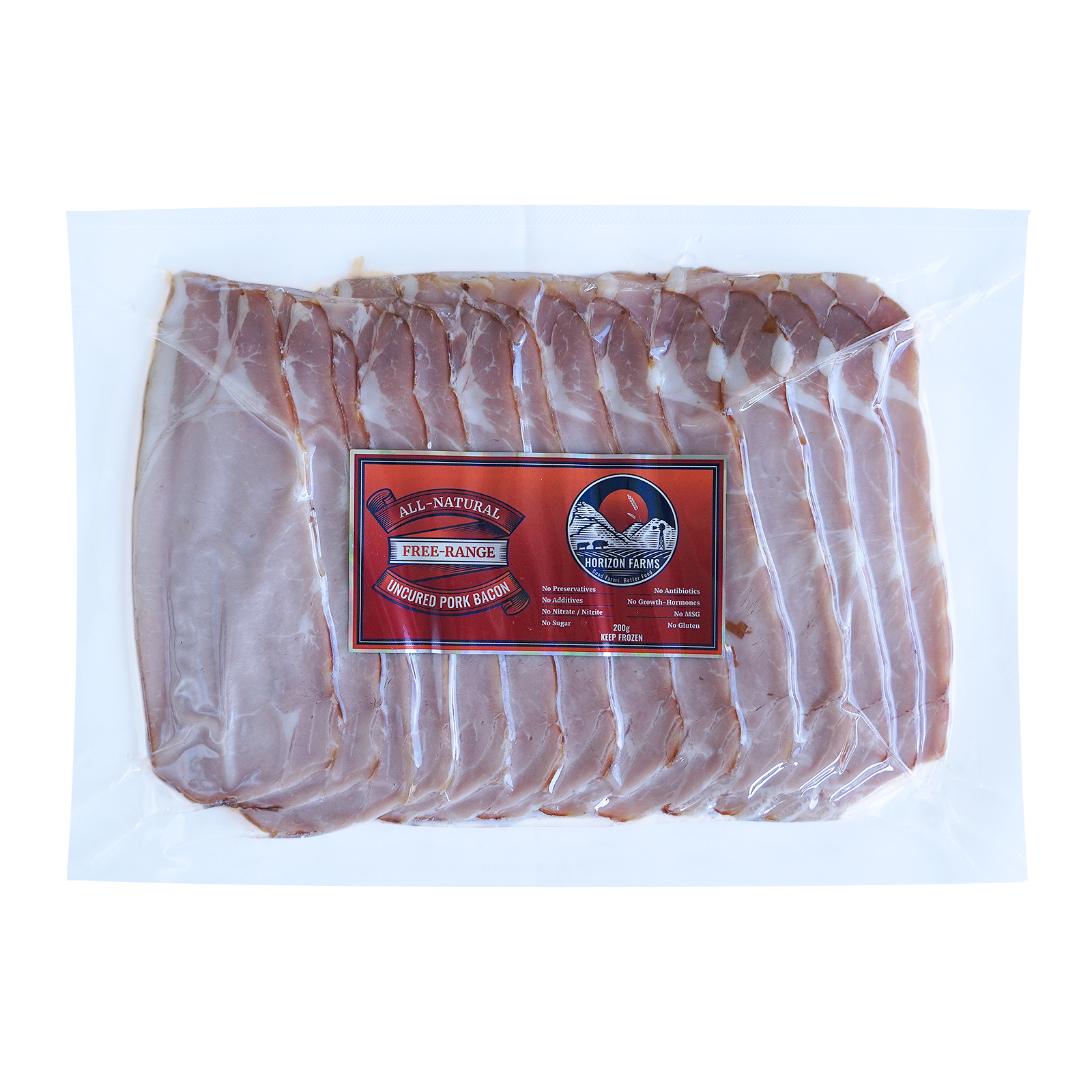 All-Natural Lightly Seasoned Smoked Free-Range Canadian Style Pork Bacon Slices (200g)
Buy More, Save More:
1 Pack (Regular Price)
200g (7oz) of lightly seasoned, sugar-free, free-range plain Canadian-style pork bacon slices. By far the cleanest high-quality bacon on the market! This is the version without added spices. This bacon is uncured and uses an all-natural process using only sea salt for 10 days. No nitrates, nitrites, no curing salts, no celery, no sugars, no artificial ingredients, no nasties. Naturally smoked for 2 hours using natural hickory smoke. Gluten-free, lactose-free, and free of preservatives and coloring agents. The result is amazingly good simple bacon that you can enjoy with your whole family. We only use the pork loin that we source from ethical farms that raise pigs free-range and never treat the pigs with growth-hormones or antibiotics. Strictly no factory-farming.

This is the "Canadian-style" bacon which is made from the pork loin as opposed to the "American-style" bacon which is made from the pork belly. It's a little on the leaner side, so we recommend cooking with butter for the best results.

Pre-sliced bacon. The thickness is 2mm which is your average bacon thickness used for burgers or breakfast. Cook on high heat with just a little bit of butter. High-quality bacon - taste the difference. See the detailed cooking instructions below.

Check out our wide range of bacon products. Click on each image to view the product.
Contents
| | |
| --- | --- |
| Contents | 1 pack |
| Weight | 200g (7 oz.) |
| Serves | Serves 3-4 depending on the recipe |
Shipping & Handling
Shipping
Shipping and delivery is frozen
Handling
Keep frozen below -18°C (0°F)
Defrosting Time
In the fridge: approx. 12h
In ice-water: approx. 1h
Cooking Method

Nonstick fry pan

Expiration
Frozen: see packaging label (usually more than 1 month)
Chilled: Please consume unopened pack within 3 days.
Details
Also known as
Uncured bacon, Canadian bacon, crispy bacon, Canadian style bacon, nitrate-free bacon, sugarfree bacon, spice-free bacon, lightly seasoned, no spice bacon

Ingredients
Pork loin (Australia), sea salt
Country of Origin
Australia
Cooked/Uncooked
Uncured and smoked but uncooked. Cook thoroughly before consumption.

Packaging
Vacuum packed
Traceability
100% fully traceable from farm to fork
Growth Hormones
Never
Subtherapeutic Antibiotics Use
Never
Importer
Horizon Farms, Inc.
Processing in
Japan
Nutritional Facts

Based on 100g serving size

Calories: 237kcal
Total Fat: 16.4g
Total Carbohydrates: 2.8g
Protein: 16.9g


Sodium

: 1.7g
Defrost the pack of bacon in a bowl of water (less than 1 hour) or in the fridge overnight. One pack is enough for 4 persons. Once opened you can leave the pack in the fridge for up to 2 more days. Please do not refreeze again for quality reasons.
Since this bacon is a little lean, we recommend cooking it with some butter. Prepare a frying-pan to high heat and place some butter and the bacon slices into the frying pan. It still has relatively high-fat content and it will show during cooking. The bacon will also shrink in size and become crispy. Cook the next slices in the same juices for flavorful bacon. 
Take off the bacon from the heat once crispy brown. The more you cook it the more crispy it becomes. We recommend not cooking them for too long. Serve for a full breakfast, as a burger topping or in your salad.
Enjoy crispy bacon. All-natural - without sugar - without nasties and free-range pork.