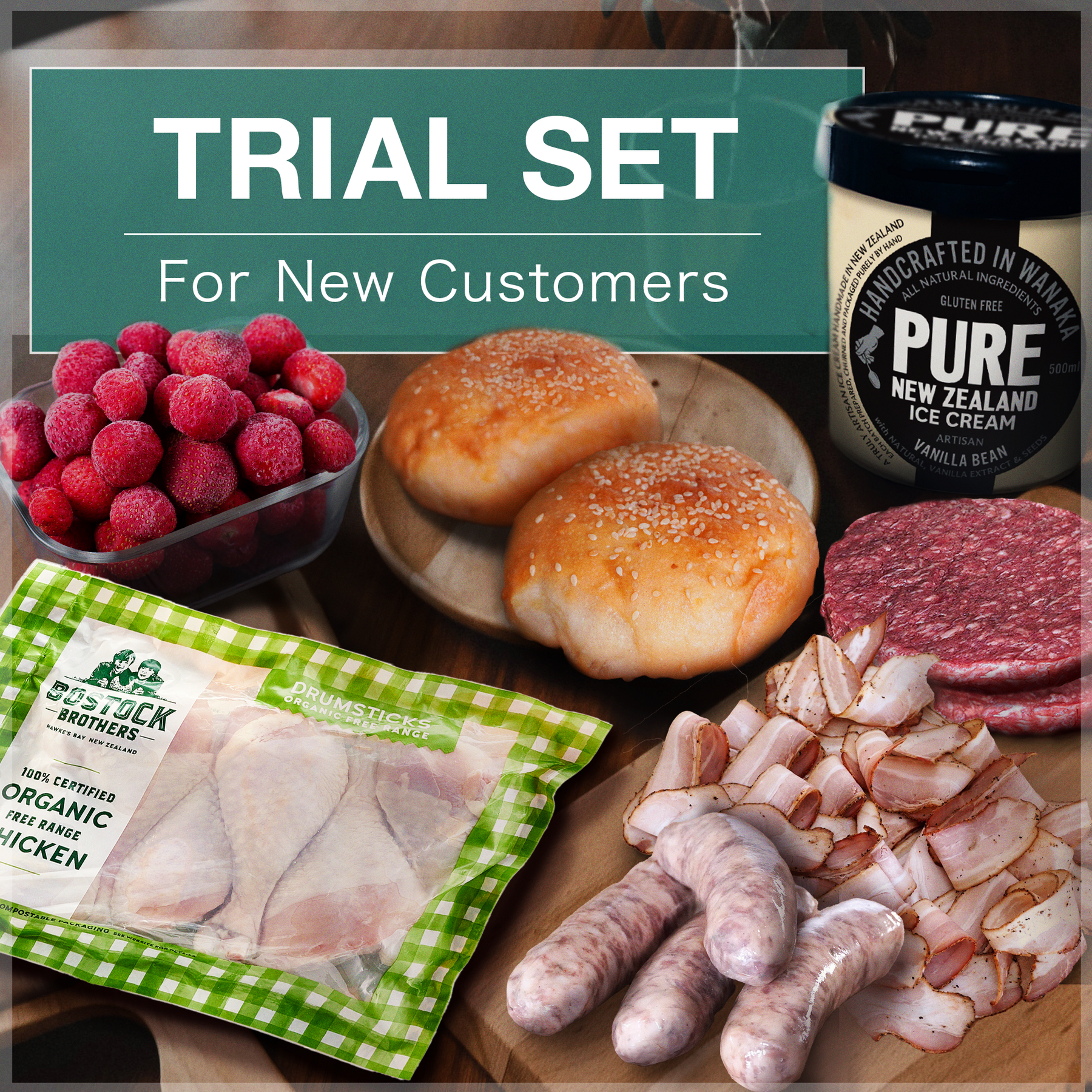 Horizon Farms Trial Set (3.1kg) (New Customers Only) (Free Shipping Available)
Introducing the Horizon Farms Trial Set! An incredible deal for first-time customers* that includes seven of our popular products. Additionally, this set is eligible for free shipping by using the code "TRYHORIZON" or clicking here to automatically apply at checkout**.
This assortment of seven of our popular products contains beef, pork, chicken, fruits and dessert - all carefully selected to give you the best first-time experience possible! Our meat is free-range and free of nasties, giving you the chance to enjoy the real taste of meat.
The Products
Morgan Ranch USDA Choice Beef Steak Burgers: USDA Certified high-quality beef steak burgers from the Morgan Ranch. Free of growth hormones and antibiotics.

All-Natural Country Style Sausage: Classic country sausage made with only all-natural freshly ground spices, herbs and quality free-range pork. Free of growth hormones and antibiotics. They're meaty, juicy and mild, so that even kids enjoy them. 

Certified Organic Free-Range Chicken Drumsticks from New Zealand: Certified organic free-range chicken drumsticks, completely free of growth hormones, antibiotics, GMO feed and chlorine washing. The chicken is naturally slow-grown and therefore the meat is much healthier, better formed, tastier, and juicier than commodity chicken.

All-Natural Sugar-Free Free-Range Pork Smoked Bacon: The cleanest high-quality bacon uncured in an all-natural process using only salt and 100% natural spices. Free of sugars, preservatives and artificial ingredients. This amazingly clean and delicious bacon can be enjoyed with your whole family.

Certified Organic Frozen Strawberries from Turkey: Certified organic fresh frozen strawberries. Individually quick frozen (IQF) after harvest for ultimate freshness. Free of added sugars, chemically synthesized fertilizers, pesticides, preservatives, colors and flavorings. 

Certified Organic Belgian Chocolate Ice Cream from Australia: Certified organic ice cream made from grass-fed, free-range cow milk. No use of growth hormones, antibiotics and chemical fertilizers. GMO-free, gluten-free and lactose-free.

All-Natural High-Quality Hamburger Buns: Gourmet-style hamburger buns made with 100% natural and clean ingredients. Free of sugar, additives and preservatives. Use together with our high-quality burgers for a real 5-star gourmet experience right at home.
Recommended For

This set can be a gift to yourself or someone you cherish. Every order is packed in environmentally friendly packaging and doesn't contain a price tag. Choosing a specific delivery date and time-frame is also possible on the cart page. In the off chance you are not home for delivery, rest assured that your order stays in a constant temperature-controlled cool chain until delivery to your hands. We also offer a message card service that allows you to add any message to the gift - completely free of charge. Please feel free to leave a note on the order during checkout if interested.
About Shipping
Orders will be shipped the same day if orders are paid by 15:00 using one of the following payment methods: Credit Card, PayPal, Amazon Pay, Google Pay, Apple Pay, Bank Transfer (payment must be made by 15:00) or Cash on Delivery (COD). Optionally, you can choose a delivery date and delivery timeframe during checkout. Your order is shipped fully temperature controlled all the way until your door.
*Please note that this set is only available to first-time customers (limited to one set per household). Customers who have previously purchased our products on either our homepage, Rakuten, Yahoo Shopping, au PAY Market or Amazon are no longer eligible. If an order is placed by a customer who is not a first-time customer, the order will be cancelled without further notice and a refund will be issued.
**Please click here for details about how to use the coupon code.
The products in the photo are examples only. Please note that the delivered products may differ depending on the stock of each product. Example: If the chicken drumsticks are sold out, chicken breast may be included instead.
Contents
Shipping & Handling
| | |
| --- | --- |
| Shipping | Shipping and delivery is frozen |
| Handling | Keep frozen below -18°C (0°F) |
| Defrosting | Please reference each individual product page |
| Cooking Method | Please reference each individual product page |
| Expiration | Check each product label, usually more than 3 months. |