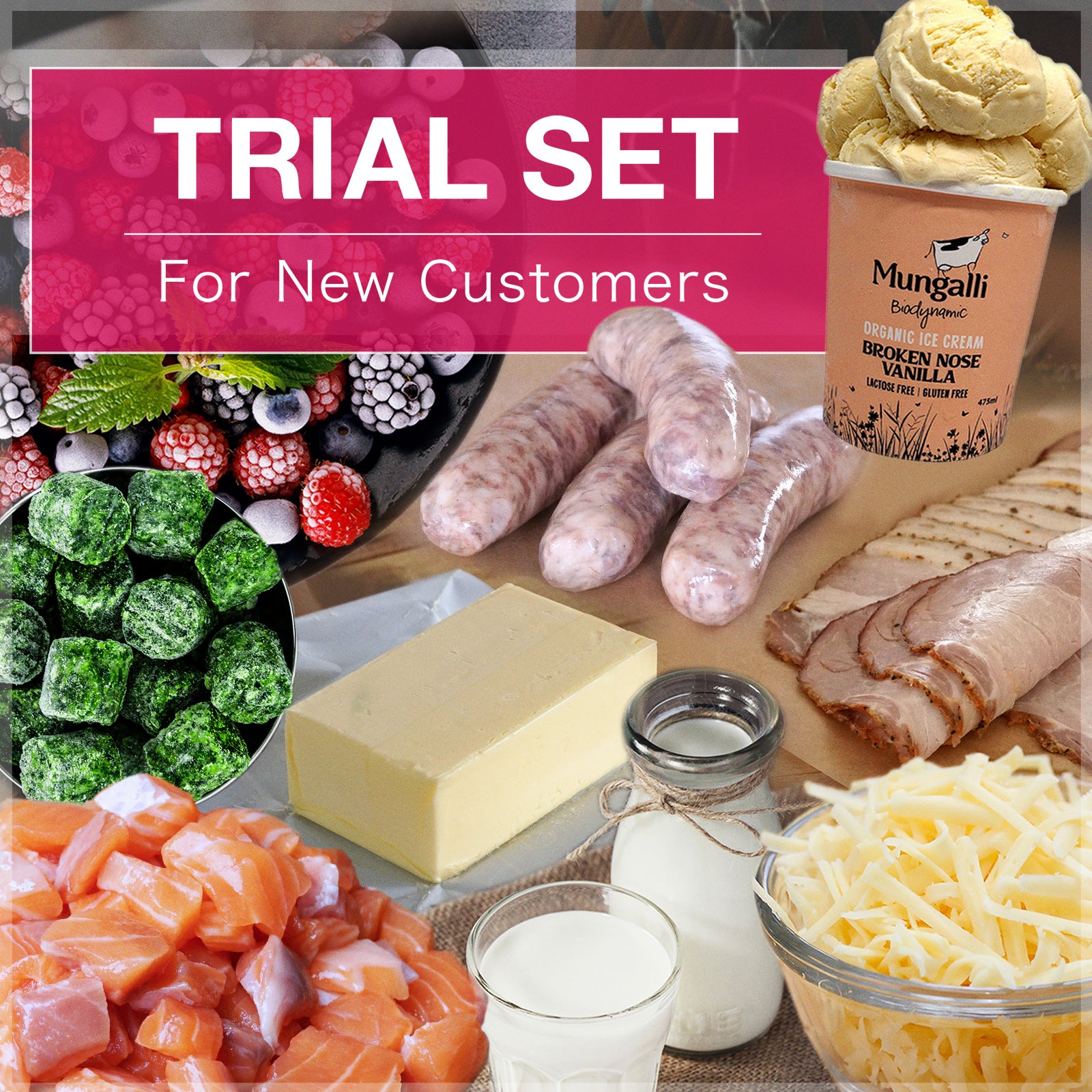 Horizon Farms Variety Trial Set (9 Items) (New Customers Only) (Free Shipping Available)
Introducing the Horizon Farms Trial Sets! Available in three different varieties - Best Sellers Trial Set, Health & Wellbeing Trial Set, and the Variety Trial Set. An incredible deal for first-time customers*. Additionally, this set is eligible for free shipping by using the code "TRYHORIZON" or clicking here to automatically apply at checkout**.
For first-time Horizon Farms customers only, we have prepared a huge variety set of popular products. It contains 9 carefully selected products from all kinds of categories such as additive-free sausages, sustainable seafood, organic fruits & vegetables, and even organic milk & cheese. A total weight of 3.7kg (8.1lb). All nasty-free and enjoyable by the whole family.

The Products
All-Natural Country Style Sausage:
This is our all-rounder mild sausage. Great for any occasion - suited for kids as well. We tried to keep it as close to a classic country sausage using only all-natural freshly ground spices, herbs, and quality free-range pork. However, the sausage is not too herby and we made sure it is very juicy and meaty. The free-range pork comes from family farms in Hokkaido, Japan. Strictly no factory farming. Completely free of antibiotics and growth hormones.

All-Natural Sugar-Free Canadian-Style Bacon:
This bacon is uncured in an all-natural process using only salt and 100% natural spices for 10 days. No nitrates, nitrites, no curing salts, no celery, no sugars, no artificial ingredients, no nasties. Naturally smoked for 2 hours using natural hickory smoke. Gluten-free, lactose-free, free of preservatives and coloring agents.
Tasmanian Premium Sashimi Grade Salmon Fillet Dice Cut:
200g (7oz.) of diced high-quality cuts of the finest Tasmanian salmon (Atlantic Salmon). This salmon is sashimi grade, meaning after you defrost it in the fridge it is safe to eat raw. This dice cut is best recommended for Japanese dishes like sashimi, rice bowl, and hand-rolled sushi, or Western dishes. These salmon are sustainably farmed and RSPCA certified - Australia's most trusted animal welfare organization. offshore farmed in deep waters in oxygen-rich low densities without the use of antibiotics.

All-Natural Frozen Berry Mix from Chile:
One full bag of 1kg (2.2lbs) of naturally farmed fresh frozen berry mix from Chile. No use of chemical fertilizers and pesticides. GMO-free. All hand-picked, washed and individually flash-frozen (IQF) right after harvest for freshness. This unbeatably popular fruit mix contains equal proportions of blueberries, raspberries, and blackberries.

Certified Organic Frozen Spinach from Belgium:

Certified organic fresh frozen chopped and cubed spinach from Belgium, Europe. No use of chemical fertilizers and pesticides. GMO-free. Freshly harvested, blanched, chopped, compressed into cubes, and then individually flash-frozen (IQF) for freshness and quality. You can defrost them at room temperature and use them right away for cooking or in your green smoothie.
Certified Organic Grass-Fed Unsalted Butter:
We've traveled the world and the seven seas to find the best of the best. Never before seen in Japan: high-quality grass-fed, certified organic butter from Australia. Not only have the cows been raised on pasture and grass-fed but the cows have also never been treated with growth hormones or antibiotics. The grass the cows have been eating is free of chemicals, pesticides, and GMOs. We guarantee you, it does not get cleaner than this. 

Certified Organic Grass-Fed Shredded Cheddar Cheese:
High-quality English-style certified organic cheddar cheese made with milk from grass-fed, pasture-raised cows. Aged up to 12 months and shred for convenience. The cows have never been treated with growth hormones or antibiotics. Of course, the grass the cows have been eating is free of chemicals, pesticides, and GMOs. The cheese is cellulose-free, preservative-free, sweetener-free, colorant-free, flavoring-free, and free of any food additives. No animal cultures (rennet) have been used, this cheese is vegetarian-friendly.

Certified Organic Grass-Fed Whole Milk Powder:
This milk powder is crafted from the milk of free-range, grass-fed cows and is the perfect choice for those seeking the goodness of dairy in a convenient and versatile form. Free of grown hormones, antibiotics, added sugar, additives, and preservatives, and also free of GMOs, this pure and wholesome organic milk guarantees a nourishing experience that aligns with your health-conscious lifestyle.

Certified Organic Ice Cream:
High-quality certified organic lactose-free ice cream from Australia. It is made with a traditional custard ice cream base made from biodynamic cream and organic egg yolks. Free-range, grass-fed cows. No use of growth hormones or antibiotics ever. No chemical fertilizers, no GMOs, no gluten, and yes, no lactose!
Recommended For

This set can be a gift to yourself or someone you cherish. Every order is packed in environmentally friendly packaging and doesn't contain a price tag. Choosing a specific delivery date and time-frame is also possible on the cart page. In the off chance you are not home for delivery, rest assured that your order stays in a constant temperature-controlled cool chain until delivery to your hands. We also offer a message card service that allows you to add any message to the gift - completely free of charge. Please feel free to leave a note on the order during checkout if interested.
About Shipping
Orders will be shipped the same day if orders are paid by 15:00 using one of the following payment methods: Credit Card, PayPal, Amazon Pay, Google Pay, Apple Pay, PayPay, Bank Transfer (payment must be made by 15:00) or Cash on Delivery (COD). Optionally, you can choose a delivery date and delivery timeframe during checkout. Your order is shipped fully temperature controlled all the way until your door.
*Please note that this set is only available to first-time customers (limited to one trial set per household). Customers who have previously purchased our products on either our homepage, Rakuten, Yahoo Shopping, au PAY Market or Amazon are no longer eligible. If an order is placed by a customer who is not a first-time customer, the order will be cancelled without further notice and a refund will be issued. Orders with multiple trial sets will be cancelled and refunded.
The products in the photo are examples only. Please note that the delivered products may differ depending on the stock of each product. Example: If the chicken drumsticks are sold out, chicken breast may be included instead.
**Please click here for details about how to use the coupon code.
Contents
Shipping & Handling
| | |
| --- | --- |
| Shipping | Shipping and delivery is frozen |
| Handling | Keep frozen below -18°C (0°F) |
| Defrosting | Please reference each individual product page |
| Cooking Method | Please reference each individual product page |
| Expiration | Check each product label, usually more than 3 months. |