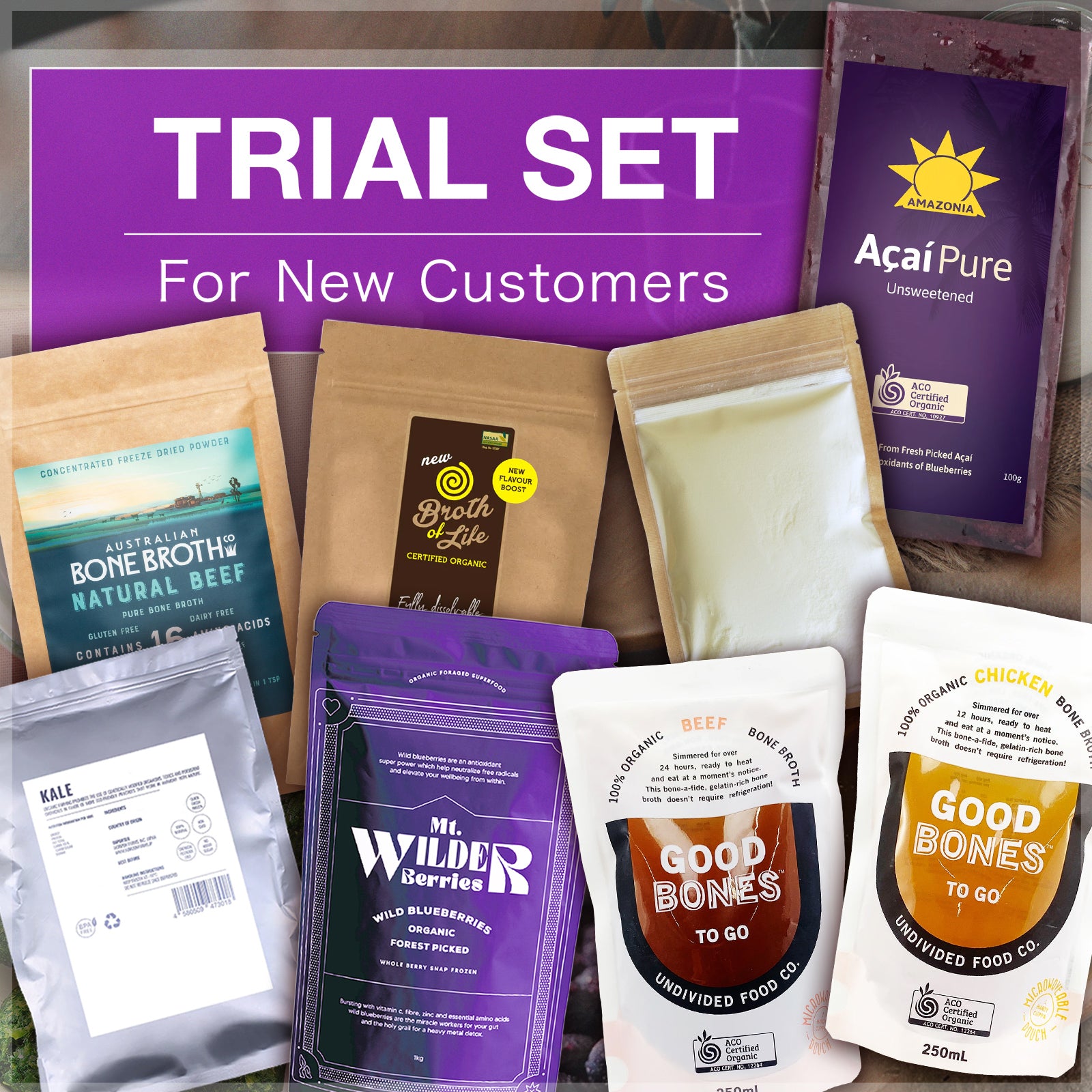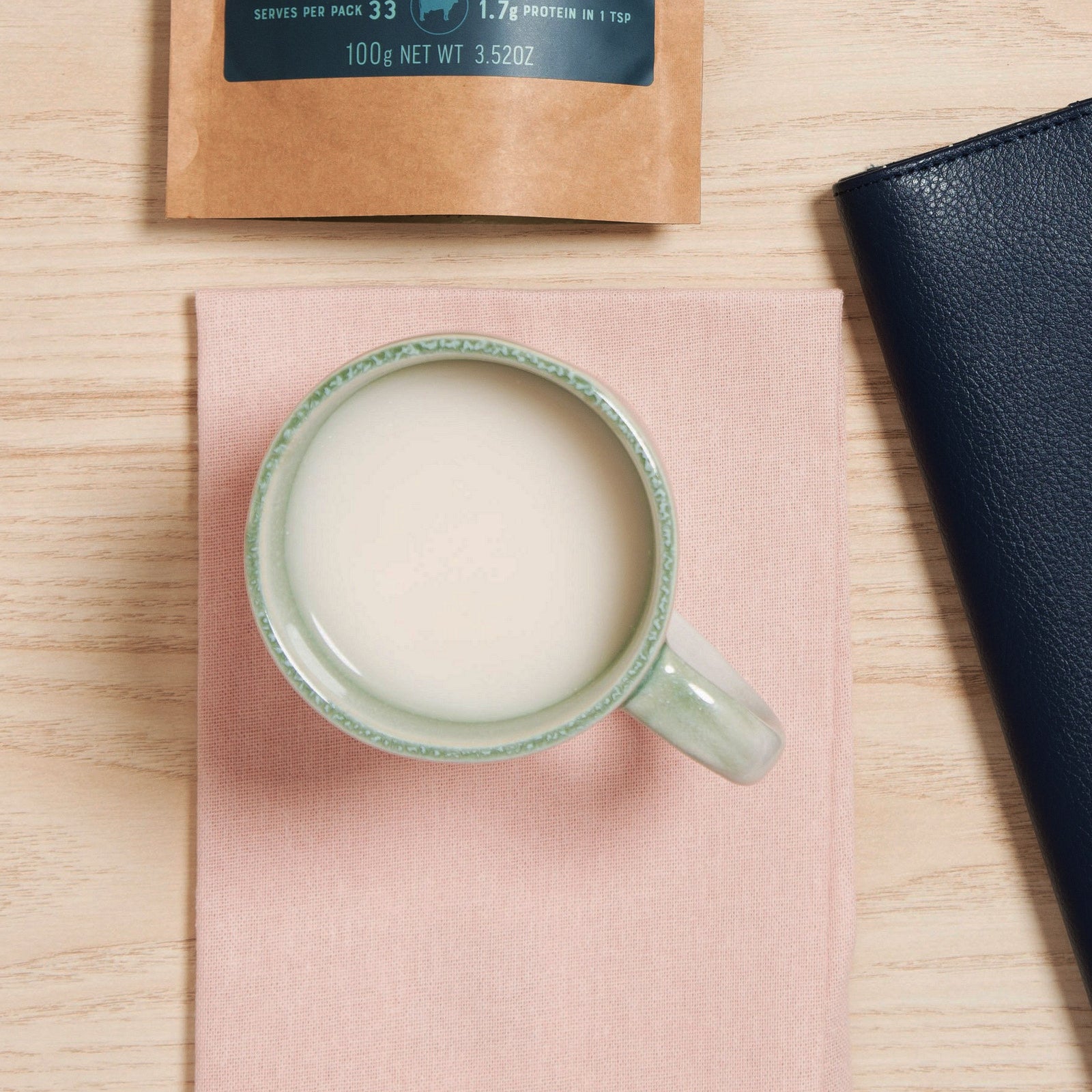 Horizon Farms Health & Wellbeing Trial Set (8 Items) (New Customers Only) (Free Shipping)
Please note that the Beef Bone Broth in this set has been changed to Grass-Fed Beef Bone Stock Powder.
Introducing the Horizon Farms Trial Sets! Available in three different varieties - Best Sellers Set, Health & Wellbeing Trial Set, and the Variety Trial Set. An incredible deal for first-time customers*.
For first-time Horizon Farms customers only, we have prepared a super healthy trial set, shipping free of charge. The set contains 8 different products, weighing 3.1 kg in total -  from bone broth powders & soups, to organic fruits & vegetables, and even organic milk powder. This set is an easy way to incorporate healthy and organic foods into your daily life through soups, smoothies, and more.

The Products
All-Natural Grass-Fed Beef Bone Broth Powder:
One of the cleanest bone broth powders on this planet. The bones that have been used to make this quality product come from Australian grass-fed cows. Never ever have the cows been treated with growth hormones or antibiotics. It's also gluten-free, preservative-free and additive-free.

Certified Organic Free-Range Chicken Bone Broth Powder:
This hand-made broth is made with carefully selected, certified organic vegetables, certified organic spices, and certified organic bones, which are cooked for no less than 24 hours allowing for the highest possible amount of nutrients. Freeze-dried into a highly concentrated powder.

Certified Organic Chicken Bone Broth:
100% certified organic ready-to-heat and eat chicken bone broth in a pouch. Only free-range organic chicken frames are used which are free from hormones and antibiotics. Simmered low and slow for maximum nutrient density for over 12 hours together with certified organic, Australian-grown vegetables and herbs including carrot, onion, garlic, and seasonal herbs, and organic apple cider vinegar. Only filtered water which is free from added chemicals like fluoride and chlorine is used. The final product is a thick and flavourful broth packed with vitamins, minerals, and the star player: gelatin. Gluten-free, preservative-free, paleo-friendly, BPA-free, low salt, non-GMO.

Certified Organic Grass-Fed Beef Bone Stock Powde:
160g (10.6oz) of certified organic artisan beef stock powder from Australia. This stock powder, also known as bouillon, is made with dehydrated grass-fed beef bone and the highest quality of finely ground organic vegetables, herbs and spices to create a nutritious, wholesome and flavorful stock. The beef bones used to create this stock powder are free of hormones, antibiotics and chemicals. The stock powder is also gluten-free, lactose-free and yeast-free. No use of MSG, palm products, maltodextrin or any other additives - ever.

Certified Organic Frozen Forest-Picked Wild Blueberries from Sweden:
These are not your regular cultivated blueberries, nor are they your regular wild blueberries. These are "wilder" blueberries - picked straight from the forest. As natural as it gets. Smaller in size with less water content, so you get more total blueberries per pack than typical blueberries. Tart yet sweet and absolutely bursting with flavor. All hand-picked, washed and individually flash-frozen (IQF) right after harvest for freshness.

Certified Organic Frozen Kale from Belgium:
Certified organic fresh frozen chopped kale from Belgium, Europe. No use of chemical fertilizers and pesticides. GMO-free. Freshly harvested, blanched, chopped, compressed into dices, and then individually flash-frozen (IQF) for freshness and quality.

All-Natural Frozen Açaí Puree:
All-natural, pure, unsweetened Açaí puree - hand-picked from the Amazon rainforest and certified organic in the country of origin. This superfood has a deep rich purple color and a deep, earthy, and slightly tart berry flavor. You get 4 packs, each 100g (3.5oz), which makes it super easy to grab a perfect serving right when you need it. Eat it right out of the pack, or add it as a delicious antioxidant boost to your favorite smoothies or breakfast bowl.

Certified Organic Grass-Fed Whole Milk Powder:
This milk powder is crafted from the milk of free-range, grass-fed cows and is the perfect choice for those seeking the goodness of dairy in a convenient and versatile form. Free of grown hormones, antibiotics, added sugar, additives, and preservatives, and also free of GMOs, this pure and wholesome organic milk guarantees a nourishing experience that aligns with your health-conscious lifestyle.
Recommended For

This set can be a gift to yourself or someone you cherish. Every order is packed in environmentally friendly packaging and doesn't contain a price tag. Choosing a specific delivery date and time-frame is also possible on the cart page. In the off chance you are not home for delivery, rest assured that your order stays in a constant temperature-controlled cool chain until delivery to your hands. We also offer a message card service that allows you to add any message to the gift - completely free of charge. Please feel free to leave a note on the order during checkout if interested.
About Shipping
Orders will be shipped the same day if orders are paid by 15:00 using one of the following payment methods: Credit Card, PayPal, Amazon Pay, Google Pay, Apple Pay, PayPay, Bank Transfer (payment must be made by 15:00) or Cash on Delivery (COD). Optionally, you can choose a delivery date and delivery timeframe during checkout. Your order is shipped fully temperature controlled all the way until your door.
*Please note that this set is only available to first-time customers (limited to one trial set per household). Customers who have previously purchased our products on either our homepage, Rakuten, Yahoo Shopping, au PAY Market or Amazon are no longer eligible. If an order is placed by a customer who is not a first-time customer, the order will be cancelled without further notice and a refund will be issued. Orders with multiple trial sets will be cancelled and refunded.
The products in the photo are examples only. Please note that the delivered products may differ depending on the stock of each product. Example: If the chicken drumsticks are sold out, chicken breast may be included instead.
Contents
Shipping & Handling
| | |
| --- | --- |
| Shipping | Shipping and delivery is frozen |
| Handling | Keep frozen below -18°C (0°F) |
| Defrosting | Please reference each individual product page |
| Cooking Method | Please reference each individual product page |
| Expiration | Check each product label, usually more than 3 months. |